TOP NEWS
Space Weather Dooms Starlink Cluster
Read more at: Spacepolicy online
Russian Progress Freighter Delivers 2.8 Tons Of Supplies To International Space Station
A Russian cargo spacecraft arrived at the International Space Station early Thursday morning (Feb. 17), delivering nearly 3 tons of supplies and equipment to the orbiting lab. The Progress 80 freighter docked with the station's Poisk compartment at 2:03 a.m. EST (0703 GMT), ending a roughly two-day orbital chase. Progress 80 launched atop a Russian Soyuz rocket from Baikonur Cosmodrome in Kazakhstan late Monday night (Feb. 14) and circled Earth 34 times before catching up with the space station 270 miles (434 kilometers) above the South Pacific.
Read more at: Space.com
Research Satellites Destroyed In Astra Rocket Failure
Four NASA-funded nanosatellites were lost Thursday when an Astra rocket tumbled out of control minutes after liftoff from Cape Canaveral, the fourth time in five tries that the startup space company has failed to reach orbit.
Astra's 43-foot-tall (13.1-meter) launch vehicle, named Rocket 3.3, took off from Space Launch Complex 46 at Cape Canaveral Space Force Station at 3 p.m. EST (2000 GMT). The kerosene-fueled rocket flew downrange for nearly three minutes, heading over the Atlantic Ocean to place four CubeSats into orbit for NASA and university teams in three states.
Read more at: SpaceflightNow
SPACE HAZARDS AND STM
Office Of Space Commerce Rolls Out Prototype Space Catalog For Traffic Management
Commerce Department officials on Feb. 11 unveiled a prototype for a space catalog and traffic software platform that would provide basic situational awareness and traffic management services.
Known as the open architecture data repository, the OADR is a cloud-based system designed to track satellites and debris in space, and eventually replace the space catalog currently maintained by the U.S. military. The data would be used to calculate the probability of collisions in orbit, an issue of growing concern to the space industry as large numbers of satellites are being launched and more debris is generated. 
Read more at: Spacenews
NASA Fears SpaceX Plan For 30,000 Satellites Could Hamper Space Missions
Nasa has raised concerns about SpaceX's plan to deploy about 30,000 satellites for its Starlink, as have some major companies.
Elon Musk's SpaceX previously received authorisation for about 12,000 satellites to offer broadband internet and has requested the go-ahead for a second-generation constellation of 30,000 satellites.
"Nasa has concerns with the potential for a significant increase in the frequency of conjunction events and possible impacts to Nasa's science and human spaceflight missions," the agency said in a submission to the Federal Communications Commission (FCC).
Read more at: Guardian
Preventing Lunar traffic jams
The moon is top of mind for many national space programs and private companies, with some planning to send humans back to the lunar surface as early as 2025.
In advance, scientists are launching satellites and other payloads to orbit the moon. But so far, no one has kept track of just how many artificial objects are already up there, or where they are at any given moment. Without a way to keep track of traffic, the orbital space surrounding the moon could quickly grow crowded.
Read more at: Moondaily
Citizen Scientists Find 1,000+ Asteroids Photobombing Hubble Images
More than 1,000 previously unknown asteroids have been found on old Hubble photos — not by professional astronomers, but by citizen scientists and a machine-learning module. "This work is a great example of how serendipitous science can take place in large datasets," comments asteroid researcher Bill Bottke (Southwest Research Institute), who was not involved in the study.
Over the past three decades, hundreds of thousands of deep-sky images have ended up in the Hubble archives. Occasionally, tiny asteroids passed through the field of view during the exposure, leaving a faint trail on the photo. Such asteroid trails are usually curved, because Hubble itself is also moving in its orbit.
Read more at: Sky and Telescope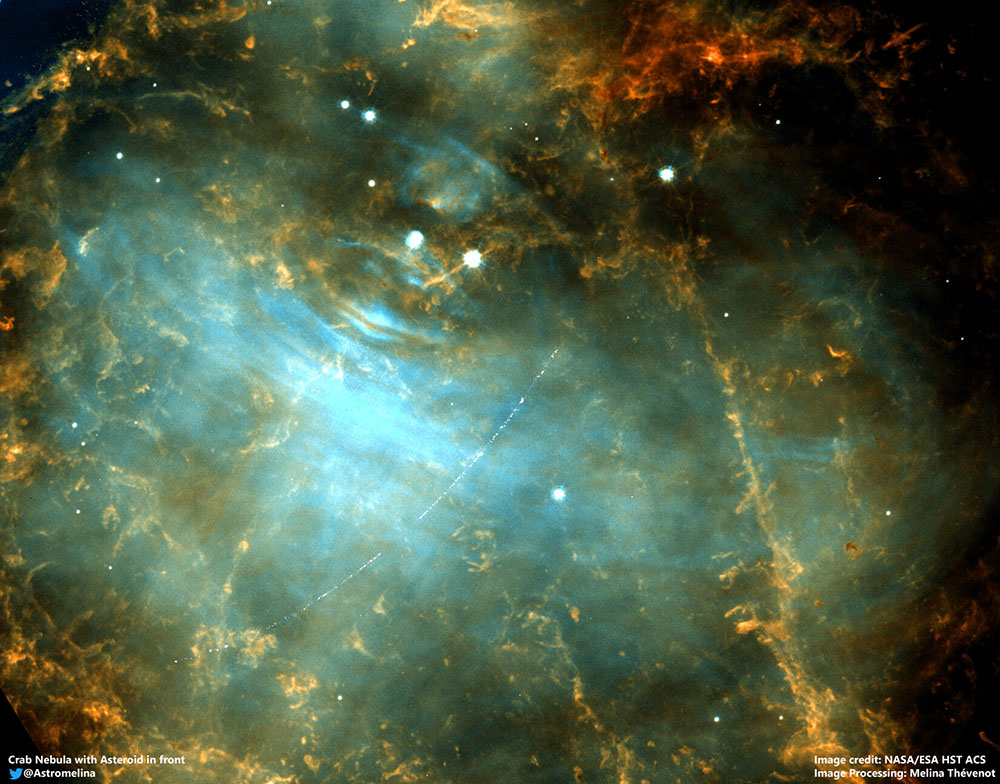 NOAA Seeks Industry Input On Commercial Space Object Tracking And Services
NOAA issued a Request for Information today seeking input from industry on data products, services and capabilities to support its Open Architecture Data Repository to provide Space Situational Awareness for civil and commercial space operators. NOAA demonstrated a prototype version of the OADR last week and said it was about to reach out to further engage with the private sector.
Read more at: Spacepolicyonline
European Union Advances Broadband Constellation Despite Negative Assessments
The European Union is moving ahead with its proposed broadband constellation despite two negative internal assessments.
The E.U. formally introduced legislation Feb. 15 to establish a secure connectivity satellite constellation that would serve European governments and citizens. The introduction of what's formally known as the Union Secure Connectivity Programme came a day before the European Space Summit in Toulouse, France, where member states of the E.U. and European Space Agency will meet to discuss priorities for both organizations.
Read more at: Spacenews
New Laser Station Lights The Way To Debris Reduction
Read more at: ESA
NEW SPACE/COMMERCIAL
A New Chinese Rocket Company Has Raised More Than $100 Million
Read more at: Space.com
Vaya Space Completes First Suborbital Test Flight
Vaya Space announced the successful launch of its hybrid rocket from Mojave, California on January 29th, 2022 operating under an existing FAA waiver. The suborbital flight demonstrated its hybrid rocket design using 3D printed fuel grains created from recycled thermoplastics. This launch paves the way for rapid acceleration of Vaya Space's go-to-market strategy as the Company scales for production, with its first commercial orbital launch planned for 2023.
"This is a huge milestone," stated Vaya Space CEO Grant Begley, "and demonstrates our ability with this technology to revolutionize space access. Vaya Space has become a viable force to be reckoned with."
Read more at: Spacedaily
Aerospacelab Raises 40 Million Euros In Series B Round
Aerospacelab raised 40 million euros ($45.5 million) in a funding round led by Airbus Ventures and XAnge, a European venture capital firm based in Paris and Munich.
Additional investors in the Belgian startup, which has raised 60 million euros since it was founded in 2018, include BNP Paribas Private Equity, Sambrinvest, a Belgian venture capital firm, and SRIW, the investment arm of Belgium's Wallonia region.
Read more at: Spacenews
Billionaire's 'Polaris Program' to Fly Feats on SpaceX Dragon, Starship
The billionaire commander of the first "all-civilian" space mission has now filed a new flight plan, underwriting a series of three SpaceX launches designed to rapidly advance human spaceflight capabilities while also raising funds and awareness for causes here on Earth.

Jared Isaacman, the 39-year-old founder of Shift4, an online payment processing company, and the commander of last year's Inspiration4 mission, revealed his "Polaris Program" on Monday (Feb. 14), a trio of commercial spaceflights to begin on SpaceX's existing Dragon spacecraft as soon as November or December of this year and culminate in the first crewed launch of SpaceX's new Starship in the years to come.
Read more at: Collectspace
SCIENCE AND TECHNOLOGY
Fighting Fire with Fire: New Space Station Experiments Study Flames in Space
Americans can feel safer in their homes now than decades ago thanks to studies and standards that have removed highly flammable materials in clothing, beds, and furniture. NASA relies on similar studies and standards to protect astronauts when selecting materials for spacesuits and spacecraft.
But fire behaves differently in space. Changes in gravity and air flow can alter the way it spreads and make it harder to extinguish. So, how do engineers design fire safe homes for the Moon, where only 12 people have walked, or Mars, where no human has even visited? How do they study flammability in these little-known environments?
Read more at: Technology
See A Large Robotic Arm 'Crawl' Across China's Space Station
Footage from China's space station shows how its large robotic arm can "crawl" along the outside of the spacecraft.
The new video from the Chinese Manned Space Agency (CMSA) shows the space station's 33.5-foot-long (10.2 meters) robotic arm rising up from behind the Tianhe module and reaching out to find a docking port in the foreground. 
The footage was captured by panoramic camera D on the Tianhe core module, which launched to China's new Tiangong space station in April 2021. 
Read more at: Space.com
How To Design A Sail That Won't Tear Or Melt On An Interstellar Voyage
Astronomers have been waiting decades for the launch of the James Webb Space Telescope, which promises to peer farther into space than ever before. But if humans want to actually reach our nearest stellar neighbor, they will need to wait quite a bit longer: a probe sent to Alpha Centauri with a rocket would need roughly 80,000 years to make the trip.
Igor Bargatin, Associate Professor in the Department of Mechanical Engineering and Applied Mechanics, is trying to solve this futuristic problem with ideas taken from one of humanity's oldest transportation technologies: the sail.
Read more at: Spacedaily
ESA's Vega Rocket Marks Ten Years With Countdown To More Powerful Successor
Ten years ago this week, 13 February 2012, ESA opened a new era of independent access to space with the flawless inaugural flight of its small launcher Vega. Flying from Europe's Spaceport in French Guiana, Vega has gone on to earn a reputation for precision and versatility in anticipation of a more capable version, Vega-C.
Placing medium-sized satellites into the low Earth polar orbits that are ideal for scientific and Earth observation missions – about 1430 kg to 700 km – is Vega's trademark capability. But the vehicle has also delivered an ESA science mission to deep space – the gravitational wave detector demonstration mission, LISA Pathfinder – and followed the equatorial flight path needed for an experimental IXV 'lifting body' payload that paved the way for a European launchpad-to-runway space transportation service, with ESA's uncrewed Space Rider vehicle.
Read more at: Spacedaily
Microgravity Worms Help Solve Astronauts' Muscle Troubles
A new study on nematode worms reveals that physical contact with objects can help prevent neuromuscular decline in simulated microgravity. The research, which was published in the journal iScience, provides new insights into maintaining human health in space.
Over the past 60 years, hundreds of humans have flown into space, sometimes spending up to a year on the International Space Station. Spaceflight subjects the body to near weightlessness or microgravity, which can negatively impact health.
Read more at: Spacedaily
How Easy Is It To Create Oxygen From Water On Mars?
Scientists at The University of Manchester and The University of Glasgow have provided more insight into the possibility of establishing a pathway to generate oxygen for humans to potentially call the Moon or Mars 'home' for extended periods of time.
Creating a reliable source of oxygen could help humanity establish liveable habitats off-Earth in an era where space travel is more achievable than ever before.
Read more at: Technology
New Atomic Clock Loses Only One Second Every 300 Billion Years
Read more at: Space.com
NASA Picks Lockheed Martin To Build Rocket To Carry Mars Samples Back To Earth
Read more at: Space.com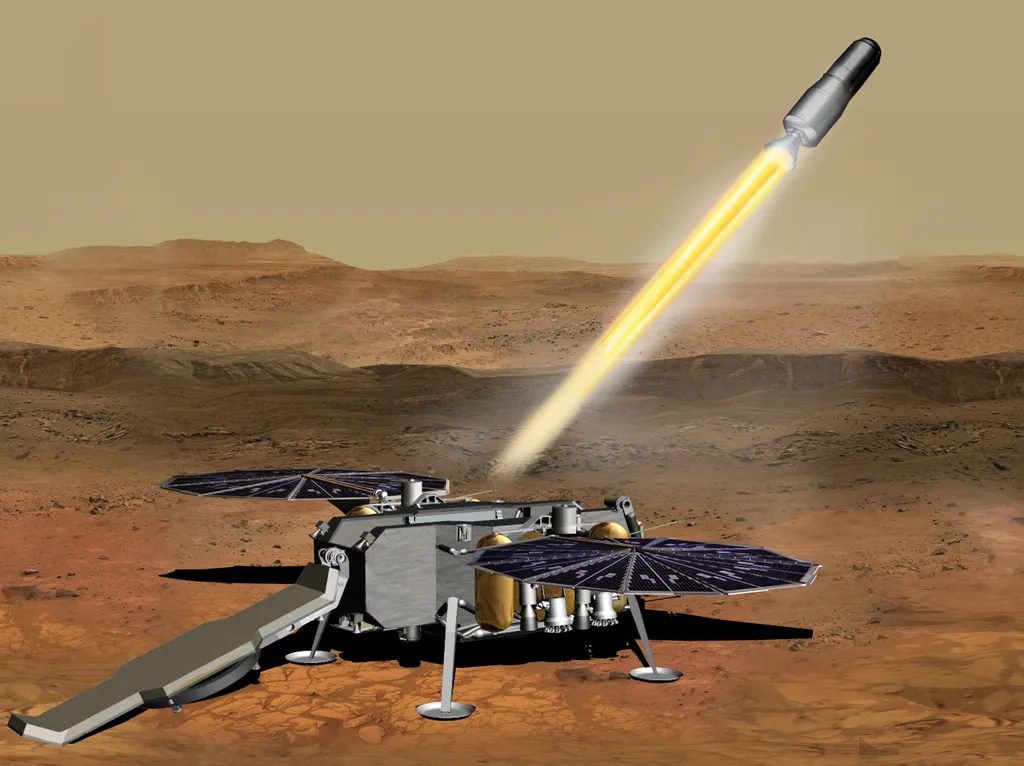 SPACE POLICY
UK Statement at Scientific and Technical Sub-committee of the Committee on the Peaceful Uses of Outer Space (COPUOS) on Future Role of the Committee
Please allow me to set out the view of the United Kingdom on the future role of COPUOS. As you know, the United Kingdom has taken a leading role on both the space sustainability agenda and that for space security. COPUOS has a crucial role in ensuring the ongoing sustainability of the space environment. It can monitor the implementation of the Guidelines for the Long-Term Sustainability of Outer Space Activities and support countries.
Read more at: UK gov
Senators Make New Push For NASA Authorization Bill
Senators used a NASA hearing Feb. 9 to once again advocate for an authorization bill for the agency, arguing it is vital for giving the agency direction and securing funding.
Leaders of the Senate Commerce Committee and its space subcommittee lobbied for passage of a NASA authorization bill, like one included in a broader Senate competitiveness bill last year, during a hearing by the space subcommittee on agency accountability and oversight.
"We have to figure out how we're going to play our oversight role. It's hard to play an oversight role without getting an authorization and making sure our goals are set in that authorization," said Sen. Maria Cantwell (D-Wash.), chair of the full committee, at the hearing.
Read more at: Spacenews
Moon Should Be Privatised To End Global Poverty Says 'Space Invaders' Report
The protection of the Moon is clearly stated in the 1967 Outer Space Treaty (OST) – an international document that prohibits any state to appropriate the space rock or other celestial bodies.
Researchers from the Adam Smith Institute, a British neoliberal think tank, have suggested that dividing the Moon into regions and privatising it can help end global poverty. However, there is a twist: the think tank suggests rethinking international accords to do so.
Read more at: Moondaily
Europe Needs A Crewed Space Vehicle, Astronauts Say
Europe needs its own crewed spaceship to build its space industry and talent, astronauts who gathered in France said in an official manifesto Wednesday. Dozens of astronauts endorsed the statement that "we need to be able to count on our own autonomous access to space for humans," according to the manifesto presented at the 2022 European Space Summit in Toulouse. It calls on European officials to fund such a new space endeavor.
Read more at: Spacedaily
Macron: Europe Needs To Defend Its Sovereignty In Space
Europe needs a bolder space policy, French President Emmanuel Macron declared Wednesday, warning that Europe's sovereignty is at stake if it falls behind rival powers in a key field for technology, science and military competitiveness.
Speaking at a meeting in Toulouse, France, Macron said recent events had shown how crucial it is to be able to monitor troop movements from orbit — a reference to satellite images showing Russia's mass military deployment near Ukraine that raise fears of an imminent invasion.
Read more at: ABCnews
Biden Designates Acting White House Science Officials
Read more at: Spacepolicy online
NASA Advisory Council Welcomes New Members, Sets 2022 Goals
NASA Administrator Bill Nelson announced Wednesday he appointed new members to the NASA Advisory Council (NAC), which provides leadership counsel and advice on a variety of important and complex agency programs and topics.
Retired Gen. Lester Lyles will continue to chair the NAC and its more than 50 members appointed across the council and five committees supporting aeronautics, human spaceflight, science, and STEM, as well as technology, innovation, and engineering.
Read more at: NASA
SPACE DEFENSE
GAO: DoD Has To Step Up Efforts In Space, Cyber And Artificial Intelligence To Compete With China
The U.S. Government Accountability Office in a new report says the Defense Department has to be better prepared to respond to China's advances in space, cyberwarfare and artificial intelligence. 
"Successful preparation for strategic competition with China will depend on continuing efforts to increase U.S. combat credibility and enhance conventional deterrence that can help prevent conflict, protect U.S. interests and assure allies," GAO said in the report titled "Challenges Facing DoD in Strategic Competition with China." 
The three-page summary GAO published Feb. 15 is the unclassified version of a much more extensive report that is classified. 
Read more at: Spacenews
US Space Force's 'Orbital Prime' Project Aims To Attack Space Debris By Recycling Or Removing Junk
A new U.S. Space Force video "demands action" on space debris and asks the private sector for their help cleaning up the growing space mess. The video was released Jan. 5 on the Space Force's SpaceWERX website (its technology branch) to push a program called Orbital Prime, which aims to test out an on orbit-system within two to four years. The first solicitation is due Feb. 17.
Space debris, said Vice Chief of Space Operations Lt. Gen. David Thompson in the video, "demands action and provides an opportunity for partnership in the search for innovative solutions to recycle, reuse or remove these objects."
Read more at: Space.com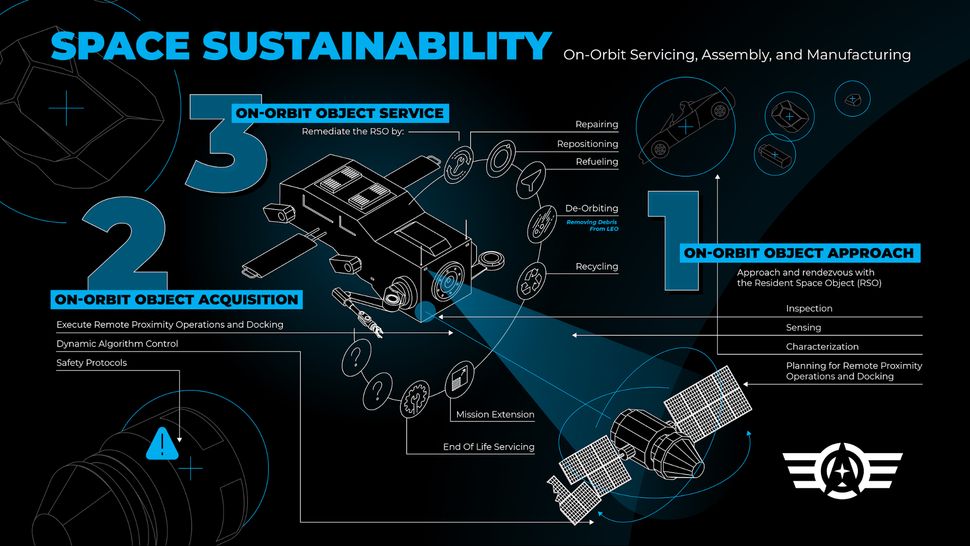 How Space Is Changing The Nature Of War
In January, the Air Force Research Laboratory changed the nature of warfare, and most people missed it. The Vanguard Program, led by Gregory Spanjers, Ph.D., awarded $102 million to SpaceX to explore point-to-point rocket cargo delivery. This is the first contract of its kind awarded to a launch provider and signals a historic revolution in the direction of military strategy.
While the thought of rocket cargo delivery may seem novel to most, visionary military strategists have been stressing the importance of this unique capability, link to other emerging technologies, and importance to the nature of warfare for years.
Read more at: Hill
Space Force To Examine U.S. Military Needs For Low-Orbiting Surveillance Satellites
Air Force Secretary Frank Kendall has directed the Space Force to look broadly at military requirements for overhead surveillance that could be met by commercial constellations of satellites in low Earth orbit. 
"We were asked that question by the secretary of the Air Force: how are we going to use commercial capabilities?" Joseph Rouge, Space Force deputy director of intelligence, surveillance and reconnaissance, said Feb. 15.
"And so we're in the middle of an effort right now to understand first the needs, and the requirements," Rouge said at en ExecutiveBiz online event. 
Read more at: Spacenews
No Love From Russia For UN Military Space Norms Meeting
Due to objections from Moscow, the first-ever UN meeting to consider norms for and potential constraints on military activities in space has been delayed. Originally scheduled to open in Geneva on Feb. 14 — Valentine's Day in the US — the launch of the ground-breaking meeting now will not happen before early May.
According to diplomats and observers participating, Russia raised a litany of procedural complaints during the Feb. 7-9 organizational meeting to lay ground rules and set the agenda for the "Open Ended Working Group (OEWG) on Reducing Space Threats Through Norms, Rules and Principles of Responsible Behaviours."
Read more at: Breaking defense
VARIOUS
A Rogue Rocket Is On Course To Crash Into The Moon. It Won't Be The First
In a few weeks' time, a rocket launched in 2015 is expected to crash into the Moon. The fast-moving piece of space junk is the upper stage of a SpaceX Falcon 9 rocket which hoisted the Deep Space Climate Observatory satellite off our planet. It has been chaotically looping around Earth and the Moon ever since.
Asteroid-hunter Bill Gray has been keeping tabs on the 4-tonne booster since its launch. This month he realised his orbit-tracking software projected the booster will slam into the lunar surface on March 4, moving at more than 9,000 kilometres per hour.
Read more at: Conversation
Billionaire Space Tourism Has Become Insufferable
Last summer, at a time when the pandemic had strained many people's finances, inflation was rising and unemployment was still high, the sight of the richest man in the world joyriding in space hit a nerve. On July 20 Amazon founder Jeff Bezos rode to the edge of space onboard a rocket built by his company Blue Origin. A few weeks earlier ProPublica had revealed that he did not pay any income taxes for two years, and in other years he paid a tax rate of just 0.98 percent. To many watching, it rang hollow when Bezos thanked Amazon's workers, whose low-paid labor had enriched him enough to start his own rocket company, even though Amazon had quashed workers' efforts to unionize several months before. The fact that another billionaire, Richard Branson, had also launched himself onboard his own company's rocket just a week earlier did not help.
Read more at: Scientific American
FAA Administrator Steve Dickson Stepping Down
The head of the Federal Aviation Administration is resigning after more than two years in the position, the agency said Wednesday.
Steve Dickson, a Trump administration holdover, announced to employees he had submitted his resignation to President Joe Biden, citing a desire to return to his family in Atlanta. Dickson has served less than half of his five-year term.
Transportation Secretary Pete Buttigieg lauded Dickson's time at the agency, "marked by steadfast commitment to the FAA's safety mission and the 45,000 employees who work tirelessly every day to fulfill it."
Read more at: Politico
Twin Study Revealed That Higher Education Level Helps Preserve Cognition Later In Life
Scientists at the University of Helsinki and the University of Turku analysed data of more than 4000 Finnish twins. They looked for cardiovascular risk factors, such as high blood pressure, high cholesterol, high body mass index and physical inactivity that are associated with poor cognition later in life. In other words, people with these particular health issues in midlife are more likely to suffer from memory problems later. Scientists wanted to see if education levels play any role in the development of these factors.
Read more at: Technology.org
Challenger Artifacts Intended For Reagan Recovered After 36 Years
Artifacts that were recovered from the fallen space shuttle Challenger and prepared for presentation to the President of the United States have been recovered again, 36 years later, after they surfaced at auction among the collection of a NASA liaison to the White House.

Little is known about how or why the late James Foster Fanseen, who died in 2000, had come into possession of the small American flag and crew patch that were mounted to a plaque and inscribed to "Ronald Reagan, President of the United States." Once recognized for what they were, though, the artifacts were restored to the proper hands, now at the Reagan Presidential Library and Museum in Simi Valley, California, collectSPACE has learned.
Read more at: Collectspace
Final Shuttle Crewmates Among Three Entering Astronaut Hall Of Fame
An astronaut who launched on the first space shuttle to fly with a full crew and two crew members who flew on the last space shuttle to launch will be honored later this year for their contributions to the United States' space program.

David Leestma, Sandy Magnus and Chris Ferguson were announced as the next class of U.S. Astronaut Hall of Fame inductees on Tuesday (Feb. 15). The three veteran space travelers will formally enter the hall during a public ceremony to be held on June 11 under the display of the retired space shuttle Atlantis — an orbiter on which all three flew — at the Kennedy Space Center Visitor Complex in Florida.
Read more at: Collectspace
Luxury Watchmaker Ulysses Nardin Unveils 'Blast Moonstruck' Watch That Charts Moon Phases
Read more at: Space.com