TOP NEWS
European Union To Build Its Own Satellite-Internet Constellation
The European Union is going to launch its own satellite communications constellation.
The European Parliament adopted the proposal for the Infrastructure for Resilience, Interconnection and Security by Satellites (IRISS) constellation on Feb. 14.
The nearly unanimous decision was backed by 603 votes with just six against. Approval of the project follows the high-profile role of SpaceX's Starlink communications satellites in aiding the defense of Ukraine, with the Russian invasion highlighting the need for secure, sovereign European capabilities.
Read more at: space.com
Russia's Replacement Soyuz Spacecraft Arrives At Space Station
A replacement Soyuz spacecraft for three International Space Station astronauts arrived at the orbiting complex as planned on Saturday night (Feb. 25).
The replacement Russian Soyuz spacecraft, called MS-23, docked with the International Space Station (ISS) Saturday at 7:58 p.m. EST (0058 GMT on Sunday, Feb. 26). The rendezvous occurred while the two spacecraft were flying 260 miles (418 kilometers) above northern Mongolia.
The uncrewed Soyuz MS-23, which launched on Thursday (Feb. 23) from Baikonur Cosmodrome in Kazakhstan, will serve as the new ride home for cosmonauts Sergey Prokopyev and Dmitry Petelin and NASA astronaut Frank Rubio. The trio's original ride, Soyuz MS-22, sprung a leak in mid December and lost all of its coolant.
Read more at: space.com
Astra's Failed Launch Resulted In The Loss Of Two NASA Weather Satellites
A rocket belonging to the up-and-coming Astra space company failed to deliver two of NASA's weather-tracking satellites to space after its second stage engine shut down prematurely. Both satellites were lost as a result of the failure.
Astra's Launch Vehicle 0010 (LV0010) successfully took off from Florida's Cape Canaveral Space Force Station at 1:43PM ET, but suffered an upper stage failure about 10 minutes into its flight. The launch was part of NASA's mission to send six TROPICS satellites into space — these small, foot-long CubeSats are supposed to help NASA keep better track of developing tropical storms. CubeSats are low-cost satellites frequently built by researchers at colleges and universities.
Read more at: Verge

SPACE HAZARDS and STM
The 5 Big Worries The Commerce Department Has About Space Traffic Management
The Commerce Department is wrestling with a handful of tough issues as it works to flesh out a framework for a future US space traffic management regime, stemming in large part from the "tripling of active spacecraft in orbit" in recent years, according to the senior official responsible for commercial space. Richard DalBello, director of the Office of Space Commerce (OSC), last week told the National Space Council's User Advisory Group (UAG) his office faces five key challenges that he is hopeful the group's members can help resolve. The UAG had its introductory meeting on Feb. 23, and members also met with Vice President Kamala Harris, who chairs the National Space Council.
Read more at: breaking defense

The Sun Is About To Get More Active Than It Has For A Decade — And It Could Lead To Power Outages, Grounded Flights, And Stunning Auroras
The sun may be waking up after almost a decade of relative calm, scientists say — and that could cause problems on Earth.
The solar storms that rage on our star during its active period create bursts of electromagnetic energy that can affect everything from the power grid to GPS signals.
These so-called solar maximums occur roughly every 11 years, and they haven't been much of a problem in the past.
Read more at: Business insider
Powerful Solar Storm Delays Spacex Rocket Launch, Stalls Oil Rigs In Canada Amid Aurora-Palooza
A powerful solar storm that swept across Earth on Monday (Feb. 27) forced SpaceX to delay a Starlink launch from Florida and temporarily disrupted operations of several Canadian oil rigs as GPS signals were too inaccurate. SpaceX eventually launched those satellites, the first batch of 21 second-generation Starlink internet spacecraft, at 6:13 p.m. ET (2313 GMT) on Monday after the geomagnetic storm, classified by the U.S. National Oceanic and Atmospheric Administration (NOAA) as a strong G3 storm subsided. Liftoff occurred about 4.5 hours after the originally scheduled launch time.
Read more at: space.com
COMMERCIAL SPACE
Virgin Galactic's Loss Could Widen as Operating Costs Balloon
Virgin Galactic Holdings Inc., the world's first publicly traded space tourism company, likely lost over $100 million in the fourth quarter as operating costs surged and the company geared up to begin commercial operations.
Virgin Galactic's net loss for the fourth quarter likely increased 72% to $139 million, or 52 cents a share, from $81 million a year ago, according to estimates compiled by Visible Alpha. The company is expected to report $0.5 million in revenue, a 251% year-over-year increase more than offset by a 125% increase in research and development costs ($93 million). Virgin Galactic reports results after markets close Feb. 28.
Read more at: investopedia
Mitsubishi Makes Strategic Investment In Astroscale's $76 Million Funding Round
Astroscale said Feb. 27 it has raised $76 million from investors including satellite maker Mitsubishi Electric, which plans to add docking plates to Japanese national security spacecraft to make them compatible with the debris removal venture's servicers.
Japan-based Astroscale has now raised more than $376 million since it was founded a decade ago for a business aiming to make on-orbit servicing routine by 2030.
The funds "will significantly contribute to further innovative technology development, global expansion and increased capacity to meet the growing demand," Astroscale CEO and founder Nobu Okada said in a statement.
Read more at: Spacenews
Meet The Space Billionaire Who Is Interested In Something Other Than Rockets
There's a new space billionaire, and this one is not interested in launching rockets. His name is Jed McCaleb, a US software developer who made his fortune in blockchain development and cryptocurrency. With an acquisition last week of a small space company named Launcher, McCaleb has shown he is serious about building a space station in low-Earth orbit.
McCaleb's space habitation company, Vast, emerged publicly last fall with a plan to build space stations that featured artificial gravity. This was significant because NASA and most other space agencies around the world have devoted little time to developing systems for artificial gravity in space, which may be important for long-term human habitation due to the deleterious effects of microgravity experienced by astronauts on the International Space Station.
Read more at: Arstechnica
Blue Origin Continues Investigation Into New Shepard Anomaly
Nearly six months after an in-flight anomaly on a New Shepard suborbital mission, Blue Origin says it is still investigating the mishap and has no firm schedule for resuming launches.
Speaking at the Next-Generation Suborbital Researchers Conference here Feb. 28, Gary Lai, chief architect for New Shepard at Blue Origin, said the company was continuing to investigate the Sept. 12 uncrewed mission, designated NS-23.
Read more at: Spacenews
SpaceX Aborts Launch Of Four-Man Crew To Space Station Just Before Liftoff
In a frustrating disappointment, the launch of a SpaceX Crew Dragon capsule carrying a four-man crew bound for the International Space Station was called off with less than three minutes to go early Monday because of trouble with a system used to ignite the Falcon 9's first stage engines.
Crew-6 commander Stephen Bowen, Warren "Woody" Hoburg, cosmonaut Andrey Fedyaev and Emerati astronaut Sultan Alneyadi, the first Arab assigned to a long-duration station flight, took the scrub in stride and patiently waited inside the spacecraft while the rocket's propellants were drained away.
Read more at: CBSnews
Virgin Galactic Completes Lengthy Upgrade Process Ahead Of Resuming Spaceflights
Virgin Galactic said on Tuesday it remains on track to resume spaceflights in the coming months after completing upgrades to its carrier aircraft and spacecraft.
The update came alongside the company's fourth-quarter results, which showed losses roughly in line with its previous quarter.
"Our near-term objective for commercial spaceline operations is to safely deliver recurring flights with our current ships while providing an unrivaled experience for private astronauts and researchers," Virgin Galactic CEO Michael Colglazier said in a statement.
read more at: CNBC
Rocket Lab Quarterly Revenue Stays Steady As Space Company Doubles Order Backlog
Rocket Lab said Tuesday it has doubled its order backlog — from about $241 million in contracts at the end of 2021 to $503.6 million at the end of 2022 — and made progress on the Neutron rocket that it's developing.
"2022 we are generally very, very happy with, and what's important to me is that we did what we said we're going to do," Rocket Lab CEO Peter Beck told CNBC.
"We pride ourselves on executing and we'll back ourselves to execute this year," Beck added.
Read more at: CNBC
Rocket Lab Reconsidering Mid-Air Recovery Of Electron Boosters
Rocket Lab is reconsidering the use of mid-air recovery of Electron boosters as part of its efforts to reuse the vehicle.
In comments during a Feb. 28 earnings call, Peter Beck, chief executive of Rocket Lab, said the company was weighing recovering stages from the ocean and refurbishing them for launch rather than catching a stage with a helicopter, something that the company attempted twice, unsuccessfully, last year.
Read more at: Spacenews
What's the Deal With Bezos's Grounded Rocket?
Blue Origin's chief architect, Gary Lai, provided an update Tuesday on the investigation into the failed launch of the company's New Shepard rocket in September of last year. Troublingly, it's what he didn't say about the ongoing investigation that's giving us cause for concern.
I'd like to be able to tell you the reason for the September 12 launch failure and when Blue Origin's suborbital rocket will fly again, but I can't.
Read more at: Yahoo news
Astra Identifies Cause Of Last Failed Rocket 3.3 Launch
An investigation into a failed Astra launch last June concluded that a complex series of events caused a fuel leak that kept the rocket's upper stage from reaching orbit.
In a March 1 statement, Astra said it received a letter from the Federal Aviation Administration formally concluding the investigation into the June 2022 launch of its Rocket 3.3 vehicle from Cape Canaveral, Florida. The rocket's upper stage shut down prematurely, keeping its payload of two NASA TROPICS cubesats from reaching orbit.
Read more at: spacenews
SCIENCE AND TECHNOLOGY
Revolutionizing Agriculture: The Next Frontier of Farming on the Moon
Sooner or later, settlers on the Moon will have to become farmers. A new The good news is that analysis of lunar samples returned to Earth in the past by Moonwalkers and robots shows sufficient essential minerals are available for plant growth, apart from nitrogen compounds. The bad news is that lunar soil (or 'regolith') compacts in the presence of water, creating problems for plant germination and root growth.
read more at: scitechdaily
China Unveils Lunar Lander To Put Astronauts On The Moon
China has revealed a concept for a lunar lander it hopes will put astronauts on the moon around the end of the decade.
A model of the Chinese lunar lander was unveiled at an exhibition to mark three decades of China's human spaceflight program Feb. 24 at the National Museum of China in Beijing.
The model shows that China is working on a staged descent concept, which differs from the Apollo landings. A propulsion stage will be used for most of the descent, before the lander segment completes a powered descent and soft landing on the lunar surface.
Read more at: spacenews
NASA's IBEX Spacecraft Not Responding To Commands After Computer Glitch During 15-Year Mission To Study Interstellar Border
A NASA spacecraft exploring a key deep-space zone is in contingency. NASA's Interstellar Boundary Explorer (IBEX) experienced a flight computer reset Feb. 18, agency officials said in an update Friday (Feb. 24). The spacecraft launched in October 2008 to examine the outer edge of the heliosphere, or the "bubble" that represents the boundary between the sun's environment and interstellar space.
Read more at: space.com
Liquid Nitrogen May Do The Trick For Getting Moon Dust Off Spacesuits
If you've ever been to the Moon (and who hasn't?), then you'll know that the clingy dust which covers its surface can damage spacesuits. According to a new study, a spray of liquid nitrogen may offer the best method of getting the stuff off – while leaving suits intact.
Scientifically known as lunar regolith, moon dust isn't like most natural dust here on Earth.
For starters, because it isn't subject to erosion by wind or water, the fine particles are quite jagged and abrasive. Additionally, because regolith is saturated with solar radiation, it has a positive charge which causes it to cling to anything with which it comes into contact.
Read more at: newatlas
SPACE POLICY
FAA Seeks To Fine Spacex For August 2022 Starlink Launch
The U.S. Federal Aviation Administration (FAA) announced a proposal recently to issue a $175,000 fine against SpaceX for failing to submit a collision-avoidance analysis ahead of an August 2022 launch of 53 of its Starlink internet satellites. Launches like this have become routine for SpaceX. Last year, the company beat its own record, totaling 61 launches for 2022 — most of them devoted to lofting big Starlink batches. To date, SpaceX has launched more than 4,000 Starlink satellites, blanketing low Earth orbit (LEO) with its wireless internet infrastructure.
Read more at: space.com
UK Now Seen As 'Toxic' For Satellite Launches, Mps Told
Britain's failed attempt to send satellites into orbit was a "disaster" and MPs are being urged to redirect funding to hospitals, with the country now seen as "toxic" for future launches.
Senior figures at the Welsh company Space Forge, which lost a satellite when Virgin Orbit's Start Me Up mission failed to reach orbit, said a "seismic change" was needed for the UK to be appealing for space missions.
Lengthy delays by the Civil Aviation Authority (CAA), as well as the launch failure, had left Space Forge six months behind its competition in the race to be the first company to bring a satellite back down to Earth, when it had been six months ahead, the science and technology committee heard.
Read more at: guardian
Sources Say Prominent US Rocket-Maker United Launch Alliance Is Up For Sale
One of the world's most important rocket companies, United Launch Alliance, may be sold later this year.
The potential sale has not been disclosed publicly, but three sources confirmed to Ars that potential buyers have been contacted about the opportunity. These sources said a deal is expected to be closed before the end of this year and that investment firm Morgan Stanley and consulting firm Bain & Company are managing the transaction.
Read more at: Arstechnica
Deutsche Telekom and European Space Agency Strive for Maximum Resilience
Many people describe their digital state in everyday life as "always on". Natural disasters in recent years have shown how easily this everyday life can get out of control. Most recently, the earthquake in Turkey. In such a situation, survivors would have decisive advantages if they were still "always on". But in an emergency, the infrastructure on the ground is often just as affected by the consequences as the people.
The European Space Agency (ESA) and Deutsche Telekom will jointly work to enable seamless connectivity from terrestrial networks, from the sky or from above.
Read more at: spaceimpulse
NASA Awards $217 Million Communications Contract To Alabama Company
NASA has awarded all communication support services contracts for the space agency to an Alabama media company owned by the Poarch Band of Creek Indians, the space agency announced today. The potential value of the contract is $217.6 million, NASA said.
The deal with PCI Productions LLC of Huntsville includes all NASA centers, such as the Marshall Space Flight Center in Huntsville, Kennedy Space Center in Florida, Johnson Space Center in Houston, NASA Washington headquarters and NASA's four science mission directorates, the announcement said. PCI could not be reached after the announcement Friday afternoon for comment.
Read more at: al.com
DoD Releases Updated Guidance On 'Responsible Behaviors In Space'
The U.S. Defense Department on March 3 released updated guidelines for safe and responsible space operations.
These guidelines were issued Feb. 9 by Defense Secretary Lloyd Austin in a memo that lays out five "tenets of responsible behavior in space." Austin first released the tenets in July 2021. The update reflects recommendations from U.S. Space Command and includes specific behaviors for each of the five tenets.
U.S. Space Command said the list of behaviors was developed in consultation with the military services, DoD leaders, the National Reconnaissance Office, the Department of State and the National Security Council staff.
Read more at: spacenews
SPACE DEFENCE
Industry Group To Examine Potential Security Threats In Cislunar Space
The Space Information Sharing and Analysis Center, or Space ISAC, is forming a group to focus on the security threats the United States could face in cislunar space outside Earth orbit.
"Cislunar space is of growing interest to the world with the launch of the Artemis Accords," the Space ISAC said Feb. 28.
Based in Colorado Springs, the nonprofit Space ISAC was founded in 2019 to facilitate collaboration across the space industry to prepare for and respond to cyberattacks and other threats.
Read more at: spacenews
Raytheon Wins $250 Million Contract For Missile-Tracking Satellites
The Space Development Agency awarded Raytheon Technologies a $250 million contract to build seven missile-tracking satellites for the agency's low Earth orbit constellation, the company announced March 2.
The seven satellites will be part of SDA's Tracking Layer Tranche 1, a U.S. Defense Department constellation of infrared-sensing satellites intended to detect and track ballistic and hypersonic missiles launched by foreign adversaries.
Read more at: spacenews
Australian Space Industry Warns of Chinese Satellite Surveillance
Australia's space industry is warning that China is increasing its satellite surveillance. The warning comes as Australia's Defense Space Command says it is working on a plan to acquire so-called soft-kill technology to take out enemy satellites.
In February, the United States shot down a giant Chinese balloon that it said had been spying on key military sites across America. Beijing, however, insisted it was a civilian aircraft that had drifted off course.
Read more at: voanews
White House Cybersecurity Strategy Warns Of 'Complex Threat Environment'
The White House on March 2 released a national cybersecurity strategy that points at Russian and Chinese hackers as major threats to U.S. terrestrial and space networks. "We face a complex threat environment, with state and non-state actors developing and executing novel campaigns to threaten our interests," the White House said.
Read more at: spacenews
The Pentagon Is Obsessed With Hypersonics, Especially Its New Rocket Engine
Hypersonic engines come in all shapes and sizes—some are even 3D printed. At least, that's the case with Seattle-based New Frontier Aerospace's (NFA) Mjölnir engine.
The Mjölnir is a full-flow, 3D-printed engine whose high weight-to-thrust ratio means its could be a perfect fit for everything from hypersonic aircraft to planetary landers. Because of this reported operational flexibility along with its low-carbon design, the Department of Defense put down another $1.5 million bet (in addition to its initial $750,000 funding back in 2021) on the technology this week.
Read more at: Popular Mechanics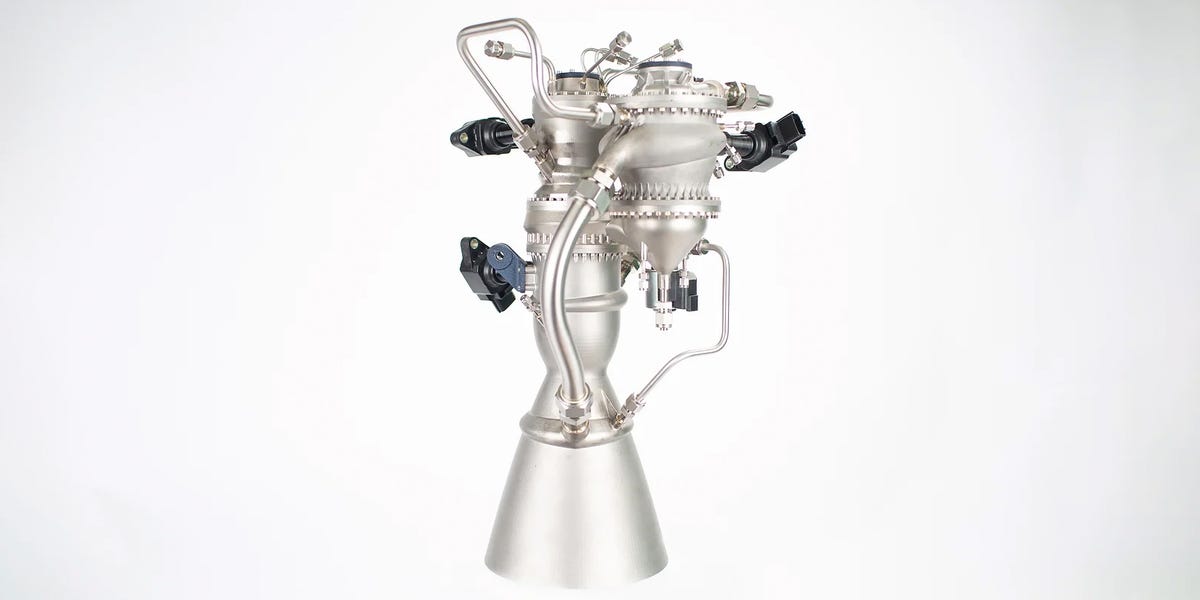 VARIOUS
DNA From 4 American Presidents Will Launch To Deep Space
DNA from four former United States presidents will be going to space.
Texas-based space burial company Celestis will honor George Washington, Dwight D. Eisenhower, John F. Kennedy, and Ronald Reagan by adding their symbolic remains to the aerospace firm's upcoming deep space remembrance Enterprise Flight, along with several deceased "Star Trek" legends and science fiction superstars. The flight was announced in a Celestis blog post (opens in new tab) on Feb. 20, President's Day
Read more at: space.com
China To Expand Its Space Station, International Astronaut Selection Underway
China is planning to expand its Tiangong space station with a multi-functional module to enhance its capabilities.
China completed the construction of the three-module Tiangong space station last November, realizing a plan first approved in 1992.
The operational phase of the station began with a first crew handover late last year. China plans to keep Tiangong permanently inhabited for at least a decade with crews of three spending six months at a time in orbit.
Read more at: spacenews
Europe Pushing For The Moon To Have Its Own Time Zone
With more lunar missions than ever on the horizon, the European Space Agency wants to give the moon its own time zone.
This week, the agency said space organizations around the world are considering how best to keep time on the moon.
The idea came up during a meeting in the Netherlands late last year, with participants agreeing on the urgent need to establish "a common lunar reference time," said the space agency's Pietro Giordano, a navigation system engineer.
Read more at: NYpost
A New Generation Of Airships Is Taking To The Skies
The smooth, white underbelly of the airborne whale sails across the sky, casting a shadow across the forest below.
Other than its enormous size, though, this "whale" has very little to do with its animal namesake. It's an airship, and French aeronautics company Flying Whales hopes its hybrid-electric, helium-lift vessel will change the shape of sustainable transport.
The airship could help solve the problem of how to transport cargo "when infrastructure is lacking, or just doesn't exist at all," says Romain Schlack, Flying Whales' head of communications. "We are going to add new possibilities to global logistics, while overcoming obstacles and problems on the ground."
Read more at: CNN
Hubble Space Telescope Captured 'Movie' Of Spacecraft Slamming Into Asteroid
When a NASA spacecraft intentionally crashed into an asteroid on September 26, the collision caused the space rock to release a cometlike tail. An array of telescopes, including the Hubble Space Telescope, were perfectly positioned to capture the DART, or Double Asteroid Redirection Test, mission and its aftermath, which continues to surprise astronomers five months later.
Read more at: CNN
Starship Debut Leading The Rocket Industry Toward Full Reusability
Starship's first orbital flight is currently planned for March. This is the first time the anticipated flight date of the vehicle is in the current month, and with that, a future of fully reusable rockets is getting closer. But not only is Starship aiming for reusability, but the rest of the industry is also moving toward reusing rockets.
This is the case for rockets in the United States and programs such as the Ariane NEXT in Europe or Chang Zheng 9 in China.
Read more at: NASA spaceflight

End 'Colonial' Approach To Space Exploration, Scientists Urge
Humans boldly going into space should echo the guiding principle of Captain Kirk's Star Trek crew by resisting the urge to interfere, researchers have said, stressing a need to end a colonial approach to exploration.
Nasa has made no secret of its desire to mine the moon for metals, with China also keen to extract lunar resources – a situation that has been called a new space race.
But Dr Pamela Conrad of the Carnegie Institution of Science said the focus should shift away from seeking to exploit discoveries.
Read more at: Guardian

Scientists Discover Answer To The Mystery Of Cloudy Filters On Satellites
There's a mystery happening in some satellites facing the sun, and scientists from the National Institute of Standards and Technology (NIST) and the Laboratory for Atmospheric and Space Physics (LASP) are on the case. The team has been trying to figure out what is clouding up and compromising the performance of tiny, thin metal membranes that filter sunlight as it enters detectors that monitor the sun's ultraviolet (UV) rays.
These detectors can warn us about impending solar storms—bursts of radiation from the surface of the sun—that could reach Earth and temporarily disrupt communications or interfere with GPS readings.
Read more at: phys.org

What Will Ethical Space Exploration Look Like?
If the dreams of space agencies and private companies come to fruition, within a couple of decades we'll have orbiting hotels and lunar mining colonies, and the first human visitors will be en route to the Red Planet. But astrophysicist Erika Nesvold argues that the shape of tomorrow's space expeditions and conflicts could depend on ethical choices people make today. Nesvold is coeditor of the book Reclaiming Space, which was published today, and the author of Off-Earth, due out on March 7. She's also a cofounder of JustSpace Alliance, a nonprofit organization that advocates for a more inclusive and ethical future in space, and a developer for Universe Sandbox, a physics-based space simulator.
Read more at: Wired

Here's Why The Northern Lights Drifted South to The UK This Week
People across the UK, from the Shetland Islands to Somerset and from Norfolk to Northern Ireland, have been treated to a stunning display of the aurora borealis or northern lights recently. But what causes this beautiful phenomena and why has it appeared so far south? For thousands of years, people associated the ghostly northern lights with the world of restless spirits. But over the last century, science has revealed that aurorae originate in the area surrounding our planet. The near-Earth region of space is known as the magnetosphere.
REad more at: science alert