TOP NEWS
In Defence of Ariane 6
I am genuinely irritated that I must be the voice of reason on this issue. I have been quite open about my concerns with Ariane 6 and the way its development has been managed by ArianeGroup – it's to the point where I appear to have been blacklisted by the company's communications team. But a recent Politico article was so egregious in its manipulation of the facts that it necessitated me coming to the aid of something that I don't necessarily support. Ariane 6 is not a perfect solution, the programme has had its bumps, I do wish someone would take responsibility for the delays, and I would like there to be more transparency about where things went wrong. That being said, I will not abide by the sheer nonsense written in this 569-word article, a length which is, of course, more than adequate to break down what is an extremely complicated issue.
Read more at: europeanspaceflight
Japanese iSpace Moon Landing Attempt Falls Short At 'Very End,' CEO Says
Japanese lunar exploration company ispace attempted to land its first cargo mission on the moon on Tuesday, but lost communication with the spacecraft and has deemed the attempt unsuccessful, CEO Takeshi Hakamada said.
"We have not been able to confirm a successful landing on the lunar surface," Hakamada said, speaking from Tokyo, Japan.
"We are very proud of the fact that we have achieved many things during this Mission 1," Hakamada added. "We will keep going — never quit the lunar quest."
Read more at: CNBC

Russia Agrees To Stay Aboard International Space Station Through 2028
Russia's departure from the International Space Station (ISS) program isn't so imminent after all.
Last year, shortly after Russia invaded Ukraine, Russian space officials said the nation would leave the ISS partnership sometime after 2024, so it could focus on building its own outpost in low Earth orbit.
That vague departure date left open the possibility that Russia would actually stay aboard for a few more years — and that's exactly what's going to happen, we learned today (April 27).
"Russia has confirmed it will support continued station operations through 2028," NASA officials wrote in an update (opens in new tab) this afternoon.
Read more at: space.com

The FAA Let SpaceX Launch Starship Without The Usual Pad Protections
The multi-year bureaucratic clash over the environmental impact of the world's largest rocket considered everything from endangered birds and historical monuments to exhaust and construction noise, but the Federal Aviation Administration (FAA) didn't anticipate one thing: dust. As SpaceX's Starship rocket took flight last week in Texas, more than two dozen powerful rocket engines fired at once, pushing the enormous vehicle into space—and blasting away at the launch gantry and the ground below it with more than 6,000 metric tons of force.
Read more at: QZ

SPACE HAZARDS & STM
KMI Advertises Prices For Debris Removal
It would cost a little under $4 million to retrieve the 24-kilogram Thor Altair rocket body from low-Earth orbit.
The price tag for nabbing NASA's defunct Cosmic Background Explorer, weighing in at 2245 kilograms, is $62.5 million, according to a deck of cards Kall Morris Inc. handed out at the 38th Space Symposium.
KMI, a Michigan-based startup focused on space debris remediation, printed cards to show prices the company will charge for grabbing space junk. Each of the 52 cards shows a U.S.-owned object along with its mass, launch date and North American Aerospace Defense Command catalog number.
Read more at: spacenews
Billions Of Tons Of Plasma Are Set To Hit Earth TODAY After Explosion Of Superheated Gas On The Sun – And There's A One In 10 Chance It Could Cause Blackouts On Earth
A massive explosion on the sun's surface this week released billions of tons of plasma that are set to hit Earth today.
The eruption, known as a coronal mass ejection (CME), shot out from the southwest region of the sun, sending plasma shooting toward our planet with the help of intense solar winds.
Prediction reports suggest there is a 50 percent chance the particles will disrupt satellites in Earth's orbit and a 10 percent risk of blackouts.
Read more at: dailymail
Severe Solar Storm Slams Into Earth And Sparks Stunning Auroras Around The World (Photos)
A powerful solar storm hit Earth on April 23 at 1:37 p.m. EDT (1737 GMT) and sparked magnificent aurora shows around the world. Geomagnetic storms are disturbances to Earth's magnetic field caused by solar material from coronal mass ejections (CME) — large expulsions of plasma and magnetic field from the sun's atmosphere. This particular geomagnetic storm was triggered by a CME which left the sun on April 21. The geomagnetic storm peaked as a severe G4 on the 5-grade scale used by the U.S. National Oceanic and Atmospheric Administration (NOAA) (opens in new tab) to assess the severity of space weather events.
Read more at: space.com
COMMERCIAL SPACE
Here's What Caused The SpaceX Starship Explosion And How It's Different For Florida
Shortly after SpaceX's massive Starship launched from Texas on its first full test early Thursday, the 400-foot stack of hardware began to tumble until it broke apart in a fiery explosion over the Gulf of Mexico.
The overall demonstration mission – a test of the new rocket's ability to ignite and clear the pad's 500-foot tower – was successful. At liftoff, however, several of the rocket's 33 Raptor engines failed to fire up as planned. Then came the more than minute-long tumble at roughly three minutes into flight, which kicked off just after the rocket's Starship upper stage and Super Heavy booster failed to separate.
Read more at: floridatoday
Virgin Orbit Completes Launcherone Investigation As Chapter 11 Bankruptcy Continues
Virgin Orbit says it is moving ahead with plans to return its LauncherOne rocket to flight later this year even though there is no certainty the company will emerge from bankruptcy.
The company announced April 19 that it completed an investigation into the failure of its previous LauncherOne mission Jan. 9. On that flight, the rocket's second stage engine shut down prematurely, preventing the stage and its payloads from reaching orbit.
Virgin Orbit said that tests confirmed that the root cause of the failure was a fuel filter that dislodged in the propulsion system and made its way into the Newton 4 engine. Dan Hart, chief executive of Virgin Orbit, said at a conference in February that the fuel filter was the likely cause of the launch failure.
Read more at: spacenews
Lockheed Martin Demonstrates System For Servicing Cubesat Swarms
In an autonomous orbital ballet, Lockheed Martin's In-space Upgrade Satellite System (LM LINUSS) completed a demonstration of how highly automated CubeSats can upgrade and service increasingly common constellations of small satellites.
One constant of commercial space operations is that launching satellites is always expensive and that it is often cost effective to simply abandon an otherwise perfectly good orbital asset because of a malfunction.
That attitude has been changed in recent years with companies like Northrop Grumman opting to develop repair satellites that can dock with ageing and ailing satellites, then act as service modules to help them keep station and continue function.
Read more at: newatlas
Chinese State-Owned Academy Makes Rocket Engines Available To Commercial Space Firms
China's Academy of Aerospace Liquid Propulsion Technology is marketing reusable rocket engines to speed up development of China's commercial space sector.
Three engines are being marketed, including the YF-102 kerosene-liquid oxygen gas generator engine, which uses 3D printing techniques and the vacuum-optimized YF-102V. The third is the reusable YF-209 methane-liquid oxygen, 80-ton-thrust engine. The latter is still in development, with hot fire testing being carried out in February.
Read more at: spacenews
After Nearly Two Years, Virgin Galactic's Space Plane Returns To The Sky
The VSS Unity spacecraft did not make a powered flight with its rocket engine on Wednesday, but it cleared the final hurdle before doing so by performing a glide test in New Mexico.
On Wednesday morning, the VMS Eve aircraft took off from Spaceport America and subsequently released the spacecraft at an altitude of about 14 kilometers. After this, VSS Unity glided back to the runway in New Mexico, testing modifications to the spacecraft's flight controls and handling.
Read more at: arstechnica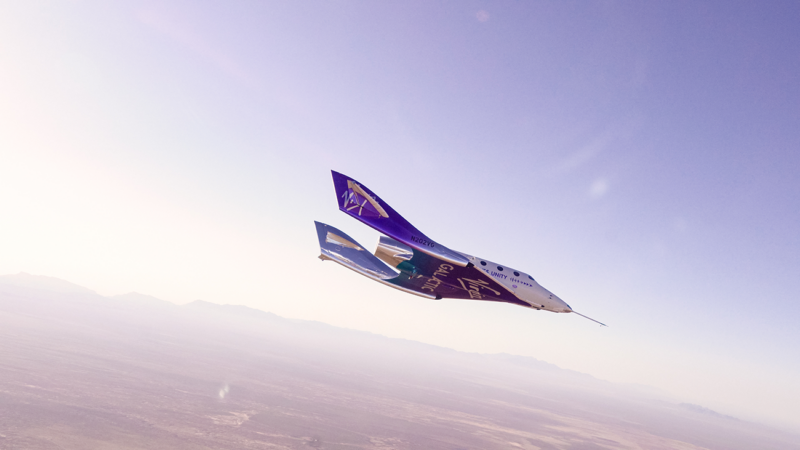 SCIENCE & TECHNOLOGY
As Megaconstellations Grow, Scientists Become Concerned With Their Impacts On Astronomy
Since their initial launch in 2019, SpaceX's Starlink internet satellites have become infamous for photobombing observations from ground-based telescopes. While Starlink — along with other satellite "megaconstellations" — has been a primary concern for ground-based telescope observations, a new issue has begun to pop up; the satellites are now occasionally obstructing images from one of NASA's flagship space telescopes, the Hubble Space Telescope. These "photobombings" point to a concerning future for astronomy in low Earth orbit (LEO), as telescopes in LEO may begin to face the same problems ground-based telescopes face today — especially as these satellite megaconstellations grow.
Read more at: NASA spaceflight
Nuclear Power Could Usher in an Atomic Era of Space Exploration
As space agencies set their sights deeper into space than ever before, they're going to need some innovative new tech to get the job done — and nuclear power might do the trick.
Nuclear energy has aided trips to the cosmos for six decades, taking our understanding of the solar system to new heights. But just how far away are these technologies from becoming humanity's most tried and true method to power vehicles and usher in a new era of extraterrestrial exploration?
Read more at: Inverse
Juice's First Taste Of Science From Space
ESA's Jupiter Icy Moons Explorer, Juice, has recorded magnetic field data as its 10.6 m-long magnetometer boom deployed.
Juice launched on 14 April, with deployments and activation of its antennas, booms, sensors and instruments ongoing over the next months in a dedicated check-out period known as the commissioning phase.
Read more at: ESA
NASA Power Hack Extends 45-Year Voyager 2 Mission Even Longer
At 12 billion miles (20 billion kilometers) from Earth, Voyager 2 is so far that it takes more than 22 hours for NASA's signals to reach the probe. With its power gradually diminishing, mission planners thought they might have to shut down one of its five scientific instruments next year, but a newly implemented plan has resulted in a welcomed delay.
A recent adjustment, in which the probe redirects a tiny amount of power meant for an onboard safety system, means all five scientific instruments aboard Voyager 2 can stay active until 2026, according to a NASA Jet Propulsion Lab press release.
Read more at: Gizmodo
NASA Scientists Extract Oxygen From Simulated Moon Dirt
In a groundbreaking step towards establishing a human presence on the Moon, NASA extracted oxygen from simulated lunar soil in a "dirty" chamber with similar conditions to the Moon's environment.
During a recent test at NASA's Johnson Space Center in Houston, scientists were able to produce oxygen from the soil in a vacuum environment for the first time, the space agency announced on Tuesday.
Read more at: Gizmodo
Key Radar Antenna Stuck On Europe's Jupiter-Bound Spacecraft
A critical antenna is jammed on a Jupiter-bound spacecraft launched two weeks ago, the European Space Agency reported Friday.
The 52-foot (16-meter) radar antenna on Juice unfolded only one-third of the way following liftoff, according to the space agency.
Engineers suspect a tiny pin may be protruding. Flight controllers in Germany plan to fire the spacecraft's engine in hopes of shaking the pin loose. If that doesn't work, they said they have plenty of time to solve the problem.
Read more at: phys.org
China May Include Helicopter In Mars Sample Return Mission
China is sharpening the details of its Tianwen-3 mission to collect samples from Mars and deliver them to Earth.
New mission details and defined objectives were revealed in presentations made at the International Conference of Deep Space Sciences in Hefei, Anhui province, April 22.
The mission will use a pair of Long March 5 rockets to send two separate spacecraft stacks towards the Red Planet around 2030 with the goal of collecting and returning 500 grams of samples.
Read more at: spacenews
SPACE POLICY
India's Space Policy Set to Propel Startups to New Heights
Indian government has approved the much awaited Indian Space Policy, which seeks to institutionalize and encourage private sector's participation in the space sector.
A cabinet committee helmed by Prime Minister Narendra Modi approved the Indian Space Policy 2023, which delineates responsibility to ISRO, New Space India Limited (NSIL, a space sector PSU), and Indian National Space Promotion and Authorization Center (IN-SPACe).
The Union Minister, Jitendra Singh said, "In brief, the Indian Space Policy will offer clarity in the role of the components set up (in the recent past).
Read more at: geospatialworld
FAA Grounds SpaceX's Starship Prototypes Pending 'Mishap Investigation' of Explosive Launch Attempt
The Federal Aviation Administration (FAA) has grounded SpaceX's Starship prototypes as it completes a "mishap investigation" into last week's dramatic test flight.
April 20 saw SpaceX attempt the first orbital launch of its Starship spacecraft and Super Heavy booster, which culminated in the spectacular loss of the prototype launcher less than four minutes after lift-off.
The devastating force of the Super Heavy booster's 33 Raptor engines gouged out a crater beneath the launch stand, and kicked a vast cloud of debris into the sky above SpaceX's Texas spaceport.
Read more at: IGN
Connecting The Dots | SES-Intelsat Merger Would Face Uphill Regulatory Struggle
Plenty of operational synergies await SES and Intelsat if the world's largest fixed satellite service (FSS) providers can craft a merger able to clear regulatory scrutiny.
Following years of industry speculation, SES confirmed it was in early talks about combining with Intelsat on March 29, shortly after Bloomberg reported a deal could be just weeks away.
A merger would bring together more than 70 satellites SES has across geostationary and medium Earth orbit with Intelsat's more than 50 geostationary satellites, forming a company exceeding $4 billion in annual revenues.
Read more at: spacenews
China To Establish Organization To Coordinate International Moon Base
China National Space Administration will soon set up an organization to oversee and coordinate the China-led International Lunar Research Station.
Wu Weiren, Director General of the Deep Space Exploration Laboratory (DSEL), said during an exploration conference April 25 that the International Lunar Research Station Cooperation Organization (ILRSCO) would soon be established to coordinate and manage the construction of the ILRS moon base. Founding members are expected to sign the agreement on ILRSCO before June.
Read more at: spacenews
Nelson Bullish on Starship Despite Failure, Worried About Budget Cuts
NASA Administrator Bill Nelson expressed confidence today that the Artemis III mission will launch around the end of 2025 as planned despite the failure of SpaceX's Starship launch last week. Starship will be the Human Landing System that takes NASA astronauts from lunar orbit down to and back from the surface. Without Starship, there is no landing. Nelson downplayed the failure as "not a big downer in terms of how SpaceX does things." Of greater concern is the spending cuts that passed the House yesterday as part of a deficit reduction bill.
Read more at: spacepolicyonline
SPACE DEFENCE
Thales Seizes Control Of ESA Demonstration Satellite In First Cybersecurity Exercise Of Its Kind
The European Space Agency (ESA) challenged cybersecurity experts in the space industry ecosystem to disrupt the operation of the agency's OPS-SAT demonstration nanosatellite. Participants used a variety of ethical hacking techniques to take control of the system used to manage the payload's global positioning system, attitude control system1 and onboard camera. Unauthorised access to these systems can cause serious damage to the satellite or lead to a loss of control over its mission. Thales's offensive cybersecurity team worked with the Group's Information Technology Security Evaluation Facility (ITSEF2) for this unique exercise, which demonstrates the need for a high level of cyber resilience in the very specific operating environment of space.
Read more at: thales group
US Took Its 'Eyes off the Ball,' Space Force Intel Chief Says as Service Adds New Squadrons
The Air Force took its "eyes off the ball" gathering intelligence about other governments' space activities, the colonel charged with overseeing that mission told a conference last week, so the Space Force is adding five new intelligence squadrons.
"Those of us who've been in the military for a little while, over the last 20 years or so, we've been very focused on counterterrorism and the old GWOT" — Global War on Terror — "battle, and we've really kind of taken our eyes off the ball in space," Col. Brett Swigert, commander of the Space Force's Space Delta 7, said to an audience gathered around a booth on the expo floor of the Space Symposium in Colorado Springs, Colo.
Read more at: military.com
U.S. Is Concerned About Threats From Chinese Space Program, Leaked Documents Show
The United States is concerned about potential threats from adversarial space programs, particularly China, The Washington Post reported Wednesday. Top-secret intelligence documents obtained by the Post reportedly said that China had developed the capabilities "to hold key U.S. and Allied space assets at risk." Another document said that China would deploy these capabilities in a potential military conflict with Taiwan, the Post reported.
Read more at: yahoo
A Russian 'Inspector' Satellite Appears To Be Chasing A Secret US Military Satellite In A Game Of Cat And Mouse
A mysterious Russian satellite and a confidential US military satellite appear to be engaged in a cat-and-mouse chase through space. The Russian spacecraft, called Kosmos-2558, was launched into the same orbital plane as the US satellite, called USA-326, in August 2022 and has regularly passed close to the American spacecraft ever since.
Read more at: business insider
Albedo Catches Space Force Eyes With Ultra-High Fidelity Imagery From Very Low Satellites
Barely two years after its founding, Colorado startup Albedo has caught the attention of Space Force intelligence pros with its promise of satellite imagery at a level of detail rivaling that taken by surveillance aircraft — allowing, for example, an analyst to easily count aircraft at an airbase, and even tell which ones have hot engines.
Albedo today announced that it has scored its second Direct to Phase II Small Business Innovation Research (SBIR) grant from the Department of the Air Force's AFWERX commercial innovation hub, bringing Pentagon investment in the firm up to $2.5 million.
Read more at: breaking defense
VARIOUS
Six Space Travel Companies That Will Change Our World
Houston, we have… billionaires? When the so-called space race between Jeff Bezos and Richard Branson and their respective companies kicked off in 2021, the idea of commercial companies sending people into space for profit seemed ludicrous. The richest of the rich taking joyrides in polluting rockets, leaving the rest of the world in the dust… the headlines basically wrote themselves.
Read more at: spaceimpulse
The Race to Colonize Mars Perpetuates a Dangerous Religion
My alarm rang me awake at 6:25 AM, and I drowsily yet eagerly tapped my way to YouTube, blinking my bleary eyes to see clearly. There was SpaceX's livestream of its latest spectacle: the orbital flight test of its gargantuan new spacecraft and rocket, Starship, designed to take dozens of humans or heavy cargo to the moon, Mars, and the rest of the solar system. Millions had tuned in to watch it, excited by the uncertainty of what would happen.
Read more at: nautil.us
Boeing and Lockheed's Space Joint Venture Could Be a Massive Bargain Now
By now you've heard the news: The United Launch Alliance (ULA) joint venture between Boeing and Lockheed Martin is for sale. Indeed, it's reportedly going to be sold before the end of this very year. You've probably also heard by now that the most likely scenario has Lockheed Martin buying Boeing's 50% stake in the joint venture, and bringing ULA entirely in-house.
But here's something you may not have heard: The price Lockheed Martin will pay for ULA (if indeed it buys it) may have just gotten cheaper.
Read more at: fool.com

NASA's Incredible Superalloy GRX-810 May Lead to New Breakthroughs in Spacecraft Construction
An impressive 3D printable superalloy capable of producing components for aircraft and spacecraft with unprecedented durability could represent a major breakthrough for the aerospace industry, according to a new NASA study.
Researchers at Ohio State University say NASA's remarkable alloy, GRX-810, is capable of withstanding extreme temperatures and other demanding environmental conditions, according to new research into the material's capabilities.
Read more at: thedebrief

Airbus Teases Space Station Concept With Simulated Gravity
Airbus, the European aerospace company, has unveiled a wild new concept for its version of a space station that could head to the last frontier and orbit Earth (or Mars) in the future.
With the cramped International Space Station (ISS) set to retire in 2031, the new Airbus LOOP concept would offer far more space, amenities, and options for its four-person crew. For starters, the Airbus design features a large diameter of about 8 meters (or 26ft) in width and length and has three different levels for activities.
Read more at: reviewgeek
Funding Space Exploration Programs – The Uphill Battle
The idea of space and exploring the infinite universe beyond our planet has always captured people's imagination. However, it takes a certain dedication to open wallets and make it happen. Funding space exploration programs can be as challenging as the technical marvels themselves.
From the first moon landing in the 1960s and recent Mars missions, to countless movies and books depicting life on other planets, the idea of exploring the unknown has long sparked curiosity and fascination among people, young and old, from all corners of the globe.
Read more at: orbital today
SpaceX's Starship Launch Caused A Fire In A Texas State Park
After a string of delays and a scrubbed launch attempt, SpaceX finally conducted the first test flight of its Starship spacecraft earlier this month. While the vehicle got off the ground, it seems federal agencies will be dealing with the explosive fallout of the mission for quite some time.
Federal agencies say the launch led to a 3.5-acre fire on state park land. The blaze was extinguished. Debris from the rocket, which SpaceX said it had to blow up in the sky for safety reasons after a separation failure, was found across hundreds of acres of land. "Although no debris was documented on refuge fee-owned lands, staff documented approximately 385 acres of debris on SpaceX's facility and at Boca Chica State Park," the Texas arm of the US Fish and Wildlife Service told Bloomberg.
Read more at: engadget
Satellite-To-Phone Race Heats Up With Voice Calls And Cross-Canada Access
The prospect of contacting a satellite to send a text or contact emergency services may soon be an effortless reality as startups move from proof of concept to actual product. Canadians on the Rogers network, which just inked a deal with Lynk, will get direct satellite-phone connections across the country; and not to be outdone, AST SpaceMobile claims to have made the first satellite voice call using a regular cell phone as well.
Connecting a stock smartphone like last year's Samsung or iPhone to a satellite would have sounded like a fantasy a few years ago, when we all knew it was impossible.
Read more at: techcrunch
Why Scientists Are Making Fake Moon Dust
Even with the walls of a volcanic crater looming behind the white-washed single-storey buildings, it would be easy to miss the sleepy town of Tao. It only takes a few moments to pass through it as you drive along the LZ-20 highway that cuts across the middle of Lanzarote, in the Canary Islands. And despite its vicinity to the Tamia volcanic crater at the heart of the island, Tao is not one of Lanzarote's key tourist attractions.
Recently, however, the town has been receiving visitors of a very different kind – those whose interest lies not in the volcano, but in the dark grey soil that Tao is built upon. This drab, rocky material has a surprising part to play in one of this decade's most ambitious human endeavours. It will help put humans back on the Moon.
Read more at: BBC