TOP NEWS
Rocket Lab Launches Smallsats, Catches But Drops Booster
Rocket Lab declared success in its effort to catch an Electron booster in midair after launch May 2, even though the helicopter had to release the booster moments later.
The Electron rocket lifted off from the company's Launch Complex 1 in New Zealand at 6:49 p.m. Eastern after a brief hold in the countdown. The rocket's ascent went as planned, with the kick stage, carrying a payload of 34 smallsats, reaching orbit about 10 minutes later.
Read more at: Spacenews
China Lays Out Big Plans For Its New Tiangong Space Station
Read more at: Space.com
1st Gaganyaan Un-Crewed Module To Be Injected Into 170km X 408km Orbit
In a likely indication of the eventual human spaceflight (Gaganyaan) mission profile, Isro has finalised several aspects of mission planning for the first uncrewed mission or G1 — planned for next year — which will will see the launch vehicle inject the orbital module into a 170x408km orbit.
The G1 mission will be followed by G2, the second uncrewed mission, both of which are precursors to the eventual human/crewed mission or H1 as named by Isro. Just as H1, the G1 too will be launched by a human-rated GSLV-Mk3 or the HRLV (human-rated launch vehicle).
Read more at: Times of India
China's Wenchang Aims To Become Commercial Space Hub
A southern city hosting China's newest, transformative spaceport is pushing to become a hub for commercial and international space activity.
Wenchang International Aerospace City will accelerate efforts to establish a commercial launch site and rocket assembly plants, according to ThePaper.
The efforts aim to put in place infrastructure to allow regular commercial launches by 2024. The Wenchang International Aerospace City project, established in 2020, will consist of three areas, focusing on launch, commerce and industry, and tourism. 
Read more at: Spacenews
Freedom Soars: Crew-4 Astronauts Launch To Space Station
In a beautiful early-morning liftoff, SpaceX's Falcon 9 sent Dragon Freedom with four Crew-4 astronauts into space for a multi-month mission aboard the International Space Station.
Liftoff occurred at 3:52 a.m. EDT (07:52 UTC) April 27, 2022, from Launch Complex 39A at NASA's Kennedy Space Center in Florida. This was the first flight of SpaceX's fourth Crew Dragon spacecraft, which has been named "Freedom."
The four aboard Freedom — NASA astronauts Kjell Lindgren, Bob Hines, and Jessica Watkins, and European Space Agency astronaut Samantha Cristoforetti — are planning to spend five months aboard the International Space Station executing scientific research on the floating laboratory while in low Earth orbit.
Read more at: Spaceflight insider
SPACE HAZARDS
Sun Fires Off Huge Solar Flare From New Sunspot Coming Into View
The active sun fired off a powerful X-class flare, the strongest our star experiences, on Tuesday (May 3), but not in the direction of Earth.
The solar flare peaked at 9:25 a.m. EDT (1325 GMT) and was caught in footage from NASA's Solar Dynamics Observatory, the agency tweeted. No specific guidance about the effects on Earth was discussed, but it is unlikely that auroras will be amplified as this event took place on the lower left limb of the sun.
Read more at: Space.com
WVU Scientists Take On Pioneering Space Weather Research And Forecasting Project
A cross-disciplinary team of researchers from West Virginia University are undertaking a pioneering project in space weather research to improve modeling and forecasting of space weather to safeguard satellites in orbit and infrastructure on Earth.
Space weather is a relatively unexplored phenomenon that is caused by large bursts of particles released by the sun. The unusually strong bursts result in geomagnetic storms which can cause severe problems for satellites in orbit, and in some cases, unleash problems on Earth, too.
Read more at: Spacedaily
Brilliant Fireball Over Mississippi Sparks Loud Booms (and Satellite Photos)
Onlookers watched as a ball of fire streaked across southeastern skies Wednesday (April 27). 
Around 9:03 a.m. EDT (1300 GMT) Wednesday morning, over 30 people from Arkansas, Louisiana and Mississippi reported looking up and seeing a fireball in the sky. Soon after, people across southern Mississippi reported hearing a loud "boom." 
The explosive sound came from a fiery meteor barreling through Earth's atmosphere at 55,000 mph (88,500 kph) generating an energy equivalent of 3 tons of TNT as it broke apart, creating shock waves that reached the ground and made a loud sonic "boom," according to a statement from NASA. 
Read more at: Space.com
Ground-Based Radar Could Be One Of Our Best Tools Against Asteroids, New Decadal Survey Finds
Could radar telescopes be the key to protecting planet Earth? 
According to the new decadal survey by the National Academies of Sciences, Engineering, and Medicine, one of the best tools to help protect the planet against the impact of near-Earth objects (NEOs) like asteroids is ground-based planetary radar.
The decadal survey, in which researchers look ahead for the next ten-plus years, calls for the further development of radar systems to aid in planetary protection by imaging newly discovered NEOs.
Read more at: Space.com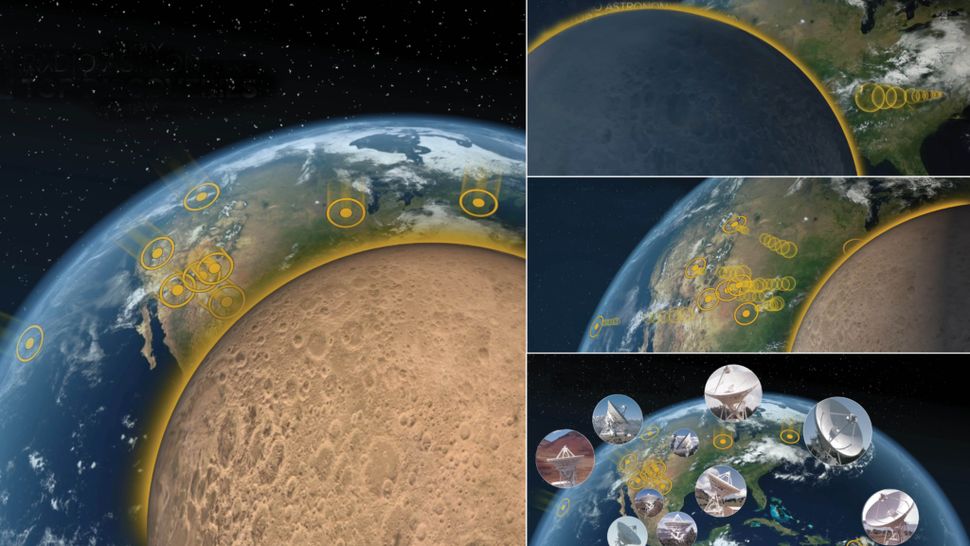 COMMERCIAL SPACE
MDA Completes First Commercial Sale of Canadarm3 Technology to Axiom Space
MDA Ltd., a leading provider of advanced technology and services to the rapidly expanding global space industry, today announced the first commercial sale of its Canadarm3 technology to Axiom Space. The contract is for the delivery of 32 external robotic interfaces for Axiom Space's Axiom Station which is now under construction and on schedule to be the world's first commercial space station in orbit.
MDA offers a full range of space robotics capabilities for multiple missions and applications. The MDA technology destined for Axiom Station includes commercial variants of Canadarm3 interfaces destined for the Artemis Gateway, providing opportunities for efficiencies for commercial users that will help to enable a sustainable and competitive marketplace in space.
Read more at: Parabolic arc
UAE Astronaut to Spend 6-Months on ISS, Fulfills NASA/Axiom Deal
Axiom Space and the United Arab Emirates announced today that a UAE astronaut will spend six months aboard the International Space Station next year. Their arrangement fulfills a deal NASA made with Axiom last year that allowed NASA's Mark Vande Hei to fly to the ISS on a Soyuz spacecraft even though NASA's contract with Russia's space agency had expired. Whoever flies this mission will be the second UAE astronaut to visit the ISS, but the first on a long-duration mission.
The Axiom-UAE agreement was signed on Wednesday at the UAE Embassy in Washington, D.C. by H.E Salem Al-Marri, Director General of the UAE's Mohammed bin Rashid Space Centre (MBRSC) and Michael Suffredini, President and CEO of Axiom Space.
Read more at: Spacepolicy online
FAA Pushes Starbase Environmental Assessment Back Another Month
The FAA is working toward issuing the final Programmatic Environmental Assessment (PEA) for the SpaceX Starship / Super Heavy on May 31, 2022. SpaceX made multiple changes to its application that require additional FAA analysis. The agency continues to review around 18,000 general public comments. 
The completion of the PEA will not guarantee that the FAA will issue a launch license. SpaceX's application must also meet FAA safety, risk and financial responsibility requirements.
Read more at: Parabolic arc
FCC Grants Experimental License to AST SpaceMobile for BlueWalker 3 Satellite Direct-to-Cell Phone Connectivity
AST SpaceMobile, Inc. ("AST SpaceMobile") (NASDAQ: ASTS), the company building the first and only space-based cellular broadband network designed to be accessible directly by standard mobile phones, today announced it has received an experimental license from the Federal Communications Commission (FCC) supporting its U.S.-based testing of the BlueWalker 3 satellite.
The license covers BlueWalker 3 space-to-ground testing in the United States using 3GPP low-band cellular frequencies and Q/V-band frequencies, subject to certain restrictions.
Read more at: Business wire
SCIENCE & TECHNOLOGY
Space Test Dummies Will Measure Female Radiation Risk For First Time
It's one small step for a mannequin, one giant leap for womankind. Mannequins designed to represent female bodies will be sent into space for the first time on NASA's Artemis I mission later this year to study how radiation affects women in space.
NASA aims to send the first female astronaut to the moon as part of its planned series of Artemis space flights.
Read more at: Newscientist
AFRL Is Developing Green Power For Satellites
The Air Force Research Laboratory, or AFRL, Space Vehicles Directorate is developing a new "green energy" fuel cell technology, that will allow thruster equipped spacecraft to convert chemical energy in its bipropellant into electrical power.
This technology, called BEEPS for Bipropellant Enabled Electrical Power Supply, is being developed by a three-year Seedlings for Disruptive Capabilities Program effort that recently completed its 18th month of work.
Read more at: Spacedaily
Ground-Based Rover's Touch Shared With Astronaut In Space
If man's best friend is a dog, then in the future astronauts' closest companions might well be rovers. A technique allowing astronauts in orbit to control rovers exploring planetary surfaces has been developed by a research team from ESA, the German Aerospace Center DLR and European academia and industry, culminating in an Earth-based rover session commanded from the International Space Station. A paper published in the prestigious Science Robotics journal this week details their results.
"This is the first time that an astronaut in space managed to control a robotic system on the ground in such an immersive, intuitive manner," comments Aaron Pereira of DLR.
Read more at: Spacedaily
First Dream Chaser Vehicle Takes Shape
Sierra Space says it is making good progress on its first Dream Chaser spaceplane as the company looks ahead to versions of the vehicle that can carry crews and perform national security missions.
The company provided SpaceNews with images of the first Dream Chaser, named Tenacity, being assembled at its Colorado headquarters. The vehicle's structure is now largely complete, but there is still more work to install its thermal protection system and other components.
"We have the wings on now. It really looks like a spaceplane," said Janet Kavandi, president of Sierra Space, during a panel at the AIAA ASCENDx Texas conference in Houston April 28, where she played a video showing work building the vehicle.
Read more at: Spacenews
China's Zhurong Travels Over 1.9 km on Mars
The Mars rover Zhurong has traveled more than 1.9 km since it first set its wheels on the surface of the planet in May last year, according to the latest data released by the Lunar Exploration and Space Program Center of the China National Space Administration.
As of Sunday, Zhurong had been operating on the surface of Mars for 342 Martian days at a distance of 240 million km from Earth. A Martian day is approximately 40 minutes longer than a day on Earth.
Read more at: CN English News
SPACE POLICY
Boosting Space Diplomacy at State
With ever-increasing speed, humanity is expanding the scope of its activities in outer space, thanks to private enterprise as well as via national pursuits. In the last two years alone, for example, the number of active and defunct satellites in low Earth orbit has increased by more than 50 percent, to around 5,000, with plans to add tens of thousands more in the coming years. Equally surprising, these satellites are owned and operated by nearly 100 different countries and organizations around the world—not just the small but growing number of nations with domestic satellite launch capabilities—and involve a wide range of commercial, scientific and security and defense endeavors. Dangers lurk, however, and U.S. diplomacy must be prepared.
Read more at: afsa
Moving The Needle For Canadian Space Regulation And Licensing
Changes to the space regulatory environment in Canada, including the Remote Sensing Space Systems Act (RSSSA), has and will continue to take time. To provide some insight into the process, we present the following update from Michelle Mendes from the Satellite Canada Innovation Network (SatCan) who was a member of the RSSSA Ad-Hoc Advisory Committee.
Read more at: SpaceQ
The Western Space Community Should Put Dmitry Rogozin On "Ignore"
It happened again this weekend. Both Bloomberg and Axios reported that Russia is quitting the International Space Station due to sanctions imposed by the United States on Russia. Each of these stories garnered considerable attention. And each of these stories was also wrong.
This has become a predictable pattern in recent weeks: Dmitry Rogozin, the voluble leader of Russia's space corporation, will give an interview to a Russian space publication, and then Western news outlets will pick up whatever Rogozin says and leap to conclusions that are simply incorrect.
Read more at: Arstechnica
SPACE DEFENCE
Kelly Plays Down Russian ASAT Threat
A senator and former astronaut said he did not expect Russia to perform another test of an antisatellite weapon because of the debris that posed a risk to that country's own satellites as well as others.
At a panel session of the McCain Institute's Sedona Forum April 30, Sen. Mark Kelly (D-Ariz.), chair of the emerging threats subcommittee of the Senate Armed Services Committee, said he did not consider ASATs a threat to either government or commercial satellites in the near term even during Russia's invasion of Ukraine.
"They did an antisatellite test recently, but that test was just very well choreographed and produced to get a certain outcome," he said, referencing the November 2021 ASAT test that destroyed the Cosmos 1408 satellite. "I wouldn't say right now the Russians in particular have an antisatellite capability that I would be too worried about."
Read more at: Spacenews
How The Space Force Is Working With US Allies
When Deanna Ryals joined what was then the U.S. Air Force's Space and Missile Systems Center in 2012, her focus was on building partnerships with international allies — specifically around satellite communications. She is now director of the International Affairs Directorate at what is now Space Systems Command. Her office's mission spans the service's entire portfolio, including SATCOM, weather, and missile warning and tracking.
Ryals says the directorate aims to serve as a "front door" for SSC's work with international partners and to ensure that as the command develops and acquires new systems and architectures, it does so with allies in mind.
Read more at: C4isrnet
Amid Tensions On Earth, The United States Claims That 'Conflict In Space Is Not Inevitable'
In 1996, Joseph W. Ashy, former U.S. commander-in-chief of the North American Aerospace Defense Command, famously said: "We're going to fight in space. We're going to fight from space and we're going to fight into space."
In less than three decades since then, we've seen the establishment of the U.S. Space Force, anti-satellite weapons testing by major spacefaring nations and the rapid development of weapons that can interfere with, disrupt or destroy space assets.
Read more at: Spacewar
VARIOUS
NOAA's Office of Space Commerce Gets New Director, Elevated Position
Secretary of Commerce Gina Raimondo announced today that Richard DalBello will be the new Director of NOAA's Office of Space Commerce. OSC has been without a permanent director since the change of administrations 15 months ago. She also said the office will be elevated to a higher level within NOAA, a step recommended by the Senate Appropriations Committee among others.
Raimondo made the announcement during a Senate Commerce, Science, and Transportation Committee hearing on the Department's FY2023 budget request. The request includes a steep increase for OSC, from $16 million to $87.7 million. "I think that at long last we are now organizing and prioritizing space commerce and putting leadership in that we need and I'm very much asking Congress for support on the funding that the President requests."
Read more at: Spacepolicy online
Amazon Has Bold Ambitions To Take On Spacex In The Satellite Internet Business
Amazon has a plan to deliver internet from space using 3,236 small satellites in low Earth orbit. It's called Project Kuiper. In April, the company signed a multibillion-dollar contract — the largest rocket deal in the history of the commercial space industry.
Read more at: CNBC
Netflix's 'Space Force' Was Canceled but America's Guardians Aren't Sorry
When they heard "Space Force," many Americans' first thought wasn't of the two-year-old U.S. Space Force military branch but, rather, a Netflix comedy series of the same name starring actor Steve Carell.
The streaming giant's show parodied military life in the newest service with an ensemble cast and made it difficult for the real Space Force's Guardians to teach and educate the importance of their mission — protecting the U.S. satellite fleet — to the public.
Read more at: Military
The Best Sci-Fi Movies And TV Shows To Stream On Netflix In May
So that you don't have to spend hours searching through thousands of movies, some good, some bad and everything in-between, we've compiled a list of the best science-fiction movies and television shows currently on Netflix.   
Read more at: Space.com
How Do You Get Ready For Bed In Space? This Astronaut Video Reveals All.
In a new video, European Space Agency astronaut Matthias Maurer shares what it's like getting ready for bed while living in space aboard the International Space Station. And, as you can see in the video, without gravity, things get tricky pretty fast. Even brushing your teeth in space comes with a whole host of strange steps that we wouldn't need to do here on Earth, where gravity keeps our feet on the ground and our water from floating away.
Read more at: Space.com