TOP NEWS
Ariane 5 Flight VA261: Launch Delay
The Ariane 5 flight scheduled for 16 June has been delayed. Launch operator Arianespace announced on Twitter: "It has come to light that there is a risk to the redundancy of a critical function on the Ariane 5. Consistent with safety requirements, Arianespace has decided to postpone the roll-out of the VA261 launch vehicle. Analyses are underway to determine a new launch date."
Read more at: ESA
World Economic Forum Offers New Debris Mitigation Guidelines
The World Economic Forum (WEF) has released a new set of guidelines intended to reduce the creation of orbital debris with the support of some, but not all, major satellite operators.
The Space Industry Debris Mitigation Recommendations document, released by the WEF June 13, outlines recommendations to avoid collisions that can create debris by limiting the lifetime of satellites in orbit after they have completed their missions and improving coordination among satellite operators.
Read more at: spacenews
---
SPACE HAZARDS & STM
The Sun Reaches Solar Maximum in 2032. A new NASA Flagship Mission Could Give Us a Perfect View
There are always more space missions than there is money to support them. Ultimately, some make the funding cut, and some do not. Various factors go into that decision, though those factors can change over the years and decades that some of these missions are designed to take. But the more ideas, the better, and now a new idea has sprung up from a group of scientists at SWRI, NASA, and the University of Minnesota, among others. It involves four different probes sent to various points in the solar system to observe the Sun as it has never been seen before – and just in time to see its most spectacular display in 2032.
Read more at: universe today
Space Junk Is Causing Clutter Around The Earth, But A Small Cube Could Help Cut Back On Trash
A small high-tech cube made by Australian engineers and scientists has just been launched into space for the first time — and it could be a solution to the growing space junk problem.
Space is set to become more crowded than ever, with tens of thousands of satellites predicted to be launched into Earth's orbit over the next decade.
Space archaeologist Alice Gorman said with that influx of spacecraft would come the waste that they leave behind.
"Space junk refers to all of the old satellites and fragments of satellites and tiny particles that are in … orbit at the moment," Dr Gorman said.
Read more at: ABC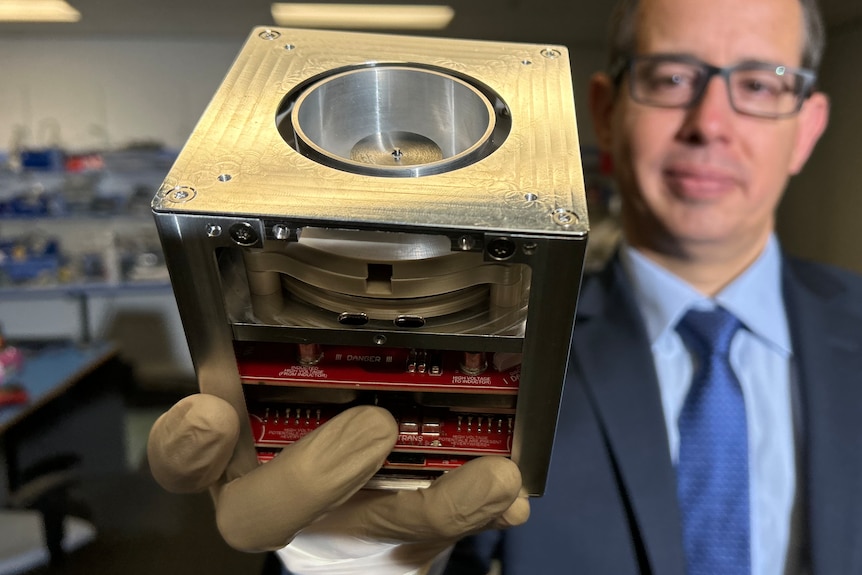 After Scaring The World, China Shows Off 'Chute That Can Aim Long March Rockets' Descents
After years of expecting the world to deal with debris from the Long March rockets, the China Academy of Launch Vehicle Technology (CALT) has developed a parachute system to guide its rockets to a predetermined landing zone.
According to state-sponsored media, analysis of debris from a test determined that the parachute narrowed the landing area range of a recent Long March 3B rocket launch by 80 percent.
The Long March 3B was returning from sending a BeiDou navigation satellite into orbit to add to China's GPS equivalent. When it reached a predetermined altitude, it opened its parafoil.
Read more at: register
Debris From ASAT Tests Creating 'Bad Neighborhood' In Low Earth Orbit: Analyst
A trio of satellite breakups — two caused by anti-satellite (ASAT) missile tests — are responsible for a large percentage of dangerous debris in the ever-more popular real estate of low Earth orbit, creating an especially "bad neighborhood" there, according to space traffic observers at LeoLabs.
"This is why ASAT tests are bad," Rachit Bhatia, LeoLabs' space safety analytics & research lead, told the Secure World Foundation's 5th Summit for Space Sustainability on Wednesday.
Read more at: Breaking defense

Japan's Astroscale Has A New Robot Tug To Clean Up Space Junk. Here's How It Works
A new video from Japan-based company Astroscale demonstrates a bold new proposal for cleaning up low Earth orbit (LEO). The issue of how to mitigate and clean up space junk and orbital debris has become an increasing concern amongst spaceflight professionals and astronomers, as companies like SpaceX's Starlink, OneWeb, Amazon Kuiper and others plan LEO satellite constellations numbering in the thousands. These satellites have fixed lifespans, and while many are designed to de-orbit themselves into a fiery death in Earth's atmosphere, not all do so.
Read more at: space.com

---
COMMERCIAL SPACE
SpaceX Just Landed A Rocket For The 200th Time (And Launched 72 Satellites) On Epic Rideshare Flight (Video)
SpaceX launched 72 small satellites to orbit today (June 12) and landed the returning rocket back on Earth, marking the 200th such touchdown in the company's history. A Falcon 9 rocket topped with 72 spacecraft lifted off from California's Vandenberg Space Force Base at 5:35 p.m. EDT (2135 GMT; 2:35 p.m. local California time), kicking off a rideshare mission called Transporter-8. The rocket's first stage came back to Earth for a vertical touchdown at Vandenberg a little less than eight minutes after liftoff as planned. It was the ninth launch and landing for this particular booster, SpaceX wrote in a mission description.
Read more at: space.com
Elon Musk Provides Schedule of Starship's Next Orbital Flight
The wait is about to end for space fans, whose dreams have been fueled for a few years now by Elon Musk and SpaceX, his aerospace company.
The billionaire entrepreneur promised that we will conquer planet Mars in our lifetime and return to the moon. He has made these goals universal ambitions and relaunched the conquest of space in which his rival, Jeff Bezos, the founder of Amazon, also takes part.
Bezos founded Blue Origin, which competes with SpaceX.
Read more at: thestreet
Private Space Station: How Axiom Space Plans To Build Its Orbital Outpost
Axiom Space has big plans for low Earth orbit. The Houston-based company, founded in 2016, was the first to ferry a flight of all private citizens to the International Space Station (ISS) aboard the Ax-1 mission, which launched in April 2021. The company's second flight (Ax-2) to the ISS wrapped up an eight-day mission in late May with the splashdown and safe return of the contracted SpaceX Crew Dragon capsule and a privately funded crew of four. A third flight, Ax-3, is currently scheduled for this November. Each mission has included a host of science experiments for its crews to conduct, and Axiom is using some of those investigations to inform the design and use of the company's own space station.
Read more at: space.com
Virgin Galactic's Use Of The 'Overview Effect' To Promote Space Tourism Is A Terrible Irony
Virgin Galactic, the space tourism company founded in 2004 by Richard Branson, promotes its flights as offering:
A Brand New Perspective: Deepen your connection to Earth and to humanity with the transformational experience known as the Overview Effect.
First discussed in 1987 by space philosopher Frank White, the Overview Effect is a result of viewing Earth from space.
Expressions of the effect range broadly. Astronauts might experience profound awe and wonder at the perception of Earth as a fragile living being. Some suffer crushing grief when considering the harm humans inflict on nature.
Read more at: conversation
The Low Earth Orbit Satellite Space Race: Starlink Versus AST SpaceMobile
In the early 1960s, U.S. President John F. Kennedy set a bold vision for sending astronauts to the moon by the end of the decade. A lunar landing was intended as a show of strength, given that era's geopolitical landscape. What resulted was a legendary space race between the U.S. and the Soviet Union that is chronicled in countless documentaries and some of my favorite movies, including The Right Stuff and Apollo 13.
Read more at: Forbes
Forget Space Tourism. This Company Wants To Make Drug Manufacturing The Next Big Extraterrestrial Business
or years, the private sector has envisioned an illustrious future in space — an extraterrestrial playground with tourists flying to and from orbiting hotels and the occasional trip to Mars being as easy as a transatlantic flight.
But if the space economy is to become a $1 trillion sector by 2040, as one Citigroup report suggested, not all of its enterprises will be so grandiose.
One California-based startup, Varda Space Industries, is betting that big business will lie in relatively unassuming satellites that will spend days or months in Earth's orbit quietly carrying out pharmaceutical development. Its research, company officials hope, could lead to better, more effective drugs — and hefty profits.
Read more at: CNN
---
SCIENCE & TECHNOLOGY
Incoming Aerospike Rocket Engine Will Power a New Breed of Spaceplanes
One of the newer companies in this business is called Polaris Raumflugzeuge. It has nothing to do with the American owner of Indian Motorcycles, but was set up back in 2018 in Germany with the goal of "developing a revolutionary reusable space launch and hypersonic transport system that operates like an aircraft."
The company quickly caught the attention of Europe's aerospace tech consumers, including the continent's space agency (ESA). That was possible on account of a spaceplane called Aurora, which is supposed to aid with the launch of satellites, space science, but also act as a ride for tourists looking for trips to space
Read more at: auto evolution
Hotsat-1: Spacecraft To Map UK's Heat Inefficient Buildings
A novel British satellite designed to map the heat signature of buildings has been launched.
The idea is to highlight those dwellings that are wasting energy and could benefit from better insulation.
The relatively small spacecraft is appropriately called HotSat-1 and it will be operated by the London-based start-up Satellite Vu.
Its infrared sensor has been developed with funds from the UK and European space agencies.
HotSat-1 launched on a SpaceX Falcon-9 rocket from the Vandenberg Space Force Base in California at about 14:35 PDT (22:35 BST), a little later than planned.
Read more at: BBC
Webb Telescope Will Soon Get a Tiny Sidekick to Explore Alien Worlds
For more than a year, the largest space-based telescope ever built has been observing the far ends of the cosmos with unprecedented detail. The Webb Space Telescope could soon get a little extra help in the form of a miniature satellite the size of a toaster oven and equipped with extremely powerful vision.
NASA recently selected the Monitoring Activity from Nearby sTars with uv Imaging and Spectroscopy (MANTIS) to assist Webb by observing the skies in the full range of ultraviolet light. The cubesat, which cost $8.5 million, is currently being built at the University of Colorado Boulder's Laboratory for Atmospheric and Space Physics (LASP) and is scheduled to launch in 2026.
Read more at: Gizmodo
NOAA Is Tracking Smoke Moving From The East Coast Over The Atlantic
The National Oceanic and Atmospheric Administration's is closely tracking smoke from the Canadian wildfires moving June 9 from the Northeastern United States over the Atlantic Ocean.
NOAA is tracing the movement of smoke with the Advanced Baseline Imager, the primary instrument on the Geostationary Operational Environmental Satellite-East (GOES-East) weather satellite. GOES-East observes the eastern United States and Canada, South America and the Atlantic Ocean from its longitude of 75 West.
Read more at: spacenews
NASA Agreements To Support Work On Commercial Spacecraft And Space Stations
NASA partnerships announced June 15 would support development of new commercial capabilities that include a Blue Origin crewed spacecraft and a Starship-derived space station from SpaceX.
NASA announced the selection of seven companies for unfunded Space Act Agreements as part of its Collaborations for Commercial Space Capabilities-2 (CCSC-2) initiative. NASA will provide the selected companies with technical expertise, assessments and data to assist the companies in the development of new capabilities.
Read more at: spacenews
---
SPACE POLICY
In Brief: The Chinese Space Program
Read more at: warontherocks
Astronaut Chris Hadfield Wants To Protect The Moon With An 'Astra Carta'
Canadian astronaut Chris Hadfield is designing a new "Astra Carta" with British royalty to protect the moon, according to media reports.
Chris Hadfield has partnered with King Charles III on a space sustainability plan that will be released on June 28 in London, according to the Canadian Press. (It's called the Astra Carta in a nod to the Magna Carta, the famous English legislation from 1215 underpinning world democracies.)
The new moon plan would answer several crucial questions, Hadfield said in the report, including "What would we do with it? Who would own it? Whose laws? Who can drill and who can take advantage of the short-term and long-term resources that exist there?"
Read more at: space.com
UK Space Agency Prioritizes Sustainability
The UK Space Agency has a direct message on space sustainability.
"We're going to stop making it worse. And we're going to start making it better," Julie Black, UK Space Agency director of missions and capability for discovery and sustainability, said June 13 at the Secure World Foundation's Space Sustainability Summit.
Toward that goal, the UK Space Agency is continuing to encourage and prioritize space sustainability, both domestically and internationally.
Read more at: spacenews
Project Kuiper Urges Regulators To Focus On Satellite Maneuverability Rules
Governments should consider requiring satellites over a certain altitude to be maneuverable to improve space sustainability, according to an executive for Amazon's proposed Project Kuiper constellation.
Kalpak Gude, Project Kuiper's head of domestic regulatory affairs, urged governments June 14 to encourage more satellites to have "maneuverability-with-an-outcome capability" — either through regulations or best practice guidelines — as orbits become more congested.
Read more at: spacenews
House FAA Bill Would Give Agency New Space Traffic Management Role
A bill introduced in the House to reauthorize the Federal Aviation Administration includes a provision directing the agency to get involved in space traffic management, potentially duplicating ongoing work at the Commerce Department.
The bipartisan leadership of the House Transportation and Infrastructure Committee introduced the FAA reauthorization bill June 9. The committee is scheduled to mark up the bill, advancing it to the full House, June 13.
Read more at: spacenews
---
SPACE DEFENCE
DARPA Downsizes Blackjack Space Experiment
The Defense Advanced Research Projects Agency on June 12 launched four satellites for a technology demonstration in low Earth orbit.
The satellites flew to orbit on the SpaceX Transporter-8 rideshare. They are part of the Blackjack experiment the agency started in 2017 to prove out the utility of commercial space technologies for military applications.
Once envisioned as a 20-satellite constellation with different types of mission payloads, Blackjack has been reduced in scope and will only deploy four spacecraft.
Read more at: spacenews
South Korea Recovers Part Of Rocket Used In North's Failed Satellite Launch
South Korea has recovered from the sea part of a rocket used in North Korea's failed attempt to launch its first military satellite last month, the Joint Chiefs of Staff said on Friday.
The announcement came about two weeks after North Korea unsuccessfully tried to launch its first spy satellite, with the booster and payload plunging into the sea.
The debris was salvaged on Thursday evening from the seabed about 75 metres (246 feet) below the surface off the west coast, the military said, adding that the search continued for additional objects from what the North said was a space launch vehicle.
Read more at: reuters
Space Force Extends Palantir's Data-As-A-Service Contracts
The Space Force awarded data analytics company Palantir $110.3 million in contract extensions for the company's cloud-based data services.
The Space Systems Command announced June 15 it has added one more year to Palantir's existing contracts for data-as-a-service. Under a project called Warp Core, the Space Force since 2021 has used the company's cloud platform and analytics services to aggregate large amounts of data from disparate sources.
Read more at: spacenews
Luxembourg Approves Program To Give NATO O3b Mpower Access
SES said June 15 that Luxembourg has approved a program to carve out capacity from its O3b mPower medium Earth orbit (MEO) broadband network for the country and NATO allies.
Luxembourg's government is acquiring 195 million euros ($211 million) worth of O3b mPower capacity under the 10-year MEO Global Services (MGS) program, targeting defense, security, and disaster recovery missions.
Read more at: spacenews
Space Force Working To Define What It Means To Be A Guardian
Amid the growing pains that come with being a new military branch, the U.S. Space Force is trying to establish its brand and build an identity.
"The amount of work that we've done in three years is absolutely eye-watering to me, but we're still trying to figure out how to navigate" within the large military bureaucracy, said Lt. Gen. DeAnna Burt, deputy chief of the U.S. Space Force for operations, cyber and nuclear.
Read more at: spacenews
---
VARIOUS
Is It Time To Cancel The Boeing Starliner?
While the SpaceX Crew Dragon has become the basis of a commercial space line, operating since May 2020, the other vehicle in the Commercial Crew Program, the Boeing Starliner, remains snake bit and on the ground. Ars Technica reports that another two technical glitches have delayed the first crewed mission of the Starliner indefinitely.
Read more at: Hill
What Role Will NASA Play In Developing ISRU On The Moon?
Space agencies will play a vital role in the developing space economy, especially in the beginning. But what will the part of the biggest of all space agencies be when considering how space resources, especially those on the Moon, are accessed? NASA has a plan for that as it does for so many other things – and this article will dig into a slideshow that describes that plan in detail.
Originally presented at the Committee on Space Research's (COSPAR's) 2022 meeting in Athens by NASA managers and subject matter experts from the Johnson Space Center and Glenn Research Center, the presentation showed how NASA plans to integrate itself development efforts into the broad efforts being made bits commercial and international partners. As repeatedly pointed out throughout the presentation, the organization's primary focus is to develop an infrastructure to create sustainable commodities in space.
Read more at: universe today
How Many People Have Died In Space?
Spaceflight is anything but safe, and the quest to explore the final frontier comes with huge risks for the astronauts leading the charge. But has spaceflight actually cost people their lives?
Yes, 21 people have died in space, Nigel Packham, NASA's associate director of safety and mission assurance, told Live Science.
Five spaceflight missions — three by NASA and two by the Soviet Union — have ended in fatalities. "The accidents are usually a combination of unusual circumstances, equipment error, human error, politics and management," said Jim Hermanson, a professor of aeronautics and astronautics at the University of Washington in Seattle.
Read more at: Livescience
A Case For Space In The Caribbean: A Historic And Strategic Perspective
The dawn of the new space economy has brought with it ample opportunity for the private sector to participate in what was originally a government-dominated race for space supremacy. Where large nations—mainly the US, Russia, and the European Union—dominated the industry for decades, we find that the new space age has made room for emerging powers like China, India, and middle powers like Japan, Canada, and North and South Korea to take front stage. With this, even nations with little to no previous space ties have found their footing in the industry, including the United Arab Emirates, Egypt, Kenya, and various other nations across the African and Asian continents.
Read more at: spacereview
It's Time To Admit It, the Ingenuity Mars-Copter Is the Greatest Aircraft To Ever Fly
Without the benefit of hindsight to guide their way, the Wright Flyer I managed to be a pretty rotten flying machine. It was indeed planet Earth's first heavier-than-air, human-crewed aircraft to fly, and therefore both the best and worst of the breed by default for a time. But for all of these reasons, it's remarkable how the first aircraft of any kind on Mars is anything but rotten. If you ask us, the Ingenuity Mars copter is the finest aircraft ever to fly. Let's take a look at why.
Read more at: auto evolution
Firefly To Buy Remaining Virgin Orbit Assets
Firefly Aerospace has agreed to buy Virgin Orbit's remaining assets — inventory at two company production facilities — as part of Virgin Orbit's bankruptcy proceedings.
In June 15 filings with the federal bankruptcy court in Delaware overseeing Virgin Orbit's Chapter 11 bankruptcy proceedings, representatives of the companies said that Firefly agreed to buy the assets that has not been sold at auction in May for $3.8 million.
Read more at: spacenews
Scientists Conduct First Test Of A Wireless Cosmic Ray Navigation System
GPS is now a mainstay of daily life, helping us with navigation, tracking, mapping, and timing across a broad spectrum of applications. But it does have a few shortcomings, most notably not being able to pass through buildings, rocks, or water. That's why Japanese researchers have developed an alternative wireless navigation system that relies on cosmic rays, or muons, instead of radio waves, according to a new paper published in the journal iScience. The team has conducted its first successful test, and the system could one day be used by search and rescue teams, for example, to guide robots underwater or to help autonomous vehicles navigate underground.
Read more at: Arstechnica
See Latest Configuration Of China's Tiangong Space Station In Stunning New Video
China's space station is a busy place these days. New footage released by China's human spaceflight agency shows the Tiangong space station in its new configuration following a series of arrivals to and departures from the orbital outpost. The Tianzhou 5 cargo spacecraft undocked from Tiangong on May 5, freeing up a docking port for the next supply mission. The Tianzhou 6 cargo spacecraft — packed with supplies, scientific experiments and propellant — then launched for Tiangong on May 11. The mission was a precursor to the arrival of the station's next inhabitants.
Read more at: space.com