TOP NEWS
Failed Vega-C Test Sparks Investigation as Europe's Rocket Woes Worsen
Following a series of setbacks that has hindered the next-generation Vega launcher, the European Space Agency (ESA) is looking into what caused the rocket's motor to fail during a recent static fire test.
ESA established an Independent Enquiry Commission to investigate an anomaly that occurred during Vega-C's static fire test on June 28, further delaying the third launch of the medium-lift rocket, European Spaceflight reported.
Read more at: Gizmodo
Europe's Ariane 5 Rocket Makes Its Final Flight, Successfully Deploys Two Satellites
Liftoff of Europe's final Ariane 5 occurred at 6 p.m. EDT (2200 UTC) after a trouble-free countdown. About 30 minutes into flight the rocket successfully deployed the Heinrich-Hertz and Syracuse 4B satellites into a geostationary transfer orbit.
It was the 117th mission for the Ariane 5 since it was introduced in 1996.
Read more at: spaceflight now
---
SPACE HAZARDS and STM
Rare X-Class Solar Flare Wipes Out Radio Signals in U.S.
An unusually powerful X-class solar flare erupted from the sun's surface on Sunday, causing radio blackouts across the western United States and the Pacific Ocean. The solar flare was spat out at 23:14 UT (7:14 p.m. ET) from sunspot AR3354, a large sunspot that had developed a "beta-gamma-delta" magnetic field primed with enough energy to produce this kind of powerful solar flare. The solar flare's X-rays ionized the upper atmosphere, leading to a deep shortwave radio blackout across the west of the U.S., with mariners and ham radio operators having possibly lost signal for around half an hour after the flare hit, spaceweather.com reported.
Read more at: newsweek
The UK's ODIN Space Just Aced Its 1st Space Junk Tracking System Test In Orbit
A new method of tracking tiny pieces of space junk has passed its first demonstration test in orbit, according to its builders ODIN Space of London.
Over the past two years, ODIN has been developing and qualifying technology to detect and track space junk that is too small to register using existing methods. The company's first demonstration sensor was integrated into the D-Orbit ION satellite, which hitched a ride to orbit as part of SpaceX's Transporter-8 mission that launched June 12.
Read more at: space.com
If There Were a War in Space, Debris Would Destroy all Remaining Satellites in About 40 Years
On one particular day in 2021, astronauts and cosmonauts aboard the ISS must have felt a pin-prick of fear and uncertainty. On November 15th of that year, Russia fired an anti-satellite missile at one of its own defunct military satellites, Tselina-D. The target weighed about 1,750 kg, and when the missile struck its target, the satellite exploded into a cloud of hazardous debris.
NASA woke the crew on the International Space Station in the middle of the night and told them to take precautions and prepare for a possible impact. The Chinese space station Tiangong was also in danger, and multiple countries and space agencies condemned Russia's foolhardy behaviour.
Read more at: universe today
SpaceX Satellites Had to Dodge 25,000 Potential Collisions in 6 Months
In a six-month period, SpaceX's Starlink internet satellites have been forced to execute more than 25,000 maneuvers to avoid potentially disastrous collisions—an exponential increase that has some space experts alarmed. According to Space.com, the Elon Musk-headed company reported the worrying total for the period between Dec. 2022 and May 2023. The number represents a dramatic increase as SpaceX continues to launch hundreds of satellites per year as part of the Starlink program. By 2028, Starlink satellites will have to maneuver nearly a million times every six months to avoid possible collisions if the trend continues, Space.com reported. Experts fear that such an outcome would lead to satellite collisions becoming a frequent event, triggering a disastrous domino effect that could fill sections of Earth's orbit with debris and leave them unusable.
Read more at: dailybeast
A Solar Storm On Thursday Is Expected To Make The Northern Lights Visible In 17 States
A solar storm forecast for Thursday is expected to give skygazers in 17 American states a chance to glimpse the Northern Lights, the colorful sky show that happens when solar wind hits the atmosphere.
Northern Lights, also known as aurora borealis, are most often seen in Alaska, Canada and Scandinavia, but an 11-year solar cycle that's expected to peak in 2024 is making the lights visible in places farther to the south. Three months ago, the light displays were visible in Arizona, marking the third severe geomagnetic storm since the current solar cycle began in 2019.
Read more at: APnews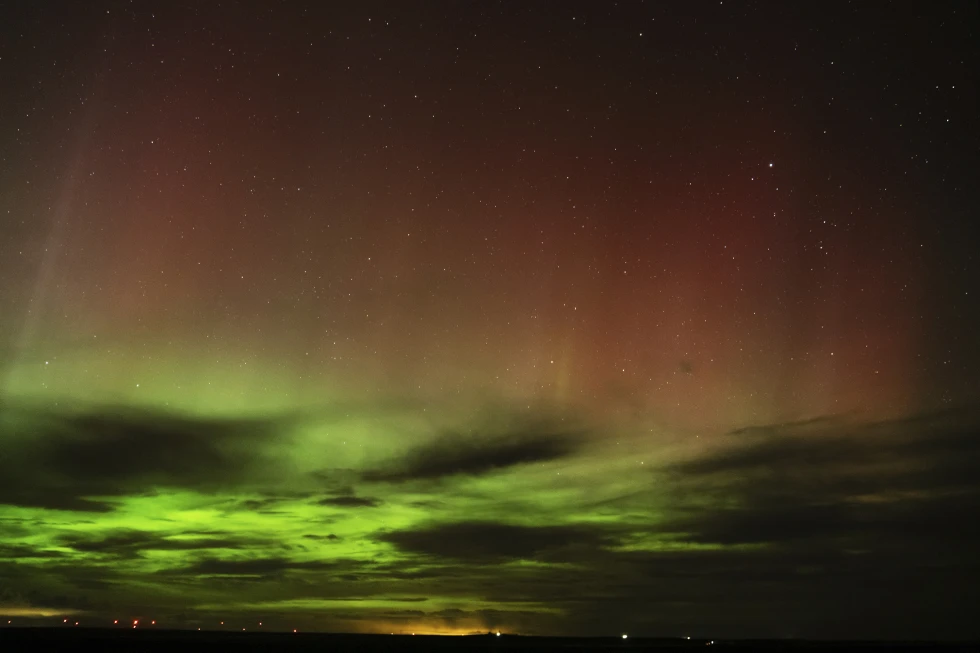 NASA-enabled AI Predictions May Give Time to Prepare for Solar Storms
Like a tornado siren for life-threatening storms in America's heartland, a new computer model that combines artificial intelligence (AI) and NASA satellite data could sound the alarm for dangerous space weather.
The model uses AI to analyze spacecraft measurements of the solar wind (an unrelenting stream of material from the Sun) and predict where an impending solar storm will strike, anywhere on Earth, with 30 minutes of advance warning. This could provide just enough time to prepare for these storms and prevent severe impacts on power grids and other critical infrastructure.
Read more at: NASA
Asteroid Watch Dashboard
The Asteroid Watch dashboard tracks asteroids and comets that will make relatively close approaches to Earth. The dashboard displays the date of closest approach, approximate object diameter, relative size and distance from Earth for each encounter. The object's name is displayed by hovering over its encounter date. Clicking on the encounter date will display a Web page with details about that object.
Read more at: NASA
---
COMMERCIAL SPACE
Rivada Gets More Breathing Room To Deploy Constellation
International regulators have waived a requirement for Rivada Space Networks to launch 10% of its proposed 576 satellites by September, boosting plans to fund the multibillion-dollar connectivity constellation.
Rivada expects to start deploying commercial satellites in 2025 under contracts with manufacturer Terran Orbital and launcher SpaceX, easily missing the first deployment deadline under International Telecommunication Union (ITU) rules.
Read more at: spacenews
Nuclear Fusion Rocket Breakthrough
Researchers at Pulsar Fusion hope to reach several hundred million degrees when the final plasma shot is fired in the chamber, creating temperatures hotter than the Sun. Scientists have not been able to control the turbulent plasma as it is heated to hundreds of millions of degrees and the reaction simply stops. This unpredictability is attributed to the science Magneto-Hydro Dynamics (MHD) and Gyrokinetics, the state of the plasma is changing all the time. Scientists can get to fusion temperatures, as recently demonstrated at California's Lawrence Livermore Laboratory, and this will be achieved again more often going forward, but small improvements can dramatically improve the results in the company's favor.
Read more at: satnews
SpaceX Pushes The Envelope With Record-Breaking 16th Flight For A Falcon 9 Booster
SpaceX will test the limits of its reusable Falcon 9 rocket on Sunday evening when it launches a booster on a record-breaking 16th flight. The launch was originally scheduled before dawn on Sunday but SpaceX opted to target a rare 12-hour-later backup opportunity in the evening, 13 minutes after sunset, it then further delayed the launch to just over a minute before midnight for unspecified reasons. The Falcon 9 is now scheduled to liftoff from Cape Canaveral at 11:58 p.m. EDT (0358 UTC Monday) with the fifth batch of second-generation Starlink satellites.
Read more at: spaceflight now
Chinese Launch Firm Secures Fresh Funding For Reusable Rocket
Chinese rocket firm Space Pioneer has secured C-round funding for its Tianlong-3 medium-lift reusable launch vehicle.
Space Pioneer, full name Beijing Tianbing Technology Co., Ltd, announced the funding round July 5. The company's first launch attempt in April saw the Tianlong-2 rocket make Space Pioneer the first Chinese commercial outfit to reach orbit with a liquid propellant launcher.
The company has now raised a total of three billion Chinese yuan ($414 million) across 11 rounds since its establishment in 2018. In February the firm announced it had secured "B+" and "Pre-C" strategic funding rounds.
Read more at: spacenews
Rocket Lab Announces Next Launch, Will Attempt First Stage Recovery
Rocket Lab is expected to launch seven satellites from Launch Complex 1 on the Mahia Peninsula in New Zealand. This will be the 39th overall mission and the seventh of the year.
Following up on their most recent launch, the debut of HASTE, Rocket Lab announced they will launch the "Baby Come Back" mission no earlier than July 14th.
Read more at: teslarati
The countdown to our next Electron launch from LC-1 is on – mark your calendars for July 14 UTC! 🗓️

In the meantime, we're working a parallel launch campaign for the mission *after* this, with launch rehearsals now underway for our 🎉40th🎉 Electron mission. pic.twitter.com/jtszMSf4Bo

— Rocket Lab (@RocketLab) June 29, 2023
---
SCIENCE AND TECHNOLOGY
Parker Solar Probe Finds Magnetic Energy Near Sun's Surface Enables Solar Wind To Reach Gravity-Defying Speeds
The fastest winds ever recorded on Earth reached more than 200 miles per hour, but even those gusts pale in comparison to the sun's wind.
In a paper published on June 7, 2023, in the journal Nature, a team of researchers used data from NASA's Parker Solar Probe to explain how the solar wind is capable of surpassing speeds of 1 million miles per hour. They discovered that the energy released from the magnetic field near the sun's surface is powerful enough to drive the fast solar wind, which is made up of ionized particles—called plasma—that flow outward from the sun.
Read more at: scitechdaily
New Radio Observations Confirm Unintended Electromagnetic Radiation Emanating From Large Satellite Constellations
Scientists from a number of leading research institutions including the Max Planck Institute for Radio Astronomy in Bonn, Germany, used the Low Frequency Array (LOFAR) telescope to observe 68 of SpaceX's satellites. The authors conclude that they detected "unintended electromagnetic radiation" emanating from onboard electronics.
This is different from communications transmissions, which had been the primary focus for radio astronomers so far. The unintended radiation could impact astronomical research. The researchers encourage satellite operators and regulators to consider this impact on radio astronomy in spacecraft development and regulatory processes alike.
Read more at: phys.org
Space Travel's Hidden Impact: Long Missions Trigger Significant Changes in Astronauts' Brains
As we enter a new era in space travel, a study looking at how the human brain reacts to traveling outside Earth's gravity suggests frequent flyers should wait three years after longer missions to allow the physiological changes in their brains to reset.
Researchers studied brain scans of 30 astronauts from before and after space travel. Their findings, reported today in Scientific Reports, reveal that the brain's ventricles expand significantly in those who completed longer missions of at least six months, and that less than three years may not provide enough time for the ventricles to fully recover.
Read more at: scitechdaily
Chandrayaan-3 'Mated' With Its Launch Vehicle LVM3: What This Means
The Indian Space Research Organisation (Isro) on Wednesday (July 5) announced that it had successfully integrated the Chandrayaan-3 spacecraft with the launch vehicle, Launch Vehicle Mark-III (LVM3), at the Satish Dhawan Space Centre in Andhra Pradesh's Sriharikota.
In a tweet, Isro said, "LVM3-M4/Chandrayaan-3 Mission: Today, at Satish Dhawan Space Centre, Sriharikota, the encapsulated assembly containing Chandrayaan-3 is mated with LVM3."
Read more at: Indian express
🚀LVM3-M4/Chandrayaan-3🛰️ Mission:

Today, at Satish Dhawan Space Centre, Sriharikota, the encapsulated assembly containing Chandrayaan-3 is mated with LVM3. pic.twitter.com/4sUxxps5Ah

— ISRO (@isro) July 5, 2023
Massive Heat-Emitting Mass Discovered Buried Under The Surface Of The Moon
A large mass of granite that has been slowly releasing heat has been discovered buried underneath a crater on the Moon. This is not science fiction, it's ancient volcanism. The Moon used to have lava fields and eruptions, but astronomers had never actually found a more traditional Earth-like volcano – until they looked at what was beneath the Compton and Belkovich craters on the far side of the Moon.
Read more at: IFLscience
Robotic 'Light Bender' On The Moon Could Help Artemis Astronauts Keep The Lights On
A new undertaking from space technology company Maxar will use mirrors to autonomously track and reflect sunlight to supply energy to solar-powered equipment operating in the shadows of the moon's cliffs and craters.
NASA has set the goal to land astronauts near the moon's south pole by 2025 as a part of the agency's Artemis program. The moon's south pole is rich in resources such as water ice, but also experiences long periods of little to no sunlight. These conditions make energy production difficult, leaving few options to recharge batteries and maintain life-support, especially when using solar power.
Read more at: space.com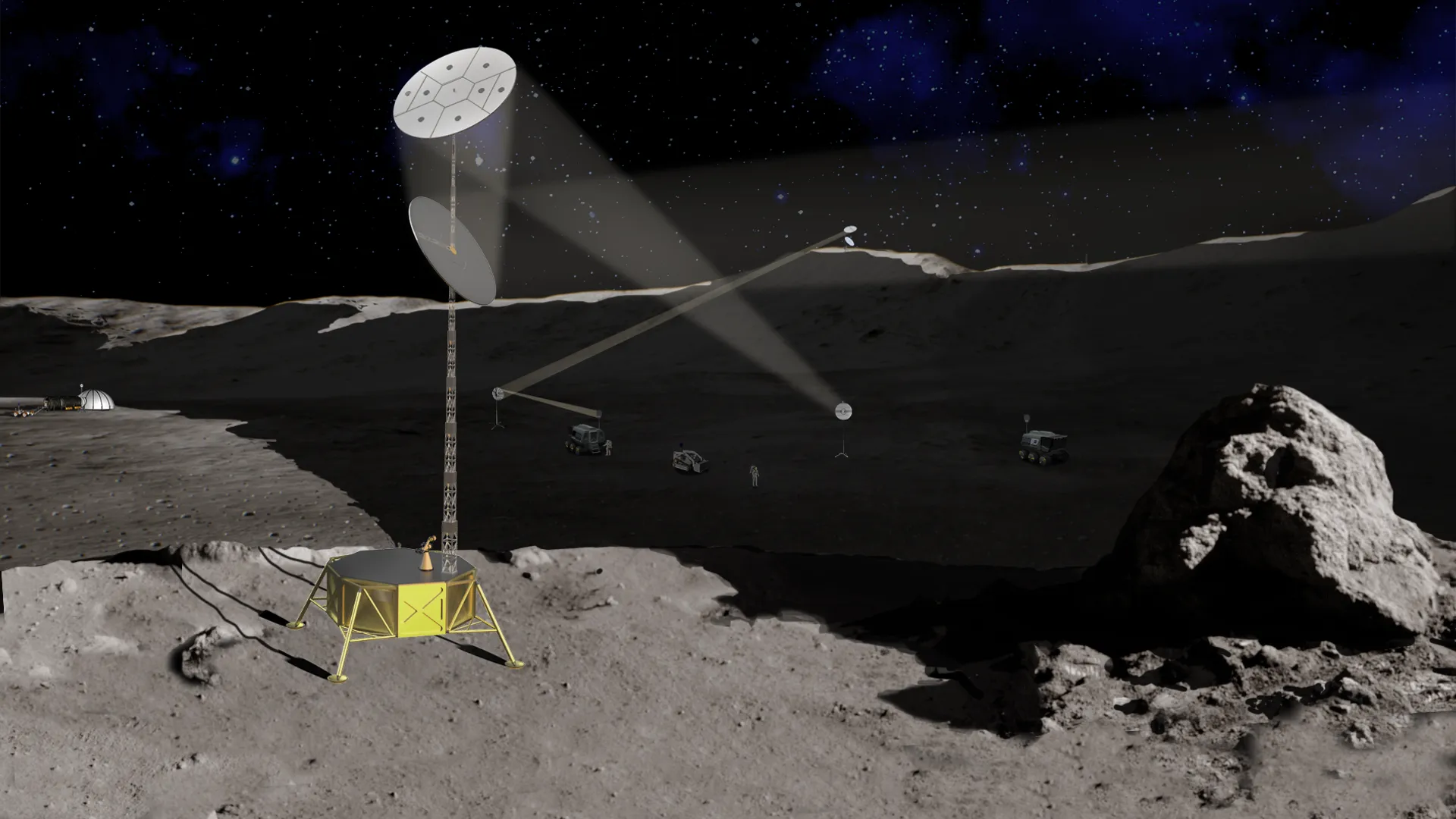 ---
SPACE POLICY
SpaceX, FAA Seek To Dismiss Environmental Groups' Starship Lawsuit
SpaceX and the U.S. Federal Aviation Administration (FAA) are seeking to dismiss a lawsuit brought by a coalition of environmental groups, according to media reports. That lawsuit was filed in the aftermath of the first-ever launch of SpaceX's fully stacked Starship vehicle, which occurred April 20 from the company's Starbase site in South Texas. The liftoff sent chunks of concrete and other debris raining down on Starbase's surroundings. Pieces of Starship itself came down as well: The vehicle suffered a few anomalies, leading SpaceX to send a self-destruct command that was enacted about four minutes after liftoff, while Starship was high over the Gulf of Mexico.
Read more at: space.com
Regulatory Uncertainty As Commercial Human Spaceflight Takes Off
As two companies prepare to begin or resume commercial suborbital human spaceflights, they are facing uncertainty about how the safety of the people on those flights will be regulated.
Virgin Galactic conducted its first commercial flight of its VSS Unity SpaceShipTwo vehicle June 29, flying three Italian payload specialists on a research mission designated Galactic 01. The company plans to begin monthly flights of private astronauts on that vehicle as soon as early August.
Read more at: spacenews
House Appropriators Target Space Force Programs
The House Appropriations Committee last week approved a $826.4 billion spending bill for the Department of Defense for fiscal year 2024, about $285 million above the Biden administration's request.
The bill, however, recommends nearly $1 billion in cuts from the U.S. Space Force's $30 billion request.
The HAC defense subcommittee, which in recent years has proposed increased spending for the Space Force, said the cuts recommended in its 2024 markup reflect concerns about programs' performance and Space Force justifications.
Read more at: spacenews
Senate Armed Services Committee Advances 2024 NDAA
The Senate Armed Services Committee on June 23 advanced its version of the 2024 National Defense Authorization Act (NDAA) by a vote of 24-1 after closed deliberations.
The bill authorizes $844 billion for the Department of Defense, or $2 billion more than the Biden administration's request.
The committee on Friday released an executive summary of its version of the NDAA. The bill now heads to the Senate floor for consideration.
Read more at: spacenews
---
SPACE DEFENCE
US Space Command Says It Needs More Maneuverable Satellites
Imagine you purchased a vehicle that needed to last eight years on a single tank of gas. You would probably avoid sharp accelerations, keep a close eye on the fuel gauge, and wouldn't leave the driveway unless it was a vitally important trip.
That was the analogy outlined Thursday by Lt. Gen. John Shaw, deputy commander of US Space Command, for how the Space Force operates its reconnaissance satellites.
"The way we've been doing space operations since the dawn of the Space Age—we've been doing it wrong," Shaw said in an event hosted by the Mitchell Institute for Aerospace Studies.
Read more at: arstechnica
Space Force Captain Kept US Cabinet Officials Safe Amid Europe Crisis
Early last year, as Russia mounted its all-out assault on Ukraine, the U.S. Space Force quietly built a shadowy electronic warfare enterprise in the remote European countryside to secure U.S. satellite networks.
That effort, led by Capt. Victoria Garcia, safeguarded the travel of two U.S. Cabinet secretaries to Kyiv, deployed a brand-new EW system for the first time and set a new standard for how the Space Force operates in far-flung parts of the world.
Read more at: airforce times
Defense Innovation Unit Solicits Proposals For Cargo Delivery To And From Space
The Defense Innovation Unit is seeking proposals from commercial launch companies that can provide "responsive and precise point-to-point delivery of cargo to, from, and through space."
The solicitation, published June 30, asks companies to submit proposals by July 17.
DIU, a DoD agency created to bring commercially developed technology into military programs, is looking for commercial options to use space launch vehicles to move a "wide variety of cargo where it is needed, when it is needed."
Read more at: spacenews
Space Development Agency Issues New Solicitation For 100 Satellites
The Space Development Agency on June 28 released a final request for proposals for its next procurement of 100 satellites as the agency continues to build out a military constellation in low Earth orbit.
These 100 satellites, named Alpha, will be part of a mesh network known as Transport Layer Tranche 2.
The Transport Layer Tranche 2 also includes 72 Beta satellites for which SDA already has requested bids.
Read more at: spacenews
Air Force Awards Raytheon $625 Million Contract For Nuclear-Hardened Satcom Terminals
The U.S. Air Force Nuclear Weapons Center awarded Raytheon Technologies a $625 million contract to produce nuclear-hardened satellite communications terminals.
The 11-year contract, announced June 28, is for production of FAB-T terminals used to connect strategic bombers and reconnaissance aircraft with classified military communications satellites.
This was a sole-source contract to Raytheon. The company since 2014 has been the Air Force's primary contractor for FAB-T, short for Family of Advanced Beyond Line-of-Sight Terminals.
Read more at: spacenews
Dod To Invest In Startup Developing Mobile Space-Launch Platforms
The Spaceport Company, a startup developing floating launch pads for space rockets, is one of 17 companies selected to receive government funding this year under the National Security Innovation Capital program.
The NSIC program, run by the Pentagon's Defense Innovation Unit, allocated $35 million in 2023 funding to 17 early-stage companies from different sectors of the tech industry, DIU said June 28.
NSIC was established by Congress in the 2019 National Defense Authorization Act.
Read more at: spacenews
---
VARIOUS
Passengers On Board The Titan Submersible Were Classified As 'Mission Specialists' To Avoid Legal Jeopardy If They Died, Says Report
Paying customers on board the Titan submersible were not referred to as 'passengers' as part of a bid to avoid severe legal repercussions if anyone died, a former consultant to OceanGate claimed in an interview with The New Yorker. Rob McCallum told the magazine that those on board were instead described as "mission specialists," with the New Yorker reporting that no one bought tickets but instead contributed a set amount of money to "fund their own missions." Tourists reportedly paid $250,000 for a place on the vessel, which took them down to the wreck of the Titanic.
Read more at: insider
Why Innovation, Exploration And Safety Must Evolve As One
The world was transfixed by the harrowing saga taking place in a small, austere habitat that had limited stores of oxygen and heat now floating in a cold, dark extreme environment with no rescue ship on the way. The public had not been that interested in this mission since it was not the first. But, once an emergency was declared, it became the main focal point of news programs and kitchen table discussions for days. The occupants of this doomed ship survived a catastrophic explosion.
Read more at: Hill
Europe Leans On SpaceX To Bridge Launcher Gap
Europe, temporarily lacking its own access to space, plans to rely more on SpaceX to launch key science and navigation spacecraft while working to restore its launch capabilities.
The successful final Ariane 5 launch July 5 means that Europe temporarily has no ability to launch payloads into orbit. The Ariane 5's successor, Ariane 6, is still in development and appears increasingly unlikely to be ready for its inaugural launch before 2024.
Read more at: spacenews
X-59 Supersonic Test Jet Looks Positively Sci-Fi Head-On
Lockheed Martin's latest photos of the experimental X-59 Quiet Supersonic Technology aircraft, or QueSST, built by the company Skunk Works for NASA, provide perhaps the best view so far of its radical forward-vision system, as well as revealing the jet in an increasingly complete state. The aircraft, which provides no traditional forward visibility to its pilot, is by far one of the most incredible looking and outright exotic flying machines we have seen, with its side profile equally as impressive as its head-on view.
Ultimately, it's planned that the X-59 will achieve supersonic speeds over land that create no more than a sonic 'thump' — rather than the 'boom' associated with previous supersonic transports. That could convince U.S. and international regulators to change the laws governing supersonic commercial aviation.
Read more at: thedrive
The Psychology Of Space Exploration — And Why It Matters On Earth
When Astronaut Chris Hadfield gazed at Earth from Space Shuttle Endeavour, tears formed in his left eye as he experienced the Overview Effect. He didn't expect these tears would make him go blind.
Within minutes the tears used the bridge of his nose like a waterfall, spilling into his right eye, until he couldn't see. Fear should have paralyzed Hadfield since he was now blind in space. Instead, Hadfield assessed his surroundings, evaluated the risk, trusted his training, and continued his spacewalk.
Read more at: spacenews
The Climate Of Mars Changed Dramatically 400,000 Years Ago, Chinese Rover Finds
China's Zhurong Mars rover has found evidence of a dramatic shift in Mars' climate 400,000 years ago, in the form of dark ridges laid on top of bright dunes that ripple across the sands of Utopia Planitia, which the rover is exploring.
Scientists led by Li Chunlai from the National Astronomical Observatories of the Chinese Academy of Sciences used the rover's instruments, coupled with high-resolution observations from China's Tianwen-1 Mars orbiter, to take a closer look at large sand dunes near where Zhurong landed in May 2021.
Read more at: space.com
NASA Plans To Mine Resources From The Moon Within The Next Decade
NASA plans to return to the surface of the Moon for the first time in more than 50 years through its Artemis missions, which aim to place humans back on the lunar surface by 2025. Eventually, however, the space agency wants to keep some souvenirs from the trip in the form of commercial resources. Gerald Sanders, a rocket scientist from NASA's Johnson Space Center, revealed that the space agency plans to send a test drill rig to the Moon next month that will eventually be used for large-scale excavation of moon soil, or regolith, according to report from Reuters. NASA also plans to establish a pilot processing plant to extract resources like oxygen, water, iron, and rare metals by 2032.
Read more at: chron