TOP NEWS
China Sets Out Preliminary Crewed Lunar Landing Plan
China is formalizing its plans to land a pair of astronauts on the surface of the moon before the end of the decade.
A preliminary plan to put two astronauts on the moon for a short period to conduct scientific tasks and collect samples was presented by Zhang Hailian, deputy chief designer with the China Manned Space Agency (CMSA), at the 9th China (International) Commercial Aerospace Forum in Wuhan, Hubei province, July 12.
Read more at: spacenews
---
SPACE HAZARDS and STM
Russian Scientists Warn Of Powerful Solar Flare Activity On Monday
Powerful solar flare activity is forecast for Monday which may interfere with short-wave communications, Russian scientists said after three flares were observed on the sun on Sunday.
The Fedorov Institute of Applied Geophysics in Moscow said class X flares were possible, including proton flares, and short-wave radio conditions were expected to deteriorate.
X-class flares are the largest explosions in the solar systems and can create long-lasting radiation storms. Proton flares are a storm of solar energetic particles, composed chiefly of proton.
Read more at: reuters
Asteroid The Size Of 45 Aardvarks To Fly Past Earth Wednesday – NASA
An asteroid the size of over 45 aardvarks is set to pass by the Earth on Wednesday, July 19, according to NASA's asteroid tracker.
The asteroid in question was designated by NASA as 2023 NE1, according to the Center for Near-Earth Object Studies (CNEOS) at NASA's Jet Propulsion Laboratory (JPL).
Asteroid 2023 NE1 isn't exactly on the small side, with NASA estimating its diameter as being as much as 100 meters.
Read more at: jpost
'Cannibal' Coronal Mass Ejection That Devoured 'Dark Eruption' From Sun Will Smash Into Earth Today (July 18)
A "cannibal" coronal mass ejection (CME) birthed from multiple solar storms, including a surprise "dark eruption," is currently on a collision course with Earth and could trigger a weak geomagnetic storm on our planet when it hits on Tuesday (July 18).
CMEs are large, fast-moving clouds of magnetized plasma and solar radiation that occasionally get flung into space alongside solar flares — powerful explosions on the sun's surface that are triggered when horseshoe-shaped loops of plasma located near sunspots snap in half like an overstretched elastic band.
Read more at: live science
Solar Maximum Is Looming. What Are The Risks?
Given we are headed into the maximum of Solar Cycle 25, which will see increased activity on the Sun, what does that mean for us down here on Earth?
How will increased solar flares, coronal mass ejections (CMEs) and the associated geomagnetic storms affect us?
While experts expect the solar maximum coming in 2024–25 to be moderate, increased solar activity — because of our reliance on technologies susceptible to disruption from solar storms — have caused a stir in recent months.
Read more at: cosmos magazine
---
COMMERCIAL SPACE
Above Space signs Umbrella Space Act Agreement With NASA
Above Space Development Corporation, a key player in the space technology sector, has recently inked an Umbrella Space Act Agreement (SAA) with NASA, a development set to have significant implications for both parties. This five-year SAA outlines the scope for collaborative work on various technologies designed for commercial, civil, and government clientele, marking an important step in the progression of the space industry.
The agreement grants Above Space Development access to NASA's facilities and services, aiding the organization in the testing and enhancement of its systems, tools, and technology.
Read more at: spacedaily
Electron Launches Seven Smallsats In Latest Step Towards Reusability
A Rocket Lab Electron rocket placed seven smallsats for three customers into orbit July 17 on a launch that also brought the company a step closer to reusing the rocket's booster.
The Electron lifted off from the company's Launch Complex 1 on New Zealand's Mahia Peninsula at 9:27 p.m. Eastern. The launch was scheduled for July 14 but postponed as the company made final preparations to both launch the rocket and recover the booster.
Read more at: spacenews
Young Space Firms Are Driving Acquisition Activity
Young space companies made more acquisitions than their older peers over the last 12 months, according to analysis from British investment firm Seraphim Space. Satellite maker York Space Systems, launcher Firefly Aerospace, defense contractor Anduril, and other "NewSpace" ventures formed the bulk of the 28 mergers and acquisitions (M&A) Seraphim tracked over the period. More established space firms and other companies have traditionally led M&A activity in the industry.
Read more at: spacenews
Amazon Builds New Florida Satellite Facility For Its Starlink Rival
Amazon's Starlink rival, Project Kuiper, is moving closer to liftoff. The company announced today that a new $120 million satellite-processing facility for the initiative is under construction at Kennedy Space Center in Florida. Amazon plans to launch its first satellites "in the coming months," followed by the first customer pilots next year.
Like Elon Musk's Starlink, Project Kuiper aims to provide fast and affordable satellite broadband to areas "unserved or underserved by traditional internet and communications options."
Read more at: engadget
Astranis Internet Satellite Malfunctions Before Beginning Alaska Service, Backup Planned For Spring
Satellite internet service provider Astranis said Friday its first commercial satellite in orbit, which was intended to provide coverage to Alaska, has malfunctioned. A backup satellite is planned for the spring.
It's an early setback for a unique approach to providing internet service to underserved communities in remote locations. Astranis announced in May that Arcturus was working "perfectly" and could begin servicing Alaskans as soon as mid-June.
Read more at: CNBC
Galactic Energy Registers Sixth Consecutive Successful Launch
Chinese startup Galactic Energy sent two satellites into orbit early Saturday with the company's sixth consecutive successful launch.
A Ceres-1 four-stage solid rocket lifted off using a transporter erector launcher at the Jiuquan Satellite Launch Center in the Gobi Desert at 1:07 a.m. Eastern, July 22. Two satellites were aboard the flight codenamed "Lemon Tree."
Read more at: spacenews
Rocket Lab Successfully Retrieves Its Reusable Rocket After Splashdown
Rocket Lab successfully retrieved the first stage of its Electron rocket during its "Baby Come Back" mission on Monday — but it didn't catch it with a helicopter this time around. When Electron lifted off from New Zealand's Mahia Peninsula on Monday, its first stage separated about two and a half minutes later and splashed down into the Pacific Ocean, where Rocket Lab's team recovered the reusable booster.
After separation, the booster began its descent toward Earth at over 9,000kmph (5,592mph), reaching a temperature of 2,400 degrees Celsius (4,352 degrees Fahrenheit) along the way
Read more at: Verge
Baby Came Back pic.twitter.com/YW8r2qt9pG

— Rocket Lab (@RocketLab) July 18, 2023
---
SCIENCE & TECHNOLOGY
China May Launch Next-Generation Crewed Spacecraft As Early As 2027
China's next-generation crewed spacecraft, which can transport up to seven astronauts, may fly for the first time between 2027 and 2028, a veteran Chinese astronaut said.
China's manned space flights began in 2003 when former fighter pilot, Yang Liwei, was sent into orbit in a small bronze-coloured capsule, the Shenzhou-5, becoming China's first man in space and an instant hero cheered by millions at home.
Read more at: reuters
NASA Starts Building Ice-Hunting Moon Rover
The search for ice at the Moon's poles has loomed large in the field of lunar science since an instrument on an Indian satellite discovered water molecules inside shadowed crater floors more than a decade ago. NASA is now assembling a golf cart-size rover to drive into the dark polar craters to search for ice deposits that could be used by future astronauts to make their own rocket propellant and breathable air.
"A large group of people have been working on this idea for 10-plus years," said Anthony Colaprete, project scientist for NASA's Volatiles Investigating Polar Exploration Rover (VIPER) mission.
Read more at: arstechnica
Chandrayaan-3 Moves Into Higher Orbit As ISRO's Moon Mission Progresses
The Chandrayaan-3 spacecraft has successfully completed its third orbit-raising manoeuvre, according to the Indian Space Research Organisation (ISRO). The spacecraft, which aims to achieve a soft landing on the moon's surface next month, has now entered a higher orbit around the Earth.
ISRO confirmed that the mission is proceeding as planned and the spacecraft will continue to raise its orbit through a series of manoeuvres.
"The mission is on schedule," ISRO said in a tweet.
Read more at: Indian express
Fire-In-Space Experiment Could Soon Make Its Way To The Moon
The next frontier for fire-in-space experiments may be the moon. The longtime leader of fire experiments on a private International Space Station (ISS) cargo vehicle says he is considering similar work on a robotic moon lander for NASA's Artemis program, which aims to land people and payloads on the lunar surface in the next few years. "We really need to be on the lunar surface to get long duration," David Urban, fire investigator and chief of the low-gravity exploration technology branch at NASA's Glenn Research Center in Ohio, said in a press conference on Tuesday (July 18).
Read more at: space.com
GMV Tests Lunar Rover At Unprecedented Speeds
During the first half of July the multinational technology company GMV is conducting field tests as part of RAPID (Robust and Semi-Autonomous Platform for Increased Distances), a space robotics project run by the European Space Agency (ESA). Dry runs are being carried out in open fields in the town of Colmenar Viejo, Madrid.
With more than 3,000 employees worldwide and its headquarters in Madrid (Spain), GMV develops systems and technology for various space applications. One of these systems includes robotic systems for planetary exploration (such as the Moon or Mars) and all the associated elements, including mobility, guidance/navigation systems, route planning through rugged terrains, and systems capable of carrying out its functions completely autonomously.
Read more at: Moondaily
A World-First Spacecraft Reentry To Earth Is Approaching
A car-sized spacecraft is falling down to Earth — but there's a plan to catch it.
Aeolus, the first satellite to directly observe wind profiles from space, is almost out of fuel. Earth's atmosphere and gravity are now dragging the 1360-kg craft down to our planet at increasing speed.
In the original plan, Aelous was expected to fall naturally back to Earth. But the European Space Agency (ESA) has proposed another idea: an assisted re-entry — the first of its kind.
Read more at: nextweb
---
SPACE POLICY
Industry Offers Wish List For Commercial Space Legislation
As the House Science Committee considers a commercial space bill, industry officials advocated for key topics they believe should be included in that legislation.
A July 13 hearing by the committee offered the industry an opportunity to weigh in on topics they believe should be included in a commercial space package that the committee is developing, from commercial human spaceflight safety to oversight of emerging space activities.
Read more at: spacenews
Venezuela Signs Up To China's Moon Base Initiative
Venezuela has formally joined the China-led International Lunar Research Station project.
Venezuela becomes one of the first countries to join the International Lunar Research Station (ILRS). The initiative is seen as a China-led, parallel project to the NASA-led Artemis Program.
Zhang Kejian, administrator of the China National Space Administration (CNSA), and Gabriela Jimenez, Venezuela's Vice President and Minister of Science and Technology, signed a joint statement on the ILRS July 17 via video.
Read more at: spacenews
Mongolia-SpaceX Deal Provokes A Security Stir In China
Mongolia's recent decision to adopt SpaceX's Starlink internet services is stirring security concerns across the border in China, both as a potential military threat and a possible way around Beijing's strict censorship regime on perceived as "harmful" foreign websites.
On July 6, the Communications Regulatory Commission of Mongolia issued special licenses for SpaceX, founded by American billionaire tycoon Elon Musk, to operate as a service provider using low-orbit satellites and for Starlink to provide internet services in the country.
Read more at: Asiatimes
New Zealand Launches Aerospace Strategy
New Zealand is unlikely to send people to space any time soon, but the country's newly-launched Aerospace Strategy will help support the sector's continued development, MBIE says.
The strategy runs until 2030 and revolves around five goals, including actively supporting space exploration, and being at the forefront of sustainable space activities.
The government has allocated funding of up to $12 million, further to the $15.7 million in funding announced last year, to support the strategy's implementation.
Read more at: rnz
NASA's Bill Nelson To Discuss Bilateral Cooperation In South America
NASA Administrator Bill Nelson will travel to South America on Monday to promote international cooperation on multiple space-related topics.
During his trip, Nelson will meet space officials in Brazil, Argentina and Colombia.
NASA says Nelson will meet the officials, including Argentinian President Alberto Fernandez, "to deepen bilateral cooperation across a broad range of innovation and research-related areas, especially in Earth science to achieve our nations' mutual goals of addressing climate change and achieving net zero emissions by 2050."
Read more at: spacedaily
Once Again, The US Public Says NASA Should Prioritize Asteroid Defense
The Pew Research Center published the results of a new public survey on Thursday, the 54th anniversary of the Apollo 11 landing on the Moon. The survey assessed Americans' attitudes toward space exploration and space policy issues.
Similarly to five years ago, the survey found that Americans broadly support the national space agency, NASA. Three-quarters of respondents had a favorable opinion of NASA, compared to just 9 percent with an unfavorable opinion.
However, as several previous surveys have found, the public has far different priorities for NASA than are expressed in the space agency's budget. In this new report, based on a large survey of 10,329 US adults, the highest support came for "monitor asteroids, other objects that could hit the Earth" (60 percent) and "monitor key parts of the Earth's climate system" (50 percent).
Read more at: Arstechnica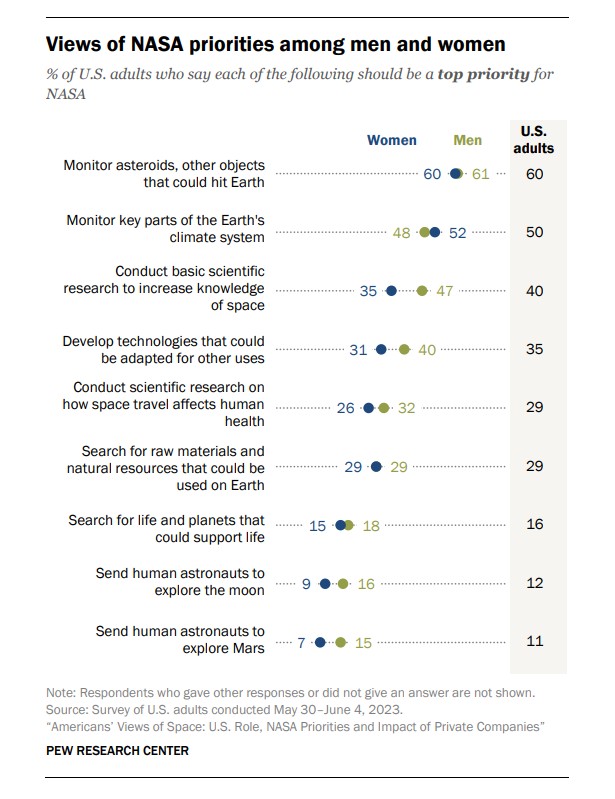 ---
SPACE DEFENCE
LEO, MEO Or GEO? Diversifying Orbits Is Not A One-Size-Fits-All Mission (Part 1 Of 3)
It may come as no surprise that most of the man-made objects in space can be found in Low Earth Orbit, also known as LEO. LEO is the orbital range closest to Earth, which also means it's the easiest orbit to reach in terms of energy and rocket power. Satellites that orbit up to 1,200 miles above earth are in LEO. They include the International Space Station, the Hubble Telescope and some 4,000 Space X Starlink satellites, to name a few.
"LEO is used a lot for communications and imaging," notes Kerstyn Auman, a space situational awareness analyst at the Aerospace Corporation. "One of the pros of this orbit is you have a really low latency (compared to other orbits) – how much time it takes to send out a signal and/or get one back. So when you're thinking of things like voice communications or surfing the internet, you want it to be almost instantaneous."
Read more at: spaceforce
US Military Leans Into Megaconstellations After Their "Resiliency" In Ukraine
The leader of the United States Space Command, an Army general named James H. Dickinson, said Wednesday that megaconstellations such as SpaceX's Starlink network have played an important role in Ukraine's efforts to deter an invasion by Russia.
"We are seeing for the first time what a megaconstellation means to the world," Dickinson said. "That provides such resiliency and redundancy in terms of maintaining satellite communications in this example. That is powerful, and the department is moving in that direction."
Read more at: arstechnica
Space Force Using Anduril Software To Integrate U.S. Space Surveillance Sensors
The Space Force is using a software platform developed by Anduril Industries to integrate data from a decades-old network of space surveillance sensors.
DoD announced July 12 that Anduril won an $8 million contract extension to field its mesh networking software at Space Surveillance Network sites through December 2024. The software autonomously analyzes data from sensors and provides an integrated picture.
The SSN is a collection of sensors dispersed across multiple sites worldwide first deployed in the late 1950s to provide early warnings of ballistic missile launches.
Read more at: spacenews
Space Domain Awareness Front And Center At ROKAF Open Space Forum
U.S. Space Force Col. Raj Agrawal, commander, Space Delta 2-Space Domain Awareness and Space Battle Management, traveled to Seoul to meet with top officials from U.S. Space Forces Korea and the Republic of Korea Air Force to assess evolving space capabilities and to speak at the ROKAF's third annual Open Space Forum July 4, 2023.
The visit came as an invitation from ROKAF's senior leaders to speak on critical SDA intelligence and coincided with the 70th anniversary of the U.S-ROK Alliance, symbolizing the U.S. and the ROK's enduring commitment to mutual defense.
Read more at: dvidshub
JUST IN: SPACECOM Prepared to Defend U.S. Assets
China and Russia currently possess advanced technologies and capabilities that could attack U.S. satellites in orbit, but Space Command is "ready" to defend the space domain, according to the head of the command.
"In the space domain, it's important to understand that we've got some competitors up there that are developing and demonstrating capabilities. That should cause us a bit of a concern," said Gen. James Dickinson, commander of SPACECOM, during an Aspen Security Forum panel in Aspen, Colorado, July 19.
Read more at: national defense magazine
---
VARIOUS
BAE Systems Has Conducted A 24-Hour Flight Test Of The PHASA-35 Drone, Which Will Be Able To Fly In The Stratosphere For A Year Without Landing
BAE Systems this month conducted a flight test of the PHASA-35 unmanned aerial vehicle. As part of the test, the drone was in the air for 24 hours, but the final version will be able to fly 365 times longer.
PHASA-35 tests took place in the state of New Mexico, USA. The drone flew for 24 hours, climbing to an altitude of approximately 20 kilometres before landing successfully. BAE Systems engineers were able to evaluate the performance of the drone powered by solar panels.
Read more at: gagadget

Sex In Space: Why It's Worrying That The Space Tourism Sector Hasn't Considered The Consequences
Humans have a knack for sharing intimate moments in unlikely places, as membership of the mile-high club demonstrates. So there is a significant chance that the launch of the space tourism sector may be swiftly followed by the first sex in space.
But having researched the issue, my colleagues and I believe that space tourism companies haven't adequately prepared for the consequences of people joining what we could call the "Kármán line club" (referencing the 100km-high boundary between Earth and the rest of the cosmos).
Read more at: conversation

Something In Space Has Been Lighting Up Every 20 Minutes Since 1988
On Wednesday, researchers announced the discovery of a new astronomical enigma. The new object, GPM J1839–10, behaves a bit like a pulsar, sending out regular bursts of radio energy. But the physics that drives pulsars means that they'd stop emitting if they slowed down too much, and almost every pulsar we know of blinks at least once per minute.
GPM J1839–10 takes 22 minutes between pulses. We have no idea what kind of physics or what kind of objects can power that.
Read more at: Arstechnica

ESA's Space Rider Spacecraft Reaches Key Milestone
On June 20, the Space Rider programme proceeded into Phase D of its development, allowing qualification and production to commence. While delivery of the main structures of the re-entry and service modules is only expected in 2024, flight units of some components are already complete.
"Some flight units and components have already been delivered and more are coming in the next weeks/months, and major elements (like main structures for the two modules) are expected within mid-2024," an ESA spokesperson told European Spaceflight. "In parallel, we are procuring the launch service for the maiden flight."
Read more at: European spaceflight

Op-Ed | Britain Has All The Attributes To Create A World-Leading Space Economy 
The space sector is experiencing significant growth globally, but Britain's part in forging the future of the space ecosystem still remains relatively unknown.
Over the last three years, over $23 billion has been invested in the space sector globally — reaching the heights of almost $10 billion in 2021. The global space sector is now worth over $469 billion, with 77% accounted for by the commercial market. Analysts project future growth of up to 11% per annum.
Read more at: spacenews
Most Americans Expect Routine Space Tourism By 2073, But Few Would Actually Try It: Report
A new survey has found that more than half of all Americans expect to be able to travel to space within five decades.
A new study from the Pew Research Center polled U.S. citizens to gauge what they expect of spaceflight over the next 50 years. The survey gathered general opinions on NASA's continued role as a leader in space exploration, how the growing commercial space industry will increase access to space, and the topics people think should be the space agency's top priorities.
Read more at: space.com
In New Space Race, Scientists Propose Geoarchaeology Can Aid In Preserving Space Heritage
As a new space race heats up, two researchers from the Kansas Geological Survey at the University of Kansas and their colleagues have proposed a new scientific subfield: planetary geoarchaeology, the study of how cultural and natural processes on Earth's moon, on Mars and across the solar system may be altering, preserving or destroying the material record of space exploration.
"Until recently, we might consider the material left behind during the space race of the mid-20th century as relatively safe," said Justin Holcomb, postdoctoral researcher at the Kansas Geological Survey, based at the University of Kansas, and lead author on a new paper introducing the concept of planetary geoarchaeology in the journal Geoarchaeology. "However, the material record that currently exists on the moon is rapidly becoming at risk of being destroyed if proper attention isn't paid during the new space era."
Read more at: spacedaily
China's Landspace Zhuque-2 Rocket Wins Methane-Fueled Rocket Race
The world's first methane-fueled rocket successfully reached orbit after launching on July 12th. The private, but government-funded company beat the likes of SpaceX, Relativity, and Blue Origin.
Their first launch attempt came in December 2022, which failed due to the 2nd stage vernier engines shutting down early. This was the world's first methane-fueled rocket to launch past the Karman line.
Read more at: teslarati

LANDSPACE released more footage of the launch of Zhuque-2 Y2 https://t.co/2fCPKBZTGb pic.twitter.com/qaYFraTHkN

— China 'N Asia Spaceflight 🚀🛰️🙏 (@CNSpaceflight) July 14, 2023