TOP NEWS
First Piloted Flight Of Boeing's Oft-Delayed Starliner Spacecraft Slips To At Least March
The first piloted launch of Boeing's oft-delayed Starliner crew capsule is slipping to next March at the earliest because of ongoing work to test and replace the capsule's parachute system and to resolve issues with a flammable adhesive used in protective electrical tape, officials said Monday.
"The chutes will drive the readiness for potential launch dates," said Mark Nappi, Boeing's Starliner program manager. "And right now, based on the current plans, we're anticipating that we're going to be ready with the spacecraft in early March. That does not mean that we have a launch date in early March. That means that we are ready with the spacecraft then."
Read more at: spaceflight now
Russia To Launch First Moon Lander Since 1976 In Race With Indian Spacecraft
Russia will launch its first lunar landing spacecraft in 47 years on Friday in a race with India to the south pole of the moon, a potential source of water to support a future human presence there.
The launch from the Vostochny cosmodrome, 3,450 miles (5,550 km) east of Moscow, will take place four weeks after India sent up its Chandrayaan-3 lunar lander, due to touch down at the pole on Aug. 23.
Rough terrain makes a landing there difficult, but the south pole is a prized destination because scientists believe it may hold significant quantities of ice that could be used to extract fuel and oxygen, as well as for drinking water.
Read more at: reuters

---
SPACE HAZARDS and STM
How European Satellite's Landmark Demise Can Aid The Fight Against Space Junk
The European Space Agency (ESA) recently performed an assisted/semi-controlled descent of its retired Aeolus, a wind-studying spacecraft lofted into Earth orbit in 2018.
Mission scientists and engineers took on the tricky task of targeting a remote stretch of the Atlantic Ocean for the plunge to Earth of Aeolus. A key aspect of assisted reentry is that, for any spacecraft leftovers believed to survive the plunge, those bits and pieces would fall into a remote area.
ESA confirmed that Aeolus reentered Earth's atmosphere on July 28 above Antarctica, an outcome that was verified by the U.S. Space Command.
Read more at: space.com
ISRO's Rocket Launch Delayed Due To Space Traffic Congestion
Stuck in a traffic jam? If you thought you could escape that in Space, you are wrong. The Indian Space Research Organization (ISRO) has found in its assessment that there are 27,000 catalogued Space objects, of which 80 percent is Space debris. As a result of human activities, the outer Space is also congested due to pollution.
"There are millions of Space objects less than 10 cm in size that are uncatalogued and pose a very dangerous situation for Space assets," says S Somanath, ISRO chairman, reported NDTV.
Read more at: livemint
Powerful Sun Storm Knocks Out Radio Transmissions Across North America
A powerful solar flare disrupted radio and navigation signals across North America on Monday (Aug. 7) and prompted space weather forecasters to issue warnings because of energetic particles hitting Earth.The flare, classified as an X1.5, was the 20th X flare — the most potent solar flare category — of the current 11-year solar cycle, which will reach its maximum next year.Solar flares are energetic flashes of radiation that explode from magnetically dense, cool regions on the sun's surface known as sunspots. Traveling at the speed of light, the photons from these flares arrive at our planet in eight minutes. As the radiation from the flares interacts with particles in Earth's ionosphere, the region of the atmosphere at altitudes between 50 and 400 miles (80 and 650 kilometers), it supercharges them. These changes then affect radio and satellite signals that pass through this region.
Read more at: space.com
Russia To Evacuate Entire Village Due To Danger Of Falling Rocket
Russia's long-delayed robotic Luna-25 mission is at the launch site ahead of a liftoff scheduled for August 11, a report from state media publication TASS explains.
The Luna-25 lander was designed to perform a soft landing on the lunar south pole as the world's major space players turn their attention to mining the south pole region for ice that can be converted into water, oxygen, and rocket propellant.
Luna-25 is Russia's first lunar lander since 1976 and it will launch atop a Soyuz 2.1a rocket at the Vostochny Cosmodrome in east Russia.
Read more at: interesting engineering
Vyoma Orders Pilot Satellites For Debris-Monitoring Constellation
German startup Vyoma has ordered two pilot satellites for its proposed space debris-monitoring constellation from EnduroSat, the eight-year-old Bulgarian cubesat specialist.
Luisa Buinhas, Vyoma co-founder and chief product officer, said Aug. 9 the spacecraft's technical details are confidential but they would be based on a microsatellite platform between 50-500 kilograms.
The plan is to launch the satellites to low Earth orbit (LEO) around the end of 2024 and Vyoma expects to announce a launch provider soon.
Read more at: spacenews
DART Asteroid-Smasher Broke Off 37 Boulders With Atomic Bomb-Strength Energy
Last year, NASA undertook its first planetary defense mission with the Double Asteroid Redirection Test (DART). The goal was to divert the moonlet Dimorphos from its orbit, demonstrating that an asteroid could be redirected in the case of a catastrophic course toward Earth.
The spacecraft's impact, while altering the moonlet's orbit, also resulted in the dispersal of 37 boulders from its surface. Some of these space rocks are as wide as 22 feet off its surface.
Read more at: earth.com
See Burning Space Debris Light Up Melbourne's Night Sky
Melbourne residents were surprised to see bright streaks of light across the sky, which turned out to be the remnants of a Russian rocket re-entering the atmosphere.
Read more at: CNN
---
COMMERCIAL SPACE
Amazon Shifts Launch Of Its First Internet Satellites To Atlas V Rocket
Amazon has confirmed it now plans to launch the first two test satellites for the company's Kuiper broadband network on a United Launch Alliance Atlas V rocket as soon as next month, shifting the payloads off of the inaugural flight of ULA's new Vulcan rocket.
The shift has been rumored for several weeks after ULA delayed the first flight of its Vulcan rocket from the summer until the fourth quarter of the year. The delay will allow time for ULA to beef up the structure of the Vulcan upper stage's liquid hydrogen tank, which sprang a leak that resulted in a destructive fireball on a test stand in March.
Read more at: arstechnica
Spaceport America Set To Launch Second Commercial Space Flight
Another historic space flight is set to take off from New Mexico in a few days.
Spaceport America will be the site of another space tourism launch Tuesday.
Read more at: kob.com
Virgin Galactic Conducts First Space Tourist Suborbital Flight
Virgin Galactic took its first private astronaut customers on a suborbital spaceflight Aug. 10, nearly two decades after it started selling tickets.
Virgin's VSS Unity spaceplane, attached to its VMS Eve mothership aircraft, took off from Spaceport America in New Mexico at approximately 10:20 a.m. Eastern. Unity was released from Eve at 11:17 a.m. Eastern and fired its hybrid rocket motor.
The vehicle reached a peak altitude of about 88.5 kilometers before gliding back to the spaceport, landing at 11:32 a.m. Eastern. The flight appeared to go as expected.
Read more at: spacenews
SpaceX Needs To Launch Starship Multiple, Multiple Times Says NASA Official
SpaceX's Starship program and its criticality for the National Aeronautics and Space Administration (NASA)'s lunar missions is at the top of NASA's mind as it enters the next stage of the Artemis program. The space agency held an in-person press conference earlier today with the Artemis 2 astronauts, who will be the first humans to go to the Moon since the Apollo program. This mission is slated to fly in November 2024, and the only delay in NASA's schedule so far is the rocket booster which should finish processing by February.
Read more at: wccftech

The Next Big Space Business: Satellite Pictures Of Other Satellites
Satellite images, long used by militaries to track developments on Earth, are increasingly being used to keep tabs on the proliferating objects in space.Maxar Technologies has been filling U.S. government orders for images of objects in space for "several years," said Kumar Navulur, the company's director of strategic business development. The subjects include not just objects in highly populated low Earth orbits but in medium Earth orbits, geostationary orbits, and even beyond. And since August, when Maxar received a license from the National Oceanic and Atmospheric Administration, the company seeks to sell space imagery to satellite and launch companies looking to keep track of their orbiting assets.
Read more at: defenseone
Exotrail Establishes U.S. Presence
French space mobility company Exotrail has created two U.S. subsidiaries as part of efforts to serve a growing number of American customers.
Exotrail announced Aug. 7 that it has created Exotrail U.S. Inc. and Exotrail U.S. Federal Inc. to serve the American market. Tyler Browder, co-founder and former chief executive of space software company Kubos, is chief executive of Exotrail U.S.
Read more at: spacenews
---
SCIENCE AND TECHNOLOGY
What is the ISO 26262 Functional Safety Standard?
Safety practices are becoming more regulated as industries adopt a standardized set of practices for designing and testing products. ISO 26262 is a functional safety standard for critical electrical and electronic (E/E) systems in automotive components. ISO 26262 is a derivative of IEC 61508, the generic functional safety standard for electrical and electronic systems. This paper covers key parts of ISO 26262, and qualification of hardware and software. Additionally, this paper covers ISO 26262 test processes and qualifying tools for ISO 26262 compliance.
Read more at: ni.com
Chinese Launch Startup Tests Landing Rockets With Jet-Powered Prototype
A Chinese startup is taking jet-powered steps to landing and reusing rockets.
Chinese commercial launch company Galactic Energy announced in late July that it had recently used a small test article propelled by a jet engine to test guidance software for landing rockets.
The trajectory deviation, landing point deviation, attitude deviation and other indicators all met the design requirements, according to a Galactic Energy statement.
Read more at: space.com
ISS Experiment Will Help Scientists Work Out How To Keep Astronauts Cool In Space
On August 4th, Northrop Grumman's 19th resupply mission for the ISS arrived on the orbiting lab, carrying not just necessities for its inhabitants, but also an experiment that could greatly benefit future human colonies outside our planet. Specifically, the mission was carrying a module with hardware that could help us understand how heating and air conditioning systems can operate in reduced gravity and in the extreme temperatures observed on the moon and Mars. Daytime temperatures near the lunar equator, for instance, reach 250 degrees Fahrenheit, which is higher than the boiling point of water. At night, temperatures reach -208 degrees Fahrenheit. The lowest recorded temperature on Earth was -128.6 degrees Fahrenheit back in 1983.
Read more at: engadget
5 Years, 430,000 MPH, and Counting: How NASA's Parker Solar Probe Is Making History
NASA's Parker Solar Probe, launched five years ago, has made remarkable achievements, including becoming the first spacecraft to "touch the Sun." It has collected vital data on the Sun's upper atmosphere and solar wind, breaking speed and distance records in the process. The mission reflects decades of innovation and will continue to enhance our understanding of the Sun's relationship with Earth.
Read more at: scitechdaily
ESA Integrates Satellite Orbit Decay Forecast Service To Enhance Satellite Safety
After a successful test phase, the Satellite Orbit DecAy (SODA) service, which was jointly developed by TU Graz and the University of Graz, officially became part of the ESA's Space Safety Programme in mid-July. SODA provides accurate forecasts of the effects of solar storms on low Earth orbiting satellites. This makes TU Graz only the third Austrian institution contributing to this ESA programme. Seibersdorf Laboratories, and the University of Graz, through the Kanzelhohe Observatory and the Institute of Physics, have previously already been involved in the agency's work.
Read more at: spacewar
---
SPACE POLICY
We Can't Leave Outer Space to the Capitalists
The world's most irritating oligarchs all want to be astronauts, from Jeff Bezos to Elon Musk and Richard Branson. When SpaceX's April rocket launch ended in a "rapid unscheduled disassembly," schadenfreude was inevitable. After all, these men are taking wealth ripped from their exploited workforces and siphoned from the public through state subsidies and launching it into space. They're basically conscripting warehouse workers, delivery drivers, and beneficiaries of tax-funded programs into the role of Atlas, eternally struggling to hold up the sky. Anyone could be forgiven for thinking, under these circumstances, that humanity is better off remaining earthbound.
Read more at: jacobin
Export Challenges Delay Indian Equipment Meant For Chinese Space Station
China is dreaming big with its mission of Tiangong space station, a permanent crewed space station operated by China Manned Space Agency in low Earth orbit.
But Beijing's giant leap in space witnessed challenges. The latest report by The South China Morning Post said that Indian scientists have ended in a deadlock in their attempt to ship a scientific instrument, which will apparently be used Tiangong space station.
Read more at: wionews
Starlink's 'Barbaric Expansion & Military Application' Worries China; Breaches Its 'Great Firewall'
Multipolarity is a distribution of power in which more than two states have similar amounts of power. In the first place, the question is whether multipolarity is practicable in a world full of diversity, both natural and man-made.
Secondly, are the advocates of this socio-political phenomenon serious about leading the contemporary world to multipolarity? Because the cliche has found entry into the leftist lexicon, modern society will want a comprehensive definition rather than cling to its Marxist undertone.
Read more at: eurasian times
Op-Ed | Spacs Are A Double-Edged Sword For Newspace
As a serial entrepreneur and now the CEO of a satellite company, I had the opportunity to witness firsthand the revolution of the space industry in recent years and the critical role that innovation and capital play in its success. Recently, special purpose acquisition companies (SPACs) have emerged as a prominent way to raise funds, speeding the way for startups of any kind to become public. However, while SPACs hold the potential to push the newspace industry forward and drive its growth, it is crucial to identify their benefits so that we can capitalize on them — and we also need to understand their potential risks.
Read more at: spacenews
Debate And Hopes For Consensus At UN Space Resource Meetings
The United Nations' Committee on Peaceful Uses of Outer Space (COPUOS) recently hosted closed meetings of the Legal Subcommittee's Working Group on Space Resource Activity at its headquarters in Vienna. The Working Group has just completed the first year of its five-year mandate to review the regulation of such activity, including possible "additional international governance instruments." Although it had planned to meet only during the Legal Subcommittee's annual two-week session earlier this year, the Working Group failed at that time to agree on even a preliminary statement.
Read more at: spacereview
From Customization to Standardization
The success of NewSpace has been largely based on cost savings due to miniaturization and cheaper launches. With competition harshening and the arrival of more constellations, cost efficiencies have become even more relevant.
And while we still have an unprecedented launch availability with a consistent launch schedule, and low prices compared to the situation five years ago, SpaceX, as the main launch provider, increased its prices last year.
Read more at: spacenews
---
SPACE DEFENCE
Russia Deploys New Defense Military Satellite Days Ahead Of Lunar Launch
Russia's Defense Ministry launched a new satellite into orbit on Monday. It comes just days before the country is set to launch its first lunar landing craft in nearly 50 years.
Read more at: CNN
Space Force Tries To Hedge Risk With New Launch Strategy
The selection of United Launch Alliance and SpaceX in 2020 as U.S. national security launch providers was hailed as the dawn of a new era of assured access to space, thanks to a competitive commercial industry.
As it prepares to award the next round of National Security Space Launch (NSSL) contracts, the Space Force is no longer comfortable relying on just two companies.
Read more at: spacenews
U.S. Intelligence Agencies Take Steps To Protect Commercial Satellites
The National Reconnaissance Office, the National Geospatial-Intelligence Agency and U.S. Space Command signed an agreement to improve threat intelligence sharing with commercial satellite operators.
The agencies last month signed a Commercial Space Protection Tri-Seal Strategic Framework that is intended "to better enable protection of commercial remote sensing space assets vital to the intelligence collection mission," said Peter Muend, director of the NRO's Commercial Systems Program Office.
Read more at: spacenews
Scout Space, Stanford University Win Space Force Contract Extension
The startup Scout Space in partnership with the Stanford University Space Rendezvous Laboratory won a $1.5 million contract to help the U.S. Space Force to characterize spacecraft and debris objects, the company said Aug. 10.
Scout, founded in 2019, is developing technologies for on-orbit navigation and tracking. It won a Phase 2 Small Business Technology Transfer contract that requires companies to team up with academic or nonprofit institutions.
Read more at: spacenews
How The Space Force Is Preparing Its Ground Systems For 'Dynamic' Ops
As U.S. Space Command eyes a future where satellites are designed to maneuver in space, the Space Force's rapid acquisition team is working to ensure the service's ground infrastructure is ready to operate those systems.
Led by the Space Rapid Capabilities Office — a Space Force acquisition organization created to deliver high-need capabilities on fast timelines ― the Rapid Resilient Command and Control program, or R2C2, aims to develop and integrate a modernized suite of tools to operate those more mobile satellites.
Read more at: c4isrnet
---
VARIOUS
China Could Be Planning A Second Broadband Megaconstellation
The Shanghai government has expressed backing for a broadband megaconstellation consisting of an initial 1,296 satellites.
A Shanghai Municipal People's Government press conference July 25 announced that a project known as "G60 Starlink" now envisions building a constellation of potentially more than 12,000 satellites. A first phase will see 1,296 satellites sent in orbit.
The "G60 Starlink" broadband constellation is a separate project to China's "Guowang" national satellite internet plan, commonly thought of as China's answer to SpaceX's Starlink.
Read more at: spacenews
Chemical Contamination On International Space Station Is Out Of This World, Study Shows
Concentrations of potentially harmful chemical compounds in dust collected from air filtration systems on the International Space Station (ISS) exceed those found in floor dust from many American homes, a new study reveals.
In the first study of its kind, scientists analyzed a sample of dust from air filters within the ISS and found levels of organic contaminants which were higher than the median values found in US and Western European homes.
Read more at: phys.org
1st Launch Of Europe's New Ariane 6 Rocket Slips To 2024
Europe will be without independent access to space satellites until at least 2024.
The European Space Agency (ESA) and the CEO of France-based company Arianespace confirmed on Tuesday (Aug. 8) that the inaugural launch of the new Ariane 6 heavy-lift rocket will slip into 2024.
Ariane 6 was initially planned to begin flying in 2020 and ramp up its cadence to replace the older Ariane 5 rocket seamlessly.
Read more at: space.com
Clogged Propellant Lines Doomed NASA Lunar Cubesat Mission
A NASA lunar cubesat mission failed to go into orbit around the moon earlier this year when debris blocked propellant lines for the spacecraft's thrusters.
NASA's Jet Propulsion Laboratory declared an end to the Lunar Flashlight mission May 12, five months after its launch as a secondary payload on a Falcon 9 that carried ispace's HAKUTO-R M1 lunar lander. That decision came after months of efforts to troubleshoot problems with the spacecraft's thrusters, which used a green propellant called ASCENT, that prevented it from performing maneuvers needed to go into orbit around the moon
Read more at: spacenews
Mars Rover Finds Signs Of Seasonal Floods
The prodigious evidence for water on Mars has eliminated scientific debate about whether Mars had a watery past. It clearly did. But it has left us with an awkward question: What exactly did that past look like? Some results argue that there were long-lived oceans and lakes on Mars. Others argue that the water largely consisted of ice-covered bodies that only allowed water to burst out onto the surface on occasions.
Read more at: Arstechnica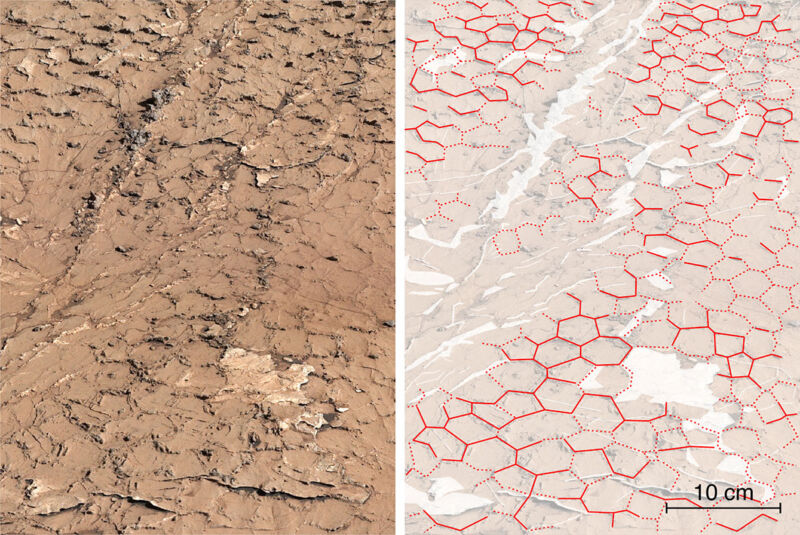 Artemis II On Track, But Artemis III Could Be a "Different Mission" if Hardware Not Ready
NASA said today the next two missions in NASA's program to return astronauts to the Moon, Artemis II and Artemis III, remain on track for launch in late 2024 and late 2025, but a lot of work remains. That is especially true for Artemis III, the mission currently slated to put astronauts back on the lunar surface. The head of the Artemis program broached the possibility that a "different mission" could be flown if all the hardware is not ready because the point is to keep flying and keep learning.
Read more at: spacepolicy online
NASA Head Concerned That China Will Steal Lunar Resources
Nobody quite knows what the future of lunar exploration will look like.
With world powers including the US, China, and Russia hustling to establish a permanent presence on the Moon, the conversation surrounding the allocation of lunar resources has only begun.
And, if it were up to NASA administrator Bill Nelson, the US needs to act before China gets there first — and is unwilling to share.
"I don't want China to get to the south pole first with humans and then say: this is ours, stay out," Nelson told journalists during a Tuesday press briefing about the space agency's Artemis Moon program.
Read more at: futurism
Here's Why Jeff Bezos' Blue Origin Has Fallen Behind Elon Musk's SpaceX
Amazon founder Jeff Bezos's space company Blue Origin is advancing at a considerably slower pace compared to Tesla CEO Elon Musk's SpaceX, and the former has not yet achieved the milestone of reaching orbit, The Wall Street Journal reported earlier this week.While Blue Origin achieved its inaugural successful sub-orbital test launch in 2006, the company has conducted a limited number of flights since then. In contrast, SpaceX has established a sense of routine with its launches, having conducted 250 Falcon rocket launches as of last week, according to the publication.
Read more at: benzinga
DARPA Taps RTX To Attune AI Decisions To Human Values
RTX's BBN division received a contract award to support DARPA's "In The Moment" program. ITM aims to develop the foundations needed for algorithms that are trusted to independently make decisions in scenarios like mass casualty triage and disaster relief, where complex and rapid decisions are needed in dynamic situations where there is often no human consensus and no clear right answer.
"ITM is about more than getting AI to provide the correct answer in very controlled scenarios. We're not talking about training AI on labelled data to help identify a cancerous tumor on an X-Ray," said Alice Leung, Raytheon BBN principal investigator.
Read more at: spacewar