TOP NEWS
Planet In 'Habitable' Zone Could Have Rare Oceans And A Possible Sign Of Life, Webb Data Reveals
Waters may be flowing on the surface of a colossal planet that lies about 120 light-years from Earth, according to new evidence uncovered by the James Webb Space Telescope.
The investigation with the space-based observatory, one of the most advanced astronomy instruments in operation, revealed that the exoplanet K2-18b may have some key features of a planet that could support bodies of water — and life.
Closely orbiting the cool dwarf star K2-18, the exoplanet lies within the star's habitable, or Goldilocks, zone and is 8.6 times as massive as Earth. An analysis of Webb's observations found the planet has abundant methane and carbon dioxide in its atmosphere.
Read more at: CNN
Elon Musk Says SpaceX Completed All Corrective Actions for Next Starship Launch
SpaceX CEO Elon Musk said on September 10 that the company has completed all of the corrective actions required by the Federal Aviation Administration (FAA) before it can conduct a second launch of its Starship/Super Heavy rocket.
Musk released images of a spreadsheet with the 63 corrective actions resulting from the failed maiden flight of Starship/Super Heavy on April 20, 2023. Six of the corrections were listed as future actions that Musk said SpaceX does not have to make before the next flight.
Read more at: spaceref
Congrats to SpaceX for completing & documented the 57 items required by the FAA for Flight 2 of Starship!

Worth noting that 6 of the 63 items refer to later flights. pic.twitter.com/YlPg3ywCZE

— Elon Musk (@elonmusk) September 10, 2023
---
SPACE HAZARDS & STM
Woman Woken by Loud Noise Finds Meteorite in Her Garden
A meteor that was recently seen soaring brightly across the night sky has been found after crash landing in a woman's garden.
The fireball, also known as a bolide, was spotted as it fell to Earth by hundreds of locals across France between the night of September 9 and 10, and was caught on several cameras, according to Fireball Recovery and InterPlanetary Observation Network (FRIPON)/Vigie-Ciel, a French citizen science project.
As FRIPON/Vigie-Ciel was in the process of estimating where the meteor landed, they were contacted by a woman from the Communauté de Communes Sauldre et Sologne in central France, who thought that the meteor had landed in her garden, news outlet actu.fr reported on Wednesday. The woman added that she had been awoken by a loud noise in the night and found chunks of rock in her yard the following morning.
Read more at: newsweek
Space, The Final Trash Can: Space Junk Is A Growing Problem And Needs Regulating
Sputnik 1 was the first satellite to be launched into space in 1957 and a stream of objects have followed in its trail, presenting a growing danger in space.
After all, more than 10,000 satellites were orbiting the earth – 7,500 of them functional – at the end of last year, according to the European Space Agency (ESA).
The mass of space trash weighs more than 10,000 tons, ESA says.
And that is set to expand rapidly, in line with the swift growth of the space industry. There may well be more than 60,000 satellites orbiting the Earth by 2030, say scientists at Plymouth University in Britain. They want to see a "timely, legally binding treaty to help protect the Earth's orbit", they say in a paper in Science trade journal.
Read more at: Star
Multiple Solar Flares Explode, Spark Blackouts On Earth; Is A Terrifying Solar Storm Coming?
The Earth suffered a solar storm hit on September 9, and now another solar storm threat is looming for our planet. Just hours ago, a solar flare of M1.3-class was detected erupting on the Earth-facing side of the Sun. The solar flare sparked a shortwave radio blackout over the Pacific Ocean. It was followed by another solar flare eruption at 9:30 AM today, September 11, which also sparked a blackout over Japan, South Korea, and eastern regions of China. These continuous solar flare explosions are coming from sunspot AR3429. Additionally, another sunspot region, named AR3423, has also become a threat after it doubled in size since Friday and now spans 100,000 kilometers in width.
Read more at: hindustan times
Solar Storm Fears Rise As CME Heads For Solar Orbiter; Blackouts Hit America After Solar Flare
Solar activity has been on the rise ever since the start of the month. We have seen multiple solar flare eruptions and a couple of solar storms so far, but luckily they were not major events and their impact was very limited. However, in the last 24 hours, things have started to change. An M2.12-class solar flare erupted on the Sun, which in turn sparked a shortwave radio blackout on both the American continents. But that wasn't the worst incident of the day, as later, it was detected that a powerful coronal mass ejection (CME) cloud is headed for the the Solar Orbiter, the Sun-observing probe by the European Space Agency (ESA), and will strike it today, September 9. These events have raised concerns that an intense solar storm strike on the Earth is not too far away.
Read more at: hindustan times
---
COMMERCIAL SPACE
China Launches Commercial Rocket From The Yellow Sea
China is maintaining its impressive launch cadence in 2023 with five more launches in the past few weeks. These include a barge launch from the Gushenxing-1S rocket and multiple launches of Yaogan satellites.
On Friday, Aug. 25 at 05:59 UTC, a Gushenxing-1 rocket launched from the Jiuquan Satellite Launch Center (JSLC) in China. This was already the fourth mission for the Gushenxing-1 rocket in 2023, which continues its ramp-up of launch cadence this year.
Read more at: NASA spaceflight
Over 140 Private Firms Ready To Send Their Satellites By ISRO's Launch Vehicles: Sivan
Over 140 private firms are showing interest in sending their satellites into the space by the trustworthy launch vehicles of Indian Space Research Organisation (ISRO), former Chairman of the space agency K. Sivan has said.
Speaking to reporters after participating in the golden jubilee celebrations of A.P.C. Mahalaxmi College here on Friday, Dr. Sivan said following the success of Chandrayaan 3 and the progress being achieved in 'Gaganyaan' programme for sending humans to space, over 140 private firms had expressed keen interest in joining hands with ISRO for sending their satellites to space for commercial purposes. ISRO had already started launching private satellites into predetermined orbits in the space.
Read more at: Hindu
Starlink Is Falling Way Short of Projections on Revenue and Users
With its impressive constellation of satellites, Starlink has become somewhat of a household name in spite of its relatively niche market. That hasn't saved it, however, from its numbers coming up drastically short of internal projections, the Wall Street Journal reports.
Starlink, a division of Elon Musk's SpaceX, reported a revenue of $1.4 billion for 2022. That's respectable on its own, but a far cry from what the company expected to be raking in by now.
According to a 2015 presentation obtained by the WSJ, SpaceX projected that Starlink would generate nearly $12 billion in revenue and $7 billion in profit in 2022. By 2025, it hoped to clear $30 billion — which now seems laughable.
Read more at: futurism
Rocket Report: New Shepard May Fly Soon; ULA Changes Mind On Dod Competition
New Shepard may return to flight in October. As of Tuesday, it has been a full year since the failure of the New Shepard-23 booster, in which the rocket was lost at 1 minute and 4 seconds into flight. While Blue Origin has not said anything publicly, Ars reports that the company's tentative plans call for an uncrewed test flight of New Shepard in early October. If all goes well, Blue Origin is planning its first crewed mission since August 4, 2022, to take place in mid-February next year.
Read more at: arstechnica
Starlink And SES Join Forces For Multi-Orbit Cruise Connectivity
SpaceX and SES are pooling their broadband satellites to offer cruise operators an integrated service promising up to 3 gigabits per second (Gbps) of capacity per ship.
The SES Cruise mPowered + Starlink service would mostly use SpaceX's low Earth orbit network (LEO) and satellites in medium Earth orbit (MEO) from SES.
In northern and southern regions, apart from the poles where there is no service, SES vice president of product management for maritime products Gregory Martin said their joint offering would leverage its geostationary satellites.
Read more at: spacenews
Kuiper Launch Companies Say They Can Meet Amazon's Schedule
The three companies with multibillion-dollar contracts to launch Amazons's Project Kuiper constellation say they are committed to deploying those satellites on schedule despite delays in the development of their vehicles.
Amazon announced contracts in April 2022 with Arianespace, Blue Origin and United Launch Alliance for up to 83 launches of the Ariane 6, New Glenn and Vulcan Centaur rockets to deploy the 3,236-satellite constellation. The contracts combined represent the largest single commercial launch order to date.
Read more at: spacenews
---
SCIENCE AND TECHNOLOGY
A Billion-Mile Journey: OSIRIS-REx's Meteoric Return With a Space Rock Treasure
NASA's OSIRIS-REx will release an asteroid sample capsule this September, aiming for a landing in the Great Salt Lake Desert, with teams ready to address challenges during its descent and recovery.This September, after traveling billions of miles through our solar system, NASA's OSIRIS-REx spacecraft will cruise past Earth with an extraordinary delivery. As it passes, it will release a mini-fridge size capsule containing a sample of primordial space rock collected from an asteroid located between the orbits of Earth and Mars.
Read more at: scitech daily
South Korea's Moon Orbiter Snaps India's Lander
South Korea's science ministry has released a photo taken by the nation's Danuri Moon orbiter depicting the landing site of India's Chandrayaan-3 Moon mission.
The lunar orbiter's side hustle as space paparazzi saw it take the snap on August 27 – four days after Chandrayaan-3 became India's first successful Moon landing, and the first ever touchdown at the natural satellite's south pole. The snapshot was taken from a distance of about 100km.
Read more at: register
Japan's SLIM Moon Lander Is Carrying This Transforming Ball Robot (It's Not BB-8)
Japan's recent launch of the SLIM moon lander included a tiny lunar explorer inspired by a children's toy.The Lunar Excursion Vehicle 2 (LEV-2) is a little metal sphere, not much larger than a tennis ball. Once on the moon, it will pop off the SLIM lander, and transform its two halves to traverse the fine regolith of the lunar surface.SLIM, the Smart Lander for Investigating Moon probe from the Japanese space agency JAXA, is designed to demonstrate the country's first soft lunar landing. It launched aboard an H-2A rocket on Wednesday (Sept. 6) with a sister payload, the XRISM X-ray satellite.
Read more at: space.com
Astronaut Wields New Space Camera To See Lightning Strikes On Earth
An astronaut and his new camera will peer at the heart of lightning storms to learn more about their structure.European Space Agency astronaut Andreas Mogensen plans a stormy followup to his 2015 research on the International Space Station. Newly arrived at the orbiting complex for a six-month mission, Mogensen will look once again at lightning storms on Earth. Elusive phenomena he hopes to see include "blue jets" (upside-down lightning) and "red sprites" (discharges in a layer of the Earth's atmosphere, known as the mesosphere.)
Read more at: space.com
China Publishes New Datasets Obtained By Mars, Lunar Probes
China published two new batches of data on Monday, obtained by its Mars probe and lunar probe.
The scientific data obtained by three scientific payloads including a high-definition camera on Tianwen 1, the country's Mars probe, from January to March this year, have been released, amounting to nearly 68 gigabytes, according to the National Astronomical Observatories of the Chinese Academy of Sciences (NAOC).
This is the probe's fifth data release. Tianwen 1, consisting of an orbiter, a lander and a rover, entered the Mars orbit on Feb 10, 2021, becoming the country's first probe to orbit the planet.
Read more at: spacedaily
Moon's Ice Not As Old As Believed, Study Finds
A new study led by Senior Scientist Norbert Schorghofer from the Planetary Science Institute has presented new revelations that could significantly shift the way we approach lunar exploration. The research, featured in the journal Science Advances, uncovers that most of the Moon's permanently shadowed regions (PSRs), long considered ancient reservoirs for water ice, are much younger than earlier estimates.
Read more at: interesting engineering
---
SPACE POLICY
Germany Signs On To NASA's Artemis Accords For Moon Exploration
Germany is the latest country to sign up to NASA's Artemis Accords.
The signing ceremony took place at the German Ambassador's Residence in Washington on Thursday (Sept. 14). NASA Administrator Bill Nelson participated in the signing ceremony for the agency, with Walther Pelzer, Director General of the German Space Agency at the German Aerospace Center (known by its German acronym, DLR), signing on behalf of Germany.
Read more at: space.com
FAA Says It May Grant A Launch License For Spacex's Starship By The End Of October
The Federal Aviation Administration says it is "optimistic" that it could allow SpaceX to launch its mega rocket, Starship, by the end of October.
Starship has been grounded since its inaugural test flight in April ended when the rocket — the most powerful launch vehicle ever built — exploded over the Gulf of Mexico.
Last week, the FAA said it had completed its safety investigation into the explosion and laid out 63 corrective actions SpaceX must take to obtain a launch license from the agency.
Read more at: CNN
Elon Musk Shut Down by FAA After Bragging Mega-Rocket Is Ready to Launch
Elon Musk might think that his giant mega-rocket is ready to launch, but the Federal Aviation Administration (FAA) has other ideas. On Tuesday, SpaceX began preparations for the second launch attempt of its Starship rocket, after a first launch in April which saw the rocket fail after about 90 seconds. The FAA said it would investigate concerns over the failure and the potential environmental damage caused by the launch. "Starship is ready to launch, awaiting FAA license approval," Musk, the chief executive officer of SpaceX, tweeted on Tuesday shortly after the rocket was loaded onto a booster in South Texas. But the FAA on Wednesday said it was still investigating, shutting down the notion of a speedy approval. "The SpaceX Starship mishap investigation remains open," the agency told Ars Technica. "The FAA will not authorize another Starship launch until SpaceX implements the corrective actions identified during the mishap investigation and demonstrates compliance with all the regulatory requirements of the license modification process."
Read more at: dailybeast
ITU Emphasizes Importance Of Space Sustainability
The head of the International Telecommunication Union (ITU) says the agency will emphasize space sustainability as the number of satellites grows.
In a talk Sept. 11 at Euroconsult's World Satellite Business Week here, Doreen Bogdan-Martin, secretary-general of the ITU, said the growing risk of collisions between satellites and debris threatens the progress satellite systems are making at enhancing communications globally and closing the digital divide.
Read more at: spacenews
---
SPACE DEFENCE
Air Force Research Laboratory Delays Lunar Experiment 
An experiment the Air Force Research Laboratory planned to launch in 2025 to monitor deep space is being delayed after program officials concluded that the original schedule was too ambitious.
 The experiment, led by AFRL's Space Vehicles Directorate, was previously known as the Cislunar Highway Patrol System (CHPS) and was renamed Oracle.
A spokesperson for AFRL confirmed Sept. 15 that Oracle's schedule has been pushed to the right.
Read more at: spacenews
Firefly Launches Space Force 'Victus Nox' Mission
The U.S. Space Force announced that Firefly Aerospace successfully launched a Millennium Space small satellite Sept. 14 — a mission designed to demonstrate capabilities to launch in a much shorter timeline than is typical for national security missions.
The Space Force mission, known as Victus Nox, flew on a Firefly Alpha rocket. It lifted off at 7:28 p.m. Pacific from Space Launch Complex 2 West at Vandenberg Space Force Base, California, the Space Systems Command said in a news release.
At government request, Firefly did not livestream the launch.
Read more at: spacenews
China's Military Sets Up New Base For Space Domain Awareness
The People's Liberation Army has established new facilities to improve its space domain awareness capabilities, according to a report.
The People's Liberation Army (PLA) Strategic Support Force's (SSF) new Base 37 is charged with boosting missile early warning capabilities and identifying, tracking and analyzing foreign space objects, according to the report published by the China Aerospace Studies Institute Sept. 11.
Read more at: spacenews
Space Is 'More Contested' Than Ever By World's Militaries, US Space Force Chief Says
The space around Earth is increasingly a site of military competition.
That's according to remarks made by the Chief of Space Operations for the U.S. Space Force, Gen. Chance Saltzman, during an address at the Air & Space Forces Association's Air, Space & Cyber Conference on Tuesday (Sept. 12). Saltzman told attendees that as the world's superpowers vie for control of space, the need for a Space Force is more pressing than ever.
Read more at: space.com
Elizabeth Warren Demands Probes of Elon Musk, SpaceX After Ukraine Revelations
Senator Elizabeth Warren is demanding an investigation into SpaceX after Elon Musk acknowledged he had blocked Ukraine from extending the private Starlink satellite network for an attack on Russian warships near the Crimean coast.
"The Congress needs to investigate what's happened here and whether we have adequate tools to make sure foreign policy is conducted by the government and not by one billionaire," the Massachusetts Democrat said Monday at the Capitol.
Read more at: bloomberg
Space Force Awards Viasat Contract for Proliferated Low Earth Orbit Satellite Services
Viasat, Inc. (NASDAQ: VSAT), reports that Inmarsat Government, now part of Viasat, was awarded a Proliferated Low Earth Orbit (PLEO) Satellite-Based Services (SBS) contract by the U.S. Defense Information Systems Agency (DISA) on behalf of the U.S. Space Force's (USSF) Space Systems Command (SSC). Inmarsat Government is one of 16 companies selected for the $900 million ceiling, 10-year Indefinite Delivery, Indefinite Quantity (IDIQ) contract.
As the United States and its mission partners become increasingly reliant on space-based capabilities for national security, it is critical to have resilient constellations that include satellites in geostationary (GEO) and non-geostationary orbits (NGSO).
Read more at: spacedaily
Air Force Satisfied With SpaceX Services, Not Concerned About Its Growing Dominance
Air Force Secretary Frank Kendall said his department is comfortable working with SpaceX despite recent reports about Elon Musk restricting the use of the company's Starlink satellite services in Ukraine.During a news conference Sept. 11 at the Air Space & Cyber conference, Kendall said he could not comment on reports — from news media and from Musk's biographer Walter Isaacson — that SpaceX's boss thwarted Ukrainian forces by shutting off Starlink's satellite network over Crimea — a territory occupied by Russia that Ukraine was fighting to reclaim.
Read more at: spacenews
---
VARIOUS
NASA Needed Help With A Mission. The Vatican Came To The Rescue.
When a NASA robot scooped a cup of gravel from an asteroid 200 million miles away, scientists were stunned. Bennu, an ancient space island the size of the Empire State Building, didn't look or behave like they thought it would. Early temperature readings led them to believe it would be covered in tiny pebbles. Instead, closeup images showed boulders and a surface that acted like a plastic ball pit.
Read more at: mashable
15 African Countries With Satellites In Orbit
While it may not be widely recognized, the African space industry is steadily expanding, albeit not at the same pace as its Western counterparts. Nonetheless, the growth is becoming increasingly evident.
As of the end of 2022, the continent had successfully launched at least 52 satellites, according to the consulting firm Space Hubs Africa.
The continent even has an ambitious plan to more than triple the number of satellites sent into the Earth's orbit over the next few years.
Read more at: business insider
NASA Releases Independent Report On UAP Research
NASA announced it would take new steps to help understand unidentified anomalous phenomena (UAP), vowing transparency while also being reticent to disclose some details.
NASA released Sept. 14 the final report of an independent study team it commissioned last year to examine how NASA resources, like data and research expertise, could be used to better understand UAP and support other work by federal government agencies. The study was not an attempt to study UAP themselves.
Read more at: spacenews
India Plans Crucial Test In Crewed Space Mission By October
India is set to conduct a key test in its ambitious crewed space mission Gaganyaan as early as next month, the project director of the mission R. Hutton told Reuters.
The Indian Space Research Organisation (ISRO) is currently training four astronauts and looking to expand the cohort as it aims for more future manned missions, Hutton said.
The Gaganyaan mission is aimed at developing a human-habitable space capsule that will carry a three-member crew into an orbit of 400 km (250 miles) for three days, before returning to safety in a planned splashdown in the Indian Ocean.
Read more at: yahoo news
KaleidEO Demonstrates On-orbit Processing
KaleidEO, a subsidiary of SatSure Analytics India, has shown that its deep-learning algorithms can analyzing imagery in orbit, the company announced Sept. 13.
Since Bengaluru-based KaleidEO has yet to launch its own satellites, the company demonstrated this capability by analyzing sub-meter resolution imagery gathered by Uruguay-based Satellogic and processing data with in-orbit computers operated by Australia's Spiral Blue.
KaleidEO's edge-processing algorithms are designed to detect clouds, roads, buildings and bodies of water. Additional algorithms compare images to detect changes.
Read more at: spacenews
Reusable Rocket Built By Students Is About To Launch To Space
A group of students aims to become the first non-government, non-commercial team to launch a reusable rocket to space. Their Aurora rocket, set to launch from California this month, is designed to reach a top speed of Mach 5.2 and break through Earth's atmosphere.
The Karman Space Programme (KSP) was founded by students at Imperial College London just two years ago, with the sole aim of breaking through the Kármán line.
Read more at: newscientist
A Look At Spaceport America's Economic Impact In New Mexico
The future of space travel may be commercial, as private industry continues to play a bigger role in rocket and satellite launches.
Spaceport America is well positioned to capitalize on that future, according to a new economic impact report that highlights the Spaceport's unique competitive advantages: location, location, location, and a proven track record of successful launches.
Read more at: abqjournal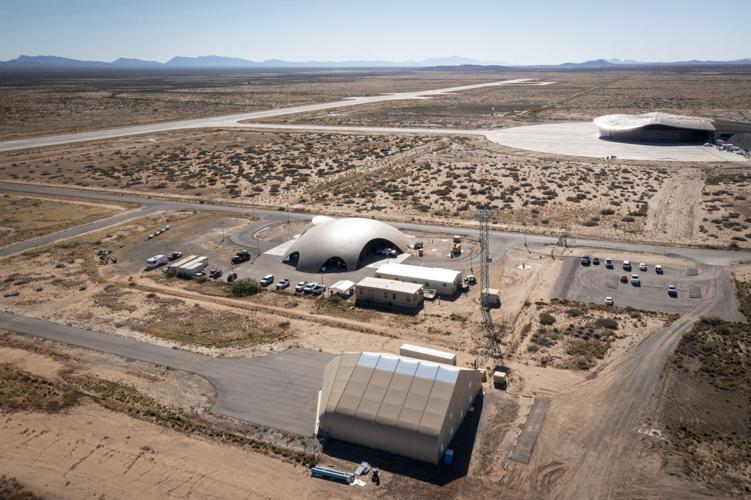 Virgin Galactic Launched Fossilized Human Remains To Space
Virgin Galactic completed its third commercial suborbital spaceflight on September 8.
Aside from the three private astronauts aboard the company's spaceplane, Virgin Galactic also launched fossilized remains of ancient humans to suborbital space.
"Fossils from Homo naledi and Australopithecus sediba become the oldest astronauts to travel to space, flying on Virgin Galactic's spaceship VSS Unity," a press statement from the University of the Witwatersrand in South Africa, which collaborated with Virgin Galactic on the initiative, explained.
Read more at: interesting engineering
Opinion: SpaceX Vs. Boeing: 2 Titans Of Aerospace Are Locked In An Astronomical Dogfight
Like never before, the race to the stars has reached fever pitch in the aerospace industry. The past decade brought a seismic shift in the competitive landscape historically dominated by government agencies and long-established corporations. Private-sector companies, driven by innovation and a vision of commercial space travel, have redefined the boundaries of what's possible.
At the forefront of the revolution are two names that have become synonymous with space exploration: SpaceX and Boeing.
Read more at: marketwatch