TOP NEWS
Russia Pinpoints Cause Of Moon Shot Failure, Looks To Bring Next Missions Forward
Russia on Tuesday blamed a malfunction in an on-board control unit for causing its lunar lander to crash into the moon in August, and said it was looking at speeding up the timetable for two further missions.
Russia's first moon mission for 47 years ended in failure on Aug. 19 with the crash of its Luna-25 spacecraft, dashing Moscow's hopes of beating India to the unexplored south pole of the moon. An Indian spacecraft landed there on Aug. 23.
Read more at: reuters
US Government Issues First-Ever Space Debris Penalty To Dish Network
The US Federal Communications Commission (FCC) has issued its first fine to a company that violated its anti-space debris rule, the commission announced on Monday.
Dish Network has to pay $150,000 to the commission over its failure to deorbit its EchoStar-7 satellite, which has been in space for more than two decades. Instead of properly deorbiting the satellite, Dish sent it into a "disposal orbit" at an altitude low enough to pose an orbital debris risk.
Read more at: Guardian
SpaceX Slams FAA Report On Falling Space Debris Danger
Read more at: spacenews
---
SPACE HAZARDS & STM
India Shifted Launch Of Its Chandrayaan-3 Moon Lander To Avoid Space Objects
The liftoff time for India's historic Chandrayaan-3 lunar lander was shifted four seconds to avoid close approaches to other space objects.
Chandrayaan-3 launched July 14 on a LVM-3 heavy-lift rocket from Satish Dhawan Space Centre into an initial highly-elliptical Earth orbit.
This began a circuitous journey to the moon which culminated in the lander making the highest latitude lunar landing and making India the fourth country to safely soft land on the moon.
Read more at: spacenews
SRI Partners With Scout Space And Leidos For Debris-Tracking Project
SRI International announced Oct. 4 it selected the defense technology firm Leidos and startup Scout Space as subcontractors for a space debris-tracking project funded by the U.S. intelligence community.
SRI, a nonprofit research institute based in Menlo Park, California, is one of four companies that won contracts from the Intelligence Advanced Research Projects Activity to attempt to track tiny debris objects in orbit that currently are undetectable by ground-based sensors.
The project, known as Space Debris Identification and Tracking (SINTRA), is expected to be completed in four years. IARPA is an agency under the Office of the Director of National Intelligence.
Read more at: spacenews
Why Was Cassini Crashed Into Saturn To Prevent Contamination If Huygens Intentionally Landed On Titan?
The rationale dominating the decisions to land Huygens on Titan and destroy Cassini in Saturn's atmosphere is that astrobiologists and planetary protection experts are far more concerned about contaminating Enceladus than about contaminating Titan.
This might seem counterintuitive: Titan is of major astrobiological import because its surface and atmosphere are teeming with organic chemicals — including many that are part of the basis of life on Earth and which we think played a role in the origin of life. Titan is also unique as a moon with a substantial atmosphere.
Read more at: astronomy.com
Starfish Space Wins NASA Contract To Plan Demonstration Of Orbital Debris Inspection
Even as Starfish Space works to get its first orbital demonstration mission back on track, the Tukwila, Wash.-based startup has won a contract from NASA to look into an even more ambitious project to inspect orbital debris up close.
The newly announced study contract follows up on earlier work that Starfish has done to prove out features of its system for making a rendezvous with other spacecraft in orbit — and either servicing them or guiding them to their demise.
Read more at: geekwire
---
COMMERCIAL SPACE
Virgin Galactic Completes Fifth Successful Human Spaceflight in Five Months
Virgin Galactic Holdings, Inc. today announced the completion of its fifth successful human space mission in five months, 'Galactic 04'.
Michael Colglazier, CEO of Virgin Galactic, said: "Our teams in New Mexico and California have delivered on our monthly spaceflight objectives. Three new astronauts journeyed to space today and brought back incredible memories and stories of their experience above the Earth. These early missions with our initial ship, VSS Unity, have informed and confirmed the design and maintenance objectives for our Delta class spaceships, and the production tooling for those ships is on track to commence later in the fourth quarter".
Read more at: yahoo finance
PLD Space Launches First Suborbital Rocket
Spanish company PLD Space launched its first suborbital rocket Oct. 6, with the company calling the flight a success despite reaching a lower altitude than planned.
The company's Miura 1 rocket lifted off from the El Arenosillo Experimentation Centre, a test site in southwestern Spain operated by the country's National Institute for Aerospace Technology, at 8:19 p.m. Eastern (2:19 a.m. local time Oct. 7.) The rocket flew on a suborbital trajectory for 306 seconds before splashing down in the Atlantic Ocean. The company said in a statement it was working to recover the rocket from the ocean.
Read more at: spacenews
First Hotel In Space Is Set To Open In 2025
If you've ever wanted to be Buzz Lightyear, you are in luck, as the first space hotel is set to open in 2025.
Built by US-based company Orbital Assembly, the luxury resort will cater for tourists and businesspeople who want an out-of-this-world stay!
However, amateur astronauts should be wary as the company has yet to reveal just how much the rooms will cost per night.
Read more at: unilad
How Amazon could End SpaceX's Monopoly
Amazon sends its first internet satellite into space— a major move that puts the tech company in direct competition with SpaceX and its Starlink system. CNN's Kristin Fisher has the story.
Read more at: CNN
SpaceX Requests Special Approval To Take A Huge Step Forward
Faced with ongoing barriers to the second, much-anticipated test flight of SpaceX's Starship project, the world's leading private space company is looking to make good on a slightly different experiment. SpaceX, according to documentation, has requested a "Special Temporary Authority" from the Federal Communications Commission to launch its Gen2 satellites.The goal, according to the filing, is to "launch and test its non-geostationary orbit NGSO second generation Gen2 satellites with direct-to-cellular communications payloads to connect unmodified cellular phones directly to SpaceX Gen2 satellites."
Read more at: thestreet
First Intuitive Machines Lunar Lander Ready For Launch
Intuitive Machines' first lunar lander is complete and ready to ship for a launch next month as executives say they're cautiously optimistic about the prospects of a successful landing.
The company unveiled its completed Nova-C lander at its new headquarters here Oct. 3, a day after completing a pre-ship review that confirmed that the spacecraft is ready to be transported to the Kennedy Space Center for launch on a Falcon 9 on a mission designated IM-1.
Read more at: spacenews
How Wrong Were Space SPAC Projections?
Wildly missed revenue projections cast a long shadow over space firms that went public by merging with a SPAC, or special purpose acquisition company, as their shares continue to underperform in the market.
Most that joined the recent hype around merging with these publicly listed shell companies announced their deals in 2021, and the majority of them also closed that year to raise significant sums for cash-intensive businesses.
SPAC mergers do not require the intensive due diligence of a traditional IPO process, leaving companies vulnerable to making lofty financial forecasts to drum up investor support.
Read more at: spacenews
---
SCIENCE & TECHNOLOGY
Magnetic Fusion Plasma Engines Could Carry Us Across The Solar System And Into Interstellar Space
Missions to the moon, missions to Mars, robotic explorers to the outer solar system, a mission to the nearest star, and maybe even a spacecraft to catch up to interstellar objects passing through our system. If you think this sounds like a description of the coming age of space exploration, then you'd be correct.
At this moment, there are multiple plans and proposals for missions that will send astronauts and/or probes to all of these destinations to conduct some of the most lucrative scientific research ever performed. Naturally, these mission profiles raise all kinds of challenges, not the least of which is propulsion.
Read more at: phys.org
After Two Failed Attempts In The Past Year, Japan Could Be Next In Line To Land On The Moon
Japan has failed twice to make its mark on the moon in the last 12 months, but optimism surrounds its latest attempt which could see the Asian nation become the fifth country to touch the lunar surface.
"I have no reason to believe that Japan wouldn't be successful," said Kari Bingen, director of the Aerospace Security Project and a senior fellow in the International Security Program at the Center for Strategic and International Studies (CSIS).
"The two failures they had earlier were very different ones."
Read more at: CNBC
New Space-Based Thermometer Takes Earth's Temperature In Unprecedented Detail (Photos)
The first images from a new Earth-observing satellite reveal in unprecedented detail how temperatures change on the planet's surface.
The new images — captured by HOTSAT-1, a satellite developed and operated by London-based SatVu — show temperature differences in Las Vegas and Chicago down to a resolution of 33 feet (10 meters), according to an emailed statement.
The camera on board the spacecraft can even capture short video sequences. One such sequence, revealed as part of the first batch of released images, shows the thermal signature of a locomotive traveling on the main railway line in Chicago (but you have to look very carefully to find it).
Read more at: space.com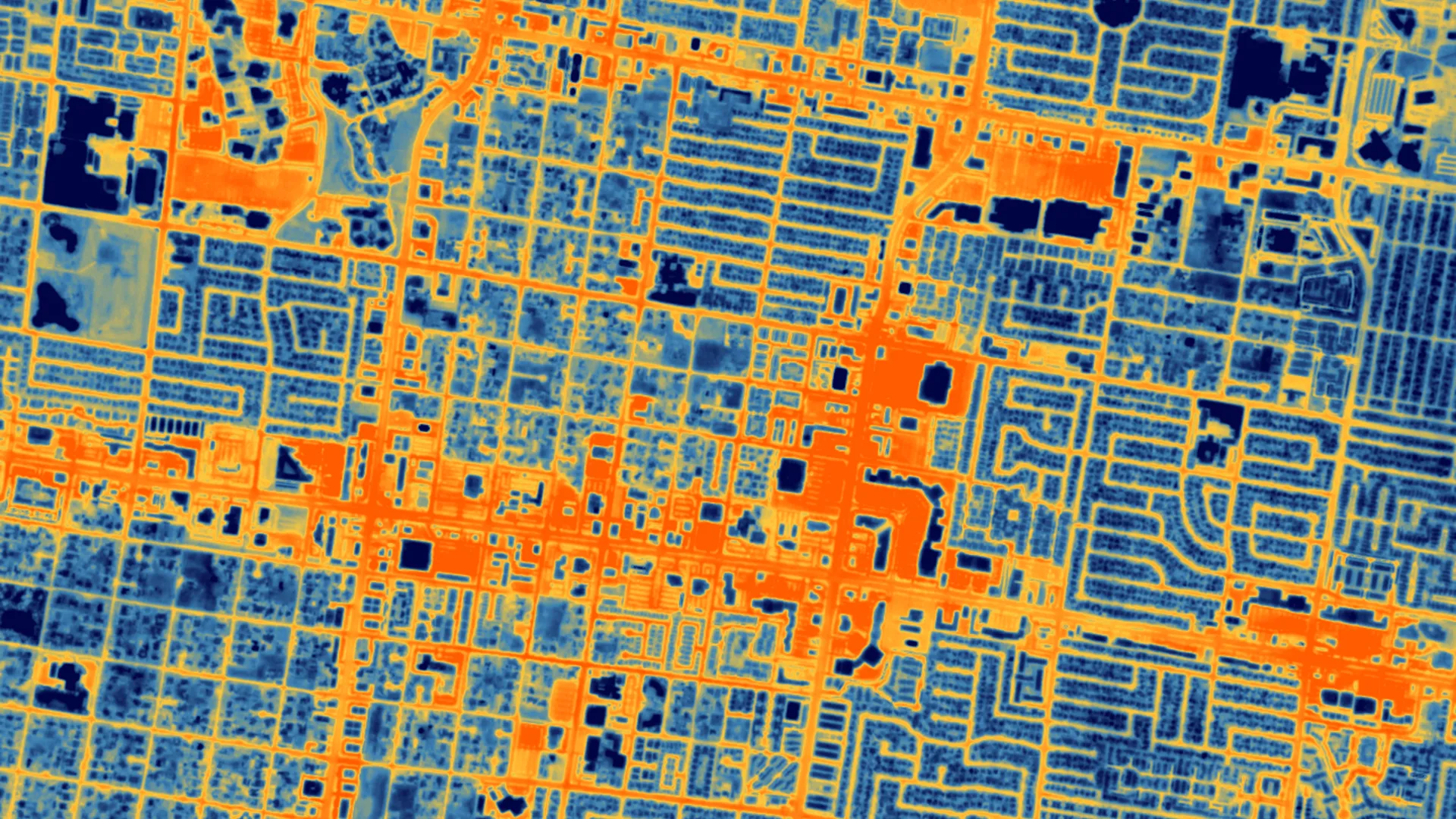 China Wants A Lunar Satellite Constellation To Support Deep Space Missions
China's space authorities want to build an expansive, three-stage communication, navigation and remote sensing network to facilitate deep space operations.
China is working on a series of lunar and deep space missions this decade, along with a planetary defense test, and, in the 2030s, aims to establish a lunar surface research station, Xi Xiangyu, an engineer at the System Research Institute under China's Deep Space Exploration Laboratory (DSEL), said during a presentation at the 74th International Astronautical Congress (IAC) here in Baku, Oct. 2. Future, more speculative mission plans were also cited.
Read more at: spacenews

Long March 9 Rocket Will Be a Game-changer for China's Space Program
SpaceX's Starship spacecraft and super heavy rocket – the gleaming stainless steel rocket envisioned as a "fully reusable transportation system" – dominates the global news landscape. Starship has a lift capacity of 150 metric tonnes to low earth orbit (LEO) in its reusable version, and 250 metric tonnes in its expendable version.Much depends on its successful launch to orbit: making access to space inexpensive, and developing sustainable missions to the Moon and Mars. SpaceX has stated that Starship will be able to carry 100 people on long duration interplanetary flights and help in the construction of a Moon base.
Read more at: diplomat

Japan Conducting Studies For Reusable Next-Gen Rocket
The Japan Aerospace Exploration Agency is working on plans for a new, large and reusable launch vehicle as the core of its future space transportation plans.
The launcher will be designed jointly by JAXA and Mitsubishi Heavy Industries (MHI). It is to be reusable while also increasing payload capability and decreasing launch cost.
The move is sanctioned by Japan's basic plan on space policy, which was revised June 13 this year. The plan notes research and development on a next generation rocket to follow the new H3 rocket.
Read more at: spacenews

Russia Pinpoints Cause Of Moon Shot Failure, Looks To Bring Next Missions Forward
Russia on Tuesday blamed a malfunction in an on-board control unit for causing its lunar lander to crash into the moon in August, and said it was looking at speeding up the timetable for two further missions.
Russia's first moon mission for 47 years ended in failure on Aug. 19 with the crash of its Luna-25 spacecraft, dashing Moscow's hopes of beating India to the unexplored south pole of the moon. An Indian spacecraft landed there on Aug. 23.
Read more at: reuters

China Outlines Chang'e-8 Resource Utilization Mission To The Lunar South Pole
China has laid out details of its planned Chang'e-8 mission to test in-situ resource utilization on the moon, while also opening the project to international cooperation.
Chang'e-8 is slated to launch in 2028 on a Long March 5 rocket from Wenchang spaceport. It will serve as a basis for China's future, larger-scale International Lunar Research Station (ILRS) project, China National Space Administration (CNSA) officials stated at the 74th International Astronautical Congress in Baku, Oct. 2.
Read more at: spacenews

---
SPACE POLICY
Has China Turned Away From Russia In Joint Race To The Moon?
Russia's moon missions have disappeared from China's latest blueprint for the International Lunar Research Station (ILRS), a project jointly initiated by the two countries
to build a base
near the lunar south pole.
China and Russia would each send half a dozen spacecraft to complete the moon base, according to earlier proposals. However, the missions to be conducted by Russia were missing from the presentation given by a senior Chinese space scientist at this week's International Astronautical Congress in Baku, Azerbaijan.
Read more at: SCMP
ESA And Axiom Space Forge Partnership For Future Space Exploration
The European Space Agency ESA and Axiom Space signed a Memorandum of Understanding on 1 October in Paris to explore collaborative opportunities in human spaceflight, science, technology, and commercialisation.
Key areas addressed in the Memorandum of Understanding include:
Broadened collaboration: Both organizations have expressed the intent to foster science and technology development, potentially collaborating on Axiom Space missions to the International Space Station (ISS) and post-ISS low-Earth orbit activities.
Read more at: ESA
Artemis Accords Signatories Seek To Boost Transparency And Safety In Lunar Exploration
A working group of nations signed up to the Artemis Accords aim to increase transparency and safety of civil lunar exploration missions.
The second agency meeting of Artemis Accords signatories concluded on the sidelines of the 74th International Astronautical Congress (IAC) in Baku, Oct. 3. The meetings continued efforts to establish principles for safe and sustainable space exploration held for the first time at the 73rd IAC in Paris last year.
Representatives from three co-chairing nations presented findings from work groups conducted over the last year immediately after the meetings.
Read more at: spacenews
EU-China Rivalry: Protecting Sensitive Tech from Beijing
The European Commission has drawn up a list of sensitive technologies to be carefully scrutinized for the risks they pose in rival hands —  principally those of China, according to analysts, although EU officials insisted they were not concerned about any particular country.
"Technology is currently at the heart of geopolitical competition," European Commission Vice President Vera Jourova said Tuesday at a press conference in the French city Strasbourg. "The EU wants to be a player and not a playground. And to be a player we need a united EU position, based on a common assessment of the risks."
Read more at: DW
• By selecting only few flagship, priority sectors, EU will be keen to reiterate message that it is willing to de-risk, not decouple, from China
• EU also wants to show that it is carving its own, European, de-risking strategy, instead of following US lead in the field [3/8] pic.twitter.com/eSMjfSVYgL

— Agathe Demarais (@AgatheDemarais) October 3, 2023
NASA Seeks Feedback on Requirements for New Commercial Space Stations
NASA is asking American companies to provide input on the agency's requirements for end-to-end services as part of the Commercial Low-Earth Orbit Development Program.
In the future, the agency plans to transition its operations in low Earth orbit to commercially owned and operated destinations to ensure continued access and presence in space for research, technology development, and international collaboration after the planned retirement of the International Space Station.
Read more at: NASA
FAA Releases Updated Space Tourist Safety Recommendations
The FAA's Office of Commercial Space Transportation (AST) announced it has updated a list of recommendations aimed at limiting hazards that commercial space vehicle occupants could encounter, from preflight to landing.
The recommendations, which are the first since 2014, cover the gamut across design, manufacturing, and operations, and are based on lessons learned during the NASA Commercial Crew program, as well as recent commercial space fights, the FAA said Friday.
Read more at: flyingmag
Blue Origin Flights to 'Soon' Resume After FAA Closes Investigation
After a year of inactivity, Jeff Bezos' space tourism venture could soon be back in orbit.
This week, the FAA closed its mishap investigation into New Shepard 23, an uncrewed, suborbital cargo mission that crashed in September 2022. The investigation, which looped in NASA and the National Transportation Safety Board as official observers, grounded Bezos-owned Blue Origin's New Shepard rocket, which in the months prior had ferried a total of 31 people to the edge of the atmosphere.
To be clear, New Shepard is not yet cleared for takeoff. That won't happen until Blue Origin implements 21 corrective actions identified by the FAA—including an engine redesign—to prevent a similar incident. After that, the company can modif
Read more at: flyingmag
---
SPACE DEFENCE
Slingshot Aerospace Harnessing AI To Track Suspicious Satellites
When Russia launched the Luch Olymp K-2 geostationary spy satellite in March, analysts expected it would carry out signals intelligence-gathering missions much like its predecessor Luch Olymp-K-1 that has been in orbit since 2014.Slingshot Aerospace, a space data analytics firm focused on spaceflight safety, this week unveiled data that shows that Russia's new spy satellite, also known as Luch-2, is conducting operations akin to those of its predecessor Luch-1, raising fresh concerns about espionage in space.
Read more at: spacenews
U.S. Space Force Awards Booz Allen $630 Million Contract For Satellite Systems Support
Booz Allen Hamilton won a seven-year $630 million contract from the U.S. Space Force for systems engineering and integration of satellite systems used for missile warning, environmental monitoring and surveillance, the company announced Oct. 4.
Based in McLean, Virginia, Booz Allen is a large consulting firm that provides management and technology services. The Space Force contract is for support services of satellite programs run by the Space Systems Command's space sensing program office, including the Next Generation Overhead Persistent Infrared (OPIR) and legacy constellations.
Read more at: spacenews
The Space Force Should Safeguard US Interests On The Moon (Op-Ed)
It's been reported that United States Space Force Commander Gen. Chance Saltzman surveyed the Force's members to develop a mission statement for America's newest military branch. Aside from the novelty of crowdsourcing soldiers as to their interpretation of their mission (which I like but could draw criticism from more constitutionalist folks), the result seems to be on target: "Secure our nation's interests in, from and to space."
However — and with all due respect to the general from this son of a sergeant — I believe his interpretation of at least a part of this statement may be incorrect and informed by a bias that is all too common in the sometimes overly conservative and hallowed halls of the Pentagon.
Read more at: space.com
---
VARIOUS
Northrop Grumman To Join Voyager Space Commercial Space Station Project
Northrop Grumman will drop plans to develop its own commercial space station and instead assist a competing effort led by Voyager Space, the companies announced Oct. 4.
Under the new partnership, the companies will cooperate on the development of fully autonomous docking systems for Northrop's Cygnus cargo spacecraft, allowing it to dock with Voyager's Starlab space station. The companies also said they will "further explore opportunities to strengthen the development of Starlab" that could include Northrop providing engineering design services for that station. Ars Technica first reported about a potential partnership between the companies.
Read more at: spacenews
Axiom Space, Prada Join Forces on Tech, Design for NASA's Next-Gen Lunar Spacesuits
Read more at: axiom space
Pale Blue Raises $7.5 Million To Mass Produce Water Vapor Thrusters
Japanese small satellite thruster developer Pale Blue has raised $7.5 million to establish a mass production facility for its water vapor propulsion systems.
The financing comprises loans and a recently closed Series B round backed by existing investors, Mitsui Sumitomo Insurance Venture Capital and Incubate Fund, the three-year-old University of Tokyo spin-off said Oct. 4
NEDO, a national research and development agency in Japan, has also awarded Pale Blue a grant to research ways to mass produce its technology, covering the development of manufacturing and inspection machines.
Read more at: spacenews

The Two Faces Of A Wartime Aerospace Engineer: The Controversial Tale Of Wernher Von Braun
Ettersburg Castle, Germany, 1926. A previously unremarkable student who had shown promise in languages but little else performs an astonishing scholastic turnaround after being given a telescope in honour of his confirmation. The instrument sparks an obsession with space and rocketry, driving a furious study of mathematics and physics that sees him teaching the other students and graduating early. This effort leads to a successful career in aerospace, with the boy eventually becoming the "father of space travel", the architect of the iconic Saturn V rocket that took humanity to the Moon, an outspoken advocate for racial integration, and an unofficial spokesperson for NASA on a Disney programme about space travel.
Read more at: physics world

How Orbital Refueling Will Unlock Humanity's Potential In Space
The last half century has witnessed unprecedented growth in our understanding of space, both as a frontier and a domain of endless opportunities. Yet, as with any frontier, there are challenges and barriers that must be overcome. One such challenge is the current limitation of space vehicle endurance and mobility. The solution? In-space refueling.
Mobility is fundamental to satellite servicing in all its forms: inspection, active debris removal, orbital transfer vehicles, assembly, manufacturing, life extension, recycling, robotic repair, and new operating modes and business models such as very low Earth orbits and sustained low-lunar orbits. As with any new platform capability, the most exciting business models and use cases are the ones that no entrepreneur or engineer has imagined yet.
Read more at: spacereview
China To Double The Size Of Its Space Station As It Offers An Alternative To NASA-Led ISS
China plans to expand its space station to six modules from three in coming years, offering astronauts from other nations an alternative platform for near-Earth missions as the NASA-led International Space Station (ISS) nears the end of its lifespan.
The operational lifetime of the Chinese space station will be more than 15 years, the China Academy of Space Technology (CAST), a unit of China's main space contractor, said at the 74th International Astronautical Congress in Baku, Azerbaijan, on Wednesday.
That would be more than the 10 years previously announced.
Read more at: CNN