TOP NEWS
ISS Maneuvers To Evade Space Debris – Roscosmos
The orbit of the International Space Station has been changed to evade space debris, Roscosmos said in a statement on Monday.
"The orbit of the International Space Station was adjusted on Monday, October 17, 2022 to evade space debris," the company said on Telegram.
Roscosmos said to make the maneuver engines of the cargo spacecraft Progress MS-20 were powered on at 22:27 Moscow time and ran for 630.8 seconds.
Read more at: TASS
SPACE HAZARDS & STM
How a Single Human Hair Nearly Halted a SpaceX Launch
Engineers quip that FOD is a four-letter word, but there's nothing funny about foreign object debris and its potential to trigger disaster.
The incident happened on October 5 at around 10:25 a.m. ET, as a SpaceX pad crew was preparing Crew Dragon Endurance for launch atop a Falcon 9 rocket. With the four Crew-5 astronauts already inside the capsule and the hatch closed, an attentive eye spotted a single human hair in the latch seal. The hair was designated FOD—an engineering term for foreign object debris—requiring the pad crew to take action.
Read more at: gizmodo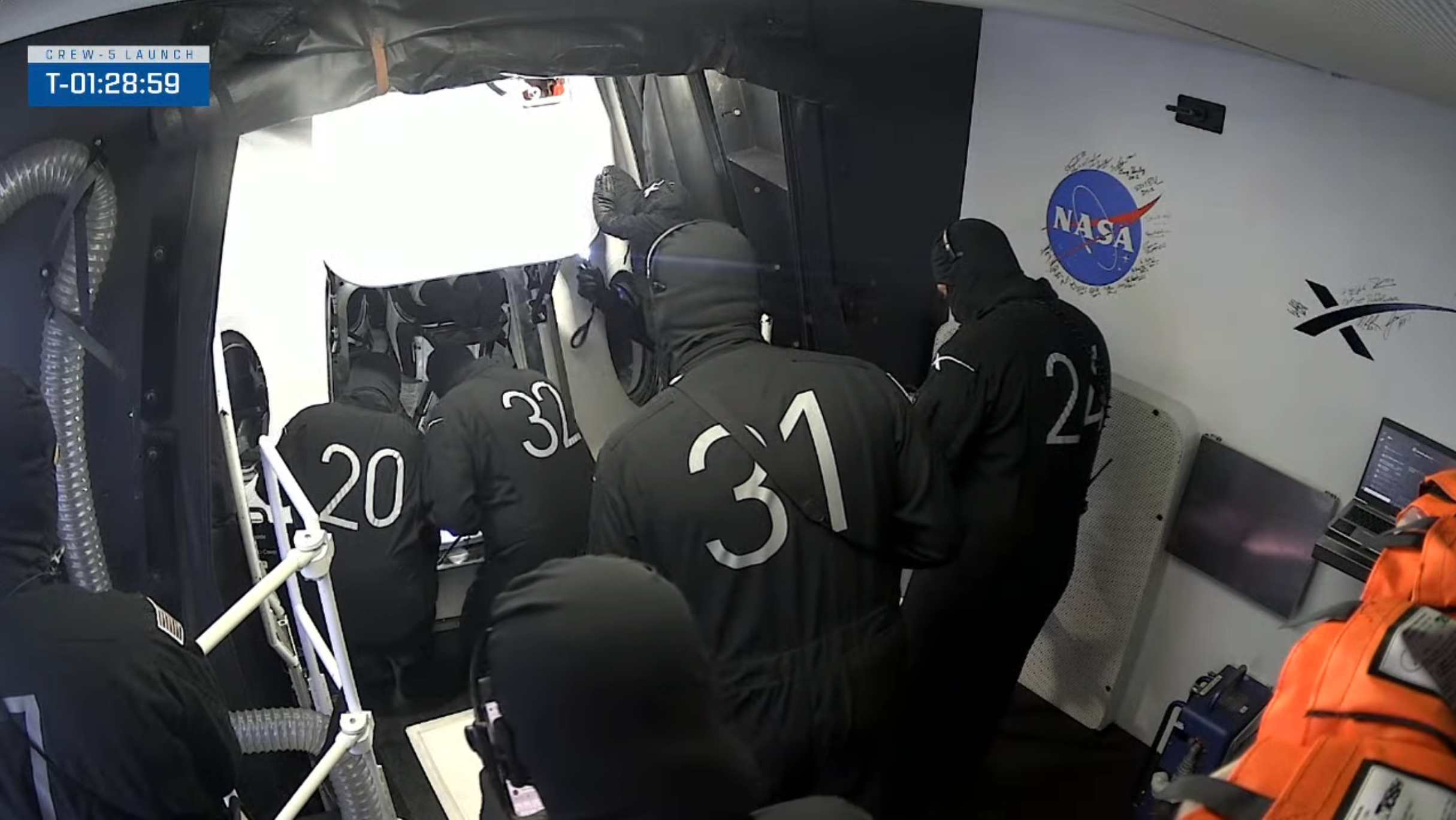 China Looked At Putting A Monitoring Satellite In Retrograde Geostationary Orbit Via The Moon
China appears to have considered boosting its space situational awareness capabilities by placing a satellite in a retrograde orbit out at the geostationary belt.
A paper published in Nature Scientific Reports by authors from the Xi'an Satellite Control Center looks at using a lunar swingby to insert a satellite into a retrograde orbit out at the geostationary belt (GEO) for monitoring activities and debris warning.
Read more at: spacenews
Dangerous Asteroid 2022 RB5 Is Heading Towards Earth At 19152 Km/H, Warns NASA
NASA is warning that a massive 115-foot-wide asteroid will come dangerously close to Earth today, October 22.
It seems that Earth cannot escape the constant onslaught of asteroids. Lately, we have been witnessing an increase in the number of asteroids heading towards Earth. These asteroids aren't gigantic mile-wide space boulders that can cause another mini ice age, but they are still large enough that if they crash into our planet, they could easily flatten a large area. One of them, a 115-foot-wide death rock, comes dangerously close to Earth today, according to NASA reports.
Read more at: hindustan times
Space Safety at "Inflection Point": New Compendium Released
The expansive and explosive development of the space economy — and the value that space provides to society — depends on safe and sustainable operations in space.
Based on this "new age of commercial space activities," The Aerospace Corporation's Space Safety Institute has published the first-ever edition of a Space Safety Compendium.
The just-released compendium notes that the space community is at an "inflection point" regarding space safety. This is being driven by unprecedented growth and transformation, shifting models of government-commercial collaboration, an evolution in the types of activities conducted by new space actors, and the advent of space tourism.
Read more at: leonarddavid
Astronomers Discovered Something Strange About 'Potentially Hazardous' Asteroid Phaethon
The Japan Aerospace Exploration Agency intends to launch its DESTINY+ mission to the near-Earth asteroid Phaethon in 2024, with the aim of flying by the space rock in 2028, so this "potentially hazardous" asteroid has been studied intensely in the lead-up to the mission.
Researchers recently made one particularly notable discovery about Phaethon: Its spin is speeding up.
Read more at: space.com
Shields Up! Radiation Coating Experiment Will Spend Six Months Outside Space Station
A new spacecraft shield is flying to orbit. The coating aims to hold off space radiation that can blast away at spacecraft surfaces, and cause problems with electrical shorting or overall erosion. Florida International University will launch the technology to the International Space Station this fall, although the institution hasn't specified exactly when (opens in new tab) or upon what spacecraft. A test sample will be mounted outside the orbiting facility for at least six months, to assess how well it performs in real life.
Read more at: space.com
COMMERCIAL SPACE
The University of Texas Hacked Starlink's Signal So It Can Be Used as a GPS Alternative
In addition to providing high-speed internet connectivity to even the most remote corners of the Earth, the over 3,000 satellites that make up the Starlink network have the potential to do even more, like replace the two dozen satellites that power the Global Positioning System. SpaceX passed on the idea, so a team of researchers took the long way to leverage Starlink as a GPS alternative.
Read more at: Yahoo news
Relativity Space Expands Engine Test Facilities At Stennis
Launch vehicle developer Relativity Space will expand its engine test site at NASA's Stennis Space Center, the second company in as many months to announce new or expanded facilities there.
Relativity said Oct. 18 it will build test stands, office buildings and a vehicle hangar on more than 150 acres of land at the Mississippi center. Those facilities will be used for testing of its Aeon R engine for its Terran R reusable launch vehicle starting in late 2023.
Relativity uses several existing test sites at Stennis, either through exclusive-use agreements or reimbursable Space Act Agreements, for testing the Aeon 1 engine for its Terran 1 small launch vehicle or the Aeon R. The Terran 1 is expected to make its first orbital launch attempt before the end of the year while the Terran R is scheduled to make its debut no earlier than 2024.
Read more at: spacenews
Firefly Looking Ahead After "To The Black" Payloads Reenter Early
On Oct. 1, 2022, Firefly launched the "To The Black" mission which successfully deployed three satellites into low Earth orbit. However, space tracking data showed that the satellites were deployed at a lower-than-planned altitude, and just two weeks after launch, all payloads have reentered Earth's atmosphere.
Firefly has begun expansions to its test site in Briggs, Texas, ahead of the Alpha rocket's third flight and further development of the company's MLV rocket.
Read more at: NASA spaceflight
SpaceX Rolls Out Starlink Aviation Product For Satellite Internet To Private Jets
SpaceX rolled out aviation-specific Starlink satellite internet service on Tuesday, with Elon Musk's company looking to expand further into the inflight WiFi market.
The company is charging $150,000 for the hardware needed to connect a jet to Starlink, with monthly service costs between $12,500 a month and $25,000 a month. Deliveries to aviation customers are scheduled to "start in mid-2023," the company said, and reservations require a $5,000 initial payment.
SpaceX advertises "global coverage" through a flat-panel antenna that customers would install on top of an aircraft. SpaceX said it is seeking Federal Aviation Administration certificates for a variety of aircraft, most of which are typically owned and operated as private jets.
Read more at: CNBC
SpaceX Slashes Base Price Of Smallsat Rideshare Program, Adds "Plates"
SpaceX has rolled out an upgraded version of its Rideshare program that will allow even more small satellite operators to send their spacecraft to orbit for extremely low prices.
SpaceX threw its hat into the growing ring of smallsat launch aggregators in August 2019 with its Smallsat Program. Initially, the company offered a tiered pricing scale with multiple rates for the different sizes of ports a satellite operator could attach their spacecraft to. For customers purchasing their launch services more than 12 months in advance, SpaceX aimed to charge a minimum of $2.25 million for up to 150 kilograms (~330 lb) and a flat $15,000 for each additional kilogram. Customers placing their order 6-12 months before launch would pay a 33% premium ($20,000/kg).
Read more at: teslarati
SpaceX Rolls Out Starship, Stacks World's Largest Rocket, And Aces Starlink Launch Hours Apart
In 15 hours, SpaceX has rolled a new Starship to its South Texas launch and test facilities, reassembled the world's largest rocket, launched Starlink satellites to orbit, and recovered a reused Falcon 9 booster in port.
The burst of activity began around sunset at SpaceX's Starbase rocket factory in Boca Chica, Texas when a new orbital-class Starship prototype left its 'nest' for the first time. SpaceX rolled the Starship – known as Ship 25 – a few miles down the highway to its nearby launch and test facilities, where workers connected it to a large crane and waited for daylight.
Read more at: Teslarati
SCIENCE AND TECHNOLOGY
Effects Of Atmospheric Heterogeneity On Distant Focusing Overpressure Risk Assessments At Coastal Launch Sites
Distant Focusing Overpressure (DFO) is one of the well-established hazards associated with rocket launches. Under certain weather conditions, blast waves resulting from failed launches can subject the public to potential harm. DFO prediction methods rely on a legacy 1D weather assumption, where horizontal variations in the atmospheric conditions are neglected. Using high-resolution weather forecast models, we re-evaluate the effects of this legacy assumption on DFO risk assessments at four U.S. coastal launch sites.
Read more at: sciencedirect
Boeing's Starliner – Advancing Innovative Technology
One day after launching May 19 from Florida's Space Coast on a United Launch Alliance Atlas V rocket, the CST-100 Starliner spacecraft docked to the International Space Station, or ISS, signifying a historic moment for the program.
That moment was the first step toward next carrying astronauts to and from the space station, which will expand Starliner's reach in low-Earth orbit and shape the future of commercial human spaceflight.
What followed was ISS astronauts opening the hatch of the uncrewed Starliner and then floating inside, marking the first time the spacecraft hosted people on orbit.
Read more at: spacenews
Data Recorder Malfunction Jeopardizes 30-Year-Old NASA Probe
or the past 30 years, Geotail has been sailing through the magnetic envelope that surrounds Earth to study this region of our atmosphere. But the long-running mission may be coming to an end as NASA and the Japan Aerospace Exploration Agency recently discovered that the spacecraft's last remaining data recorder has failed.
The data recorder malfunctioned on June 28, leaving the spacecraft with no other means to collect science data as it journeys through the magnetosphere, NASA announced this week.
Read more at: gizmodo
To Explore Space Means Defying Dust
As the world's space agencies prepare to return to the Moon and explore the planets, space materials engineers have been getting to grips with a challenging enemy: dust. The abrasive, talcum-like dust enshrouding the Moon and other planetary surfaces can obscure surfaces, wear away at coatings and clog space mechanisms.
For ESA, dust contamination is an urgent issue for coming missions such as the international lunar Gateway – a planned station in lunar orbit including European modules, which will serve as a basecamp for sojourns down to the Moon's surface – and the Argonaut European Large Logistics Lander, EL3, intended to transport cargo for lunar settlers, which would remain on the Moon for prolonged periods.
Read more at: ESA
A 'Made in Europe' Solution Could Salvage the Beleaguered ExoMars Rover Mission
The ExoMars rover may get a second chance to go to Mars. The European Space Agency (ESA) wants to swap out a Russian-built entry and descent platform for a version made in Europe, but the space agency will need to secure a hefty budget to move forward.
Following a council meeting on Thursday, ESA Director General Josef Aschbacher reassured reporters that the science goals of the ExoMars mission will still be relevant in six years when the space agency plans on launching the rover. "
Read more at: Gizmodo
China Moon Mission Samples Upend Theories Of Lunar Volcanism
An analysis of lunar samples returned by China's Chang'e 5 moon mission has produced a new possible answer for volcanism late in the moon's history.
Lunar samples returned by the Apollo and Luna missions are all older than about 3 billion years, but samples returned by Chang'e 5 in late 2020 confirmed remote sensing analysis that rocks in the area were relatively young, at only 2 billion years old. 
Scientists previously speculated that either a relatively high water content or the presence of radioactive, heat-producing elements in the lunar interior might have driven volcanism in a late stage of the moon's life in some areas, but new Chang'e-5 data published in Nature appears to have ruled out these hypotheses.
Read more at: space.com
NASA Asteroid-Sampling Mission On Track For Delivery Next Year
The spacecraft at the center of NASA's first asteroid sample return mission has altered its trajectory in preparation for its return to Earth next year. On Sept. 21 OSIRIS-REx spacecraft fired its thrusters for 30 seconds for a course correction. This is the first time the spacecraft carrying a sample of the near-Earth asteroid Bennu has altered its trajectory since leaving the space rock on May 10, 2021.
Read more at: space.com
SPACE POLICY
The Legality of Intermingling Military and Civilian Capabilities in Space
The United States' practice of intermingling national security space functions with commercial space capabilities and services has come under fire. Professor David Koplow, in an article entitled "Reverse Distinction: A U.S. Violation of the Law of Armed Conflict in Space," argued that such intermingling violates the obligation under the law of armed conflict (LOAC) to protect civilian objects against the effects of attack. The argument is getting attention. In February, Air Force Magazine wrote about the article's indictment of U.S. policy and in April, Professor Koplow presented his argument at the United States Space Command Legal Conference. The next month, he again made his case during a meeting of the United Nations' Open Ended Working Group on Reducing Space Threats. As the reach of his argument increases, so does the need for a response.
Read more at: lieber westpoint
ESA Finalizes Package For Ministerial
The European Space Agency is putting the finishing touches on a package of programs it will ask its member states to support at a council meeting in November.
At a press briefing after a meeting of the ESA Council in Paris Oct. 20, agency leaders said they were finalizing proposals and related documents for the Nov. 22-23 ministerial meeting, where the agency will seek funding commitments from its member states for a wide array of programs.
"I think everyone is quite relieved on the progress we really made," said Josef Aschbacher, ESA director general.
Read more at: spacenews
EU Considers Paying Elon Musk To Keep Giving Starlink Internet To Ukraine
EU countries are discussing whether to contribute funding to ensure Ukrainians keep their access to vital Starlink internet services currently paid for by Tesla boss Elon Musk.
Lithuanian Foreign Minister Gabrielius Landsbergis disclosed the plans, which are at an early stage, in an interview with POLITICO on Monday.
The proposal follows warnings from Musk that his SpaceX rocket company could not indefinitely continue paying for Ukrainians to have access to Starlink internet services, amid suggestions that he wanted the U.S. government to foot the bill.
Read more at: politico
UK Defense Committee Calls For Thorough Eutelsat/Oneweb Review
Eutelsat and OneWeb's planned merger requires the "strictest possible scrutiny," a cross-party group of British government officials said in a report warning the U.K has become a "third-rank" power in space post-Brexit.
Combining U.K.-based OneWeb with France's Eutelsat poses "serious questions about the handing over of critical technology to foreign powers and the need for sovereignty," said Tobias Ellwood, chair of the U.K's Defence Select Committee.
In a report published Oct. 19 for the U.K.'s Ministry of Defence, the committee called for a thorough review of the deal under the country's National Security and Investment Act. 
Read more at: spacenews
SPACE DEFENSE
Space Force Tries To Turn Over A New Leaf In Satellite Procurement
The Space Force is planning its next major procurement of satellites — a constellation in medium Earth orbit that will track missile launches — as the service's acquisitions come under increasing scrutiny.
The Space Systems Command next year will seek industry bids for as many as four infrared sensing satellites in medium Earth orbit (MEO) for missile warning and tracking. The satellites will add a new layer to the Pentagon's planned multi-orbit architecture of space sensors. 
Read more at: spacenews
Space Force To Award Up To $50 Million In Contracts For Space Test Program Experiments
The Space Force is changing its approach to buying satellites for the Space Test Program, which for decades has launched experiments for the U.S. government and allies.
Instead of awarding separate contracts for STP missions, the Space Force will select a group of vendors that will compete for $50 million worth of task orders under a five-year indefinite delivery/indefinite quantity (IDIQ) contract. 
The plan is to select a mix of vendors that can produce spacecraft ranging from 12U cubesats to 180-kilogram ESPA-class satellites. These contractors will be responsible to design, develop and manufacture the spacecraft, integrate experimental payloads, test the integrated space vehicle, support the launch and post-launch mission operations. 
Read more at: spacenews
Demonstration Rocket for Agile Cislunar Operations (DRACO)
The space domain is essential to modern commerce, scientific discovery, and national defense. Maintaining space domain awareness in cislunar space – the volume of space between the Earth and the Moon – will require a leap-ahead in propulsion technology.
The goal of the Demonstration Rocket for Agile Cislunar Operations (DRACO) program is to demonstrate a nuclear thermal propulsion (NTP) system on orbit. NTP uses a nuclear reactor to heat propellant to extreme temperatures before expelling the hot propellant through a nozzle to produce thrust. Compared to conventional space propulsion technologies, NTP offers a high thrust-to-weight ratio around 10,000 times greater than electric propulsion and two-to-five times greater specific impulse (i.e. propellant efficiency) than chemical propulsion.
Read more at: darpa
Pentagon Eyes Locking In Starlink Funding For Ukraine
The Pentagon is considering paying for the Starlink satellite network — which has been a lifeline for Ukraine — from a fund that has been used to supply weapons and equipment over the long term, according to two U.S. officials who are involved in the deliberations.
The Ukraine Security Assistance Initiative is designed to provide enduring support for the Ukrainian military by financing contracts with American firms for weapons and equipment that would be delivered in months or even years.
Read more at: politico
Satellite Broadband Players Poised To Compete For U.S. Military Customers
While SpaceX's Starlink continues to build momentum in the U.S. defense market, other industry players are positioning to compete for military customers that seek low-latency satellite broadband and more specialized services.
"In the U.S. defense and government marketplace, the demand is for mobile, mobile, mobile," Ian Canning, chief operating officer of OneWeb Technologies, said last week at the MilSat Symposium in Mountain View, California.
Read more at: spacenews
François Bausch And Virgin Orbit Sign Agreement To Advance Allied Responsive Space Capabilities Across Europe
On 17 October 2022, Deputy Prime Minister, Minister of Defence, François Bausch and Virgin Orbit signed a Letter of Intent that will begin the process towards developing responsive space capabilities inclusive of mobile launch infrastructure that would be based in Luxembourg, but available for NATO partners, and other Allies across the European continent. As part of the agreement, Virgin Orbit, in close coordination with the Luxembourg Directorate of Defence, will assess how a responsive space capability could be based in Luxembourg and optimized for use by NATO and other European allies.
Read more at: gouvernement.lu
Amazon To Link Kuiper Satellites To Dod's Mesh Network In Space
Amazon's Project Kuiper is in discussions with DoD about the possibility of installing laser communications terminals on some of the company's internet satellites so they can transfer data from remote-sensing satellites directly into the military's mesh network in low Earth orbit.
Derek Tournear, director of the U.S. Space Force's Space Development Agency, said the plan is for some Kuiper or other commercial satellites to serve as "translators" so they can support high-speed data transfer, for example, from commercial imaging satellites to military users on the ground.
Read more at: spacenews
VARIOUS
TESS Returns From Safe Mode, The Case Of The Missing Exoplanet Atmosphere
Following an incident that triggered the telescope to enter safe mode, NASA's Transiting Exoplanet Survey Satellite (TESS) has resumed normal science operations in its highly elliptical Earth orbit. TESS entered safe mode on Monday, Oct. 10, and was in the protective states until Thursday, Oct. 13, at approximately 22:30 UTC.
Meanwhile, a team of researchers using TESS data as well as NASA's now-retired Spitzer Space Telescope have determined that an ultra-hot super-Earth exoplanet 65 light-years away is likely lacking an atmosphere despite initial computer models suggesting otherwise.
Read more at: NASA spaceflight
ISRO To Launch Chandrayaan-3, Its Third Mission To Moon, In June 2023
With a more robust lunar rover onboard, the Indian Space Research Organisation planned to launch its third mission to the moon, Chandrayaan-3, in June of next year.
The move will help the organisation in its future interplanetary explorations. In addition to setting the timeline for Chandrayan-3, ISRO has also lined up the first test flight of the 'abort mission for Gaganyaan, the country's first human spaceflight, early next year.
Read more at: livemint
NASA Mars Rover Reaches Awe-Inspiring Salty Region at Last
More than 10 years on Mars. Dust and sand and cold and pointy rocks. NASA's Curiosity rover has weathered a lot on its way to a triumphant arrival in what's called the "sulfate-bearing unit" of the Gale Crater. This fascinating place is full of salty minerals, and it's a treasure trove for scientists investigating the history of water on the red planet.
NASA described the sulfate-bearing area as a "long-sought region" and "special" in a Wednesday statement.
Read more at: CNET
Satellite Operators Gear Up For Asia's Tidal Wave Of Satellite Capacity
Satellite operators in Asia are banking on soaring demand for connecting plane passengers and other customers on the move to absorb an exponentially increasing supply of capacity in the region.
More integration between satellite and mobile network operators will also create new opportunities for putting this anticipated glut of supply to work, executives said Oct. 18 during the APSCC 2022 Satellite Conference and Exhibition in Seoul, South Korea. 
Northern Sky Research expects global capacity supply to soar from about 39 terabits per second (Tbps) today to 172 Tbps by 2030. 
Read more at: spacenews
65 Years Ago, "Simple Satellite" Sputnik Redefined Space Science — And Sent A Sinister Message
Earth's first-ever artificial satellite Sputnik launched on October 4, 1957. In that moment, which occurred sixty-five years ago, the Cold War between the United States and the Soviet Union transformed into a race to dominate not only Earth but also space.
But there was more to the launch than met the eye — behind the development of satellites to orbit Earth was a more nefarious purpose.
Read more at: inverse
Space Shuttle vs Dream Chaser: Can This Pint Sized Space Plane Really Replace an Icon?
The Space Shuttle program proved that re-useable space planes aren't exactly the fool-proof best way to put humans and technology into space, and it was planned to be since the dog days of the Apollo program. With a total program cost of nearly $250 billion when adjusted for inflation, it'd be inaccurate to call the Shuttle Program cost-effective.
Keep in mind, each Space Shuttle orbiter was originally intended to complete as many as 100 missions before the end of its lifecycle. None of the six orbiters ever even came close to this figure.
Read more at: autoevolution
China Gears Up For Launches To Complete Tiangong Space Station
China is preparing to launch the final missions to complete its three-module Tiangong space station which it plans to keep constantly occupied for at least a decade.
A Long March 5B is being assembled and tested at Wenchang Satellite Launch Center on the southern island of Hainan. The 849-metric-ton rocket is expected to launch the third and final module for the Tiangong space station at the end of October.
Read more at: spacenews
Better Late Than Never: Countdown Begins For India's Second Spaceport
On Saturday, former Isro scientist and Chandrayaan-1 project director Mylswamy Annadurai told a gathering of space scientists and entrepreneurs at IIT Madras that work would soon begin on India's second spaceport at Kulasekharapatnam in south Tamil Nadu. This would be the third launch pad, the first two being at the Sriharikota spaceport in southern Andhra Pradesh. While wishing godspeed for the project, here's some history of lost opportunities and new promises.
Read more at: times of india
Hokkaido Town Seeks Economic Liftoff Through New Spaceport
While many towns in the United States lay claim to the moniker "Spacetown USA," a town of about 5,400 people here may be in line to be called "Spacetown Japan."
"Our space-themed community development efforts are beginning to pay off," said Masato Sakamori, the 63-year-old mayor of Taiki, which is located on the Pacific coastline in southeastern Hokkaido.
With demand growing worldwide for launching satellite-carrying rockets, the local community here is pinning hopes on space-related businesses to serve as a launching point for regional revitalization.
Read more at: Asahi
Lodewijk Van Den Berg, Who Became First Dutch-Born Astronaut, Dies
Lodewijk van den Berg, who studied crystal growth aboard the space shuttle Challenger as the first Dutch-born astronaut, has died at the age of 90.

Van den Berg's death on Sunday (Oct. 16) was reported online by the Association of Space Explorers, the professional organization for astronauts and cosmonauts.

Van den Berg did not set out to be an astronaut. Then a 53-year-old chemical engineer, his path into space came as a result of NASA inviting commercial and research organizations to fly experiments aboard the space shuttle. Specifically, NASA was preparing to fly the Vapor Crystal Growth System, a payload designed by van den Berg and his colleagues at EG&G Energy Measurements of Goleta, California, to advance the preparation of crystalline materials.
Read more at: collectspace
Astronaut James McDivitt, who led Gemini and Apollo missions, has died at 93
James McDivitt, a former NASA astronaut who commanded the Gemini IV and Apollo 9 missions, died in his sleep last week in Tucson, Arizona, NASA said in a statement Monday. He was 93.
McDivitt was surrounded by his family and friends when he died Thursday, according to NASA.
Selected to join NASA's second astronaut class in 1962, McDivitt's work during the Apollo 9 mission played a critical role in eventually helping land the first humans on the moon during the Apollo 11 mission. And his work on Gemini IV helped extend astronauts' time in space, nearly doubling the duration at that point in early space history, NASA said.
Read more at: CNN
All of the World's Spaceports on One Map
From Sputnik 1 to today's massive satellite constellations, every object in space was launched from just a handful of locations.
The map above, from BryceTech, is a comprehensive look at the world's spaceports (both orbital and sub-orbital) as well as ballistic missile test sites.
Read more at: visual capitalist