TOP NEWS
Starlink Satellites 'Leaking' Signals That Interfere With Radio Telescopes
When I was a child in the 1970s, seeing a satellite pass overhead in the night sky was a rare event. Now it is commonplace: sit outside for a few minutes after dark, and you can't miss them.
Thousands of satellites have been launched into Earth orbit over the past decade or so, with tens of thousands more planned in coming years. Many of these will be in "mega-constellations" such as Starlink, which aim to cover the entire globe.
Read more at: cosmos magazine
FAA Wraps Up Safety Review Of Spacex's Huge Starship Rocket
SpaceX's giant Starship rocket just cleared a major hurdle on the road to its second-ever liftoff. The U.S. Federal Aviation Administration (FAA) announced today (Oct. 31) that it has wrapped up its Starship safety review, which assesses the risks that a launch might pose to public health and property. However, there's still another regulatory box to check before SpaceX can get a license for the next Starship liftoff.
"The FAA is continuing to work on the environmental review," the agency wrote today in an emailed statement. "As part of its environmental review, the FAA is consulting with the U.S. Fish and Wildlife Service (USFWS) on an updated Biological Assessment under the Endangered Species Act. The FAA and the USFWS must complete this consultation before the environmental review portion of the license evaluation is completed."
Read more at: space.com
Interoperable Data Exchange For Safe And Efficient Launch And Re-Entry Operations In An International Environment
The frequency of commercial space launch and re-entry operations is increasing worldwide. Current regulations and procedures ensure safe operations by temporarily closing large volumes of airspace where risks to aircraft would exist in case of non-nominal events during launch or re-entry operations. To maintain the safety of air traffic as the number of space operations rises, effectively providing the right information to the right stakeholders at the right time is key. Through a cooperative agreement, the FAA and DLR are sharing their unique capabilities using the Commercial Space Integration Lab and Air Traffic Validation Center, located in the USA and Germany respectively, to improve situational awareness through real-time data exchange.
Read more at: sciencedirect
---
SPACE HAZARDS & STM
Historic Space Photo: A Monstrous 'Halloween Storm' Explodes From The Sun
What it is: A solar flare exploding on the sun's surface
When it was taken: Oct. 28, 2003
Where it is: The sun, around 93 million miles (150 million kilometers) from Earth
Why it's so special: During the spooky season of 2003, the sun spit out an unusually powerful series of solar flares, known as the "Halloween solar storms." The most powerful of these flares (pictured above) exploded from the sun's surface on Oct. 28 and launched a high-speed burst of electrically charged particles, called a coronal mass ejection (CME), that smashed into Earth the next day.
Read more at: livescience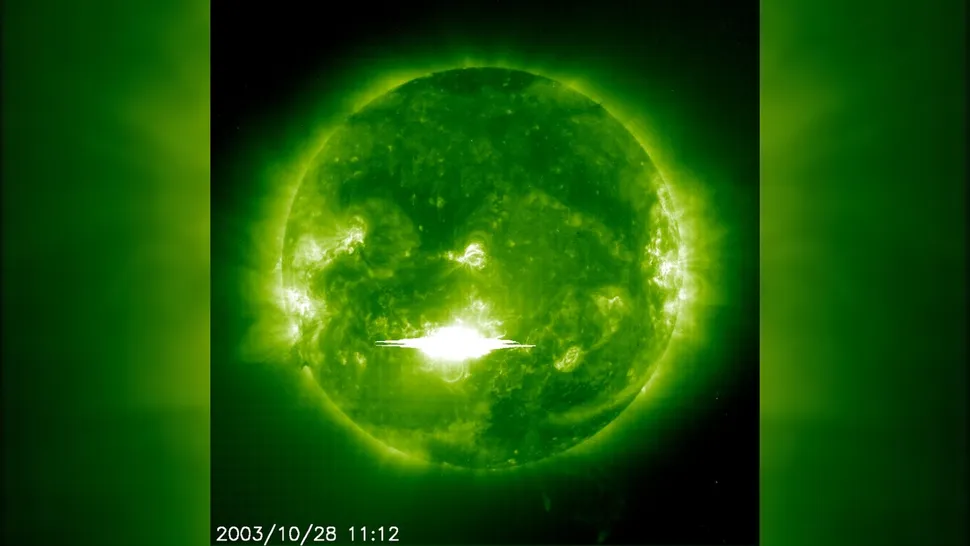 If there's one thing astronauts don't want to face when out in the endless expanse of space, it's signs that their station is being sabotaged. And yet, cosmonauts Oleg Kononenko and Nikolai Chubwere forced to face a strange phenomenon during a spacewalk last week. The pair exited the International Space Station (ISS) on Wednesday to fix a radiator which had sprung a leak. And while they were out, they were met by a close encounter of a very strange kind.
Read more at: Indy100

Solar Maximum Will Arrive Sooner And Last Longer Than Previously Expected, Say Scientists
The sun will reach the peak of its current activity cycle in 2024, one year earlier than previous estimates, according to experts at NOAA's Space Weather Prediction Center (SWPC).The revised prediction now places Solar Cycle 25's peak of activity known as "solar maximum" between January and October 2024 according to a NOAA statement. The peak will be earlier, stronger and last longer than estimates made in 2019.The solar cycle describes an approximately 11-year period of solar activity driven by the sun's magnetic field and indicated by the frequency and intensity of visible sunspots on the surface.
Read more at: space.com

Solar Storm Causes 'Impossible,' Pumpkin-Colored Auroras To Fill The Sky
A recent solar storm smashed into Earth and created what appeared to be bright pumpkin-colored pillars dancing in the night sky above Canada, a haunting new photo reveals. But there is a problem with the image: Orange-colored auroras should not exist.
Instead of impossible auroras, the image actually captured a rare mix of red and green lights that hasn't been this visible since a monstrous Halloween solar storm smashed into Earth 20 years ago, experts say.
Read more at: livescience

Spacewalk Snafu: Astronauts Lose Tool Bag in Orbital Oopsy
NASA astronauts Jasmin Moghbeli and Loral O'Hara concluded their spacewalk today at 2:47 p.m. EST after 6 hours and 42 minutes. Their spacewalk began at 8:05 a.m. Moghbeli, designated extravehicular crew member 1 (EV1), was wearing a suit with red stripes. O'Hara, designated extravehicular crew member 2 (EV 2), was in an unmarked suit.
Moghbeli and O'Hara were able to complete one of the spacewalk's two major objectives, replacing one of the 12 trundle bearing assemblies on the port solar alpha rotary joint, which allows the arrays to track the Sun and generate electricity to power the station. Mission Control told the station crew that the solar array was functioning well after the bearing replacement. Spacewalkers also removed a handling bar fixture to prepare for future installation of a roll-out solar array and properly configured a cable that was previously interfering with an external camera.
Read more at: scitech daily
"Canyon Of Fire" Solar Eruption Extended More Than 60,000 Miles
On Halloween night, an astonishing astronomical event took place that highlighted the incredible and sometimes terrifying dynamics of our closest star – the sun. A massive solar eruption resulted in a 62,000-mile-long "canyon of fire" carved into the sun's surface, a spectacular occurrence that was captured by NASA's Solar Dynamics Observatory.
Read more at: earth.com
Satellite Companies May Be Starting To Take The Fight Against Space Junk Seriously
French startup ThrustMe has announced a jump in orders for its innovative iodine-based propulsion systems for small satellites. The interest indicates a shift toward a more sustainable space environment, according to the company.
ThrustMe has passed 200 orders, the company said in an Oct. 24 statement, representing a doubling of its order book within just four months. The company's 4-inch-by-4-inch-by-4-inch (10 centimeters by 10 cm by 10 cm) NPT30-I2 electric thruster — which was first tested in 2020 and uses relatively cheap and abundant iodine, instead of the more exotic xenon — provides small satellites with autonomous maneuverability, helping them avoid collisions and to deorbit when the time comes.
Read more at: space.com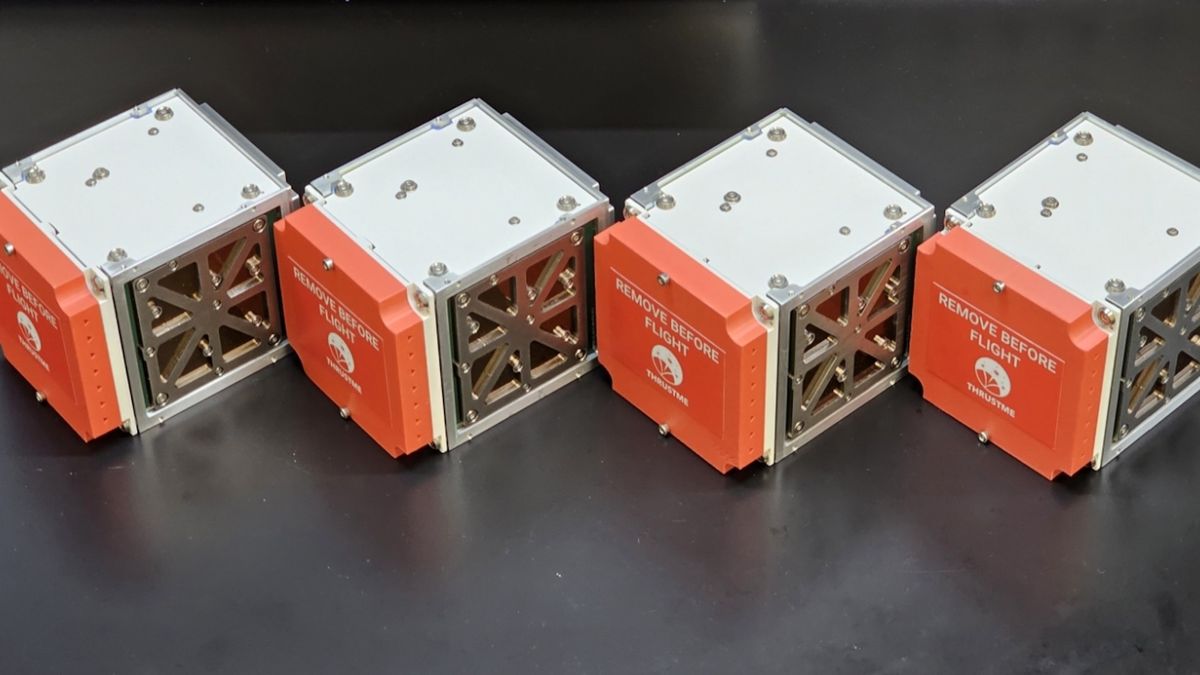 ---
COMMERCIAL SPACE
Blue Origin Pulls Sheets Off Cargo Lunar Lander Prototype
Jeff Bezos' Blue Origin has unveiled a mockup of the cargo version of its Blue Moon lunar lander ahead of a crewed version intended for NASA's Artemis program.
Dubbed "Pathfinder," the lander is intended to be a demonstration mission, and future versions will be available to payload customers. Blue Moon Mark 1 (MK1) is meant to remain on the lunar surface and be able to transport up to three metric tons.
Read more at: theregister
Rocket Lab Plans Launch Of Venus Mission As Soon As Late 2024
Rocket Lab expects to launch a highly anticipated privately funded mission to Venus as soon as the end of 2024, leveraging its experience from a mission to the moon.
Speaking at a meeting of the Venus Exploration Analysis Group, or VEXAG, Oct. 30, Christophe Mandy, lead system engineer for Rocket Lab's interplanetary missions, said the company has set a launch date of as soon as Dec. 30, 2024, for the launch of the Rocket Lab Mission to Venus.
Read more at: spacenews
SpaceX Surpasses 5,000 Active Starlink Satellites, Sets Sights on 144 Rocket Launches in 2023
SpaceX, the leading aerospace company founded by Elon Musk, achieved a significant milestone by exceeding 5,000 active satellites in its Starlink internet service. This achievement highlights the company's unwavering commitment to providing high-speed, low-latency internet access on a global scale.
The recent launch of 22 additional Starlink satellites on a Falcon 9 rocket marked SpaceX's 50th mission of the year. The continuous deployment of satellites underscores the company's determination to revolutionize internet connectivity across the world. While SpaceX has launched over 5,000 satellites to date, some experienced failures throughout the years. However, the remarkable accomplishment of surpassing the 5,000 active satellite mark signifies a major step forward for Starlink.
Read more at: ts2.space
Boeing Halts Plan for Starlink Competitor
As SpaceX's Starlink system continues to grow, Boeing has canceled plans for its own satellite internet system. The company told Aviation Week it gave up its FCC license to operate the satellite constellation, which would have involved 147 low-Earth orbiting satellites. Indeed, on Sept. 15, Boeing sent a letter to the FCC about surrendering the license, which was granted in 2021. By doing so, the company also had to pay the US government $2.2 million through a forfeiture bond.
Read more at: PCMag
SES Says O3b Mpower Electrical Issues Are Worse Than Thought
The next global fight for spectrum gets underway Nov. 20 when the International Telecommunication Union (ITU) convenes its quadrennial World Radiocommunication Conference (WRC) in Dubai for a four-week battle over frequency bands vital to all manner of wireless communications.
While the satellite industry could gain access to more radio waves, vital frequencies could also be taken away to support 5G and other bandwidth-hungry terrestrial wireless services.
Read more at: spacenews
Astra Defaults On Debt Agreement, Warns It May Not Be Able To Raise Needed Cash
Struggling space company Astra disclosed in a securities filing late Friday that it defaulted on a recent debt agreement and may not be able to raise needed cash as funds dwindle.
Astra twice last month failed to meet minimum cash reserve requirements associated with a $12.5 million note issuance to New Jersey investment group High Trail Capital.
The debt raise first required that Astra have "at least $15.0 million of cash and cash equivalents" on hand. That liquidity requirement was adjusted after Astra failed to prove compliance a first time, to require "at least $10.5 million of unrestricted, unencumbered cash and cash equivalents."
Read more at: CNBC
Astrobotic Lander Arrives At Launch Site
Astrobotic's first lunar lander has arrived in Florida for final preparations for launch on Christmas Eve.
Astrobotic announced Oct. 31 that the Peregrine lander has arrived at a payload processing facility at Cape Canaveral operated by Astrotech, after shipping last week from Astrobotic's Pittsburgh headquarters. The lander will undergo preparations for launch on the inaugural Vulcan Centaur flight by United Launch Alliance.
Read more at: spacenews
---
SCIENCE & TECHNOLOGY
Putin Says First Segment Of ISS Replacement To Orbit By 2027
Russian President Vladimir Putin said Thursday that the first segment of the new space station that Moscow plans to construct to replace the ISS should be in orbit by 2027, despite recent setbacks.
Russia previously announced its intention to withdraw from the International Space Station (ISS), where its cosmonauts are permanently stationed and the country plays a key role.
Read more at: phys.org
China Plans To Take 'Hack-Proof' Quantum Satellite Technology To New Heights
China is planning new, cutting-edge quantum communications satellites.
China launched the first dedicated quantum communications satellite, named Micius, in 2016, and has been quietly working on followup missions in the years since. The next satellites will be even more challenging.
"Low Earth orbit quantum key satellite networking and medium- and high-orbit quantum science experimental platforms are the main development directions in the future," Wang Jianyu of the Chinese Academy of Sciences (CAS) said Oct. 15 at the third China Space Science Conference, according to a CAS statement.
Read more at: space.com
Can Humans Reproduce In Space? Mouse Breakthrough On ISS A Promising Sign
Researchers have successfully grown mouse embryos aboard the International Space Station (ISS) for the first time.
This represents "the first-ever study that shows mammals may be able to thrive in space," the University of Yamanashi and National Research Institute Riken said in a joint statement on Saturday, adding that it is "the world's first experiment that cultured early-stage mammalian embryos under complete microgravity of ISS."
In other words, this new mouse embryo study is a big deal because it suggests humans can reproduce in space someday — once the first human baby is born off the surface of our planet, we would become a true space-faring species.
Read more at: space.com
New Map Of Ice On Mars Could Help NASA Decide Where To Send Future Astronauts
The NASA-funded Subsurface Water Ice Mapping (SWIM) project released its fourth and most recent map of where on Mars we might find, as you might expect, subsurface water ice. NASA officials say this map will help mission planners decide where on Mars to actually send the first humans to traverse the planet.
Since 2017, SWIM — led by the Planetary Science Institute and managed by NASA's Jet Propulsion Laboratory — has collated data from multiple NASA Mars missions in order to stitch together a map of how likely it is that a given part of Mars overlays water.
Read more at: space.com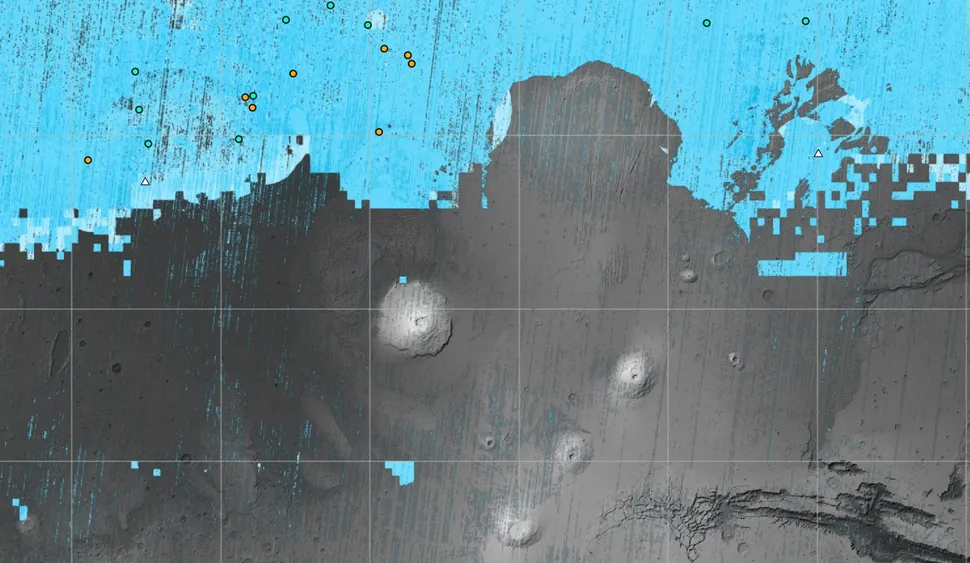 Crunch Time for Phoebus
Launching things into space is hard. Aside from the engines and software, orbital calculations and the launch pad, the tanks that hold the fuel are a masterful example of engineering in their own right – and ESA will soon be testing the next generation of rocket tanks: Phoebus.
Consider this: European rockets often run on liquid oxygen and liquid hydrogen, these are great propellants, but in liquid form they must be kept at extreme temperatures below -200 C. Rocket tanks must keep these superchilled liquids cool, while also weighing as little as possible.
Read more at: spacedaily

China's Ispace Launches And Lands Rocket Test Stage
A Chinese commercial rocket company has successfully launched and safely landed a test article on its path to developing a reusable launch vehicle.
Beijing Interstellar Glory Space Technology Ltd., also known as iSpace, launched the Hyperbola-2Y single-stage hopper at the Jiuquan Satellite Launch Center Nov. 2.
The Hyperbola-2 methane-liquid oxygen reusable verification stage rose to a height of 178 meters during its 51-second flight. It performed a powered descent and soft landing, supported by four landing legs. The 3.35-meter-diameter, 17m-long test stage is powered by a variable thrust Focus-1 engine.
Read more at: spacenews
Mining Asteroids: A New Method To Extract Metals From Asteroids
Extraterrestrial mining and metal processing are key strategies for space exploration. In a new study in Scientific Reports, Rodolfo Marin Rivera, and a team of scientists in materials science, conducted catalytic dissolution of metals from meteorite proxies of metal-rich asteroids by using a deep eutectic solvent. These solvents are important for extraterrestrial mining since they can be designed to have relatively low vapor pressures and can comprise organic waste products from extraterrestrial settlements.
Read more at: phys.org

---
SPACE POLICY
NASA Safety Panel Warns About ISS Transition Risks
A NASA safety panel expressed concerns about NASA's plans to shift from the International Space Station to commercial successors, including funding for an ISS deorbit vehicle.
At its Oct. 26 public meeting, NASA's the Aerospace Safety Advisory Panel issued a recommendation calling on NASA to provide a "comprehensive understanding" of the requirements needed to transition from the ISS to commercial space stations, called commercial low Earth orbit (LEO) destinations, or CLDs, by the agency.
Read more at: spacenews
China: Lonely In Space Despite Lofty Ambitions
In Chinese myths and legends, humans often climb up into the skies and venture into space. Beijing often makes use of these motifs to promote the idea of space as a non-ideological realm, free of Earthly politics. But ever since the mid-20th century Cold War "Space Race" between the United States and the Soviet Union, the politicization of space has been glaringly obvious. For competing nations, a lot is at stake: technological supremacy, plus the chance to flex economic and innovative clout.
Read more at: DW
As SpaceX Waits For Launch License For Boca Chica, It Calls For Regulatory Reform
It's been more than six months since SpaceX's first Starship orbital flight attempt ended in the vehicle automatically self-destructing over the Gulf after veering out of control.
SpaceX is ready to give it another shot, and in fact has been ready for more than a month and a half, according to William Gerstenmaier, the company's vice president of Build and Reliability, testifying during a Subcommittee on Space and Science hearing on commercial space on Oct. 18. But SpaceX is still waiting on the Federal Aviation Administration to issue a launch license for a second attempt.
Read more at: myrgv
ESA Space Transportation Accelerates Disruptive Innovation With FIRST!
An ESA initiative to speed the development of disruptive space technologies took a step forward this month, when a cohort of European innovators presented concepts which they hope will help Europe build commercially competitive, high-performance space transportation systems.
Following a call for ideas, ESA held an online "pitch day", where European technology providers presented promising ideas to an audience of prime contractors, investors, ESA Member State delegates and ESA experts.
Read more at: ESA
Cantwell, Hickenlooper Bill to Clean Up Space Junk Passes Senate Unanimously
Yesterday, the U.S. Senate unanimously passed the Orbital Sustainability (ORBITS) Act, a bipartisan bill to establish a first-of-its-kind demonstration program to reduce the amount of space junk in orbit. U.S. Senator Maria Cantwell (D-Wash.), Chair of the Committee, joined Sens. John Hickenlooper (D-Colo.), Cynthia Lummis (R-Wyo.), Roger Wicker (R-Miss.) and Kyrsten Sinema (I-Ariz.) in introducing the bill in February and it passed the Committee in July. It now heads to the House.
Read more at: commerce.senate.gov
NASA Welcomes Netherlands as Newest Artemis Accords Signatory
During a ceremony at the Dutch Ambassador's Residence in Washington on Wednesday, the Netherlands became the 31st country to sign the Artemis Accords. NASA Administrator Bill Nelson participated in the signing ceremony for the agency, and Netherlands Space Office (NSO) director Harm van de Wetering signed on behalf of the Netherlands.
NASA Deputy Administrator Pam Melroy and the following also were in attendance:
Chirag Parikh, executive secretary of the U.S. National Space Council
Birgitta Tazelaar, ambassador of the Netherlands to the United States
Read more at: NASA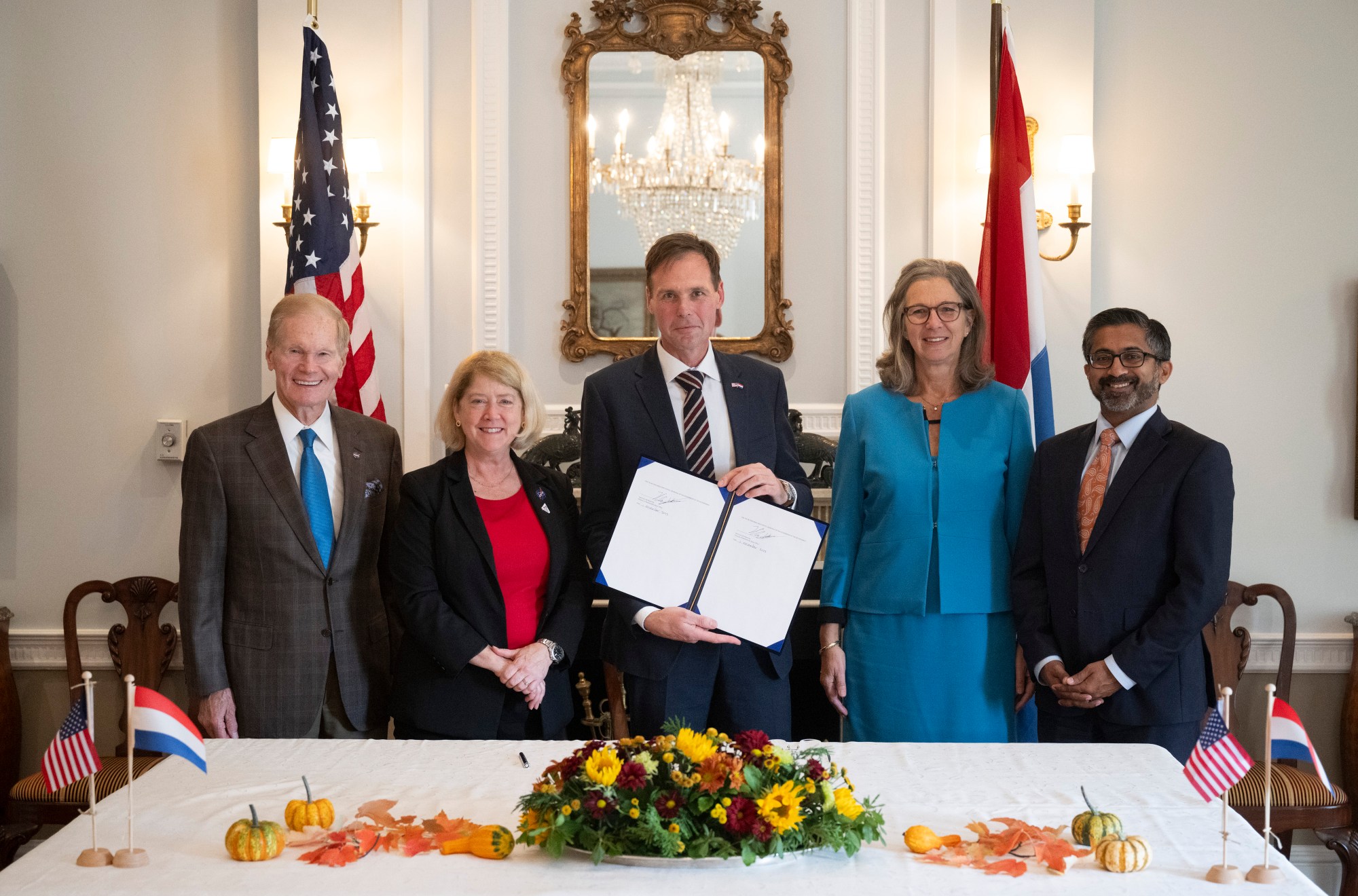 Babin, Lucas Introduce Commercial Space Bill
The two top Republicans on the House Science, Space, and Technology Committee who oversee space activities introduced a long-awaited bill today addressing commercial space activities. Among the many provisions of the comprehensive legislation, the bill expands the responsibilities of the Office of Space Commerce in the Department of Commerce and extends a moratorium on the FAA promulating new commercial human spaceflight regulations.
The Commercial Space Act of 2023, H.R. 6131, was introduced by Rep. Brian Babin (R-TX) and Rep. Frank Lucas (R-OK). Babin chairs the House SS&T Space and Aeronautics subcommittee. Lucas chairs the full committee.
Read more at: spacepolicy online
---
SPACE DEFENCE
Pentagon Awards $1.3 Billion In Contracts To Northrop Grumman And York For 100 Satellites
The Pentagon's Space Development Agency on Monday announced about $1.3 billion in contracts to York Space and Northrop Grumman to build communications satellites.
The SDA is having the pair of companies build 100 satellites as part of a network the U.S. military is building called the Proliferated Warfighter Space Architecture. These satellites will be for "Alpha" variant prototypes in the "Tranche 2 Transport Layer" constellation, also known as T2TL-Alpha, to provide encrypted communications.
Read more at: CNBC
Space Force To Begin Procurement Of Missile-Tracking Satellites For Medium Earth Orbit Constellation
The U.S. Space Force is moving forward with plans to procure 27 missile-defense satellites for a medium Earth orbit constellation — using an acquisition process that mirrors the model adopted by the Space Development Agency for the military's low Earth orbit architecture.
"We are acquiring our architecture through spiral development, with new capabilities being placed on orbit every two to three years," said Col. Heather Bogstie, senior materiel leader for missile warning, tracking and defense at the Space Systems Command.
Read more at: spacenews
New Space Force Tech Accelerator Focused On Space Domain Awareness Software
The Space Force's newest technology accelerator, aimed at speeding improvements in space domain awareness, is kicking off with a focus on developing software to help protect satellites in geosynchronous Earth orbit from anti-satellite missiles, the service announced today.
Run by Space Systems Command (SSC), the Space Domain Awareness Technology, Applications, and Process (TAP) Lab is headquartered in Colorado Springs, Colo., and is being supported by Virginia Tech's Applied Research Corporation and MITRE Corporation.
Read more at: breaking defense
The US Space Force And Saying The Quiet Parts Out Loud
In early September the Chief of Space Operations, Gen. Chance Saltzman, changed the mission statement of the Space Force to "Secure our Nation's Interests In, From, and To Space." While there has been some debate about the comprehensiveness of the statement, its nine-words reflect the mindset of an operator — not a policy wonk.The tidy brevity of the statement allows for Guardians to be able to internalize and perpetuate the cultural orientation of a future looking joint warfighter. It also subtly addresses some of the most persistent intangible aspects that justified the establishment of a Space Force in the first place — the unique culture, opportunities, and challenges of the space cadre.
Read more at: breaking defense
---
VARIOUS
'It Only Makes The News When The Toilets Stop Working': Has The 25-Year-Old International Space Station Been A Waste Of Space?
The International Space Station is about to pass a remarkable milestone. In November, the giant spacecraft will have been in orbit around our planet for a quarter of a century.
For the past 25 years, hundreds of astronauts have made temporary homes there while other visitors have included frogs, worms, shellfish and butterflies: each has been the subject of experiments aimed at uncovering the effects of weightlessness, radiation and other extraterrestrial phenomena on living creatures. In addition, astronauts have carried out studies of dark matter, cosmic rays and Earth's ozone layers.
Read more at: Guardian
A Nearby Kilonova Explosion Could Threaten All Life On Earth. But Don't Worry, Scientists Say.
Scientists have determined the possible effects of a neutron star collision happening near Earth, finding that these so-called kilonovas could be real killers that would doom humanity. But don't worry, the collision would have to be really close to wreak havoc on our world. Nonetheless, here's what would probably go down.
"We found that if a neutron star merger were to occur within around 36 light-years of Earth, the resulting radiation could cause an extinction-level event," Haille Perkins, team leader and a scientist at the University of Illinois Urbana-Champaign, told Space.com.
Read more at: space.com
NASA's Mysterious X-59 Supersonic Experimental Aircraft is Finally Gearing Up For Its First Flight
NASA's experimental X-59 aircraft, an ultra-fast aircraft designed for low-noise flight over land, is finally undergoing preparations for what will be its first flight in 2024.
Designed to travel faster than sound while reducing the intensity of the resulting sonic booms, something that has dramatically limited the use of supersonic military and commercial craft, the X-59 was built by the infamous Lockheed-Martin Skunk Works, an engineering think tank with a historically impressive track record of developing advanced aircraft for a myriad of applications.
Read more at: debrief
Autonomous Servicing Will Help Realize a Dynamic Future with Cosmic Implications
Nearly 20 years ago, two commercial satellites conducted a U.S. government mission that transformed the trajectory of the U.S. space economy. While the 2007 Orbital Express mission may not have the same household name recognition as other space programs, it proved what the entire national space community can achieve through collaboration to develop autonomous in-space servicing.
DARPA and NASA collaborated on that mission to demonstrate safe, cost-effective robotic and autonomous satellite servicing in orbit.
Read more at: spacenews
Poland Signs Agreement To Launch First Satellite Constellation
Poland has signed an agreement with the European Space Agency (ESA) that will allow the country to launch its first constellation of satellites in 2027.
The constellation will consist of at least four satellites – three optoelectronic and one radar – working together as a system. Poland will fund the expected €85 million (378 million zloty) costs while the ESA will help the country with the design, construction, launch and commissioning of the satellites.
Read more at: notesfrompoland
NASA May Have Just Stumbled Upon the Mother of All Space Navigation Solutions
Space navigation is complicated business, and requires planners to define the trajectory that needs to be taken to the target, constantly monitor a spacecraft's position on that trajectory, and maneuver to correct it if it's not.
It sounds easy, but you do have to consider space is a very dynamic place where everything is moving. Unlike an address here on Earth that will always be in the same place, a destination in space will be in an entirely different place than it was when the journey to it began. Then you have the huge distances to account for, comms issues, the influence of celestial bodies' gravity, and so on.
Read more at: auto evolution
DOD Seeking UFO Reports from Current, Former Personnel
The Pentagon wants to know more about current and former military and government workers' experiences with unidentified anomalous phenomena (UAP), the government's term for UFOs.
The DOD announced Tuesday it had launched a new phase in collecting authorized reports of UAPs on the agency's All-domain Anomaly Resolution Office (AARO) website.
Read more at: flyingmag
SpaceX Has Built Nearly 400 Starship Raptor Rocket Engines Ahead Of Test Flight
Even though it continues to wait for government approval for the next Starship test flight, SpaceX is pumping out rocket engines in the hundreds for its new rocket. Starship, the world's biggest rocket, is currently being tested in Boca Chica, Texas, and the vehicle is an entirely new design over SpaceX's workhorse Falcon 9. Starship uses Raptor engines to generate millions of pounds of thrust, and these engines have often created worries due to the high number on Starship.
Read more at: wccftech
Had a fantastic day @SpaceX! It was a productive visit where we were briefed on the HLS program, got a glimpse of Raptor development, and witnessed the impressive Dragon production in action. pic.twitter.com/KDjVERS3hd

— Pamela Melroy (@Astro_Pam) October 30, 2023
Norway Inaugurates Satellite Launch Site
Norway on Thursday joined the race to launch satellites from the European continent by inaugurating a new spaceport on the island of Andoya, north of the Arctic Circle.
Isar Aerospace said the "Andoya Spaceport" was to "become the first operational orbital spaceport in continental Europe to finalize the construction of the launch site."
Read more at: phys.org
NASA Open To Extending ISS Beyond 2030
A NASA official opened the door to keeping the International Space Station in operation beyond 2030 if commercial space stations are not yet ready to take over by the end of the decade.
Speaking at the Beyond Earth Symposium here Nov. 2, Ken Bowersox, NASA associate administrator for space operations, said it was "not mandatory" to retire the ISS as currently planned at the end of the decade depending on the progress companies are making on commercial stations.
Read more at: spacenews