TOP NEWS
Space Station Maneuvers to Avoid Orbital Debris
This evening, the International Space Station's Progress 81 thrusters fired for 5 minutes, 5 seconds in a Pre-Determined Debris Avoidance Maneuver (PDAM) to provide the complex an extra measure of distance away from the predicted track of a fragment of Russian Cosmos 1408 debris.
The thruster firing occurred at 8:25 p.m. EDT and the maneuver had no impact on station operations. Without the maneuver, it was predicted that the fragment could have passed within about three miles from the station.
Read more at: NASA
Life on Mars: Ancient Bacteria Might Lurk Beneath Mars' Surface
When the first samples from Mars are returned to Earth, scientists should be on the lookout for ancient sleeping bacteria, according to the findings of a new study.
In a first-of-its-kind study, a team of researchers has found that ancient bacteria could survive close to the surface on Mars much longer than previously assumed. Furthermore, they can survive much longer when the bacteria are buried and, thus, shielded from galactic cosmic radiation and solar protons.
Read more at: scitech daily
Mars Spacecraft Record Meteor Strikes That Made Craters Hundreds Of Feet Wide
Two Nasa spacecraft at Mars – one on the surface and the other in orbit – have recorded the biggest meteor strikes and impact craters yet.
The high-speed barrages last year sent seismic waves rippling thousands of miles across Mars, the first ever detected near the surface of another planet, and carved out craters nearly 500ft (150 metres) across, scientists reported on Thursday in the journal Science.
The larger of the two strikes churned out boulder-size slabs of ice, which may help researchers look for ways future astronauts can tap into Mars' natural resources.
Read more at: Guardian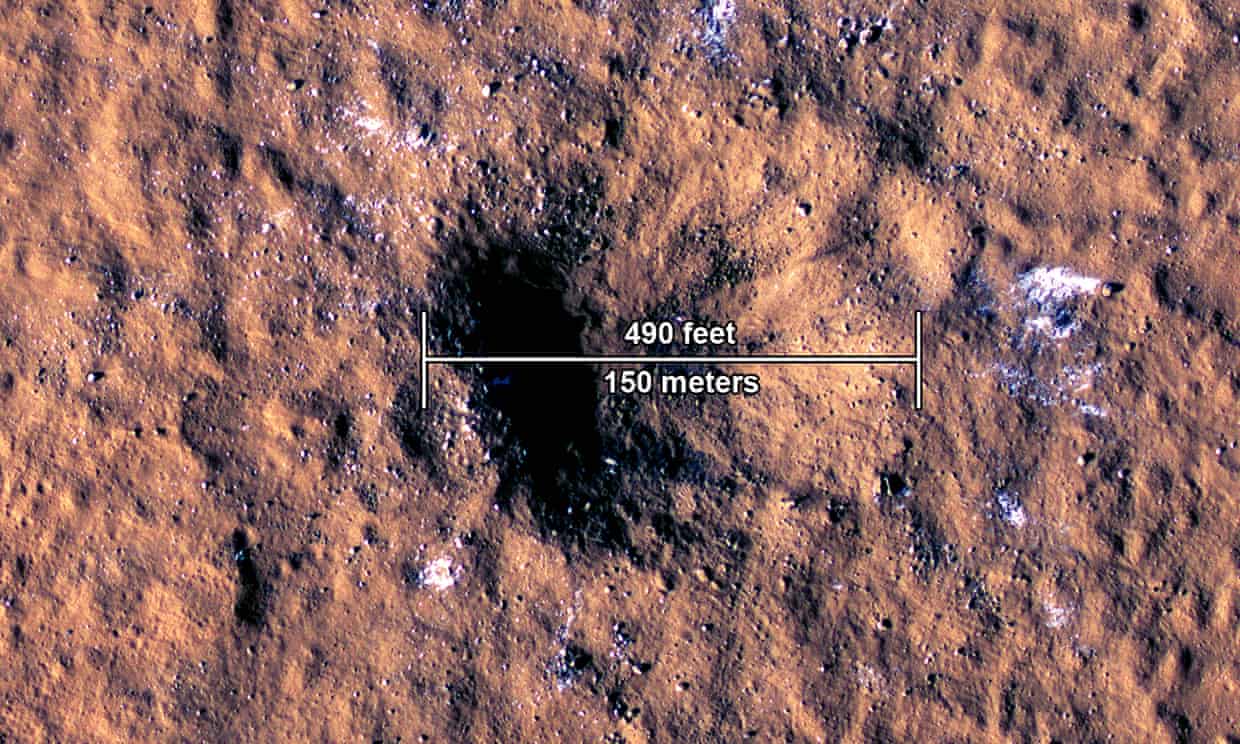 Another Problematic Launch Expected as China Seeks to Complete Its Space Station
China rolled out its Long March 5B rocket on Tuesday in anticipation of its upcoming liftoff to place the third and final piece of the Tiangong space station in orbit. It's all very exciting, but an out-of-control core module will likely result, as was the case on three previous occasions. The heavy-lift rocket was transported to the pad on Tuesday, carrying a 23-ton lab module named Mengtian (which translates to "dreaming of heavens"). It took about three hours for the Long March 5B to make the nearly 2 mile (3 kilometer) journey at the Wenchang Spacecraft Launch Site, according to China National Space Administration (CNSA).
Read more at: yahoo news

NASA and ESA Agree on Next Steps to Return Mars Samples to Earth
The next step in the unprecedented campaign to return scientifically selected samples from Mars was made on Oct. 19 with a formal agreement between NASA and its partner ESA (European Space Agency). The two agencies will proceed with the creation of a sample tube depot on Mars. The sample depot, or cache, will be at "Three Forks," an area located near the base of an ancient river delta in Jezero Crater.
This cache will contain samples from carefully selected rocks on the surface of Mars – samples that can help tell the story of Jezero Crater's history and how Mars evolved, and could perhaps even contain signs of ancient life. Scientists believe the cored samples from the delta's fine-grained sedimentary rocks – deposited in a lake billions of years ago – are the mostly likely to contain indicators of whether microbial life existed when Mars' climate was much different than what it is today.
Read more at: NASA
SPACE HAZARDS & STM
International Space Station Experiments Reveal Risks For Future Human Space Flights
An international team of researchers has conducted a long-term experiment aboard the International Space Station to test the effect of space radiation on mouse embryonic stem cells. Their findings will contribute to helping scientists better assess the safety and risks related to space radiation for future human space flights.
The team published their findings in the journal Heliyon on August 18, 2022.
Read more at: phys.org
Listen To The Eerie Sounds Of A Solar Storm Hitting The Earth's Magnetic Field
Put horror movies and games aside for a few minutes to listen to something truly unsettling this Halloween season. The European Space Agency has released audio of what our planet's magnetic field sounds like. While it protects us from cosmic radiation and charged particles from solar winds, it turns out that the magnetic field has an unnerving rumble.
You can't exactly point a microphone at the sky and hear the magnetic field (nor can we see it). Scientists from the Technical University of Denmark converted data collected by the ESA's three Swarm satellites into sound, representing both the magnetic field and a solar storm.
Read more at: Engadget
Asteroid the Size of One World Trade Center Set for Close Shave With Earth
A gargantuan asteroid measuring between 1,000 and 2,430 feet in diameter, is due to fly past Earth on November 1. The asteroid, named 2022 RM4, is traveling at speeds of roughly 52,500 miles per hour, and is expected to sail past the Earth at a distance of 1,427,801 miles. In comparison, the moon is only 238,900 miles away, and our nearest planetary neighbor, Venus, is 38 million miles away at its closest point. The One World Trade Center building measures 1,792 feet tall at its tip.
Read more at: newsweek
Tree Rings Offer Insight Into Devastating Radiation Storms
A University of Queensland study has shed new light on a mysterious, unpredictable and potentially devastating kind of astrophysical event.
A team led by Dr. Benjamin Pope from UQ's School of Mathematics and Physics applied cutting edge statistics to data from millennia-old trees, to find out more about radiation "storms."
"These huge bursts of cosmic radiation, known as Miyake Events, have occurred approximately once every thousand years, but what causes them is unclear," Dr. Pope said.
Read more at: phys.org
A Monstrously Large, 'Potentially Hazardous' Asteroid Will Zip Through Earth's Orbit On Halloween
A newly discovered, "potentially hazardous" asteroid almost the size of the world's tallest skyscraper is set to tumble past Earth just in time for Halloween, according to NASA.
The asteroid, called 2022 RM4, has an estimated diameter of between 1,083 and 2,428 feet (330 and 740 meters) — just under the height of Dubai's 2,716-foot-tall (828 m) Burj Khalifa, the tallest building in the world. It will zoom past our planet at around 52,500 mph (84,500 km/h), or roughly 68 times the speed of sound.
Read more at: livescience
Fireball From Beyond Brightens Night Sky From Southern Utah To Tucson To California
Scientists aren't officially saying it was a meteor, but it was a meteor. 
A fireball lit up the sky throughout the region from Cedar City to Mesquite at 7:53 p.m. MDT on Monday night. Captured on some doorbell cameras, the meteor could be seen brightening and seemingly breaking up enough that many on social media reported thinking that the meteorite remnants must have landed in Milford. 
Read more at: stgeorgeutah
COMMERCIAL SPACE
Isro's Heaviest Rocket Successfully Places 36 Oneweb Satellites Into Orbits
In order to solidify its position in the worldwide market for commercial satellite launches, India's space agency Indian Space Research Organisation (ISRO) launched 36 satellites using its biggest rocket just after midnight on Sunday. The rocket successfully placed 36 OneWeb satellites into orbits, confirmed ISRO. 
These satellites are owned by the London-based communications company OneWeb, in which India's Bharti Enterprises is a significant shareholder, and were launched by the Indian Space Research Organization (ISRO) on the rocket LVM3.
Read more at: wionews
Firefly Aerospace Adds Former NASA Administrator James Bridenstine to its Advisory Board
Firefly Aerospace ("Firefly" or "the Company"), a new space leader in launch, spacecraft, and in-space services, announced today that former NASA Administrator James Bridenstine, who led the space agency in advancing its aeronautics, science and space exploration objectives, will be joining the Company's Advisory Board, effective immediately. 
"We're honored to welcome Jim, a visionary leader in aeronautics and space exploration, to the Firefly Advisory Board," said Bill Weber, Firefly CEO.
Read more at: prnewswire
Rocket Factory Augsburg Talks Reusability Plans And 3D Printing
In a recent interview with NASASpaceflight, Rocket Factory Augsburg (RFA) co-founder and COO Dr. Stefan Brieschenk talked about current manufacturing methods and upcoming plans for its RFA One rocket.  
Rocket Factory Augsburg is a German launch startup, based in the city of Augsburg. With the ultimate goal of building rockets like cars, the RFA One rocket is RFA's first launcher in development.
RFA is currently preparing for its first launch, which Dr. Brieschenk describes as a pathfinder.
Read more at: NASAspaceflight
Polaris Dawn Crewed Mission Could Suffer Additional Delays
A billionaire-backed private astronaut mission on a SpaceX Crew Dragon has slipped from late this year to March 2023 and could be further delayed, in part for issues beyond its control.
The Polaris Program, an initiative announced in February by Shift4 founder Jared Isaacman, originally planned its first Crew Dragon mission, Polaris Dawn, to fly in the fourth quarter of this year. The four-person crew, which includes Isaacman, will perform the first spacewalk from a Crew Dragon spacecraft and fly to a higher altitude than previous crewed orbital spaceflights.
Read more at: Spacenews
On Eve Of First Launch, Relativity Space Seeks To Join SpaceX As "Disruptor"
Relativity Space is preparing to roll its Terran 1 rocket out to the launch pad in Florida in the next few weeks, setting the stage for its debut flight.
While the rocket is modest in scope, with a capacity to loft about 1 metric ton into low-Earth orbit, the company plans to use this vehicle as a demonstrator for a much larger booster, the Terran R rocket. This ambitious rocket is intended to be a fully reusable vehicle with a payload capacity slightly larger than SpaceX's Falcon 9 rocket.
Read more at: Arstechnica

Quantum Space Announces First Cislunar Mission
Quantum Space, a company founded earlier this year to develop spacecraft platforms in cislunar space, announced plans Oct. 26 for its first smallsat pathfinder mission that will collect space situational awareness data.
The QS-1 spacecraft, scheduled to launch in October 2024, will operate in cislunar space and carry a space situational awareness payload provided by GEOST as well as hosted payloads from other customers. Blue Canyon will provide the bus for the spacecraft, which will have a mass of up to 400 kilograms.
Read more at: Spacenews
Elon Musk's SpaceX Partners with Philippine Tycoon on Satellite Service
Billionaire Elon Musk's Space Exploration Technologies Corp (SpaceX) is expanding into the Philippines by offering satellite broadband service to businesses and the government, his local partner said on Thursday.
Data Lake Inc, a Philippine-based firm partly owned by tycoon Henry Sy Jr, said it signed a deal to be the first partner of SpaceX's Starlink in Southeast Asia.
"The Philippines is an archipelago, and connecting our country to the wider world often requires extensive infrastructure," Data Lake Chairman Anthony Almeda said in a statement.
Read more at: Reuters
Amazon To Open New Kirkland Plant To Build Project Kuiper Satellites
Amazon is opening a new production facility in Kirkland to build satellites for Project Kuiper, a program that the company says will help increase broadband access around the world.
Through Project Kuiper, Amazon plans to launch more than 3,000 satellites into low Earth orbit in order to provide high-speed, low-latency broadband to homes, schools, hospitals and businesses in places that don't currently have reliable internet connectivity.
Read more at: seattletimes
SCIENCE AND TECHNOLOGY
NASA Prepares To Break The Sound Barrier With Lockheed Martin's X-59
With the help of NASA's QueSST mission, aeronautical innovators hope to break the sound barrier once more, but this time in a totally different fashion that could one day allow all of us to fly by air at speeds equal to or faster than any of the X-1 pilots who went supersonic.
"That first supersonic flight was such a tremendous achievement, and now you look at how far we've come since then. What we're doing now is the culmination of so much of their work," said Catherine Bahm, an aeronautical engineer at NASA's Armstrong Flight Research Center in California.
Read more at: interesting engineering
Researchers Create Lunar Regolith Bricks That Could Be Used To Construct Artemis Base Camp
As part of NASA's Artemis program to establish a long-term presence on the moon, it aims to build an Artemis base camp that includes a modern lunar cabin, rover and mobile home. This fixed habitat could potentially be constructed with bricks made of lunar regolith and saltwater, thanks to a recent discovery from a team of UCF researchers.
Read more at: phys.org
Leftover Hardware From Mars Mission To Be Used On The Moon
On May 5, 2022, the seismometer on board the InSight lander recorded a quake of magnitude 4.7 on the Martian surface, despite the epicenter being 2,250 km from the lander. It was one of the largest quakes recorded on Mars and the largest recorded by the Insight mission. In September, in the first measurement of its kind, the instrument registered a quake generated by a meteorite impact on Mars.
InSight's seismometer is called the Seismic Experiment for Internal Structure (or SEIS), and it has recorded these and 20 odd additional quakes. Now, an instrument based on the same design will measure ground vibrations on the far side of the Moon, the first seismographs on our neighbor since the Apollo era.
Read more at: arstechnica
How Nuclear Technology Will Get Us to Mars Faster Than Ever
You can't get all the way to Mars without fuel – and a lot of it.
Chemical propulsion has been the standard for spaceflight for decades, but if humans are to travel to Mars, they need a propulsion technology much more powerful.
"When you get into needing the level of power it takes to advance our exploration of the Moon and send humans to Mars, the only way to do it is nuclear power," said Rob Chambers, Director of Commercial Civil Space Strategy and Business Development at Lockheed Martin.
"If you want to be able to explore cost-effectively, be Earth-independent and make going to Mars feasible, you need nuclear systems." 
Read more at: lockheed martin
Beaming Clean Energy From Space – Caltech's "Extraordinary and Unprecedented Project"
Technology capable of collecting solar power in space and beaming it to Earth to provide a global supply of clean and affordable energy was once considered science fiction. Now it is moving closer to reality. Through the Space-based Solar Power Project (SSPP), a team of California Institute of Technology (Caltech) researchers is working to deploy a constellation of modular spacecraft that collect sunlight, transform it into electricity, then wirelessly transmit that electricity wherever it is needed. They could even send it to places that currently have no access to reliable power.
Read more at: scitechdaily
SPACE POLICY
Artemis Accords: An Alliance to Take the World, Not Just the U.S., to the Moon and Beyond
But the second great space race is not set to look much like the first one back in the 1960s. So to speak, it won't be one or two superpower nations duking it out for space superiority. But instead, groups of nations will pool their resources into grand, multinational collaborations that aim to be a downside more sustainable than what the Americans and Soviets achieved 50 to 60 years ago.

These are the Artemis Accords, and they're here to ensure a geopolitically divided Moon, as feared by countless futurist philosophers, doesn't come to pass. Let's take a look at the details. This novel collective of nations was named in honor of the upcoming NASA/ESA manned missions to the Moon and possibly Mars later on.
Read more at: auto evolution
Report Offers Wide-Ranging Recommendations On Space Safety
A new report by The Aerospace Corporation calls for a more holistic approach to space safety, from avoiding collisions in orbit to cybersecurity.
The 2022 Space Safety Compendium, released Oct. 19, offers a wide range of recommendations on topics that include space situational awareness, launch and reentry, spectrum and cybersecurity, and human spaceflight safety. It also identifies several cross-cutting issues, including workforce, diversity and development of norms of behavior.
Read more at: spacenews
ISS Partners Weigh Options For Using Commercial Space Stations
Partner agencies on the International Space Station program say they are in discussions about how they will use, and pay for, commercial space stations that will replace it.
Representatives of several countries currently involved in the ISS said during a panel at the American Institute of Aeronautics and Astronautics' ASCEND conference here Oct. 25 that they are looking at options for how to continue work they currently do on the ISS on the commercial space stations in low Earth orbit (LEO) NASA is helping develop to replace it at the end of the decade.
Read more at: spacenews
Ukraine Updates: US Warns Russia Over Satellites Threats
Washington has warned Moscow against shooting down US satellites after Russian threats that it might target them.
"I would just say that any attack on US infrastructure will be met with a response and will be met with a response appropriate to the threat that's posed to our infrastructure," US National Security Council communications director John Kirby said Thursday.
A senior Russian Foreign Ministry official had earlier said that commercial satellites from the United States and its allies could become legitimate targets for Russia if they were involved in the war in Ukraine.
Read more at: DW.com
SPACE DEFENCE
Blowing Satellites Up Is Harder Than Putin Would Have You Believe
Russia's invasion of Ukraine has shone a spotlight on the powerful new capabilities of commercial satellites—and painted a target on their back.
Russian officials have mused about attacks on these spacecraft. Diplomat Konstantin Vorontsov told a UN meeting this week that "quasi-civilian infrastructure may become a legitimate target for retaliation."
Read more at: yahoo
Space Force To Activate Sensor On Wide-Field-Of-View Missile Warning Satellite
A U.S. Space Force infrared sensing demonstration satellite launched in July will soon start receiving data, the Space Systems Command announced Oct. 24.
"The Wide Field of View (WFOV) geosynchronous Earth orbit (GEO) demonstration satellite is set to receive 'first light' data from its sensor after calibration is completed," the command said. 
The WFOV is a mid-sized spacecraft made  by Millennium Space with an infrared sensor payload developed by L3Harris under a 2016 contract from the U.S. Air Force. It launched in July on a United Launch Alliance Atlas 5 rocket.
Read more at: spacenews
Russia Escalates Rhetoric On Commercial Satellites, Calls Them 'Legitimate Targets For Retaliation'
A Russian official speaking at a United Nations meeting on outer space security, criticized Western nations' use of commercial satellites in military operations, adding fuel to previous declarations that Russia could target space networks operated by private companies. 
Konstantin Vorontsov, deputy director of the Russian foreign ministry's department for non-proliferation and arms, called the West's use of commercial satellites "an extremely dangerous trend that … has become apparent during the latest developments in Ukraine."
Read more at: spacenews
DIU Selects Startups For U.S. Military Weather Modeling Project
The Defense Innovation Unit and the U.S. Air Force announced Oct. 26 they selected five companies to help build weather models using data from satellites, aerial and terrestrial sensors. 
Muon Space, Tomorrow.io, Windborne Systems, Greensight and NextGen Federal Systems won contracts to demonstrate the integration of commercial data into the U.S. Air Force Weather Virtual Private Cloud. 
The Air Force 557th Weather Wing, the military's primary meteorology center, uses data from a wide range of sources to build weather models, which the U.S. military relies upon to plan operations and for long-term research to understand the impact of climate change. 
Read more at: Spacenews
U.S. National Defense Strategy Calls For 'Resilient, Redundant' Space Networks
The unclassified version of the U.S. national defense strategy released by the Defense Department Oct. 27 forecasts a decades-long competition with China and lays out priorities for the military going forward. 
In the introduction to the strategy, Defense Secretary Lloyd Austin says China "remains our most consequential strategic competitor for the coming decades." Meanwhile, the United States will continue to respond to Russia's "reckless invasion of Ukraine" and support efforts by the NATO alliance.
 With regard to outer space, the strategy warns that China and other rivals are likely to target U.S. satellites in a conflict in order to cripple the military's access to critical services, and calls for greater use of commercial space technologies to enhance U.S. defense. 
Read more at: Spacenews
VARIOUS
Next Artemis 1 Launch Attempt On Schedule For Mid-November
Preparations for the next attempt to launch the Space Launch System rocket on the Artemis 1 mission remain on schedule for the middle of November, but agency officials said launch opportunities may be limited if it slips to later in the month because of the Thanksgiving holiday.
NASA and industry officials participating in a panel at the American Astronautical Society's Wernher von Braun Memorial Symposium here Oct. 27 said preparations for the next Artemis 1 launch attempt remain on track, with a rollout of the rocket from the Vehicle Assembly Building to Launch Complex 39B on Nov. 4.
Read more at: spacenews
Rooms With A View: Astronauts Have Design Ideas For New Space Stations
Wraparound windows and clever design should be key features in the next generation of space stations, astronauts say. The SpaceX Crew-4 cohort of four astronauts, who returned to Earth on Oct. 14, have several years of spaceflight experience between them working on the two-decade-old International Space Station (ISS). They told reporters in a press conference Thursday (Oct. 20) that their orbiting home was a great place to be, but the next generation of stations can take the tech even further.
Read more at: space.com
Russian Cargo Spacecraft Ends Mission With Fiery Return To Earth
A Russian cargo ship ended its eight-month orbital stay with an intentional death dive into Earth's atmosphere on Sunday night (Oct. 23).
The uncrewed Progress 80 freighter, which brought more than 3 tons of food and supplies to the International Space Station (ISS) in February, undocked from the orbiting lab at 6:46 p.m. EDT (2246 GMT) on Sunday.
Read more at: Space.com
55 Years Ago, Russia Changed Spaceflight Forever — And Lied About It A Little
After the USSR launched Sputnik 1 in 1957, the space race quickly gained momentum. A decade later, the first space probe that entered the atmosphere of another planet while still operational did so successfully — 55 years ago today, on October 18, 1967. Venera 4 arrived on Venus and began sending data about the planet's atmosphere until it lost contact thereafter, also making it the first space probe to send data from inside the atmosphere of another planet.
Read more at: Inverse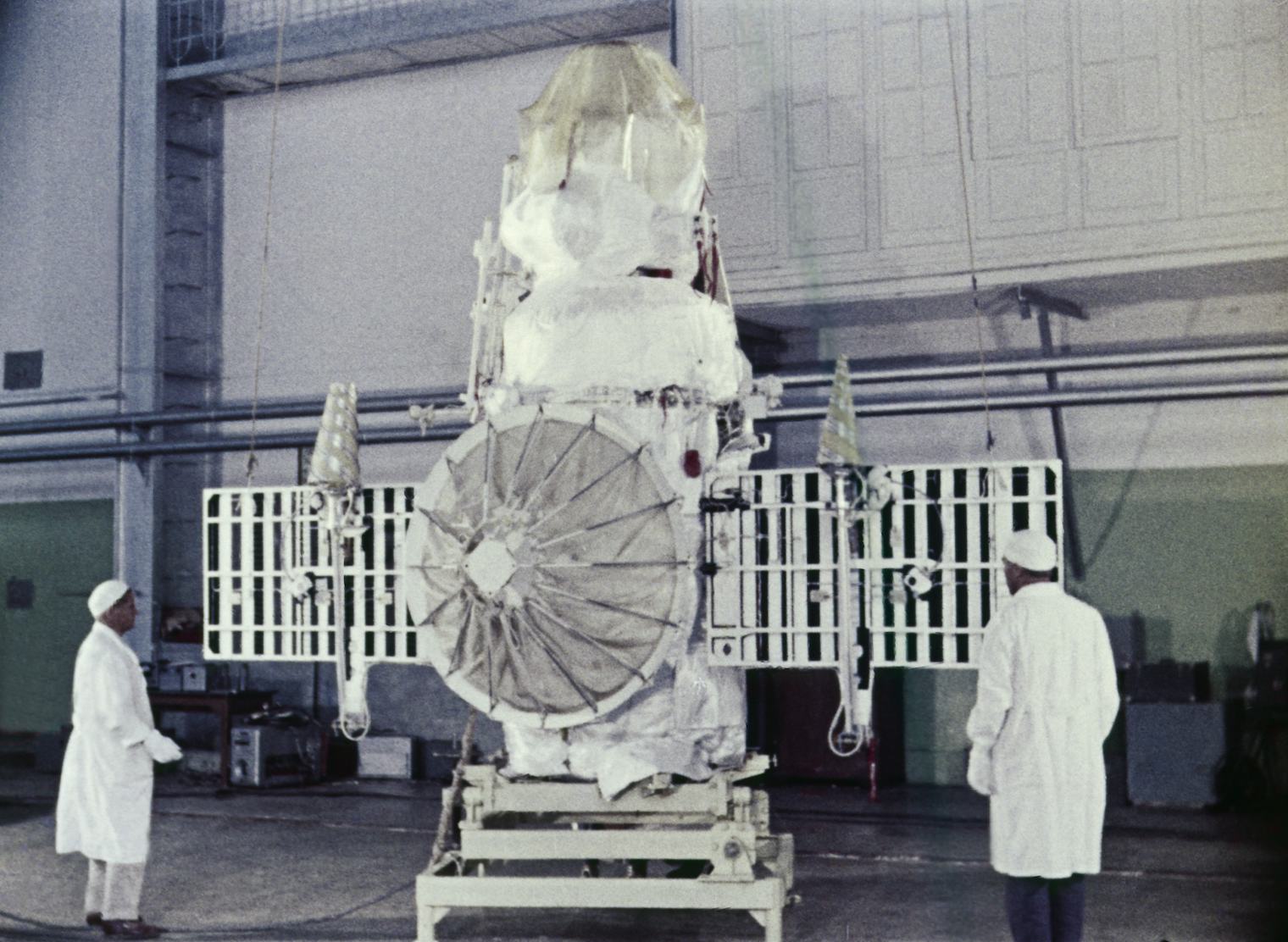 Galileo's Impressive Achievements
To paraphrase Galileo Galilei — the great Italian astronomer, philosopher, engineer, mathematician and physicist — positioning, navigation and timing (PNT) does not revolve around GPS. The European GNSS named after the father of modern science (as Albert Einstein called him) is making great strides and currently provides more accurate positioning than the United States' GPS, Russia's GLONASS, or China's BeiDou-3. In fact, there are more Galileo satellites providing an L5 signal than GPS satellites.
Read more at: GPSworld
The 25 Scariest Spaceflight Moments Show Dangers In Orbit And Beyond
Setting human spaceflight records and flying people in space requires a critical mindset. Key systems are tested. Astronauts and cosmonauts undergo reams of emergency training. This is all to get ready for times when things go wrong during launch or in space.
These 25 emergencies in space, from orbital space to the ground, demonstrate tough times on the space shuttle, International Space Station and from international space programs. In each case shown here, training, creativity and a bit of luck perfectly came together to overcome a serious issue without casualties.
Read more at: Space.com
15 Years Ago: Two Women Commanders Shake Hands in Space
An historic handshake in space took place on Oct. 25, 2007. For the first time, a woman commander aboard the International Space Station, NASA astronaut Peggy A. Whitson, greeted a woman commander of a visiting space shuttle, NASA astronaut Pamela A. Melroy. In the intervening 15 years, women's representation on space crews increased significantly, aboard the space station, with women present nearly continuously for the past four years, and NASA's commercial crew vehicles, with women often comprising half the crew. In October 2022, the second time a woman space station commander, Samantha Cristoforetti of the European Space Agency, greeted the woman commander of the arriving SpaceX Crew Dragon vehicle, NASA astronaut Nicole A. Mann, it no longer seemed unusual. These experiences will help NASA land the first woman and the first person of color on the Moon as part of the Artemis program.
Read more at: NASA