TOP NEWS
Watch NASA Light A Fire On A Spaceship On Purpose. You Know, For Science.
A fiery experiment deliberately lit in a cargo spacecraft last month monitored larger and more dynamic flames than most previous efforts to learn how fire works in space have.
The Spacecraft Fire Safety Experiment-V (Saffire-V), which occurred after a Northrop Grumman Cygnus spacecraft departed the International Space Station on Jan. 6, is the latest in a series of fire studies to protect astronauts on long-term missions.
Saffire-V lasted 26 hours, then the Cygnus spacecraft, which was filled with trash, burned up safely in Earth's atmosphere as planned.
Read more at: Space.com
ESA And UNOOSA Illustrate Space Debris Problem
To raise awareness about this growing problem, ESA and the United Nations Office for Outer Space Affairs (UNOOSA) have created a series of nine infographics and podcast episodes that tell the story of space debris, explain the risks and illustrate the solutions available to ensure future space exploration remains sustainable.
Read more at: ESA
Indian Space Startup Fires World's First Fully 3D Printed Rocket Engine As Others Play Catch Up
Rocket engines are tough to build, and they're even tougher to 3D print because all the details have to be 'just right' for the rocket to work successfully. But, an Indian space startup based out of Chennai has pulled off this mammothian task.
Agnikul Cosmos has successfully fired its higher stage semi-cryogenic rocket engine called Agnilet. "This entire engine, Agnilet, is just one piece of hardware from start to finish and has zero assembled parts," said co-founder and CEO Srinath Ravichandran.
Read more at: Business insider
SPACE HAZARDS AND STM
A Russian 'Space Truck' Just Burst Into Flames On Purpose And The Photo Is Amazing
A Russian "space truck" has met its fiery doom on its way home to Earth.
The cargo ship Progress MS-15 from Roscosmos, the Russian Space Agency, broke apart as it burned up in Earth's atmosphere after undocking from the International Space Station yesterday (Feb. 8). The astronauts living on the space station watched the craft's fiery demise from above and shared the experience on social media.
"Farewell, Progress 76P MS-15! #Russian cargo spacecraft undocked from #ISS, and successfully burned up," JAXA astronaut Soichi Noguchi tweeted along with a photo taken from the space station, showing the cargo craft burning up in Earth's atmosphere below.
Read more at: Space.com
NASA Wants to Set a New Radiation Limit for Astronauts
Now that the Biden administration has signaled its support for NASA's Artemis mission to the moon, maybe we should think about the risks astronauts will face when they get there, and what might happen during a longer trip to Mars.
Of all the things to worry about while traveling in space—equipment malfunctions, the weird effects of weightlessness, collisions with space debris, and just being far away—one the most difficult to deal with is the health effects of radiation from the sun or cosmic events.
Read more at: Wired
Annual Space Horizons Conference Discusses Sustainability In Space
Scientists, researchers and space enthusiasts convened at Brown's annual Space Horizons conference from Feb. 8-12, where they attempted to answer some of the most pressing questions in space exploration and research: How can we ecologically sustain human activity on the moon? How do you maintain a cooperative international society beyond Earth? And how do you convince the public that a space exploration program is even necessary?
Speakers from across the globe with expertise ranging from ecology to public policy to theology gathered virtually at the event, titled "Making Space Sustainable," said Adjunct Associate Professor of Engineering and co-organizer of the event Rick Fleeter '76 PhD '81.
Read more at: Brown daily herald
How Safe Are We From Falling Satellites Or Space Junk?
Over the coming years the number of space debris, sometimes referred to "space junk" is set to grow rapidly (Wang, X. & Liu, J. 2019). When satellites reach the end of their life cycle, the large majority of these satellites end up floating around stuck in their space orbits for a long period. These redundant satellites increase the hazard of other satellites colliding with them or a future scenario of a satellite falling back to earth onto populated area. In a space debris incident in 2007, the Chinese weather satellite Fungyun FY-1C was destroyed by a missile test creating space debris, which caused much international criticism (BBC News 2020a).
Read more at: esignals
NEW SPACE/COMMERCIAL
Lockheed Martin Selects ABL Rocket For Shetland Launches
Aerospace giant Lockheed Martin has selected the rocket it will use to kick-start space launches from the island of Unst in Shetland.
The vehicle, called the RS1, will be provided by ABL Space Systems of El Segundo, California.
If everything comes together, an inaugural flight could occur next year.
Lockheed is looking to stimulate the launch business in the UK to take advantage of a rapidly expanding market for small satellites.
Read more at: BBC
SCIENCE AND TECHNOLOGY
Gaganyaan Astronauts May Splash Off Gujarat Coast After Spaceflight
Gujarat may have the honour of welcoming again the Gaganyaan astronauts once they return after their seven-day mission in space.
Nilesh Desai, director of Isro's Ahmedabad-based Space Application Centre (SAC), stated this at a presentation on Saturday organized by Space Geeks Mumbai and different organisations.
"As of now, the mission is expected to splashdown off Veraval in Gujarat in the Arabian Sea, and as a contingency measure even a zone in the Bay of Bengal is being considered. The exact place will be finalized soon,'' he said in the webinar.
Read more at: Times of India
China's First Space Station Module Is Ready For Flight
The core module for China's planned orbital space station has passed a flight acceptance review and will now launch in the coming months, marking the beginning of a flurry of major missions by the country.
The announcement from China Manned Space, the country's human spaceflight agency onJan. 14 comes as China gears up for the construction phase of its own, three-module space station.
Read more at: Space.com
ISRO Plans New Propulsion For Deep Space Missions
Indian Space Research Organisation (Isro) is exploring the possibility of developing a new propulsion technology to fuel spacecraft for its future deep space missions.
On January 28, Isro's UR Rao Satellite Centre in Bengaluru issued an invitation for 'expression of interest' for "design and modelling; simulation and analysis; testing and qualification of 100W Radioisotope Thermoelectric Generator (RTEG) without radio isotope.'' Isro calls it alpha source thermoelectric propulsion technology.
Read more at: Times of India
The First Rule for Sending a Science Experiment to Space
It took more than a year for Deok-Ho Kim, a biomedical engineer at Johns Hopkins University, to prepare for one monthlong experiment. Kim studies cardiac health, working toward developing therapeutics to counter heart diseases. For his experiment, his team developed a leakproof tissue chamber the size of a smartphone and a remote magnet monitor to measure the beating of their experiment's heart tissues. And then right before the start of his experiment, Kim sent his experiment away to be conducted by strangers he had never met, in a place he had never set foot.
Read more at: Slate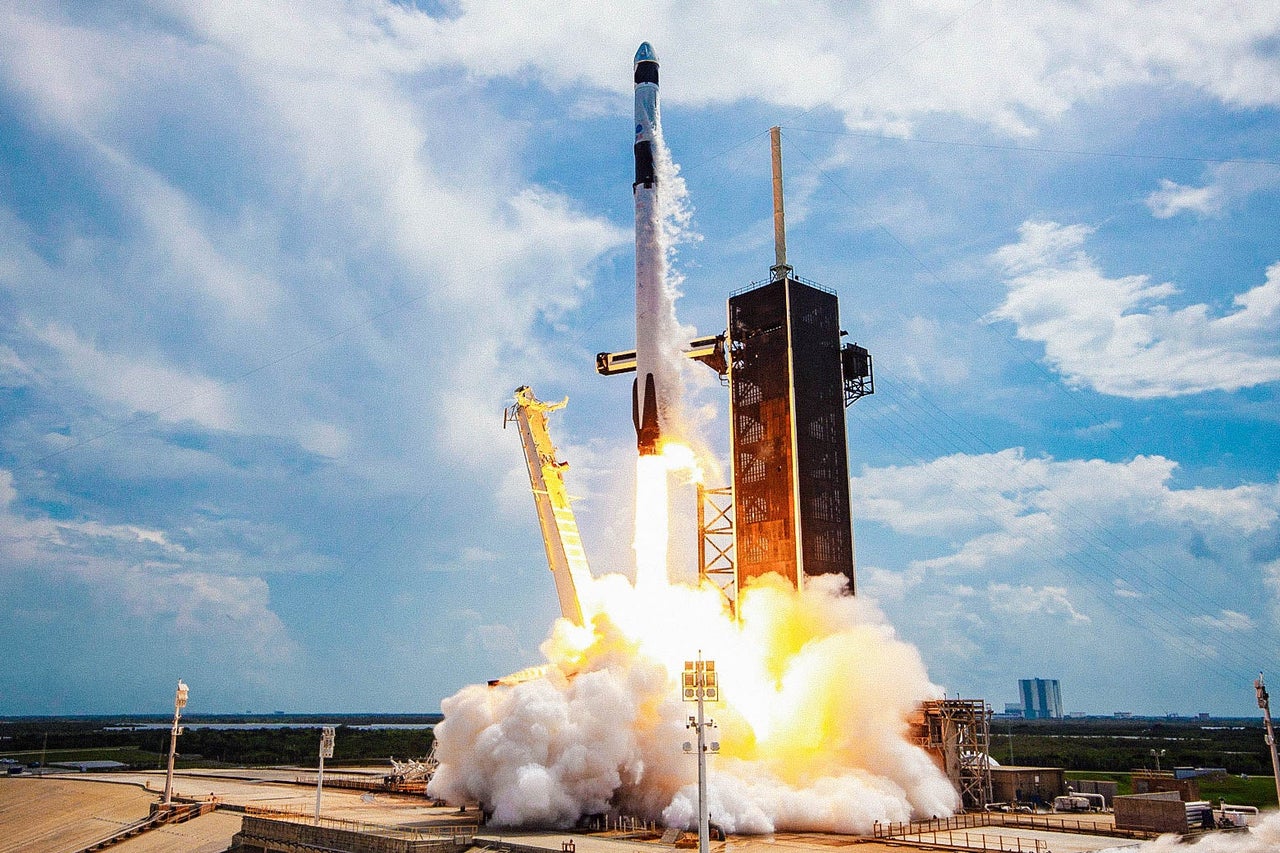 SPACE POLICY
The Biden Administration Endorses NASA's Artemis, The Space Force
One of the nagging questions that have haunted space enthusiasts with the change of administrations has been what President Biden will do with the Artemis program to return to the moon as well as the Space Force. 
One might be forgiven for feeling some concern. Biden has been quite diligent in erasing Trump priorities ranging from energy production to immigration policy at the stroke of a pen. He was part of the Obama administration that abruptly cancelled the Constellation program.
Read more at: Hill
SPACE DEFENSE
DoD Grapples With How To Bring In New Space Technology To Military Systems
The U.S. military has built "very exquisite" satellites that operate for decades and is now looking to transition to a different space architecture that takes advantage of emerging technologies, Steve Butow, director of the Defense Innovation Unit's space portfolio, said Feb. 10 at the SmallSat Symposium.
"If we're going to do all the great things that we want to do in space in the 21st century, we have to migrate" to a new model where the government can develop modular systems using commoditized satellite buses and components, Butow said.
Read more at: Spacenews
DoD Space Agency Launching Experiments In Preparation For 2022 Satellite Deployments
The Pentagon's space agency this year will launch a series of experiments — including satellites with laser links and missile-tracking sensors — as is prepares to begin deploying a network of satellites in low-Earth orbit in 2022.
One of those experiments is Mandrake 2 — a pair of small spacecraft equipped with optical crosslinks that was scheduled to launch Jan. 24 on SpaceX's massive rideshare Transporter-1. The satellites were accidentally damaged during payload processing and didn't make the launch. They are now being repaired and will fly to orbit this summer on SpaceX's next rideshare mission Transporter-2, said Derek Tournear, director of the Defense Department's Space Development Agency.
Read more at: Spacenews
VARIOUS
2021 — Year of the Space Station?
Circling the Earth 16 times a day 250 miles up, space stations are among humanity's most impressive achievements. The International Space Station (ISS) is a partnership between NASA and Russia's Roscosmos, with contributions on the American side from Canada, Japan, Europe and other countries. Its future is far from clear, however, and dependent on decisions that will be made this year.
Read more at: Hill
Op-ed | In Defense of Regulation
Steve Blank's op-ed of Feb. 5, "The FAA and SpaceX," demands an informed rebuttal. Public debate over the appropriate level of regulation within any industry is appropriate in our democracy. However, Mr. Blank's arguments lack grounding in the history and nature of private space activity regulation and he erroneously conflates that mission with the FAA's primary task of regulating the safest transportation system in human history.
Read more at: Spacenews
Turkey Unveils Space Program Including 2023 Moon Mission
Turkish President Recep Tayyip Erdogan unveiled an ambitious 10-year space program for his country Tuesday that includes missions to the moon, sending Turkish astronauts into space and developing internationally viable satellite systems.
Erdogan announced the program, seen as part of his vision for placing Turkey in expanded regional and global role, during a live televised event laced with special effects.
Read more at: ABC news