TOP NEWS
NASA's Mars Helicopter's Third Flight Goes Farther, Faster Than Before
NASA's mini helicopter Ingenuity on Sunday successfully completed its third flight on Mars, moving farther and faster than ever before, with a peak speed of 6.6 feet per second.
After two initial flights during which the craft hovered above the Red Planet's surface, the helicopter on this third flight covered 64 feet (50 meters) of distance, reaching the speed of 6.6 feet per second (two meters per second), or four miles per hour in this latest flight.
"Today's flight was what we planned for, and yet it was nothing short of amazing," said Dave Lavery, the Ingenuity project's program executive.
Read more at: Marsdaily
NASA Chooses SpaceX To Land Next Astronauts On The Moon
NASA has selected SpaceX to build a spacecraft to land the first astronauts on the Moon since 1972, choosing Elon Musk's space company over competing proposals from Jeff Bezos's Blue Origin and the aerospace firm Dynetics, officials announced Friday.
A derivative of SpaceX's next-generation Starship vehicle will carry the astronauts to the lunar surface and launch the crew members back off the Moon. Under NASA's plans, the astronauts will blast off from Earth on the agency's heavy-lift Space Launch System rocket and fly an Orion capsule to the vicinity of the Moon, then transfer into the Starship for the final leg of the journey to the surface.
Read more at: Spaceflight Now
False Alarm: No Space Junk Threat After All To SpaceX Crew
SpaceX's four astronauts had barely settled into orbit last Friday when they were ordered back into their spacesuits because of a potential collision with orbiting junk.
It turns out there was no object and no threat, the U.S. Space Command acknowledged Monday. The false alarm is under review.
Lt. Col. Erin Dick, a spokeswoman for Space Command, said it was believed at the time that an object was going to come close to the newly launched SpaceX capsule carrying a crew to the International Space Station.
Read more at: heraldonline
Space Safety Institute
The Aerospace Corporation is establishing a Space Safety Institute to deliver independent technical support and assessments to enhance the safety of space and space-related activities for government, commercial, and international customers.
The Space Safety Institute will also provide a collaborative framework for supporting industry standards for safe space operations in all aspects – including launch, operating in space, reentry, and cyber – in addition to fundamental safety research and disseminating results through training, workshops, and publications.
Read more at: Aerospace
First Module of Russia's New Space Station to Be Ready for Launch in 2025, Roscosmos Announces
The first module of Russia's new space station will be ready for launch in 2025, this will be the Science Power Module, originally intended for the International Space Station (ISS), Russian State Space Corporation Roscosmos Director General Dmitry Rogozin announced on Tuesday.
In mid-April, the Russian Academy of Sciences announced that Russia would terminate its participation in the ISS project due to worn-out technical conditions and would create its own Orbital Service Station after 2025.
Read more at: Spacedaily
SpaceX's First Reused Crew Dragon Docks At Space Station With Four Crew-2 Astronauts
A used SpaceX Crew Dragon capsule carrying four astronauts to the International Space Station as part of the company's Crew-2 mission docked successfully at the orbiting lab early Saturday (April 24).
The Crew Dragon Endeavour, which launched SpaceX's first crewed flight for NASA in May 2020, linked up with the station's U.S. built Harmony module at 5:08 a.m. EDT (0908 GMT) as both spacecraft sailed 264 miles above the Indian Ocean.
Read more at: Space.com
Next Starliner Test Flights Slips To Late Summer
Boeing said April 17 that the next test flight of its CST-100 Starliner commercial crew vehicle won't take place until at least August, confirming a lengthy delay widely expected because of the schedule of other launches and International Space Station missions.
In a statement, Boeing said that the company and NASA are projecting the uncrewed Orbital Flight Test (OFT) 2 mission will take place in August or September. That date is "supported by a space station docking opportunity and the availability of the United Launch Alliance Atlas V rocket and Eastern Range."
Read more at: Spacenews
China Is Set to Launch First Module of Massive Space Station
Since the Soviet Union launched the first space station, Salyut 1, 50 years ago, humans have lived on a total of 11 such facilities in Earth orbit. China will soon add one more to that list. With the core module of the Chinese Space Station (CSS) scheduled to lift off at the end of April, the culmination of a project the nation's government initially envisioned in 1992 is finally entering the construction phase.
After the core module reaches space, China plans at least 10 more launches of other major modules, as well as crewed and cargo missions, to complete the station's assembly by the end of 2022.
Read more at: Scientific American
SpaceX Launches 4 Astronauts To Space Station, Nails Rocket Landing
SpaceX just launched its third astronaut mission in less than a year.
A slightly sooty Falcon 9 rocket topped with a Crew Dragon capsule took to the skies above NASA's Kennedy Space Center here at 5:49 a.m. EDT (0949 GMT) today (April 23), lighting up the predawn sky as it lifted off from the historic Pad 39A.
The launch kicked off SpaceX's Crew-2 mission, which will carry four astronauts — NASA's Shane Kimbrough and Megan McArthur, French astronaut Thomas Pesquet and Japanese spaceflyer Akihiko Hoshide — on a 24-hour flight to the International Space Station (ISS).
Read more at: Space.com
SPACE HAZARDS and STM
World's First Wooden Satellite Set To Launch In 2021 In Test Of Environmentally-Friendly Space Exploration
The first ever satellite made of wood is set to launch into orbit later this year as part of a project to test the use of sustainable materials in space.
The WISA Woodsat mission will gather data on the durability of plywood within the harsh conditions of space in order to assess whether future space stations or even spacecraft could be built out of wood.
The nanosatellite, which measures 10cm in length and weighs 1kg, will be exposed to extreme temperatures, vacuum pressure and space radiation over an extended period as it orbits the Earth at an altitude of 500 kilometres.
Read more at: Independent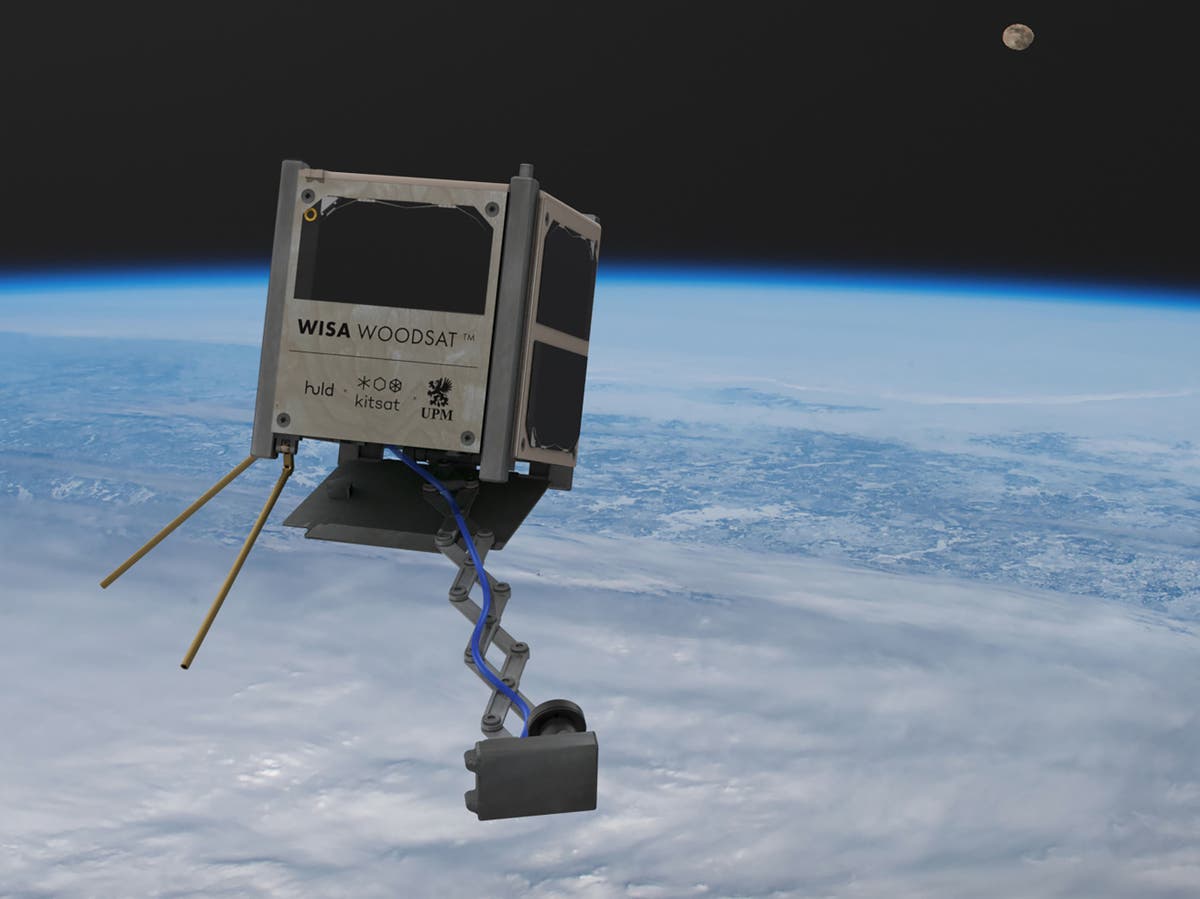 Space Force Sees Need For Civilian Agency To Manage Congestion
The U.S. Space Force is not too worried at this point that the growth of commercial space activity is creating safety issues. But things could change if space traffic and debris are not managed, said Gen. David Thompson, vice chief of space operations of the U.S. Space Force.
Commercial ventures such as space internet constellations and civil activities in low Earth orbit are positive developments, Thompson said in an interview with SpaceNews. The military supports this growth, he said, but would like to see a civilian agency in charge of managing traffic and regulating unsafe activities.
Read more at: Spacenews
Costa Rica Unveils Radar That Tracks Space Objects From A Farm
Surrounded by clear blue skies and fields of sugar cane crops on the Pacific coast, a farm in the northwest of Costa Rica is now home to a giant radar capable of tracking small objects in space that threaten the safety of astronauts and satellites.
Costa Rican President Carlos Alvarado and U.S. and Costa Rican astronauts on Thursday unveiled the four large reflective panels that make up the commercial radar, which is connected to the servers of aerospace company LeoLabs in San Francisco.
"This commercial radar is the most advanced that exists in the world," said Alvarado.
Read more at: Reuters
China's Hongyan Satellite Constellation Plan To Undergo Major Change: Source
The Chinese authorities in charge of the Hongyan project, China's satellite constellation and part of the nation's "new infrastructure" projects, say the project might undergo major changes according to the report from domestic news outlet thepaper.cn published on Monday.
"As we understand, relevant Chinese authorities are making overall planning about China's satellite constellation construction including the Hongyan and Hongyun projects. The Hongyan project might undergo major changes," said Ge Yujun, President of China Spacesat Co Ltd, a company based in China mainly engaged in research, manufacture and application of satellites.
Read more at: Globaltimes
Where Do Satellites Go to Die? Dr Space Junk Explains It All in New Book
One person's space trash is another's space treasure — and that's definitely true for Alice Gorman, an archaeologist specializing in the detritus of spaceflight.
Gorman was always interested in physics but ended up an archaeologist instead, specializing in Australian indigenous heritage preservation. In her new book, "Dr. Space Junk vs. the Universe: Archaeology and the Future" (MIT Press, 2019), she shares the story of how she came to combine the two fields, studying spaceflight as an archaeologist.
Read more at: Space.com
NEW SPACE/COMMERCIAL
NASA Contractor Launches Abu Dhabi Office As UAE Builds Space Race Reputation
ZIN Technologies, one of the oldest NASA prime contractors, has launched operations in Abu Dhabi as the UAE builds its reputation as one of the world's leading countries in space technology.
Zin Aerospace Ltd has been incorporated in the Abu Dhabi Global Market, the business district in the UAE capital, to provide space flight physical and life science instrument solutions.
Read more at: Arabian business
Ozmens' SNC Launches Sierra Space, an Independent Commercial Space Company
Sierra Nevada Corporation (SNC), the global aerospace and national security leader, announced the creation of Sierra Space, a new commercial space company. The new company's "space-as-a-service" business model will leverage cutting-edge technologies, such as Dream Chaser® spaceplanes and expandable LIFE™ habitats, within the fast-growing new space economy, which is projected to grow to $1.4T by 2030.
With assets transitioned from the SNC's Space Systems business area, Sierra Space will deliver the future of space transportation, destinations and infrastructure, including plans to offer the first free-flying commercial space station.
Read more at: SNCorp
SCIENCE AND TECHNOLOGY
M-42 Will Measure Radiation On The Moon
A long-term stay on the Moon would subject the human body to a high level of radiation, as radiation in space is generally many times stronger than it is on Earth. Before humans return to the Moon, the German Aerospace Center will send a small measuring device, the M-42 radiation detector, to Lacus Mortis to record radiation levels on the surface. It will travel there on board the commercial Peregrine Mission 1, which is scheduled to launch in late 2021.
M-42 weighs just 250 grams and is around 20 centimetres long. It will transmit radiation readings to Earth during its flight to the Moon and from the lunar surface.
Read more at: Spacedaily
Reusable Plane Project Aims For Low Orbit
China Aerospace Science and Industry Corp, a major defense contractor, plans to produce a reusable aerospace plane and put it into commercial flight by 2030.
The plane will take off from and land on a conventional runway like a jetliner and will be capable of flying in near space or even into outer space. The low-cost aircraft will have high-quality safety features and will be used to fulfill a wide range of operations such as space tourism, astronaut commuting, satellite deployment, cargo transportation and emergency rescue, the State-owned defense conglomerate said in an introduction board in front of a scale model of the new craft, which is on display at the 2021 China Space Conference.
Read more at: Chindaily
Astronauts Need A Fridge. Engineers Are Building One That Works In Zero Gravity – And Upside Down.
For astronauts to go on long missions to the moon or Mars, they need a refrigerator. But today's fridges aren't designed to work in zero gravity – or upside down if oriented that way when a spacecraft lands on another planet.
A team of engineers from Purdue University, Air Squared Inc., and Whirlpool Corporation is working on building a fridge for zero gravity that operates in different orientations and just as well as the one in your kitchen, giving astronauts access to longer-lasting and more nutritious food.
Read more at: Purdue
Stone Skipping Techniques Can Improve Reentry Of Space Vehicles
Skipping stones on a body of water is an age-old game, but developing a better understanding of the physics involved is crucial for more serious matters, such as water landings upon reentry of spaceflight vehicles or aircrafts.
In Physics of Fluids, by AIP Publishing, scientists from several universities in China reveal several key factors that influence the number of bounces a skipping stone or landing aircraft will undergo when hitting the water.
Read more at: Spacedaily
NASA's Perseverance Mars Rover Extracts First Oxygen from Red Planet
The growing list of "firsts" for Perseverance, NASA's newest six-wheeled robot on the Martian surface, includes converting some of the Red Planet's thin, carbon dioxide-rich atmosphere into oxygen. A toaster-size, experimental instrument aboard Perseverance called the Mars Oxygen In-Situ Resource Utilization Experiment (MOXIE) accomplished the task. The test took place April 20, the 60th Martian day, or sol, since the mission landed Feb. 18.
While the technology demonstration is just getting started, it could pave the way for science fiction to become science fact – isolating and storing oxygen on Mars to help power rockets that could lift astronauts off the planet's surface. Such devices also might one day provide breathable air for astronauts themselves.
Read more at: NASA
SPACE POLICY
Russia to Quit Int'l Space Station in 2025 – Reports
Russia will withdraw from the International Space Station (ISS) project in 2025 and notify its foreign partners of the decision, state media cited a senior government official as saying.
The ISS, which was launched in 1998 by the Russian and U.S. space agencies, has been a rare area of cooperation between Moscow and Washington amid sharply deteriorating relations. But the ISS, which has been continuously occupied for more than 20 years, is expected to be retired around 2030.
Read more at: Moscowtimes
China, Russia Welcome Int'l Partners In Moon Station Cooperation
China and Russia's aerospace authorities have invited all interested countries, international organizations and partners to cooperate in a moon station project.
The announcement was made by the China National Space Administration (CNSA) and its Russian counterpart Roscosmos at a conference for the international moon station in Nanjing, East China's Jiangsu province on Friday.
CNSA deputy director Wu Yanhua said China and Russia will build the moon station with other international partners. The station will be another important contribution by China and Russia to promote the long-term and sustainable development of United Nations (UN) outer space activities.
Read more at: Chinadaily
Dubai's Courts Of Space Launches International Working Group To Explore Space-Related Legal Innovations
Following the launch of the Courts of Space initiative in February 2021, the Dubai International Financial Centre (DIFC) Courts and the Dubai Future Foundation (DFF) today announced the formation of an international Working Group.
Consisting of public and private sector bodies and experts, the Working Group will be tasked with exploring space-related legal innovations and providing an outlook on potential outcomes of scenarios revolving around space-related disputes.
Read more at: zawya
Space May Become the New Wild West
In April 60 years ago, the world was euphoric. The first human had been in outer space, and with Yuri Gagarin's 108-minute orbit around the Earth, it was as if the future had landed on our planet. And the space race went into full throttle.
Since then, humanity's fascination with space and the development of technologies that can take us out there have progressed with giant strides.
Today we are on the threshold of a whole new chapter in the Space Age.
Read more at: sdu
NASA IG: Artemis Will Cost $86 Billion Through FY2025, Launch Dates "Highly Unlikely"
NASA's Inspector General remains skeptical that NASA can launch the first three Artemis missions on their promised schedules, calling it "highly unlikely." In a report released today, he also estimates that NASA has spent $37.2 billion on Artemis so far, a total that will reach $86 billion by the end of FY2025.
Paul Martin, who has been NASA's IG since 2009, did not make any recommendations in this most recent update on the Artemis program, but cautioned that the schedule appears unrealistic.
Read more at: Spacepolicy online
SPACE DEFENSE
Who Controls Space
It is well known that the Straits of Gibraltar provide access to the Mediterranean Sea. In terms of strategic importance, this geographic phenomenon provides a control point for all seagoing traffic between the Atlantic Ocean and the Mediterranean Sea. Is there an analogous strategic structure for access to space?
For low-Earth orbit (LEO) traffic there is such a geographic phenomenon. Thanks to the physics of orbital mechanics, the equatorial plane offers the potential to act as an access-control point. The underlying reason is that all LEO traffic must cross the equator within every 50-minute time interval.
Read more at: Spacewar
Congested Orbits A Top Concern For U.S. Space Command
The rapidly growing number of satellites orbiting the Earth is causing apprehension, the commander of U.S. Space Command said April 20.
Gen. James Dickinson told lawmakers on Capitol Hill that congestion in space mostly fueled by commercial activity could create safety problems if it's not managed.
"We need a new level of awareness," Dickinson said. Dickinson testified on Tuesday at a posture hearing in front of the Senate Armed Services Committee alongside Adm. Charles Richard, commander of U.S. Strategic Command.
Read more at: Spacenews
U.S. Army Approves Plans For A Future 'Tactical Space Layer'
U.S. Army leaders have signed off on plans to explore the use of satellites in low Earth orbit to give soldiers dedicated surveillance, navigation and imaging capabilities.
The Army's effort is called "tactical space layer" and is led by the U.S. Army's Futures Command, based in Austin, Texas.
The Futures Command in an April 19 news release said it was given approval for "rapid experimentation and prototyping efforts for tactical space-based sensors with supporting ground-based equipment."
Read more at: Spacenews
US Military Picks 3 Companies To Test Nuclear Propulsion In Cislunar Space
The Defense Advanced Research Projects Agency (DARPA) has picked three big space companies for the first phase of a larger project to test nuclear propulsion above low Earth orbit by 2025.
General Atomics, Blue Origin and Lockheed Martin each received contracts for the Demonstration Rocket for Agile Cislunar Operations (DRACO) program's first phase. While DARPA did not disclose the contract values in its announcement, media outlet Space News reported General Atomics received $22 million, Lockheed Martin $2.9 million and Blue Origin $2.5 million.
Read more at: Space.com
Space Force Eyes Buying Commercial Satellite ISR
The Space Force is working to expand acquisition of commercial space services from satellite communications to include intelligence, surveillance and reconnaissance data and analysis, officials say.
"Comms, data relay, remote sensing, and even ISR and some other things — [these] capabilities are increasingly available in the commercial market," Space Force deputy Lt. Gen. DT Thompson told the 2021 C4ISR Conference today.
Read more at: Breakingdefense
North Korea's Satellites In Orbit Not Transmitting Data
North Korean satellites launched into orbit are either unstable or not fully operational, and a reconnaissance satellite launched in February 2016 is not relaying data, a South Korean analyst said.
Song Geun-ho, a professor at Korea Defense Language Institute at South Korea's Joint Forces Military University, said in a new report on North Korea's space program that Pyongyang's claims of victory are not necessarily true, Newsis reported.
Read more at: Spacewar
VARIOUS
Op-Ed |  A Multicultural Approach To Space Development
On Jan. 20, 2021, Amanda Gorman became the United States' youngest inaugural poet laureate, addressing the newly sworn-in President Biden and the world with a striking message:
And so we lift our gazes not to what stands between us,
but what stands before us.
We close the divide because we know, to put our future first,
we must first put our differences aside.
We lay down our arms
so we can reach out our arms
to one another.
At a moment when dystopian futures seem to loom larger than ever, individuals everywhere are trying to make sense of the tragic aftermaths of the past year:  surging cycles of COVID mutations, reams of shocking footage uncoiling deeply ingrained racial injustice, and widening swathes of irreversible environmental destruction heightening in severity.
Read more at: Spacenews
Leiden Astronomer Henk Van De Hulst: Humble Man With Great Authority
'Henk van de Hulst is unknown to many people, but within astronomy he is a celebrity. He is also interesting because of his versatility: he was active in astronomy and space research, but he was also very influential in management positions. For instance, he was at the forefront of the European Space Agency (ESA) and without Van de Hulst's intervention, ESTEC would not be located in Noordwijk today.'
Read more at: University of Leiden
NASA's Bold Bet On Starship For The Moon May Change Spaceflight Forever
When NASA astronauts return to the Moon in a few years, they will do so inside a lander that dwarfs that of the Apollo era. SpaceX's Starship vehicle measures 50 meters from its nose cone to landing legs. By contrast, the cramped Lunar Module that carried Neil Armstrong and Buzz Aldrin down to the Moon in 1969 stood just 7 meters tall.
This is but one of many genuinely shocking aspects of NASA's decision a week ago to award SpaceX—and only SpaceX—a contract to develop, test, and fly two missions to the lunar surface. The second flight, which will carry astronauts to the Moon, could launch as early as 2024.
Read more at: Arstechnica