TOP NEWS
Remnants Of China's Long March 5B Rocket Land In Indian Ocean Near The Maldives
The remnants of China's Long March 5B rocket splashed down in the Indian Ocean near the Maldives on Sunday morning with no immediate reports of any damage or casualties, ending an anxious week as people and governments wondered where and when the space junk would fall.
The China Manned Space Engineering Office said the "great majority" of the debris burned up as it re-entered the Earth's atmosphere at 10.24am Beijing time, while the rest landed in an open sea area at 72.47 degrees east longitude and 2.65 degrees north latitude.
Read more at: SCMP
EU SST Confirms Re-Entry Of Space Object CZ-5B R/B
EU Space Surveillance and Tracking (EU SST) has been monitoring the re-entry into Earth's atmosphere of large space object CZ-5B R/B (2021-035B), the core stage of the rocket that launched Tianhe – the first module of the Chinese large modular space station – on 29 April 2021. The EU SST network of sensors observed the object closely, and its radars narrowed down its re-entry window to 9 May.
Read more at: EU SST
China Refutes NASA Chief's Attack Over Rocket Landing, Opposes Double-Standards
China conducted close monitoring and tracking work throughout the re-entry of the Long March-5B Y2 carrier rocket remnants on Sunday, and had shared a relevant forecast via international cooperation mechanisms, the Chinese Foreign Ministry said on Monday, refuting NASA chief Bill Nelson's accusation of China's lack of transparency and failure to "act responsibly" over the event.
Chinese Foreign Ministry Spokesperson Hua Chunying made the comment on Monday at a routine daily briefing, in response to inquiries related to the NASA administrator's statement in which Nelson claimed that "China is failing to meet responsible standards regarding their space debris."
Read more at: Globaltimes
Boeing, NASA Target July 30 For 2nd Test Flight Of Starliner Capsule
Boeing's Starliner astronaut taxi will launch on its second test flight in July, if all goes according to plan.
The company now aims to launch Starliner no sooner than July 30 — slightly earlier than the previously announced target of early August. The upcoming liftoff will kick off Orbital Flight Test-2 (OFT-2), an uncrewed mission to the International Space Station.
Boeing last tried such a test flight in December 2019, but the spacecraft did not reach the station as planned due to a series of technical problems. Further delays ensued as Boeing attempted to meet NASA requirements stemming from a postflight review, and technical and weather issues contributed as well. Boeing has also had to wait while NASA tried to find an available slot in the busy launch schedule for ISS-bound spaceships, both crewed and uncrewed.
Read more at: Space.com
SPACE HAZARDS AND STM
How Did You Spend Your Week? NASA Pretended To Crash An Asteroid Into Earth.
More than a year into a very real crisis, experts gathered virtually to confront a second emergency, a potential asteroid impact — but this disaster, fortunately, was entirely hypothetical.
Every two years, as part of the International Academy of Astronautics' Planetary Defense Conference, scientists and emergency response personnel gather to discuss a made-up asteroid threat from discovery to impact. During this year's exercise, which unfolded online from April 26 to April 28, the scenario presented an impact just six months away, a pointed reminder that limited lead time is a key weakness in our asteroid defense systems.
Read more at: Space.com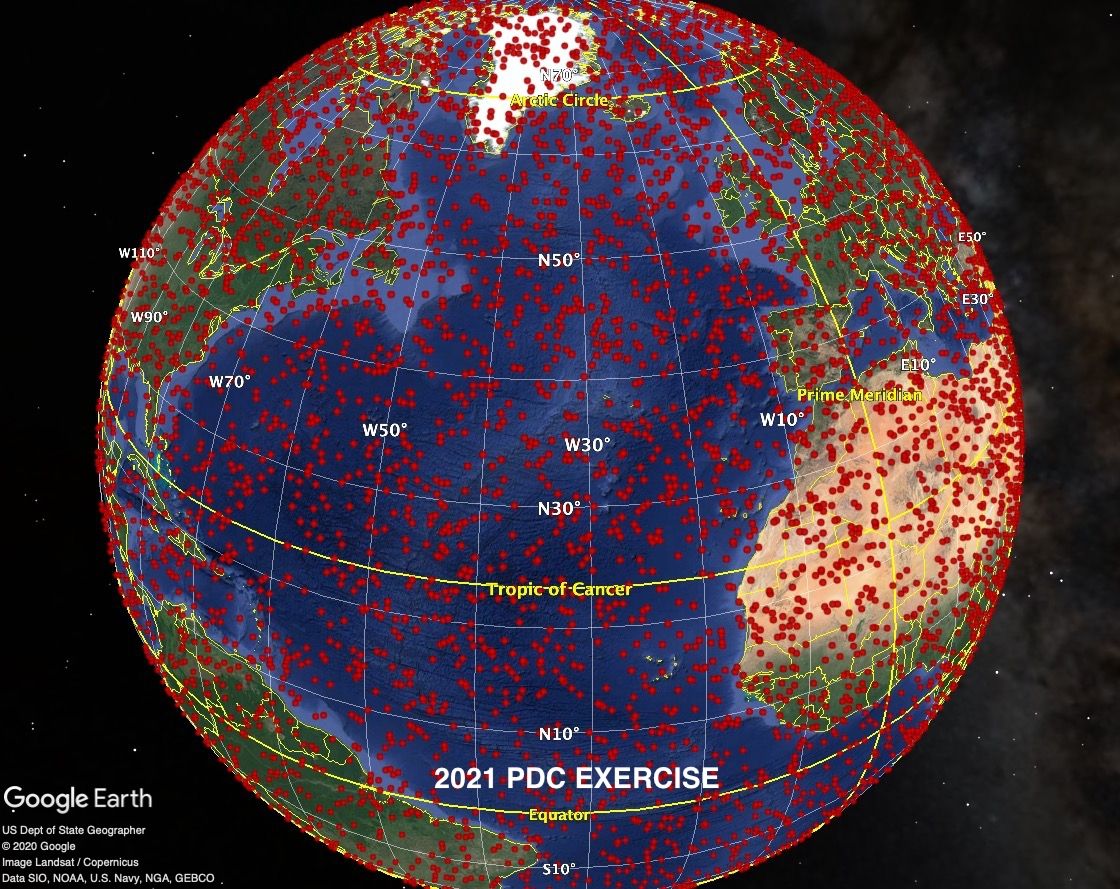 China's New Bid To Take On Elon Musk's Starlink: A State-Owned Satellite Enterprise
In late April, a day before SpaceX launched its 10th batch of satellites this year, Chinese Vice-Premier Han Zheng attended a ceremony in Xiongan , a megacity that is about a two hours' drive south of Beijing, celebrating the creation of a new state-owned enterprise set up to operate China's answer to Starlink, run by Elon Musk's SpaceX.
Known as China Satellite Network Group, the young company is tasked with launching low Earth orbit (LEO) satellites into space, beaming internet services to anywhere on the planet. It reports to the Assets Supervision and Administration Commission, which controls the Chinese government's stakes in state-owned companies.
Read more at: SCMP
Connecting the Dots | Assessing top-down pollution
Satellites are leading the charge in the battle against climate change, providing critical insights about Earth that can only be gained from space. But are they also contributing to the problem?
Putting aside environmental impacts of the rockets that launch them to orbit, satellites inject a complex mix of chemicals into the atmosphere when their computers, fuel tanks and other onboard materials vaporize upon reentry.
This wasn't much of a talking point decades ago when the U.S. Federal Communications Commission (FCC) determined, categorically, that nothing it regulates in space could have an environmental impact on Earth.
Read more at: Spacenews
Mission Extension Vehicles Succeed As Northrop Grumman Works On Future Servicing/Debris Clean-Up Craft
With the successful docking of Mission Extension Vehicle 2, or MEV-2, to the Intelsat 10-02 satellite last month, Northrop Grumman not only repeated the task of successfully attaching one of their MEV spacecraft to a functioning satellite but also successfully proved the ability to grab a still-transmitting telecommunications satellite without disrupting service.
The success of both MEV-1 and -2 has led to an increasing interest in the use of those crafts after their current five-year missions with their present satellites are complete. Meanwhile, Northrop Grumman has already begun work on the next generations of remote, on-orbit servicing and debris clean-up vehicles.
Read more at: NASA spaceflight
Space Junk Is Blocking Our View Of The Stars, Scientists Say
The night sky is becoming increasingly filled with shiny satellites and space junk that pose a significant threat to our view of the cosmos, as well as astronomical research, a new study warns.
The researchers found that the more than 9,300 tons (8,440 metric tons) of space objects orbiting Earth, including inoperative satellites and chunks of spent rocket stages, increase the overall brightness of the night sky by more than 10% over large parts of the planet.
Read more at: Space.com
NEW SPACE/COMMERCIAL
Rocket Engine Startup Sees Opportunities In Crowded Launch Market
The small launch sector is crowded, and getting more so. But Will Roper believes there is still room in the market for suppliers of rocket engines that innovate fast and adapt to changing demands.
Roper, former assistant secretary for acquisition, technology and logistics for the U.S. Air Force, is now an advisor to Ursa Major Technologies, a Colorado-based startup that makes liquid engines for small rockets and is looking to move into the medium-vehicle market.
Read more at: Spacenews
Private Dream Chaser Space Plane To Land On NASA's Former Shuttle Runway
After a decade-long lull, a famous Florida runway will soon start hosting space-plane landings again.
The private Dream Chaser space plane will touch down at the Launch and Landing Facility (LLF) to wrap up its cargo missions to the International Space Station for NASA, the robotic vehicle's builders, Sierra Nevada Corp., announced on Tuesday (May 4).
Read more at: Space.com
Blue Origin Targets NET 20 July for First Crewed New Shepard Flight
Sixty years to the day since its Project Mercury namesake became America's first man in space, Blue Origin announced on Wednesday that its next New Shepard booster will fly later this summer with a six-strong human crew. "On 20 July, New Shepard will fly its first astronaut crew to space," the Kent, Wash.-headquartered launch provider revealed. "We are offering one seat on this first flight to the winning bidder of an online auction." It is expected that the NS4 vehicle—the selfsame booster and crew capsule that has reached suborbital space twice this year, most recently just last month—will rise again from Launch Site One in West Texas on the 52nd anniversary of the first human lunar landing.
Read more at: Americaspace
Japanese Startup To Carry UAE Lunar Rover To The Moon In 2022
Japanese startup ispace Inc. will deliver a lunar rover under development by the United Arab Emirates to the Moon next year in what will be the Arab world's first lunar mission.
Under the contract recently announced by the Tokyo-based space company and the Mohammed Bin Rashid Space Centre, Dubai's governmental space agency, ispace will also provide communications and power during the journey to the moon and on its surface.
Read more at: Japan times
Virgin Orbit to Launch Again in June
Virgin Orbit is planning its third launch of small satellites for sometime in June. The Cosmic Girl Boeing 747 will take off from the Mojave Air and Space Port in California and drop the LauncherOne booster over the Pacific Ocean.
The rocket will carry six satellites, including three from the U.S. Department of Defense, two from Poland-based SatRevolution, and one from the Royal Netherlands Air Force. Full details of the payloads are below.
It will be the first launch in five months since LauncherOne orbited 10 payloads for NASA in January. The booster failed on its maiden flight on May 25, 2020. For the first time, Virgin Orbit provide a public livestream of a launch on its website.
Read more at: Parabolicarc
NASA Will Let Axiom Space Fly The First Private Astronauts To The International Space Station In 2022
The first space-station mission involving people who aren't professional astronauts is in full swing.
NASA and aerospace startup Axiom Space announced on Monday that they have signed an order to launch four people to the International Space Station (ISS) as early as January 2022. None are working astronauts. Instead, Axiom has chosen its vice president, former NASA astronaut Michael López-Alegría, to command the crew. The mission also includes real-estate investor Larry Connor, Canadian investor Mark Pathy, and former Israeli fighter pilot Eytan Stibbe.
Read more at: Business insider
SCIENCE AND TECHNOLOGY
NASA's On-orbit Servicing, Assembly, and Manufacturing 1 Mission Ready for Spacecraft Build
NASA is one step closer to robotically refueling a satellite and demonstrating in-space assembly and manufacturing thanks to the completion of an important milestone.
In April 2021, NASA and Maxar Technologies successfully completed the On-orbit Servicing, Assembly, and Manufacturing 1 (OSAM-1) mission spacecraft accommodation Critical Design Review (CDR). This milestone demonstrates that the maturity of the design for the OSAM-1 spacecraft bus is appropriate to support proceeding with fabrication, assembly, integration, and testing.
Read more at: Spacedaily
China's New Space Station Will Need 10 More Launches To Complete
China's core space station module is now circling Earth.
The module, called Tianhe ("Harmony of the Heavens"), launched Wednesday night (April 28) atop a Long March-5B Y2 carrier rocket from the Wenchang Spacecraft Launch Site on the northeastern coast of south China's Hainan Province.
Tianhe is the foundational module for China's first space station. The module is billed as the largest spacecraft the nation has ever developed; it's 54.4 feet (16.6 meters) long, 13.8 feet (4.2 m) across at its widest point, and had a mass at liftoff of 22.5 tons.
Read more at: Space.com
SpaceX Launches Starship SN15 Rocket And Sticks The Landing In High-Altitude Test Flight
SpaceX's SN15 stuck the landing.
The private spaceflight company's latest Starship prototype aced a high-altitude test flight today (May 5), checking every box from takeoff to touchdown for the first time.
"We are down! The Starship has landed," John Insprucker, SpaceX's principal integration engineer, said during live commentary.
Today's uncrewed test came on the 60th anniversary of the United States' first-ever crewed spaceflight, the suborbital jaunt of NASA astronaut Alan Shepard. The historical parallel is coincidental but appropriate, for SN15's success marks a big step forward in SpaceX's plans to help extend humanity's footprint out into the final frontier.
Read more at: Space.com
Juice Arrives At ESA's Technical Heart
The spacecraft arrived at ESTEC, ESA's European Space Research and Technology Centre, from Airbus Friedrichshafen in Germany last week. It is now being unpacked and prepared to enter the 'Large Space Simulator' later this month. It will spend several weeks being subjected to extreme heating and cooling cycles under vacuum, to confirm the spacecraft is ready for its long journey through the Solar System to Jupiter.
Read more at: ESA
SPACE POLICY
Op-ed | Getting Serious About the Office of Space Commerce 
In the absence of an active push, attempts to create organizational change and improvement tend to revert to the way things used to be. After three years of an active push to increase the role of the Office of Space Commerce (OSC) in promoting and enabling commercial space activities, that vision is beginning to revert to the way things used to be. Immediate intervention is needed by the new leadership at the Department of Commerce to prevent a complete loss of progress and yet another delay in reshaping U.S. efforts to support and leverage the burgeoning commercial space sector.
Read more at: Spacenews
Vice President Kamala Harris to Lead National Space Council Under Biden administration
The National Space Council, a space policy group resurrected by the Trump administration, will continue in a new form under the Biden White House with Vice President Kamala Harris at the helm. 
Harris intends "to put her own personal stamp" on the council to focus on a wide variety of space policies, including the sustainable development of commercial spaceflight, "advancing peaceful norms and responsible behaviors in space," climate change and more, senior administration officials said in a call with reporters Saturday (May 1). 
Read more at: Space.com
Lithuania to Become ESA Associate Member State
Ms Aušrinė Armonaitė, Minister of Economy and Innovation, signed the Association Agreement between the Government of the Republic of Lithuania and ESA on 28 April in Vilnius. Associate membership will become effective upon notification that respective internal procedures have been completed.
Following its unanimous approval by Council, the Association Agreement was signed by ESA Director General Josef Aschbacher on 18 March 2021 at ESA Headquarters, in presence of the Ambassador of Lithuania to France.
Read more at: ESA
U.S., Israel Expand Cooperation To The Space Domain
The U.S. Space Force hosted its first Space Engagement Talks (SET) with the Israeli Air Force during separate virtual sessions April 19-20.
The talks brought together two nations with a shared interest in ensuring access to and peaceful use of outer space.
"Dating back to 1948, America was the first country in the world to recognize modern Israel as a nation," said Lt. Gen. William Liquori, deputy chief of space operations, Strategy, Plans, Programs, Requirements and Analysis. "Since then, our two countries have shared a mutual commitment to peace and security. As we have done for more than 70 years, we will continue to work together to meet the emerging challenges in the space domain."
Read more at: Spaceforce
SPACE DEFENSE
US DoD Close To Finalizing Recommendations For Space Force National Guard
The 2020 National Defense Authorization Act (NDAA) called on the US Department of Defense to provide the US Congress with recommendations for a potential Space Force Reserve element. Presently, members of the National Guard are conducting space missions in seven US states and the territory of Guam.
Gen. Daniel Hokanson, chief of the US National Guard Bureau, revealed on Tuesday that he believes the Pentagon is "fairly close" to finalizing recommendations for creating a formal Space National Guard element of the US Space Force (USSF).
Read more at: Spacewar
Study Calls On U.S. To Change How It Buys Space Technology, Reduce Congestion In Low Orbits
The Center for the Study of the Presidency & Congress released a new report May 4 calling on the U.S. government to accelerate the procurement of commercial space technologies and manage growing congestion in low-Earth orbit.
CSPC is a nonpartisan think tank led by former members of Congress Mike Rogers, of Michigan; and Glenn Nye, of Virginia. In a 2019 report the group called out DoD for not opening up opportunities for emerging commercial space companies, and was especially critical of the national security space launch program.
Many of the same points were made in the 2021 report.
Read more at: Spacenews
Australia Appoints Its First Space Commander 
A senior female air force officer whose childhood idol was iconic Apollo 11 astronaut Neil Armstrong will become Australia's first space commander. 
Air Vice-Marshal Catherine Roberts will oversee the space activities across Australia's armed forces. Experts have said the army, navy and air force have relied on space-based technologies and communication, and centralized coordination was sensible. 
There is growing international competition for supremacy in space. The United States has a military arm called the U.S. Space Force while China and Russia both set up similar units in 2015. 
Read more at: voanews
VARIOUS
Will Virgin Galactic Ever Be Successful? A New Book Provides Insights
I have always struggled with what to think about Virgin Galactic, the brilliantly marketed space-tourism company founded by Sir Richard Branson in 2004.
Certainly, Branson founded the company with laudable goals. Bringing more people above the planet to see the curvature of the Earth and experience weightlessness should only help humanity better understand the value of our fragile world. And Branson's infusion of private funding into spaceflight, alongside that of other billionaires, has been an extraordinary boon over the last two decades in terms of pushing humans further into the final frontier.
Read more at: Arstechnica
Democratizing Space, One Billionaire at a Time: The Return of Space Tourism
Democratization has a set of fundamental elements to it. It involves giving the people the power to choose their leaders. It means making a political system accountable to those people. It's creating a government and culture that respect the freedoms laid out in the First Amendment: speech, assembly, religion, press and the right to peacefully petition the government for change. It's not just changing how the government operates, but how the society functions.
The last thing I ever expected democratization to include are joy rides into space by millionaires and billionaires. But, that's what NewSpace spinmeisters would have us believe as space tourism returns this year after a 12-year hiatus. They really should stop.
Read more at: Parabolic arc
NASA Ups Price Of A Private Stay Aboard The ISS To Reflect True Expense Of Keeping Tourists Alive In Space
Fancy a stay aboard the International Space Station (ISS)? It is about to get a lot pricier for future private astronaut missions.
NASA last published its commercial pricing policy in 2019, and price tags included $22,500 per person per day for supplies such as food, air and exercise equipment. Life support (and using the toilet) came in at $11,500.
The agency has now said that the policy "did not reflect full reimbursement for the value of NASA resources", it was only there to stimulate the market and was planned to be "adjusted".
Read more at: Register
NASA Has Selected Its Deep Space Hardware—Now Comes The Fun Part
No NASA official would ever admit this in public, but the 2010s have been a frustrating decade for human spaceflight.
After the space shuttle retired in 2011, as most everyone knows, NASA had no way to get its astronauts into space. But the frustrations ran deeper. Even as the agency scrambled to launch into low Earth orbit, it was tasked with sending astronauts further afield into deep space—to the Moon and Mars. So NASA has spent seemingly forever developing "capabilities" to get there, and observers often felt like NASA was spinning its wheels. Agency officials frequently talked about going to the Moon and Mars, but that was all they did—talk.
Read more at: Arstechnica
Jurczyk Retires as NASA Associate Administrator
Steve Jurczyk, who served as acting NASA administrator from Jan. 20 to May 3, 2021, announced Monday he will retire on Friday, May 14, after more than three decades of service at NASA.
Jurczyk has served as associate administrator, the agency's highest-ranking civil servant, since May 2018. He was the highest-ranking career civil servant leading NASA throughout the pandemic and most recently oversaw the successful landing of the Perseverance rover on Mars, a successful Green Run test of the core stage of the Space Launch System rocket, the naming of the Mary W. Jackson NASA Headquarters building, the launch of NASA's SpaceX Crew-2 to the International Space Station, and the return of Crew-1 back to Earth.
Read more at: NASA