TOP NEWS
G7 Nations Commit To The Safe And Sustainable Use Of Space
Today at the G7 Leaders' Summit in Carbis Bay, Cornwall, delegates from Canada, France, Germany, Italy, Japan, the USA, the UK and the EU pledged to take action to tackle the growing hazard of space debris as our planet's orbit becomes increasingly crowded.
One of the biggest global challenges facing the space sector is orbital congestion and space debris. There are currently an estimated 900,000 pieces of space debris including old satellites, spent rocket bodies and even tools dropped by astronauts orbiting Earth. Space debris could stay in orbit for hundreds of years and present a real danger to the rapidly increasing number of new satellites being launched each year.
Read more at: UK gov
Rocket Lab Cleared to Resume Launches
Long Beach-based Rocket Lab USA Inc. has been approved by the Federal Aviation Administration to resume flights following a failed launch attempt in mid-May.
The aerospace company's license was under FAA review after a failure that occurred around three minutes into a May 15 launch from its facility on New Zealand's Māhia Peninsula. The launch marked the 20th mission for Rocket Lab's Electron rocket.
After a successful lift-off from Launch Complex 1, including stage separation and second stage ignition, the rocket's stage two engine shut down, resulting in the loss of its payload.
Read more at: labusiness journal
Jeff Bezos Will Blast Into Space On Rocket's 1st Crew Flight
Outdoing his fellow billionaires in daredevilry, Jeff Bezos will blast into space next month when his Blue Origin company makes its first flight with a crew.
The 57-year-old Amazon founder and richest person in the world by Forbes' estimate will become the first person to ride his own rocket to space.
Read more at: ABCnews
Gaganyaan Mission: The Why And How Of Isro's Ambitious Project To Send Indians To Space
The Gaganyaan Mission, India's foray into independent human space exploration, is moving ahead with plans to send an uncrewed mission into orbit. Scheduled for December, a final call on the launch will be taken post-assessment of the situation once lockdown is lifted in Bengaluru. The mission is part of the three-stage Gaganyaan project.
While the first unmanned flight is likely to be launched this year, the second demonstration launch could happen in 2022-23 before the astronauts finally take to the skies in a full-scale, crewed mission.
Read more at: India today
Boeing Schedules Launch Date For Second Starliner Test Flight
The second Starliner test flight has an official launch date, according to United Launch Alliance.
Boeing's Crew Space Transportation-100 Starliner spacecraft will launch on July 30 at 2:53 p.m. from Cape Canaveral Space Force Station.
"This test flight is the last major step before the Atlas V and Boeing's Starliner capsule take American astronauts to the International Space Station as part of NASA's Commercial Crew Program," ULA said in a news release.
Read more at: Mynews13
Virgin Galactic's Richard Branson Aims to Fly to Space Before Jeff Bezos
It looks like Richard Branson could beat fellow billionaire Jeff Bezos to space next month.
Virgin Galactic is working on a plan to send Branson on a suborbital flight aboard the VSS Unity SpaceShipTwo rocket plane over the July 4 holiday weekend, according to a source who requested anonymity. The flight is contingent upon obtaining an operator's license from the Federal Aviation Administration (FAA).
Branson's flight would take place about two weeks before Bezos, his brother Mark and the winner of an online auction are scheduled to board Blue Origin's New Shepard vehicle for a suborbital flight on July 20. It will be the first crewed flight of New Shepard, which has flown 15 times with no one aboard.
Read more at: Parabolic arc
SPACE HAZARDS AND STM
An Updated Comparison of Four Low Earth Orbit Satellite Constellation Systems to Provide Global Broadband
Twenty years of technological improvements have raised once again the question of the economic viability of offering Internet access from space using non-geostationary orbits (NGSO). Trying to answer this question, many established satellite operators (e.g., SES, Telesat) and newcomers (e.g., SpaceX, Amazon) have recently filed applications for these types of constellations, with SES currently operating a NGSO constellation in MEO. The new architectures rely on thousands of high-throughput satellites, combined with an even-larger ground segment, which will compete with and complement the terrestrial Internet infrastructure where it is inefficient or non-existent. This paper provides an updated comparison of four of the largest LEO mega-constellations, namely Telesat's, OneWeb's, SpaceX's, and Amazon's, in terms of throughput estimation.
Read more at: MIT
Which Way Does The Solar Wind Blow?
Astronomers have studied the sun's activity for centuries with greater and greater understanding. Today, computers are central to the quest to understand the sun's behavior and its role in space weather events.
The bipartisan PROSWIFT (Promoting Research and Observations of Space Weather to Improve the Forecasting of Tomorrow) Act, passed into law in October 2020, is formalizing the need to develop better space weather forecasting tools.
Read more at: Sciencedaily
NASA Approves Asteroid Hunting Space Telescope to Continue Development
NASA has approved the Near-Earth Object Surveyor space telescope (NEO Surveyor) to move to the next phase of mission development after a successful mission review, authorizing the mission to move forward into Preliminary Design (known as Key Decision Point-B). The infrared space telescope is designed to help advance NASA's planetary defense efforts by expediting our ability to discover and characterize most of the potentially hazardous asteroids and comets that come within 30 million miles of Earth's orbit, collectively known as near-earth objects, or NEOs.
Read more at: JPL
If A Scary Asteroid Will Actually Strike Earth, Here's How You'll Know
On April 13, 2029 (which happens to be Friday the 13th), something unsettling will happen.
A decent-sized asteroid, the 1,100-foot-wide Apophis, will pass so close to Earth it'll be visible in the sky from certain places. Crucially, the giant rock will not strike our humble planet. But it will pass closer than 20,000 miles from the surface, which is closer than where some of the United States' most prized weather satellites orbit.
Read more at: Mashable
Earth's Meteorite Impacts Over Past 500 Million Years Tracked
Researchers have been studying geological series since the 19th century in order to reconstruct how flora, fauna and the climate have changed over millions of years. Until now, however, almost nothing has been known about ancient meteorite flux — which makes sense since impact is rare, and the battered celestial bodies quickly break down as they encounter Earth's oxygen. A new study published in PNAS shows how researchers in Lund have reconstructed meteorite bombardment towards Earth over the past 500 million years.
Read more at: Sciencedaily
NEW SPACE/COMMERCIAL
Medical Emergencies in Space: Is Private Space Tourism Ready for a Worst Case Scenario?
The age of commercial passenger space flight is upon us. Efforts by companies like SpaceX, Blue Origin, Boeing and Virgin Galactic aim to put paying individuals in space. The International Space Station expects to receive its first private crew early next year during the Axiom Mission 1, with the three tourists paying a sum of $55 million each to stay at the space station for eight days.
As the potential for private space travel grows, it's only natural to wonder: What if something goes wrong? With more chances to send people into space comes greater potential for mishaps.
Read more at: Discover magazine
SpaceX Outfits Drone Ship For Panama Canal Transit After 45th Booster Recovery
Just a few hours after returning to Port Canaveral, SpaceX lifted Falcon 9 B1067 off of drone ship Of Course I Still Love You's (OCISLY) deck, completing the vessel's 45th successful East Coast booster recovery.
Minutes later, SpaceX began loading unusual hardware onto the drone ship and it soon became clear that preparations were underway to transport OCISLY from Florida to California. Just an hour or two after B1067 was craned onto dry land, SpaceX began removing OCISLY's water ballast and installing bumpers on the corners of the drone ship's 'wings,' potentially indicating that the company's plans to begin West Coast Starlink launches as early as July may actually be within reach.
Read more at: Teslarati
Spaceport Cornwall Signs Agreement With US Company
The Sierra Nevada Corporation wants to make spaceflight "globally accessible".
Its spaceplane Dream Chaser, run by subsidiary Sierra Space, is designed to launch vertically to low-Earth obit and land on a spaceport or runway.
Melissa Thorpe, head of Spaceport near Newquay, said she was "delighted" to welcome Sierra Space ahead of the G7.
Spaceport Cornwall is working towards launching the first satellites into space in spring 2022.
Read more at: BBC
Space Tourism Is About To Take Off. Here's How Firms Like Virgin Galactic, Blue Origin And SpaceX Are Making Sure Visitors' Bodies Can Survive The Trip.
Companies like Richard Branson's Virgin Galactic and Jeff Bezos's Blue Origin are gearing up to send tourists to the edge of space – and eventually, beyond – as soon as 2022. But for ordinary citizens, zero gravity and long flights could wreak havoc on their bodies.
Getting to space is a naturally challenging experience, especially for the human body. That's why the firms hoping to sell trips are taking a page from NASA's playbook and undertaking a rigorous training program for would-be travelers to mitigate things like muscle atrophy and bone loss that studies show can happen on trips outside the atmosphere.
Read more at: Business insider
SCIENCE AND TECHNOLOGY
An Easy-To-Use Function To Assess Deep Space Radiation In Human Brains
Health risks from radiation exposure in space are an important factor for astronauts' safety as they venture on long-duration missions to the Moon or Mars. It is important to assess the radiation level inside the human brain to evaluate the possible hazardous effects on the central nervous system especially during solar energetic particle (SEP) events. We use a realistic model of the head/brain structure and calculate the radiation deposit therein by realistic SEP events, also under various shielding scenarios. We then determine the relation between the radiation dose deposited in different parts of the brain and the properties of the SEP events and obtain some simple and ready-to-use functions which can be used to quickly and reliably forecast the event dose in the brain. Such a novel tool can be used from fast nowcasting of the consequences of SEP events to optimization of shielding systems and other mitigation strategies of astronauts in space.
Read more at: Nature
Japan to Test Pulse Detonation Rocket Engine
JAXA plans to test a pulse detonation engine next month that uses shock waves to create thrust. The Japanese space agency believes the system could be used for deep-space exploration.
"This experiment is the world's first flight demonstration of rocket engine technology that safely and efficiently converts shock waves (explosive waves) generated when a mixed gas of fuel and oxygen reacts explosively into thrust," JAXA said. "Technology of the detonation engine system (DES) combines a pulse detonation engine (PDE) that intermittently generates shock waves and a rotary detonation engine (RDE) that continuously rotates shock waves in a donut-shaped space."
Read more at: Parabolicarc
Marshall Ships Air Filtration Hardware to Wallops for ISS
New air filtration technology developed, built, and tested at NASA's Marshall Space Flight Center in Huntsville, Alabama, is bound for the International Space Station – where it will demonstrate advanced life support system capabilities that could help future explorers on the Moon and Mars breathe easier.
The new hardware, known as the 4-Bed Carbon Dioxide Scrubber, was shipped June 9 from Marshall to NASA's Wallops Flight Facility in Wallops Island, Virginia, where it will be prepared to fly aboard the Cygnus NG-16 commercial resupply mission.
Read more at: Spacedaily
Effective Power Supply Energizes China's Space Station Project
Highly efficient power supply has kept the combination of the Tianzhou-2 cargo craft and China's space station core module Tianhe operating stably.
China sent into space the Tianhe module on April 29, kicking off a series of key launch missions that aim to complete the construction of the space station by the end of 2022.
The country launched Tianzhou-2 on May 29, which successfully docked with Tianhe in about eight hours to deliver supplies, equipment and propellant.
Read more at: Spacedaily
NASA's New $23 Million Space Commode System Is More Than Just A Toilet
Going to the bathroom at the International Space Station is about to get easier and cleaner with a new toilet system that cost NASA $23 million to develop.
Astronauts are connecting and checking out the toilet, which actually is a high-tech improvement to the space station's water recycling system. The multimillion-dollar budget for the project includes another unit installed inside the Orion space capsule for longer deep-space missions.
Read more at: UPI
Relativity Space Unveils Fully Reusable, 3D-printed Terran R Rocket
A fully reusable, 3D-printed rocket will be launching satellites to orbit three years from now, if all goes according to plan.
Today (June 8), Relativity Space revealed details of Terran R, a new two-stage rocket that's key to the Southern California startup's bold off-Earth goals, which include helping humanity get a foothold on Mars.
"Terran R is at the cutting edge of rocket innovation and design," Zach Dunn, senior vice president of engineering and manufacturing at Relativity Space, said in a statement. "Fully reusable and entirely 3D printed, Terran R will be well suited to serve customers' evolving needs in the large satellite constellation industry, while also representing a significant leap towards achieving our mission of building humanity's industrial base off of Earth."
Read more at: Space.com
New Spacecraft Will Use Lasers To Transmit Video, Data In Seconds
New space missions being launched this summer will attempt to revolutionize space communications by using laser beams to quickly transmit large amounts of data, including high-definition video from the moon.
Two missions by the U.S. government will test such lasers, which use invisible, infrared light beams.
NASA's Laser Communications Relay Demonstration will explore the best ways to beam information to the Earth from orbit using lasers. And a separate demonstration for the Department of Defense, known as LINCS, will focus on beaming laser communications between two small satellites.
Read more at: Spacedaily
Scientists Identify Distinctive Deep Infrasound Rumbles Of Space Launches (Audio)
After their initial blast, space rockets shoot away from the Earth with rumbles in infrasound, soundwaves too low to be heard by human ears that can travel thousands of miles.
New research used a system for monitoring nuclear tests to track the infrasound from 1,001 rocket launches. The research identified the distinctive sounds from seven different types of rockets, including the Space Shuttles, Falcon 9 rockets, various Soyuz rockets, the European Space Agency's Ariane 5, Russian Protons and several types of Chinese Long March rockets.
Read more at: AGU
Technology Tests In Microgravity For 'Cosmic Kiss' Mission
The 36th parabolic flight campaign organised by the German Space Agency at the German Aerospace Center (Deutsches Zentrum fur Luft- und Raumfahrt; DLR) is taking place from 4 to 11 June 2021 at the airport in Paderborn. During the campaign, various technology tests for the 'Cosmic Kiss' mission to be flown by German ESA astronaut Matthias Mauer will be carried out under microgravity conditions, as well as other experiments.
The technology tests are 'Retinal Diagnostics' for astronaut eye health and 'Thermo-Mini' for measuring human body temperature during space missions. Maurer will launch to the International Space Station (ISS) in autumn 2021.
Read more at: Spacedaily
International Partners and Government Agencies Join Arqit's Federated Quantum System
Arqit Limited ("Arqit"), a leader in quantum encryption technology, has today announced at the G7 Leaders Conference in Cornwall, that it has formed an international consortium of companies and government organisations to provide its quantum encryption technology to government customers in a federated system concept, called Federated Quantum System (FQS). The UK, USA, Japan, Canada, Italy, Belgium, and Austria are now represented.
Arqit invented a system which uses satellites to distribute quantum keys to data centres.
Read more at: Parabolicarc
Electromagnetic Power Of Lightning Superbolts From Earth To Space
Lightning superbolts are the most powerful and rare lightning events with intense optical emission, first identified from space. Superbolt events occurred in 2010-2018 could be localized by extracting the high energy tail of the lightning stroke signals measured by the very low frequency ground stations of the World-Wide Lightning Location Network. Here, we report electromagnetic observations of superbolts from space using Van Allen Probes satellite measurements, and ground measurements, and with two events measured both from ground and space. From burst-triggered measurements, we compute electric and magnetic power spectral density for very low frequency waves driven by superbolts, both on Earth and transmitted into space, demonstrating that superbolts transmit 10-1000 times more powerful very low frequency waves into space than typical strokes and revealing that their extreme nature is observed in space.
Read more at: Nature
A Gigantic Arc Of Galaxies Has Been Discovered Spanning 3.3 Billion Light-Years
Astronomers have made a very interesting discovery that has been dubbed the Giant Arc. The newly discovered crescent of galaxies spans 3.3 billion light-years and is described as one of the largest known structures in the universe. The massive size of the ark of galaxies is challenging some of the basic assumptions astronomers hold about the cosmos.
The Giant Arc includes galaxies, galactic clusters, and copious amounts of gas and dust. It's about 9.2 billion light-years away from our solar system and is so massive it stretches across about 1/15 of the observable universe.
Read more at: slashgear
SPACE POLICY
China Making Plans For Future Space Exploration: Official
China is making plans for the future development of its space program, including exploring asteroids and the Jovian system, collecting samples from Mars and exploring the polar region of the moon, said an official from the China National Space Administration (CNSA) on Saturday. Xu Hongliang, a spokesperson of the CNSA, said at a press conference held in Beijing that about the year 2025 China plans to launch a probe to collect samples from a near-Earth asteroid and explore a comet in one mission.
Read more at: China.org
Russia To U.S. -Lift Sanctions On Space Sector Or We'll Exit Space Station
The head of Russia's space agency on Monday suggested Moscow would withdraw from the International Space Station in 2025 unless Washington lifted sanctions on the space sector that were hampering Russian satellite launches.
Dmitry Rogozin, the head of Roscosmos, was addressing parliamentarians ahead of a summit in Geneva later this month between Russian President Vladimir Putin and his U.S. counterpart Joe Biden.
Read more at: Reuters
China Accuses US Of 'Paranoid Delusion' Over Huge Innovation Bill
Beijing on Wednesday accused Washington of "paranoid delusion" after the US Senate passed a sweeping industrial policy bill aimed at countering the surging economic threat from China.
America's political parties overcame partisan divisions to support pumping more than $170 billion into research and development, one of the most significant achievements in Congress since Joe Biden's presidency began in January.
Read more at: Spacedaily
Shenzhen Offers Support To Boost Satellite Sector In Chinese City
Shenzhen will provide up to $47 million in support for development of satellite equipment, applications and other areas to drive space-related innovation in the southern Chinese city.
The city in Guangdong province will provide as much as 40 percent of total investment for a project, or up to 300 million yuan per project, the Shenzhen Municipal Development and Reform Commission announced Monday.
The notice states support for activities including developing high-throughput broadband satellite communication systems, remote sensing constellations, satellite terminal development, data processing and assisting launch insurance.
Read more at: Spacenews
The Duel: Is Space Exploration Worth It?
Paradoxically, space exploration teaches us about the Earth. And the things that we learn are arguably priceless because they are crucial to our survival.
The critical point is that other planets show us what the Earth would be like if things were different. So, for instance, we can see what the Earth would be like if it were smaller or larger, hotter or colder, if it had a different atmosphere, and so on.
Venus is Earth's twin in terms of its mass. Yet when space probes visited the planet in the 1960s, they discovered that Venus is actually Hell. Beneath impenetrable sulphuric acid clouds is a surface hot enough to melt lead, and a crushing atmosphere 100 times thicker than the Earth's.
Read more at: Prospect magazine
SPACE DEFENSE
Analysis: DoD Space Budget 'Clear Winner' In 2022 Proposal
In the Biden administration's 2022 budget proposal, the Pentagon is requesting $15.3 billion for investments in space technology, an increase of $1.8 billion over what Congress enacted in 2021, according to a new report by the consulting firm Avascent. 
The bulk of the increase is for U.S. Space Force classified research and development programs, which would grow from $3.6 billion in 2021 to $4.5 billion in 2022.
"National security space was a clear winner amongst major investment accounts," said the Avascent report published June 10. 
Read more at: Spacenews
Achieving Security In Space: A Recap Of The Atlantic Council Space Strategy Launch
Sixty years since the first human launched into orbit, what is the future of security and prosperity in space? On April 12, the International Day of Human Spaceflight, the Scowcroft Center's Forward Defense practice sought to answer this question with an engaging virtual public event featuring esteemed space experts and the launch of a new Atlantic Council Strategy Paper.
The event began with a video connecting the nostalgic history of US space exploration with the boundless potential of space now and in the future for enhancing security and prosperity for the United States and allies. Consistent with Forward Defense's mission to produce forward-looking assessments of the trends, technologies, and concepts that will define the future of warfare, the video illustrated the ramifications of space for twenty-first century security challenges.
Read more at: Atlantic council
Pegasus XL Rocket Launches Secretive 'Space Domain Awareness' Satellite For US Space Force
A Northrop Grumman rocket successfully launched a secretive Space Force satellite for "space domain awareness" — or detecting artificial objects in orbit — on Sunday (June 13) in a rapid response mission for the U.S. military. A Northrop Grumman L-1011 carrier aircraft took off from the newly renamed Vandenberg Space Force Base and flew out over the Pacific Ocean, where it launched the a solid fuel Pegasus XL rocket carrying the new satellite at 4:11 a.m. EDT (1:11 a.m. PDT/0811 GMT). Vandenberg officials confirmed the success of the launch in a Facebook statement.
Read more at: Space.com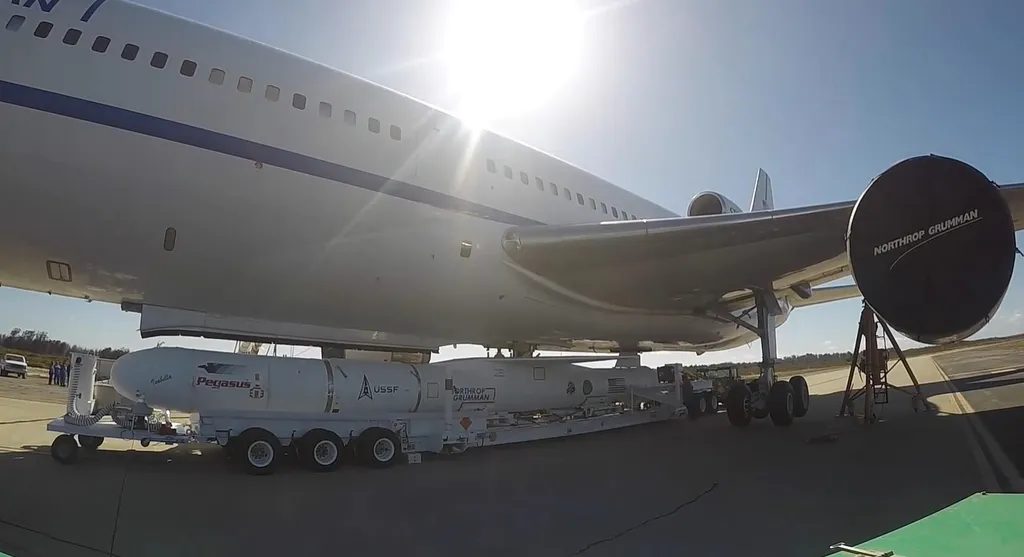 VARIOUS
Health Care Exec To Lead UK Space Agency
The UK Space Agency has picked health care veteran Paul Bate to be its next CEO starting Sept. 6.
Bate is currently vice president of commercial at Babylon Health, responsible for sales around the world for the U.K.-based virtual health care services company.
Prior to Babylon he was on the board of the U.K.'s Care Quality Commission, which regulates health and social care services in England.
Read more at: Spacenews
The Time Is Right For Australia To Re-Establish Its Reputation As A Global Space Power
We're on the precipice of Space 2.0, a new space age defined not just by bold explorations, of which there will continue to be plenty, but by the movement of more and more of our day-to-day activities from the earth's surface to space. Australians can take pride in their contribution to the first space age in the second half of the 20th century, but effort is needed if we are to optimise our position in this new era.
To be effective, Australia's participation in global space development requires national coordination and cohesion. It requires a unified approach to exploit the geographic, geopolitical, technological and entrepreneurial advantages that can make Australia a leader in the space domain.
Read more at: aspistrategist
Satellites will Crash into Verdansk in Call of Duty Warzone Season 4
Change is coming to Verdansk as season 4 of Call of Duty: Warzone launches on June 17 and some of it involves satellites from outer space. That's right, satellites are being forced out of orbit and crash-landing over multiple points of the Warzone map, according to a new trailer for the free battle royale game's fourth season. One of the crash sites is right in the center of the map — a bridge between Hospital and Downtown — with bits of debris being scattered all around. Another point of interest is just outside of Farmland where another satellite has crashed.
Read more at: Space.com
Cocaine Worth $1.2m Washes Ashore at Florida Space Force Station
Dozens of cocaine packages, worth $1.2m in total, washed ashore on a beach at Cape Canaveral on Florida's eastern coast last month, the US Space Force has said. Wildlife manager Angy Chambers, of the 45th Civil Engineer Squadron, was on the beach doing a nesting survey of sea turtles on 19 May when she found a small package covered in tape and plastic, Fox 13 reported.
Read more at: independent