TOP NEWS
Astronauts On Spacewalk Deploy First Roll-Out Solar Array To Boost Power For Station
Two astronauts working outside the International Space Station successfully rolled out a new type of solar array, providing the orbiting outpost with its first power boost in decades.
NASA astronaut Shane Kimbrough and French astronaut Thomas Pesquet of the European Space Agency conducted a six-hour and 28-minute extravehicular activity (EVA) on Sunday (June 20), to finish the installation and deployment of the first International Space Station (ISS) Roll-Out Solar Array (iROSA). The two Expedition 65 crewmates resumed work where they had left off on a spacewalk on Wednesday (June 16), by overcoming an interference issue that initially prevented them from unfolding the array fully.
Read more at: Space.com
Sir Richard Branson Gains Licence For Commercial Spaceflights
Sir Richard Branson has received the licence he needs to fly paying customers to the edge of space in his Virgin Galactic rocket plane. The approval was granted on Friday by the US Federal Aviation Administration. It updates an existing licence that had permitted Sir Richard's company to conduct test flights only. The UK entrepreneur has some 600 people waiting to take a ride to a height of 90km, to experience weightlessness and to see the curvature of the Earth. These are individuals who have all paid deposits. The would-be "astronauts" are largely made up of the super-wealthy, and include a smattering of movie and music stars.
Read more at: BBC
Astronauts Complete Solar Panel Work In 3rd Spacewalk
Astronauts finished unfurling a new pair of solar panels outside the International Space Station on Friday, making their third spacewalk in just over a week.
NASA's Shane Kimbrough and France's Thomas Pesquet successfully installed the second in a series of powerful solar wings that should keep the space station running the rest of this decade, as space tourism ramps up with visitors beginning in the fall.
Read more at: ABCnews
SPACE HAZARDS AND STM
New Spacecraft Sustainability Rating Targets Space Junk
Spacecraft operators will be able to apply for sustainability rating beginning next year to prove their satellites don't present unnecessary risk in the orbital environment and contribute to the problem of space junk.
The rating, designed to encourage sustainable behavior, will look at various aspects of the mission design, including the choice of orbit, measures to prevent collisions and de-orbiting plans. Companies will be able to gain bonus points for installing special features on their spacecraft that would make active removal easier at the end of the satellite's lifetime, such as magnetic plates of handles.
Read more at: Space.com
NEW SPACE/COMMERCIAL
Small-Rocket Startup Blushift Announces 1st Signed Purchase Order
bluShift Aerospace just hit a major milestone with its first signed purchase order, which means the small company is starting to bring in customer revenues.
The Maine-based startup announced that a Virginia educational company called MaxIQ Space has agreed to purchase as many as 60 student payloads per launch, on a minimum of two suborbital launches per year — although the agreement also includes test launches and eventual orbital missions. Financial details were not disclosed.
Read more at: Space.com
India To Allow Private Players To Build And Operate Rocket Launch Sites
India has decided to allow private companies to establish and operate rocket launch sites within and outside the country, subject to prior authorisation from the government. Similarly, any rocket launch (orbital or sub-orbital) from Indian or overseas territory can be carried out only with authorisation from Indian National Space Promotion & Authorization Center (IN-SPACe), an independent body constituted by the Government of India, under the Department of Space (DOS).
Read more at: Business standard
Space Balloon Hits 20 Miles During 1st Test Flight From Cape Canaveral
Central Florida space tourism company Space Perspective hit a milestone Friday in its goal to begin carrying passengers in a space balloon with launches from Cape Canaveral.
Its test vehicle Neptune One took off from the Space Coast Spaceport in Brevard County at 5:23 a.m. achieving an altitude of 108,409 feet, or more than 20.5 miles, while crossing the state from east to west and splashing down in the Gulf of Mexico during a 6 hour, 39 minute flight.
Read more at: Orlando sentinel
SCIENCE & TECHNOLOGY
The Final Frontier: Doing Laundry In Space
Ever wondered how astronauts aboard the International Space Station do their laundry?
Well, they don't, and the National Aeronautics and Space Administration (NASA) is working hard to solve what is one of the most thorny tasks in space – washing clothes.
The space agency is planning to conduct a series of experiments using specially designed detergents from Procter and Gamble to find a long-term solution to the problem, the U.S. consumer goods giant said on Tuesday.
Read more at: Reuters
ULA Delays Further Use Of Enhanced Upper-Stage Engine Pending Studies
United Launch Alliance will not be using an upgraded upper-stage engine in upcoming Atlas 5 missions as the company investigates the source of vibrations seen during a May 18 flight.
The engine issue was identified during the launch of the U.S. Space Force's SBIRS-5 missile warning satellite, which was successfully deployed. The Aerojet Rocketdyne RL10 engine that powered the Atlas 5's upper stage had a new nozzle extension that was observed vibrating, or "ringing," during flight.
Read more at: Spacenews
'Rosie The Rocketeer' Dummy Buckles Up For Boeing's 2nd Starliner Launch Test
Although the next flight of Boeing's Starliner capsule won't carry any astronauts, it will ferry one passenger to and from the International Space Station. That passenger is an anthropomorphic test device, more colloquially known as a flight dummy, dubbed Rosie the Rocketeer. "Rosie the Rocketeer is buckled in for the upcoming Starliner launch!" officials wrote on NASA's Commercial Crew Program Twitter on Wednesday (June 23).
Read more at: Space.com
Report Backs NASA Proposal To Change Astronaut Radiation Exposure Limits
A National Academies committee has endorsed a NASA proposal to change the radiation exposure limits the agency sets for its astronauts but cautioned that the revised limit is still insufficient for human Mars missions.
The June 24 report by a committee established by the National Academies and sponsored by NASA backs the agency's proposal to set a single lifetime radiation exposure limit for astronauts, rather than different limits based on age and gender.
Read more at: Spacenews
The Ariane 6 Debut Is Slipping Again As Europe Hopes For A Late 2022 Launch
Europe's top space official said Monday that ensuring the first launch of the Ariane 6 rocket takes place in 2022 is a very high priority.
"This for me is a top, top priority," said Josef Aschbacher, director general of the European Space Agency, at the Paris Air Forum. "Ariane 6 is our most important launcher to come. We have to put all the energy and all the emphasis into making the maiden flight as soon as possible.
Together with the leaders of the French space agency, CNES, and the Ariane 6's prime contractor, Ariane Group, Aschbacher said he had put "a small group" together to make an independent assessment of the schedule for the final development phase of the Ariane 6 rocket. The goal of this task force will be to ensure that Europe does everything it needs to do launch on time.
Read more at: Arstechnica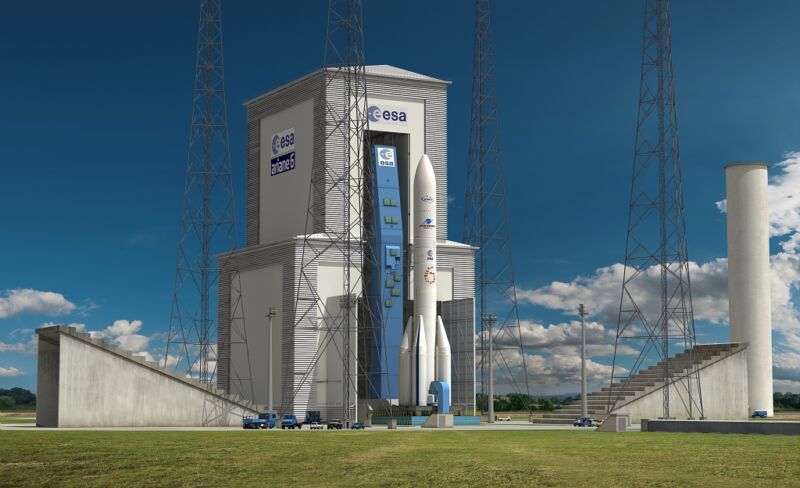 SPACE POLICY
Green Party Wants To Change Space Legislation To Stop 'Military Hardware' Rocket Launches
The Green Party has drafted a member's bill that would stop companies like Rocket Lab launching "military hardware" into space.
Green Party MP Teanau Tuiono​, the party's security and intelligence spokesman, announced the proposed legisation and attended a protest outside Rocket Lab's Auckland headquarters on Monday.
Tuiono said, in a statement, that New Zealand's space industry should not be "used by military actors to launch weaponry", and the existing Outer Space and High Altitude Activities Bill had "so many gaps and grey areas".
Read more at: Stuff
FAA, Department Of The Air Force Sign Commercial Space Agreement
The Federal Aviation Administration (FAA) and the Department of the Air Force signed an agreement June 15 aimed at eliminating red tape while protecting public safety during commercial space activities at ranges operated by the U.S. Space Force.

The agreement recognizes common safety standards for FAA-licensed launch and reentry activities that occur on, originate from, or return to Cape Canaveral Space Force Station in Florida and Vandenberg Space Force Base in California. It also removes duplicative processes and approvals for the U.S. commercial space sector.

"Assured access to space is vital to our national security," said Acting Secretary of the Air Force John P. Roth. "The launch licensing standards provided in the agreement will support a rapidly expanding commercial launch sector and strengthen our space industrial base, bolstering our economy and enhancing our security as a nation."
Read more at: spaceforce
Russia Wants To Send Cosmonauts To China Space Station
Roscosmos is looking at ways to send its cosmonauts to the Chinese space station, launching from sites in either Russia or French Guiana. During a press conference at the recently concluded Global Space Exploration Conference (GLEX) in St. Petersburg, Russia, on June 15, Dmitry Rogozin, director general of Roscosmos, revealed that Russia is in discussions with China about crewed flights to the Chinese space station. Rogozin, in response to a question from Aviation Week about potentially launching cargo or crew to China's new orbital outpost, said, "We are planning to send our astronauts to the Chinese station."
Read more at: Space.com
Lift-Off For European Union's New Space Programme
The new EU space programme has been officially launched. It'll cover the period to 2027 and will see the bloc's 27 member states deepen investments in satellite-navigation, Earth observation, space situational awareness and secure communications, among other activities. It also establishes a new body called the EU Agency for the Space Programme. Euspa will have oversight of everything the European Union does as a bloc in orbit.
Read more at: BBC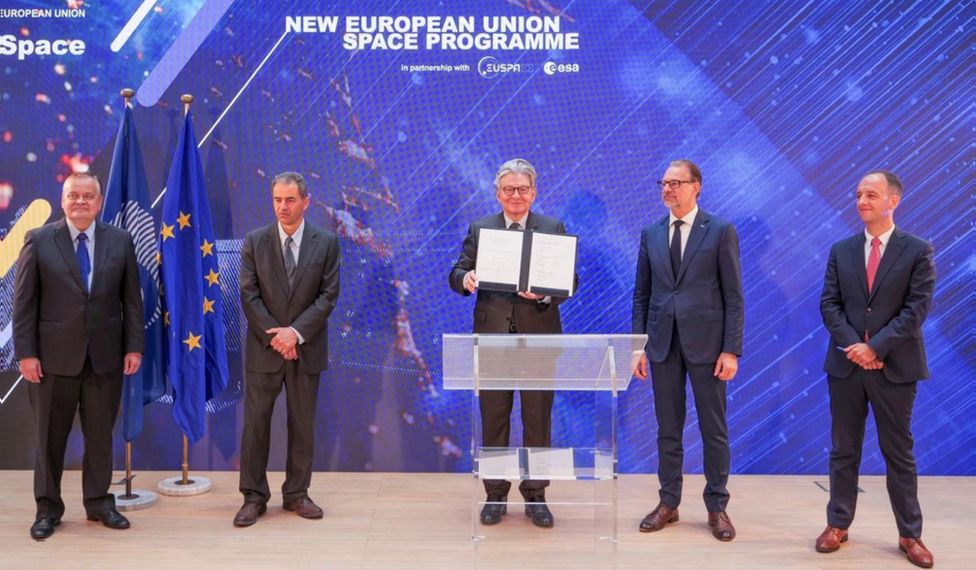 SPACE DEFENSE
Army, Navy Satellite Operations To Consolidate Under Space Force
The U.S. Space Force later this year will begin to take over the operation of 11 Navy narrowband communications satellites. It also will absorb Army units that currently operate military communications payloads, a Space Force official said June 23.
The transition, scheduled to begin in October, will create a more integrated U.S. military satcom enterprise which for decades has "largely been a loose federation," said Col. Matthew Holston, commander of Space Delta 8 at Schriever Air Force Base, Colorado.
Read more at: Spacenews

Space New Frontier For Lux-US Military Cooperation
Kelli L. Seybolt, US deputy undersecretary of the Air Force's international affairs office, visited Luxembourg on Thursday and Friday to meet with government officials and private space sector players. Space Force is a branch of the Air Force.
"I don't envy the problem," she said speaking to Delano about Luxembourg struggling to meet its Nato commitments. Alliance members in 2014 pledged to spend 2% of GDP on their militaries, a challenge for the grand duchy's small army of 400 active soldiers.
Read more at: delano
Military Building An Appetite For Commercial Space Services
The U.S. Space Force is eager to tap into the vibrant commercial market for space services enabled by increasingly capable small satellites and cheaper access to orbit.
Commercial services of particular interest to the military include imagery, analytics, weather data and broadband from low-Earth orbit constellations.
"It's really crucial that we figure out how to successfully integrate commercial data and services into our architectures and concepts of operations," said Lt. Gen. John Thompson, head of the Space and Missile Systems Center (SMC), the procurement arm of the Space Force.
Read more at: Spacenews
VARIOUS
Black Arrow Was The Radical British Rocket That Was Doomed Before It Flew. But It Flew Anyway
On 28 October, 1971, a British built space rocket loaded with enough kerosene to give it the best part of 80,000 lbs of thrust, blasted off from the Woomera rocket range in South Australia. The 13-metre tall craft, named Back Arrow, rose up perfectly, firing into fresh clear spring sky. 130 seconds later eight explosive bolts released the spent first stage of the rocket, which separated and fell back to earth. The second stage engines fired up and burned for another 120 seconds taking the rocket into space before separating.
Read more at: National geographic
See the Hubble Space Telescope's Iconic Pillars of Creation in Lego Form
One of the Hubble Space Telescope's most iconic pictures is now reimagined in Lego form. The famous "Pillars of Creation" image of 1995 showing epic clouds of gas in the Eagle Nebula is available now on the Lego's website for fans to recreate in brick form, for free. A copy of the instructions is online on the "Go Beyond" website, to time with Lego's recently released NASA Space Shuttle Discovery Hubble set for adults.
Read more at: Space.com