TOP NEWS
NASA and Boeing Complete Orbital Flight Test Reviews
NASA and Boeing have completed major reviews of the company's uncrewed Orbital Flight Test in December 2019 and are continuing with preparations to refly the test, designated Orbital Flight Test-2 (OFT-2), to the International Space Station as part of NASA's Commercial Crew Program.
"NASA and Boeing have completed a tremendous amount of work reviewing the issues experienced during the uncrewed flight test of Starliner," said Steve Jurczyk, associate administrator at NASA. "Ultimately, everything we've found will help us improve as we move forward in the development and testing of Starliner, and in our future work with commercial industry as a whole."
The joint NASA-Boeing Independent Review team completed the final assessment into the intermittent space-to-ground communication issue detected during the first uncrewed Orbital Flight Test of Boeing's Starliner spacecraft. The review team previously completed its investigation into the two other primary anomalies experienced during the test.
Read more at: NASA

NASA Adds Software Experts To Work Toward New Boeing Capsule Flight
NASA added software experts to work with Boeing and SpaceX on their space capsule programs following the failure of Boeing's Starliner test flight in December, the agency announced via a teleconference from Florida on Wednesday.
The software oversight changes were outlined in NASA's release of its final review of the Starliner failure.
The space agency said Boeing remains on track for a second test flight in the last half of this year. Competitor SpaceX's Crew Dragon capsule successfully delivered astronauts to the International Space Station on May 31.
Read more at: Spacedaily

Kuaizhou-11 Fails During Maiden Launch
China's new solid rocket motor Kuaizhou-11 launch vehicle has failed on its first mission. China conducted the inaugural launch of the long-delayed Kuaizhou-11 (KZ-11) rocket at 04:17 UTC from the Jiuquan Satellite Launch Center on Friday, carrying two satellites, before confirming the failure of the mission in the latter stages of flight, although specifics are not yet forthcoming.
This was the third launch failure for China in 2020. This follows the loss of Xinjishu Yanzheng-6 satellite on the inaugural launch of the Chang Zheng-7A launch vehicle out of Wenchang on March 16 and the loss of the Indonesian Palapa-N1 communications satellite due to a problem with its Long March-3B/G2 launcher out of Xichang on April 9.
Read more at: NASA spaceflight

Russia's Progress MS-13 Cargo Spacecraft Buried In Pacific — Roscosmos
Russia's Progress MS-13 cargo spacecraft, which undocked from the International Space Station (ISS) on Wednesday, splashed down in the non-navigational area of the Pacific Ocean, known as the 'spacecraft cemetery,' Russia's state-run space corporation Roscosmos said in a statement on Thursday.
"In accordance with the Mission Control Center's calculations <…> the Progress MS-13 space freighter re-entered the Earth's atmosphere at 01:05 Moscow time. The fall of the spacecraft's indestructible debris occurred at the non-navigational area of the Pacific Ocean, some 1,800 kilometers southeast of Wellington, New Zealand," the statement says.
Read more at: TASS

NASA Assembles Artemis II Orion Stage Adapter
Technicians at NASA's Marshall Space Flight Center in Huntsville, Alabama, have moved panels for the Artemis II Orion stage adapter to a large robotic, welding machine. Three panels were built by AMRO Fabricating Corp. in South El Monte, California and shipped to Marshall where engineers and technicians from NASA are joining them using a sophisticated friction-stir welding process to form the Orion stage adapter. This critical part of NASA's Space Launch System (SLS) rocket will send the Artemis II crew into lunar orbit. AMRO also built panels for the Artemis II launch vehicle stage adapter also currently being built at Marshall and the SLS core stage and the Orion crew module built at NASA's Michoud Assembly Facility in New Orleans. All panels where joined with the same friction-stir welding process.
Read more at: NASA

ESA Delays Ariane 6 Launch To The Second Half Of 2021
The European Space Agency (ESA) has delayed the first launch of their upcoming heavy-medium rocket: the Ariane 6. Arianespace – the prime contractor for Ariane 6 – and ESA now expect it to launch NET (no earlier than) the second half of 2021, with at least six months of delay.

Ariane 6 is a medium-heavy launch vehicle developed and manufactured by Arianespace, working under European Space Agency. Its first stage is powered by Vulcain 2.1 hydrolox engine.
Read more at: NASA spaceflight

Russia's Research Module For Orbital Outpost Passes Final Trials
The Nauka (Science) multi-functional laboratory module that Russia is planning to send to the International Space Station (ISS) in 2021 has successfully passed trials in a vacuum chamber and will be dispatched to the Baikonur spaceport on July 21-23, the State Space Corporation Roscosmos reported on Friday.
"Important and long-awaited news: the Nauka orbital module has successfully passed final tests in a vacuum chamber of the Khrunichev Center. There are no faults as all of them were removed in the process of the work," Roscosmos announced on its Twitter.
Read more at: TASS

SPACE HAZARDS & STM
Asteroid Deflection Planetary Defense Mission Target: "Dimorphos"
The destination of ESA's Hera mission for planetary defense – a tiny asteroid moonlet – has finally received its official name. After years of informal nicknames and temporary designations, the smaller of the Didymos asteroid pair has been formally christened 'Dimorphos' by the International Astronomical Union.
A near-Earth binary asteroid system, named after the Greek word for 'twin', Didymos's main body measures about 780 m across, with its previously nameless moonlet about 160 m in diameter, approximately the size of Egypt's Great Pyramid.
Read more at: scitech daily

NASA Implements Changes To Planetary Protection Policies For Moon And Mars Missions
NASA announced July 9 two new directives regarding planetary protection for missions to the moon and Mars that implement recommendations of an independent review board last year.
The two directives, announced by NASA Administrator Jim Bridenstine during a "Moon Dialogs" webinar, are part of an effort by NASA to modernize guidelines that are decades old and which the agency believes could hinder its long-term human exploration plans.
Read more at: Spacenews

FCC Chief Seeks Conditional Approval For Amazon's Project Kuiper Broadband Satellite Network
The Federal Communications Commission's chairman, Ajit Pai, says he's proposing approval of Amazon's plan to put more than 3,200 satellites into low Earth orbit for a broadband internet constellation known as Project Kuiper … with conditions.
The full commission would have to vote to approve the Project Kuiper application, which has been in the works for the past year. But support from Pai, who was chosen by President Donald Trump to lead the five-member commission in 2017, serves as a strong sign that conditional approval will ultimately be granted.
Read more at: geekwire

Comet Streaking Past Earth, Providing Spectacular Show
A newly discovered comet is streaking past Earth, providing a stunning nighttime show after buzzing the sun and expanding its tail.
Comet Neowise — the brightest comet visible from the Northern Hemisphere in a quarter-century — swept within Mercury's orbit a week ago. Its close proximity to the sun caused dust and gas to burn off its surface and create an even bigger debris tail. Now the comet is headed our way, with closest approach in two weeks.
Read more at: ABC news

NEW SPACE
Satellite Industry Grows at Record-Setting Pace and Dominates Global Space Economy
The Satellite Industry Association (SIA) today announced the release of the 2020 State of the Satellite Industry Report (SSIR), a global summary of the commercial satellite industry, revealing record-setting growth and economic impact. The 23rd annual report shows that for the second straight year a record number of satellites were launched into space with 386 commercial satellites being deployed into orbit during 2019. By the end of last year, the total number of satellites circling the earth increased by 17 percent to an astounding total of 2460 satellites. This year's SSIR also contains a special section on the global impact the COVID-19 pandemic is having on the current state of the satellite industry.
Read more at: Sia

Destination Space
Have you ever looked up at the night sky to admire the stars to find a constellation, look at the moon, observe one of the planets in our solar system through a telescope—and wondered what it would be like to go to space yourself? If you have tens of millions of dollars to spare, you can potentially make that dream a reality.
Though a vacation to outer space might seem like something out of a science fiction novel, space tourism has been around since the first private astronaut traveled to the International Space Station (ISS) on April 28, 2001.
Read more at: politic

Elon Musk And Other Competitors Rushed To Support Rocket Lab After The Startup's Founder Apologized For Losing 7 Satellites In A Launch Failure
If Apple or Google ever launched a gadget product that failed, the last thing you might expect to see is either tech company publicly consoling the other.
When it comes to the orbital rocket industry, though, the atmosphere is far more collegial.
Over the weekend, the small-launch firm Rocket Lab experienced a ruinous setback: the total loss of an operational space mission worth months of time and millions of dollars. But instead of staying silent about the failure or gloating, leaders of space companies competing for business with the roughly $1.4 billion startup stepped up to offer their public support.
Read more at: Business insider

SpaceX Starship Prototype Bears Down On First Raptor Engine Tests
SpaceX's fifth full-scale Starship prototype is fast approaching its first Raptor static fire tests after the company recently delivered one of the newest engines to the launch site.
Known as Starship SN5, the ship is the fifth SpaceX has built since full-scale prototype development began in early 2019, as well as the fourth full-scale ship the company has completed since it began producing upgraded hardware in January 2020. SN5 rolled from SpaceX's Boca Chica, Texas rocket factory to nearby test and launch facilities on June 24th, less than a month after Starship SN4 was destroyed by operator error minutes after completing its fourth Raptor static fire in four weeks.
Read more at: Teslarati

Details About the First-Ever Tourist Walk in Outer Space Revealed
The first-ever tourist walk in outer space will last between 90 to 100 minutes, a representative from the US company Space Adventures told RIA Novosti. "This is approximately how long it takes the International Space Station to orbit the Earth", the company's representative said, adding that space tourists can't spend six or seven hours outside the International Space Station like professional astronauts due to lack of experience and training.
During the spacewalk, the tourists will be able to observe the Earth from different angles. Russian cosmonaut Pavel Vinogradov previously said the first space tourist to walk outside the station might conduct certain experiments, as well as take photos of the planet.
Read more at: Sputniknews

SCIENCE & TECHNOLOGY
New Biomaterial Could Shield Against Harmful Radiation
Packing for outer space? Here's one thing you won't want to forget. Northwestern University researchers have synthesized a new form of melanin enriched with selenium. Called selenomelanin, this new biomaterial shows extraordinary promise as a shield for human tissue against harmful radiation.
"Given the increased interest in space travel, and the general need for lightweight, multifunctional and radioprotective biomaterials, we've become excited about the potential of melanin," said Northwestern's Nathan Gianneschi, who led the research.
Read more at: Spacedaily

There's More Metal On The Moon Than We Thought
Earth's moon is more metal than scientists imagined.NASA's prolific Lunar Reconnaissance Orbiter (LRO) found rich evidence of iron and titanium oxides under the surface of the moon, which may show a close connection with Earth's early history.Scientists have been debating how the moon formed for decades. The leading theory suggests that a Mars-size world collided with Earth billions of years ago. The colliding world shattered upon impact and blasted part of the proto-Earth's surface into space. The debris surrounded Earth with a ring; the moon we see today is the result of that ring slowly collapsing under its own gravity.
Read more at: Space.com

Can Astronauts Be Allergic To Moon Dust? NASA Seeks An Answer.
Allergies are annoying on Earth, but imagine having them on the moon while wearing a spacesuit: Your eyes are watering, nose is itchy and the helmet acts an effective barrier for the tissue.
Some Apollo astronauts reported allergy-like symptoms after tracking dust into their vehicles. But were the symptoms due to actual allergies or to the moon dust irritating their nose and throat?
Read more at: Houston chronicle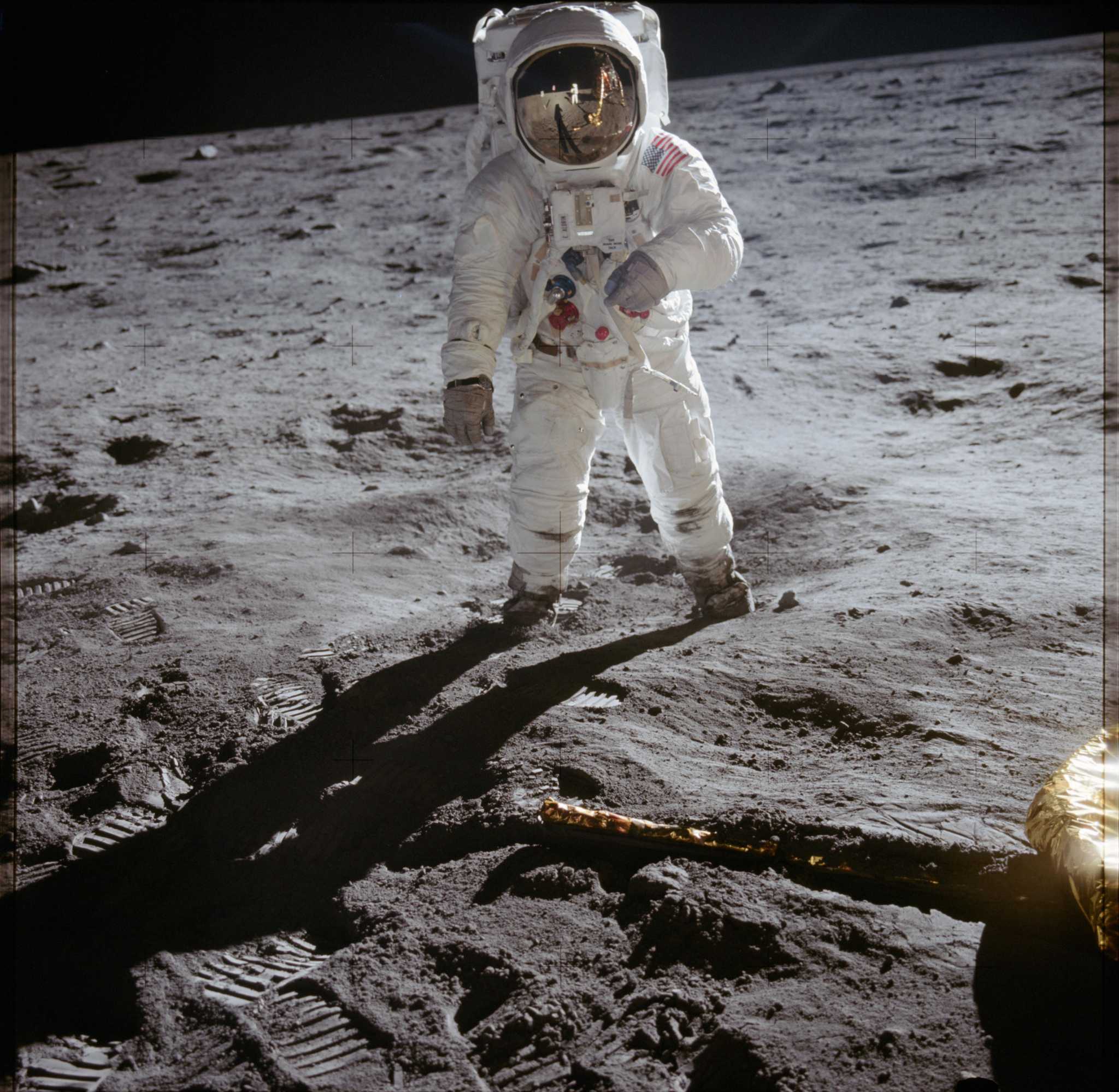 How Small Satellites Are Radically Remaking Space Exploration
At the beginning of this year, a group of NASA scientists agonized over which robotic missions they should choose to explore our Solar System. Researchers from around the United States had submitted more than 20 intriguing ideas, such as whizzing by asteroids, diving into lava tubes on the Moon, and hovering in the Venusian atmosphere.
Ultimately, NASA selected four of these Discovery-class missions for further study. In several months, the space agency will pick two of the four missions to fully fund, each with a cost cap of $450 million and a launch late within this decade. For the losing ideas, there may be more chances in future years—but until new opportunities arise, scientists can only plan, wait, and hope.
Read more at: Arstechnica

Chinese Scientists Reveal Analysis Of Weird Substance Found On The Moon's Far Side By Yutu 2 Rover
Chinese scientists have published an analysis of a curious substance on the moon which generated widespread interest following its discovery by the Yutu 2 rover last year. 
The discovery was made by a Yutu 2 drive team member in July 2019, during lunar day 8 of the rover's mission, which is part of China's Chang'e 4 mission to explore the far side of the moon. A report by Our Space, a Chinese-language science-outreach publication, revealed the discovery on Aug. 17 and described the substance using the term "胶状物" ("jiao zhuang wu"), which can be translated as "gel-like." 
Read more at: Space.com

Are We Making Spacecraft Too Autonomous?
When SpaceX's Crew Dragon took NASA astronauts to the ISS near the end of May, the launch brought back a familiar sight. For the first time since the space shuttle was retired, American rockets were launching from American soil to take Americans into space.
Inside the vehicle, however, things couldn't have looked more different. Gone was the sprawling dashboard of lights and switches and knobs that once dominated the space shuttle's interior. All of it was replaced with a futuristic console of multiple large touch screens that cycle through a variety of displays.
Read more at: Technology review

SPACE POLICY
NASA Signs Agreement With Japan to Cooperate Across Space Station, Artemis and Lunar Gateway Projects
NASA has signed a new agreement with Japan that lays out plans for the two nations to cooperate on the International Space Station (continuing existing partnership between the countries there) as well as on NASA's Artemis program, which includes missions in lunar space and to the lunar surface.
NASA Administrator Jim Bridenstine signed the agreement with Government of Japan Minister of Education, Culture, Sports, Science and Technology Koichi Hagiuda on July 10. It's a Joint Exploration Decoration of Intent (JEDI), which essentially commits the two countries to laying the groundwork for more concrete plans about how the two nations will work together on projects that will extend all the way to include both robotic and human exploration of the moon.
Read more at: Techcrunch

House Republicans Criticize NASA Spending Bill
As the head of NASA emphasized what he saw as bipartisan support for the agency in Congress, several Republican members of the House criticized colleagues for a fiscal year 2021 spending bill they believe inadequately funds the agency.
The commerce, justice and science (CJS) subcommittee of the House Appropriations Committee favorably reported a fiscal year 2021 spending bill July 8 that includes $22.6 billion for NASA. The bill, introduced a day earlier, passed on a voice vote without any amendments.
Read more at: Spacenews

Chairman Reed Hosts Teleconference with over 180 Space Technology Leaders and Stakeholders
Export-Import Bank of the United States (EXIM) President and Chairman Kimberly A. Reed today hosted a teleconference roundtable discussion with over 180 business leaders and stakeholders in the space technology sector. The event was the fifth teleconference in EXIM's "Strengthening American Competitiveness" initiative, which provides valuable stakeholder input to EXIM's new Program on China and Transformational Exports.
On the call, Chairman Reed highlighted how EXIM's partnership with the private sector can provide new economic and security opportunities for U.S. companies. She also underscored EXIM's commitment to accelerating the success of American companies in this key sector.
Read more at: exim

ISRO Chief Full Interview: K Sivan Talks Gaganyaan, Elon Musk, Indo-China Space Battle
While India battles with Coronavirus, ISRO Chief Dr. K Sivan, spoke to Republic Media Network Editor-in-Chief Arnab Goswami, on Saturday about India's space ventures, Vikram Lander's hard landing, his own humble origins and India's chances against China in space. He detailed ISRO's learning after Chandrayaan-2 and India's Gaganyaan mission which is scheduled to launch by August 15, 2021. Dr. Sivan was named as the recipient of the 2020 Von Karman Award of the International Academy of Astronautics, earlier in the day.
Read more at: Republic world

SPACE DEFENCE
Op-Ed | U.S. Satellites Increasingly Vulnerable To China's Ground-Based Lasers
The Defense Intelligence Agency warned in January 2019 that China likely will field in 2020 a ground-based laser weapon that can counter low-orbit space-based sensors. By the mid-to-late 2020s it may field higher power systems that could damage the structures of non-optical satellites.
How real is the threat? Analysts have already identified five Chinese laser bases. One in Xinjiang has four main buildings. One of these building is thought to be for tracking satellites, while equipment in the other three could be used to dazzle or disable satellite sensors. If the Xinjiang facility is representative of the other four, all five bases can be located and are vulnerable to aerial attacks.
Read more at: Spacenews

As Risks of Space Wars Grow, Policies to Curb Them Lag
On April 22, Iran's Islamic Revolutionary Guard Corps announced a successful launch of what they described as a military reconnaissance satellite, which came after several failed attempts. The satellite joined a growing list of weapons and military systems in orbit, including Russia's test of a missile system designed to destroy satellites, also in April, and India's test of an anti-satellite weapon, which the country launched in March 2019.
Experts like Brian Weeden, director of program planning at the Secure World Foundation (SWF), a nonpartisan think tank based in Broomfield, Colorado, worry that these developments — all confirmed by the newly reestablished United States Space Command — threaten to lift earthly conflicts to new heights and put all space activities, peaceful and military alike, at risk.
Read more at: undark

Iridium Publicly Threatens Lawsuit To Overturn FCC's Ligado Vote
Iridium is considering legal action to block the FCC's controversial approval of Ligado's 5G mobile wireless network, which much of the federal government says will interfere with GPS.
"From our perspective, the record is clear that the Ligado order adopted this spring is detrimental to satellite communications, users, consumers. We are asking the FCC, Congress and — if needed — the courts to change the outcome, to change or modify," Robert McDowell, former FCC commissioner under President George W. Bush and Barack Obama and a legal rep for Iridium, told a webinar yesterday sponsored by the Aerospace Industries Association (AIA) and Aviation Week.
Read more at: Breaking defense

Republican Congressman Mike Waltz Shapes Military & Civilian Space Policy
Republican Congressman Mike Waltz has been focusing a lot on space. Two of his House committees are working on budgets affecting both the military and civilian side of the industry. One committee helped move a National Defense Authorization Act which expands the newly created U.S. Space Force and the other committee is laying the groundwork for NASA's next budget. Waltz represents Florida's 6th congressional district.
Read more at: wmfe

Space Force Proposes Headquarters Staff Led By Generals And Civilians
The U.S. Space Force Pentagon headquarters will have a leaner staff structure than traditional military service headquarters and some senior staff posts will be assigned to civilians, according to a draft proposal.
The Space Force headquarters — known as the Office of the Chief of Space Operations, or OCSO — will be led by a four-star general and a four-star vice chief. Underneath them will be four deputy chiefs of staff who could be general officers or senior government civilians, says the proposal which was approved last month by Chief of Space Operations Gen. John Raymond, sources told SpaceNews.
Read more at: Spacenews

The U.S. Defense Space Strategy Works On Paper, But Will It Be Implemented?
It's become increasingly clear that outer space is a key domain of U.S. and international security, and the Trump administration has made it a priority in recent years. On June 17, the Department of Defense (DOD) released a summary of its newDefense Space Strategy (DSS). The document outlines a strategy for advancing U.S. military space power over the next 10 years.
Read more at: Brookings

With Iran In Its Sights, Israel Launches New Spy Satellite Into Orbit
Israel launched a new spy satellite into orbit from a launchpad in the center of the country early Monday morning, the Defense Ministry said.
"The Defense Ministry and Israel Aerospace Industries successfully launched into space the reconnaissance satellite 'Ofek-16,' which entered into its orbit," the ministry said in a statement.
Defense Minister Benny Gantz hailed the launch of the Ofek-16 satellite as a "mighty achievement for the defense establishment, the defense industries in general and Israel Aerospace Industries in particular."
Read more at: times of israel

State Department To Invite China To Join Trilateral Arms Talks With Russia
The U.S. State Department said on Thursday that it will invite the Chinese government to engage in face-to-face arms control negotiations in Vienna.
In a press release issued Thursday, State Department spokeswoman Morgan Ortagus also recommended China meet with Russia "to consider next steps for trilateral arms control negotiations."
"We will all bring different perspectives and objectives to the negotiating table and will surely have disagreements," Ortagus said. "But it is time for dialogue and diplomacy between the three biggest nuclear weapons powers on how to prevent a new arms race."
Read more at: Spacewar

Descartes Labs Wins U.S. Air Force Contract For Geospatial Data Analytics
Geospatial analytics company Descartes Labs has been awarded a $1.5 million contract to help the U.S. Air Force draw intelligence from imagery and other data collected by satellites and by autonomous aerial vehicles, the company announced July 8.
The 12-month contract was awarded under the Small Business Innovation Research program. The project is sponsored by the Air Force's technology accelerator known as AFWERX and the Air Force Research Laboratory's Space Vehicles and Information Directorates.
Read more at: Spacenews

VARIOUS
Russia Arrests Space Agency Official, Accusing Him of Treason
Russia's secret police on Tuesday arrested a respected former reporter who worked in recent months as an adviser to the head of the country's space agency, accusing him of treason for passing secrets to a NATO country.
Life News, a tabloid news site with close ties to the security apparatus, posted a video of the former reporter, Ivan I. Safronov, being bundled off a leafy Moscow street into a gray van by plainclothes officers of the Federal Security Service, or F.S.B., the domestic arm of what was known in Soviet times as the K.G.B
Read more at: NY Times
Spaceport America's Former CFO Accuses CEO Dan Hicks Of Abusing Authority
A whistleblower complaint alleges that Spaceport America CEO Dan Hicks pressured the former chief financial officer to circumvent internal financial controls and accounting protocols.
Hicks is also accused of trying to monitor the CFO's communications with state Economic Development Director Alicia Keyes. 
The four-page complaint, obtained by the Las Cruces Sun-News Friday evening via a public records request, was submitted on June 12 by Zach De Gregorio, who has since resigned as CFO. Hicks has been placed on administrative leave pending an investigation which the Economic Development Department said may take several weeks. 
Read more at: lcsun
How Covid Is Strengthening Our Ties To Outer Space
The coronavirus impact reaches beyond Planet Earth, says Deganit Paikowsky, the first female Israeli vice president of the International Astronautical Federation (IAF).
The most obvious impact is our increased dependence on thousands of satellites scattered across the skies. They enable Zoom meetings and other types of remote communication.
"Everyone is working remotely, and satellite communication technology supports that," Paikowsky says.
Read more at: israel21c
New Research Shows COVID-19 Herd Immunity Could Be Achieved With Fewer People Being Infected
Mathematicians from the University of Nottingham and University of Stockholm devised a simple model categorizing people into groups reflecting age and social activity level. When differences in age and social activity are incorporated in the model, the herd immunity level reduces from 60% to 43%. The figure of 43% should be interpreted as an illustration rather than an exact value or even a best estimate. The research has been published today in Science.
Herd immunity happens when so many people in a community become immune to an infectious disease that it stops the disease from spreading. This happens by people contracting the disease and building up natural immunity and by people receiving a vaccine.
Read more at: scitech daily