TOP NEWS
H-II Transfer Vehicle "KOUNOTORI9" Departure From The ISS And Re-Entry To The Atmosphere
Schedules of departure from the International Space Station (ISS) and re-entry to the atmosphere of the H-II Transfer Vehicle "KOUNOTORI9" (HTV9) are determined as follows.
| | |
| --- | --- |
| Departure from the ISS: | August 19, 2020 / 2:35 a.m. (Japanese Standard Time, JST)*1 |
| Re-entry to the atmosphere: | August 20, 2020 / 4:07 p.m. (JST) |
Read more at: JAXA

Japan May Extend Hayabusa2 Asteroid Mission To Visit 2nd Space Rock
Japan's Hayabusa2 mission is headed home from an asteroid called Ryugu, carrying a very special delivery of space rock, but Earth may not be the spacecraft's final destination.
The Japan Aerospace Exploration Agency (JAXA), which runs the mission, is evaluating a second stop for its space-rock investigation, according to recent statements. Such a mission extension, which would last more than a decade, could see Hayabusa2 orbit a second asteroid.
Read more at: Space.com

Ariane 5 Is Given The Go-Ahead For Launch On August 14 With A Triple Satellite Payload
This approval clears the way for Ariane 5's return to the Spaceport's ELA-3 launch zone tomorrow, followed by the final countdown leading to an evening liftoff on Friday.
The mission to geostationary transfer orbit will deploy two telecommunications satellites: Galaxy 30 for Intelsat, and BSAT-4b for B-SAT, both of which are long-time Arianespace customers. Also carried by Ariane 5 is the Mission Extension Vehicle-2 (MEV-2) for Northrop Grumman's wholly-owned subsidiary, SpaceLogistics LLC, which is a first-time user of Arianespace launch services.
Read more at: Arianespace

Next Delta 4-Heavy Launch On Schedule For Aug. 26
The flight of a United Launch Alliance Delta 4-Heavy rocket set for Aug. 26 from Cape Canaveral continues the Delta rocket family's countdown to retirement. With five Delta 4-Heavy missions left to launch, ULA's chief executive Tory Bruno says there are no plans to build more as the company transitions to the next-generation Vulcan Centaur rocket.
The next Delta 4-Heavy launch is scheduled to blast off Aug. 26 from pad 37 at Cape Canaveral Air Force Station. ULA says the mission has a launch period opening at 1:50 a.m. EDT (0550 GMT) and closing at 6:25 a.m. EDT (1025 GMT), but the actual launch window lies within that period.
Read more at: SpaceflightNow

NASA, SpaceX Targeting October for Next Astronaut Launch
NASA and SpaceX are targeting no earlier than Oct. 23 for the first operational flight with astronauts of the Crew Dragon spacecraft and Falcon 9 rocket to the International Space Station as a part of the agency's Commercial Crew Program. NASA's SpaceX Crew-1 mission will be the first of regular rotational missions to the space station following completion of NASA certification.
The mission will carry Crew Dragon commander Michael Hopkins, pilot Victor Glover, and mission specialist Shannon Walker, all of NASA, along with Japan Aerospace Exploration Agency (JAXA) mission specialist Soichi Noguchi for a six-month science mission aboard the orbiting laboratory following launch from Launch Complex 39A at NASA's Kennedy Space Center in Florida.
Read more at: NASA

SPACE HAZARDS & STM
A GOLDen Way to Study Space Weather
One of NASA's newest missions, called Global-scale Observations of the Limb and Disk (GOLD), is revealing how the upper fringes of Earth's atmosphere affect space weather by observing atmospheric airglow in unprecedented detail. In a new study, Eastes et al. report early data from the mission, including observations of how neutral gases in the thermosphere interact with charged particles in Earth's ionosphere and how these interactions respond to disturbances in Earth's magnetic field caused by solar storms hazardous to critical infrastructure.
Read more at: EOS

Japanese Satellite To Use Laser To Rid Space Of Dangerous Debris
A Japanese company has announced plans to de-clutter space with a satellite armed with a high-powered laser.
Several proposals have previously been put forward to remedy the problem of an estimated 900,000 shards of debris measuring slightly less than 3 inches in length orbiting the planet and posing a hazard to satellites and even the International Space Station.
The plan by Sky Perfect JSAT Corp., a satellite communications company, is the first to suggest using a laser to rid our skies of junk, with the Tokyo-based firm confident that it will be able to launch its first commercial debris-destroying vehicle in 2026.
Read more at: Telegraph

NEW SPACE
The Space Sector Is Finally Finding Its Way To The Exits
The pace of space industry exits is picking up in the United States where private equity firms and holding companies are scooping up startups and enterprises established decades ago.
Already in 2020, private equity firm AE Industrial Partners acquired Adcole Maryland Aerospace and Deep Space Systems, engineering services and satellite component specialists it combined to form Redwire. Redwire then purchased Made In Space, an in-space manufacturing and assembly pioneer.
Read more at: Spacenews

Government's Role In The Small Launch Market Not Quite Black And White
Analysts have warned for some time that the smallsat market cannot support the dozens of companies currently developing small launch vehicles. The consensus is that only a handful will survive, and the U.S. government, particularly the Defense Department, will play a decisive role in selecting the ones that stay in business.
The Pentagon has already signaled its intent to support the industry, even if the means by which it's sought to do so have invited controversy. Undersecretary of Defense for Acquisition and Sustainment Ellen Lord in April identified small launch as one of the sectors of the defense industrial base most adversely impacted by the coronavirus pandemic's economic fallout.
Read more at: Spacenews

Meet 'Tenacity': 1st Dream Chaser Space Plane Gets A Name
The first orbital Dream Chaser space plane recently got its wings, and a name.
Dream Chaser, which is built by Colorado-based company Sierra Nevada Corp., is the world's only non-capsule private orbital spacecraft. The winged vehicle will launch vertically atop a rocket but end its missions with runway landings, like NASA's now-retired space shuttle orbiters used to do.
Read more at: Space.com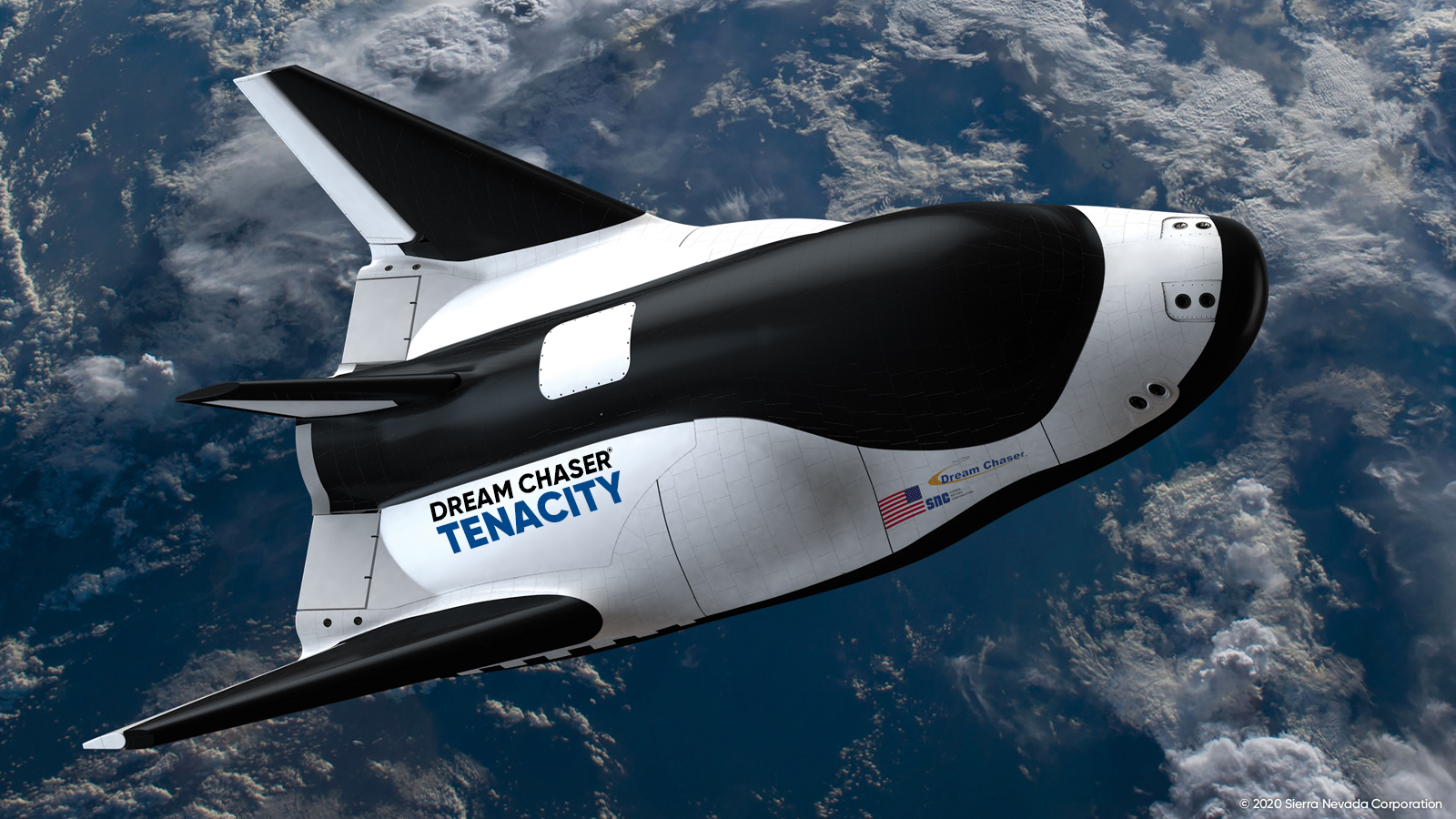 SCIENCE AND TECHNOLOGY
AIAA's ASCEND Event Launches Space-Themed Summits
Space science and technology will be the topic of the first in a series of summits hosted by ASCEND, a space ecosystem event from the American Institute of Aeronautics and Astronautics.
The ASCENDxSummits are multitrack, interdisciplinary half-day events focused on a broad theme. The Space Science and Technology Summit will be held 1000–1400 hrs ET, 19 August. National Security Space will be the 17 September topic and Space Policy and Education will be the 21 October topic.
Read more at: AIAA

Satellite Servicing Industry Seeks Interface Standards
As another satellite life extension spacecraft is readied for launch, both developers and customers of such systems called for the creation of standard interfaces to support servicing of future spacecraft.
Northrop Grumman's Mission Extension Vehicle (MEV) 2 is now scheduled to launch Aug. 15 on an Ariane 5. That launch, which was postponed by weather and technical issues with the rocket, will also place the Galaxy 30 and BSAT-4b communications satellites into orbit.
Read more at: Spacenews

Japan Joins the Space Race With a New Moon Lander, Set For 2022 Mission
NASA and billionaire-backed American space startups' grand dream of taking humans back to the moon now has a dashing new participant from Japan.
Late last month, Tokyo-based startup ispace revealed the final design of its lunar lander, Hakuto-Reboot (Hakuto-R), paving the way for the company to make its first touchdown on the moon as soon as 2022, using a SpaceX Falcon 9 rocket.
The new expected launch date is almost a year behind ispace's original timeline. "The new target launch date was chosen in order to ensure higher reliability for Hakuto-R customers and overall mission success," the company said in a statement.
Read more at: Observer

NASA Evaluates New SLS Booster Materials in Critical Test
As NASA counts down to next fall's scheduled launch of Artemis-1—the maiden flight of the Space Launch System (SLS) and the first voyage of a human-capable space vehicle to lunar distance since Apollo 17—the agency has conducted a critical evaluation of new solvents for the nozzle materials on the giant rocket's pair of five-segment Solid Rocket Boosters (SRBs). On 6 August, a 22-second "hot fire" test in the East Test Area at the Marshall Space Flight Center (MSFC) in Huntsville, Ala., allowed engineers to put the nozzle material through the wringer using a subscale test motor.
Read more at: Americaspace

SPACE POLICY
China and Argentina Resume Joint Venture for Space Exploration
China and Argentina have resumed plans to work together on outer space exploration in a sign of the Asian nation's growing influence in the administration of President Alberto Fernandez. The two countries will cooperate in the development of ships and other instruments for space exploration, as well as land infrastructure to launch and control space missions and satellites, according to an agreement published in Argentina's official gazette on Friday.
Read more at: Bloomberg Quint

Biden's VP Pick Kamala Harris Could Inherit A 21st-Century National Space Council
Space fans of all political persuasions should care that Joe Biden just picked Sen. Kamala Harris (D-Calif.) as his running mate.
If Biden defeats President Donald Trump this November and decides to retain the newly resurrected National Space Council (NSC), Harris will play a large role in U.S. space activities going forward. That's because the vice president chairs the NSC, a body that reviews national space policy options and makes recommendations to the White House. 
Read more at: Space.com

SPACE DEFENSE
Space Force Selects ULA, SpaceX For Major National Security Contracts
The U.S. Space Force has awarded United Launch Alliance and SpaceX hundreds of millions of dollars to fly national security payloads to space in the coming years.
Why it matters: The money provided by these competitive government contracts keeps space companies in business and flying to orbit regularly.
Details: ULA will receive the bulk of the funds, with $337 million going to the company for two missions expected to launch in 2022.
Read more at: Axios

DOD Space Policy Boss to Depart Aug. 21
Stephen L. Kitay, deputy assistant secretary of defense for space policy, will leave his job at the end of the month, he said in an Aug. 8 letter posted to social media.
"While the department's critical mission will never be complete, I have a very exciting opportunity in the private sector that my family and I decided to pursue," he wrote.
Kitay's resignation as one of the Pentagon's top space policy officials takes effect Aug. 21. The Defense Department did not immediately respond to a request for comment on who will fill the position once he leaves. He has held the job since June 2017.
Read more at: Airforcemag

'Spacepower': US Space Force Releases Foundational Doctrine
We now know quite a bit more about the goals and intentions of the United States Space Force.
The new military branch, which President Donald Trump officially established in December 2019, just published its first doctrine, a 41-page Space Force Capstone document called "Spacepower."
"Spacepower" defines that title term as a separate and distinct form of military might for the first time. The document also serves as a foundation on which to build future layers of doctrine as the Space Force evolves and reacts to changing conditions, military officials said. 
Read more at: Space.com

VARIOUS
Alan Phillips
Alan Harwood Phillips, 60, of Albemarle passed away on Monday, August 3, 2020 at home surrounded by his family following a four month battle with brain cancer. Alan was the founding director of the NASA Safety Center and served as director until his retirement in July of last year. Prior to his selection as director of the NSC, he led Langley Research Center's Office of Safety and Mission Assurance in Hampton, VA for four years.
Read more at: NASA watch

U.S. Criminal Probe Looks at Former NASA Official's Contacts With Boeing Executive
Federal prosecutors have opened a criminal probe into whether a senior NASA official improperly told a high-ranking Boeing Co. executive about the status of a lunar-lander contract, spurring the company to revise its bid, according to people familiar with the investigation.
The grand-jury investigation, which hasn't been previously reported, is being led by the U.S. attorney's office for the District of Columbia and is focused on communication that occurred early this year outside established contracting channels.
Read more at: WSJ

The United States Department of the Air Force – Boeing X-37B Team to Receive the 2019 Robert J. Collier Trophy
The National Aeronautic Association (NAA) is pleased to announce that the United States Department of the Air Force – Boeing X-37B team has been named as the recipient of the 2019 Robert J. Collier Trophy for "… developing and employing the world's only reusable, autonomous spaceplane, which logged more than 2,865 days in orbit across five missions, changing access to space and serving as the nation's workhorse in space experimentation and technology."
"The X-37B team win of the 2019 National Aeronautic Association, Robert J. Collier Trophy exemplifies the kind of lean, agile and innovative technological development our nation needs to secure its interests," said U.S. Space Force Chief of Space Operations, Gen. John "Jay" Raymond.
Read more at: spacetoday

Passing Ships: Remembering the Atlantis-Columbia Photo-Op, 30 Years On
Thirty years ago today, literally like passing ships in the night, a pair of Space Shuttles inched past each other on the Kennedy Space Center (KSC) crawlerway; one heading for the launch pad, the other rolling back to the cavernous Vehicle Assembly Building (VAB). It was one of the shuttle program's most impressive and unforgettable photo-ops.
Read more at: Americaspace

Towering Dust Devils And Avalanches: 12 Stunning Images From NASA's Mars Orbiter
NASA's Mars Reconnaissance Orbiter left Earth on August 12, 2005 — almost exactly 15 years ago. The satellite began circling the red planet on March 10, 2006, and since then it has studied Martian temperatures, detected minerals on the planet's surface, and taken nearly 7 million images of our closest planetary neighbor.
The orbiter's main goal is to help scientists understand the role water has played on Mars throughout the planet's history, and the degree to which water still exists on the planet as liquid, vapor, or ice.
In honour of the orbiter's 15th anniversary, here are some highlights from its massive portfolio of photos, and what each image reveals about Mars.
Read more at: Business Insider