TOP NEWS
It's Time To Reckon With Space Junk
We're well into our seventh decade of treating outer space like a dumpster. Sixty-three years ago, on Oct. 4, the Soviet Union launched Sputnik I, the first artificial satellite. Its rocket body was the first piece of orbital debris. Little did we know what had begun. Since then, the amount of space junk has increased astronomically, especially in low-Earth orbit (altitudes less than 1,000 km from Earth), due to its ease of access for satellite placement.
Read more at: Hill

Russian Cosmonauts Congratulate Earth On 63rd Anniversary Of Space Era
Russian cosmonauts Anatoly Ivanishin and Ivan Vagner, who are staying aboard the International Space Station (ISS), congratulated people of the Earth on the 63rd anniversary of Soviet Union's Sputnik-1 launch, which marked the beginning of the humanity's space era.
"Dear colleagues, friends and all people of planet Earth. Today, on the 63rd anniversary of the first artificial satellite's launch, Russian crew members of the ISS Expedition 63 send their greetings to you," Ivanishin said in a video address published on the official website of Russia's space agency Roscosmos.
Read more at: TASS
NEW SPACE/COMMERCIAL
New International Partnership Launches Western Into Space
As a child, Jayshri Sabarinathan looked to the heavens most nights from her family's apartment terrace using her prized possession – a telescope – desperate to catch a glimpse of the infamous Halley's comet zooming though the sky.
Fast forward 34 years and a new landmark partnership announced Wednesday by Institute for Earth and Space Exploration (Western Space) presents Sabarinathan with a chance of a lifetime – a rocket launch for her own out-of-this-world project.
During a virtual Zoom announcement, Western signed a game-changing memorandum of understanding (MoU) with the MILO Institute, a non-profit research collaboration led by Arizona State University supported by Lockheed Martin and its subsidiary GEOshare.
Read more at: UWO

A SPAC For Space Tugs Will Go Public In 2021
To make getting into space as cheap as possible, rocket builders try to pack in as many satellites as possible. But what if they'e not all going to the same orbit? Just like you might need to ride a bike from the metro station to get to your final destination, satellites sometimes need a "last mile" solution too.
The next venture-backed space start-up that does just that is going public through a special acquisition company, or SPAC—a publicly traded company that raises money to buy a private firm, often one perceived as too risky to go public through a traditional IPO or a direct listing.
Read more at: QZ

Will Space Tourism Ever Be A Viable Business?
Ten years ago, I wrote a story about the space tourism "industry", centered around Mojave, California, a bit more than an hour's drive north of Los Angeles. Mojave and the area around it, particularly Edwards Air Force Base, have been a cradle of rocket-powered flight since Chuck Yeager and the X-1.
My space tourism story followed a very early morning in 2004. That day, I let my son play hooky from middle school. Instead, we drove to Mojave to see the launch of the first private manned space flight, SpaceShipOne.
Read more at: Forbes

Space Tourism Is Getting Interesting (…And Weird)
For less than a century, humans have been sending objects, both organic or inorganic, into space. We have not yet managed to travel beyond our galaxy, but our descendants will possibly find a way to travel to distant galaxies in the future.
Though human exploration of space is in its infancy, how we nurture the infancy of space exploration will determine its maturity for future generations. We must consider the opportunities space exploration presents to us now and how we can use those opportunities to prepare for a better life for future generations.
Read more at: Forbes
SPACE HAZARDS & STM
Open Source Gravitates To Outer Space
The 2016 movie, Hidden Figures, highlighted IBM technologists who played a crucial role in NASA's mission to put a man on the moon. Fifty years later, IBM is still actively working to open possibilities for the new space age. The IBM Blue Tech Innovation, Space Tech Hub team, led by Naeem Altaf, IBM's Distinguished Engineer and CTO Space Tech, designs and builds framework and technical prototypes for cubesats and space situational awareness, at times with varying degrees of collaborations from space agencies, universities, and space technology companies.
Read more at: IBM

Satellite Industry Association Releases Space Traffic Management Recommendations & White Paper
The Satellite Industry Association (SIA) today announced the release of a number of recommendations addressing the issue of space traffic management, with the goal of supporting a long-term sustainable and safe space environment for commercial satellites and spacecraft. The recommendations were included in a SIA White Paper titled "The Future of Space and Space Traffic Coordination and Management (STCM)". The White Paper shares SIA and its members' views and recommendations regarding the creation of a modern STCM regime, capable of supporting long term space sustainability and continued innovation and U.S. space leadership.
Read more at: SIA

NASA, Space Industry Seek New Ways To Cope With Space Debris
NASA's official watchdog panel has renewed calls for the agency to move faster on a plan to better track and mitigate dangers posed by orbiting debris in space.
Members of NASA's Aerospace Safety Advisory Panel said during a regular meeting last week that the agency has made some progress, but it needs to focus on space debris as a top priority.
Read more at: upi

Startup Seeks To Automate Process Of Avoiding Satellite Collisions
A startup is using an initial round of funding to build up tools it believes will provide more accurate notifications of potential collisions for satellite operators.
Kayhan Space, based in Boulder, Colorado, announced Oct. 6 it closed a $600,000 "pre-seed" round, led by an Atlanta-based venture capital firm, Overline. Other participants in the round included Techstars and Dylan Taylor.
Read more at: Spacenews

Distant Space Debris a Threat to Satellites
The problem of space debris is complex and sobering. Since the launch of Sputnik 1 in early October 1957, the population of objects actively tracked and cataloged in Earth orbit has increased to more than 20,700 satellites and fragments, from debris in low-Earth orbit (LEO) to satellites in geosynchronous and geostationary (GEO) orbits 22,236 miles (35,786 kilometers) from the Earth.
But that's only a small fraction of the estimated 1 million fragments out there that are larger than 1 centimeter in size. A new study out of the University of Warwick confirms that the GEO population in particular isn't well understood — most of the objects identified in the study failed to match up with bodies in known space debris catalogs.
Read more at: Sky & Telescope

The Elusive Peril of Space Junk
For decades, the International Space Station has been hovering over Earth, in an orbit somewhere between two hundred and three hundred miles above sea level. Its massive rectilinear structure, resembling an Eisenhower-era TV antenna, contains hundreds of thousands of solar cells and a series of pressurized modules that can support life and equipment, all of it weighing close to a million pounds. Since 2000, people have been living on the station, in an area comparable to a six-bedroom house: humanity's most expensive real estate.
Read more at: Newyorker

Mesmerizing Graph Shows Uncomfortably Close Encounters Between Space Junk
As the number of satellites and space junk in orbit continues to increase, so do the chances of these human-made objects colliding with one another, potentially creating more debris that could threaten other healthy spacecraft. Now, a new tool shows just how crowded Earth orbit is by tracking space objects through their close calls every couple of seconds.
Called the "Conjunction Streaming Service Demo," the graph tool illustrates in real time the sheer number of space objects — out of an assortment of 1,500 items in low Earth orbit — that get uncomfortably close to one another in a period of 20 minutes.
Read more at: Verge

SCIENCE & TECHNOLOGY
Zefiro 9 Engine: Qualification Test Passed Successfully
The qualification test of the Zefiro 9 VT3 engine, an advanced version of the third stage propulsion system already in use on the Vega launcher and specifically enhanced and customized for the new Vega C, was successfully completed this morning in view of the maiden flight scheduled for 2021.
Thanks to this test, which took 4 weeks of preparation and involved 20 technicians and specialized operators, it was possible to record more than 500 measurements in the 120 seconds of engine ignition, collecting all the necessary data and parameters to calculate the behavior of the engine with an approximation very close to the real conditions in which it will operate in space.
Read more at: Avio

New In-Orbit Satellite Repair And Updating Technology
The Multi-arm Installation Robot for Readying project (MIRROR), is being run by a GMV-led consortium. Its remit is to develop a multi-arm robot for orbiting space telescopes. It kicked off on 18 May, in a digital encounter, and on 24 July passed its first major checkpoint, the system requirements review (SRR).
MIRROR's general aim is to come up with technological solutions for such aspects as structure, system kinematics, data- and electrical-architecture, sensors, control implementation, operations and Fault Detection, Isolation, and Recovery (FDIR).
Read more at: GMV

Safety Panel Has "Great Concern" About NASA Plans To Test Moon Mission Software
An independent panel that assesses the safety of NASA activities has raised serious questions about the space agency's plan to test flight software for its Moon missions.
During a Thursday meeting of the Aerospace Safety Advisory Panel, one of its members, former NASA Flight Director Paul Hill, outlined the panel's concerns after speaking with managers for NASA's first three Artemis missions. This includes a test flight of the Space Launch System rocket and Orion spacecraft for Artemis I, and then human flights on the Artemis II and III missions.
Read more at: Arstechnica
Small Satellites' Growing Role In Earth Science
For the last several years at the Small Satellite Conference, the American Institute of Aeronautics and Astronautics (AIAA) has held a "Small Satellite Mission of the Year" competition. An AIAA committee gathers nominations for smallsats that have launched in the last year and selects a group of finalists announced as the conference gets underway, allowing conference attendees and others to vote for their favorite. At the end of the conference, the AIAA committee announces the winner.
Read more at: Spacenews

Russian Cosmonauts to Test New System Extracting Water From Urine on ISS
Russian cosmonauts on board of the International Space Station are getting ready to test the effectiveness of a new experimental water recycling system.
The new piece of equipment, designated SRV-U-RS and installed in the Rassvet module of the station, allows extracting water from humane urine, to be used for drinking.
As Russian cosmonaut Ivan Vagner explained on Twitter, as part of the experiment called "Separatsia" (Separation), they "put a bucket of distilled water from the urine regeneration system into condensed water regeneration system which will regenerate into potable water".
Read more at: Sputniknews
SPACE POLICY
ASAP Urges NASA To Build Cross-Program Computer Test Capability For Artemis
The Aerospace Safety Advisory Panel (ASAP) expressed its concern about the integrated computer testing capabilities across the three separate programs under the Exploration Systems Development (ESD) division of NASA's Human Exploration and Operations Mission Directorate. The Exploration Ground Systems (EGS), Orion, and Space Launch System (SLS) programs under ESD are working together to accomplish upcoming Artemis lunar missions, but have been independently funded and managed throughout their post-Constellation program formulations.
Read more at: NASA spaceflight

US Must Weigh 'Strategic Impacts' Of Arming The Heavens: Aerospace
A new study by the Aerospace Corporation calls for a public, in-depth and government-wide  debate about America's use of space weapons.
"[T]he United States has not had a robust public debate about the advantages and disadvantages of weaponizing space in almost 20 years. U.S. restraint carried the day then, but the threats and the strategic environment have changed a great deal since that era, leading to the need for a fresh examination," the paper, A Roadmap for Assessing Space Weapons, states.
Read more at: Breaking defense

DOD Official Outlines Space Strategy
In June, the Defense Department released its Space Strategy document. That document lays out the department's four-pillar strategy for work that needs to be done in space within the next decade and beyond.
Justin T. Johnson, acting deputy assistant secretary of defense for space policy, discussed that strategy at a virtual Heritage Foundation event today.
Read more at: defense.gov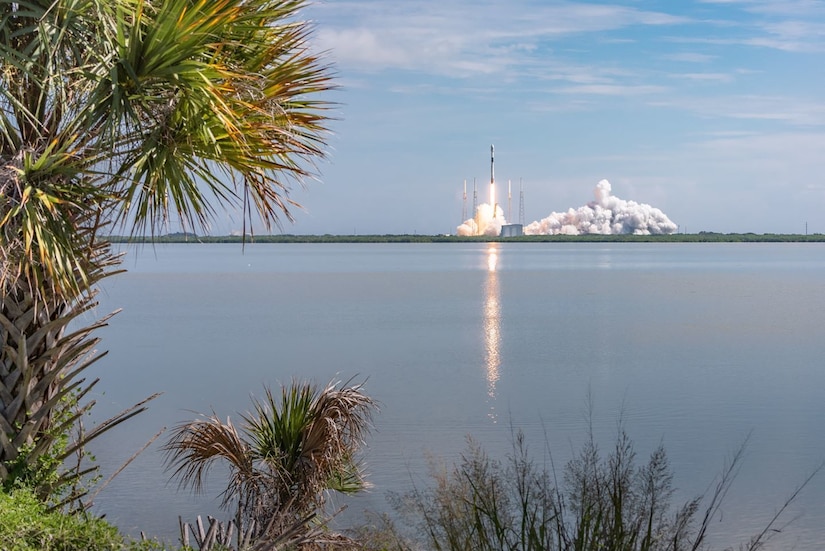 LAUNCHES
Outback Station To Launch NASA Research Rockets Into Space
An Outback site on the tip of Australia is set to become a launch location for NASA rockets sending high-tech telescopes into space.Equatorial Launch Australia (ELA) has secured a $1 million contract with the US space agency – the first commercial company to ever do so.The launch site is in East Arnhem Land and has been developed in communication with local landowners from the Gumatj clan.
Read more at: 9news

NRO Reveals Plans For Previously-Undisclosed Spacex Launch This Month
The National Reconnaissance Office has confirmed it will launch a payload on a SpaceX Falcon 9 rocket from Cape Canaveral later this month, a mission on SpaceX's schedule that was not publicly disclosed until recently.
A regulatory filing with the Federal Communications Commission recently revealed plans for a SpaceX launch from Cape Canaveral scheduled for Oct. 25. But details of the mission in the filing did not match any known launch on SpaceX's schedule, raising speculation that the launch might carry a national security payload for the U.S. government.
Read more at: Spaceflight Now

Launch Of NASA's SpaceX Crew-1 Mission Delayed Until November
NASA has delayed the launch of the SpaceX Crew-1 mission until early- to mid-November, the agency announced Saturday. The mission eventually will bring three NASA astronauts and an astronaut from Japan's JAXA space agency to the International Space Station.
Originally scheduled for October 31st, the planned six-month mission was delayed to allow time to resolve issues with the first-stage engine gas generators on the Falcon 9 rocket, NASA said in a statement.
Read more at: Verge

PEOPLE
New CSF Chairwoman Focused On Regulatory Issues And Selecting Next President
The new board chair of the Commercial Spaceflight Federation (CSF) says her initial priorities will be finding a new president for the organization and dealing with a range of regulatory issues affecting the organization's member companies.
The CSF announced Oct. 2 that its members selected Audrey Powers, vice president of legal and compliance at Blue Origin, as its new chairwoman. She succeeds Taber MacCallum, co-founder of space tourism company Space Perspective, who completed his two-year term as chair of the CSF board.
Read more at: Spacenews

VARIOUS
No, Manifest Destiny Does Not Apply To Space
Throughout our history, we have looked to the stars and dreamt of what is out in the far reaches of space. We built machines to go up higher, further and faster until we set foot on the moon.
Science fueled countless discoveries for the betterment of humanity, as we built telescopes that could see further than we had ever imagined.
Somewhere along that road, things changed: what was once a breakthrough became a potential resource to harvest.
Read more at: talonmarks

Search Continues For Small Air Leak On Space Station
Crew members on the International Space Station over the weekend continued trying to pinpoint the location of a small air leak in the research outpost's Russian Zvezda service module, one of the oldest sections of the orbiting laboratory.
As of Monday, the station crew had not located the precise site of the leak, but officials believe they have traced it to a transfer compartment at the rear section of the Zvezda module, near an aft docking port where a Russian Progress resupply freighter is attached.
Read more at: Spaceflight Now

The Most Historic Satellites Ever Launched
The first artificial satellite flew into space in 1957, changing life on Earth forever. Before long, we depended on satellites for weather forecasts and telecommunications. Today, fleets of satellites are flying into space for applications like broadband or Earth imaging.
As our skies get more crowded with satellite constellations, engineers must deal with issues such as orbital debris and satellite trails that interfere with astronomical observations.
Read more at: Space.com

ESA Roundup: Ariane 6, James Webb, & BepiColombo
Three flagship European Space Agency (ESA) projects have or will reach critical milestones this month, both on Earth and in space.
On the ground, the Agency's upcoming Ariane 6 launcher's solid rocket boosters passed their final test firing while the James Webb Space Telescope — a partnership with NASA and the Canadian Space Agency — completed environmental testing and is on track for launch next year.  Meanwhile, the ESA/Japan Aerospace Exploration Agency (JAXA) BepiColombo mission to Mercury will make a course-altering flyby of Venus on 15 October.
Read more at: NASA spaceflight

Space Force Considers Merging Cape Canaveral with Kennedy Space Center
Last month, the Space Force had a traffic jam to manage at the Eastern Range for launches it manages in Florida. Three rockets were vying for opportunities to liftoff amid poor weather and a slew of issues with ground support equipment.
The largest of the rockets, a Delta IV Heavy booster, carried the most valuable payload—a classified satellite for the National Reconnaissance Office said to cost well north of $1 billion. SpaceX also had two rockets ready to go, one carrying a GPS satellite for the Space Force and another with a purely commercial mission to launch the company's Starlink satellites.
Read more at: Arstechnica