TOP NEWS
Air Leaking Crack in ISS Russian Module Might Get Repaired in December, Space Official Says
A supply of nitrogen and repair materials will be delivered to the International Space Station (ISS) in December that can be used to fully fix the crack in the shell of the Zvezda module, ISS Russian Segment Flight Director Vladimir Solovyov said on Wednesday.
"The cosmonauts covered the crack with a tape. Specialists of the TSNIIMASH research centre and the Khrunichev research centre [both part of the Russian state space agency, Roscosmos] are currently clarifying the cause of the crack and determine the technology for its complete elimination. In December, we will probably deliver nitrogen and sealants to the ISS," Solovyov told Roscosmos' Russky Kosmos journal.
Read more at: Sputniknews

New Initiative To Promote Satellite Servicing And In-Space Assembly Technologies
A new "national initiative" wants to promote the development of satellite servicing and in-space assembly technologies among U.S. government agencies that have differing views on the value of such capabilities.
The On-Orbit Servicing, Assembly and Manufacturing (OSAM) National Initiative is intended to exchange information and establish partnerships among government agencies, and with industry and academia, on the use of such technologies to repair existing satellites and create new capabilities in space.
Read more at: Spacenews

NASA's Megarocket Mobile Launcher Crawls To The Launch Pad For Moon Mission Prep
NASA's massive Mobile Launch Platform (MLP) was on the move last month.
On Oct. 20, the massive platform rolled out of the Vehicle Assembly Building here at Kennedy Space Center, on top of NASA's crawler transporter. The 380-foot-tall (116 meters) platform will eventually carry the agency's massive Space Launch System (SLS) rocket and Orion spacecraft as part of the upcoming Artemis 1 lunar mission, which is set to blast off sometime late next year.
Read more at: Space.com

After Rollout, ULA Delays Launch Of Atlas V Rocket From Cape Canaveral
Despite the rollout of an Atlas V rocket Monday afternoon, United Launch Alliance delayed its planned Election Day launch from Cape Canaveral Air Force Station.
Teams at Launch Complex 41 were slightly delayed in rolling the 206-foot rocket out to its pad, but it successfully made the 1,800-foot trek from the vertical integration facility by 1:30 p.m. Monday. ULA had been targeting Tuesday evening, but now plans on launching at 5:54 p.m. Wednesday.
Read more at: Florida today

Boeing Appoints Jinnah Hosein to New Software Engineering Leader Role
The Boeing Company (NYSE: BA) today named Jinnah Hosein as the company's vice president of Software Engineering, effective immediately. In this newly created role, Hosein will report to Greg Hyslop, Boeing chief engineer and senior vice president of Engineering, Test & Technology, and will focus on further strengthening Boeing's focus on software engineering across the enterprise.
"The continued advances in software makes excellence in software engineering an imperative for our business," said Hyslop.
Read more at: Spaceref

Russia To Start Tests Of Emergency Rescue System For Oryol Lunar Spacecraft In 2023
The drop tests of an emergency escape system for Russia's latest Oryol crewed spacecraft will begin in 2023, Chief Designer of the Moscow Institute of Thermal Technology Yuri Solomonov told TASS on Monday.
"This is the so-called rocket escape unit for manned launches atop large carriers. The work is being organized in a way to hold first full-scale drop tests in 2023," the chief designer said, replying to the corresponding question.
Read more at: TASS
NEW SPACE
#SpaceWatchGL Column: Dongfang China Aerospace News Roundup
This week, we bring you updates on China's Earth Observation sector, discussions on satellite 5G/6G and IoT, but first, part 2 of our summary of the 6th annual China Commercial Aerospace Forum, held in Wuhan 2 weeks ago.
Read more at: Spacewatch global

ESA Signs First Boost! Commercial Space Transportation Contracts
Boost! – ESA's Commercial Space Transportation Services and support to Member States programme was adopted at Space19+ and an Open call for proposals under its Element 1 was launched in April this year. Through this programme, ESA aims to stimulate and support competitiveness and new commercial European space transportation services.
ESA provides co-funding, expert advice and the use of testing facilities that help entrepreneurs to take their service projects towards commercialisation.
Today, the first Boost! support contracts have been signed with three German New Space companies: HyImpulse Technologies, Isar Aerospace Technologies, and Rocket Factory Augsburg.
Read more at: Spacenewsfeed

Russian Private Firm To Create Satellite Cluster For Internet Of Things
The Design Bureau Fifth Generation (a resident of the Skolkovo hi-tech hub in Moscow and the Academpark technology park in Novosibirsk) plans to launch a group of small satellites for the Internet of things, the design bureau's press office told TASS on Monday.
"Our future plans envisage launching a cluster of small satellites for establishing communications in the M2M (machine-to-machine) segment," the design bureau said, without specifying the timeframe of creating the orbital constellation.
Read more at: TASS

Chinese Rocket Firm Galactic Energy Succeeds With First Orbital Launch, Secures Funding
Chinese rocket firm Galactic Energy successfully sent a small satellite into orbit Saturday with the first launch of its Ceres-1 launch vehicle.
The Ceres-1 four-stage solid rocket lifted off from the Jiuquan Satellite Launch Center near the Gobi Desert at 2:12 a.m. Eastern Saturday.
First indications of launch came from spectators posting footage on Chinese social media. Chinese state media announced launch success around 30 minutes later.
Read more at: Spacenews

NASA Objects To New Mega-Constellation, Citing Risk Of "Catastrophic Collision"
NASA has formally commented on a request by a US company to build a mega-constellation of satellites at an altitude of 720km above the Earth's surface, citing concerns about collisions. This appears to be the first time that NASA has publicly commented on such an application for market access, which is pending before the Federal Communications Commission.
"NASA submits this letter during the public comment period for the purpose of providing a better understanding of NASA's concerns with respect to its assets on-orbit, to further mitigate the risks of collisions for the mutual benefit of all involved," wrote Samantha Fonder, an engineer for the space agency.
Read more at: Arstechnica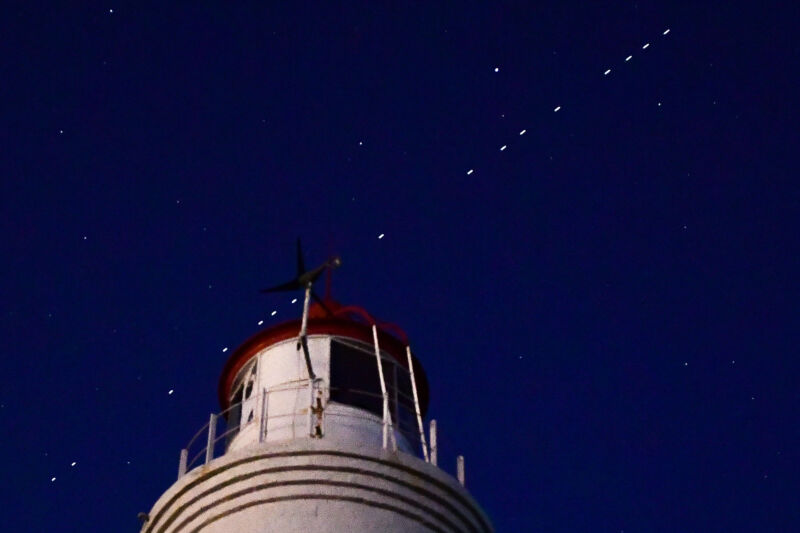 SPACE HAZARDS & SPACE TRAFFIC MANAGEMENT
An Underappreciated Danger of the New Space Age: Global Air Pollution
The space industry is growing and innovating at a pace not seen since the days of the moon landings. Fifty years ago, nearly everything related to space was a government-sponsored project. In 21st-century space, launch vehicle and satellite finance are most often bottom-line corporate investments or public-private partnerships.
Untethered from government leashes, the global space industry looks and operates increasingly like global aviation. Reusability. Regular flight cadence. Mass production of spacecraft and launch vehicles. Analysts predict that the space industry's contribution to global GDP could cross the 1 percent threshold by 2040.
Read more at: Scientific American

Space Traffic Management Idling In First Gear
On Sept. 22, International Space Station controllers acted quickly to adjust the orbit of the station when U.S. Space Command informed them that an unidentified piece of debris would come within 1.4 kilometers of the station later that day. A Progress cargo spacecraft docked to the station fired its thrusters, nudging the station enough to ensure the object — later found to be debris from an H-2A rocket upper stage that broke apart last year — passed without incident.
"The space station has maneuvered three times in 2020 to avoid debris. In the last two weeks, there have been three high concern potential conjunctions. Debris is getting worse!" NASA Administrator Jim Bridenstine tweeted shortly after the debris passed.
Read more at: Spacenews

Anticipated Re-entries
The table are re-entries expected over the next few weeks. The table includes only natural re-entries of satellites and rocket bodies. It excludes debris items and planned events like a Soyuz spacecraft returning from the ISS. Information comes from Space-Track. Most entries are from the 60-day decay prediction messages that are updated each week on Thursday at about 01:00 UTC but some are extracted from TIP Messages. If the re-entry date has already passed then you might find the object is in the actual re-entry list further down the page.]
Read more at: Zarya

Did You See The Fireball Streak Birmingham's Sky On November 1, 2020?
It's a bird. It's a plane. No, it's a fireball! Come on, you know we had to use this age-old phrase. On the evening of November 1, a fireball was seen shooting across the sky—and it was visible to many across Alabama. Here's what we know.
I know what you're thinking. COVID-19, murder hornets, hurricanes and now fireballs? 2020 has been quite the year. Luckily, this event was nothing more than a moment of beauty in the sky, because a fireball is just another term for a very bright meteor.
Read more at: bhamnow

SCIENCE & TECHNOLOGY
Developing New Coating Materials Could Protect Equipment in Space
The harsh conditions that equipment, satellites, and spacecraft are subject to in space pose significant challenges. Electronic systems must be protected from extreme heat and cold, while storage containers holding liquid propellants must be shielded from solar radiation.
With the support from a NASA Early Career Faculty Award, Shankar Narayanan, an assistant professor of mechanical, aerospace, and nuclear engineering at Rensselaer Polytechnic Institute, aims to develop new materials that can protect objects from extreme radiation and temperature variations in space — an important step toward enabling long-distance space exploration.
Read more at: RPI

Microbial Space Travel On A Molecular Scale
Since the dawn of space exploration, humankind has been fascinated by survival of terrestrial life in outer space. Outer space is a hostile environment for any form of life, but some extraordinarily resistant microorganisms can survive. Such extremophiles may migrate between planets and distribute life across the Universe, underlying the panspermia hypothesis or interplanetary transfer of life.
Read more at: Medienportal

NASA Seeks New Partners To Help Put All Eyes On Artemis Moon Missions
NASA is seeking new partners to help the agency tell the story of human exploration at the Moon with the Artemis program in ways that engage, excite, and inspire a worldwide audience. Through the end of this decade, NASA will explore more of the lunar surface than ever before and will establish a sustainable human presence with Artemis in preparation for future human missions to Mars.
The agency has released an Announcement for Proposals calling for submissions of potential partnerships to visually bring the public along for the ride in new ways, starting as early as a trip around the Moon with astronauts on the Artemis II mission, targeted for 2023.
Read more at: Moondaily

Microchip's High-Performance FPGA Is First Of Its Kind To Achieve QML Class V In Ceramic Quad Flat Package
Microchip Technology today announced its RTG4 Field Programmable Gate Array (FPGA) family is the first in a Ceramic Quad Flat Pack (CQFP) option to achieve qualification to the industry's Qualified Manufacturers List (QML).
The achievement will enable space system developers to create systems using more reliable packages that simplify the layout and routing of Printed Circuit Boards (PCBs) that are also easier to assemble and inspect.
Read more at: Spacenewsfeed

From a Source of Heat Comes the Power to Explore
Radioisotope power systems, or RPS, provide electricity and heat that can enable spacecraft to undertake scientific missions to environments beyond the capabilities of solar power, chemical batteries and fuel cells.
RPS are sometimes referred to as a type of "nuclear battery." While some spacecraft, like Cassini, do run their systems directly off of their RPS, others like the Mars Science Laboratory rover can use the RPS to charge batteries and run their systems and instruments off of stored battery power.
Read more at: NASA

Watch: Rocket Lab Attempt To Bring Rocket Back To Earth
Rocket Lab's next mission will include its first attempt at recovering the first-stage of one of its Electron rockets and bringing it back to Earth.
Previously, the first-stage, which accounts for most of the 28m tall Electron's height, has burned up re-entering the atmosphere after it separates.
The reusable rocket plan will be implemented in two phases – and is a bit more Kiwi/No.8 wire than Space X's effort, which sees its stages return to Earth under engine power to (mostly) make vertical landings.
Read more at: NZ Herald

SPACE POLICY
Insurance and Liability Regime for UK space launch activities
As promised in July in the UK Government's consultation on the package of regulations implementing the Space Industry Act 20181 (see our comments on that consultation here), a further consultation covering insurance and liability requirements under the Act has now been published. The proposed rules will have an impact on all companies in the UK's fledgling launch industry, including satellite and other space technology manufacturers and their supply chain.
Read more at: Lexology

New Report Outlines International Approach To Lunar Exploration
An updated version of a study developed by an international working group backs an approach to lunar exploration that largely follows NASA's Artemis plans to return humans to the moon in 2024.
The International Space Exploration Coordination Group (ISECG), a group of 24 space agencies, released an updated version of its "Global Exploration Roadmap" report in August with little fanfare. The document offers what the group called a "a shared international vision for human and robotic space exploration," although one that is not binding on member agencies.
Read more at: Spacenews

NASA Is An Unlikely Winner Of The Abraham Accords – Opinion
When Israel and the United Arab Emirates signed their landmark Abraham Accords a few weeks ago, many were surprised to find a seemingly random reference to outer space buried in the annex of their deal.
Indeed, the two countries committed to the peaceful use of outer space and mutually beneficial space cooperation. Even before the two nations signed the agreement, reporter Amichai Stein of Kan News confirmed that Israel and the UAE were discussing plans to launch astronauts and satellites as part of a joint space initiative.
Read more at: jpost

Taiwan Shoots For The Stars With Its Plans To Create National Space Center
Taiwan is planning to establish a National Space Center in a bid to promote aerospace industries while allowing for better regulation on relevant commercial activities.
A draft bill on the country's future space ambitions is currently open for public consultation. The bill calls for the National Space Organization, which currently is under the auspices of the Ministry of Science and Technology (MOST), to be reorganized into an independent agency.
Read more at: Taiwannews

SPACE DEFENCE
Space Force Leads First Training Exercise Since Its Inception
The U.S. Space Force led Schriever Wargame, a two-day space training event attended by 200 people from eight countries, which concluded last week.
The wargame began in 2001 under Air Force Space Command, and this week's event was the 14th iteration of the exercise — and the first under the direction of the newly-created service.
Read more at: upi

Space Command Widens Embrace Of Allies
Space Command is considering opening the doors to wider allied participation to other parts of command operations traditionally reserved for US nationals, says new SPACECOM head Army Gen. James Dickinson.
"We're looking internally to my headquarters here at Peterson to bring some of our great allies and partners into our staff and into our operations and processes here at the Combatant Command level as well," he told the Space Foundation's Space Symposium 365 web series today.
Read more at: Breakingdefense

Russian Space Chief Disses NASA's Artemis Moon Landing Plans
The head of Russia's space agency criticized NASA's plans to return to the moon of being "too U.S.-centric" as the heads of seven space agencies met virtually at the 71st International Astronautical Congress.
Speaking at a Heads of Agencies panel on  Oct. 12, Dmitry Rogozin, director general of Roscosmos, said it was likely that the agency would participate on a large scale in one aspect of NASA's moon plans. 
"In our view, the lunar Gateway in its current form is too U.S.-centric," Rogozin said at the virtual meeting, through an interpreter.
Read more at: Space.com

Top Commander Of U.S. Space Forces: Space Should Be Peaceful, Bad Actors Will Be Held Accountable
It may come as a surprise to some that the nation's top commander of U.S. space forces is not a member of the U.S. Space Force but a four-star U.S. Army general.
Gen. James Dickinson is the commander of U.S. Space Command, a military combatant command established in August 2019 to oversee all operations that involve satellites in space.
If a U.S. satellite is threatened by a foreign country's missile or an electronic jammer, it is U.S. Space Command's responsibility to identify the culprit and advise the Pentagon on how to respond.
Read more at: Spacenews

AFRL's Newest Lab To Boost Nation's Space Capabilities
The Air Force Research Laboratory Space Vehicles Directorate held a ribbon-cutting ceremony Oct. 29 to usher in its newest construction project, the Deployable Structures Laboratory, or DeSel, for short.
Construction of the $4 million, 7,000+ square foot laboratory began in December 2019. Scientists and engineers working in this new laboratory will continue the work of the Spacecraft Component Technology Center of Excellence that has a long history of technology development and transition in spacecraft structure materials.
Read more at: Spacewar

Britain To Nationalize Its Nuclear Weapons Industry
Britain announced on Monday that management of its nuclear weapons facilities will return to government control instead of leadership by an industry consortium.
Atomic Weapons Establishment PLC builds nuclear weapons in Britain and has been operated since 2000 by a group of manufacturers led by Lockheed Martin.
The contract was expected to be completed in 2025 but British Defense Secretary Ben Wallace told Parliament this week that the AWE will be wholly owned by the Ministry of Defense, beginning in June 2021.
Read more at: Spacewar

Pentagon Releases Electromagnetic Superiority Strategy
The Pentagon released its Electromagnetic Spectrum Superiority Strategy Thursday.
Intended to align DoD electromagnetic spectrum activities with the objectives of the 2017 National Security Strategy, the National Defense Strategy and national and economy policy goals, the strategy outlines five goals which each have subordinate objectives.
"The rise of mobile systems and digital technology across the globe has placed enormous strain on the available spectrum for DOD's command, control, and communication needs."
Read more at: Spacewar

VARIOUS
Kelly Wins, Gardner and Horn Lose
A former NASA astronaut will join the ranks of the Senate in January, while two other notable space supporters, one in the Senate and one in the House, will be leaving according to election results called by the Associated Press (AP).  Votes are still being counted, but two have already conceded.
Mark Kelly, husband of former Congresswoman Gabby Giffords, who survived an assassination attempt in 2011, was declared the winner of the race against incumbent Martha McSally by the AP, although she had not conceded by press time.
Read more at: Spacepolicy online

Qian Xuesen: The Man The US Deported – Who Then Helped China Into Space
In Shanghai there is an entire museum containing 70,000 artefacts dedicated to one man, "the people's scientist" Qian Xuesen.
Qian is the father of China's missile and space programme. His research helped develop the rockets that fired China's first satellite into space, and missiles that became part of its nuclear arsenal, and he is revered as a national hero.
But in another superpower, where he studied and worked for more than a decade, his significant contributions are rarely remembered at all.
Read more at: BBC