TOP NEWS
20 Years Of Human Research On The International Space Station
As the world celebrates two decades of humans in orbit around Earth on the International Space Station, this month's science summary will look back not at four weeks of European research in space, but 20 years – with a focus on human research, naturally.
In November 2000 the first human entered the two-module International Space Station and ESA ran its first experiment just three months later.
Read more at: ESA

As a Candidate, Biden Said Little About Space. Here's What He Might Do as President
Charlie Bolden likes to tell the story about the time he and Joe Biden composed a sort of a song. It was back in 2010, when the former Vice President was overseeing the Obama White House push to pass a NASA budget authorization bringing private sector players like SpaceX and Boeing into the business of launching crew and cargo to the International Space Station (ISS). Bolden, then head of NASA, was championing the plan and he and Biden huddled to discuss how best to sell it to skeptical lawmakers on Capitol Hill.
"I remember when we were really having trouble getting funding out of Congress," Bolden said at a press conference this past May, shortly before SpaceX launched its first crew to the ISS.
Read more at: TIME

SPACE HAZARDS & STM
Planned Satellite Constellation Poses A Collision Threat, NASA Says: Reports
NASA has voiced "substantial concerns" about a planned constellation of broadband satellites, saying the commercial spacecraft would increase the risk of collisions in an important slice of Earth orbit.
On Oct. 30, NASA submitted an official comment letter to the U.S. Federal Communications Commission (FCC) regarding a request by Texas-based company AST & Science to operate a network of up to 243 satellites about 450 miles (720 kilometers) above Earth's surface, as Ars Technica's Eric Berger reported earlier this week.
Read more at: Space.com

The "Complicated" Complexity of Solar Storms
The damaging effects of storms, from flooding caused by heavy rain or storm surges to strong winds knocking trees to the ground, are familiar to most people. Fewer, however, are aware of the hazards of solar storms, though these events can disrupt radio communications, knock out electrical power, and damage satellites. With our increasing reliance on technology, solar storm damage is now a greater threat than ever before.
In a new study, Jones et al. turned to crowdsourced science to help protect against this hazard by identifying potential patterns in coronal mass ejections (CMEs), vast eruptions of plasma and magnetic field flung from the Sun.
Read more at: EOS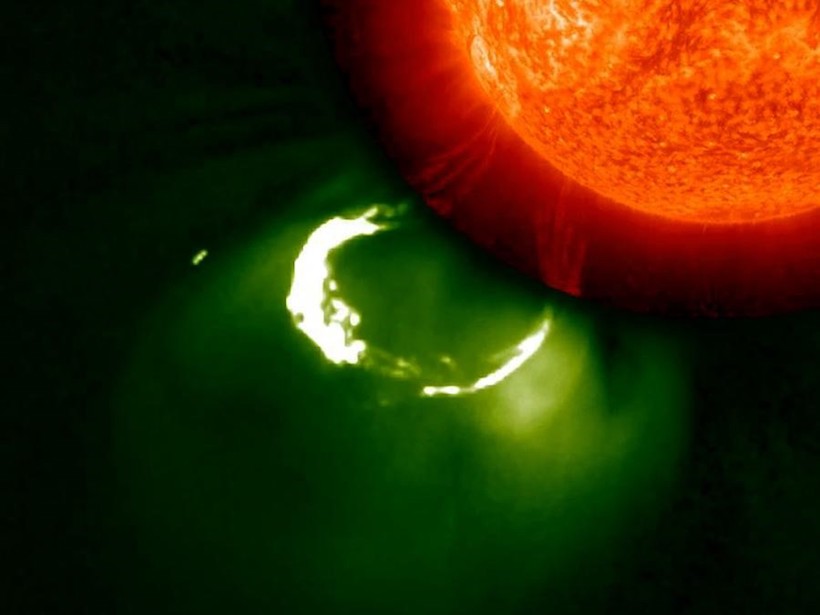 NEW SPACE/COMMERCIAL
Large Launch Companies Cast Doubt On Viability Of Small Launch Vehicle Market
Executives of major launch companies said they doubted there was sufficient demand for more than a few small launch vehicle developers, citing their own efforts to provide rideshare launch services for smallsats.
During a panel discussion at Euroconsult's World Satellite Business Week Virtual Edition conference Nov. 9, Tory Bruno, chief executive and president of United Launch Alliance, said a year ago he was tracking more than 120 ventures in the small launch vehicle or "microlauncher" market. There is now a "significantly smaller" number of such companies, he said, because of fundraising challenges linked to the pandemic.
Read more at: Spacenews

Firefly Closes In On Debut Flight With Rocket Delivery To Vandenberg Launch Site
Across the world, several startup launch providers such as Relativity Space, Astra, Virgin Orbit, and others are currently in fierce competition with one another to bring their in-development rockets into operation and obtain a share of the ever-growing small satellite launch market.
One of those companies – Texas-based Firefly Aerospace – has taken a substantial step in these efforts with the shipment of their first flight-ready vehicle to its launch site at Vandenberg Air Force Base, California.
Read more at: NASA spaceflight

Introducing China's New Commercial Rocket, Ceres-1
China's latest commercial rocket, the Ceres-1 (Gushenxing-1) launch vehicle, has conducted its maiden launch this weekend, orbiting the Tianqi-11 satellite.
Chinese company Galactic Energy conducted the launch on Saturday morning at 07:12 UTC from the Jiuquan Satellite Launch Center.

The Galactic Energy, also designated Beijing Xinghe Dongli Space Technology Co. Ltd., is one of several private Chinese companies that is developing orbital launch vehicles – of small or medium cargo capacity – for the Chinese domestic and international launch markets.
Read more at: NASA spaceflight

SCIENCE & TECHNOLOGY
Stratolaunch Teams Up With Calspan And Makes Progress On Hypersonic Flight Plan
Stratolaunch, the aerospace company founded by the late Seattle tech titan Paul Allen, is gearing up on several fronts for tests of its hypersonic launch platform — a year and a half after its mammoth airplane first flew.
Allen created the company in Seattle back in 2011 to launch rockets from the world's biggest aircraft, but after the Microsoft co-founder's death in 2018, the company was acquired by private investors. Since then, Stratolaunch has put increased emphasis on using the airplane as a platform for testing hypersonic vehicles.
Read more at: Geekwire

Can The Emdrive Actually Work For Space Travel?
The "EmDrive" claims to make the impossible possible: a method of pushing spacecraft around without the need for — well, pushing. No propulsion. No exhaust. Just plug it in, fire it up and you can cruise to the destination of your dreams.
But the EmDrive doesn't just violate our fundamental understanding of the universe; the experiments that claim to measure an effect haven't been replicated. When it comes to the EmDrive, keep dreaming.
Read more at: Space.com

Spaceflight Announces Sherpa Tug With Electric Propulsion
Rideshare launch service provider Spaceflight Inc. announced a new version of its Sherpa tug Nov. 12 equipped with electric propulsion that can send smallsats to high orbits or cislunar space.
Spaceflight announced the first flight of its Sherpa-LTE orbital transfer vehicle (OTV) will take place in mid-2021. The vehicle is based on the next-generation Sherpa-FX tug announced in the summer, but equipped with the Apollo Constellation Engine, a Hall effect thruster provided by Apollo Fusion.
Read more at: Spacenews

Relativity's 3D-Printed Engine Has Completed A Mission Duty Cycle Test-Firing
Relativity Space said Monday that the company has successfully completed a full-duration test-firing of its Aeon 1 rocket engine, running it at full power for 187 seconds.
The test at NASA's Stennis Space Center in Mississippi took place with all of the engine's key components—including turbopumps, injector, and combustion chamber—operating in a flight-like configuration. Surprisingly, the company met this milestone ahead of schedule—Relativity had been targeting completion of this mission duty cycle test before the end of 2020.
"Despite the coronavirus, we're on track," said Relativity's chief executive, Tim Ellis, in an interview. "The mission-duty-cycle engine test is actually two months ahead of schedule. So I think it really demonstrates how the 3D-printing approach to building a rocket is lightning fast."
Read more at: Arstechnica

SPACE POLICY
New Commercial Spaceflight Standard Supports Safety of Suborbital Vehicles
A new standard developed by ASTM International's commercial spaceflight committee (F47) establishes a failure tolerance for suborbital vehicles specific to situations of occupant safety.
Failure tolerance, also known as fault tolerance, is the ability of a system to continue satisfying safety or operational objectives in the event one or more components fail.
"Failure tolerance provides a protective measure against inevitable uncertainties in spaceflight," says ASTM International member Andrew Lake. "The new standard helps provide the framework for consistent occupant safety approaches across original equipment manufacturers and suppliers."
Read more at: astm

Gotta Go Fast: How America's Space Development Agency Is Shaking Up Acquisitions
In March 2019, the Pentagon established a new organization to buy space systems: The Space Development Agency. But this led to some confusion.
After all, the U.S. Air Force's Space and Missile Systems Center already bought the bulk of the military's satellites and space systems, and the Space Rapid Capabilities Office acted as a supplement to drive faster programs.
The imminent establishment of the U.S. Space Force brought further questions: Why set up a new space acquisitions organization when the military was on the verge of reorganizing its main space acquisitions service?
Read more at: defensenews

SPACE DEFENSE
Raymond's Space Force Vision Calls For Lean Organization, Emphasizes Civil-Military Ties
Gen. John "Jay" Raymond, chief of space operations of the U.S. Space Force, on Nov. 9 released a vision document that lays out long-term priorities and goals he intends to pursue during his time in office.
The document, known as the Chief of Space Operations Planning Guidance, says the Space Force "has a mandate in national strategy, policy and law to be both pathfinder and protector of America's interests as a space-faring nation."
During a conference call with reporters Nov. 9, Raymond noted that the Space Force will be a year old in December and during his second year at the helm Raymond wants to continue designing and building the service.
Read more at: Spacenews
Pentagon Launches Smaller Satellites To Counter Enemy Anti-Satellite Attacks
Tiny satellites are much harder to detect and shoot down. They are also much more effective at both redundancy and disaggregation strategies during a space war, particularly if operated with a technical effectiveness equivalent to a larger system. 
As a result, small satellites are increasingly being enlisted by military forces to deliver new capabilities across the battlefield. A new collaborative small sat mission is on the verge of doing just that – as the U.S. Army's Space and Missile Defense Command (SMDC) unit readies to test a proven satellite bus as host of its new 3U CubeSat Gunsmoke-J technology initiative fostering innovations for tactical ground forces.
Read more at: Foxnews

VARIOUS
Biden Administration Expected To Emphasize Climate Science Over Lunar Exploration At NASA
A Biden administration is likely to place more emphasis on Earth sciences at NASA and slow down the agency's plans to return humans to the moon, and do so with a new person at the helm of the agency.
The Biden campaign declared victory in its presidential campaign Nov. 7 after multiple projections that Joe Biden would win Pennsylvania, giving the former vice president more than the 270 electoral votes needed to be elected president. The campaign of President Donald Trump has yet to concede, however.
Read more at: Spacenews

Op-Ed | The Greatest Challenge for the Space Community – Talent
Today, every government, industry, infrastructure, military and community is connected to and relies on space. From high-speed data transfer via satellites, to the innovative technologies and scientific discoveries delivering real benefits on Earth, space is increasingly a crosscutting component in 21st century society. But do we have what we need to access the full potential of space? Not yet.
Read more at: Spacenews

New Head of Australian Space Agency announced
The Morrison Government is continuing to put industry at the heart of the Australian space sector, to create jobs and grow the economy, with Virgin Galactic's Chief Operating Officer Enrico Palermo to become the new Head of the Australian Space Agency.

Mr Palermo will return home to Australia to replace inaugural Head Dr Megan Clark, who will finish in the role at the end of December, before commencing as the Chair of the Australian Space Agency Advisory Board in the New Year.
Read more at: Australian Govt

The Plan to Turn Scrapped Rockets Into Space Stations
In early October, a dead Soviet satellite and the abandoned upper stage of a Chinese rocket narrowly avoided a collision in low Earth orbit. If the objects had crashed, the impact would have blown them to bits and created thousands of new pieces of dangerous space debris. Only a few days prior, the European Space Agency had published its annual space environment report, which highlighted abandoned rocket bodies as one of the biggest threats to spacecraft. The best way to mitigate this risk is for launch providers to deorbit their rockets after they've delivered their payload. But if you ask Jeffrey Manber, that's a waste of a perfectly good giant metal tube.
Read more at: Wired