TOP NEWS
Satellites Around The Moon Come Another Step Closer
ESA is going to the Moon – in collaboration with its international partners – and seeks to build a lasting lunar link to enable sustainable space exploration.
The agency has now evaluated initial ideas to create a network of lunar telecommunications and navigation satellites.
Creating a commercial telecommunications and navigation service for the Moon will allow many of the dozens of planned lunar missions to share the same infrastructure to communicate with Earth, as well as to find their way on the lunar surface.
Read more at: Moondaily
Citing Valve Problem, NASA Will Load Only The SLS Core Stage In Next Countdown Test
A problem with a helium valve on the Space Launch System moon rocket's upper stage will require ground teams to only partially load the giant launcher with cryogenic propellants during an upcoming countdown dress rehearsal, NASA officials said Saturday.
Instead of fully loading both stages of the rocket cryogenic liquid hydrogen and liquid oxygen, NASA will now focus only on pumping propellants into the core stage, the largest element of the giant launch vehicle.
Read more at: Spaceflight Now
First All-Private Astronaut Mission to ISS Begins
The first crew to visit the International Space Station composed entirely of private citizens is on its way. Axiom-1 lifted off from Kennedy Space Center this morning on a 10-day mission. The four men will spend eight of those days on the ISS conducting experiments and seeing the sights, joining an international crew of seven professional astronauts already there. All together, the 11 astronauts and cosmonauts represent the United States, Russia, Germany, Israel, Canada and Spain.
The Axiom-1 mission was arranged by Axiom Space, a U.S. company that offers trips to the ISS aboard SpaceX Crew Dragon spacecraft and also is building a commercial space station. 
Read more at: Spacepolicy online
China Launches Three Space Missions, Debuts New Rocket Configuration
China launched three more space missions in recent weeks, debuting the country's first rocket to be fitted with strap-on solid-fueled boosters and deploying satellites to image planet Earth and calibrate orbit prediction models, according to Chinese state media.
A new version of China's Long March rocket family, the Long March 6A, launched for the first time March 29 with two satellites. The Long March 6A is China's first satellite launcher to feature solid rocket boosters, a thrust configuration commonly used on U.S., European, and Japanese rockets.
The new rocket variant is designed to haul payloads up to 4 metric tons, or 8,800 pounds, into a polar sun-synchronous orbit at an altitude of 700 kilometers, or 435 miles.
Read more at: Spaceflight Now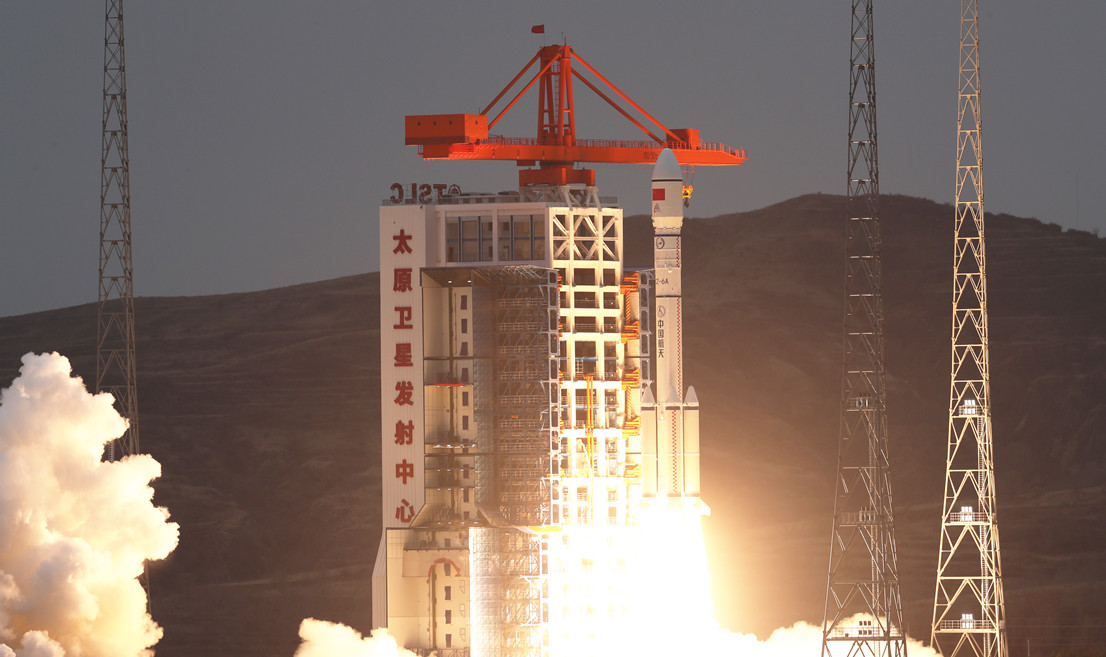 SPACE HAZARDS AND STM
Astronomers Confirm Size Of Largest Comet Ever Discovered, Bigger Than Rhode Island
Astronomers using NASA's Hubble Telescope have confirmed the existence the largest comet ever discovered, and it will pass by our sun in the next decade. 
Comets are different from asteroids in that asteroids are rocky objects, while as a comet is a ball of ice and dust. Comets are also known for the "tail" they leave behind and the glowing head, or nucleus, that appears as it approaches the sun.
Read more at: USA today
Data | How Rising Space Debris Will Impact ISRO's Budget
In the latest edition of the Space Situational Assessment report, the Indian Space Research Organisation (ISRO) has rued the increasing threat of collisions in space due to rising orbital debris. Space debris is a result of tens of thousands of rocket parts from launches, past collisions, defunct satellites, and fragments after anti-satellite weapon strikes (ASAT). While some have re-entered Earth's atmosphere, many others have continued to orbit Earth and collide with active satellites. Given that the number of launches and payloads peaked in 2021, the crisis has only intensified. Hours have to be spent monitoring the debris to plan manoeuvres to avoid collisions. Also considering the extra fuel spent on such movements, it becomes a costly exercise. India did 19 such corrections in 2021, the highest ever for the country
Read more at: Hindu
U.S. Space Force Releases Decades of Bolide Data to NASA for Planetary Defense Studies
An agreement between NASA and the U.S. Space Force recently authorized the public release of decades of data collected by U.S. government sensors on fireball events (large bright meteors also known as bolides) for the benefit of the scientific and planetary defense communities. This action results from collaboration between NASA's Planetary Defense Coordination Office (PDCO) and the U.S. Space Force to continue furthering our nation's efforts in planetary defense, which include finding, tracking, characterizing, and cataloguing near-Earth objects (NEOs). The newly released data is comprised of information on the changing brightness of bolides as they pass through Earth's atmosphere, called light curves, that could enhance the planetary defense community's current ability to model the effects of impacts by larger asteroids that could one day pose a threat to Earth.
Read more at: NASA
Getting A Jump On Traffic: The Sudden Urgency Of Government-Industry Partnerships In Space Traffic Management
Some operators of low Earth orbit satellites are bracing for a storm of debris. Russia's demonstration of an antisatellite weapon last November, destroying the Cosmos 1408 satellite, created thousands of tracked pieces of debris, and many more too small to be tracked.
Much of that debris remains in orbits similar to the satellite, with an inclination of 82.3 degrees. That means the debris can end up running headlong into satellites operating in sun-synchronous orbits at inclinations of 97 degrees.
Read more at: Spacenews
NEW SPACE/COMMERCIAL
Amazon Joins Orbital Reef Commercial Space Station Project
Read more at: Space.com
Rocket Lab to Attempt First Mid-Air Helicopter Capture of the Electron Rocket During Next Mission
Rocket Lab USA, Inc, a leading launch and space systems company, has announced today that during its next Electron launch, a commercial rideshare mission currently scheduled in April 2022, the company will attempt a mid-air helicopter capture of the Electron launch vehicle for the first time.
The "There and Back Again" mission, Rocket Lab's 26th Electron launch, will lift off from Pad A at Launch Complex 1 on New Zealand's Māhia Peninsula within a 14-day launch window scheduled to commence on April 19, 2022 UTC. Electron will deploy 34 payloads from commercial operators Alba Orbital, Astrix Astronautics, Aurora Propulsion Technologies, E-Space, Unseenlabs, and Swarm Technologies via global launch services provider Spaceflight Inc. The launch is expected to bring the total number of satellites launched by Electron to 146.
Read more at: Rocketlab USA
Space Balloon Company Offers First Look At Luxury Cabins
A new entrant in the space tourism market promises customers views of the Earth's curvature from the comfort of a luxury cabin, lifted to the upper atmosphere with a giant balloon. Space Perspective on Tuesday revealed illustrations of its swish cabins, which it hopes to start launching from the Kennedy Space Center in Florida from late 2024. More than 600 tickets have so far been sold, at $125,000 each. With five-feet (1.5 meter) high windows, deep seats, dark, purple tones and subdued lighting, the atmosphere contrasts with the white and sanitized capsules of its competitors. Wifi connectivity and a drinks bar round out the "Space Lounge" inside the company's Neptune capsule. Whether it really constitutes spaceflight is a matter of debate.
Read more at: Spacedaily
Russia May Further Cut Time Of Training Space Tourists — Cosmonaut Training Center
The time of training space tourists for flights aboard Soyuz spacecraft may be further cut, Head of the Gagarin Cosmonaut Training Center Maksim Kharlamov told TASS in an interview timed for Russia's Cosmonautics Day celebrated on April 12.
"Theoretically, yes. Simply certain experience is needed and it will keep accumulating. This reduction can be achieved through additional loads on professionals depending on specific conditions, in which they work, and depending on the number of professionals aboard," Kharlamov said, responding to a question about whether it was possible to further cut the time of training space tourists for their flight.
Read more at: TASS
SCIENCE AND TECHNOLOGY

ISRO Looks To Conduct Demo, Orbital Flight Of Reusable Launch Vehicle
The Indian Space & Research Organisation (Isro) is planning to conduct a demonstration flight and a orbital launching of a reusable launch vehicle in the coming months as it looks to target the commercial space sector. Isro has been working on a Reusable Launch Vehicle-Technology Demonstration Program to develop a vehicle that can be used multiple times, unlike now when we use a new launch vehicle for every mission.
Isro chief S Somnath has said that the reusable vehicle is critical for strategic users rather than commercial users, which will allow India to take a payload up into space and bring it back safely. Speaking to Geospatial World, the Isro chief said, "We will have a landing demonstration soon, followed by an orbital launching demonstration."
Read more at: India today
Arctic Simulation Of Moon-Like Habitat Shows Wellbeing Sessions Keep You Sane
Researchers at the University of Surrey and the University of Milano-Bicocca have partnered with SAGA Space Architects to investigate the psychological impact of social isolation in harsh environments, such as on the Moon. This research formed part of the LUNARK project which explored how humans could survive on the Moon and have successful habitats there in the future.
The LUNARK project was the first ever Arctic simulation of a lunar mission. As part of the project, two space architects, Sebastian Aristotelis and Karl-Johan Sorensen, designed an airtight, portable, foldable pod that enables its occupants to live self-sufficiently.
Read more at: Spacedaily
New Tests Evaluate Mission Readiness Of Astronauts Upon Landing
Have you ever felt off-balance after being on amusement rides or gotten motion sickness on a boat? Astronauts feel something similar that can be more intense when they return to Earth from space.
Once they land, their whole body – including muscles, bones, inner ear, and organs – starts readjusting to Earth's gravity. Astronauts often report feeling dizzy, lightheaded, nauseated, and off-balance upon their return. These symptoms can last for several days, until they get their "land legs."
Read more at: Moondaily
Glassy Globules Found on the Moon
The Moon's highlands may be scattered with transparent globules of a glass-like substance, say scientists involved in China's Chang'e-4 mission. Initial observations from the mission's Yutu-2 rover suggest that these structures are widespread, and their presence could help us better understand the early history of lunar impacts as well as providing sampling targets for future expeditions to the lunar surface.
The Chang'e-4 mission is exploring the South Pole-Aitken basin on the far side of the Moon. As part of this mission, Yutu-2 has travelled more than 1000 m across the Von Kármán crater since its deployment in early 2019. Reflectance spectra sent back by orbiters and Yutu-2 had previously revealed that the lunar soil, or regolith, in the basin is mainly iron-poor, with substantial amounts of an intrusive igneous rock known as anorthosite as well as coarse-grained rocks. Now, thanks to its panoramic camera, Yutu-2 has obtained images of transparent globules of a type never seen on the Moon before.
Read more at: Physics World
Swiftly Gaining Holistic Views Of Space Systems With AI
As Lockheed Martin designs and tests spacecraft, massive amounts of data points are created and it's important to review that information to pinpoint any anomalies. That process could be extremely time consuming without the right tools in place, like artificial intelligence (AI) technology.
For years, Lockheed Martin has incorporated NEC Corporation's System Invariant Analysis Technology (SIAT) into its space programs to aid in this process. That will now continue through 2024 thanks to a new multi-year licensing agreement that was recently signed.
Read more at: Spacedaily
The Effect Of Prolonged Spaceflight On Cerebrospinalfluid Andperivascular Spaces Of Astronauts And Cosmonauts
Long-duration spaceflight induces changes to the brain and cerebrospinalfluid compart-ments and visual acuity problems known as spaceflight-associated neuro-ocular syndrome(SANS). The clinical relevance of these changes and whether they equally affect crews ofdifferent space agencies remain unknown. We used MRI to analyze the alterations occur-ring in the perivascular spaces (PVS) in NASA and European Space Agency astronautsand Roscosmos cosmonauts after a 6-mo spaceflight on the International Space Station(ISS). We found increased volume of basal ganglia PVS and white matter PVS (WM-PVS) after spaceflight, which was more prominent in the NASA crew than the Roscos-mos crew. Moreover, both crews demonstrated a similar degree of lateral ventricleenlargement and decreased subarachnoid space at the vertex, which was correlated withWM-PVS enlargement. As all crews experienced the same environment aboard the ISS,the differences in WM-PVS enlargement may have been due to, among other factors, dif-ferences in the use of countermeasures and high-resistive exercise regimes, which caninfluence brainfluid redistribution. Moreover, NASA astronauts who developed SANShad greater pre- and postflight WM-PVS volumes than those unaffected. These resultsprovide evidence for a potential link between WM-PVSfluid and SANS
Read more at: PNAS
Canoo Wins NASA's Artemis Crew Transport Vehicle Contract
When astronauts finally return to the Moon with NASA's Artemis project, their journey to the launchpad will be fully electric. The space agency has been looking for a replacement for its early 1980s-era Astrovan, and this week it awarded a contract to electric vehicle startup Canoo. NASA had a number of requirements for the Artemis transport vehicle when it issued the contract opportunity in 2021. The agency said it would consider both commercial and non-commercial vehicles but that the crew transport vehicle must produce zero emissions and be designed and built according to current federal vehicle safety standards. The vehicle also needs to be able to carry a driver, four suited-up astronauts, and three extra personnel.
Read more at: Arstechnica
Astroscale To Restart Debris-Removal Demo With Half The Thrusters
Astroscale plans to resume an attempt to capture a satellite acting as a piece of debris in low Earth orbit despite losing half the servicer's eight thrusters.
Most of the other issues that forced Astroscale to pause its End-of-Life Services by Astroscale-demonstration (ELSA-d) mission Jan. 26 have been mitigated or resolved, the Tokyo-based startup said in an April 6 news release.
However, the company has been unable to fix ongoing technical issues affecting four "non-functional" 1-newton High Performance Green Propulsion (1N HPGP) thrusters.
All eight thrusters were provided by Swedish propulsion specialist ECAPS, which is owned by U.S.-based Bradford Space.
Read more at: Spacenews
SPACE POLICY
House Committee Leaders Ask White House To Withdraw Proposed NTSB Regulations On Commercial Launch Investigations
The leaders of the House Science Committee have asked the Biden administration to withdraw a controversial proposed rule regarding commercial spaceflight investigations, calling it "plainly unlawful."
In an April 6 letter to President Biden, Reps. Eddie Bernice Johnson (D-Texas) and Frank Lucas (R-Okla.), the chair and ranking member, respectively, of the House Science Committee, called on the administration to withdraw proposed regulations by the National Transportation Safety Board (NTSB) that would give the board new authority to investigate launch failures.
Read more at: Spacenews
US, India Agree To Cooperate On Space Situational Awareness
The United States and India have agreed to cooperate on space situational awareness, a deal that the U.S. Department of Defense said would "lay the groundwork for more advanced cooperation in space."
The agreement was reached April 11 by officials of the two countries on the sidelines of the U.S.-India 2+2 ministerial dialogue in Washington, co-hosted by U.S. Defense Secretary Lloyd Austin and the Secretary of State Tony Blinken. The Indian delegation was led by Defense Minister Rajnath Singh and Minister of External Affairs Dr. S. Jaishankar.
Read more at: Spacenews
Ukraine Crisis: European Space Agency Stops Cooperation With Russian Lunar Missions
The European Space Agency on Wednesday ended cooperation with Russia on three missions to the Moon due to Moscow's attack on Ukraine, following a previous decision to do the same for a Mars mission.
The ESA said it would "discontinue cooperative activities" on Luna-25, 26 and 27, a series of Russian lunar missions on which the European agency had aimed to test new equipment and technology.
Read more at: Khaleejtimes
Roscosmos Chief on ESA Suspension of Joint Work on Moon: 'Good Riddance'
Roscosmos CEO Dmitry Rogozin said that in response to the suspension of participation in the Russian lunar program by the European Space Agency (ESA), European devices would be removed from Russian spacecraft.
"The European Space Agency has announced the suspension of participation in Russian lunar programs. So, we will remove their devices from our spacecraft. Good riddance," Rogozin said on Telegram.
The ESA was supposed to supply about 10 scientific and technological devices for Russian automatic lunar stations. In particular, it was planned to equip Luna-25 with a Pilot-D navigation camera, and the Luna-27 station with a drill and a high-precision landing system.
Read more at: Spacewar
SPACECOM Agrees To Increased Cooperation With UK, Sweden
U.S. Space Command signed two new agreements with partner nations within two days this week as the Pentagon plans to further increase its space information sharing.
SPACECOM Commander Gen. James Dickinson on April 6 signed a memorandum of understanding for enhanced space cooperation with UK Royal Air Force Vice-Marshal Paul Godfrey, the commander of the UK's SpaceCom. The agreement is a nonbinding framework for more military cooperation in space, including information sharing, collaboration with requirements and identifying potential collaborative studies, projects or activities, an announcement said.
Read more at: Aviation week
SPACE DEFENSE
Air Force Space Experiment Will Seek To Demonstrate Multi-Orbit Satellite Navigation
The Navigation Technology Satellite-3 (NTS-3), an experiment funded by the Air Force Research Laboratory, will fly to a geostationary Earth orbit in 2023 and will be used to augment the positioning, navigation and timing (PNT) services currently provided by GPS satellites.
The concept of adding another layer of PNT could be significant as the Pentagon fears that signals from GPS satellites in medium Earth orbit (MEO) could be jammed or disrupted during a conflict. 
"We wanted to look at how you use a constellation that is truly a hybrid architecture," Joanna Hinks, NTS-3 deputy program manager at AFRL, told reporters April 7 at the Space Symposium.
Read more at: Spacenews.com
We Must Acknowledge Space As It Is: A Warfighting Domain
On Jan. 11, 2007, China launched a direct-ascent anti-satellite weapon (ASAT), which successfully intercepted and destroyed a Chinese satellite. It took fewer than 15 minutes from launch to impact. At the time, I was serving as the commander of Air Force Space Command, the predecessor of the Space Force. We could track the strike, saw its after-effects, but were powerless to offer leaders proactive options in case a U.S. satellite was targeted. Fifteen years later, threats to satellites have grown but we still lack meaningful options to deter and respond. 
Read more at: Hill
Challenges to Security in Space
Challenges to Security in Space was first published in early 2019 to address the main threats to the array of U.S. space capabilities, and examine space and counterspace strategies and systems pursued primarily by China and Russia and, to a lesser extent, by North Korea and Iran. This second edition builds on that work and provides an updated, unclassified overview of the threats to U.S. space capabilities, particularly from China and Russia, as those threats continue to expand.
Read more at: dia.mil
U.S. Space Command Sending Strong Demand Signal For Commercial Space Services
U.S. Space Command, a military combatant command responsible for operations in outer space, needs more access to cutting-edge technology from the private sector, the head of the command Gen. James Dickinson said April 5. 
Of particular interest are services now offered by private companies that track space objects and analyze the data, he said at a news conference at the 37th Space Symposium.
Dickinson said he recently submitted to the Defense Department a "commercial integration strategy" calling for more government-industry partnerships to give Space Command easier access to commercial space services. 
Read more at: Spacenews
Russia Is Jamming GPS Satellite Signals In Ukraine, US Space Force Says
Read more at: Space.com
Space Development Agency To Accelerate Deployment Of Missile-Tracking Satellites
The U.S. Space Force is requesting an additional $200 million in fiscal year 2023 to launch satellites for the Space Development Agency's missile-tracking constellation.
The funding for additional launches was included in a $600 million "unfunded requirements" list the Space Force submitted to Congress April 6. The other $400 million is for weapons systems upgrades and classified technologies. These requests would be added to the budget proposal the Biden administration released March 28. 
Read more at: Spacenews
VARIOUS
Tianzhou 4's Rocket Arrives in Hainan
The Long March 7 carrier rocket tasked with launching the Tianzhou 4 cargo spacecraft arrived at Wenchang Space Launch Center in Hainan province on Monday, the China Manned Space Agency said.
Next, the rocket will be assembled and undergo ground tests with the robotic spaceship at the coastal launch complex, the agency said in a brief statement.
Tianzhou 4, the country's fourth cargo space vehicle, is set to dock with China's Tiangong space station that has been in low-Earth orbit about 400 kilometers above the ground since April 2021.
Read more at: Spacedaily
US, Russia Should Cooperate on Leveraging Private Investment for Space Programs – Expert
Russia and the United States along with other countries should cooperate on leveraging private investment to develop human spaceflight programs as governments struggle with tight budgets, said Greg Autry, professor of space leadership at Arizona State University's Thunderbird School of Global Management.
"I think it is time for Russia to fully embrace the commercial future of space. With increasingly difficult budget situations in both our nations, we can only continue bold exploration and science if we leverage private investment and capture returns from the commercial development of space resources," Autry said on the sidelines of the 37th annual Space Symposium. "Our nations should work together on this."
Read more at: Spacedaily
Putin Celebrates Gagarin Flight Anniversary, Vows Russia will Remain a Leader in Space Amid Sanctions
Read more at: Parabolicarc
How The Space Race Launched An Era Of Exploration Beyond Earth
Tensions ran high at the Baikonur Cosmodrome on the morning of April 12, 1961, as the Soviet Union prepared to launch the first human into space. Of the 16 previous attempts to propel the U.S.S.R.'s Vostok rocket into orbit, half had failed. Two of the space program's top engineers reportedly had to take tranquilizers that day as they waited for liftoff at the Kazakh launch site.
But Yuri Gagarin remained calm in the capsule atop the rocket. After months of rigorous physical and technical training, the 27-year-old cosmonaut had been chosen for the historic flight in part for his unflappability. Intelligent, diligent, and well-liked among his comrades, one memo written by Soviet Air Force doctors and obtained by historian Asif Siddiqi noted that Gagarin "understands life better than a lot of his friends."
Read more at: National geographic
How US Intel Worked With Commercial Satellite Firms To Reveal Ukraine Info
Russia's war in Ukraine has shown the power of open-source geospatial information in pre-conflict and war, both for deterrence, actually prosecuting military operations and disproving false propaganda. It's an information victory (so far) that US intelligence officials said they helped coordinate with private satellite firms that have provided prompt imagery to friendly nations, news organizations and the public.
But experts say that relationship also raises questions about what it could mean in a future conflict — whether with China, which is likely learning its own lessons about the information war from Russia's failings, or a conflict in which the US government might not be so keen on satellite imagery being so readily accessible.
Read more at: Breaking defense