TOP NEWS
EU Turns To Elon Musk To Replace Stalled French Rocket
The European Commission wants to cut deals with private American space companies like Elon Musk's SpaceX to launch cutting-edge European navigation satellites due to continued delays to Europe's next generation Ariane rocket system.
In a draft request to EU countries seen by POLITICO, the Commission is planning to ask for a green light to negotiate "an ad-hoc security agreement" with the U.S. for its rocket companies to "exceptionally launch Galileo satellites."
Read more at: Politico
SpaceX Starship Launch: All Of The News On Its Test Flight And That Explosive Ending
Elon Musk's stated goal of putting humans on Mars relies heavily on the development of a next-generation reusable spacecraft, and Starship (formerly known as Big Falcon Rocket, or BFR) attempted its first orbital test flight. It's not the "six months" goal Musk projected in 2019, but after a number of suborbital tests that included some terrific successes and fantastic, fiery failures, the big day is finally here. According to the original plan, the Starship would fly to orbital velocity after separating from its Super Heavy booster rocket about three minutes into the trip and then splash down in the Pacific Ocean near Hawaii.
Read more at: Verge
SPACE HAZARDS & STM
Scientists Reveal New Way To Stop Giant Asteroids Obliterating Earth
In the eyes of Hollywood, there is only one way to deal with a meteorite heading for Earth: a nuclear bomb. 
But unlike the people behind Armageddon or Deep Impact, scientists believe we can derail the path of a giant asteroid in other ways.
Data show that crashing a sacrificial spacecraft into an asteroid would be powerful enough to avoid almost all rocks hitting Earth, averting catastrophe. 
Only asteroids wider than a kilometre would need a nuclear detonation to shift them off course, scientists now believe. 
Read more at: MSN
Chinese Rocket Debris Showers Intrigue on a Remote Fishing Village
The skies over the island of Mindoro are usually undisturbed, and many villagers push off around 3 a.m. to stake out the best fishing spots before first light.
Read more at: WSJ
Paladin Space Pioneers Tech To Hoover Dangerous Space Junk
An excess of junk has become a startling concern- on Earth and beyond its cosmic borders. Satellites blow up, filling space with debris every year, debris congesting space lanes. 
The Soyuz return capsule suffered a major coolant leak in December 2022, when a fragment of space junk punctured a tiny hole while being docked at the International Space Station- itself no stranger to taking evasive action to prevent such accidents.
The problem is of such consequence that space agencies and private space firms have made it their priority to find solutions. 
New low-Earth orbit satellites must prove that they can safely be disposed of in the Earth's atmosphere within five years of decommissioning, reports Cosmos
Read more at: interesting engineering
Dead NASA Satellite Will Crash To Earth This Week
A dead NASA spacecraft will come crashing back to Earth in the next few days, experts say.
NASA's RHESSI satellite, which studied the sun from 2002 until its decommissioning in 2018, is expected to reenter Earth's atmosphere around 9:30 p.m. EDT on Wednesday (April 19; 0130 GMT on April 20), plus or minus 16 hours, according to the latest estimates by the U.S. military.
RHESSI (short for "Reuven Ramaty High Energy Solar Spectroscopic Imager") isn't a huge satellite. It weighs just 600 pounds (270 kilograms), and the majority of that mass will be converted to ash and vapor during RHESSI's death dive, NASA officials said.
Read more at: space.com
Could a Bunch of Junk Derail U.S. Activities in Space?
Space junk, or orbital debris left by humans in space, including satellite fragments, is a problem. Currently, Earth's orbit contains hundreds of millions, and by some estimates, trillions of pieces of debris—see for yourself. The vast majority of these are tiny and pose no threat. But a speck of debris just 10 centimeters in diameter can cause significant damage to spacecraft, and there are at least 36,000 objects that fit that description.
Read more at: flyingmag
DART's Data Verify Its Smashing Success At Deflecting Asteroid Moon Dimorphos
On 26 September 2022, a spacecraft the size of a refrigerator collided with the moon of an asteroid. The Double Asteroid Redirection Test (DART) was the first planetary-defence experiment designed to test the viability of re-routing an asteroid through kinetic impact. Viewers worldwide were captivated by images transmitted by the DART spacecraft as it approached the asteroid moon known as Dimorphos. Five papers1–5 in this issue characterize the impact and its dusty aftermath, which were captured by space- and Earth-based telescopes. The authors' findings advance our understanding of asteroid-impact geophysics and planetary defence.
Read more at: Nature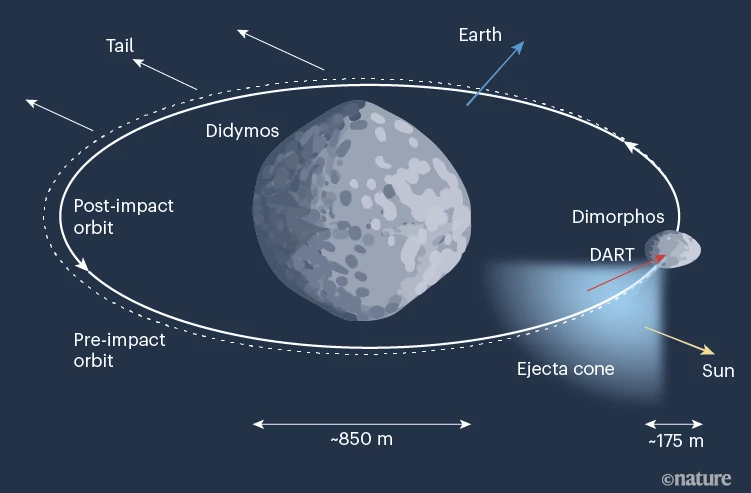 COMMERCIAL SPACE
Lockheed Martin Declares Success Demonstrating Tech For In-Orbit Satellite Servicing
A pair of Lockheed Martin cubesats that flew to geostationary Earth orbit in November performed maneuvers in close proximity and demonstrated other technologies for in-orbit servicing operations, company officials said April 17.
The Linuss experiment — short for Lockheed Martin's In-space Upgrade Satellite System — went to orbit on the USSF-44 national security mission launched by a SpaceX Falcon Heavy. 
The two cubesats, each the size of a toaster, were deployed 300 kilometers above geostationary orbit from a ring-shaped secondary payload that carried multiple smallsats. 
Read more at: spacenews
Axiom Announces New Government Human Spaceflight Program
Axiom Space has introduced a new program to allow countries to create human spaceflight programs without needing to develop their own infrastructure or other capabilities.
The Axiom Space Access Program, announced April 17, offers countries a tiered approach to conducting research on the International Space Station or Axiom's future commercial space station, as well as flying their own astronauts.
The program is effectively a "space program in a box," said Tejpaul Bhatia, chief revenue officer at Axiom, in an interview during the 38th Space Symposium. "The real key is that turnkey access at affordable, sustainable and predictable rates."
Read more at: spacenews
Virgin Group Looks to Sell Virgin Orbit in May
The Virgin Group is looking to sell bankrupt launch provider Virgin Orbit next month, according to court documents.
Interested buyers would be required to submit bids by May 15, 2023. An auction would follow three days later if necessary. The deal would be closed on or before June 2, 2023.
Virgin Orbit declared bankruptcy on April 4 after laying off 675 of its 775 employees. The move came after the cash-strapped company was unable to raise additional funding. Negotiations with at least two potential investors fell through after the company furloughed nearly all its employees in mid-March.
Read more at: parabolic arc
Inmarsat Working To Restore L-Band Services In Asia Pacific After Satellite Outage
An aging Inmarsat satellite that pilots use to keep in touch with air traffic control beyond the range of very high frequency (VHF) ground radars is experiencing a prolonged outage.
"There has been a technical issue with Inmarsat's I-4 F1 satellite, which provides L-band services in the AsiaPacific region," a spokesperson for the British operator said April 18 via email.
"Recovery procedures to restore services have begun and during this process Inmarsat will be providing updates to partners and customers impacted."
Read more at: spacenews
L3Harris Awarded $145 Million Contract to Modernize US Space Domain Awareness Capabilities
L3Harris Technologies (NYSE:LHX) announced the award of option year four of the Maintenance Of Space Situational Awareness Integrated Capabilities (MOSSAIC) program. The $145 million contract from the U.S. Space Force continues the modernization and sustainment of critical space infrastructure enabling the Space Force core competency of Space Domain Awareness (SDA).
In support of the U.S. military's space surveillance and command centers in Colorado, California and Virginia, MOSSAIC detects, tracks and identifies deep space objects to provide timely and accurate space surveillance information for military, civil and commercial users.
Read more at: business wire
Leolabs Highlights On-Orbit Maneuvers
A LeoLabs maneuver-detection dashboard displayed at the 38th Space Symposium tracked the location of about 30 Chinese, Iranian and Russian spacecraft in low-Earth orbit.
The dashboard showed, for example, an experimental Chinese spaceplane that had lowered its altitude in the last two weeks from about 600 kilometers to about 300 kilometers.
"We believe this spacecraft is getting ready to reenter," Kohei Fujimoto, director of LeoLabs Japan, told SpaceNews.
Read more at: spacenews
Hyundai Motor Group Announces Development Of Lunar Exploration Rover
Hyundai Motor Group, a leading South Korean automotive manufacturer, has announced its entry into the space exploration industry. On April 20, 2023, the company unveiled plans to build a lunar exploration rover development model, in collaboration with several Korean research institutions in the aerospace sector.
The ambitious project aims to create a versatile mobility platform capable of handling various payloads, with cutting-edge autonomous driving technology, solar charging, thermal management, and radiation shielding features. The rover is designed to carry various pieces of equipment on top of it, with a maximum weight of 70 kg.
Read more at: interesting engineering
Virgin Orbit Is Planning to Launch Into Space Despite Declaring Bankruptcy
When you hear that a company has filed for bankruptcy, you may think the story ends there. But with Virgin Orbit, it's not so cut and dry. After the rocket company laid off 85 percent of its staff last month and then declared bankruptcy shortly thereafter, it's still not the end of the road, according to a new Washington Post interview with Virgin Orbit's CEO. Dan Hart told the newspaper that the company has been in talks with potential buyers, and that it's still moving forward with a launch later this year.
Read more at: Yahoo
China Releases Three Commercial Liquid Rocket Engines
The Academy of Aerospace Propulsion Technology on Saturday released three commercial liquid rocket engines in Xi'an City of northwest China's Shaanxi Province, in an effort to promote the development of China's commercial space industry and enhance the ability to enter space on a large scale and at a low cost.
The three engines released feature high reliability, high cost-performance ratio and re-usability. Among them, the YF-102 is the country's first open-type liquid oxygen-kerosene engine, which made its maiden flight on April 2 as the engine of China's first commercial liquid-fueled carrier rocket Tianlong-2.
Read more at: CGTN
SCIENCE & TECHNOLOGY
China Scientists Carry Out 'Rule-Breaking' AI Experiment In Space
Chinese researchers say an artificial intelligence machine was given temporary full control of a satellite in near-Earth orbit, in a landmark experiment to test the technology's behaviour in space.
For 24 hours the Qimingxing 1, a small Earth observation satellite, was directed by a ground-based AI, without any human order, assignment or intervention, according to a paper published in the journal Geomatics and Information Science of Wuhan University.
Read more at: SCMP
ESA developing Space-Based Solar Power plant plans
ESA has signed contracts for two parallel concept studies for commercial-scale Space-Based Solar Power plants, representing a crucial step in the Agency's new SOLARIS initiative – maturing the feasibility of gathering solar energy from space for terrestrial clean energy needs.  
Due to be completed before the end of 2023, the parallel contracts are being led by Arthur D Little and Thales Alenia Space Italy, respectively. These concepts will serve as an up-to-date reference for the overall SOLARIS effort, guiding the scope of specific R&D activities that will follow.
Read more at: ESA
NASA and Japan Team Up for Unprecedented Martian Moon Mission
JAXA is getting ready to visit Mars's two moons, but Japan's space agency is no longer going alone.
This week, NASA signed a memorandum of understanding with JAXA to join its upcoming mission to the two Martian moons, Phobos and Deimos, which is scheduled to launch in 2024. NASA has assembled a team of scientists and prepared two instruments to board JAXA's spacecraft to Mars, the space agency announced on Tuesday.
The Martian Moons eXploration (MMX) mission will not only visit the two mysterious moons that whirl around Mars, it will also land on the cratered surface of Phobos to snag a sample from the largest of the two moons.
Read more at: Gizmodo
New High-Tech Alloy Could Enable Nuclear Space Travel
You may recall the old universal solvent problem: There's an old problem in chemical solvents: a solvent that dissolves anything isn't easy to bottle up. High-performance metallurgy faces a similar problem: You use heat to forge metal alloys to build powerful rocket engines and nuclear reactors, but these applications produce extreme amounts of heat that can degrade those alloys.
Finding ways to produce materials that can remain strong under extreme conditions is key to advancing power and propulsion technologies for both terrestrial and celestial use.
Read more at: Inverse
NASA Unveils Mars Habitat On Earth For A Yearlong Test
On April 11, 2023, NASA unveiled its simulation of a Mars habitat where four volunteers will train on Earth before humankind's first steps on the red planet. In fact, the simulation is the first of three planned habitat simulations. What's more, this first habitat has been constructed via 3D printing. In June, the four volunteers will enter the habitat, which is located at Johnson Space Center in Houston. And they'll stay there – isolated from the outside world – for one year.
Read more at: Earthsky
SPACE POLICY
US Aviation Authorities May Delay Some Space Launches To Avoid Air Traffic Disruption
The Federal Aviation Administration (FAA) said Thursday it may delay some space launches to minimize disruption to commercial air travel and provide "equitable" access to airspace near launch sites.
Space launches have often snarled air schedules, especially in congested Florida airspace. Officials are worried about a repeat of last summer's air travel woes – when more than 50,000 flights were cancelled in the United States and hundreds of thousands others delayed – in the face of rising demand and airline and flight control staffing shortages.
Read more at: yahoo
Op-Ed | Practical Applications Of A Space Mission Authorization Framework
The National Space Council recently completed three public listening sessions on the issue of In-Space Authorization and Supervision, often described broadly as mission authorization. These terms seem vague and bureaucratic, and mainly the purview of regulators and lawyers. However, given the importance that mission authorization plays in encouraging innovation in a rapidly growing space economy, it's too important to be left to those folks alone.
Read more at: spacenews
FAA: New Guidance For Commercial Space Launches Will Help Balance Air Traffic Flow
The Federal Aviation Administration has a role in every flight, and not just the terrestrial ones. Any craft that's headed into outer space also needs to get approval from air traffic controllers to ensure that space flight is as safe as a journey between two cities.
With more private space launches than ever, and staffing issues continuing at the FAA, the agency announced new guidelines for space launch approvals to ensure that air traffic controllers aren't stretched too thin, especially as the summer travel peak approaches.
Read more at: usatoday
Europe's Ariane 6 Rocket Is Turning Into A Space Policy Disaster
After much political wrangling among Germany, France, and Italy, the member governments of the European Space Agency formally decided to move ahead with development of the Ariane 6 rocket in December 2014.
A replacement rocket for the Ariane 5 was needed, European ministers decided, because of cost pressure from commercial upstarts like SpaceX and its Falcon 9 rocket. With the design of the Ariane 6, they envisioned a modernized version of the previous rocket, optimized for cost. Because Ariane 6 would use a modified Vulcain engine and other components from previous Ariane rockets, it was anticipated that the new rocket would debut in 2020.
Read more at: arstechnica
Government Calls For Greater Responsibility By Satellite Operators
Government officials say satellite operators need to take greater responsibility for safe operations of their spacecraft in increasingly congested orbits.
Speaking during a session of the 38th Space Symposium here April 20, Richard DalBello, director of the Office of Space Commerce, said companies and organizations will need to be better able to responsibly operate their satellites given the growing number of satellites from various constellations.
Read more at: spacenews
U.S. Space Command Announces New Cooperation Agreements With Allies
U.S. Space Command and the Australian Defence Space Command on April 20 signed an enhanced space cooperation memorandum of understanding.
The MOU was signed at the Space Symposium by Gen. James Dickinson, head of U.S. Space Command; and Royal Australian Air Force Air Vice-Marshal Catherine Roberts, commander of the Australian Defence Space Command.
Read more at: spacenews
SPACE DEFENCE
Rocket Lab Adds A Suborbital Launch Option Aimed At Hypersonic Defense Customers
Rocket Lab is adding a new offering to its suite of services: hypersonic suborbital launches. The new service will be available starting sometime in the first half of this year, when the company will fly its first mission for a "confidential customer" who contracted use of the new suborbital rocket.
Rocket Lab's suborbital vehicle is derived from its successful Electron orbital launch vehicle, but gets a new name by way of the backronym "HASTE" (hypersonic accelerator suborbital test electron). The first of these is already being prepared for launch at Rocket Lab's U.S. launch facility in Wallops Island, Virginia.
Read more at: techcrunch
On National Security | Satellite Imaging Industry Responds To Demand For Intelligence Fusion
The war in Ukraine has shown the power of commercial satellites to deliver crucial intelligence to the world.
The satellite imagery industry is trying to build on that momentum and respond to new demands for more sophisticated space-based intelligence, said Tony Frazier, executive vice president of the satellite imaging company Maxar Technologies.
Maxar and others worked with the U.S. National Geospatial-Intelligence Agency (NGA) to make commercial satellite images widely available to Ukraine and coalition allies.
Read more at: spacenews
U.S. SPACECOM Tries To Satisfy Global Military Demand For Satellite Services 
U.S. Space Command, a military combatant command responsible for operations in outer space, is seeking more funding and resources from the Pentagon to defend the nation's spacecraft and fill growing demands for satellite services, the head of the command Gen. James Dickinson said April 18.
"The command is putting out demand signals," he said in a keynote speech at the 38th Space Symposium.
Read more at: spacenews
Northrop Grumman Clears Design Hurdle For Military Communications Satellite
Northrop Grumman completed a critical design review of a Space Development Agency communications satellite in 13 months, a fraction of the time required for traditional space programs.
"It's paradigm changing for programs that have this type of capability," Blake Bullock, vice president for Northrop Grumman's Communication Systems business unit, told SpaceNews. "For a more standard military communications satellite program, you're typically looking at multiple years to get to a critical design review."
Read more at: spacenews
Aerospace CEO: More Startups Seek DoD Work Amid Cash Crunch
Aerospace Corp.'s commercial space office, established to facilitate connections between startups and government technology buyers, is seeing a surge in activity. 
With a downturn in venture capital, a growing number of companies are turning to the government for opportunities, Aerospace CEO Steve Isakowitz told SpaceNews. 
Aerospace is a federally-funded nonprofit based in El Segundo, California, that provides technical guidance and advice to military and civil space agencies.
Read more at: spacenews
Spy Satellite Agency Has Plans to Quadruple US Eyes in the Sky
The US intelligence agency that develops and buys spy satellites plans a fourfold increase by 2033 in orbiting spacecraft like those now being used to monitor Russia's invasion of Ukraine.
"Within the next decade we expect to quadruple the number of satellites we currently have on orbit," the National Reconnaissance Office, once a super-secret agency, said in a statement Wednesday. "These satellites — large and small, in multiple orbits" will collect and transmit "ten times as many signals and images as we're getting now, and will engage a mix of government and commercial systems."
Read more at: Bloomberg
U.S. Military Buying SES Mpower Satcom Services Under New NATO Agreement
The U.S. Space Force in its 2024 budget allocated $59 million to buy satellite communications services from SES' new broadband constellation in medium Earth orbit known as O3b mPower.
The purchase was made under a NATO contracting vehicle established last year for countries to acquire commercial satcom services. Both the U.S. and Luxembourg have agreed to buy mPower satcom services under NATO's Global Commercially Contracted Satellite Communications.
Read more at: spacenews
Astra Wins $11.5 Million Contract To Launch Military Experimental Payloads
Astra Space won a task order worth $11.5 million to launch experimental payloads for the Defense Department's Space Test Program.
Astra, a small satellite launch company based in Alameda, California, was awarded the contract under the U.S. Space Force's Orbital Services Program OSP-4, the Space Systems Command announced April 21.
The OSP-4 program is run by the Space Systems Command's Small Launch and Targets Division at Kirtland Air Force Base, Albuquerque, New Mexico.  
Read more at: spacenews
VARIOUS
50 Years Ago, A Balloon Circumnavigated The World For Science
Scientists recovered for the first time … a balloon scientific payload after a long-duration, twice-around-the-world flight. The project is called Boomerang and is designed to demonstrate the feasibility of using balloons for long-duration research.
Balloons fill an important niche in science, bearing instruments to study physics, atmospheric chemistry and astronomy, or to test technologies for space missions. For instance, data collected by balloons have helped reveal that the universe is geometrically flat, that Earth's lower atmosphere is rising due to climate change and how wildfire smoke impacts the ozone layer.
Read more at: sciencenews
With 24 Minutes Of Oxygen Left On The Space Station, Mike Had Two Choices. Neither Was Good
You're on a leaking space station hundreds of kilometres from Earth. What do you do with your 24 minutes of remaining oxygen? Do you float as fast as you can to the escape capsule, or try and repair the leak?
This was the dilemma facing NASA's Mike Foale and two Russian cosmonauts in 1997. They were on the Russian space station Mir, then the only station in orbit, and the worst space collision in history was unfolding. Moments earlier, an unmanned supply ship had slammed into Mir ("right where I slept actually," says Foale, now retired), tearing a hole in its side and damaging its solar panels. As the station shook, sirens blared and Foale's ears started popping. "For a moment, I thought, we're dead, it's torn us open. Because the aluminium [hull] is only three millimetres thick."
Read more at: smh
What are the Economic Benefits of Space Exploration?
When looking up into the sky at night, you might see a sprinkle of stars, a sliver of moon, and maybe even a galaxy, but some also see dollar signs. This article will investigate the current state and future economic benefits of space exploration.
Though space is decidedly unreachable for most, as even the cheapest rocket launches cost more than many people make in a lifetime, technological developments, commercialization of the industry, and geopolitical competition have made it a hot economic commodity on which life on Earth is becoming increasingly dependent.
Read more at: spaceimpulse
NASA May Build More Than One Moon Base For Artemis Lunar Missions
NASA's goal of returning astronauts to the moon by 2025 has long been part of a long-term plan to build a sustainable base on the lunar surface. But that plan may include more moon bases than you might expect. Jim Free, NASA's associate administrator for exploration systems development, said Monday (April 17) that the agency's Artemis program may ultimately build several bases around the moon instead of a single Artemis Base Camp at the lunar south pole as unveiled in 2020.
Read more at: space.com
SpaceX's Starship Could Transform The Space Industry
If SpaceX's Starship program succeeds, it could revolutionize the space industry by dramatically lowering the cost of launching people and payloads to orbit and beyond. Why it matters: SpaceX and other companies want to make space travel more akin to air travel, with launches every day. But in order to make that future a reality, launch costs need to get cheaper. That's where Starship comes in. SpaceX founder Elon Musk has said a Starship launch could eventually cost just $10 million or less. By comparison, the company's Falcon 9 costs about $62 million today and has far less carrying capacity than Starship.
Read more at: Axios
Leidos Working With NASCAR On Artemis Lunar Rover
Leidos is working with the racing company NASCAR to develop a lunar rover they will offer for an upcoming NASA competition.
Leidos unveiled its design April 18 for a Lunar Terrain Vehicle (LTV) that can accommodate two astronauts for excursions on the lunar surface starting with the Artemis 5 mission in the late 2020s. The rover could be used autonomously as well when not needed by astronauts.
Read more at: spacenews

NASA's Curiosity Mars Rover Gets A Speed Boost
While NASA's newer Perseverance rover tends to get all the headlines these days, the Curiosity rover also continues to explore the surface of Mars more than a decade after it reached the red planet.
The team at NASA's Jet Propulsion Laboratory (JPL), which oversees the Mars rover missions, has just given Curiosity a new lease of life after installing its first major software update in seven years.
Read more at: digital trends
US Space Industry Funding Drops 53% In Q1, Hitting 8-Year Low – Report
Investments in the U.S. space industry dropped 53% to $2.2 billion in the three months ending March, a report said, with high interest rates and challenging market conditions making it the lowest-funded quarter the sector has seen since 2015.
The steep drop in fresh capital has left many companies in a vulnerable state, while the failure of Silicon Valley Bank, a leading provider of venture debt, has added to the challenge, a report by venture capital (VC) firm Space Capital said on Thursday.
Read more at: reuters
Space Industry: Africa Is Ready For Liftoff
"The chances are great that Africa will soon be able to build its own powerful space industry — a space industry that really helps people in Africa," stresses South African market analyst Rorisang Moyo.
The space industry is Moyo's specialty. And it's "an industry with enormous growth potential, especially in Africa," she told DW.
Until now, African satellites have had to be launched into space from rocket launch sites outside Africa — mainly from Baikonur in Kazakhstan, French Guiana in South America, or from California in the United States — because Africa lacks the necessary spaceports and technical capacities. African companies would have to purchase a large portion of the necessary services, which doesn't come cheap.
Read more at: DW
Russia Releases First Feature Film Shot In Space
The first feature film shot in space premiered in Russian cinemas on Thursday, as Moscow exulted in beating a rival Hollywood project amid a confrontation with the West. 
"The Challenge" is about a surgeon dispatched to the International Space Station (ISS) to save an injured cosmonaut. 
Russia sent an actress and a film director for a 12-day stint on the ISS in October 2021 to film scenes aboard the orbiting laboratory.
Read more at: TimesofMalta