TOP NEWS
NASA to Pick Next Generation Spacesuits for Moonwalking, Spacewalking
NASA will announce at 2 p.m. EDT (1 p.m. CDT) Wednesday, June 1, the company, or companies, selected to move forward in developing the next generation of spacesuits for Artemis missions at the Moon and the International Space Station during an event at the agency's Johnson Space Center in Houston.
Event participants will include: Vanessa Wyche, director, NASA Johnson, Lindsay Aitchison, program executive for Extravehicular Activity and Human Surface Mobility Program, NASA Headquarters, Lara Kearney, manager, Extravehicular Activity and Human Surface Mobility Program, NASA Johnson, Dina Contella, operations integration manager, International Space Station Program, NASA Johnson
Read more at: NASA
Boeing Extends Sustainment Services For Space Debris Warning System
The US Space Force is extending its sustainment services contract with Boeing for the Space Based Surveillance System (SBSS) Block 10 system, the DoD revealed on 27 May.
A contract modification from Space Systems Command adds six separate six-month option periods to extend SBSS sustainment services until 20 June 2025.
Work will be performed in Colorado Springs and is expected to be completed by June 20, 2025.
Read more at: Shephardmedia
NASA Plans Artemis 1 Moon Rocket Retest Around June 19
NASA plans to haul its huge Space Launch System moon rocket back to the launch pad June 5-6 for a fourth attempt to load it with 730,000 gallons of supercold propellants in a dress-rehearsal countdown to clear the way for a maiden test flight later this summer, officials said Friday.
Engineers at the Kennedy Space Center have replaced a jammed helium valve in the rocket's upper stage, tightened bolts to fix a leaky first-stage liquid hydrogen propellant feed line and carried out a variety of other maintenance tasks to ensure a successful tanking test.
Read more at: Spaceflight Now
Astroscale Gets Funds For 2024 Debris-Removal Mission
Astroscale has secured European Space Agency funding for a 2024 demo mission to remove what will likely be a OneWeb satellite.
The debris-removal startup said May 27 that the 15 million euro ($16 million) funding enables it to complete the design of its ELSA-m servicer spacecraft, progressing through manufacturing up to the satellite pre-integration phase. 
Astroscale plans to launch a commercial de-orbit service for satellite operators after that.
Read more at: Spacenews
Kimberley 'Meteor Shower' Is Debris From A Chinese Rocket Falling Out Of Orbit
A "meteor shower" that lit up the skies over northern Western Australia earlier this week was actually the wreckage of a Chinese rocket falling out of orbit.
Streaks of light lit up the skies over Broome in the early hours of Monday morning, with sonic booms reverberating around  the town.
Several locals captured the moment on videos that were posted to social media, showing debris breaking up and streaking across the night sky at around 12:30am on Monday.
Read more at: ABC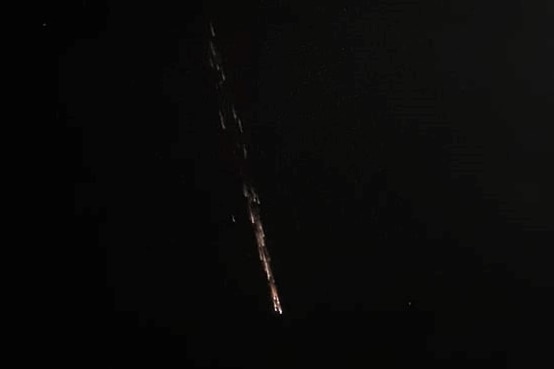 SPACE HAZARDS and STM
'Unsustainable': How Satellite Swarms Pose A Rising Threat To Astronomy
It's been three years since SpaceX, an aerospace company in Hawthorne, California, launched its first batch of Starlink Internet-communication satellites, sparking concern among astronomers about the streaks the satellites leave in photographs of the night sky. Since then, many other Starlinks have launched: more than 2,300 of them now orbit Earth, comprising nearly half of all operational satellites.
Scientists have made some progress in coping with the onslaught. For instance, within days the International Astronomical Union (IAU) will debut a website including tools to help telescope operators predict satellite locations so that they can point their instruments elsewhere.
Read more at: Nature
Avoiding A Collision Course Over Space Privilege
The core module of the China Space Station (CSS) was launched into space in April 2021. In July and October 2021, two SpaceX Starlink satellites suddenly dropped from a low earth orbit of 500km and 555km, respectively, into the CSS's path. The CSS made an emergency manoeuvre to avoid a collision. China condemned the United States at the United Nations, claiming the incident threatened the CSS and its astronauts.
Read more at: Eastasia forum
UH Manoa Receives $2.5M Grant to Monitor Space Weather, Making Space Travel Safer
A University of Hawaiʻi at Mānoa-led project to better predict and understand weather in space earned a major boost from the National Science Foundation (NSF). The four-year, $2.5 million grant will fund a project to construct a space weather station center on the UH Mānoa campus and deploy a neutron monitor on Maui, which researchers say will greatly improve their research in this critical field.
The UH Mānoa Department of Physics and Astronomy will receive $1.2 million of the $2.5 million grant. UH Mānoa Associate Professor Veronica Bindi, the principal investigator on the project, says her team is collaborating with researchers from the University of New Hampshire and the University of Arizona.
Read more at: Parabolic arc
Planetary Defense Exercise Uses Apophis As Hazardous Asteroid Stand-In
Watching the skies for large asteroids that could pose a hazard to the Earth is a global endeavor. So, to test their operational readiness, the international planetary defense community will sometimes use a real asteroid's close approach as a mock encounter with a "new" potentially hazardous asteroid. The lessons learned could limit, or even prevent, global devastation should the scenario play out for real in the future.
To that end, more than 100 astronomers from around the world, including scientists at the University of Arizona, participated in an exercise last year in which a large, known, and potentially hazardous asteroid was essentially removed from the planetary defense-monitoring database to see whether it could be properly detected anew.
Read more at: Arizona.edu
On The Hunt For Asteroids That Could Hit Earth, With A Little Help From The Past
More than 100 previously unknown asteroids have been detected using a new tool that can comb through huge existing archives of data to search for potentially dangerous space rocks.
The discoveries were announced Tuesday by the B612 Foundation, a California-based nonprofit organization that focuses on tracking objects in the solar system and protecting the planet from near-Earth asteroids.
Read more at: NBC news
Massive Solar Flare Could Hit Earth With 'Glancing Blow' Sparking Geomagnetic Storm TODAY
An enormous solar flare could hit Earth with a "glancing blow" today, producing "G1-class geomagnetic storms", experts have said.
The solar flare, also known as a Coronal Mass Injection (CME), was picked up by physicists on Wednesday May 25. CMEs are powerful eruptions of plasma on the Sun's surface.
Billions of tons of material are lifted off the surface and can explode away from the Sun with the force of around 20 million nuclear explosions.
The phenomenon is very common and not all flares travel towards the Earth, but when they do, they have the power to be disruptive.
Read more at: Mirror UK
COMMERCIAL SPACE
China's Geely Launches First Nine Low-Orbit Satellites For Autonomous Cars
China's Zhejiang Geely Holding Group conducted its first successful satellite launch on Wednesday, sending nine into low earth orbit as it builds out a satellite network to provide more accurate navigation for autonomous vehicles.
The self-designed and manufactured GeeSAT-1 satellites, were launched from the Xichang Satellite Launch Center in the southwestern province of Sichuan. Geely said it expects another 63 to be in orbit by 2025 and eventually plans to have a constellation of 240.
Read more at: Reuters
Asteroid-Mining Company AstroForge Books Its First Test Mission
We've been hearing about asteroid mining for years, and while it wasn't crazy to speculate on the possibility, there were plenty of barriers. However, humanity has recently studied asteroids up close, landed on them, and even shot one with a high-speed projectile. The day may be coming when asteroid mining will be viable, and a startup called AstroForge aims to be the first. This newly founded company has announced its plans to begin mining asteroids for rare metals, and it already has a test mission planned. 
Read more at: Extremetech
3D Print Complex Rocket Components For Low-Cost, Small Satellite Delivery Systems
Humankind launched the first orbital satellite in October of 1957. Sixty-five years later, more than 5,000 satellites are in service, with roughly half of them placed into low earth orbit (LEO) over the past two years. Much but not all of this activity comes courtesy of entrepreneur Elon Musk, whose SpaceX-launched satellite internet constellation Starlink will soon account for at least half of the objects circling our planet.
"We don't think this rapid growth is an anomaly," said Max Haot, founder and CEO of Launcher Inc., an aerospace firm in Hawthorne, California. "We think it's the beginning of what's to come. In fact, we believe there will be hundreds of thousands of small satellites in orbit within the next decade."
Read more at: designworld online
Rogue Space Systems and University of Utah Win Space Force Funding
Rogue Space Systems, a New Hampshire company who is developing orbital robots (Orbots™) for satellite servicing, has partnered with the University of Utah's Robotics Center to apply the research of Professors Jake Abbott and Tucker Hermans on manipulation of non-ferrous objects using magnetic eddy currents. The use of this Omnimagnet technology is going to be particularly beneficial when trying to interact with an object that is tumbling out-of-control as the Rogue Orbot™ will be able to detumble it safely without contact. Rogue and Professor Abbott have also submitted two Small Business Technology Transfers (STTR) together based on this technology; both were selected for funding by the U.S. Space Force.
Read more at: 24-7pressrelease
SCIENCE AND TECHNOLOGY
First NASA SunRISE Constellation Smallsat Clears Ground Test
The initial Protoflight Model small satellite for NASA's Sun Radio Interferometer Space Experiment mission (SunRISE) has completed functional and environmental testing at Utah State University's Space Dynamics Laboratory (SDL). The six-satellite constellation will act as a single radio telescope in…
Read more at: Aviation week
Sierra Space To Partner With Spirit Aerosystems On Dream Chaser Cargo Modules
Sierra Space announced May 31 a strategic partnership with aerospace manufacturer Spirit AeroSystems for production of cargo modules for its Dream Chaser vehicles.
The companies said they signed a letter of intent under which Spirit will assist in the development and production of Shooting Star, the cargo module attached to the aft end of the Dream Chaser lifting body vehicle. That module will support future cargo missions to the International Space Station under Sierra Space's contract with NASA, and for other applications.
Read more at: Spacenews
ICEYE Starts Pilot With ESA To Support Copernicus Emergency Services
Satellite-driven monitoring and natural catastrophe solutions company ICEYE, announced they are starting a pilot activity with the European Space Agency (ESA) to support the Copernicus Emergency Management Services (CEMS) team with flood insights. Under the programme, ICEYE will deliver critical flood impact information for CEMS to evaluate the data and explore potential applications.
ICEYE's data is able to show the extent and depth of flooding at structural level. The company combines synthetic-aperture radar (SAR) satellite constellation data with ground sources as well as hydrological datasets.
Read more at: Spacewatch global
China Put A Telescope On The Far Side Of The Moon. It Still Cannot Escape From Radio Noise
Chinese scientists are working on a plan to save the only radio telescope operating on the far side of the moon from major noise problems that are stopping its attempts to explore the universe.
Making observations from the far side of the moon has long been a goal for astronomers because the radio environment there is so much cleaner than the Earth's.
Read more at: SCMP
Why Space Explorers Trying To Survive On Other Planets Really Could Become Cybermen
 It's a question that has sent many a space fanatic into orbit: How will humans survive on other planets?
Now one of the country's leading astronomers believes the answer could be even more out of this world – by making future explorers part cyborg.
Martin Rees, the Astronomer Royal, said modern space pioneers could try to modify themselves and become a mix of 'flesh, blood and electronics'.
Read more at: Dailymail
Launcher Awarded U.S. Space Force TACFI Contract to Develop its High-performance E-2 Liquid Rocket Engine
The U.S. Space Force has awarded Launcher $1.7M to further develop our E-2 engine, which we proved earlier this month at NASA Stennis Space Center to be the highest-performing liquid oxygen and kerosene rocket engine combustion chamber in the U.S.
We are grateful for the U. S. Space Force's support to advance E-2 development and help meet the goals of the DoD by maximizing performance and payload capacity for a small launch vehicle, accelerating vehicle production, and removing both geographic and supply chain constraints for volume production.
Read more at: Parabolic arc
SPACE POLICY
Lunar Research Station: Russia, China Almost Ready To Ink Pact On 'Moon Base' That Will Rival Artemis Accords – Rogozin
As EurAsian Times has reported earlier, China and Russia are leading the opposition to the US-led space block, called the Artemis Accords, consisting of 19 countries, which aims to send a manned mission to the Moon by 2025 and establish a governing framework for exploring and mining for natural resources, on Moon, Mars, and beyond.
The mission intends to build a research station on the Moon's south pole with a supporting research station orbiting the Moon, called the Lunar Gateway.
Read more at: Eurasian times
European Parliamentarian Seeks To Build Up Ties Between U.S. And E.U. In Space
A member of the European Parliament is touring the United States to help enhance space policy relationships while also promoting an effort to develop a European space law.
Niklas Nienass, a member of the European Parliament from Germany, met with officials in Washington this week, including at NASA, NOAA and the White House, before going on to Denver and Houston, stops that included meeting with Sen. John Hickenlooper (D-Colo.), who chairs the space subcommittee of the Senate Commerce Committee, and touring the Johnson Space Center.
Read more at: Spacenews
Industry Looks To Decentralized Approaches To Space Sustainability
As governments make slow progress on space traffic management systems, companies may be able work together more quickly to develop processes to support space sustainability.
In a panel at Space Tech Expo here May 24, industry officials said it is in the best interest of companies to collaborate on space traffic issues independent of efforts at national and international levels to develop space traffic coordination systems or rules of the road for space activities.
Read more at: Spacenews
SPACE DEFENCE
New 'Strategic Space Review' To Shape Space Force Offensive-Defensive Capabilities Mix
The Pentagon and the Intelligence Community are in "the middle" of a "space strategic review" due to the White House in "the late June/July timeframe," according to Lt. Gen. Bill Liquori, the Space Force's head of strategy, plans and requirements.
Liquori, whose formal (and unwieldy) title is deputy chief of space operations for strategy, plans, programs, requirements and analysis, told the Mitchell Institute today that the review was tasked to Secretary of Defense Lloyd Austin and the Director of National Intelligence Avril Haines by National Security Advisor Jake Sullivan.
Read more at: Breaking defense
Spy Satellites, Mossad Activities Awarded Defense Prize
The country's spy satellites and two other classified projects have been awarded the Israel Defense Prize, the country's top security prize, the Defense Ministry announced on Monday.
The awards were for outstanding projects and activities that have contributed to the security of the State of Israel and to its qualitative edge on the battlefield, both in terms of technology and operations.
Read more at: Jpost
Space Force Identifies National Security Launches Funded In 2022 And 2023
The U.S. Space Systems Command has identified which eight national security space launches were funded in fiscal years 2022 and 2023.
Of the eight missions, five were assigned to United Launch Alliance and three to SpaceX, the two companies that in 2020 won the National Security Space Launch (NSSL) Phase 2 launch services procurement contract, with ULA winning 60% and SpaceX 40% of the missions over five years. 
Read more at: Spacenews
US Military Plans To Install New Nuclear Power Systems In Space By 2027
The US is showing increasing interest in using nuclear energy in orbit. Now, the US military has announced that it plans to put several nuclear propulsion and power plant systems into orbit around our planet by 2027 at the latest.
The so-called Defense Innovation Unit (DIU) is a division of the US Department of Defense that aims to quickly make emerging technologies useful for the armed forces. Observers describe the department, founded in 2015, as a "Pentagon experiment" with the aim of bundling the innovative power in one unit. The DIU has since announced that two contracts have been awarded for the development of prototypes. The goal: "Demonstrate the next generation of nuclear propulsion and power options for spacecraft."
Read more at: researchsnipers
China Sees Starlink as Military Threat
With Moscow already designating the Starlink internet system a military obstacle, now Chinese researchers are also viewing the Starlink satellite network as a possible military threat.
Read more at: ntd

VARIOUS
NASA To Reveal Hell-Like Planet That Rains Lava At Night
NASA will soon unveil an enhanced look at two exoplanets that closely resemble the Earth, although you might want to hold off on packing your bags. 
One of the first orders of business for NASA's renowned James Webb Telescope is taking a closer look at 55 Cancri e, a super-hot planet that orbits closer to its central star than Mercury does the Sun. This means that the planet is likely covered in flowing magma, according to NASA scientists. They also believe that the potential existence of a weak atmosphere on the planet means it could rain lava at night.
Read more at: Chron
China Says It's Close To Completing Its Independent Space Station As Beijing And Moscow Intensify A Space Rivalry With The US
China is on track to complete construction of its space station by the end of the year, according to Chinese state media.
On Sunday, Chinese authorities said they were preparing a spacecraft that will carry a new batch of three astronauts to Tiangong, per the China Manned Space Engineering Office (CMSE). The launch is expected to happen in the coming days.
Thereafter, China plans to send two laboratory modules to the space station in July and October, state-owned CGTN reported on Sunday, quoting information provided by the CMSE.
Read more at: Business insider
Ingenuity "Hunkering Down" During Martian Dust Storms And Winter
Dust storms and changing seasons will limit the ability of NASA's Ingenuity helicopter to fly for the next several months, a project engineer said May 27.
NASA's Jet Propulsion Laboratory released May 27 a video compiled from images taken by Ingenuity on a record-setting flight April 8. On that flight, the helicopter traveled 704 meters at a speed of 5.5 meters per second, the longest and fastest flight yet for the tiny helicopter.
Read more at: Spacenews
FAA Delays Environmental Review Of Spacex's Starship 2 More Weeks, To June 13
The U.S. Federal Aviation Administration (FAA) has delayed the completion of its environmental review of SpaceX's Starship program by another two weeks, to June 13.
That review, known as a programmatic environmental assessment (PEA), is gauging the environmental impacts of SpaceX's Starbase site in South Texas, where the company builds and tests its giant Starship vehicle.
Read more at: Space.com
ESA Starts Development Of Its Plato Mission To Hunt Exoplanets Around Sun-like Stars
The European Space Agency (ESA) on Wednesday, June 1, revealed that its Plato mission has entered the development stage and recently underwent testing at Europe's largest thermal vacuum chamber. According to the agency, this test was carried out on Plato's test version of the payload module to evaluate its endurance in harsh outer space conditions. Planned for launch no earlier than late 2026, the mission is dedicated to observing 2,00,000 sun-like stars to hunt exoplanets orbiting them.
Read more at: Republic world