TOP NEWS
NASA Moon Rocket Test Met 90% Of Objectives
NASA's fourth attempt to complete a critical test of its Moon rocket achieved around 90 percent of its goals, but there's still no firm date for the behemoth's first flight, officials said Tuesday.
Known as the "wet dress rehearsal" because it involves loading liquid propellant, it is the final item to cross off the checklist before the Artemis-1 mission slated for this summer: an uncrewed lunar flight that will eventually be followed by Moon boots on the ground, likely no sooner than 2026.
Teams at the Kennedy Space Center began their latest effort to complete the exercise on Saturday.
Read more at: Spacedaily
NASA Tricks Artemis Launch Computer By Masking Data Showing A Leak
NASA engineers had to work fast to avoid another leak affecting the latest Artemis dry run, just hours after an attempt to reboost the International Space Station (ISS) via the Cygnus freighter was aborted following a few short seconds.
The US space agency on Monday rolled the huge Artemis I stack back to its Florida launchpad having worked through the leaks and problems that had beset its previous attempt at fueling the beast in April for an earlier dress rehearsal of the final countdown.
Read more at: Register
South Korea's All-Domestic Satellite Launcher Reaches Orbit For First Time
South Korea's space agency said Tuesday that the country's 15-story-tall Nuri launcher successfully reached orbit for the first time, giving the nation a fully domestic satellite launch capability after a $1.5 billion development program lasting more than a decade.
The Nuri rocket lifted off from the Naro Space Center, on an island nearly 300 miles (500 kilometers) south of Seoul, at 3 a.m. EDT (0700 GMT) Tuesday with a small technology demonstration spacecraft, four university-built CubeSats, and a satellite mock-up to mimic the weight of a primary payload.
The Korea Aerospace Research Institute, or KARI, said the Nuri rocket soared into an orbit about 435 miles (700 kilometers) above Earth, and the test satellites were "accurately separated" from the launcher. KARI is South Korea's government space agency.
Read more at: Spaceflight Now
SPACE HAZARDS and STM
Space Collisions: ISRO On Average Prevented 2 Each Month This Year; Work On Telescope At Hanle, Radar In N-E Progressing
Space debris continues to pose a grave threat to active, operational space assets. In the first five months of this year alone, Isro performed at least 10 collision avoidance manoeuvres (CAMs) to prevent damage to Indian space assets.
Read more at: Times of India
Wild Solar Weather Is Causing Satellites To Plummet From Orbit. It's Only Going To Get Worse.
In late 2021, operators of the European Space Agency's (ESA) Swarm constellation noticed something worrying: The satellites, which measure the magnetic field around Earth, started sinking toward the atmosphere at an unusually fast rate — up to 10 times faster than before. The change coincided with the onset of the new solar cycle, and experts think it might be the beginning of some difficult years for spacecraft orbiting our planet. 
"In the last five, six years, the satellites were sinking about two and a half kilometers [1.5 miles] a year," Anja Stromme, ESA's Swarm mission manager, told Space.com.
Read more at: Space.com
ISS Maneuvered Around Russian Satellite Debris
Russian cosmonauts used a cargo ship docked at the International Space Station to maneuver the orbiting lab around space debris from the Russian satellite Cosmos 1408.
The Russian Progress MS-20 uncrewed transport cargo spacecraft, identified by NASA as Progress 81, fired its thrusters for 4 minutes and 34 seconds to move the ISS away from the Cosmos 1408 debris on Thursday.
"I confirm that at 22.03 Moscow time, the engines of the Russian Progress MS-20 transport cargo spacecraft carried out an unscheduled maneuver to evade the International Space Station from a dangerous approach to a fragment of the Kosmos-1408 spacecraft," Roscosmos chief Dmitry Rogozin wrote on Telegram.
Read more at: Spacedaily
How The European Space Agency's Hera Mission Plans To Defend Earth From Asteroids
It's been the plot for plenty of sci-fi movies, but the threat of an asteroid impacting the Earth is a real one. If a big enough asteroid hit the planet it could cause catastrophic damage, so space agencies around the world are working on plans for planetary defense systems that could spring into action if we ever do spot a planet-killing chunk of rock heading our way.
The European Space Agency (ESA) has a mission called Hera, which is set to launch in September 2024 and which will visit asteroid Dimorphos to see just what options we as a species might have open to us if we were faced with an asteroid threat.
Read more at: Slashgear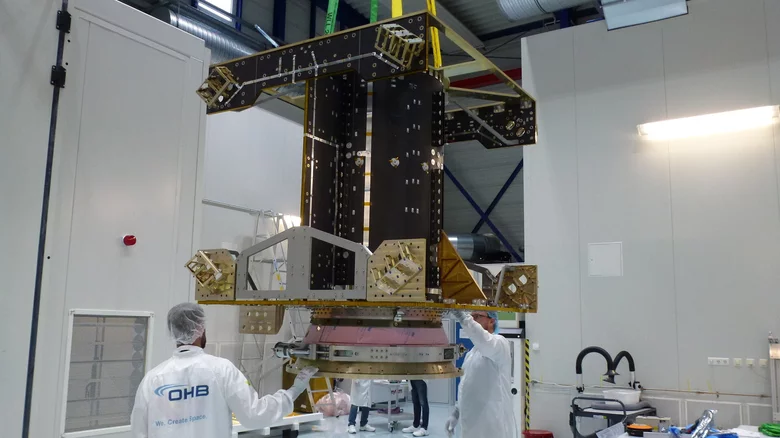 COMMERCIAL SPACE
Amazon's Satellite Internet Service Could Be Coming To Canada
Amazon wants Project Kuiper to service Canadians.
Kuiper Systems, also known as Project Kuiper, is a set of satellites Amazon plans to launch to provide broadband internet connectivity to people all over the world.
Project Kuiper is on the Canadian Radion-television and Telecommunications Commission's (CRTC) current list of proceedings open for comment.
Read more at: Mobilesyrup
Astroscale To Launch Space-Junk-Removing Test Mission In 2024
Fresh off an attempt last month at catching a simulated piece of debris in orbit, Astroscale says it's ready to launch a 'space junk servicer' test in late 2024.
The Tokyo-based company is partnering with broadband satellite provider OneWeb to launch the ELSA-M mission (End-of-Life Service by Astroscale-M), "with ambitious plans to deliver a space debris removal service to satellite operators thereafter," the company said in a statement (opens in new tab), May 27.
The European Space Agency (ESA) and the U.K. Space Agency provided €14.8 million ($15.9 million) in financial support for the mission.
Read more at: Space.com
Satellite Firm SES Launches O3b Mpower To Expand Footprint In PH
SES, a satellite telecommunications provider with headquarters in Luxembourg, will be utilizing its O3b mPOWER system to extend the reach of internet connectivity in the Philippines. Already in the works, company executives said the satellite will be launched in the third quarter and will be operational by 2023.
With the objective of expanding digital inclusion in the country — by connecting the unconnected — SES Satellite's O3b mPOWER carries terabit-level system capacity. This also promises to route customer traffic anywhere, even in remote areas or in geographically isolated and disadvantaged areas of the archipelago, or in places where network providers cannot reach.
Read more at: backendnews
SpaceX's Plan To Launch Starlink Service In Korea Next Year Draws Mixed Reactions
Consumers and experts have differed on SpaceX's latest announcement of its plan to start offering satellite internet service using Starlink in Korea next year.

While consumers have remained skeptical about demand for the service in Korea, which already has the world's fastest average internet connection speeds, experts mentioned its commercial potential, urging authorities to brace for the medium- to long-term impacts of foreign companies on Korea's sovereignty over telecommunication services.

According to the official website of Starlink, Thursday, Korea is categorized as a country where its satellite internet service is "coming soon," due to "pending service coverage or regulatory approval."
Read more at: Koreatimes
OneWeb To Resume Launches In Fourth Quarter
OneWeb, the broadband megaconstellation company whose launch plans were disrupted by Russia's invasion of Ukraine, expects to resume launches late this year, an executive said June 23.
Speaking at the Fourth Summit for Space Sustainability by the Secure World Foundation and the U.K. Space Agency, Maurizio Vanotti, vice president of space infrastructure development and partnerships at OneWeb, said new launch agreements with SpaceX and NewSpace India Ltd. (NSIL) would allow the company to launch the remaining satellites of its first-generation system by the second quarter of 2023.
Read more at: Spacenews
SCIENCE AND TECHNOLOGY
Tyvak International Completes Critical Design Review Of Deep Space Bound Milani Nanosat
Terran Orbital Corporation (NYSE: LLAP), a global leader in satellite solutions, primarily serving the aerospace and defense industries, has announced its wholly-owned subsidiary, Tyvak International SRL, has together with its partners, achieved full Critical Design Review of the Milani spacecraft.
A critical component of the Hera planetary defense mission, Milani will be the European Space Agency's (ESA) first deep-space nanosatellite. Milani will also be the first nanosatellite ever to orbit an asteroid. Tyvak International is responsible for Milani's design, build, and mission operations.
Read more at: Spacedaily
Through Starling, NASA Will Test Complex Swarm Operations
NASA is preparing to launch Starling, its first satellite swarm. Instead of communicating directly with the four Starling cubesats, mission operators will send instructions to the swarm as a single entity.
If successful, "swarms have a potential to revolutionize the way we do science," said Howard Cannon, NASA Starling project manager at the NASA Ames Research Center. "Instead of having one monolithic spacecraft that you are dependent on operating properly, you can have multiple smaller spacecraft that are less expensive."
Read more at: Spacenews
NASA Ignores Insight's Battery Woes In Pursuit Of Data
Pondering what services to switch off to keep your laptop going just that bit longer? NASA engineers can relate, having decided the Mars InSight lander will go out on a high: they plan to burn through the remaining power to keep the science flowing until the bitter end.
The InSight lander is in a precarious position regarding power. A build-up of dust has meant the spacecraft's solar panels are no longer generating anywhere near enough power to keep the batteries charged. The result is an automatic shutdown of the payload, although there is a chance InSight might still be able to keep communicating until the end of the year.
Read more at: Register
Chinese Official Says Its Mars Sample Mission Will Beat NASA Back To Earth
A senior Chinese space official said on Monday the country is on track to bring back rocks from the surface of Mars two years ahead of the planned joint effort by NASA and the European Space Agency to do the same thing.
Sun Zezhou, the chief designer of China's first Mars mission, Tianwen 1, said in a talk celebrating the 120th anniversary of Nanjing University, that China is ready to send two spacecraft to pull off the Mars rock retrieval by 2031.
Read more at: Spacedaily
Space Factory Will Manufacture Components That Are Impossible To Create On Earth
A Welsh startup is preparing to send what equates to a miniature factory to space where it'll take advantage of the unique environment to manufacture components that are impossible to make here on Earth.
We've made do with traditional manufacturing up to this point but as Space Forge co-founder Josh Western notes, Earth is a pretty bad place to create things. The planet's dense atmosphere, consistent temperatures and gravity can be detrimental to the manufacturing process, but those concerns don't exist in space.
Read more at: Techspot
Sierra Space and Spaceport America Sign Agreement on Landing Site for Dream Chaser® Spaceplane
Sierra Space, a leading commercial space company at the forefront of creating and building the future of space transportation and infrastructure for low-Earth orbit (LEO) commercialization, and Spaceport America announced today the signing of a new Memorandum of Understanding (MOU). The agreement adds the world-class New Mexico spaceport to Sierra Space's portfolio of potential global landing sites for its Dream Chaser®, the world's first and only winged commercial spaceplane.
Read more at: Parabolic arc

Outpacing NASA By 10 Times, China Sets Sight To Develop A Giant Telescope To Search For 'Things That Matter'
To gain an edge over the US space agency NASA, Chinese scientists aim to develop a next-gen space observatory to search for dark matter. The ambitious project – known as the Very Large Area gamma-ray Space Telescope, or VLAST – is currently in its early stages of development. 
The scientists plan to put the telescope into orbit by the decade's end. They are, however, awaiting approval from the Chinese government, according to media reports. 
Read more at: eurasian times
NASA Just Inflated Its New-Age Spaceship Heat Shield For Mars
To gently land a rocket ship on the surface of Mars one must overcome the most ornery physics.
When a spacecraft returns to Earth, the relatively thick atmosphere helps slow down that speeding bullet. But on Mars, the aerodynamics are not so friendly. The atmosphere is much thinner, with the densest Martian air only about as thick as what you'll find on Earth at 100,000 feet above sea level, more than three times the altitude of Mount Everest's peak.
Read more at: Mashable
SPACE POLICY
Rwanda, Home To ITU Filing For 300,000+ Satellite Constellation, Says It Insists Operators Meet Debris-Mitigation Guidelines
The Rwanda Space Agency, which in October 2021 registered several constellations totaling more than 300,000 satellites with international frequency regulators, intends to enforce strict space-sustainability measures on companies for which it is the regulatory home, an agency official said.
Anuarite Umwari, the agency's legal and corporate secretary, said the agency is fully engaged in the global debate about the efficient use of radio spectrum and space debris mitigation.
Read more at: Spaceintel report
UK To Lead Review Of Space Legislation And Financial Support For Debris Removal
Britain says it plans to develop a number of initiatives to help protect the increasingly crowded near-Earth orbital environment.
Its 'Plan for Space Sustainability' includes a review of secondary legislation and associated regulations, with a specific focus on orbital constellations which are rapidly changing space environment.
It also places more emphasis on the UK space system licensing process and associated third party liability insurance that will enable safe spacecraft operations and incentivise the sustainable use of space.
Read more at: room.eu
Parallel Paths for Space Sustainability
When U.S. Vice President Kamala Harris announced in an April 18 speech at Vandenberg Space Force Base that the United States would ban the testing of destructive, direct-ascent antisatellite (ASAT) weapons, it was not entirely surprising.
Like many other Western governments, the Biden administration was sharply critical of last November's Russian ASAT test that destroyed the Cosmos 1408 satellite and created more than 1,500 pieces of debris large enough to be tracked, and likely many more smaller pieces.
Read more at: Spacenews
House Bill Trims NASA Budget Proposal
A draft House spending bill would provide NASA with a smaller spending increase than requested for fiscal year 2023, with cuts spread among exploration, science and technology programs.
The House Appropriations Committee released its commerce, justice and science (CJS) spending bill late June 21, a day before its CJS subcommittee will mark up the bill. The full appropriations committee will take up the bill June 28.
The draft bill includes $25.446 billion for NASA for fiscal year 2023. That is $1.4 billion, or 5.8%, more than what NASA received in fiscal year 2022, but $527 million less than what the agency requested in its budget proposal in March.
Read more at: Spacenews
House Armed Services Bill Proposes $75 Million For Rapid Space Launch Activities
House Armed Services Committee Chairman Rep. Adam Smith (D-Wash.) in the 2023 National Defense Authorization Act proposes adding $75 million to the Pentagon's budget for "tactically responsive space," a program that funds small-satellite launch experiments and demonstrations.
Smith on June 20 released his version of the NDAA, or chairman's mark. The bill authorizes $772.5 billion for the Defense Department, in line with the Biden administration's $773 billion request, but less than the $817 billion proposed by the Senate Armed Services Committee.
Read more at: Spacenews
Telesat Requests UK License To Connect Lightspeed Terminals
Telesat has applied for a U.K. license to connect broadband terminals with Lightspeed satellites it plans to start deploying in 2025 to low Earth orbit.
The Canadian operator's application says the first of 198 Lightspeed satellites will be launched in the third quarter of 2025, British telecoms regulator Ofcom said June 24. 
This is a narrower launch window than Telesat has previously outlined since supply chain issues forced it to downsize plans for the constellation by a third earlier this year.
Read more at: Spacenews
SPACE DEFENCE
Pentagon Eyes Using Spacex Rockets To Build 'Military Starships'
According to reports, the Pentagon is exploring the option to deploy Elon Musk's SpaceX rockets to send military supplies to orbit.
Earlier, US Transportation Command (USTRANSCOM) had announced that it was looking to space to quickly move "critical logistics" during "time-sensitive contingencies or to deliver humanitarian assistance".
Read more at: Wionews
Op-ed | Deterring Aggression in Space
The time has come for America to confront the reality that space has been weaponized by our adversaries. Space has long been a peaceful environment for research and commerce on Earth with conditions that deny tyrants the luxury of concealment, the advantage of surprise, and establishes parity on the battlefield.  
But all of this has changed.
Read more at: Spacenews
China Says It Has Completed Missile Interception Test
China has carried out a land-based missile interception test that "achieved its expected purpose," the Chinese Ministry of National Defense said, adding that it was for defensive purposes and not aimed at any country.
China has been ramping up research into many types of missiles, from those that could destroy satellites in orbit to advanced nuclear-tipped ballistic missiles, as part of an ambitious modernization scheme overseen by Chinese President Xi Jinping.
Beijing has tested missile interceptors before. The most recent public announcement of a test was in February last year, and before that in 2018.
Read more at: Taipeitimes
Space Force Establishes Intelligence Unit To Put Sharper Focus On Orbital Threats
The Space Force on June 24 established a new unit, Space Delta 18, responsible for providing "quality intelligence" to U.S. policy makers about the space domain, Lt. Gen. Stephen Whiting, commander of Space Operations Command, said at a ceremony in Dayton, Ohio.
Space Delta 18 will run the National Space Intelligence Center at Wright-Patterson Air Force Base, Ohio. Whiting said it's important for the Space Force to have a unit focused on threat analysis to help inform national defense policy and space systems acquisitions.
Read more at: Spacenews
Hughes And Oneweb Deploy High-Speed Internet For U.S. Military At Remote Arctic Base
U.S. troops at Thule Air Base, Greenland, a remote military outpost well outside the footprint of a typical geostationary satellite, are getting high-speed internet from OneWeb's polar-orbiting constellation.
Hughes Network Systems and OneWeb announced June 22 that they have successfully deployed a prototype low Earth orbit network at Thule, fast enough to enable video conferencing, streaming video and interactive games. 
The network supports about 600 service members living at the base. One recent evening, about 100 military personnel at Thule "were online simultaneously, consuming close to a terabyte of connectivity," Hughes said in a news release. 
Read more at: Spacenews
Orbion To Supply Propulsion For General Atomics Weather Satellite
Orbion Space Technology will supply a propulsion system for a U.S. Space Force prototype weather satellite, under a contract with General Atomics Electromagnetic Systems (GA-EMS).
In February, the Space Force announced the selection of General Atomics and Orion Space Solutions to each develop and launch demonstration satellites to gather global weather imagery and data on cloud characteristics.
Read more at: Spacenews
VARIOUS
Chinese Media Takes Aim at Elon Musk's Starlink
A statement from Hong Kong-based media the South China Morning Post is raising concerns.
The outlet reported in late May 2022 that China "needs to be able to disable or destroy SpaceX's Starlink satellites if they threaten national security."
Read more at: ntd.com
SpaceX: 5G Expansion Could Kill US Starlink Broadband
If the proposed addition of the 12GHz spectrum to 5G goes forward, Starlink broadband terminals across America could be crippled, or so SpaceX has complained. 
The Elon Musk biz made the claim this week in a filing to the FCC, which is considering allowing Dish to operate a 5G service in the 12GHz band (12.2-12.7GHz). This frequency range is also used by Starlink and others to provide over-the-air satellite internet connectivity.
Read more at: Register
Vega-C Set For Inaugural Launch
ESA's new medium-lift Vega-C rocket is nearly ready for its inaugural flight, with its four fully-stacked stages now ready for payload integration, final checks and launch from Europe's Spaceport in French Guiana.
Flight VV21 will lift off as soon as 7 July, pending suitable conditions for launch.
Read more at: Spacedaily
The European Space Mission That Plans To Ambush A Comet
The European Space Agency (ESA) has approved a new mission, called Comet Interceptor, which will launch without any specific target in mind — instead lying in wait for a visitor from the outer Solar System, or even from another star. Comet Interceptor could give researchers a first glimpse of pristine material from far beyond the Sun's reaches, or even unveil the chemical make-up of alien worlds.
It will be the first probe to be parked in space, ready to fly to a target at short notice. "We are taking a significant risk," says Günther Hasinger, ESA's director of science. "But it's a high reward."
Read more at: Nature
What Scientists Can Learn From Tracking Disease Outbreaks From Space
Scientists are tracking diseases from space and getting a new view of human health.
Why it matters: The proliferation of easy-to-use, relatively cheap and more comprehensive satellite data is allowing researchers to get a holistic view of what's happening on Earth during disease outbreaks and possibly learn how to predict the next one.
How it works: By keeping an eye from above on changes to vegetation and other ecosystem factors that can lead to outbreaks, researchers are starting to piece together correlations between habitat loss and urbanization, among other factors, and infectious disease.
Read more at: Axios
A 'Digital Twin' Of Earth Will Soon Monitor the Planet's Health From Space
"The idea is to monitor any place on the planet every day and provide imagery and the tools to work with that imagery that would enable organizations across the world to detect, monitor, and predict global phenomena in real time," said Awais Ahmed, who founded Pixxel, a Bengaluru-based space-tech startup, with Kshitij Khandelwal in 2018.
Read more at: Entrepreneur