TOP NEWS
See NASA's DART Asteroid Crash Through the Lens of Webb, Hubble Telescopes
NASA wasn't about to miss the chance to capture its historic ambush of an asteroid through the eyes of its most powerful space observatories. On Thursday, NASA and the European Space Agency released new images taken by the Hubble and James Webb telescopes showing the moment the DART spacecraft crashed into the asteroid Dimorphos.
DART was designed as humanity's first experiment in kinetic impact mitigation, which is a lot of syllables to say the goal was to smash a spacecraft into an asteroid to see if the collision could alter the space rock's orbit. The technique could one day be used to protect Earth from an asteroid or comet that threatens to impact our planet. 
Read more at: CNET
NASA And Spacex Are Studying A Hubble Telescope Boost, Adding 15 To 20 Years Of Life
NASA announced Thursday that it plans to study the possibility of using SpaceX's Crew Dragon vehicle to boost the aging Hubble Space Telescope into a higher orbit.
The federal agency has signed a "Space Act Agreement" with SpaceX to conduct a six-month study to determine the practicability of Dragon docking with the 32-year-old telescope and boosting it into a higher orbit. The study is not exclusive, meaning that other companies can propose similar concepts with alternative rockets and spacecraft.
Read more at: arstechnica
SPACE HAZARDS & STM
Majority Of Tracked Russian ASAT Debris Has Deorbited
Nearly two-thirds of the debris tracked from last year's Russian anti-satellite (ASAT) test has since deorbited, but it could take more than a decade for the rest to reenter.
In a talk at the Advanced Maui Optical and Space Surveillance Technologies (AMOS) Conference here Sept. 28, Deshaun Hutchinson, an orbital analyst with the Space Force's 18th Space Defense Squadron, said that as of August, there were 1,783 tracked objects associated with the November 2021 destruction of the Cosmos 1408 satellite by a Russian direct-ascent ASAT.
Read more at: Spacenews
What's The Risk Of Being Hit By Falling Space Debris?
Earlier this year, there were two separate incidents of space debris hurtling back to Earth in unexpected places.
The uncontrolled re-entry of a Chinese Long March 5B rocket over Malaysia was swiftly followed by reports in July of some spacecraft parts turning up in regional New South Wales, Australia – now confirmed to be from a SpaceX Crew-1 mission.
As the space industry grows, it's safe to say such incidents will only become more frequent – and they could pose a risk. But how much of a risk, exactly?
Read more at: BBC
With Warning Tool, Slingshot Aerospace Pushes Industry-Led Space Traffic Management
Startup Slingshot Aerospace is putting its money where its corporate mouth is in proselytizing for an industry-led approach to managing space traffic — by creating a software tool that it says can help satellite operators dodge other satellites or dangerous space debris across orbits, and then giving it away for free.
"Our entire mission is to build a simulation analytics company capable of hosting that digital infrastructure necessary to keep from having collisions on orbit.
Read more at: breaking defense
Alert! Geomagnetic Storm To Hit Earth Today As Sun Blasts Out CME
A moderately dangerous geomagnetic storm is set to hit the Earth today, October 1! According to the spaceweather.com report, the geomagnetic storm will be the result of the dual solar events that will lead to a G2-class geomagnetic storm on Earth. First, a solar wind stream is expected to hit Earth's magnetic field; it is flowing from an equatorial hole in the sun's atmosphere. Second, a Coronal Mass Ejection (CMEs) spewed by the Sun has sent massive amounts of energy towards the Earth. The CME was ejected from the Sun on September 28.
Read more at: MSN

Huge Unexpected Solar Storm Smashes Into Earth From Mystery Source
Earth was buffeted by a huge solar storm late on September 26 through to this morning, and the cause is unclear.
At around 10 p.m. UTC (6 p.m. ET) on September 26, the U.S. National Oceanic and Atmospheric Administration's (NOAA) Space Weather Prediction Center (SWPC) released a space weather alert stating that a geomagnetic K-index of 4 was expected—essentially an indication that Earth's magnetic field was being very mildly affected by some solar activity.
Read more at: Newsweek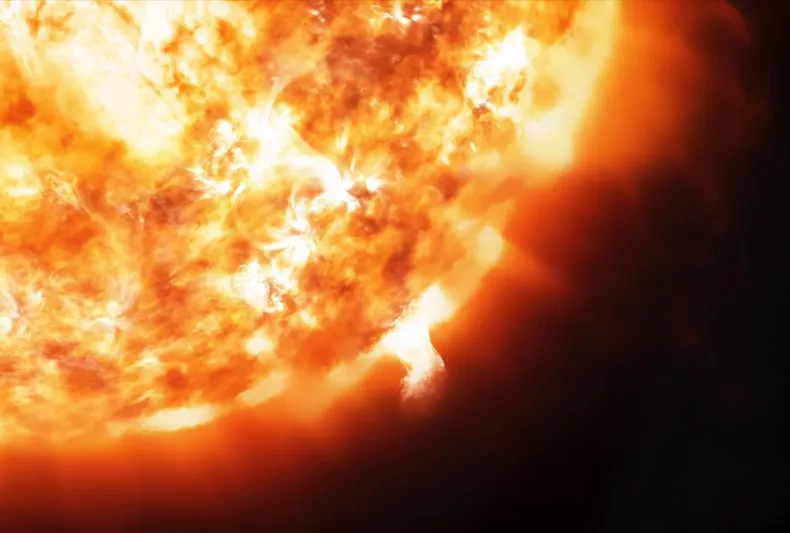 COMMERCIAL SPACE
Firehawk's Rocket Engines And 3D-Printed Fuel Hit Testing Milestones Ahead Of First Launch
Although today's rocket engines are advanced and powerful, they tend to rely on traditional — and naturally volatile — fuels. Firehawk Aerospace has a safer and more stable new solid fuel, new engines, and millions in new funding to take it through the next round of tests to its first in-atmosphere demonstration launch.
Firehawk appeared on the scene two years ago with a fresh take on hybrid engines; the breakthrough made by CEO Will Edwards and chief scientist Ron Jones was to give that fuel a structure and 3D print it in a specially engineered matrix.
Read more at: Techcrunch
First Viasat-3 Enters Environmental Testing
Viasat said Sept. 29 its inaugural ViaSat-3 satellite has started environmental tests after being put into flight configuration for the first time.
These tests will simulate the vibration and acoustic environments the broadband satellite is set to endure as it is launched on a SpaceX Falcon Heavy rocket later this year.
The satellite is one of three in a constellation that Viasat is building with Boeing to provide global high-throughput Ka-band services.
Read more at: Spacenews
Firefly Aerospace Aborts Orbital Test Flight Just After Engine Ignition
Firefly Aerospace's second orbital launch attempt will have to wait for another day.
The company planned to send its Alpha rocket to orbit on a test flight early Friday morning (Sept. 30) from California's Vandenberg Space Force Base, and it ticked off a lot of boxes along the way — including engine ignition.
Read more at: Space.com
Firefly Aerospace's Alpha Rocket Reaches Orbit For 1st Time
A new rocket just earned its wings. Firefly Aerospace's Alpha rocket aced a test flight today (Oct. 1), successfully delivering a handful of tiny satellites to Earth orbit for the first time ever. The 95-foot-tall (29 meters) rocket lifted off from California's Vandenberg Space Force Base today at 3:01 a.m. EDT (12:01 a.m. local California time; 0701 GMT), kicking off a demonstration mission that Firefly called "Alpha Flight 2: To The Black."
Read more at: Space.com
ClearSpace Secures A Major UK Contract To Help Clean Up Space
In October 2021, the UK Space Agency (UKSA) commissioned the ClearSpace UK-based subsidiary to perform a feasibility study for a mission to remove at least two UK-registered derelict objects from low Earth orbit (LEO). In this study, the team explored different mission scenarios, defined the mission and system requirements and selected the technologies necessary for the implementation of the mission. In March 2022, ClearSpace and its partners successfully completed this first study phase.
Read more at: Spacedaily

Axiom Space to Fly Saudi Astronauts
Axiom Space will fly two astronauts from Saudi Arabia, one of them a woman, to space as soon as next year, the company and the Saudi government announced Sept. 22.
The Saudi Space Commission said it had created the country's first astronaut program that would fly a man and a woman to space next year. The announcement disclosed few details about the recruitment and selection, and also did not state how the astronauts would fly to space. The commission did not immediately respond to emailed questions about the announcement.
Read more at: Spacenews
Outpost Completes Successful Flight Tests Of Their Autonomous Paraglider
During a technical session at IAC, Michael Vergalla, CTO of Outpost, presented a paper on the findings of Outpost's two successful flight tests on a breakthrough technology of an autonomous paraglider re-entry system to enable industry-leading payload Earth return capabilities from orbit.
The tests, conducted in April 2022, are a huge milestone for Outpost in creating a technology that will disrupt the future of satellite operations.
Read more at: Spacewar

SCIENCE AND TECHNOLOGY
'Exceptionally Rare' Meteorite Impact Crater Found In The Twin Cities Metro
An exceptionally rare meteorite impact crater has been discovered in Inver Grove Heights, Minnesota, and the size of it suggests that had it struck today, it would've wiped out a massive chunk of the Twin Cities.
The crater was discovered several hundred feet underground by researchers with the University of Minnesota's Minnesota Geological Survey (MGS). It's the first known impact crater in Minnesota and the 191st known crater in the world.
Read more at: bringmethenews
New Asteroid Strike Images Show Impact 'A Lot Bigger Than Expected'
The James Webb and Hubble telescopes on Thursday revealed their first images of a spacecraft deliberately smashing into an asteroid, as astronomers indicated that the impact looks to have been much greater than expected.
The world's telescopes turned their gaze towards the space rock Dimorphos earlier this week for a historic test of Earth's ability to defend itself against a potential life-threatening asteroid in the future.
Read more at: Spacedaily
Humans Have Dumped Over 7,000 Kg Of Trash On Mars: Study
Since mankind first laid eyes on Mars as a star-like object in the night sky, it has always drawn human attention. This is true of both Indian myths and Hollywood sci-fi blockbusters. About 50 years ago, humans began exploring Mars, and by the 2030s, NASA hopes to send a human mission there for the first time.
Although it is still a long way off for humans to step foot on Mars, we are not lagging behind in our efforts to litter the red planet and make it more like Earth.
Read more at: NDTV
DART Smashes Into an Asteroid, as Planned
A spacecraft smashed into an asteroid this evening. No worries, that's what it was supposed to do. NASA's Double Asteroid Redirection Test, or DART, tested whether the kinetic energy imparted during a collision could change an asteroid's orbit. This asteroid, Dimorphos, the tiny moon of another asteroid, Didymos, poses no threat to Earth, but asteroids have plagued our planet in the past and this could be a method for deflecting them in the future.
Read more at: Spacepolicyonline

ESA To Capture Light From Deflected Asteroid's New Plume
On 26 September, NASA will purposefully crash their DART spacecraft into the 160 m wide Dimorphos asteroid, in the first-ever test of deflection by means of 'kinetic impact'. The moment the spacecraft collides with the asteroid a plume of material is expected to be thrown into space, which will tell us a great deal about the rock's composition and how much energy has been transferred to it by the collision. ESA will contribute significantly to ground-based observations of the new plume, as telescopes contracted by the Agency's Near-Earth Object Coordination Centre get ready to witness history.
Read more at: ESA

SPACE POLICY
US Defeats Russia In A Battle To Control The Future Of The Global Internet
The United States has soundly defeated Russia in an election to control a United Nations body responsible for shaping global internet development, a contest viewed as geopolitically symbolic amid wider US-Russia tensions and an answer to fears of growing censorship online by authoritarian regimes.
On Thursday, members of the International Telecommunication Union voted to appoint Doreen Bogdan-Martin, the US-backed candidate, as the group's secretary general.
Read more at: CNN
China Seeks New Partners For Lunar And Deep Space Exploration
China is looking to build partnerships for its upcoming missions to the moon and deep ventures into the solar system, while omitting mention of main partner Russia.
Chinese space officials presented a range of opportunities for international cooperation in the country's plans during a session at the International Astronautical Congress (IAC) in Paris, Sept. 21.
Wang Qiong of the Lunar Exploration and Space Engineering Center under the China National Space Administration (CNSA) stated that China was open to proposals for its Chang'e-7 lunar south pole landing and orbiting mission—with a coinciding call announced by CNSA—and later Chang'e-8 in-situ resource utilization test mission.
Read more at: Spacenews
Space Junk Worries Prompt New Action By NASA, Congress
NASA and the U.S. Congress have joined the chorus urging action to reduce the threat of space debris. Big satellite constellations that are being assembled by companies such as SpaceX, along with a Russian anti-satellite (ASAT) test in November 2021 that threatened International Space Station operations numerous times, are likely fueling these discussions, due to worries about space debris affecting access to, and utilization of, Earth orbit.
Read more at: Space.com
Office Of Space Commerce: FCC "Aggressively" Pushing Limits Of Authority With Orbital Debris Rule
The Federal Communications Commission's adoption of a new rule for disposal of low Earth orbit satellites is well-intentioned but pushing the limits of its authority, says the director of the Office of Space Commerce.
In a talk at the Advanced Maui Optical and Space Surveillance Technologies (AMOS) Conference here Sept. 30, Richard DalBello said the FCC's approval of new regulations the day before, intended to limit the creation of orbital debris by requiring satellites in LEO to be deorbited no more than five years after the end of their life, illustrates the gaps in domestic space regulation.
Read more at: Spacenews
House Committee Questions FCC Orbital Debris Rule
Ahead of a Federal Communications Commission vote on a proposal to set a five-year deadline for deorbiting low Earth orbit satellites, leaders of the House Science Committee are questioning the FCC's authority to do so.
FCC commissioners will take up at their Sept. 29 open meeting a proposal released earlier in the month that would require operators of LEO satellites to deorbit their satellites as soon as possible after the end of their mission and in no more than five years. The rule, which would take effect in two years, would apply to satellites licensed by the FCC as well as those seeking U.S. market access.
REad more at: Spacenews
SPACE DEFENCE
North Korea Fires Ballistic Missile, Seoul Says
North Korea fired a ballistic missile Sunday, Seoul's military said, just days after a US aircraft carrier arrived for joint drills with the South in a show of force against Pyongyang.
With talks long-stalled, nuclear-armed North Korea has doubled down on its banned weapons programmes, even revamping its laws earlier this month to declare itself an "irreversible" nuclear power.
The Sunday launch is the latest in a record-breaking blitz of weapons tests by Pyongyang so far this year, including firing an Intercontinental Ballistic Missile at full range for the first time since 2017.
Read more at: Spacewar
Senate Confirms Saltzman As Next Chief Of The U.S. Space Force
The Senate on Sept. 29 confirmed the nomination of Lt. Gen. B. Chance Saltzman for promotion to general and assignment as the chief of space operations of the U.S. Space Force. The Senate by unanimous consent confirmed Saltzman and other military nominees on Thursday before adjourning for recess until Oct. 11. President Biden nominated Saltzman on July 27 and the Senate Armed Services Committee held a confirmation hearing Sept. 13. The committee sent the nomination to the Senate Sept. 22.
Read more at: Spacenews
Space Development Agency is Now Officially Part of the Space Force
The Space Development Agency, formed inside the Pentagon in 2019 to help accelerate the use of commercial space technology, was officially transferred to the U.S. Space Force on Oct. 1. Congress mandated the transfer in the 2021 National Defense Authorization Act due to concerns that there are too many organizations running space programs. Lawmakers noted that a key reason they supported establishing the Space Force was to consolidate and streamline the management of acquisition programs.
Read more at: Spacenews
DOD's Largest Telescope Receives Mirror Recoat, Preserves Space Domain Awareness
The Air Force Maui Optical and Supercomputing site's Advanced Electro-Optical System, or AEOS, the Department of Defense's largest telescope, measuring 3.6 meters or 11.9 feet, has received a face-lift.
Located on the summit of the 10,023-foot volcano Haleakala, the telescope is part of a series of telescopes called the Maui Space Surveillance System, which the U.S. Space Force uses for space domain awareness, or SDA, recognizing space as a priority domain for advancing national security.
Read more at: Spacewar
Firefly, Millennium Space Selected for U.S. Space Force Rapid-launch Demonstration
The U.S. Space Systems Command announced Sept. 30 it selected Firefly Space Transport Services and Millennium Space Systems to conduct a demonstration of a rapid-response space mission to low Earth orbit in 2023.
The companies will perform a Tactically Responsive Space (TacRS) mission as part of a broader effort by the U.S. Space Force to accelerate the timeline for deploying payloads to orbit. 
Firefly Space Transport Services, a subsidiary of Firefly Aerospace, operates the expendable Alpha small-satellite launcher. 
Read more at: Spacenews
Space Force Studying Requirements For Cislunar Space Domain Awareness
The Space Force expects to know by next spring what capabilities it will need to carry out space domain awareness activities in cislunar space.
In a talk during the Advanced Maui Optical and Space Surveillance Technologies (AMOS) Conference here Sept. 28, Col. Marc Brock, commander of Space Delta 2, the unit responsible for space domain awareness for the Space Force, said a study is underway by the 19th Space Defense Squadron (SDS) on what's needed to monitor activities beyond geostationary orbit, called xGEO by the Space Force, and out to the moon.
Read more at: Spacenews
VARIOUS
Why The Moon's Two Faces Are So Different
The Moon, by far, is the brightest object and largest object that's visible to human eyes in Earth's night sky. Compared to Venus, the next brightest object that appears, the Moon is thirty times the diameter, takes up almost 1000 times the surface area, and appears about 1,000,000 times brighter than Venus. Moreover, the Moon doesn't appear as a uniform disk to us, but rather shows incredible differences from place-to-place across the surface, even as viewed from our limited perspective here on Earth.
Read more at: bigthink
Study Shows Dinosaur-Kiling Asteroid Hit The Moon Too
China's Chang'e 5, which brought samples from the moon to the Earth, has revealed surprising things about the history of our solar system. One such discovery has been reported in Science Advances. Scientists have found evidence that the meteorites that impacted our planet and possibly killed dinosaurs also hit the moon thousands of years ago.
Read more at: Geo TV
The Story Of NASA's Boeing 747 Shuttle Carrier Aircraft
NASA, the United States' Space Agency, has previously employed two modified Boeing 747 airliners in its fleet, used to transport its Space Shuttle orbiters. These two aircraft were two different variants of the Boeing 747, and were often used on different missions. Both Shuttle Carriers have been retired by NASA since 2012; however, they have both been preserved and are on display to the public.
Read more at: Simpleflying
Crew-5 Mission: How to Watch SpaceX Launch NASA Astronauts to ISS This Week
NASA and SpaceX are looking to get their next big mission off the ground in Florida as early as Wednesday, when the weather is looking favorable for a launch.
The Crew-5 mission will send NASA astronauts Nicole Mann and Josh Cassada to the International Space Station aboard the Dragon Endurance capsule. They'll be joined by JAXA (Japan Aerospace Exploration Agency) astronaut Koichi Wakata and Russian cosmonaut Anna Kikina.
Read more at: CNET
NASA, SpaceX Ready For Crew-5 Next Week, Pending Ian's Aftermath
SpaceX and NASA are preparing for the launch of the next crewed mission to the International Space Station amid Hurricane Ian's impending arrival.
The four members of the Crew-5 team were supposed to arrive at Kennedy Space Center this week ahead of the October launch, but the arrival was delayed because of Hurricane Ian.
NASA is still planning to launch the SpaceX Falcon 9 rocket with Dragon crew capsule on Monday, Oct. 3, no earlier than 12:46 p.m. It will depend on what happens at Kennedy Space Center after Hurricane Ian passes the state.
Read more at: clickorlando
Join The Challenge To Explore The Moon
Lunar enthusiasts of all ages are challenged to help identify features on the Moon that might pose a hazard to rovers or astronauts exploring the surface. The 2022 EXPLORE Lunar Data Challenge is focused on the Archytas Dome region, close to the Apollo 17 landing site where the last humans set foot on the Moon 50 years ago this December.
The Machine Learning Lunar Data Challenge is open to students, researchers and professionals in areas related to planetary sciences, but also to anyone with expertise in data processing.
Read more at: Moondaily
Maarten Schmidt Dies; Caltech Astronomer Changed Our Understanding Of The Cosmos
Maarten Schmidt, the Dutch-born American astronomer whose discovery of quasars dramatically changed our understanding of the evolution of the cosmos and revealed the power and potency of the beasts that roam deep space, has died at his home in Fresno.
A professor emeritus at Caltech, Schmidt died Saturday at 92.
Read more at: LATimes
Soyuz MS-21 Lands On The Kazakh Steppe To Complete 195 Day Mission
The Soyuz MS-21 spacecraft, which launched three Russian cosmonauts to the International Space Station on March 18 of this year, touched down in the Kazakh steppe. MS-21 landed outside of Dzhezkazgan on Thursday, Sept. 29, completing a 195-day mission in low Earth orbit.
Soyuz MS-21 and Expedition 67 commander Oleg Artemyev, Flight Engineer 1 Denis Matveev, and Flight Engineer 2 Sergey Korsakov said their farewells to their Expedition 66/67 crew mates and boarded their spacecraft for the trip home during the early hours of Sept. 29.
Read more at: NASA spaceflight