TOP NEWS
Medical Issue Delays Crew-3 Launch
The launch of the next commercial crew mission to the International Space Station, already postponed by weather, has been further delayed by what NASA calls a "minor medical issue" with one of its four astronauts.
NASA announced Nov. 1 that the launch, which had been scheduled for just after 1 a.m. Eastern Nov. 3, had been rescheduled to no earlier than Nov. 6 at 11:36 p.m. Eastern. Both the Crew Dragon spacecraft and its Falcon 9 rocket are in good condition at Launch Complex 39A at the Kennedy Space Center.
Read more at: Spacenews
UN Committee Votes 'Yes' On UK-US-Backed Space Rules Group
The UN First Committee, responsible for international security, today approved a new working group to develop rules of the road for military activities in space, and possibly even lay the groundwork for a new treaty.
The vote, while a baby step, is an indication of growing political concurrence that action, not just political posturing, is required to mitigate the ratcheting risks of conflict as nations pursue technologies to best each other in the military space domain.
Read more at: Breaking defense

Hubble Remains In Safe Mode After Latest Glitch
NASA's Hubble Space Telescope, offline for more than a week because of an issue with its instruments, is likely to remain out of service for another week as engineers investigate the problem.
Hubble's science instruments went into a safe mode early Oct. 25 after they issued error codes indicating the loss of "synchronization messages," which provide timing information used by the instruments. The safe mode stopped scientific operations of the telescope, although the instruments themselves, and the rest of the spacecraft, are in good health.
Read more at: Spacenews

SPACE HAZARDS AND STM
Debris Removal A Key Goal In Space Force's 'Orbital Prime' Project
The Space Force's technology arm known as SpaceWERX plans to award multiple contracts as early as February for the initial phase of the Orbital Prime program focused on on-orbit services.
SpaceWERX officials on Nov. 4 provided new details on Orbital Prime, an effort to bring government and private funding into the emerging OSAM sector, short for on-orbit servicing, assembly and manufacturing.
Lt. Col. Walter "Rock" McMillan, director of SpaceWERX, said the plan is to select at least one team to conduct an on-orbit demonstration of active debris removal within the next two years.
Read more at: Spacenews
Origin Of Mysterious Twisted Glass Shards In Atacama Desert Discovered
Chile's Atacama Desert is steeped in mysteries. It's the home of enormous glyphs whose meaning has been lost to the mists of time, and tiny, alien-like skeletons whose stories have only recently been revealed. Its earth is as barren as the soil on Mars – yet simultaneously rich with gold, silver, and some of the most unique ecosystems on the planet. That's not the only puzzle strewn across the soil of the Atacama. For years, scientists have wondered about the origins of a vast corridor, about 75 kilometers (46.6 miles) long, filled with shards of black and green glass.
Read more at: IFL science
Boeing Gets FCC Approval For 147-Satellite Constellation
Boeing has the green light to launch a planned broadband constellation that will place 147 satellites in orbit.
The Federal Communications Commission granted the aerospace giant permission on Wednesday (Nov. 3), which places Boeing into an increasingly crowded market for service against giants such as SpaceX's Starlink and Amazon's planned Kuiper constellations.
"As detailed in its FCC application, Boeing plans to provide broadband and communications services for residential, commercial, institutional, governmental, and professional users in the United States and globally," the FCC said in its announcement approving the license.
Read more at: Space.com
Solar Storm Brings the Northern Lights to the Northern US
A strong solar storm is creating aurora-friendly conditions as far south as Pennsylvania, Iowa and Oregon this week.
According to the National Oceanic and Atmospheric Administration (NOAA) Space Weather Prediction Center, the sun released two coronal mass ejections (CME) on Nov. 1 and Nov. 2. CMEs are eruptions in the sun's atmosphere that blast a magnetic field into space — and in this case, toward Earth.
Read more at: Livescience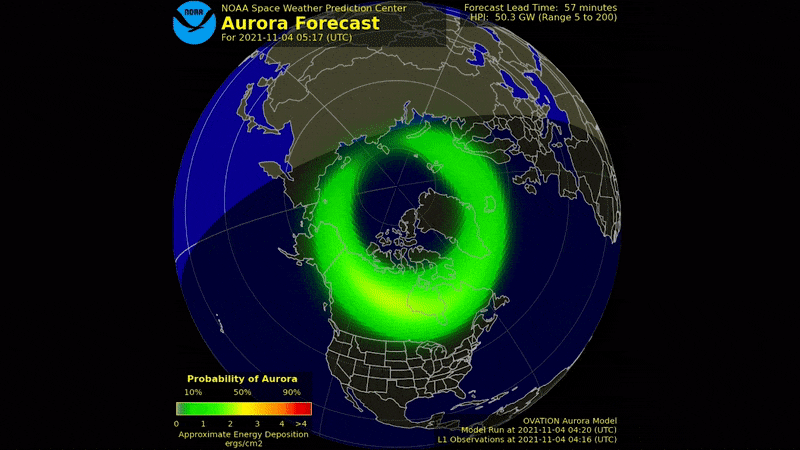 NEW SPACE/COMMERCIAL

New Chinese Launch Firm Signs Deal For Reusable Rocket Engines
Rocket Pi of China has signed a deal with a liquid rocket engine maker for supply of engines to power its Darwin-1 reusable launch vehicle.
The deal, announced by methane-liquid oxygen engine maker Jiuzhou Yunjian Oct. 30, is for Lingyun-70, 70-ton (sea level) thrust engines with deep throttling capabilities and 12.5-ton (vacuum) thrust Lingyun-10 engines and is worth "tens of millions of yuan" (10 million yuan = $1.56 million).
A single Lingyun-70 will power the first stage of the 2.25-meter-diameter Darwin-1 launcher with a Lingyun-10 engine on the second stage.
Read more at: Spacenews
ABL Space Systems to launch Project Kuiper's first satellites in 2022
Amazon has signed a multi-launch deal with rocket developer ABL Space Systems, which plans to loft two prototype satellites for its Project Kuiper broadband megaconstellation next year.
ABL Space Systems aims to place the KuiperSat-1 and Kuiper-Sat-2 prototypes in low Earth orbit (LEO) by the fourth quarter of 2022 with its small launch vehicle RS1, which is counting down to its first launch late this year.
Amazon filed an experimental license application with the Federal Communications Commission Nov. 1 for the test spacecraft, which will not be part of the roughly 3,200 broadband satellites that Project Kuiper envisages for its operational constellation.
Read more at: Spacenews
Court Dismisses Lawsuit by Bezos' Blue Origin Over SpaceX/NASA Contract
The lawsuit filed by Amazon billionaire Jeff Bezos' spaceflight company Blue Origin against rival billionaire Elon Musk's SpaceX firm – and the US government, which picked SpaceX over Blue Origin – has been dismissed.
The suit, filed in federal claims court, was dismissed by Judge Richard Hertling on Thursday. The ruling bars either party from further speaking out about the details of the decision until November 18, but no financial settlements were awarded. Bezos' effort to pry SpaceX from its privileged position as the beneficiary of the $2.9 billion NASA contract to return the US space agency to the Moon has been effectively scuttled.
Read more at: RT
SCIENCE AND TECHNOLOGY

China's Fresh Moon Rocks Are Younger Than The Apollo Samples And No One Knows Why
New analyses of moon rocks delivered to Earth by China's Chang'e 5 mission confirm that volcanism occurred later than previously known, but also deepen the mysteries surrounding that activity. China's Chang'e 5 spacecraft collected 3.81 pounds (1.73 kilograms) of lunar dust and rocks from a region called Oceanus Procellarum on the near side of the moon in December 2020. The mission team targeted this landing area because of its apparent lower density of craters, suggesting it was significantly younger than areas sampled by the Apollo and Soviet Luna missions.
Read more at: Space.com
Spacefund To Invest In Navigation System For Cislunar Space
Venture investor SpaceFund announced Nov. 3 it plans to finance the development of an autonomous navigation capability for space missions beyond Earth orbit in the region known as cislunar space.
The navigation module is being developed by Rhea Space Activity (RSA), a startup that recently won a U.S. Air Force Small Business Innovation Research (SBIR) contract to design a software tool for monitoring the trajectory of satellites in cislunar space.
Navigation is a central technology needed to access and operate in cislunar space, said Meagan Crawford, co-founder and managing partner of SpaceFund. "We really feel that the future of space and of space traffic management is autonomy and the ability for these spacecraft to know where they are and make decisions in real time without a human in the loop," she told SpaceNews.
Read more at: Spacenews
China Rolls Out Largest Integrally Formed Propellant Tank Bottom Of New Launch Vehicle
China rolled out the largest integrally formed propellant tank bottom of the new launch vehicle in the country, which was built using new spinning technology developed by the Shanghai Academy of Spaceflight Technology (SAST) with a diameter of 3.8 meters, The Paper published on Tuesday.
The entire length of the tank is 21 meters, which is one of the longest units to launch vehicles in China, according to the report.
The successful closing of the tank was a milestone in the development of the new launch vehicle. The tank accounts for over 60 percent of a rocket's structural weight, according to the report.
Read more at: Globaltimes
NASA Prepares To Fuel James Webb Telescope For Dec. 18 Launch
NASA is in the final stages of preparation to launch the nearly $10 billion James Webb Space Telescope, an engineering marvel that may reveal secrets of time and the universe, from South America on Dec. 18.
Technicians are preparing to load the space observatory with fuel that will power it for up to 13 years as it orbits the sun about one million miles from Earth, NASA officials said Tuesday in a press conference.
The telescope will have to deploy a massive solar shield the size of a tennis court to keep its infrared instrument cold enough to see billions of light years in the distance.
Read more at: Spacedaily
Mining The Moon's Water Will Require A Massive Infrastructure Investment, But Should We Do It?
We live in a world in which momentous decisions are made by people often without forethought. But some things are predictable, including that if you continually consume a finite resource without recycling, it will eventually run out.
Yet, as we set our sights on embarking back to the moon, we will be bringing with us all our bad habits, including our urge for unrestrained consumption. Since the 1994 discovery of water ice on the moon by the Clementine spacecraft, excitement has reigned at the prospect of a return to the moon. This followed two decades of the doldrums after the end of Apollo, a malaise that was symptomatic of an underlying lack of incentive to return.
Read more at: Space.com
Inside Artemis 1's Complex Launch Windows And Constraints
When the flight hardware and ground systems are finally ready for the inaugural Artemis 1 launch to the Moon, NASA will also have to synchronize the timing of the flight with unique celestial mechanics. The Orion and Space Launch System (SLS) Programs in the Exploration Systems Development (ESD) division are working together to calculate when the Earth, Moon, and sometimes the Sun are all in the right positions to support the agency's requirements for this first joint Orion-SLS test flight.
In general, NASA will have daily opportunities to launch this first Artemis mission to the Moon in an approximately "two weeks on, two weeks off" pattern. On a particular day that has a launch opportunity, the Exploration Ground Systems (EGS), Orion, and SLS programs will have a launch window that will vary from a few minutes to a few hours.
Read more at: NASA spaceflight
Tanks for the Space Memories
Every day, the Earth is bombarded by gamma rays travelling all the way from the depths of space. These rays, in the form of photons, tell cosmic secrets about violent celestial events, such as stellar explosions or black-hole feasts.
Now, researchers are setting up a new pilot project to detect the highest-energy gamma rays arriving in the southern hemisphere – using the humble water tank.
"Capturing photons with energies well above peta electronvolts (1015 eV) – the highest-energy photons – from the universe is key to unlocking its darkest secrets," says the University of Adelaide's Dr Jose Bellido Caceres, an astronomer in the School of Physical Sciences.
Read more at: Cosmos magazine
China To Deliver First Rocket Launching Vessel By 2022
China's first vessel to support satellite launches from the sea in particular is expected to be delivered by 2022, following a recent ceremony to mark the start of the ship's construction in the city of Haiyang, East China's Shandong Province.
The New-Type Rocket Launch Vessel will be 162.5 meters long with a 40-meter-width, and it is designed to meet the increasing demand for the launch and recovery of China's existing medium- to large-sized solid-propellant rockets and those under development, as well as small- to medium-sized liquid-propellant ones, the Global Times learned from project insiders on Sunday.
Read more at: Global times
Long Space Missions Could Cause Brain Damage Similar To Concussions, Study Finds
Staying in space for a long time can cause brain damage, according to a new study.
Being in space has well-documented negative effects on the body. But the effect of being in space on the brain has been studied less. A recent study examined five Russian cosmonauts aboard the International Space Station for about five and a half months. The researchers found elevated levels of proteins in the blood that serve as biomarkers of brain damage.
Read more at: Space.com
Umbilical Hardware Arrives For SLS ML-2, Runs Out Of Funding
The construction of NASA's second Space Launch System Mobile Launcher (ML-2) has been delayed after NASA ran out of near-term funding. ML-2 is required due to the increase in height for the Block 1B version of the rocket, making it incompatible with the billion-dollar ML-1. However, some planned work will continue, such as testing umbilicals that have arrived at KSC at the Launch Equipment Test Facility (LETF).

SLS already has a Mobile Launcher (ML-1), converted from its role with the defunct Ares-I rocket. It now hosts the Artemis 1 SLS – stacked on the ML – inside the Vehicle Assembly Building (VAB) ahead of rollout to Pad 39B.
Read more at: NASA spaceflight
Hypersonix To Use Siemens' Software In Design Of Its Hydrogen Fuelled Launchers
Brisbane-based aerospace engineering start-up Hypersonix Launch Systems has chosen Siemens' Xcelerator portfolio of software to help design its sustainable and reusable hypersonic launch vehicle, Delta-Velos.
Hypersonix plans to implement advanced aerodynamic and thermal modelling software from Siemens' Simcenter portfolio, which will play a key role in building certainty and reliability of the launch vehicle responsible for placing small satellites into Low Earth Orbit once developed and in service.
Read more at: Spacedaily
SPACE POLICY
U.S. and Russia Find Some Common Ground—in Space
Ashley Kowalski has spent much of her career advancing international space cooperation at the nonprofit Aerospace Corporation in California, most recently as a project manager. Now, the 32-year-old American is going to put her passion to the test—by locking herself in a hermetically sealed capsule with five strangers for an eight-month simulated mission to space.
"Throughout my life I've tried to marry my work in the space industry with my love for different cultures," said Kowalski, who has done previous fellowships in Germany, Russia, and China. "So this program stood out for me."
Read more at: Foreign policy
New Roles, Combined Offices for NASA Administrator Leadership Team
NASA Administrator Bill Nelson is announcing new leadership roles, as well as the merging of two offices into the Office of Technology, Policy, and Strategy (OTPS), in support of Biden-Harris Administration priorities and the focus on space strategy.
OTPS is being established to provide data- and evidence-driven technology, policy, and strategy advice to NASA leadership. The office is a merger of the Office of Strategic Engagements and Assessments and the Office of the Chief Technologist. OTPS will support NASA leadership in developing and guiding the agency's activities across its six mission directorates.
Read more at: Spacedaily
Roscosmos Signs Cooperation Memorandum With Zimbabwe's Space Agency
Russia's space corporation Roscosmos and the Zimbabwe National Geospatial and Space Agency have signed a memorandum of understanding and cooperation in space, Roscosmos said in a news release on Monday.
On November 1, Roscosmos said, talks were held between its deputy CEO, Oleg Frolov, and Zimbabwe's Deputy Minister of Higher and Tertiary Education and Innovation, Science and Technology Development, Raymore Machingura and ZINGSA Acting Director Pianos Gweme.
Read more at: TASS
NASA, Space Force See Growing Opportunities To Use Commercial Space Services
NASA's chief economist Alexander MacDonald said aggressive competition for space agency contracts is "one of the most exciting things that we're seeing."
Speaking Nov. 2 on a TechCrunch online panel discussion, MacDonald said competitive forces in the industry are going to help drive down the cost of "core elements of human space exploration."
Recent announcements that two new industry teams are jumping into the race to develop commercial stations to succeed the International Space Station are "very exciting from a market dynamics perspective," MacDonald said.
Read more at: Spacenews
SPACE DEFENSE
Hypersonic Missile Defense Is A Job For The Space Force
The recent revelation that China has tested two hypersonic glide missiles has rocked the American national security establishment. According to Bloomberg, Chairman of the Joint Chiefs of Staff General Mark Milley suggested that the tests approached a "Sputnik moment," harkening back to the Soviet launch of the first Earth satellite, which also proved the capability of delivering a nuclear warhead anywhere on Earth with a ballistic missile.
A recent article in Space News suggests that a nuclear capable, intercontinental range hypersonic glide missile presents a challenge for the American military.
Read more at: Hill
One Way To Help Prevent Wars In Space? Military Hotlines With Russia And China
Hotlines between heads of states have long been established to reduce the risk that an accident or miscalculation might trigger a nuclear war. During recent U.S. military operations in the airspace above Syria, a hotline was set up with Russia to ensure safety of flight.
With space now considered a domain of war, hotlines between U.S. and foreign rivals might be worth contemplating, said Lt. Gen. B. Chance Saltzman, U.S. Space Force deputy chief of space operations for operations, cyber and nuclear.
Read more at: Spacenews
National Reconnaissance Office Wants Satellite Imagery From Commercial Providers
The National Reconnaissance Office is turning to industry for more satellite imagery, issuing a Nov. 3 request for proposals that could see contracts awarded in early 2022.
The NRO has long been charged with developing, building and operating the nation's fleet of spy satellites, but it was only recently made responsible for acquiring satellite imagery from commercial providers. That task had been the National Geospatial-Intelligence Agency's job, but the responsibility was passed to the NRO in 2017.
Read more at: Defense news
Space Sector Exec: Spain Must Stand Out Among Its Neighbors In Nascent Domain
Spain requires a national strategy to grow and nurture its military space-industrial potential, and stand out as a European leader in the nascent domain, according to a small satellite company leader.
The nation needs to increase its investment rates to match those of its neighbors, said Satlantis CEO Juan Tomás Hernani during a defense and space-themed panel Wednesday at the second biennial FEINDEF conference in Madrid, Spain.
Read more at: Defense news
Leicester Researchers Analyse Consequences Of China Space Weapon Test
University of Leicester experts in the military uses of outer space have urged further international dialogue and 'cool heads' following flight tests of a new Chinese hypersonic missile system. Reports of China testing a new orbital launch vehicle, known as Fractional Orbital Bombardment System (FOBS), have fuelled concerns about the nuclear weapon state's advancing military capabilities and possible consequences for the United States and its allies.
High-profile flight tests conducted in July and August saw a rocket launched into orbital flight, which later re-entered the atmosphere and released a manoeuvrable glide vehicle travelling at hypersonic speeds, in excess of five times the speed of sound.
Read more at: Spacewar
VARIOUS
Launching Myself Into This Decade's Space Race
TheThe same year that The Verge came into being, another decades-long program was coming to an end. In July 2011, NASA's Space Shuttle Atlantis, with a crew of four on board, blasted off from Kennedy Space Center in Cape Canaveral, Florida, bound for the International Space Station. It was the last time the Space Shuttle would ever take flight — and the last time that people would launch to orbit from the United States for nearly a decade.
Read more at: Verge
Leaky SpaceX Toilet Problem Will Force Astronauts To Use Backup 'Undergarments'
Issues with the toilet on board SpaceX's Crew Dragon capsule will leave a group of four astronauts without a bathroom option during their hours-long trip back home from the International Space Station aboard the 13-foot-wide capsule this month. Instead, the crew will have to rely on "undergarments," Steve Stich, NASA's Commercial Crew Program manager, told reporters Friday night. SpaceX first discovered an issue with its spacecraft's toilet last month while inspecting a different Crew Dragon capsule.
Read more at: CNN
Why Are We Letting Monopolists Corner Space?
When Silicon Valley tycoons look up into space today, they see dollar signs: a booming space industry flush with venture capital funding, Wall Street investment, and a hot satellite technology market worth billions of dollars.
But Moriba Jah, a NASA scientist turned ardent space environmentalist, sees doom on the horizon.
On February 12, 2020, Jah testified before the Senate Committee on Commerce, Science, and Transportation on the political economy of space and national defense. Called to Washington as a witness from Texas, where he's a professor of aerospace engineering at UT Austin, Jah stood out from the other witnesses. He wore a charcoal-gray suit, a nose ring, and a black kukui nut necklace partially obscured by his dreadlocks.
Read more at: Washington monthly
NASA to Provide Coverage of Human Spaceflight Health Symposium
NASA will provide live coverage of its Spaceflight for Everybody virtual symposium, an event aimed at communicating the current state of NASA spaceflight health knowledge. The symposium takes place Monday, Nov. 8 to Wednesday, Nov. 10. NASA TV, the agency's website, and the NASA app will offer live coverage each day, including an American Sign Language translator. The event will highlight NASA's operational medicine and biomedical research findings helping to establish how the human body adapts to the environment of space during missions. Other health and medical topics will include future spaceflight participation goals for a more diverse group of space explorers.
Read more at: NASA
Air Force Research Laboratory Names New Head Of Space Science And Technology Efforts
The Air Force Research Laboratory has named Andrew Williams the new head of the organization's space-related science and technology efforts, overseeing the lab's work with the U.S. Space Force.
As the deputy technology executive officer for space science and technology, or D-TEO, Williams will be the focal point of AFRL's space activities, ensuring they are developed and executed in an integrated manner. He replaces Kelly Hammett, who was serving as the acting D-TEO.
Read more at: Defense news
Geraldine Naja, Director of Commercialisation, Industry and Procurement
Geraldine Naja took up duty as Director of Commercialisation, Industry and Procurement (D/CIP), based at ESA Headquarters in Paris, on 1 November 2021.
From France, Ms Naja has 30-year experience in the European space sector in managerial and strategy development positions.
She graduated from the French Ecole Polytechnique with a degree in engineering and then from Ecole Nationale Superieure de Techniques Avancees (ENSTA) with a Masters degree in propulsion and chemistry. She also has a Masters degree in political sciences from the Institut d'Etudes Politiques de Paris (Sciences Po).
Read more at: Spacedaily
There Are Roses In Mission Control! One Family's NASA Tradition Continues With Spacex After 30 Years
For more than 30 years, one Texas family has shown their support for NASA mission control with a simple gesture: sending flowers. Now, with SpaceX launching astronauts from the U.S. once again, the Shelton family is continuing their rosy tradition.
The Sheltons are a family with a love for space that has spanned over half a century. Back in the 1960s, Mark Shelton dreamed of astronauts from his home in Fort Worth, Texas and, while he hasn't yet become an astronaut, that love for space has endured. But it was tragedy that spurred Mark Shelton into getting uniquely involved in space.
Read more at: Space.com
'Space Titans' Goes Inside A Billionaires' Space Race On Discovery+ (Exclusive Clip)
In "Space Titans," a new documentary launching today (Nov. 4), SpaceX founder Elon Musk shares the secret of his company's Falcon 9 rocket success. The billionaire Musk, standing nearby one of his rockets, says — perhaps unsurprisingly — that his Falcon 9's reusability is the key to its success. "The closer we get to full and rapid reusability, that's really what opens up a lot of potential in space," he says in an exclusive clip provided to Space.com.
Read more at: Space.com
Tom Hanks Said 'No Thanks' To A Space Trip Offer From Blue Origin's Jeff Bezos. Here's Why.
Tom Hanks isn't interested in Jeff Bezos' offer to go to space.
Last month, "Star Trek" actor William Shatner flew to space on a suborbital Blue Origin flight after being invited by Bezos who founded the company. But Shatner wasn't the only household name Bezos offered an astronaut experience to. Actor Tom Hanks revealed Tuesday (Nov. 2) during an appearance on "Jimmy Kimmel Live!" that he was offered a ride to space and turned it down, saying that he was expected to pay quite a bit of money for the trip.
"Well yeah, provided I pay," Hanks said about the offer to launch on Blue Origin's suborbital vehicle New Shepard.
Read more at: Space.com