TOP NEWS
Crew Dragon Lands Safely, Despite One Parachute Inflating Slowly
Crew Dragon Endeavour safely splashed down into the Northern Gulf of Mexico on Monday evening, just south of Pensacola, Florida. The water landing capped a successful 199-day mission to the International Space Station.
The spacecraft's return to Earth seemed nominal up until four minutes before splashdown, when the vehicle's main parachutes deployed. Three of the four parachutes came out nominally, but inflation of the fourth parachute was delayed by a fraction of a minute. Despite this, the commentators on the NASA-SpaceX livestream indicated that the fourth parachute's inflation rate was normal, and the spacecraft's descent speed nominal.
Read more at: Arstechnica
NASA Says A Glitchy Strap Could Be Behind Lucy Asteroid Probe's Solar Array Troubles
NASA may be homing in on the glitch that kept a massive solar array on its new asteroid-bound spacecraft from properly deploying. The agency's Lucy mission launched on Oct. 16 and about an hour after blast off, began deploying its two large solar arrays as scheduled. However, early analysis suggested that one of the two arrays, each more than 24 feet (7 meters) across, did not fully deploy. Now, mission personnel believe they have identified where the fault occured: a lanyard that helps the array deploy.
Read more at: Space.com
NASA Considering Software Fixes For Sidelined Hubble Space Telescope
NASA is considering some software adjustments to the Hubble Space Telescope as the agency continues its effort to bring the sidelined telescope back into service. The recovery team is now examining hardware that commands the instruments, which forms part of the Science Instrument Command and Data Handling Unit, the agency said in an update Friday (Nov. 5). The iconic space telescope has been unable to perform science observations since its instruments entered a protective "safe mode" in late October.
Read more at: Space.com
NASA Says Moon Landing Goal Pushed To 2025 Due To Blue Origin Litigation, Other Factors
The highly anticipated landing of the first woman and the first person of color on the moon will have to wait. Due to a delay caused by litigation with Blue Origin, as well as other factors — including the pandemic — the earliest return of NASA boots on the lunar surface through the Artemis program won't take place in 2024 as expected, said NASA Administrator Bill Nelson on Tuesday. "We've lost nearly seven months in litigation and that likely has pushed the first human landing likely to no earlier than 2025," Nelson said during a press conference.
Read more at: CNN
ISS Orbit To Be Raised Before Launch Of Soyuz Spacecraft With Japanese Tourists
The orbit of the International Space Station (ISS) will be further adjusted to prepare for the arrival of a Soyuz MS-20 crewed spacecraft that will deliver two tourists from Japan to the orbital outpost in December, Russia's State Space Corporation Roscosmos told TASS on Monday.
"In order to create the ballistic conditions before the delivery into orbit and the landing of a Soyuz MS-20 manned spacecraft, a new adjustment of the orbit of the International Space Station is scheduled for November 16, 2021," Roscosmos said.
Read more at: TASS
Exclusive: Amid National Security Concerns, US Slaps Overhead Time Limits On Satellites
The Commerce Department is placing new restrictions for how frequently US-operated mid- to high-resolution commercial remote sensing satellites can image any one spot on the Earth, prompted by concerns from the Defense Department and Intelligence Community over the potential impacts of repeated captures of key US national security facilities.
The new restrictions, obtained by Breaking Defense and already piquing the fervor of critics in the sector, are being applied under the US commercial remote sensing licensing process managed by the National Oceanic and Atmospheric Administration (NOAA), which falls underneath Commerce.
Read more at: Breaking defense
Wang Becomes China's First Female Spacewalker
Wang Yaping has become the first Chinese woman to make a spacewalk. She along with two male colleagues are in the first month of a six month stint aboard the Tianhe space station module where they will set a new duration record for Chinese astronauts. While still far behind the 15-nation International Space Station (ISS) that just celebrated 21 years of permanent occupancy, China's space station program is ramping up. Experts are urging the U.S. government to quicken its pace in deciding what comes after ISS.
Read more at: Spacepolicy online

SPACE HAZARDS & STM
State-Of-The-Art Software To Catalogue Space Debris
GMV has been awarded a new contract by the German Space Agency at DLR for developing progressive and advanced SST data processing algorithms for the German Space Situational Awareness Centre (GSSAC).
To foster the development of an SST capability in Europe, the EU established in 2014 (through decision No. 541/2014/EU of the European Parliament and of the Council of April 16, 2014) a Framework for Space Surveillance and Tracking Support. The aim of this Support Framework is to develop an independent SSA/SST capability in Europe by EU SST.
Read more at: GMV
In Race To Provide Internet From Space, Companies Ask FCC For About 38,000 New Broadband Satellites
A flurry of space companies filed requests with the Federal Communications Commission on Thursday for new or expanded broadband networks, asking the regulator for approval of nearly 38,000 total satellites. Amazon, Astra, Boeing, Inmarsat, Intelsat, Hughes Network, OneWeb, SpinLaunch, and Telesat are among those asking the FCC for access to what is known as V-band spectrum, a range of frequency that the companies hope to use to provide global broadband service from space.
Read more at: CNBC
U.S. Interagency Panel To Update R&D Strategy To Tackle Orbital Debris
The Biden administration plans to update an existing research-and-development plan aimed at combatting orbital debris. Overseeing the orbital debris R&D plan is an interagency group within the National Science and Technology Council that deals with national security and space issues. The NSTC reports directly to the president. The White House Office of Science and Technology Policy said in a Federal Register notice Nov. 5 that the orbital debris interagency group is drafting a plan to be released in 2022 and is soliciting public input through Dec. 31.
Read more at: Spacenews
An Object Is Now Orbiting Alongside China's Shijian-21 Debris Mitigation Satellite
U.S. space tracking has detected a new object orbiting along with China's recently launched Shijian-21 space debris mitigation technology satellite.
Shijian-21 was launched into geosynchronous transfer orbit Oct. 23 by a Long March 3B rocket. Chinese state media reported that the satellite would "test and verify space debris mitigation technologies," but no further details have been revealed.
The Shijian-21 spacecraft was developed by the Shanghai Academy of Spaceflight Technology (SAST). SAST in September unveiled a "supplemental service spacecraft" concept at the Zhuhai Airshow.
Read more at: Spacenews
Boeing Gets FCC Approval For 147-Satellite Constellation
Boeing has the green light to launch a planned broadband constellation that will place 147 satellites in orbit. The Federal Communications Commission granted the aerospace giant permission on Wednesday (Nov. 3), which places Boeing into an increasingly crowded market for service against giants such as SpaceX's Starlink and Amazon's planned Kuiper constellations. "As detailed in its FCC application, Boeing plans to provide broadband and communications services for residential, commercial, institutional, governmental, and professional users in the United States and globally," the FCC said in its announcement approving the license.
Read more at: Space.com
Space Tracking Startup Privateer Hires Jah As Chief Scientific Adviser
A space sustainability startup still largely in stealth mode has hired a leading "space environmentalist" as its chief scientific adviser as it develops satellites to track objects in orbit.
Privateer announced last month it selected Moriba Jah, an associate professor of aerospace engineering at the University of Texas at Austin as its chief scientific adviser. Jah will remain at the university as he assists the company build up its capabilities.
Hawaii-based Privateer has kept a low profile to date, other than the release of a one-minute video in September that explained that the company was "working to keep space safe and accessible to all humankind."
Read more at: Spacenews
COMMERCIAL SPACE
Spaceports Address Environmental Impact Concerns
Spaceport Cornwall is preparing to release a carbon impact report as part of its campaign to be "open and transparent" about the environmental impact of horizontal launches scheduled to begin next year, said Melissa Thorpe, Spaceport Cornwall head. "It's not just about offsetting and mitigation. It's about actually using technology to bring that impact down so that all the satellites in space can do this incredible work, but in a more responsible way of getting into space in the first place."
Read more at: Spacenews
Japan Successfully Launches Epsilon-5 Rocket with 9 Satellites
The Japan Aerospace Exploration Agency, or JAXA, on Tuesday successfully launched its fifth Epsilon solid-fuel rocket carrying nine small satellites. The rocket was launched at 9:55 a.m. (12:55 a.m. GMT) from JAXA's Uchinoura Space Center in the town of Kimotsuki in Kagoshima Prefecture, southwestern Japan. JAXA initially planned to launch the Epsilon-5 rocket Oct. 1, but this was canceled just before the scheduled liftoff time due to a glitch in ground radar equipment. The launch was then postponed twice because of unfavorable weather conditions.
Read more at: Nippon
New Agreement Between Virgin Orbit and ANA Holdings Sets the Stage for Twenty LauncherOne Flights from Japan
Virgin Orbit, the responsive launch and space solutions company that has announced a planned business combination with NextGen Acquisition Corp. II ("NextGen") (NASDAQ: NGCA), today announced that it has entered into a memorandum of understanding ("MOU") with ANA HOLDINGS INC., the owners of Japan's largest airline, to procure twenty flights of the LauncherOne rocket and to lead the effort to provide funds and support for those orbital missions to launch from Japan's Oita Prefecture. The terms of the MOU call for ANA HOLDINGS and several of its partners to fund the manufacturing of a new set of the mobile ground support equipment used to prepare Virgin Orbit's LauncherOne system for flight from a pre-existing runway, with a target of making Oita a LauncherOne-ready spaceport by as soon as the end of 2022, pending appropriate regulatory approvals in the United States and Japan.
Read more at: Virgin orbit
Maritime Launch Services to go public
Maritime Launch Services (MLS) will go public in Canada through a proposed reverse takeover of Jaguar Financial Corporation.
In a news release today, Jaguar Financial Corporation stated it had entered into an agreement with Maritime Launch Services having executed a binding letter agreement for a "reverse takeover of Jaguar by MLS."
According to the press release "Jaguar was previously a Canadian merchant bank generally investing in companies Jaguar determines to be undervalued, overlooked and underappreciated. As of the date hereof, Jaguar has ceased to carry on an active business.
Read more at: SpaceQ
FAA Delays the Countdown on Spaceport Camden again
Federal regulators again pushed back the timeline on Spaceport Camden Monday, extending by a month to Dec. 3 the deadline to make the final decision before issuing a launch site operator license.
"The Federal Aviation Administration is announcing a delay in the issuance of the Record of Decision (ROD) for the Spaceport Camden project," FAA Spokesman Steven Kulm wrote in an email. "The FAA planned to issue the ROD on November 3, 2021; however, due to ongoing consultation efforts the FAA now plans to issue the ROD by December 15, 2021.
Read more at: currentga
Elon's Texas Empire
On the outskirts of Austin, Texas, near the banks of the Colorado River, Tesla Inc.'s new auto plant is close to completion. The massive factory, known as Giga Texas, spans 8 million square feet and sits on a roughly 1,700-acre plot. Some 350 miles away, where the Rio Grande empties into the Gulf of Mexico, SpaceX is building Starship, a rocket designed to take people to the Moon and Mars. SpaceX and its real-estate arm have bought up more than 250 nearby properties, from vacant lots and a gun range to small bungalows owned by snowbirds and retirees. Some employees—including Musk himself—have been living in the houses.
Read more at: Bloomberg
SCIENCE AND TECHNOLOGY
SpaceFund To Invest In Navigation System For Cislunar Space
Venture investor SpaceFund announced Nov. 3 it plans to finance the development of an autonomous navigation capability for space missions beyond Earth orbit in the region known as cislunar space.
The navigation module is being developed by Rhea Space Activity (RSA), a startup that recently won a U.S. Air Force Small Business Innovation Research (SBIR) contract to design a software tool for monitoring the trajectory of satellites in cislunar space.
Read more at: Spacenews
U.S. and Russia Find Some Common Ground—in Space
Ashley Kowalski has spent much of her career advancing international space cooperation at the nonprofit Aerospace Corporation in California, most recently as a project manager. Now, the 32-year-old American is going to put her passion to the test—by locking herself in a hermetically sealed capsule with five strangers for an eight-month simulated mission to space.
"Throughout my life I've tried to marry my work in the space industry with my love for different cultures," said Kowalski, who has done previous fellowships in Germany, Russia, and China. "So this program stood out for me."
Read more at: Foreign policy
China Is Planning A Complex Mars Sample Return Mission
China is working on a complex mission to collect Mars rock samples and deliver them to Earth by building on the successes of recent moon and Mars missions.
The mission, likely to be named Tianwen-2, could launch as soon as 2028 with the goal of returning samples around 2030. Such a mission has never before been attempted.
A presentation from Zhang Rongqiao, chief designer of the Tianwen-1 mission, at deep space forum in Shenzhen Oct. 18 indicates a shift in mission profile from a single-launch to using two launches within the same launch window.
Read more at: Spacenews
Astronaut Gear of the Future May Fight Bone and Muscle Loss
On Monday, an astronaut capsule that looks like a giant orange juicer splashed down in the Atlantic Ocean, bringing its four-person crew back under the influence of Earth's gravity. These astronauts have spent six months on the International Space Station, and so the gravity now tugging at their bodies will feel familiar to them, but strange.
This team, called SpaceX Crew-2, spent much of the past half-year in orbit doing spacefaring scientific work, like testing out "tissue chips," small-scale analogs of human organs.
Read more at: Wired
China Releases Information Of 15 New Lunar Samples Online
China has released the information of the third batch of lunar samples brought back by the country's Chang'e-5 mission.
Public users can log on to the website of China's Lunar and Deep Space Exploration (www.clep.org.cn) to check for the related information of the 15 new samples and submit applications for research.
The Chang'e-5 probe returned to Earth on Dec. 17, 2020, retrieving a total of 1,731 grams of lunar samples, mainly rocks and soil from the moon's surface.
Read more at: News CN
Emission Reductions From Pandemic Had Unexpected Effects on Atmosphere
Earth's atmosphere reacted in surprising ways to the lowering of emissions during the pandemic, showing how closely climate warming and air pollution are linked.
The COVID-19 pandemic and resulting limitations on travel and other economic sectors by countries around the globe drastically decreased air pollution and greenhouse gas emissions within just a few weeks. That sudden change gave scientists an unprecedented view of results that would take regulations years to achieve.
Read more at: JPL
Alternative Rocket Builder Spinlaunch Completes First Test Flight
SpinLaunch, a start-up that is building an alternative method of launching spacecraft to orbit, conducted last month a successful first test flight of a prototype in New Mexico.
The Long Beach, California-based company is developing a launch system that uses kinetic energy as its primary method to get off the ground – with a vacuum-sealed centrifuge spinning the rocket at several times the speed of sound before releasing.
Read more at: CNBC
SPACE POLICY

US Calls Space A Wild West. China Says Policing It Normalises Warfare
China is likely to shrug off the US' call for rules governing space behaviour because Beijing would view that as legitimising space militarisation, a Chinese expert said, as the nations' rivalry in the domain intensifies. It was this week revealed that in July a US surveillance satellite approached a Chinese satellite in orbit, and the latter quickly manoeuvred to escape being shadowed. This incident was another case of the frequent attempts at spying and counter-espionage in space among the United States, Russia and China, and added to concerns that risks of disastrous collisions in space were growing in line with the space race itself.
Read more at: SCMP
NASA Official Confirms Possibility Of Swapping Flights With Russia
The US National Aeronautics and Space Administration (NASA) confirms the possibility of organizing flights by Russian cosmonauts aboard US spaceships and NASA astronauts on board Soyuz spacecraft, International Space Station (ISS) Program Manager Joel Montalbano said during an online conference.
"We are trying to <…> have the backups: on <…> Soyuz vehicle we will have an astronaut, and a cosmonaut on our vehicles," he said.
Read more at: TASS
Harris To Convene First Space Council Meeting On Dec. 1
Vice President Harris will host the Biden administration's first meeting of the National Space Council on Dec. 1, she will announce Friday during a visit to a NASA campus in Maryland.
Harris on Friday will visit the Goddard Space Flight Center in Greenbelt alongside NASA Administrator Bill Nelson and officials from the National Oceanic and Atmospheric Administration and the U.S. Geological Survey.
The visit will focus on efforts from various agencies to use space missions to monitor and address the climate crisis, a White House official said.
Read more at: Hill
Lal to Lead New NASA Office of Technology, Policy and Strategy
Bhavya Lal, a Biden political appointee who has held several positions at the agency since the inauguration, is taking on a new role as head of the agency's just-created Office of Technology, Policy, and Strategy. The reorganization merges two units including the Office of Chief Technologist and Lal will also serve as Acting Chief Technologist. A number of personnel reassignments were announced simultaneously.
Read more at: Spacepolicy online
SPACE DEFENCE
USSPACECOM Hosts German Air Force Operations Center, German Space Command Commanders
U.S. Space Command hosted the German Air Force Operations Center commander and the German Space Command commander at its headquarters Nov. 3, 2021.
U.S. Army Gen. James Dickinson, USSPACECOM commander, met with LtGen Klaus Habersetzer, German Air Force, Commander Air Force Operations Command, and MajGen Michael Traut, German Air Force, Commander Space Command, to reaffirm the importance of space cooperation between the United States and Germany. Officials from each organization traded mission briefings, and USSPACECOM provided Habersetzer and Traut briefings on threats to the space domain, strategic partnerships and global space operations.
Read more at: Spacecom
An Easy Fix To Space Force's Most Glaring Vulnerability
A month before Congress created the US Space Force in 2019, Russia launched an unusual satellite dubbed Cosmos 2542. Though the launch was seemingly routine, nested inside of it like a Russian matryoshka was a second satellite dubbed Cosmos 2543, which maneuvered in close proximity to satellite USA-245, a classified national imaging asset operated by the US National Reconnaissance Office (NRO). To this day, neither the capabilities nor the intent of this Russian satellite have been made public, but according to Gen. Raymond, the head of Space Force, its deployment alone points to a massive weakness in our space defense infrastructure. Then and now, our national space assets are at risk, putting freedom of access in space at risk as well.
Read more at: Breaking defense
Space Force Wants A More Detailed Picture Of What Other Nations Are Doing In Space
The U.S. military space catalog currently serves as the main source of data about the location of more than 27,000 satellites and space debris objects. But that information is still not enough to figure out what rival nations are doing in orbit, Lt. Gen. Nina Armagno, staff director of the U.S. Space Force, said Nov. 8.
Speaking at the opening session of the American Institute of Aeronautics and Astronautics' ASCEND 2021 conference, Armagno said there is significant demand in the U.S. Space Force for intelligence about the space domain.
Read more at: Spacenews
Under Secdef For Policy Learns About Threats To The Space Domain
Colin Kahl, the Department of Defense's Under Secretary of Defense for Policy, visited U.S. Space Command on Nov. 2, 2021. Senior USSPACECOM leaders briefed Kahl on threats to the space domain and discussed the importance of responsible military space behavior. Officials from Joint Task Force-Space Defense briefed Kahl on its protect-and-defend mission.
USSPACECOM conducts operations in, from, and to space to deter conflict, and if necessary, defeat aggression, deliver space combat power for the Joint and Combined force, and defend U.S. vital interests with allies and partners.
Read more at: Spacecom
China's Hypersonic Weapon Test No Cause For Panic, Experts Say
China's mysterious space-tech test is not a sign that the sky is falling, experts say. Last month, The Financial Times reported that China launched a nuclear-capable hypersonic weapon atop a rocket during an August test. The hypersonic vehicle ended up missing its target by just 24 miles (39 kilometers) or so, demonstrating capabilities that surprised and alarmed U.S. officials, the newspaper wrote. Chinese officials have disputed that report, claiming that the launch merely tested technologies for reusable spacecraft. But even if that's just a cover story, there's no reason to panic, according to a new policy analysis
Read more at: Space.com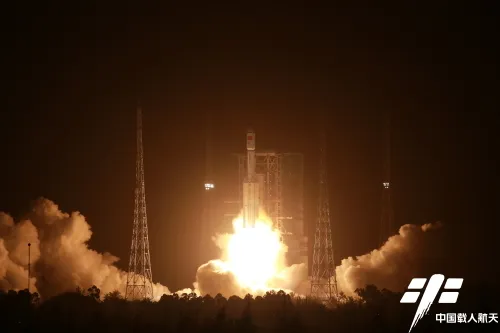 VARIOUS
Russia To Use Orbital Outpost At Least Until 2027-2028, Says Roscosmos Official
The International Space Station (ISS) will operate at least until 2027-2028, Roscosmos Executive Director for Manned Space Programs Sergey Krikalyov said on Tuesday.
"The station will be operational at least until 2027-2028 and this operation should be maximally advantageous," the Roscosmos official said at the 22nd scientific and technical conference of scientists and specialists devoted to the 60th anniversary of Yuri Gagarin's first ever human space flight and the 75th anniversary of the domestic space industry and the Energia Space Rocket Corporation.
Read more at: TASS
SpaceX, NASA Celebrate Blue Origin's Lunar Lander Lawsuit Loss And Get Back To Work
In a November 9th press conference, NASA leaders have begun to publicly celebrate the end of seven months of Blue Origin litigation and disruption to its Human Landing System (HLS). A federal court's dismissal of that lawsuit means that the space agency can finally get back to work with SpaceX on its Starship Moon lander.
Following the failure of that lawsuit, NASA administrator Bill Nelson says that it will take the space agency some time to fully determine what and how much damage Blue Origin has caused.
Read more at: Teslarati
Let's Get to Know Space Force, Trump's Most Misunderstood Creation
Two years ago, the U.S. Space Force was established as the first new U.S. military branch in 73 years. If you know anything about the service, it's probably that its logo looks like it was stolen from Star Trek, its name for members sounds like it was adapted from Guardians of the Galaxy, and its uniforms appear to have been ripped off from Battlestar Galactica.
Perhaps there was no way for the U.S. military to create a service focused on space without eliciting giggles and incredulity, as Americans have been fed a steady diet of militaristic science fiction for decades.
Read more at: NYmag
Rocket Lab Appoints Andrew Bunker as Vice President of Government Operations and Business Strategy
Rocket Lab USA, Inc. (Nasdaq: RKLB) ("Rocket Lab" or "the Company"), a global leader in launch services and space systems, today announced the appointment of Andrew Bunker to the role of Vice President of Government Operations and Business Strategy, effective November 8, 2021.
Mr. Bunker will be primarily responsible for the development and execution of company's federal, state, and local government strategy. Mr. Bunker will also play a leading role in strengthening Rocket Lab's engagement with industry associations. The appointment comes as Rocket Lab expands its end-to-end ecosystem footprint with the acquisition of flight software company Advanced Solutions Inc in Colorado, and also narrows down potential locations for a new production facility and launch site for the reusable, medium-lift Neutron rocket.
Read more at: Rocketlab usa
Commercial Spaceflight Federation Announces New Board Leadership, Welcomes New Members
The Commercial Spaceflight Federation (CSF) elected new Board leadership and officers at its Board of Directors this week in Washington, D.C. Caryn Schenewerk was elected as CSF Chair. Schenewerk is Vice President for Government Affairs at Relativity Space. Mark Mozena, Senior Director for Government Affairs at Planet, will serve as Vice Chair. Mike Gold, Executive Vice President for Civil Space and External Affairs at Redwire Space, is CSF's new Treasurer.
Read more at: Commercial spaceflight
ISRO To Set Up A Space Museum And Space Centre In Kanniyakumari
Indian Space Research Organisation (ISRO) will set up a Space Museum and Space Centre in Kanniyakumari at a cost of ₹ 100 crore.
Information Technology Minister Mano Thangaraj who met ISRO chairman K. Sivan, said the state government had already allotted 10 acres of land for the purpose.
"The project was delayed because of the pandemic caused by COVID-19. When I met him on Saturday I requested him to speed up the project and he agreed," Mr. Mano Thangaraj told The Hindu.
Read more at: Hindu
Heinz Debuts 'Marz' Ketchup With Tomatoes Grown In Mars Conditions
Good news, future Mars' explorers! When humans set up camp on the Red Planet, they will be able to flavor their foods with a Mars-grown version of Earth's best-selling red condiment.
Heinz on Monday (Nov. 8) revealed its first bottle of "Marz Edition" ketchup, a sauce made from the same premium-quality tomatoes as used in its popular Earth-based edition, but grown in the same harsh conditions as found on Mars. More than just a new label, the Mars-ready condiment is the product of two years of research conducted by a team of astrobiologists at the Florida Institute of Technology's Aldrin Space Institute.
Read more at: Collectspace