TOP NEWS
Russian ASAT Test Creates Thousands of Pieces of Space Debris, Imperils ISS
The U.S. Government said today that Russia conducted an antisatellite test that generated 1,500 pieces of trackable debris and thousands that are untrackable. Calling it reckless and irresponsible, officials pointed out the debris threatens not only satellites, but the astronauts and cosmonauts aboard the International Space Station. ISS operations are being affected. The head of Russia's space agency will meet with NASA officials in Moscow tomorrow at a previously scheduled meeting where this topic is certain to be discussed.
Read more at: Spacepolicy online
Russian Military Publishes First Video From Successful Anti-Satellite Missile Test
Earlier in the day, the Defence Ministry confirmed that Russia had successfully conducted an anti-satellite test on Monday, hitting a long-defunct Soviet satellite floating lifelessly in orbit. The military dismissed claims made by US officials that the test creates thousands of pieces of debris "threatening the interests of all nations."
The Russian Ministry of Defence published a video Tuesday modeling the orbit of the destroyed Tselina-D satellite compared to that of the International Space Station, showing that at no point did the debris from the satellite threaten the safety of the station.
Read more at: Spacewar

NASA Bumps Astronaut Moon Landing To 2025 At Earliest
NASA on Tuesday delayed putting astronauts back on the moon until 2025 at the earliest, missing the deadline set by the Trump administration.
The space agency had been aiming for 2024 for the first moon landing by astronauts in a half-century.
In announcing the delay, NASA Administrator Bill Nelson said Congress did not provide enough money to develop a landing system for its Artemis moon program and more money is needed for its Orion capsule. In addition, a legal challenge by Jeff Bezos' rocket company, Blue Origin, stalled work for months on the Starship lunar landing system under development by Elon Musk's SpaceX.
Read more at: ABC news

Space Station To Dodge Chinese Space Junk Before Spacex Crew-3 Astronaut Launch
The International Space Station will have to dodge a piece of Chinese space junk today (Nov. 10) just hours before SpaceX launches a new crew to the orbiting laboratory, NASA officials said. SpaceX is set to launch four astronauts on the Crew-3 mission for NASA tonight at 9:03 p.m. EST (0203 GMT on Nov. 11). But before that crew — NASA astronauts Raja Chari, Tom Marshburn, and Kayla Barron and astronaut Matthias Maurer of Germany — lifts off, the International Space Station must move out of the path of a piece of Chinese space junk.
Read more at: Space.com

Chinese Astronauts' EVAs To Help Extend Mechanical Arm
The extravehicular activities (EVAs) carried out by two Chinese astronauts from Sunday evening till early Monday morning will help expand the capabilities of the mechanical arm on the country's space station, said the China Academy of Space Technology (CAST).
Astronauts Zhai Zhigang and Wang Yaping were out of China's space station core module Tianhe by 8:28 p.m. (Beijing Time) Sunday, and completed their EVAs and returned to the space station core module Tianhe at 1:16 a.m. (Beijing Time) Monday.
They performed a series of extravehicular tasks, including installing the dual-arm connector (the device linking the big and small mechanical arms) and the suspension device.
Read more at: Spacedaily

SPACE HAZARDS AND STM
Astroscale Launches Docking Plate To Capture Defunct Satellites
Bremen, Germany (SPX) Nov 16, 2021 Astroscale today revealed a universal docking device the company hopes will become standard fitment on all future low Earth orbit (LEO) satellites. Following on from the COP26 climate conference, Paris Peace Forum Net Zero Space Declaration, and the G7 statement on space sustainability, Astroscale calls on operators to prepare their spacecraft with a Docking Plate to prepare for future removal and to help safeguard the space environment.
There are an unprecedented number of satellites due to launch over the next decade, the majority into LEO, (250km to 2000km above Earth).
Read more at: Spacedaily
U.S. Interagency Panel To Update R&D Strategy To Tackle Orbital Debris
The Biden administration plans to update an existing research-and-development plan aimed at combatting orbital debris.
Overseeing the orbital debris R&D plan is an interagency group within the National Science and Technology Council that deals with national security and space issues. The NSTC reports directly to the president.
The White House Office of Science and Technology Policy said in a Federal Register notice Nov. 5 that the orbital debris interagency group is drafting a plan to be released in 2022 and is soliciting public input through Dec. 31.
Read more at: Spacenews
Space Companies Forge Alliance To Reduce In-Orbit Debris By 2030
Ten companies and organizations from across the space industry have vowed to devise concrete measures for reducing the amount of in-orbit debris by 2030.
French satellite fleet operator Eutelsat, launch service provider Arianespace and U.S.-based Earth imagery venture Planet are among signatories of the Net Zero Space charter, which was launched Nov. 12 during the Paris Peace Forum in France.
"There are about 4,700 operational satellites currently in orbit, and this number could rise to more than 25,000 by the end of the decade," Arianespace CEO Stéphane Israël said in a statement.
Read more at: Spacenews
Hypervelocity Dust Impacts Cause Plasma Explosions On Parker Solar Probe
The fastest spacecraft ever flown, NASA's Parker Solar Probe, regularly experiences high-speed collisions with dust particles that create explosions of plasma, a new study finds.
Launched in 2018, the Parker Solar Probe is NASA's latest and most ambitious effort to investigate the sun. To date, it has gotten closer to the sun than any other mission; its equipment has operated at the hottest temperatures of any spacecraft; and the probe is the fastest human-made object ever. 
Read more at: Space.com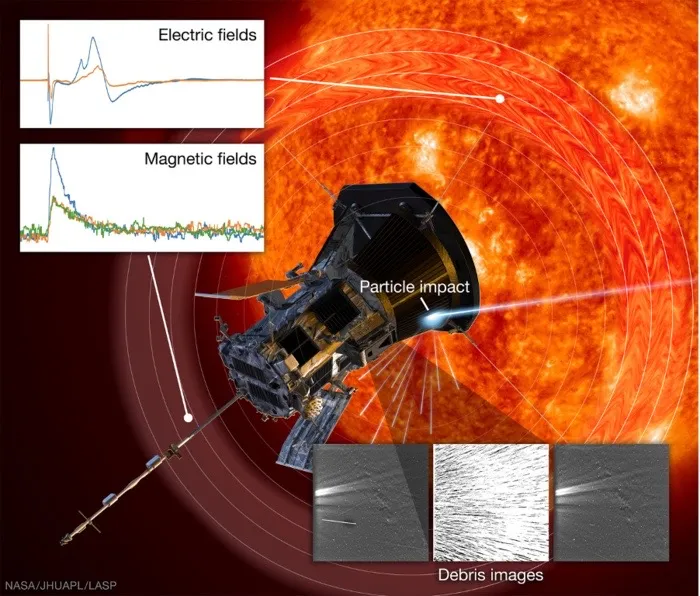 Sino-Russian Center For Space Weather Monitoring Operational
A space weather center set up by China and Russia began operating on Tuesday to provide services for aviation operators around the world.
The China-Russia Consortium Global Space Weather Center monitors space weather events including solar activities and releases advisories for aviation operators, said Zhang Xiaoxin, director of the National Satellite Meteorological Center's space weather department.
"Space weather can affect aviation flight safety, aviation communication, positioning and the effectiveness of avionics," he said.
Read more at: Spacedaily
The US Space Force Wants to Clean Up Junk in Orbit
Early Monday morning, a field of debris hurtled at some 17,000 miles per hour through the part of space where a derelict Russian satellite, Cosmos 1408, once orbited. Later that day, US State Department officials claimed that the 1,500-plus bits of flotsam originated from a Russian test of an anti-satellite missile. The risks of so much floating junk immediately became apparent: The fragments flew dangerously close to the International Space Station, forcing the crew to take shelter in the least vulnerable parts of the spacecraft.
Read more at: Wired
When Debris Disaster Strikes
In 2021 so far, some 2467 new objects large enough to be tracked have been added to world catalogues of orbital objects, out of which 1493 are new satellites and the rest are debris. While new objects are added, others are dragged down to Earth by the atmosphere where they safely burn up, resulting in a net increase of at least 1387 trackable objects between 2020 and 2021. In addition, an estimated 1500 new objects – an increase of about 5% with respect to the total population – were added just this week, meaning the risk to missions must be reassessed.
Read more at: ESA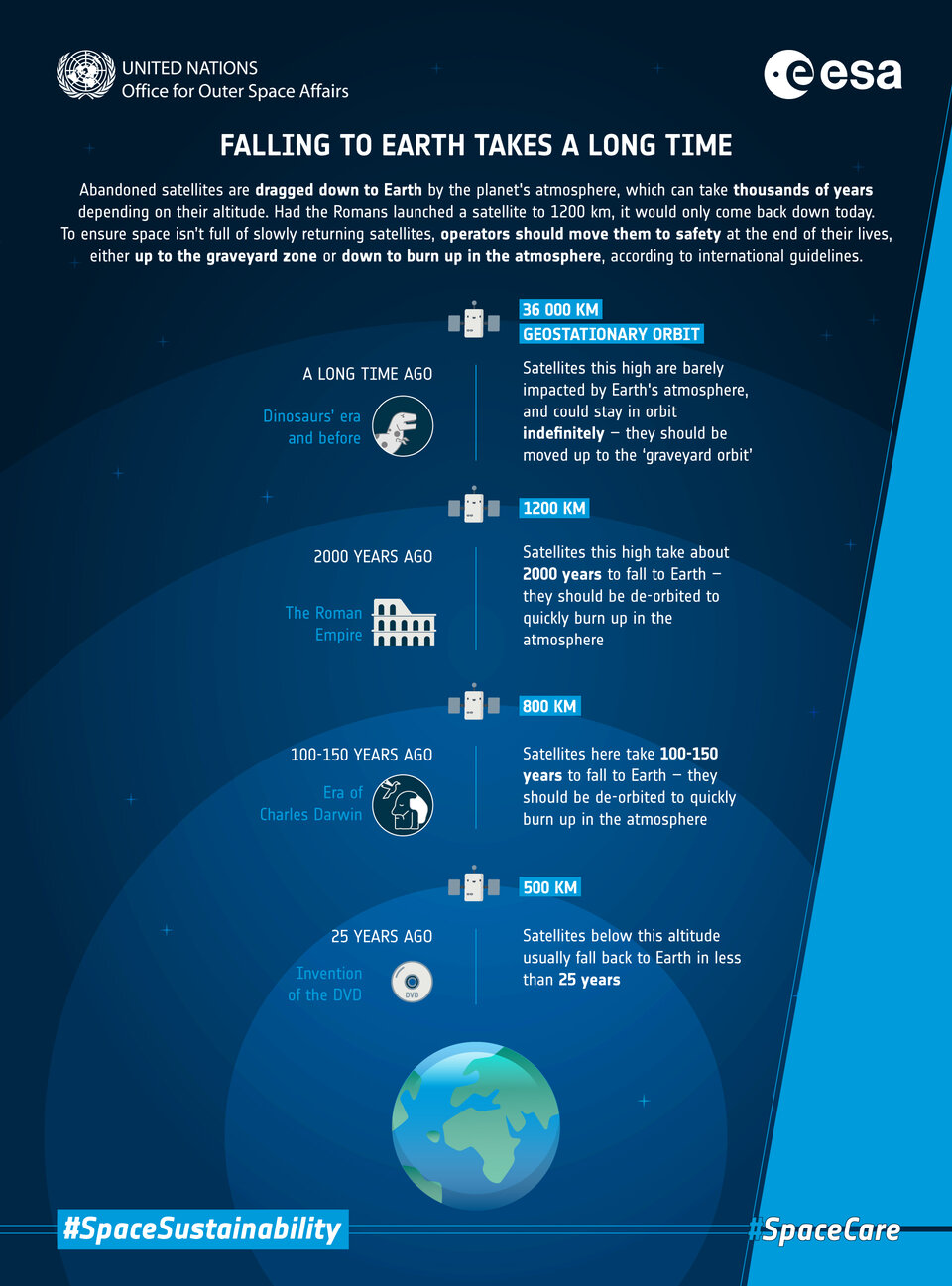 NEW SPACE/COMMERCIAL
German-French Space Tech Startup The Exploration Company Raises €5.3 Million For Its Mission To Democratise Space Exploration
The Exploration Company was founded earlier this year and has just closed its oversubscribed seed round of €5.3 million. The funding round was led by Promus Ventures, with co-investors Vsquared and Cherry Ventures.
The startup was founded in June 2021 by a team of former and experienced Airbus and ArianeGroup employees with a mission to make space exploration affordable, available, and open. Headquartered in Munich, the young company is a European endeavour with French Hélène Huby as CEO and Co-founder. 
Read more at: eu-startups
Musk Says First Orbital Flight For Moon Rocket In Early 2022
Elon Musk said Wednesday that the Starship developed by his company SpaceX and selected by NASA for the Americans' return to the Moon would attempt its first orbital flight early next year.
"We'll do a bunch of tests in December and hopefully launch in January," Musk said in a talk for the National Academies Space Studies Board.
"There's a lot of risk associated with this first launch," he said. "So I would not say that it is likely to be successful, but I think we will make a lot of progress."
Read more at: Spacedaily
Steve Wozniak's Startup Privateer Plans To Launch Hundreds Of Satellites To Study Space Debris
Apple co-founder Steve Wozniak's startup Privateer aims to help humanity get the goods on space junk before it's too late. The Hawaii-based company, whose existence Wozniak and co-founder Alex Fielding announced in September, wants to characterize the ever-expanding space debris population like never before. Privateer will do this by incorporating a variety of data, including crowdsourced information and observations made by its own sizable satellite fleet. "I think we're looking at several hundred satellites," Privateer Chief Scientific Adviser Moriba Jah told Space.com. "We won't launch all several hundred at once; we'll just slowly build it up."
Read more at: Space.com
Rocket Lab Successfully Deploys Satellites After Getting Back Into Space
Rocket Lab has successfully completed its first mission in almost four months, with a launch on Thursday afternoon from the Māhai Peninsular near Gisborne going smoothly.
The company last week delayed the launch – which was first since it listed on the United States' Nasdaq stock market in August – because of a suspect sensor reading.
Rocket Lab confirmed shortly after 5pm that the two observation satellites owned by regular commercial customer BlackSky that were on broad its Electron rocket had been successfully deployed.
Read more at: Stuff
Astroscale and New Zealand to Cooperate on Space Safety and Sustainability
Astroscale Holdings Inc. ("Astroscale"), the market leader in satellite servicing and long-term orbital sustainability across all orbits, today announced it has signed a Memorandum of Understanding with New Zealand's Ministry of Business Innovation & Employment ("MBIE") to cooperate on areas of space safety and sustainability, including debris mitigation and remediation, and on-orbit servicing in general.
The collaboration is focused on partnership in projects and activities that support long-term space sustainability, including joint technology development and research.
Read more at: Astroscale

PLD Space Exhibits The First Privately-Developed Spanish Rocket
PLD Space has achieved a new milestone with the official presentation in Madrid of its MIURA 1 rocket, that has been exhibited fully assembled for the first time in the capital's National Museum of Natural Science. This suborbital vehicle is a key step in launch vehicle development, a pathfinder for MIURA 5 development.
From the beginning, the objective of PLD Space has been to become the European Microlauncher Company, a reference within the sector through the use of reusable rockets dedicated to the launch of small satellites.
Read more at: Spacedaily
First All-Private Space Station Mission To Include Two Dozen Experiments
A private space company that's planning to send the first all-private crew to the International Space Station announced on Wednesday that they will conduct medical and scientific experiments during their time in low Earth orbit.
Axiom Space said former NASA astronaut Michael Lopez-Alegria will command the crew of four, who will fly to the space station on a SpaceX rocket in February. The company has not announced a firm date.
Read more at: Spacedaily
Commercial Spaceports Seen As The Future For European Launch
Actors engaged in the emerging European commercial launch sector are looking to European commercial spaceports to be established rather than shipping rockets farther afield.
In a panel discussion at the Space Tech Expo Europe in Bremen, Germany, Nov. 17, representatives from the launch sector and agencies outlined the key factors in spaceport selection, as well as the drivers, needs of customers and challenges in getting safely to orbit.
With the recent explosion in satellite constellation plans and proliferation of launcher concepts, spaceports are also necessary.
Read more at: Spacenews
SpaceX Fires Up Starship SN20 Prototype In Key 6-Engine Test (Video)
SpaceX continues to prep its latest Starship prototype for a landmark orbital test flight. The Starship SN20 vehicle ignited all six of its Raptor engines in a brief "static fire" test today (Nov. 12) at Starbase, SpaceX's facility near the South Texas village of Boca Chica. "Good static fire with all six engines!" SpaceX founder and CEO Elon Musk tweeted shortly after the test, which took place at 1:13 p.m. EST (1813 GMT; 12:13 p.m. local Texas time) and was webcast by NASASpaceflight.comand SPadre.com.
Read more at: Space.com
SCIENCE AND TECHNOLOGY
Spinlaunch Conducts First Successful Test Of Giant 'Suborbital Accelerator' Satellite Sling
In a development reminiscent of classic science fiction, a California-based startup has performed its first test of a device for launching satellites into space by accelerating them to fantastic speeds instead of loading them atop a rocket engine.
The company announced its successful October 22 test on CNBC on Tuesday, with CEO Jonathan Yaney saying the projectile reached an altitude of "tens of thousands of feet."
Read more at: Spacedaily
A New Era Of Planetary Exploration: What We Discovered On The Far Side Of The Moon
Seven months after it was launched, the US robotic rover Perseverance successfully landed on Mars on February 18 2021. The landing was part of the mission Mars2020 and was viewed live by millions of people worldwide, reflecting the renewed global interest in space exploration. It was soon followed by China's Tianwen-1, an interplanetary Mars mission consisting of an orbiter, lander and rover called Zhourong.
Perseverance and Zhourong were the fifth and sixth planetary rovers deployed in the last decade. The first one was America's Curiosity which landed on Mars in 2012, followed by China's three Chang'e missions that landed on the moon.
Read more at: Space.com
Alternative Rocket Builder Spinlaunch Completes First Test Flight
SpinLaunch, a start-up that is building an alternative method of launching spacecraft to orbit, conducted last month a successful first test flight of a prototype in New Mexico.
The Long Beach, California-based company is developing a launch system that uses kinetic energy as its primary method to get off the ground – with a vacuum-sealed centrifuge spinning the rocket at several times the speed of sound before releasing.
"It's a radically different way to accelerate projectiles and launch vehicles to hypersonic speeds using a ground-based system," SpinLaunch CEO Jonathan Yaney told CNBC.
Read more at: CNBC
NASA Tries to Save Hubble, Again
The Hubble Space telescope, one of the most famous telescopes of the 20th and 21st centuries, has faltered once again. After a computer hardware problem arose in late October, NASA engineers put Hubble into a coma, suspending its science operations as they carefully attempt to bring its systems back online.
Engineers managed to revive one of its instruments earlier this week, offering hope that they will end the telescope's convalescence as they restart its other systems, one at a time. "I think we are on a path to recovery," says Jim Jeletic, Hubble's deputy project manager.
Read more at: Wired
The Moon's Top Layer Alone Has Enough Oxygen To Sustain 8 Billion People For 100,000 Years
Alongside advances in space exploration, we've recently seen much time and money invested into technologies that could allow effective space resource utilisation. And at the forefront of these efforts has been a laser-sharp focus on finding the best way to produce oxygen on the Moon. In October, the Australian Space Agency and NASA signed a deal to send an Australian-made rover to the Moon under the Artemis program, with a goal to collect lunar rocks that could ultimately provide breathable oxygen on the Moon.
Read more at: Conversation
South Korea To Develop Reusable Rocket With 100-Ton Thrust Engines
Starting next year, South Korea will develop a reusable rocket with a cluster of liquid-fueled 100-ton thrust engines. The Korea Aerospace Research Institute (KARI) will be responsible for its development, though a concrete timetable and other details of the mission are up in the air.
A ruling party lawmaker announced the plan Nov. 10 after a meeting attended by Minister of Science and ICT Lim Hye-sook and members of the National Assembly's Science, ICT, Future Planning, Broadcasting and Communications Committee.
Read more at: Spacenews
NASA's DART Probe Will Deliberately Smash Into An Asteroid: How To Watch The Launch
NASA's DART spacecraft will soon blast off into the cosmos aboard a SpaceX Falcon 9 rocket. But this isn't any old spacecraft. Unlike beloved robotic explorers Lucy and the Parker Solar Probe, DART won't be gathering scientific secrets hidden in the universe. It's programmed to crash. DART (Double Asteroid Redirection Test) is NASA's test run of a planetary defense system intended to nudge incoming asteroids away from Earth — by literally smashing spacecraft into them. The spacecraft's launch window opens this week on Tuesday, Nov. 23, at 10:21 p.m. PT
Read more at: CNET
SPACE POLICY
NASA IG Disputes NASA's Optimism on Artemis Schedule
NASA's Inspector General does not agree the next American astronauts will arrive on the Moon in 2025, the date announced by NASA last week, which is a year later than earlier planned. A new audit released today concludes it will be 2026 at the earliest and estimates the cost of the Artemis program at $93 billion through 2025.
NASA conceded last week that it cannot meet the 2024 goal set in 2019 under President Trump and embraced by President Biden earlier this year. A seven-month delay in the development of a Human Landing System (HLS) to get down to and back from the lunar surface due to litigation over the contract NASA awarded to SpaceX was a major factor in the delay. NASA Administrator Bill Nelson cautioned that the agency would not really have a good handle on the schedule until it could sit down with SpaceX for a detailed review, but 2025 is the tentative new goal.
Read more at: Spacepolicy online
Harris Announces New Space Cooperation with France
As part of her ongoing visit to France, Vice President Harris and French President Macron have agreed on additional space cooperation. It includes initiation of regular bilateral meetings and a partnership on a Space Climate Observatory to make space data accessible to local communities to help mitigate climate change.
Harris chairs the White House National Space Council.  Before leaving for France she announced that the first meeting of the Space Council will take place on December 1.
Read more at: Spacepolicy online
Space Ecosystem Rife For Private Players: ISRO Chief
Noting that the space ecosystem was rife with opportunities for private players, ISRO Chairman K Sivan on Thursday said operational space activities of the organisation will be open for the private industry to take up and commercially benefit from it.
At the same time, for sustaining the existing capabilities of the Indian Space Research Organisation (ISRO), the New Space India Limited will play an enhanced role in meeting user-driven demands, he said, addressing the Times Now Summit 2021.
Read more at: Deccan herald
Who Owns The Moon? One Man's Lunar Claim
Earth's cold moon looms as hot property, as NASA and other organizations work to establish human outposts on the lunar surface in the not-too-distant future. And with that promise comes a likely upsurge of legal issues regarding tapping the moon's resources — especially the water ice that's thought to be abundant on the permanently shadowed floors of polar craters. This is a 21st century, front-and-center discussion, but it's part of a decades-old dialog: Who can lay claim to space and, perhaps more pressingly, who owns the moon? That question was tackled in an Oct. 18 video conversation sponsored by the New York-based Explorers Club.
Read more at: Space.com
SPACE DEFENSE
Russia Ready To Discuss All Space Security Issues With US
Russia is ready to discuss the entire spectrum of space security issues with all interested countries, including the United States, Russian Foreign Ministry spokeswoman Maria Zakharova said.
"We confirm our readiness to discuss the entire spectrum of space security issues with all interested states, including the United States. We are convinced that the launch of negotiations on an international agreement prohibiting the deployment of any types of weapons in space, the use or threat of the use of force against or with space objects – the right way to reduce tensions and relieve states' concerns in the context of ensuring the safety of space activities," Zakharova said in a statement.
Read more at: Spacewar
Pentagon Wants to Make Its Space Assets 'More Difficult to Find' After Russia's Anti-Satellite Test
Earlier this week, Russia's Defence Ministry stressed that the US was well aware that fragments of the downed Russian satellite pose no threat to the International Space Station and other space assets, given the test's timing and orbital parameters. The US Space Force director of staff, Lt. Gen. Nina Armagno, has said she believes that Russia's recent anti-satellite launch further necessitates the military's drive to better defend American space assets.
Read more at: Sputniknews
Satellite Attack: The Mounting Arms Race In Space
Last year a US general made an ominous revelation: two Russian satellites in orbit were stalking a US spy satellite high above the earth.
It wasn't clear if the Cosmos satellites could attack USA-245, an American surveillance spacecraft.
"It has the potential to create a dangerous situation in space," said General Jay Raymond, head of the Pentagon's Space Command.
The incident passed, but it marked a new stage in the mounting arms race in space, where potentially bomb-armed satellites, laser-shooting spacecraft and other technologies have moved from science fiction to reality.
Read more at: Spacewar
France Boosts Space Surveillance With Satellites Launch
France on Tuesday boosted its space surveillance capabilities with the launch of three electromagnetic-monitoring military satellites, one of only four nations known to operate this kind of technology.
A Vega rocket carrying the Ceres satellites took off from Kourou in French Guiana, and placed them into orbit soon after.
Unlike conventional surveillance satellites, these are able to locate items emitting electromagnetic energy at all times of the day and night, in all weather including from behind clouds.
Read more at: Spacewar
Space Force Leader Suggests Education Secretary Should Be On The National Space Council
Early education about the value created by space technology should be a national priority, the top enlisted leader of the U.S. Space Force said Nov. 11.
That is why it might be a good idea to have the secretary of education on the National Space Council, said Chief Master Sgt. Roger Towberman during a live webcast interview with Jamie Morin, executive director of the Aerospace Corp. Center for Space Policy and Strategy.
The most talented people find their passion very early in life, so more should be done to attract high achievers to the field of space, Towberman said.
Read more at: Spacenews
VARIOUS
US Senator Pushes 'Urgent' Bipartisan Proposal to Create UFO Investigation Agency
If the efforts led by Senator Kirsten Gillibrand (D-NY) end in success, the United States government could welcome a new bureau – the "Anomaly Surveillance and Resolution Office" – entirely dedicated to investigating "unidentified aerial phenomena" (UAP), or UFOs. Senator Kirsten Gillibrand (D-NY), along with several other sponsors from both the Democratic and Republican parties, has rolled out a proposal to create an expansive intelligence programme to investigate UFOs, saying that the need for such an initiative is "urgent".
Read more at: Sputniknews
SpaceX Crew Launch Marks 600 Space Travelers In 60 Years
A SpaceX rocket carried four astronauts into orbit Wednesday night, including the 600th person to reach space in 60 years.
The repeatedly delayed flight occurred just two days after SpaceX brought four other astronauts home from the International Space Station. They should have been up there to welcome the newcomers, but NASA and SpaceX decided to switch the order based on Monday's ideal recovery weather in the Gulf of Mexico and pulled it off.
Read more at: ABC news

The Cosmos Beckons For Snoopy Onscreen And In Real Life
A new rocket designed to launch humans to the moon, Mars and beyond will launch next year from Kennedy Space Center in Florida. On board, will be a familiar fuzzy figure — Snoopy.
A 5-ounce plush toy version of the daydreaming beagle — wearing a space suit designed according to NASA's strict specifications — has an important job for the Artemis I unmanned mission.
NASA uses stuffed animals on flights because when the little guys start to float, it indicates that the spacecraft has entered space's zero gravity. Since the toys are soft and light, they won't break anything or accidentally strike a button.
Read more at: Orlando sentinel
Blue Origin Astronaut Glen de Vries Dies in Plane Crash
One of Blue Origin's newest astronauts, 49-year-old Glen de Vries, survived a ride to space in October alongside actor William Shatner. But less than a month later, he was killed in a small plane crash on Thursday in New Jersey. "Our thoughts and support go out to Glen's family," said a spokesperson for Dassault Systèmes, where de Vries was the vice chairman of life sciences and healthcare. Our deepest sympathy also goes out to our MEDIDATA team, which Glen co-founded. His tireless energy, empathy and pioneering spirit left their mark on everyone who knew him. We will truly miss Glen, but his dreams — which we share — live on: we will pursue progress in life sciences & healthcare as passionately as he did."
Read more at: CNN