TOP NEWS
NASA Returns Hubble to Full Science Operations
NASA's Hubble Space Telescope team recovered the Space Telescope Imaging Spectrograph on Monday, Dec. 6, and is now operating with all four active instruments collecting science. The team has still not detected any further synchronization message issues since monitoring began Nov. 1.
The team will continue work on developing and testing changes to instrument software that would allow them to conduct science operations even if they encounter several lost synchronization messages in the future. The first of these changes is scheduled to be installed on the Cosmic Origins Spectrograph in mid-December. The other instruments will receive similar updates in the coming months.
Read more at: NASA
Shenzhou-12 Astronauts Meet Press After Initial Recovery
The three astronauts of China's Shenzhou-12 crewed mission met the press on Tuesday, the first such appearance since their initial recovery after returning to Earth in September.
At the press conference held at the Astronaut Center of China in Beijing, Jing Haipeng, head of the Astronaut Corps of the Chinese People's Liberation Army, introduced the Shenzhou-12 crew's recovery and follow-up plans.
According to Jing, the recovery following the astronauts' return to Earth has three stages: quarantine, recuperation and observation. So far, the crew has completed the second stage. They are emotionally stable and in a good psychological condition, their weight is at the same level as before the flight, and they have further restored their muscle strength, endurance and cardio functions.
Read more at: News.CN
NASA Announces New Astronauts As Safety Panel Recommends Strategic Planning For Space Exploration
NASA announced a new class of astronauts that will be eligible for missions to the moon on the same day the agency's safety advisers called for strategic planning to ensure success in those exploration efforts.
In a ceremony at Ellington Field near NASA's Johnson Space Center in Houston Dec. 6, the agency introduced the 10 members of the astronaut class of 2021. The six men and four women, ranging in age from 32 to 45, include military pilots, engineers and a flight surgeon who previously worked for both NASA and SpaceX.
Read more at: Spacenews
China's Manned Moon Landing Possible Before 2030: Scientist
It is "entirely possible" for China to perform a crewed lunar landing before 2030, said a senior Chinese scientist in deep-space exploration.
"I personally think that as long as the technological research for manned moon landing continues, and as long as the country is determined (to achieve the goal), it is entirely possible for China to land people on the moon before 2030, " Ye Peijian said in a recent interview with the state broadcaster CCTV.
Chief designer of China's first moon probe Chang'e-1 and an academician of the Chinese Academy of Sciences, Ye noted that space exploration is not just a matter of science, but also something related to the future of a nation.
Read more at: News.CN
1st Space Council Meeting Under VP Harris Highlights Climate Change, Competitiveness And Responsible Space Behavior
It looks like planet Earth will get a healthy dose of attention in U.S. space policy going forward.
The National Space Council (NSC) met for the first time under Vice President Kamala Harris on Wednesday (Dec. 1). During the livestreamed event, which was held at the United States Institute of Peace in Washington, Harris stressed that space planners should look down at their home planet as well as out into the cosmos.
Read more at: Space.com
SPACE HAZARDS & STM
Eagle Professor's Space Debris Removal Device Receives Patent
An Embry-Riddle Aeronautical University professor and his co-inventors patented a device that provides a workable strategy for combating the problem of debris accumulating in space from defunct satellites.
Known as the Drag De-Orbit Device, or D3, the invention can guide small satellites from low Earth orbit, maneuvering them through Earth's atmosphere, where they burn up. Destruction of the satellites — known as CubeSats, which are increasingly used in low-cost research experiments — is necessary to prevent them from colliding with and damaging other orbiting systems, including manned spacecraft such as the International Space Station.
Read more at: ERAU
Space Station Dodges Space Debris From Decades-Old Pegasus Rocket
The International Space Station dodged a fragment of a decades-old rocket body early Friday morning, continuing a stretch of space debris threats to the orbiting laboratory. On Friday (Dec. 3) at around 3 a.m. EST (0800 GMT), a Russian cargo ship docked to the International Space Station fired for a little under three minutes to lower the facility's orbit and ensure that it would pass safely by the debris, according to statements from NASA and its Russian counterpart, Roscosmos. In a tweet posted on Wednesday (Dec. 1), Roscosmos flagged the risk posed by the rocket fragment, which it said was estimated to pass as close as 3.4 miles (5.4 kilometers) to the space station.
Read more at: Space.com
Space Council Condemns Russian ASAT Test, DOD Calls for End To Debris-Creating Tests
The first meeting of the Biden-Harris Administration's National Space Council covered a lot of ground, but a main focus was Russia's recent antisatellite test and the resulting debris that is imperiling satellites in low Earth orbit, not to mention the seven crewmembers aboard the International Space Station.
In her opening remarks, Vice President Kamala Harris criticized the test, which has created at least 1,700 pieces of trackable space debris.
"By blasting debris across space, this irresponsible act endangered the satellites of other nations, as well as astronauts in the International Space Station."
Read more at: Spacepolicy online
NASA Astronauts Complete Spacewalk Which Was Postponed Due To Debris Risk
Two NASA astronauts completed an hours-long spacewalk on Thursday morning that was earlier postponed due to a risk of space debris.
Astronauts Thomas Marshburn and Kayla Barron left the hatch at 6:15 a.m. EST and successfully conducted a spacewalk that lasted 6 hours and 32 minutes to replace a faulty antenna.
The duo replaced "a degrading SASA unit with a spare onboard," NASA tweeted. The spacewalk ended at 12:47 p.m. EST with both the astronauts back in the hatch.
Read more at: ABC news
NEW SPACE
Rocket Lab to Launch Three Dedicated Electron Missions for Earth Imaging Company Synspective
Rocket Lab USA, Inc. ("Rocket Lab" or the "Company"), a leading launch provider and space systems company, has today announced it has signed a deal with Japanese Earth imaging company Synspective to carry out three dedicated Electron launches.
The first two missions are scheduled for lift-off from Rocket Lab Launch Complex 1 in 2022, with a third to follow in 2023. Each mission will deploy a single StriX satellite, growing Synspective's synthetic aperture radar (SAR) constellation developed to deliver imagery that can detect millimetre-level changes to the Earth's surface from space, independent of weather conditions on Earth and at any time of the day or night.
Read more at: Business wire
Ursa Major Raises $85M To Disrupt The Vertically Integrated Launch Sector
The launch sector is getting crowded. Many of the biggest players are building their own rocket engines, but space startup Ursa Major is betting that many new launch providers would rather outsource the engine than build it in-house.
Six years after being founded by former SpaceX and Blue Origin propulsion engineer Joe Laurienti, the company is ready to scale up its ambitions, and it just closed its largest funding round to date to do so: an $85 million Series C led by funds and accounts managed by BlackRock, as well as participation from XN, Alsop Louie, Alpha Edison, Dolby Family Ventures, KCK, Space Capital, Explorer 1, Harpoon Ventures and others.
Read more at: Techcrunch
Private Space Company Astra Planning January Launch From Cape Canaveral
The private space company Astra is planning its first commercial launch from Florida's Space Coast, helping NASA put a satellite into orbit, according to a news release.
The launch, set for sometime in January 2022, will see Astra's Rocket 3.3 take off from Cape Canaveral's Space Launch Complex 46, the company said.
Read more at: Click orlando
China's Galactic Energy Launches Second Ceres-1 Rocket Successfully
The Chinese private spaceflight company Galactic Energy has made the second flight of its Ceres-1 rocket, carrying five satellites into orbit, including a satellite known as Golden Bauhinia-1-03. The launch took place at 04:12 UTC on Tuesday, December 7th (12:12 Beijing time) from the Jiuquan Satellite Launch Center.
The Ceres-1 is a four-stage rocket, using three solid-fueled stages with a hydrazine-fueled fourth stage to complete orbital insertion and refinement. Ceres-1 is capable of launching a payload of up 400 kilograms to low Earth orbit, or up to 230 kilograms into a sun-synchronous orbit at an altitude of 700 kilometers.
Read more at: NASA Spaceflight
SpaceX Stacking Two Starships At Once For The First Time In Ten Months
As of late November, SpaceX has begun stacking two Starship prototypes simultaneously for the first time in ten months.
Known as Starship S21 and S22, SpaceX began stacking the latter prototype inside Starbase's 'midbay' in mid-October – the first Starship assembly work seen in more than two and a half months. For about half a year, SpaceX has been significantly more focused on Super Heavy production as it works to thoroughly test a booster for the first time. In the interim, the assembly of Starships – which already have an impressive history of ground and flight tests – slowed to a halt, though the production of Starship parts did not.
Read more at: Teslarati
NASA's Future Is In Private Space Companies' Hands
The private space players who will drive NASA's plans for the coming decade are declaring themselves and defining the stakes. Why it matters: NASA plans to focus on getting people to Mars and the Moon, and its deep space exploration ambitions hinge on the agency being able to successfully hand over major operations in low-Earth orbit to private companies. The space agency hopes companies will build private space stations that its astronauts can use and to continue to buy space on private rockets for launching its satellites and other payloads to orbit and beyond. NASA's "big experiment" right now is to test where these commercial partnerships work, the Planetary Society's Casey Dreier told Axios.
Read more at: Axios
What Is Starlink? Inside The Satellite Business That Could Make Elon Musk A Trillionaire.
On Thursday, SpaceX launched 48 Starlink satellites into orbit off the coast of Florida. From Arizona to Alabama, people could spot glimmers in the sky as the satellites orbited the Earth's atmosphere. These streaks of light could be the reason Elon Musk becomes a trillionaire, according to an October report by Morgan Stanley sent to USA TODAY. Morgan Stanley predicted a $100 billion base valuation for SpaceX, chiefly driven by innovations within Starlink.
Read more at: USA today
What's Next After the International Space Station?
The coming decade will see a time of transition when it comes to human spaceflight in low-Earth orbit. NASA's Office of Inspector General sent out a tweet last week, releasing a report on the state of the International Space Station (ISS) and suggestions for the coming decade.
Specifically, the audit highlights the need to end NASA's role in the ISS by 2030. The station is currently approved for operations through 2024, and an extension until 2030 seems likely.
Read more at: Sky and Telescope

SPACE SCIENCE & TECHNOLOGY
The NASA-China Space Race Is About To Go Nuclear
Recently, NASA and the United States Department of Energy put out a call for industry to propose designs for a nuclear power plant that could be deployed on the moon within the decade, according to Science Alert. In the meantime, Interesting Engineering reports that China has completed a design for its own lunar-based nuclear reactor. The two news items suggests that both sides of the current space race are very serious about returning to the moon and developing Earth's nearest neighbor in a big way.
Read more at: Hill
Need to Test a Space Suit? Head to Iceland
How do you prepare for a mission to the moon or Mars? You can't take a quick jaunt to get the lay of the land, so you need to find the next best thing. And there isn't much better than our very own slice of an alien world right here on Earth: Iceland.
Famously used by the Apollo astronauts in the 1960s to prepare for their historic lunar excursions, Iceland's unique features and terrain make it an ideal testbed for missions to other worlds. "You have subsurface ice. You have lava tubes. You have areas of intense volcanic activity," says Daniel Leeb, executive mission director of the Iceland Space Agency (ISA), a private research organization not affiliated with the Icelandic government.
Read more at: Wired
France To Mimic Musk With Own Spacex-Style Launcher, Minister Says
European space company ArianeGroup will develop a reusable mini-launcher to compete with the likes of Elon Musk's SpaceX, French Finance Minister Bruno Le Maire said on Monday.
The launcher "must be able to be operational in 2026", Le Maire said during a trip to the ArianeGroup site at Vernon in Normandy, where the engines of Ariane rockets are tested.
"For the first time Europe…will have access to a reusable launcher. In other words, we will have our SpaceX, we will have our Falcon 9. We will make up for a bad strategic choice made 10 years ago," Le Maire said.
Read more at: Reuters
Nissan Unveils Lunar Rover Prototype Developed With JAXA
Nissan Motor Co. unveiled Thursday a prototype of a lunar rover co-developed with Japan's space exploration agency that will employ the automaker's motor control technology to maneuver across the Moon's loose terrain.
The automaker said it aims to make the rover capable of traversing the undulating Moon surface smoothly by applying technology developed for use in its roadgoing electric vehicles such as the Leaf and Ariya.
Read more at: Kyodo news
NASA Is About To Launch A Laser Demo That Could Revolutionize Space Communication
The use of invisible lasers in space may sound like something from science fiction, but it's real. NASA's upcoming Laser Communications Relay Demonstration could revolutionize the way the agency communicates with future missions across the solar system. These lasers could lead to more high-definition videos and photos from space than ever before, according to the agency. The mission is set to launch as a payload aboard the US Department of Defense's Space Test Program Satellite 6 on December 5 from Cape Canaveral, Florida. The launch window will remain open from 4:04 a.m. to 6:04 a.m. ET, and the agency will share live coverage of the launch on NASA TV and its website.
Read more at: CNN
South Korea's Hanwha To Expand Space Business Portfolio With Rocket Development
An aerospace affiliate of South Korean conglomerate Hanwha Group will develop a small satellite launcher in cooperation with the Korea Aerospace Research Institute (KARI), in the group's latest effort to diversify its business portfolio in the space sector. 
Hanwha Aerospace unveiled the plan Dec. 6, saying the two organizations recently had a joint meeting for preliminary requirement review on their envisioned rocket. While the rocket will be designed to deliver up to 500 kilograms of payload to low-Earth-orbit, other details, including budget, development timetable and required technologies, remain undecided, Hanwha Aerospace spokesman Danny Oh told SpaceNews.
Read more at: Spacenews
SPACE POLICY
House Passes Compromise FY2022 NDAA
A new version of the FY2022 National Defense Authorization Act crafted by the bipartisan leadership of the House and Senate Armed Services Committees passed the House tonight. Released just a few hours ago, the annual defense policy bill won quick approval and is on its way to the Senate where expectations are high that it will pass there as well.
The House passed its version of the NDAA in September. The Senate Armed Services Committee (SASC) reported its version in July, but the Senate did not take it up until mid-November. Hundreds of amendments were proposed and efforts by Senate leadership to cull them into a manageable number and move forward have been blocked at many turns.
Read more at: Spacepolicy online
India, Russia Agree To Enhance Space Cooperation
India and Russia have agreed to strengthen cooperation in the space sector, including human spaceflight programs and satellite navigation. The two countries also promised to seek "mutually beneficial" cooperation in developing launch vehicles and the use of outer space for peaceful purposes, including planetary exploration. 
These were part of a broader set of trade, military and technology agreements reached during a Dec. 6 summit between Indian Prime Minister Narendra Modi and Russian President Vladimir Putin in New Delhi. 
Read more at: Spacenews
Biden Administration Issues New Framework For Space Policy, With A Focus On Climate Change
Today, Vice President Kamala Harris' office released a new framework for US space policy, detailing how the Biden administration plans to approach commercial, civil, and military space activity moving forward. Called the United States Space Priorities Framework, the document keeps many of the same space priorities from the previous administration but adds a new emphasis on using space to help combat climate change and investing in STEM education.
The new framework comes ahead of today's National Space Council meeting, the first one to be held under the Biden administration. Harris, who chairs the National Space Council, will convene the policy advisory group at the United States Institute of Peace in Washington, DC, at 1:30PM ET today.
Read more at: Verge
Space Council Gets Not Only More Members, But Expanded Authority in New E.O.
President Biden's Executive Order on the White House National Space Council not only added five members, but expanded the Council's authority to include making budget recommendations for the President's space priorities.
Vice President Kamala Harris chaired the first Space Council meeting of the Biden-Harris Administration on December 1, 2021. In conjunction with that, Biden signed a new Executive Order setting the Council's membership and responsibilities. The new Executive Order supersedes the two issued by President Trump in 2017 and 2020.
Read more at: Spacepolicy online
Congressman Beyer: NASA Should Be Able To Lease Out Some Of Its Facilities
A Virginia congressman is hoping that NASA might be able to raise some extra money to help fund infrastructure on Wallops Island.
This week, the House of Representatives is scheduled to take up a bill introduced by Congressman Don Beyer of Alexandria that would allow NASA to lease some of its properties to make a little extra spending money. But he says don't expect to stay at a space shuttle Airbnb or rent a moon bounce on the moon.
Read more at: wvtf
Roscosmos Expects NASA Head To Visit Russia In Early 2022
Russia's State Space Corporation Roscosmos expects NASA Administrator Bill Nelson to visit Russia in 2022, Roscosmos Deputy CEO for International Cooperation Sergey Savelyev said on Friday.
"We hope that we will arrange a meeting in 2022," he said, replying to a question about the possibility of a visit by the NASA chief to Russia.
Roscosmos Head Dmitry Rogozin earlier said that the NASA chief had promised to come to Russia with his family. For his part, Nelson said that he was looking forward to his meeting with Rogozin.
Read more at: TASS
The Race for Space Supremacy
When Sputnik glided across the sky, the Soviet success surprised the American public and led to a generation of technological advancement. Sixty years later, the U.S. security establishment reacted with surprise as another communist success zoomed through the atmosphere, this time in the form of a nuclear-capable Chinese hypersonic missile. One person familiar with the test reacted to the news with the comment that "we have no idea how they did this."
Read more at: Morning consult
US-China Space Cooperation Is Up In The Air More Than Ever
It's no secret that the United States has been moving towards a more confrontational approach towards China, but the role of outer space in Sino-U.S. relations is growing as China emerges as a leader in space exploration. Although the USSR led the world in exploring space with the first satellite (Sputnik, 1957), the first lunar probe (Luna, 1959), the first man in space (Yuri Gagarin, 1961) and the first space station (Salyut, 1971), since the U.S. placed a man on the moon (Apollo 11, 1969), the U.S. has been the undisputed leader in in the exploration of outer space.
Read more at: Hill

ESA Head Says Europe Needs To Stop Facilitating Elon Musk's Ambitions In Space
The head of the European Space Agency has urged the continent's leaders to stop facilitating Elon Musk's ambition to dominate the new space economy, warning that the lack of coordinated action meant the US billionaire was "making the rules" himself.
Josef Aschbacher, the new director-general of ESA, said that Europe's readiness to help the rapid expansion of Musk's Starlink satellite Internet service risked hindering the region's own companies from realizing the potential of commercial space.
"Space will be much more restrictive [in terms of] frequencies and orbital slots," he said in an interview with the Financial Times. "The governments of Europe collectively should have an interest to… give
Read more at: Arstechnica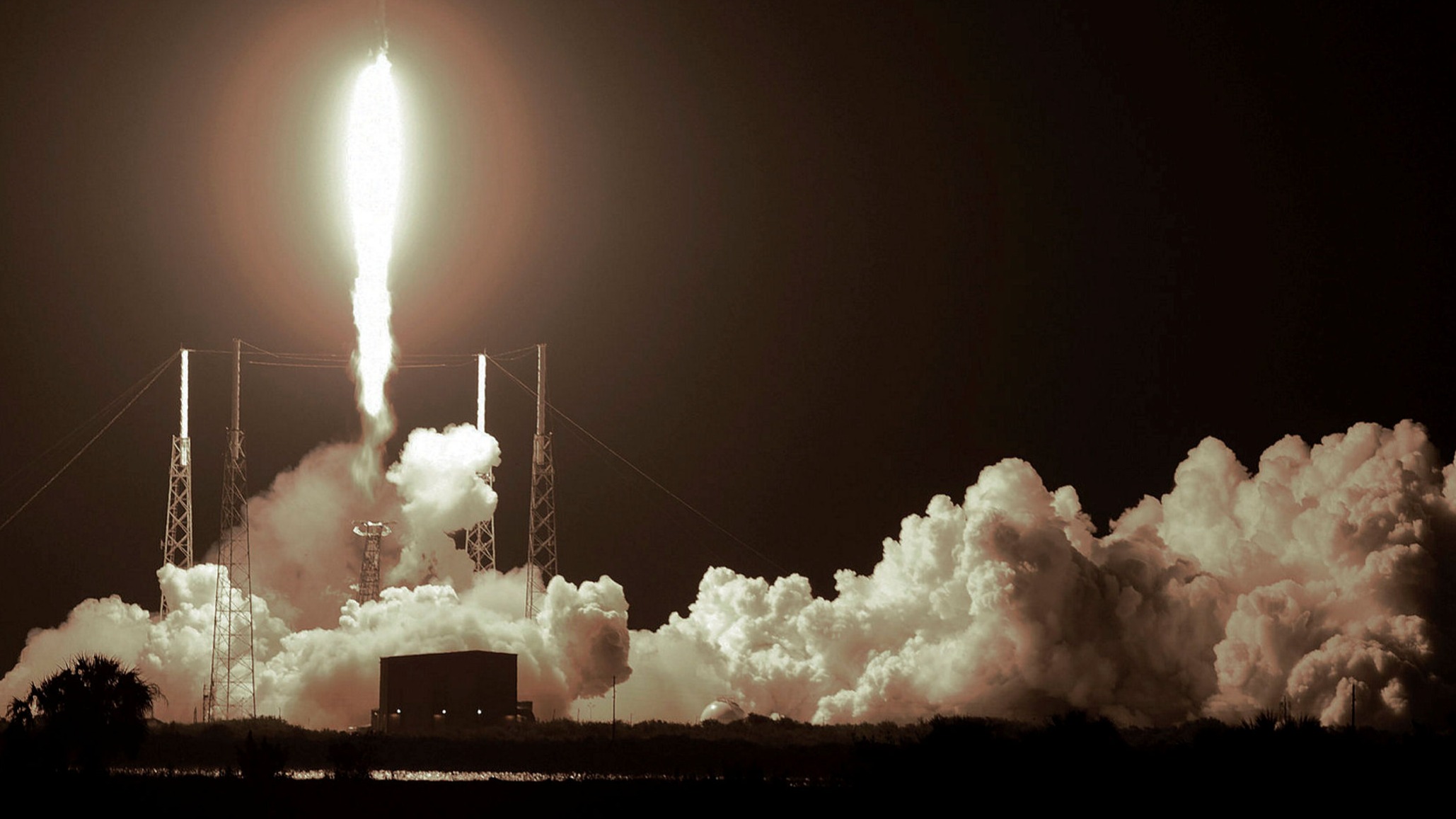 SPACE DEFENCE
Space Force Launches Experimental Sats To Detect Nukes, Test Laser Communications
Space Force today launched two experimental satellites carrying payloads designed to detect nuclear explosions, keep tabs on space objects, monitor the weather and experiment with laser communications, in addition to some other classified capabilities.
The mission, dubbed Space Test Program-3 (STP-3), "advances military and civil experimentation objectives by demonstrating next generation space technologies […] by providing critical data needed to reduce risk for future space programs," Col. Brian Denaro, program executive officer for Space Development at Space Systems Command (SSC), said in a press release.
Read more at: Breaking defense
Military Interest In The Moon Is Ramping Up
There is growing interest in protecting strategic assets in cislunar space, the realm between Earth and the moon. 
The U.S. Space Force is not the only entity engaged in reflecting on the topic of how best to extend military presence far from Earth. Other nations such as China are doing so as well.
Parallel to air, land and sea skirmishes between nations here on Earth, is cislunar space, and perhaps the moon itself, an emerging military "high ground" and new territory for conflict? There's a variance of views, according to experts Space.com talked to.
Read more at: Space.com
Seizing The Space Debris Moment From Russia
Russia's recent anti-satellite weapons test created two parallel, but seemingly contradictory policy opportunities for the United States Space Force: supporting the establishment of an international moratorium on peacetime debris-creating events, while simultaneously developing the capability to rapidly replace lost or damaged assets through diversified launch.
The Russian direct ascent anti-satellite (DA-ASAT) weapons test created upwards of 1,500 unique pieces of trackable debris, to say nothing of pieces too small to be tracked yet still dangerous to both the International Space Station and existing satellite constellations. The threat of this debris, as with other tests by China and India, will last for years, if not decades.
Read more at: Breaking defense
U.S. Space Force General Warns Of China's Growing Military Space Potential
The U.S. Space Force's vice chief of operations warned on Sunday that China is on a rapid pace in space development, adding to mounting concerns that it could outpace the U.S. in space and gain military advantage.
Asked on "Fox News Sunday" whether China could take out U.S. sensors and have first strike capability in space, Gen. David Thompson said "there's a potential," adding, "that's one of the reasons that the Space Force was created" during the Trump administration.
Read more at: Politico
Changes Ahead For Space Force Procurement Organizations
The Pentagon next year for the first time will have a senior procurement executive for space programs, a post mandated by Congress.
Air Force Secretary Frank Kendall told SpaceNews Dec. 2 that a candidate to fill the position of assistant secretary of the Air Force for space acquisition and integration has been selected and is currently being vetted by the White House. The nominee also has to be confirmed by the Senate.
Kendall said having a senior leader in charge of military space acquisitions is hugely important as the Space Force looks to modernize its satellites and other systems developed decades ago, and to acquire advanced technologies needed to compete with China and Russia.
Read more at: Spacenews
Department Of Defense Orders $316 Million More In Anti-Jam GPS Devices
The Defense Logistics Agency has ordered another $315 million worth of GPS modules that can utilize a new anti-jam signal, bringing the total value of the contract with BAE Systems to $641 million.
The purchase will help get more capable Common GPS Modules into the hands of troops, whether in a handheld formfactor or installed in vehicles, aircraft and munitions. The devices are able to use the advanced M-Code, a military-only GPS signal that is more accurate and provides anti-jamming and anti-spoofing capabilities.
Read more at: c4isrnet
Responses To Russian Anti-Satellite Tests Should Be More About Capability Than Condemnation
Recently, the Russian Federation conducted a successful missile launch that destroyed a defunct Kosmos electronic intelligence satellite. This demonstration of precision targeting by a ground-based anti-satellite weapon was widely decried due to its generation of a debris cloud that crossed paths with the orbit of the International Space Station. However important the threat to astronauts, cosmonauts and other satellites in low Earth orbit, the fact of the matter is that this event is not the first time such an ASAT demonstration has been made. Since 2007, China and Russia have both demonstrated their kinetic ASAT technologies. This has been a known problem for more than a decade, and yet the U.S. Space Force and its warfighting counterpart, U.S. Space Command, still lack credible options to deter and defeat ASAT attacks across all orbital regimes. This is a must do; the alternative would be to leave our nation's vital space assets vulnerable to attacks that would affect nearly every part of our modern way of life.
Read more at: c4isrnet
VARIOUS
First European Female ISS Commander Starts Preparation For Flight In Russia
Astronaut Samantha Cristoforetti who will be the first European woman to command the International Space Station (ISS) has already started her preparation for the flight, Russian Industry and Trade Minister Denis Manturov told a meeting of the Russia-Italy committee of entrepreneurs on Monday.
"Currently, the first female European Space Agency astronaut Samantha Cristoforetti has been training at the Yuri Gagarin Cosmonaut Training Center. As far as I know, she can lead the next Expedition 68 on the ISS. I sincerely wish success to this space mission," he said.
Read more at: TASS
Disgruntled Neighbors And Dwindling Shorebirds Jeopardize SpaceX Expansion
Celia Johnson, a retired social worker in her mid-70s, can still vividly describe childhood trips to the slender, sandy beach in Boca Chica Village, Texas. There she and her family spent their days running into crashing waves and collecting shells while feasting on sandwiches and watermelon.
"My dad couldn't afford to take us to the movies," Johnson said. "That was our entertainment."
Read more at: NBC news
Former JSC Director Mark Geyer Passes Away
Mark Geyer, former head of the Johnson Space Center and manager of the Orion program, died Dec. 7 of cancer.
Geyer stepped down as director of JSC May 3 after three years leading the Houston-based center, citing the need to focus on his cancer treatment. At the time of his death he was working as a senior adviser to the NASA associate administrator, Bob Cabana.
"Today, we mourn the loss of a giant for human spaceflight and a beloved member of the NASA family," NASA Administrator Bill Nelson said of Geyer in a statement. "It is difficult to overstate the difference he made."
Read more at: Spacenews
NASA to Dedicate, Rename Rocket Park for Former Director George Abbey
Media are invited to attend the dedication of Rocket Park at NASA's Johnson Space Center in Houston for former director George W.S. Abbey in a ceremony at 10 a.m. CST Friday, Dec. 10.
Home to one of only three Saturn V rockets on display in the world, the facility will now be known as George W.S. Abbey Rocket Park. The Apollo rocket housed inside a protective building there is the only one comprised of all flight-certified hardware capable entering orbit around the Moon.
Read more at: NASA
Japanese Billionaire Blasts Off to International Space Station
Japanese entrepreneur Yusaku Maezawa has blasted off on a trip to the International Space Station (ISS), joining the growing list of billionaires who have made it to space. He plans to carry out 100 tasks in space, including playing golf. Mr Maezawa made his fortune through e-commerce companies including Zozotown. He was once a drummer in a punk rock band, and last year launched a show in search of a new girlfriend to join him in space, but later cancelled it. A Russian rocket carrying Mr Maezawa took off from the Baikonur Cosmodrome in Kazakhstan.
Read more at: BBC