TOP NEWS
NASA Talks Mobile Launcher Refurbishment, Modifications Needed For Artemis II Crew Debut Of SLS
Mobile Launcher 1 (ML1, or ML) is on its way back to the Vehicle Assembly Building (VAB) at the Kennedy Space Center after successfully launching the SLS rocket and Orion/European Service Module duo on the Artemis I mission from Launch Complex 39B (LC-39B) on Nov. 16, 2022.
The ML now needs to be repaired from damage sustained during SLS's debut launch as well as undergo a series of modifications to prepare it for its role on future SLS launches where crew will board the Orion for departure to the Moon and Lunar Gateway.
Read more at: NASA spaceflight
Collins Aerospace Selected To Develop New Space Station Spacesuit
NASA has selected Collins Aerospace to develop a next-generation spacesuit for the International Space Station, replacing aging suits that have become a safety concern.
NASA awarded a task order valued at $97.2 million to Collins to design, build and demonstrate the suit, which will replace the existing, decades-old Extravehicular Mobility Unit (EMU) suits used for spacewalks outside the ISS. The task order covers development of the suit and testing on Earth in a simulated space environment by January 2024.
Read more at: Spacenews
China Is Considering Expanding Its Tiangong Space Station
China is already considering adding modules to its recently-completed Tiangong space station complex, according to a senior space official.
China recently completed construction of its three-module, T-shaped Tiangong space station and conducted its first crew handover, seeing the Shenzhou-14 mission astronauts welcome aboard three new astronauts from Shenzhou-15.
The potential next phase would be adding a new core module, Wang Xiang, commander of the space station system at the China Academy of Space Technology (CAST). 
Read more at: Spacenews
Ukraine's Promin Aerospace On Track For 2023 Flight Test
Ukrainian startup Promin Aerospace remains on track to conduct the first test of its small satellite launch technology early next year, in spite of the ongoing Russian-Ukrainian war.
"We have done a lot of research, development and manufacturing in the last 10 months and we hired two engineers in August," Misha Rudominski, Promin CEO and co-founder, told SpaceNews.
Remaining on track in the midst of a war has not been easy.
Read more at: Spacenews
SPACE HAZARDS and STM
Op-Ed | Let's Keep An Open Dialogue On How To Protect Satellites On Orbit
The United Nations Office for Outer Space Affairs estimated there are at least 8,261 satellites orbiting the Earth. These assets, worth upward of two trillion dollars, enable our national security, economy and civil society. As the National Space Council recognized, space is a "source of American innovation and opportunity." 
Yet satellites on orbit remain remarkably unprotected. 
Read more at: spacenews
An Extinction-Level Asteroid That Could Someday Hit Earth Was Found Hiding Near Venus
Those who have driven a car are surely familiar with the idea of blind spots — the areas around you where you can't easily see, and thus, are uniquely vulnerable to threats. That principle applies to asteroid hunting just as easily. As telescope technology continues to advance, astronomers have used their scopes to peer into those nearby areas of our solar system that are normally difficult to observe.
This brings us to the recent telescopic observations at the Cerro Tololo Inter-American Observatory in Chile. As the scientists there published in September in The Astronomical Journal, there are three near-Earth asteroids (or NEAs) hiding within the glare of the sun, and which apparently had not been previously noticed.
Read more at: Salon
Artemis 1 Orion Spacecraft Suffered Power Blip Hours Before Its Close Lunar Flyby
NASA's Orion spacecraft had a brief power problem on Sunday (Dec. 4) just hours before successfully completing a crucial engine burn near the moon.
A power unit on board the Orion spacecraft turned off four devices "responsible for downstream power" that connect to the Artemis 1 vehicle's propulsion and heating subsystems, NASA officials wrote in a statement (opens in new tab). But mission personnel swiftly put a fix in place and the mission is carrying on, the statement emphasized.
Read more at: Space.com
Chinese Rocket Body Disintegrates Into Big Cloud Of Space Junk
Part of a Chinese rocket that launched the Yunhai 3 satellite last month is now a debris cloud of around 350 pieces. The Long March 6A rocket launched from Taiyuan, north China, on Nov. 11, successfully inserting the Yunhai 3 environmental monitoring satellite into its intended orbit. The upper stage of the rocket, however, apparently suffered a breakup event shortly thereafter. On Nov. 12, the U.S. Space Force's 18th Space Defense Squadron (18 SDS) reported (opens in new tab) that it was tracking at least 50 discrete pieces of orbital debris from the rocket body.
Read more at: Space.com
COMMERCIAL SPACE
Rocket Report: Starship Flight Test Slips To 2023; First Methane Launch Is Imminent
Virgin Orbit launch from UK slips into 2023. Earlier this week Virgin Orbit sent out a news release indicating that the launch window for its LauncherOne mission from Cornwall, England, would open on December 14. But on Thursday, the company said its mission had been delayed for at least several weeks, BBC News reports.
Read more at: Arstechnica
Japanese Billionaire Unveils The 8 Artists He'll Fly To The Moon On Spacex's Starship Dearmoon Flight
A Japanese billionaire picked his crewmates for the first-ever artist-centered mission.
Yusaku Maezawa, who made his fortune as an online fashion retailer, announced the eight people who would be flying with him on the dearMoon mission, which aims to use a SpaceX Starship to fly around the moon as soon as next year.
"I hope each and every one will recognize the responsibility that comes with leaving the Earth, travelling to the moon and back," Maezawa says in the video in Japanese, with a translation provided in-video.
Read more at: Space.com
SpaceX Launches 40 Oneweb Satellites Into Orbit, Aces Rocket Landing
SpaceX launched a big batch of OneWeb internet satellites into orbit Thursday evening (Dec. 8) on a mission that supports a megaconstellation competitor after OneWeb's own launch plans were derailed by Russia's invasion of Ukraine. A Falcon 9 rocket carrying 40 OneWeb satellites launhed from NASA's Kennedy Space Center (KSC) in Florida Thursday at 5:27 p.m. EST (2227 GMT), soaring into orbit in a dazzling sunset liftoff. Cameras on the ground captured stunning views of the Falcon 9 as its first stage separated, then returned to Earth to make a pinpoint landing on a SpaceX pad at the nearby Cape Canaveral Space Force Station.
Read more at: Space.com
SpaceX Launches Falcon 9 Rocket For Commercial Moon Mission
SpaceX launched a Falcon 9 rocket early Sunday, for a rescheduled launch of a commercial lunar mission from a Japanese space company.
The launch aims to take iSpace's HAKUTO-R Mission 1 to a lunar transfer orbit. iSpace is a company that looks to make space infrastructure more "sustainable and efficient." If successful, it would be the first commercial lunar landing.
Read more at: clickorlando
Virgin Orbit: Date Set For Historic Cornwall Rocket Launch
The first ever orbital space launch from the UK is expected to take place on the night of Wednesday 14 December.
Entrepreneur Sir Richard Branson's Virgin Orbit company will run the mission out of Newquay, Cornwall.
It will see a repurposed 747 release a rocket over the Atlantic to take nine satellites high above the Earth.
The date is provisional. Virgin Orbit still needs a licence from the UK Civil Aviation Authority (CAA). Any launch must have the regulator's approval.
Read more at: BBC
Boeing Swipes At Starlink As It Finishes Two Internet Slinging Satellites
Boeing has delivered a pair of O3b mPOWER satellites to telecom network provider SES – and had a dig at rival space broadband technologies along the way.
The spacecraft are scheduled for launch into a Medium Earth Orbit (MEO) of about 5,000 miles (8,000km) next month.
Once in orbit, the satellites "will provide low-latency, high-throughput connectivity to users around the world," said Boeing. The satellites will do this using 5,000 steerable beams in each bird.
Read more at: Register
Blue Origin Conducts Fairing Testing Amid Quiet New Glenn Progress
Blue Origin has quietly been making progress on its orbital New Glenn vehicle, evident by new hardware and test sightings. This progress has been made alongside the ongoing investigation into an in-flight abort of the fourth suborbital New Shepard mission of the year, which continues to keep that program grounded.
Monday morning, Blue Origin was seen testing fairings for New Glenn in the water at the Kennedy Space Center turn basin. While not publicly confirmed, this could be part of a series of tests to evaluate the possibility of reusing the fairings, similar to how SpaceX recovers and reuses Falcon 9 and Falcon Heavy fairings.
Read more at: NASA spaceflight
Chris Pearson Takes The Reins At Agile Space Industries
Chris Pearson, former Roccor CEO and Redwire executive vice president, is the new CEO of Durango, Colorado-based propulsion startup Agile Space Industries.
After initially planning to take a break in early 2023, Pearson decided to join Agile because of its "array of talent" and the opportunity to take "novel spacecraft chemical propulsion products to a part of the space industry that has not seen that much innovation during the new space era," he said by email.
Read more at: Spacenews
SpaceX Rocket Engine Explodes In a Green Blast
A SpaceX Raptor rocket engine exploded during a recent test, joining a long series of epic blasts at Elon Musk's space travel company.
As NASASpaceFlight explains in video of the explosion, the green flash of light that occurred in this specific blaze generally happens when "the engine has started to eat into its copper sections."
Known in the spaceflight world as a "rapid unscheduled disassembly" or RUD, this type of explosion, while spectacular, is fairly common for SpaceX as it throws stuff at the proverbial wall and see what sticks — or, in this case, blows up.
Read more at: Futurism
SCIENCE & TECHNOLOGY
SpaceX Launches Japanese Lander, UAE Rover To The Moon
A pioneering multinational moon mission is underway.
A private Japanese moon lander carrying a United Arab Emirates (UAE) rover, among other payloads, launched early Sunday morning (Dec. 11) from Cape Canaveral Space Force Station in Florida.
The Hakuto-R lander lifted off atop a SpaceX Falcon 9 rocket at 2:38 a.m. EST (0738 GMT), kicking off the first mission for Tokyo-based company ispace. If all goes according to plan, Hakuto-R will make a soft lunar landing next spring — the first ever for a Japanese-built spacecraft.
Read more at: Space.com
Space Exploration Goes Underground
Is there life in Martian caves?
It's a good question, but it's not the right question—yet. An international collaboration of scientists led by NAU researcher Jut Wynne has dozens of questions we need asked and answered. Once we figure out how to study caves on the Moon, Mars and other planetary bodies, then we can return to that question.
Wynne, an assistant research professor of cave ecology, is the lead author of two related studies, both published in a special collection of papers on planetary caves by the Journal of Geophysical Research Planets.
Read more at: Spaceref
Microbial Miners Could Help Humans Colonize The Moon And Mars
The biochemical process by which cyanobacteria acquire nutrients from rocks in Chile's Atacama Desert has inspired engineers at the University of California, Irvine to think of new ways microbes might help humans build colonies on the moon and Mars.
Researchers in UCI's Department of Materials Science and Engineering and Johns Hopkins University's Department of Biology used high-resolution electron microscopy and advanced spectroscopic imaging techniques to gain a precise understanding of how microorganisms modify both naturally occurring minerals and synthetically made nanoceramics.
Read more at: Phys.org
NASA Lost Contact With ICON Spacecraft
NASA's Ionospheric Connection Explorer (ICON) team lost contact with the spacecraft on November 25, 2022. The ICON spacecraft is equipped with a built-in onboard command loss timer that will power cycle or reset the spacecraft after contact is lost for eight days. After the power cycle was complete on December 5, the team was still unable to acquire a downlink signal from the spacecraft. Currently, the team is still working to establish a connection.
Read more at: scitech daily
Airbus Unveils Zero-Emissions Hydrogen-Powered Fuel Cell Engine
On Wednesday, Airbus revealed in a press release that it was developing a hydrogen-powered fuel cell engine as one of the potential solutions to equip its zero-emission aircraft that will enter service by 2035. 
The next steps will be for Airbus to start ground and flight testing this fuel cell engine architecture onboard its ZEROe demonstrator aircraft. The A380 MSN1 flight test aircraft is currently being altered to give it the capacity to carry liquid hydrogen tanks and their distribution systems. 
Read more at: interesting engineering
NASA And Boeing Change SLS Core Stage Assembly Process
NASA and Boeing are changing how they assemble the core stage of the Space Launch System, moving some of the final integration work to the Kennedy Space Center.
Currently, the five major sections of the core stage — forward skirt, liquid oxygen tank, interstage, liquid hydrogen tank and engine section — are manufactured and joined together into a single unit at the Michoud Assembly Facility in New Orleans. The core stage for the Artemis 2 mission is being assembled in that manner and is scheduled to be shipped to the Kennedy Space Center in 2023.
Read more at: Spacenews
Blue Origin And Dynetics Bidding On Second Artemis Lunar Lander
Teams led by Blue Origin and Dynetics, runners-up in NASA's first competition to develop a lander to transport astronauts to the lunar surface, have submitted proposals for a NASA competition to select a second lander.
Blue Origin announced Dec. 6 that it submitted a proposal for NASA's Sustaining Lunar Development (SLD) competition to fund development of a lander capable of transporting astronauts to and from the lunar surface. The announcement coincided with NASA's deadline for SLD proposals.
Read more at: spacenews
Space Travel Is Heating Up—And So Are Rocket Fuel Emissions. These Companies Are Developing Cleaner Alternatives To Protect Earth First
NASA's Artemis I mission ushered in a new era of space exploration last month, with the launch of the first in a series of complex missions to enable human exploration of the moon and Mars.
Despite challenges with supercooled liquid hydrogen leading up to the Nov. 16 launch, the mission successfully utilized the universe's lightest and most abundant element to produce enough energy to power four engines with 2 million pounds of thrust. The other main by-product was water vapor.
Read more at: Fortune
X-Raying Astronauts' Injuries Using Black Holes Could Be Spaceflight's Future
The possibility of sending astronauts to Mars has sparked research into some under-studied spaceflight problems, like what to do if an astronaut breaks a bone or suffers a blood clot. Patching someone up in microgravity is likely to be hard enough, but harder still is having the capacity to map what needs to be done. Rather than transporting an X-ray machine to another world, one experiment is investigating harnessing naturally occurring space radiation.
Read more at: IFLscience
India's First Human Spaceflight Gaganyan In Limbo, Astronauts Partially Trained, ISRO Silent
Gaganyaan, India's first human spaceflight mission, seems to be in a state of limbo, following multiple delays due to the pandemic. The Indian Space Research Organisation (ISRO) is yet to issue a revised timeline of the project, which aims to launch a crew of three astronauts to an orbit of 400 km for three days.
The project was conceived in 2007 and formally approved in 2018 with a budget of Rs 10,000 crore. The first crewed mission was set to be launched in December 2021. Two uncrewed missions, in December 2020 and July 2021, were to be undertaken before the final launch.
Read more at: Print
NASA Is Developing a Pressurized Lunar Rover for Artemis Mission Astronauts
The Artemis mission is aiming to put astronauts back on the moon, but first, they'll need a rover to camp around in. NASA teamed up with the Japan Aerospace Exploration Agency (JAXA) to test a prototype design for a pressurized lunar rover in the Northern Arizona desert in October, all part of a plan to have the rover ready for Artemis VII in 2030.
The testing was led by NASA's Desert Research and Technology Studies (Desert RATS) program, which tests technology at the Black Point Lava Flow near SP Crater. The researchers focused on "conducting pressurized rover operations," a key element of future Artemis missions.
Read more at: Popular mechanics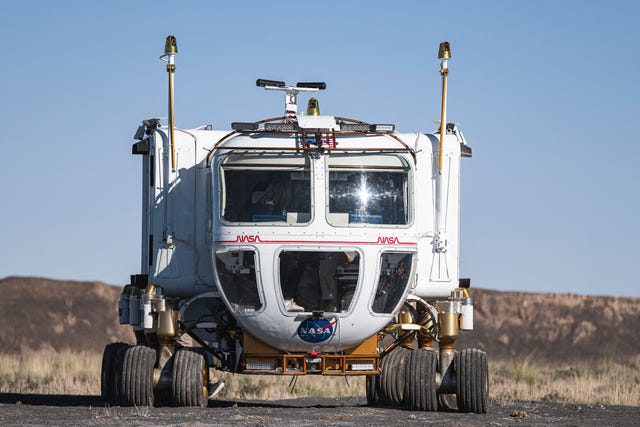 SPACE POLICY
Virgin Orbit Delays Historic Launch From United Kingdom Over Licensing: Reports
The first space launch from the United Kingdom is once again delayed.
Virgin Orbit, which planned to launch satellites in Cornwall aboard its modified 747 carrier aircraft as soon as Dec. 14, pushed back the date several weeks on Thursday (Dec. 8) due to licensing issues surrounding the launch, media reports indicated.
"With licenses still outstanding for the launch itself and for the satellites within the payload, additional technical work [is] needed to establish system health and readiness," CEO Dan Hart said in a statement cited by the BBC (opens in new tab).
Read more at: Space.com
House Committee Leaders Introduce Bipartisan Bills To Update Satellite Rules
The top Democrat and Republican on the House Energy and Commerce Committee introduced bipartisan legislation Dec. 8 to reform the Federal Communication Commission's satellite licensing rules.
House Energy and Commerce Committee Chairman Frank Pallone, Jr. (D-N.J.) and the ranking member, Rep. Cathy McMorris Rodgers (R-Wash.), said their legislation is needed to modernize the FCC for the rapidly changing space industry.
Their two bills — the Satellite and Telecommunications Streamlining Act and Secure Space Act — seek to update regulations covering foreign ownership, space sustainability, license processing timelines, and satellite spectrum sharing.
Read more at: Spacenews
Irish Airspace Access To Be Briefly Restricted During UK Virgin Satellite Launch
ACCESS TO IRISH airspace is set to be briefly restricted when a satellite is launched by the UK later this month.
Commercial operator Virgin Orbit is planning to launch a satellite this month from Spaceport Cornwall, which is based at an airport in south-west England.
The plan involves an adapted Boeing 747 taking off from the airport while carrying a small underwing rocket. The rocket will then be released and ascend to space.
Read more at: Journal
Norwegian Airspace Strategy: Extent And Delimitation Of The Airspace
The airspace is a part of Norway's territory in the same manner as the mainland territory and territorial waters. It is an alternative transport route to maritime and mainland transport but also the basis for other important functions in society. Sovereignty and the Norwegian right to exercise control are therefore just as important in the airspace as on the mainland and in territorial waters. In order to be able to administer this territory in a sound manner, an important starting point is to be aware of the geographical boundaries of the airspace.
Read more at: regjeringen
A Globally Critical Chip Firm Is Driving A Wedge Between The U.S. And Netherlands Over China Tech Policy
Washington has its eyes on the Netherlands, a small but important European country that could hold the key to China's future in manufacturing cutting-edge semiconductors.
The Netherlands has a population of just more than 17 million people — but is also home to ASML, a star of the global semiconductor supply chain. It produces a high-tech chipmaking machine that China is keen to have access to.
Read more at: CNBC
If Congress Doesn't Mandate Boeing 737 MAX Safety Retrofits, Europe Will
Even if Congress doesn't force U.S. airlines to retrofit two new safety upgrades in their Boeing 737 MAX fleets, Europe's aviation regulator intends to ensure those enhancements are mandated for carriers there.
Both the Federal Aviation Administration and the European Union Aviation Safety Agency have approved the MAX as safe to fly passengers. EASA insists Boeing must make it safer still.
EASA's head of communications Janet Northcote said via email Friday that "Boeing has committed to make these upgrades available for retrofit."
Read more at: Seattle times

Key House Republicans Urge Priority for Asteroid Search
Five Republicans on the House science committee are asking NASA to prioritize funding for the Near Earth Object Surveyor space telescope. NEO Surveyor will hunt for asteroids and comets that might threaten Earth, but the Biden Administration proposed a deep cut to the program in FY2023 and a delay of at least two years. Republicans will control the House next year and the letter signals they are paying attention to NEO Surveyor and its goal of fulfilling a 2005 congressional mandate to identify 90 percent of NEOs 140-meters or more in diameter.
Read more at: spacepolicy online
SPACE DEFENCE
Space Development Agency's First Launch Slips To March Due To Satellite Glitch
The first launch of the Space Development Agency's constellation planned for mid-December will slip to March 2023 due to an anomaly in York Space's satellites that was identified during tests, the agency's director Derek Tournear said Dec. 9.
The Space Development Agency, a procurement organization under the U.S. Space Force, is working with multiple vendors to build a mesh network in low Earth orbit that includes data-transport communications satellites and infrared sensor satellites that detect and track missiles in flight.
Read more at: spacenews
Fight over Allowing Part-Time Guardians or Creating a Space Force Guard Punted
Congress is asking for the Space Force to research the idea of allowing Guardians to serve part-time on active duty in the latest defense budget agreement, further delaying a decision on how the service will develop auxiliary forces and delivering a blow to advocates who fought throughout the year for a separate National Guard component.
Lawmakers are asking the Space Force to issue Congress a report by March 1, 2023, on how the idea would work in practice.
Read more at: military.com
SpaceX Forms 'Starshield' Business Unit To Focus On National Security
SpaceX is creating a new national security business unit called Starshield that will build on its launch and satellite communications offerings and introduce additional capabilities including Earth observation. The company, founded by billionaire Elon Musk, unveiled Starshield Dec. 2, emphasizing on its website that the business unit will leverage existing relationships with the Defense Department and the intelligence community.
Read more at: c4isrnet
Defense, Commerce Departments Select Companies To Prototype Space Traffic Management Solutions
The Office of Space Commerce and the Department of Defense announced Dec. 6 they have selected six commercial firms to prototype space traffic data platforms that track objects and medium and geostationary Earth orbits.
COMSPOC Corp., ExoAnalytic Solutions, Kayhan Space, KBR, NorthStar Earth & Space Inc. and Slingshot Aerospace received contracts for a pilot project to demonstrate the use of commercial technologies for space traffic management. The Space Data Association also is participating in the project. 
Read more at: spacenews
VARIOUS
Orion's 'Easter Eggs' Revealed: NASA Flew Secret Messages To The Moon On Artemis 1
It can now be revealed that NASA's Orion spacecraft, which is just a day away from returning to Earth, carried secret messages to the moon on its Artemis 1 mission.
What's more, the hidden notes were in plain sight (opens in new tab) the entire time.
"We do have some Easter eggs in the view of the cockpit. So when you do get that view, happy hunting folks!" said Mike Sarafin, NASA's Artemis mission manager, on Nov. 18, the third day of the 25.5-day Artemis 1 mission. By "Easter eggs" he was using the term generally associated with software or films to describe a hidden feature.
Read more at: space.com
NASA Drawing On Apollo To Design Artemis Moonwalkers' Tools
NASA's Artemis moon program is not a reboot of Apollo-era technology. The agency has built a new rocket and spacecraft to get astronauts to Earth's nearest neighbor, and it's developing a new toolkit for them to use on the lunar surface as well.
While the tried and true geologist's hammer remains on tap, fresh capabilities are being appraised to sharpen astronauts' next look-see on the moon with first-time equipment. 
Read more at: space.com
New Details Emerge About the "Peculiar Odor" on International Space Station
The International Space Station, as a small enclosed space filled with 20 years of nonstop human bodies, is notorious for harboring a bit of a "peculiar odor."
The issue has been linked to its bathroom facilities and trash, with one former astronaut quipping that the orbital outpost overall smells like "jail."
In reality, the pong is probably a mixture of all those factors and more. One additional culprit, according to a new Fast Company story: dirty laundry.
Read more at: futurism
Artemis: Why It May Be The Last Mission For NASA Astronauts
Neil Armstrong took his historic "one small step" on the Moon in 1969. And just three years later, the last Apollo astronauts left our celestial neighbour. Since then, hundreds of astronauts have been launched into space but mainly to the Earth-orbiting International Space Station. None has, in fact, ventured more than a few hundred kilometres from Earth. The US-led Artemis programme, however, aims to return humans to the Moon this decade – with Artemis 1 on its way back to Earth as part of its first test flight, going around the Moon.
Read more at: Conversation
Proposing A New Idea For Spacecraft Propulsion That Involves Dynamic Soaring
A team of researchers from McGill University and the Tau Zero Foundation is proposing a new idea for faster spacecraft propulsion that involves dynamic soaring. In their paper published in the journal Frontiers in Space Technology, the group outlines the idea of dynamic soaring as it applies to a speedy way to move through space and other possible uses for it.
Read more at: phys.org
China's Deep Space Exploration Laboratory Eyes Top Talents Worldwide
China's deep space exploration laboratory, which started operation in June this year, is recruiting top talents from around the world, according to the China National Space Administration (CNSA) on Monday.
Nearly 100 posts are available for strategic scientists, backbone talents, and young talents from home and abroad.
Co-established by the CNSA, Anhui Province, and the University of Science and Technology of China, the laboratory is headquartered in Hefei, the capital city of Anhui, and has a branch in Beijing. Since its establishment, the laboratory has conducted science and technology research focusing on major national projects in deep space exploration.
Read more at: News.CN
The World Finally Has Its First 'Parastronaut'. Can We Expect Anyone To Be Able To Go To Space One Day?
The European Space Agency made history last week with the announcement of the first "parastronaut", 41-year-old UK citizen John McFall.
He is the first candidate selected for the Parastronaut Feasibility project, described by ESA as a "serious, dedicated and honest attempt to clear the path to space for a professional astronaut with a physical disability".
McFall, a former Paralympic sprinter, had his right leg amputated after a motorcycle accident at age 19.
Read more at: Conversation
GPS could Go Obsolete Soon
In densely populated cities, a new hybrid optical wireless network can track automobiles within four inches and is more precise than GPS. Future roads may soon be dominated by self-driving cars, which could be a frightening thought given the faulty and out-of-sync global navigation satellite systems in place today.
American GPS and European Galileo navigation networks rely on satellite systems, which frequently have their signals blocked or reflected through a process known as multipath propagation, according to Dutch researchers at the Delft University of Technology and Vrije Universiteit Amsterdam.
Read more at: news.com.pk
Power Upgrade: Station Crew Install New Irosa, Work Power Channel Issue On ISS
Two NASA astronauts conducted a spacewalk outside the International Space Station (ISS) on Saturday, Dec. 2, to install a new iROSA (ISS Roll-Out Solar Array). Installation of the new array marked the third such iROSA to be attached to the space station since a power augmentation program to add at least six new sets of arrays to the ISS began in 2021. The spacewalk, officially known as an Extra-Vehicular Activity (EVA), primarily focused on the installation of an iROSA to the 3A power channel on the starboard truss of the ISS. However, an unrelated event on Nov. 23 on the 1B electrical channel added an element to this EVA.
Read more at: NASA spaceflight
NASA Astronaut Stan Love On The Digital-Age Artemis Cockpit Inside The Orion Spacecraft
As the world awaits the Sunday (Dec. 11) splashdown of NASA's Orion spacecraft that will mark the end of the Artemis 1 mission, many are already looking forward to the crewed Artemis 2 flight.
Artemis 1 was designed as an uncrewed test flight for NASA's Space Launch System rocket (SLS) and the Orion spacecraft, the capsule that will eventually return humans to the moon no earlier than 2024. NASA hasn't sent human crews to the moon since Dec. 7, 1972, and in the past 50 years, a lot has changed in terms of the technologies that can be incorporated into a spacecraft. 
Read more at: space.com