ISS for the Nobel Peace Prize
The 2014 Nobel Peace Prize laureate has been jointly awarded to Kailash Satyarthi and Malala Yousafzay "for their struggle against the suppression of children and young people and for the right of all children to education." We are glad the Norwegian Nobel Committee has recognized such an important cause.
Stay tuned as we prepared for a bid for the 2015 Nobel Peace Prize to recognize another worthy cause: the International Space Station Partnership!
If you are visiting this site, you have probably heard of the International Space Station, that football-size construction in space where a multinational crew of six astronauts lives, performing scientific research in space and advancing our understanding of the space environment.
What you may not realize is how many of the people around you, with whom you converse, work, and play every day, have no idea that there is such a thing as an honest-to-goodness space station in orbit right now. And even you may have overlooked one exceptional aspect of this technological marvel: its political underpinnings.
How can politics be exceptional, you ask? Just consider: at the end of 2013, ISS celebrated its 15th anniversary in space. But well before construction, began the political negotiations. Decades before. And now 15 nations, many of them rivals in other realms, work together smoothly, consistently, and unerringly every single day. Nations that were at war 70 years ago are now staunch collaborators in this one international undertaking. That collaboration has opened up the opportunities for space research not just to these 15 nations, but to an additional 54 nations beside.
What Has ISS Done for Me?
Maybe you don't hail from one of the 15 partner nations, but that doesn't mean you don't benefit from their collaboration. Click on your country in the map below to learn about one experiment performed aboard ISS that originated from your homeland.
Visualization by K. Bauer
There are many more where these came from. You can follow the links for each nation to learn more or spend an hour roaming the internet. Either way, you are probably getting a lot more out of the ISS Partnership than you thought.
ISS for the Nobel Prize in the News
Space Station Deserves Nobel Prize  – Moscow Times
Kan rymdforskning få fredspris? – SVT
Astronaut Tim Peake on the ISS Partnership and the Nobel Peace Prize – Space Safety Magazine
Russia-Ukraine Tension Won't Affect Astronauts on Station, NASA Chief Says – Space.com
A Prize for the Whole World – CASIS
ISS as a Nobel Prize Nominee? Why Not? – Space News
The International Space Station: a Case for Peace – Space News
Space Station Creators Get Support for Nobel Nomination – RIA Novosti
ISS: A Nobel Prize Worthy Partnership – Space Safety Magazine
Pretty cool, huh? We thought so. That's why we began this campaign to recognize the International Space Station political partnership with a Nobel Peace Prize. International collaboration on this level and of this duration deserves recognition. Help us achieve it and let everyone know the amazing things politics can achieve in service of a worthy goal.
Why Astronauts Think the ISS Partnership Deserves the Nobel Peace Prize
Astronauts, cosmonauts, and other visitors to the International Space Station experienced the international collaboration of the ISS Partnership in a uniquely direct way. These spacefarers shared their reasons for supporting the nomination of the ISS Partnership for the Nobel Peace Prize.
Supporting Astronauts

| | | | | |
| --- | --- | --- | --- | --- |
| 11 | Ernst Messerschmid | | Germany | of the outstanding scientific results achieved through international cooperation. |
| 10 | jean jacques FAVIER | | FRANCE | this is the larger technological peaceful project including so many countries |
| 9 | michel Tognini | | France | ISS is a federation structure that will always bring people together for one common pacific goal. |
| 8 | jean loup chretien | britanny | france | the ISS is the result of a tremendous amount of work by people of the world. It flies high, as high as the spirit of those who did it and serve it. Far from the tensions that only belong to the surface. |
| 7 | claudie HAIGNERE | PARIS | France | as an ESA astronaut for 2 space missions, the ISS is a truly peaceful, global adventure where cultural diversity for the sake of mankind and earth planet is a terrific enrichment. |
| 6 | Jean-Francois CLERVOY | | France | the ISS has well proven to be the best and successful test bed for international cooepration in a peaceful use of space |
| 5 | Russell Schweickart | California | United States | In the early 1980's I organized the Association of Space Explorers, our organization of astronauts and cosmonauts from around the world. We firmly believed that our shared experience in seeing the Earth from space graphically demonstrated our interdependence as people far outweighing any political differences between us. Today the ISS continues and demonstrates this conviction. |
| 4 | Jerry Ross | Texas | USA | The International Space Station program is the best example of how countries can and have worked together on a daily basis for mutual support while in pursuit of scientific knowledge that has the potential to enhance the condition of every person one earth. This program has set the standard for future exploration of space by humankind and should be the example of how to work together on earth. |
| 3 | Gregory H. Johnson | Florida | United States | The international cooperation and synergy created from the ISS Partnership has been incredible! One of the most professionally fulfilling interactions I have experienced was working with former MiG-29 fighter pilot Cosmonaut Dmitri Kondratyev Expedition 26. As a former F-15 pilot, the stark change in international relations in the 2 decades before we worked together was particularly fulfilling. |
| 2 | story musgrave | Florida | usa | international mission spirit |
| 1 | John Phillips | Idaho | USA | The ISS partnership has transcended traditional rivalries and built a scientific marvel that bridges nations. |
The Nations of ISS
Belgium, Canada, Denmark, France, Germany, Italy, Japan, the Netherlands, Norway, Russia, Spain, Sweden, Switzerland, the United Kingdom, and the United States
The ISS Partners
The Canadian Space Agency (CSA), Canada
The European Space Agency (ESA), Europe
Japanese Aerospace Exploration Agency  (JAXA), Japan
National Aeronautics and Space Administration (NASA), United States
Roscosmos, Russian Federation
ISS Fun Facts
You can see ISS from Earth, no telescope needed.  Check out Spot the Station to find out when it'll pass over your town.
ISS is the largest international peacetime endeavor in human history
The first crew occupied ISS on November 2, 2000
The first ISS module in space was Zarya. It docked with the second module, Unity, to form the fledgling station on December 4, 1998
ISS has 388 cubic meters of habitable space
Living together in space can lead to some interesting discoveries. For instance, Russian astronauts prefer more mineral content to their drinking water than their US counterparts. As a result, two different water stocks are shipped to the station on a regular basis.
Three of the partner nations ship their own homegrown supply vessels to ISS on a regular basis: Japan's HTV-II, Europe's ATV, and Russia's Progress. NASA doesn't have its own cargo ship anymore but it hires commercial partners to handle its deliveries now that SpaceX's Dragon and Orbital Sciences Corp's Cygnus are operational.
ISS is the only place where an American of military rank has a commanding officer from the Russian military
Just this year, ISS had its first ever Japanese commander, Koichi Wakata. Last year, Commander Chris Hadfield was the first Canadian commander.
Learn more about the ISS Partnership
We put this document together to explain why the ISS Partnership is deserving of the Nobel Peace Prize. Take a look!
Submit a nomination for the Nobel Peace Prize
There are a few rules to follow in submitting a nomination for the Nobel Peace Prize. The most critical one regards who is permitted to submit a nomination. We'll sum it up as people in the following positions:
Members of national governments;
Professors of social sciences, history, philosophy, law, and theology;
Directors of peace research and foreign policy institutes;
Anyone involved in the Norwegian Nobel Committee or awarded a Nobel Peace Prize in the past.
There are a few more nuances that you can read on the official Nobel Peace Prize site.
The nomination must include:
The name of the candidate;
An explanation of why the individual or organisation is considered by the nominator to be a worthy candidate for the Nobel Peace Prize;
The name, title and academic or professional affiliation of the nominator.
Nominations must be emailed to postmaster@nobel.no or mailed to
The Norwegian Nobel Committee
Henrik Ibsens gate 51
0255 Oslo, NORWAY
Nomination must be postmarked no later than February 1 for consideration among that year's candidates. That means right now you can submit nominations for the 2015 Nobel Peace Prize.
It may sound complicated, but we've prepared templates for you that fulfill all the requirements. Just download our Letter of Nomination and Rationale for Nomination, customize them, and send them in.
Get Involved in the Campaign
Once you've requested nominations from your elected representatives, encourage others to do so too! Engage your networks and spread the word: the International Space Station Partnership is a model for international cooperation on Earth and in space and it deserves our recognition.
Follow us on Facebook and Twitter. Keep up with the latest doings on ISS.
Send us any recommendations or news to help the ISS for Nobel Prize initiative using the contact form below.
FAQ
We commonly hear the question: "Are you allowed to nominate an organization for the Nobel Peace Prize?" The answer is: Yes! The official guidance reads: "The candidates eligible for the Nobel Peace Prize are those persons or organizations nominated by qualified individuals." In fact, 23 organizations have been awarded the Nobel Peace Prize 25 times. Check the full list in the official website.
Who We Are
This project came about almost by accident, exchanging comments one day over an editorial published on spacesafetymagazine.com, we talked about how amazing a feat ISS really is, how incredible it's lasted this long. Have you ever heard, said a reader, about how ISS was nominated for the Nobel Peace Prize? We hadn't, but we soon got interested. Starting with the staff of Space Safety Magazine and some dedicated readers, we began. Our volunteer base expanded around the globe, as we have been joined by space enthusiasts, organizations, and agency employees from around the world. We are doing this because we are passionately certain that projects like ISS are the way to build a bright future in space, and we want the world to recognize that future too.
- The video below, a presentation from the 2014 International Aeronautical Congress, explains why we took on this project: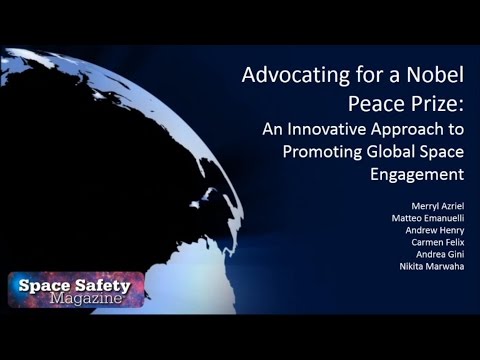 Below are the founding members of the ISS for the Nobel Prize initiative. Contact us to add your voice and learn how you can show support for the remarkable accomplishment that is the International Space Station.
Founding Members
Merryl Azriel   Ken Human   Andrew Henry   Andrea Gini   Nikita Marwaha   Matteo Emanuelli   Ralph Grau   Philip Keane   Kristhian Mason   Carmen Felix   Dieter Isakeit   Hubert Foy   Ines Hernandez   Renee Garifi   Riemy Wan   Nelly Ben Hayoun
Organizational Sponsors
Supporting Organizations
Contact us to see your organization's logo here.
Contact Us
Want to get involved or express your support? Contact us!

The contents of this page and all documents attached to it are licensed under a Creative Commons Attribution-NonCommercial 4.0 International License. You are free to modify and share these contents for non-commercial use for the purpose of advocating for the nomination of the International Space Station for the Nobel Peace Prize.