TOP NEWS
NASA Shelves Routine Spacewalks For Now Due To Leaky Spacesuit Helmet
NASA is suspending all but the most urgent spacewalks after water was found in an astronaut's helmet following a March excursion, agency officials said on Tuesday (May 17).
NASA will perform an assessment of its extravehicular mobility unit (EMU) spacesuits after water was found in the helmet worn by European Space Agency (ESA) astronaut Matthias Maurer following a March 23 spacewalk, agency officials said.
This means that astronauts will not go outside and perform extravehicular activities (EVAs) unless there is a pressing need for repairs on the International Space Station.
Read more at: Space.com
Boeing's Starliner Capsule Completes First "Nail-Biting" Docking At Space Station
Boeing's Starliner crew capsule finally reached the International Space Station Friday night with a "nail-biting" rendezvous and docking, overcoming several technical glitches to accomplish a long-awaited objective for the spacecraft before NASA clears it to ferry astronauts to the research complex.
The crew capsule docked at the forward end of the station's Harmony module at 8:28 p.m. EDT Friday (0028 GMT Saturday), using vision-based navigation to autonomously guide itself to the docking target.
Read more at: SpaceflightNow
NASA Plans Early June Rollout Of SLS For Next Countdown Test
NASA is gearing up to perform another practice countdown of the Space Launch System in mid-June as it completes repairs to the vehicle from previous tests.
NASA said May 20 it expects to roll out the SLS from the Vehicle Assembly Building at the Kennedy Space Center to Launch Complex 39B in early June for the next attempt at a wet dress rehearsal (WDR), where the vehicle is filled with liquid oxygen and liquid hydrogen propellants and goes through a countdown that stops just before ignition of the core stage's four RS-25 engines.
Read more at: Spacenews
NASA, Air Liquide Continue Working On Artemis 1 WDR Issues
NASA's Artemis 1 flight vehicle remains in the Vehicle Assembly Building (VAB) at the Kennedy Space Center (KSC) in Florida while work to investigate and fix problems found in April at the launch pad continues. A series of issues were discovered during three attempts to perform the Wet Dress Rehearsal (WDR) while the Orion spacecraft and Space Launch System (SLS) rocket were out at Launch Pad 39B.
While the Exploration Ground Systems (EGS) program and prime launch processing contractor Jacobs are troubleshooting issues with connections from the Mobile Launcher to the vehicle in the VAB, they are also working with gaseous nitrogen (GN2) contractor Air Liquide to verify that the purge gas supply can meet the flow rate and duration requirements to support an SLS launch attempt.
Read more at: NASA spaceflight
Blue Origin Delays Next Space Tourist Launch From May 20 Due To Vehicle Issue
Blue Origin's fifth human spaceflight won't take place on Friday (May 20) after all.
Jeff Bezos' company had been targeting Friday for the launch of NS-21, the next mission of its New Shepard suborbital vehicle. But that's no longer the plan.
"During our final vehicle checkouts, we observed one of New Shepard's backup systems was not meeting our expectations for performance. In an abundance of caution, we will be delaying the #NS21 launch originally scheduled for Friday. Stay tuned for further updates," Blue Origin said via Twitter today (opens in new tab) (May 18).
Read more at: Space.com
SPACE HAZARDS AND STM
Russia's Military Satellite Launched With Angara Rocket In April Ceases To Exist — NORAD
Russia's satellite Cosmos-2555, launched with an Angara rocket on April 29, has burned up in the atmosphere, as follows from a statement by the North American Aerospace Defense Command NORAD made on Wednesday.
The satellite left its orbit and entered the atmosphere in the morning of May 18. At the moment it no longer exists.
Read more at: TASS
SpaceX Launches 3rd Starlink Mission In Under A Week
In less than a week, SpaceX orbited three batches of Starlink satellites, one from each of its launch pads on both coasts of the United States.
At 6:59 a.m. EDT (10:59 UTC) May 18, 2022, the company lofted 53 satellites into low Earth orbit from Launch Complex 39A at NASA's Kennedy Space Center in Florida. This flight utilized Falcon 9 first stage core B1052, which was on its fifth flight.
Just four days earlier at 4:40 p.m. (20:40 UTC) May 14, a Falcon 9 with a brand new first stage, core B 1073, sent 53 satellites into space from Space Launch Complex 40 at Cape Canaveral Space Force Station, located less than 4 miles (6 kilometers) to the south.
Read more at: Spaceflight Insider
Pollution From SpaceX, Blue Origin, Virgin Galactic's Rockets May Harm Human Health, Climate, Study
The pollution from rockets built by SpaceX, Blue Origin, and Virgin Galactic could damage human health and hurt the Earth's climate, a new study shows.
"Atmospheric pollution from rockets," published on Tuesday in the journal Physics of Fluids, digitally modelled the exhaust gases coming from a standard rocket, similar to one of SpaceX's reusable Falcon 9s, at various altitudes.
The increase in rocket launches by commercial space companies such as Elon Musk's SpaceX, Jeff Bezos' Blue Origin, and Richard Branson's Virgin Galactic "could have a significant cumulative effect on climate," the study said. This is because of the amount of carbon gases and nitrogen oxides being produced with each launch, the study said.
Read more at: Businessinsider
Why The Next Big Solar Storm Might Hit Earth Without Warning
Trouble brewed on 30 January 2022, although no one knew how bad it was going to be. If they had, SpaceX wouldn't have launched 49 Starlink satellites into low Earth orbit a few days later. It began as a giant cloud of magnetised gas, called a coronal mass ejection, hurled in our direction from the sun. That wasn't a big concern. Sure, solar storms can heat Earth's atmosphere, causing it to expand and drag on low-flying satellites, but all measurements suggested only mild consequences. Power grids and satellites might glitch a little and skywatchers at high latitudes might notice aurorae, but nothing serious.
Read more at: Newscientist
Sun Busts Out Trio Of Moderate Solar Flares That Might Herald More Activity
A trio of moderate flares blasted off from the sun on Thursday (May 19), and there might be more in store.
The solar flares come amid a noticeable uptick in solar activity in recent months. SpaceWeather.com says a storm is swirling around sunspot AR3014, to the extent that the region is "literally seething." As the magnetic lines twist and tangle, they may snap and send a coronal mass ejection towards our planet.
Read more at: Space.com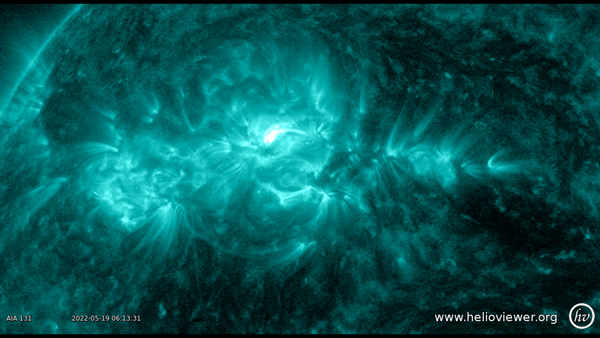 COMMERCIAL SPACE
Interview: Kimberly Slater of Draper Laboratory Discusses the Challenges of Hypersonic Flight
Parabolic Arc conducted a Q&A with Kimberly Slater, the Commercial and Science Space Lead at Draper Laboratory, about the guidance, navigational and control software she has worked on for Stratolaunch's Talon-A hypersonic test vehicle.
Read more at: Parabolic arc
Hyderabad Space Startup Successfully Tests Solid Fuel Engine For Its Launch Vehicle
Hyderabad-based space startup Skyroot Aerospace said Thursday that it successfully tested a solid fuel-based engine that will be used as the third stage in its launch vehicle called Vikram 1. The small-lift launch vehicle will be capable of putting 225 kg payloads into sun-synchronous polar orbit. To compare, the Indian Space Research Organisation's workhorse PSLV can carry up to 1,750 kg.
The Vikram 1 rocket will use four solid fuel-based stages for the launch. The rocket stage – named Kalam 100 after scientist and India's former president Dr APJ Abdul Kalam – was fired in testing facilities for the full duration of 108 seconds. It produces a peak thrust of 100kN (kilonewton).
Read more at: Indian express
Former NASA Leaders Praise Boeing's Willingness To Risk Commercial Crew
The last few years have been pretty rough for the Boeing Company. Its newest generation of 737 aircraft, the Max, was grounded in 2019 after two fatal crashes. And following a series of poor management decisions, the company has continued to lose commercial aircraft market share to European multinational corporation Airbus.
Boeing's defense segment has fared little better. After winning a large military refueling contract, Boeing started producing the KC-46 tanker for the Air Force. But because of manufacturing and design problems with the tanker, the company has taken about $5 billion in losses during the last decade.
Read more at: Arstechnica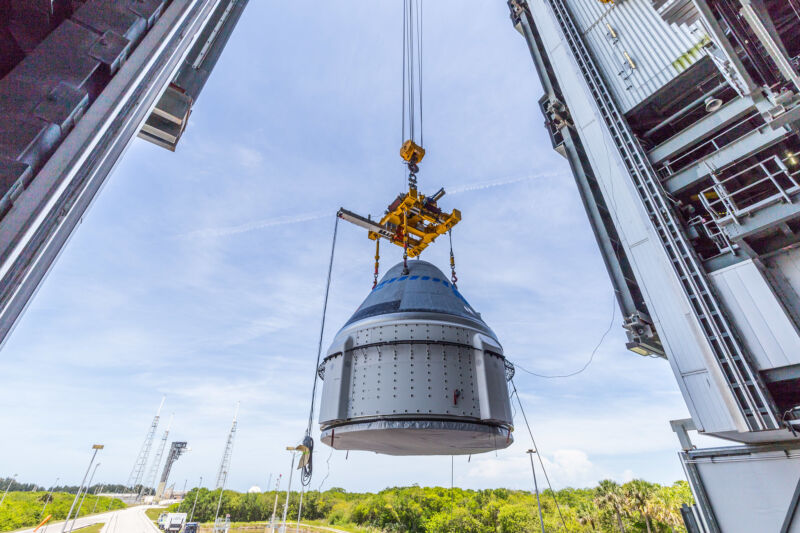 SCIENCE AND TECHNOLOGY
DARPA Launches 'Ouija' Project To Study Radio Signals In Earth's Atmosphere With Satellites
The U.S. military plans to launch satellites to learn more about how radio signals behave in part of the Earth's atmosphere.
The Defense Advanced Research Projects Agency (DARPA) has set up a new program (opens in new tab), called Ouija, which will use sensors on "low-orbiting satellites" to track high-frequency radio waves in the ionosphere. DARPA has a solicitation for proposals available now for one part of the proposal and plans to release a second solicitation at another date.
Read more at: Space.com
Defense Innovation Unit Picks Designs For Space Nuclear Propulsion Demo
The Defense Innovation Unit selected two companies to develop prototypes for nuclear-powered spacecraft with an eye on launching a demonstration mission in 2027.
DIU, an organization tasked with helping the U.S. Department of Defense leverage commercial technology, chose Seattle-based Ultra Safe Nuclear Corp. and Avalanche Energy Designs for its Nuclear Advanced Propulsion and Power program. The companies will build propulsion components for small spacecraft that allow them to maneuver at will.
Read more at: c4isrnet
NASA Seeks Input On Human Exploration Objectives
NASA is seeking informal public input on a set of 50 objectives for its exploration efforts that agency leadership says will go into a broader effort to guide its activities for the next two decades.
NASA released May 17 a set of high-level objectives for its lunar and Mars exploration campaign. The agency also announced it was soliciting input on those objectives through its website until May 31.
The 50 objectives, each just a sentence long, fall in four categories: transportation and habitation, lunar and Martian infrastructure, operations and science.
Read more at: Spacenews
For Safety Of Gaganyaan Crew, ISRO Will Simulate Failure With 'Abort Missions'
ISRO will conduct two unmanned "abort missions", one in September and the other in December, to simulate failure and ensure crew safety as part of its roadmap for Gaganyaan, the country's first manned flight to space, in 2024, ISRO chairman S Somanath told The Indian Express.
"Our first priority is human safety. So, we are now focusing on abort missions — that is simulating failures and bringing the crew back safely under those circumstances. The first Test Vehicle for this purpose is ready and we will launch it in September this year."
Read more at: Indian express
China Launches Three LEO Communication Satellites Ahead Of Launch Surge
China launched three payloads onboard a Chang Zheng 2C rocket today at 10:30 UTC and confirmed the success of the launch an hour later. For this flight, the additional Yuanzheng-1S third stage was used. The launch was conducted from the Jiuquan Satellite Launch Center (JSLC) and the rocket flew to a low Earth orbit (LEO).
So far no details were released about the payloads, and only minimal information is out regarding the purpose of the three payloads.
Read more at: NASA spaceflight
China Will Launch A Big Space Telescope In 2023 To Investigate Distant Galaxies
China wants to launch its first large space telescope in late 2023 to survey the skies, deliver new insights about distant galaxies, and unlock the mysteries of dark matter and dark energy. The Chinese Space Station Telescope (CSST) is an optical and ultraviolet space observatory that will boast a 6.6-foot-diameter (2 meters) lens, making it comparable to the venerable Hubble Space Telescope. Though the resolution of China's telescope will be similar to Hubble's, the CSST's field of view will be 350 times larger, Liu Jifeng, deputy director of the National Astronomical Observatories of China, told Chinese state-run outlet Xinhua, according to a statement.
Read more at: Space.com
Military Experiment Demonstrates Intersatellite Laser Communications In Low Earth Orbit
Two small satellites launched last summer by the Defense Advanced Research Projects Agency successfully established an optical link on April 14 during a nearly 40-minute test, according to CACI International, the supplier of the optical terminals.
More than 200 gigabits of data were transmitted and received over a distance of about 100 kilometers, the company said May 17. Optical terminals use lasers to connect satellites in orbit so they can transfer data in space. 
Read more at: Spacenews
3D Printed Satellite Antennas Can Be Made In Space With Help Of Sunlight
Satellite antennas can be 3D-printed in space with the help of sunlight, using a new patented technique that promises to do away with clunky satellite parts that take up too much space in a rocket. 
The new method, developed by Japanese technology company Mitsubishi Electric Corporation, uses a special type of resin that turns into a rigid solid material when exposed to ultraviolet radiation from the sun that is present in space. 
Read more at: Space.com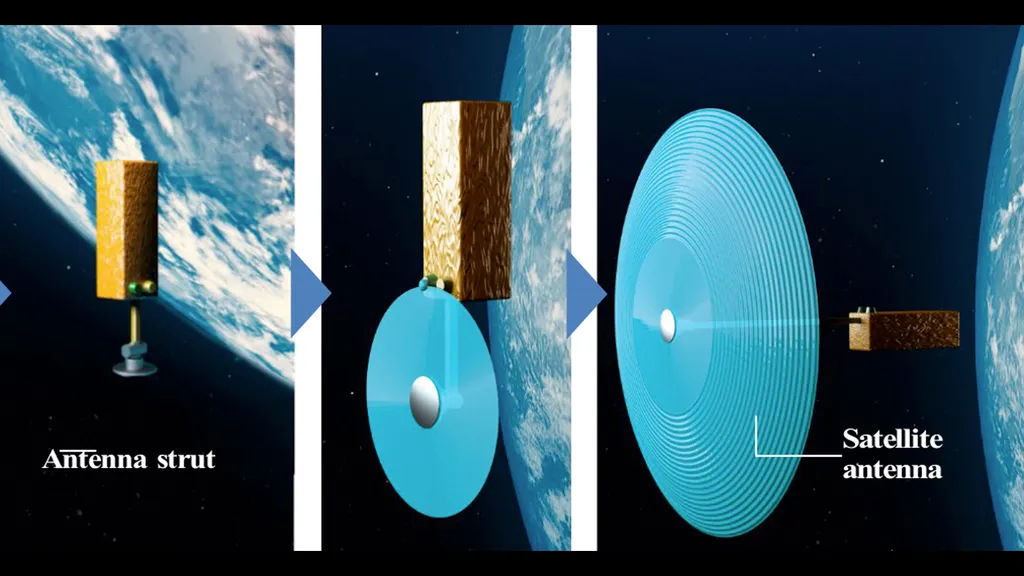 SPACE POLICY
As Space Gets More Crowded, House Committee Still Questioning SSA Path Forward
Four years after President Trump assigned civil space situational awareness responsibilities to the Department of Commerce, Congress has yet to formally authorize the Department to take on that task. Based on a hearing last week, House Democrats and Republicans still have many questions. A Senate bill is slowly inching forward as part of the innovation and competition act, but what can get done in the limited legislative time remaining in this election year is anyone's guess. Meanwhile, Earth orbit gets more and more congested every day. SpaceX alone launched 106 more Starlink satellites this weekend.
Read more at: Spacepolicy online
House Appropriators Praise NASA, But Worry About Overruns and Delays
House appropriators who oversee NASA's budget offered effusive praise yesterday for NASA's space science, technology and exploration programs and aeronautics research, but pressed hard on the need to control cost overruns and schedule delays. As was true at the companion Senate hearing two weeks ago, Bechtel's performance building Mobile Launcher 2 for the Artemis program was a particular target of concern.
Read more at: Spacepolicy online
Will NASA Save Europe's Beleaguered Mars Rover?
Europe's long-awaited ExoMars rover—the first ever for the continent—seems to be cursed. Parachute problems scuppered its initially planned launch in 2018. Then the coronavirus pandemic prevented a launch in 2020. And now Russia's invasion of Ukraine has dashed chances for a liftoff in 2022. For members of the team hoping "the third time's the charm," this latest delay feels especially cruel. "It was impossible for me to speak about this mission for weeks without tears," says Valérie Ciarletti of the Laboratory for Atmospheres, Environments, Space Observations (LATMOS) in France, who leads the rover's subsurface radar instrument team.
Read more at: Scientific American
Japan, U.S. To Cooperate On Moon Landing By Japanese Astronaut
Japan and the United States plan to announce their "shared ambition" to realize a future Moon landing by a Japanese astronaut in a document to be released during U.S. President Joe Biden's visit to Tokyo, sources close to the matter said Thursday.
The announcement, to be made by Prime Minister Fumio Kishida and Biden, will be part of the Artemis project, an international effort led by the United States aimed at advancing lunar exploration and eventually sending astronauts on missions to Mars
Read more at: Kyodonews
EUSPA Celebrates Its First 365 Days Of Existence With New Services, More Users And A New Galileo Satellite In Service!
Since its creation, the EU Agency for the Space Programme (EUSPA) has been increasing access to EU space data and services, not only in Europe, but also around the world. With a new Galileo satellite in orbit, several satnav services in place and plenty of new ones underway, EUSPA's first year exemplifies its mission of linking space to user needs.
Read more at: EUSPA
China, US Are Racing to Make Billions From Mining the Moon's Minerals
"There's going to be a new world order out there, and we've got to lead it," US President Joe Biden said after Russia's war in Ukraine upended global geopolitics. Far from Earth, that transition is already happening.
Just like in the era of Sputnik and Apollo more than half a century ago, world leaders are again racing to achieve dominance in outer space. But there's one big difference: Whereas the US and the Soviet Union hashed out a common set of rules at the United Nations, this time around the world's top superpowers can't even agree on basic principles to govern the next generation of space activity. 
Read more at: Bloomberg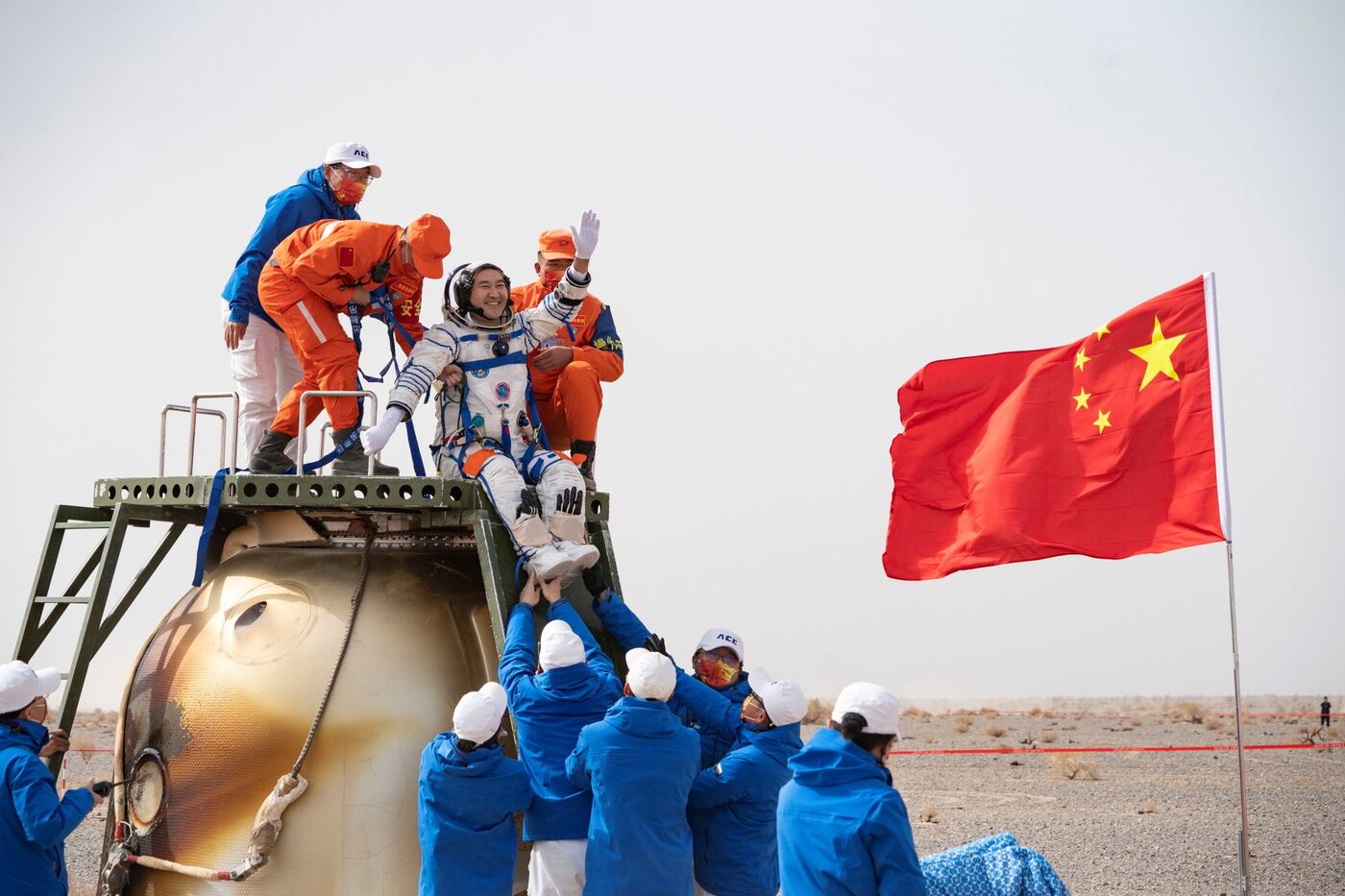 SPACE DEFENCE
U.S. Space Force To Step Up Protection Of Satellite Ground Systems In The Wake Of Russia's Cyber Attacks
Almost three months into the war in Ukraine, it's still too early to draw conclusions about Russia's capabilities to disrupt satellite-based communications but one clear takeaway is the importance of protecting the ground systems and network user equipment that provide many entry points for cyber attackers, a senior U.S. Space Force official said May 19. 
Space Force Lt. Gen. B. Chance Saltzman, deputy chief of space operations for nuclear and cyber, said he has been briefed on the details of Russian cyber attacks aimed at Ukrainian users of satellite internet services. 
Read more at: Spacenews
Russia To Put Sarmat ICBM Strategic Missile Systems On Combat Alert This Fall — Rogozin
Russia's serially-produced Sarmat intercontinental ballistic missile (ICBM) strategic combat systems would be put on a combat duty this fall, Roscosmos Chief Dmitry Rogozin said in an interview with Russia's Rossiya-24 television channel.
"Test launches are scheduled to be held throughout the year, but we are planning to put on a combat duty first serially-produced missiles in the fall of this year," Rogozin said.
Read more at: TASS
Air National Guard Leaders: Time is Running Short for a Space Guard
If Congress doesn't act to establish a Space National Guard soon, leaders in Air National Guard units with space missions will need to start having some difficult conversations with their Airmen.
That's the warning from multiple commanders during a virtual event hosted by the National Guard Association of the United States, in which participants ratcheted up their push for a separate Space Guard—and argued that the Space Force's alternate proposal isn't sufficient.
Read more at: Airforcemag
JUST IN: New Space Force Service Component Targets China Threat
In response to China's growing military capabilities, the U.S. Space Force will stand up its first service component outside of Space Command in Indo-Pacific Command, said a service official May 19.
Though making the service components official is still "pre-decisional," China's pacing threat necessitated the first service component in the Indo-Pacific region, said Lt. Gen. Chance Saltzman, deputy chief for operations, nuclear and cyber during a Defense Writers Group event.
Read more at: National defense magazine
Space Force 'Reverse Industry Day' To Address Gaps In Sensing, Tracking
U.S. Space Force acquisition officials are meeting with companies this week to discuss capabilities that could help the service as it looks to take on a new mission: tracking ground targets with space sensors.
The service, in coordination with the Air Force, has been studying options for future space-based tactical intelligence, surveillance and reconnaissance capabilities over the last year and expects to complete a year-long review this spring.
Read more at: C4isrnet
Don't Be Dazzled By Russia's Laser Weapons Claims: Experts
Claims by a top Russian official that Moscow has unveiled a powerful new laser weapon prototype to attack drones and satellites being used in Ukraine should be taken with a boulder of salt, experts say.
"As with some many things that comes from the Russians, it's hard to separate fact from fiction," said Mark Lewis, head of the National Defense Industrial Agency's Emerging Technologies Institute and former acting undersecretary of defense for research and engineering.
Read more at: Breaking defense
VARIOUS
Two Finalists Emerge For Next Space Force Chief: Sources
Pentagon leadership has narrowed the potential nominees to become the next Space Force Chief of Space Operations to two names, with the decision now in the hands of the White House, multiple sources tell Breaking Defense.
The pick of the two candidates — Lt. Gen. John Shaw and Lt. Gen. Stephen Whiting — would become the second Space Force head, following Chief of Space Operations Gen. Jay Raymond's planned retirement in the fall. While it is still possible the White House could look to add a third name to the finalists, the expectation among the sources is that Shaw or Whiting will emerge as the next top Space Force officer.
Read more at: Breakingdefense
Musk Visits Brazil's Bolsonaro to Discuss Amazon Rainforest Plans
Tesla and SpaceX CEO Elon Musk met with Brazil's President Jair Bolsonaro on Friday to discuss connectivity and other projects in the Amazon rainforest.
The meeting, held in a luxurious resort in Sao Paulo state, was organized by Communications Minister Fabio Faria, who has said he is seeking partnerships with the world's richest man to bring or improve internet in schools and health facilities in rural areas using technology developed by SpaceX and Starlink, and also to preserve the rainforest.
Read more at: VOANews
Kennedy Space Center Sets Date For New Gateway Attraction
Kennedy Space Center Visitor Complex's new attraction on space exploration will officially open to the public next month.
"​​Gateway: The Deep Space Launch Complex" will debut June 15, the complex announced Friday.
Spectrum News took a hard hat tour of the facility last December to see how construction was progressing.
Read more at: Mynews13
Elon Musk Denies Sexual Misconduct Allegation
Elon Musk has denied an allegation that he sexually harassed a flight attendant in 2016, characterizing it as part of a smear campaign against him. The claim surfaced yesterday (May 19) in a story by Business Insider, which based its report on the account of a friend of the alleged victim. According to a declaration signed by the friend, during a 2016 SpaceX corporate-jet flight, Elon Musk asked the attendant to come into his cabin and give him a full-body massage.
Read more at: Space.com
Video Game Character Becomes Real 'Kerbalnaut' On Boeing Starliner
In the spaceflight simulation game Kerbal Space Program, if the rocket you design does not reach its desired orbit or destination, you return to the (virtual) hangar to try to correct your problems and then launch again.

It seems only appropriate then that the first real-life flight of a Kerbal — the green humanoid aliens that populate the video game — should be on Boeing's second attempt and first success at docking its CST-100 Starliner crew spacecraft to the International Space Station.

Jebediah Kerman, or "Jeb" as he is better known to Kerbal Space Program fans, is one of four original "Kerbonauts" in the game and now the first to actually be launched into space — in the form of a plush toy. Jeb officially flew as the "zero-g indicator" for Boeing's Starliner Orbital Flight Test-2 (OFT-2), which arrived at the space station on Friday (May 20), the day after launching on a United Launch Alliance (ULA) Atlas V rocket from Cape Canaveral and two and half years after the first Starliner test flight was cut short by software issues.
Read more at: Collectspace

United Nations Celebrates Mars Missions On New Postage Stamps
With more countries operating spacecraft on and around Mars than ever before, the United Nations is celebrating human achievement at the red planet with its latest release of postage stamps.

The United Nations Postal Administration (UNPA) has issued six commemorative stamps and three souvenir sheets themed to the Mars missions launched by the United Arab Emirates (UAE), United States and China.

"Mars has been a source of curiosity for centuries. In a historic year for exploration, three missions reached their destinations on, and around, the 'red planet' in 2021. This stamp series marks those pioneering achievements," UNPA officials wrote in a press release announcing the new "Planet Mars" stamps.
Read more at: Collectspace