TOP NEWS
Russian Invasion Of Ukraine: How It's Affecting Europe's Space Plans
Read more at: Space.com
NASA Ready To Roll Out SLS
NASA is ready to roll out the first Space Launch System rocket this week for a countdown rehearsal ahead of a launch later this year.
Agency officials said at a March 14 briefing that they had completed reviews for the scheduled March 17 rollout of the SLS from the Vehicle Assembly Building (VAB) at the Kennedy Space Center to Launch Complex 39B several kilometers away. Rollout is scheduled to begin at approximately 5 p.m. Eastern and take 11 hours to reach the pad.
Read more at: Spacenews
Ukrainian Space Industry Players Continue Work, Eye European Projects Amid War
While Russia's invasion of Ukraine continues to impact the Ukrainian space sector, senior industry representatives say that local companies have so far managed to adapt their activities to the realities of war, and they are determined to advance joint projects with their European partners.
Volodymyr Usov, the co-founder of Ukrainian space industry startup Kurs Orbital and the former head of Ukraine's space agency, told SpaceNews that over the past few days areas surrounding Dnipro, a region in eastern Ukraine that hosts a major space industry hub, have witnessed an increasing number of attacks by Russian forces. 
Read more at: Spacenews
Astronauts Prep For New Solar Arrays On Nearly Seven-Hour Spacewalk
Astronauts Kayla Barron and Raja Chari floated out of the International Space Station airlock for a spacewalk Tuesday, installing brackets and struts to support new solar arrays to upgrade the research lab's power system on the same day that crewmate Mark Vande Hei marked his 341st day in orbit, a U.S. record for a single spaceflight.
Barron and Chari put on their NASA spacesuits early Tuesday, depressurized the station's Quest airlock, and opened the hatch to venture outside the complex. The spacewalk officially began at 8:11 a.m. EDT (1211 GMT), when the astronauts switched their suits to battery power.
Read more at: Spaceflight Now
Chief Designer Details China's Future Lunar Missions
China will carry on its moon research in the future with Chang'e-6, Chang'e-7 and Chang'e-8 missions by 2030, chief designer of the country's lunar exploration program Wu Weiren said.
The Chang'e-6 is scheduled to bring back to Earth lunar samples with a mass of up to 2 kilograms; the Chang'e-7 will be tasked with landing on the lunar south pole and detecting local natural resources; and the Chang'e-8, working in collaboration with Chang'e-7, is going to scout how to exploit lunar resources.
Read more at: Xinhuanet
NASA Says Astronaut Mark Vande Hei Won't Be Left in Space After Russian Video Sparks Fears
U.S. astronaut Mark Vande Hei will not be abandoned on the International Space Station (ISS), NASA has insisted amid speculation to the contrary.
Vande Hei has been on the ISS for over 300 days and as of today, March 15, has become the record holder for the most consecutive days spent in Earth orbit by a NASA astronaut.
He arrived on the ISS on April 9, 2021, aboard a Russian Soyuz spacecraft with a Russian crew. He is scheduled to return to Earth the same way on March 30.
Read more at: Newsweek
SPACE HAZARDS AND STM
An Asteroid Impact Could Wipe Out an Entire City – NASA's Planetary Defense Plans To Prevent a Catastrophe
The Earth exists in a dangerous environment. Cosmic bodies, like asteroids and comets, are constantly zooming through space and often crash into our planet. Most of these are too small to pose a threat, but some can be cause for concern.
As a scholar who studies space and international security, it is my job to ask what the likelihood of an object crashing into the planet really is – and whether governments are spending enough money to prevent such an event.
Read more at: Scitechdaily
An Expert Explains How Solar Storms Can So Easily Destroy Satellites
On Feb. 4, 2022, SpaceX launched 49 satellites as part of Elon Musk's Starlink internet project, most of which burned up in the atmosphere days later. The cause of this more than US$50 million failure was a geomagnetic storm caused by the Sun. Geomagnetic storms occur when space weather hits and interacts with the Earth. Space weather is caused by fluctuations within the Sun that blast electrons, protons, and other particles into space.
Read more at: Sciencealert
NEW SPACE/COMMERCIAL
Astra Launches Three Satellites In Successful Mission From Alaska
Read more at: UPI
Astra Finds Electrical, Software Failures As Root Causes Of Elana 41 Mission Failure
Astra has determined the causes of two failure points that led to the loss to the LV0008 Rocket 3 mission, also known as ELaNA 41, on February 10, 2022.
During the launch, a failure occurred around the time of stage separation, with Astra announcing not one but two separate failures – one affecting payload fairing separation and another affecting the upper stage's thrust vector control (TVC) – ultimately caused the loss of the mission.
Read more at: NASA spaceflight
China To Open Space Station To Commercial Activity
China is planning to open its space station to commercial missions and activities, according to a senior human spaceflight program official.
"When our space station is completed and running, we will actively encourage the private sector to engage in space through various ways," Zhou Jianping, chief designer of China's human spaceflight program, told China Central Television March 9.
"There are many possibilities. We hope there will be competitive, cost-efficient commercial space players to participate in areas including space applications and space resource development. The prospects are good," Zhou said.
Read more at: Spacenews
Seven Sisters Space Consortium Bids For Government Grant
The Seven Sisters, a consortium of companies in South Australia led by small-satellite developer Fleet Space Technologies, is bidding for the Australian Government Trailblazer grant which funds the development of lunar rovers and associated technologies.
The Seven Sisters is an initiative to discover abundant resources for humanity's exploration of space through the implementation of surface exploration and construction technologies. The consortium, composed of Australian companies and academic institutions, will lead Australia's contribution to NASA's forthcoming moon and mars missions. 
Read more at: Australian defence
Oneweb Not Eager To Tear Up Launch Contract With Arianespace
OneWeb working with Arianespace, who owes the satellite internet firm six more Soyuz launches, to find rides to orbit for more than 200 of its spacecraft left grounded by an embargo on Western payloads flying aboard Russian rockets.
But with launch capacity constrained outside of China and SpaceX, a major OneWeb competitor, the commercial satellite internet provider is facing an inevitable delay in completing its constellation, a milestone previously expected this summer.
Read more at: Spaceflight Now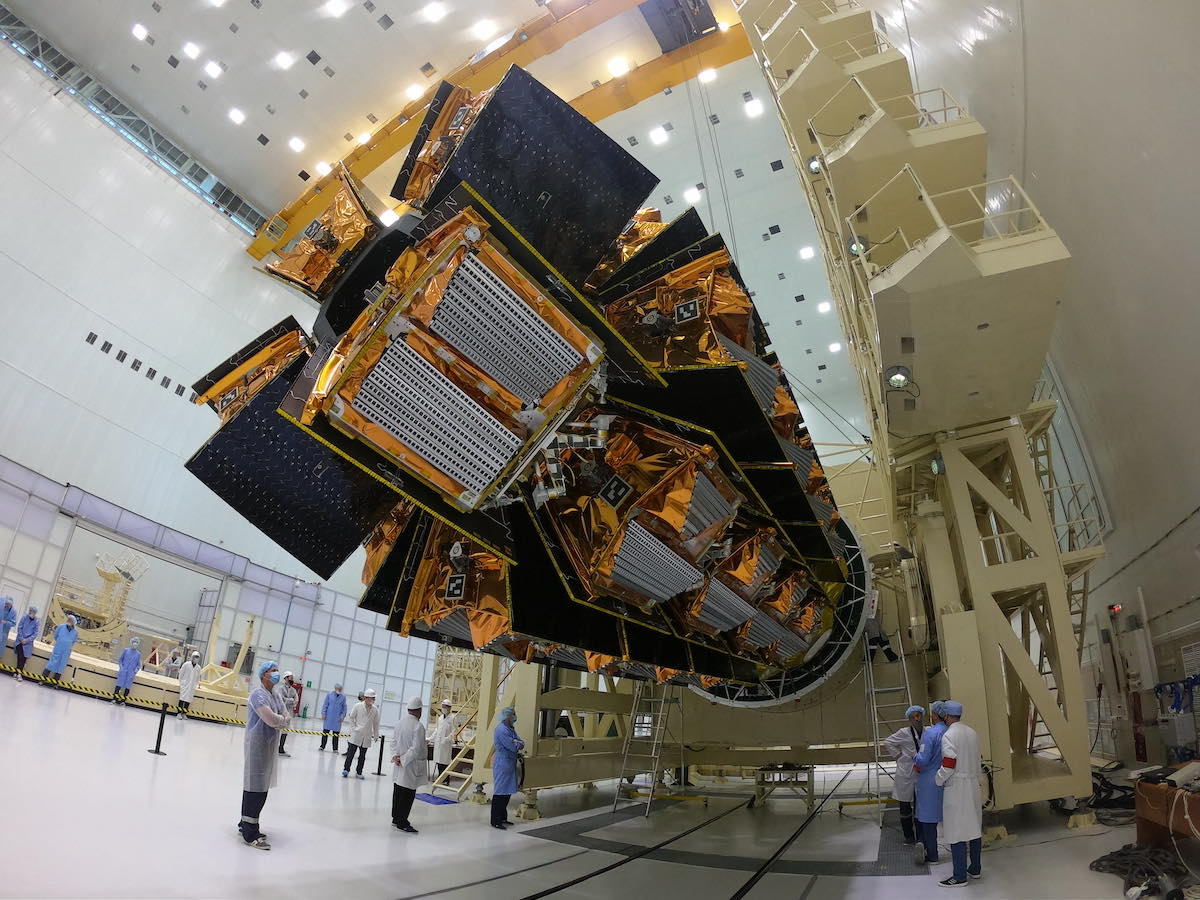 SCIENCE AND TECHNOLOGY
Tiny Laser-Propelled Spaceships Could Travel To The Far Reaches Of The Solar System And Beyond
Miniature spaceships the size of cellphones could fly across the solar system using sails propelled by lasers, which would allow the tiny spacecraft to reach much faster speeds — and, potentially, much more distant destinations — than conventionally powered rockets, a new study finds. Current spacecraft usually take years to make trips within the solar system; for example, NASA's New Horizons probe took nearly 10 years to reach Pluto.
Read more at: Space.com
How Do Viruses Affect Astronauts In Space? Here's What We Know So Far.
Read more at: Space.com
Blushift Conducts First Successful Test Of Commercial-Scale Biofueled Rocket Engine
After two attempts earlier this week, Brunswick-based bluShift Aerospace on Tuesday evening successfully completed the first static-fire test of the startup's full-scale biofueled rocket engine.
"I'm still shaking, and my heart is pounding a thousand beats per second, but wow — this test was exactly what we were hoping for," CEO Sascha Deri said in a news release.
Read more at: Mainebiz
Lunar Scientists And Engineers Design Moon Cave Explorer
Lunar caves are not only a geologically pristine record of the Moon's history, but they could also provide a safe home for future human explorers. Building upon ESA Discovery's OSIP call and SysNova challenge, ESA gathered a spectrum of over 60 experts in many different areas of science and engineering to design a mission to enter a pit on the Moon's surface and explore the entrance to a lunar cave. The Moon is dotted with pits that scientists think could lead to huge underground tunnels. But a space mission has never been sent to explore what could lie within.
Read more at: ESA
Aerospace Startup Reveals New Modular Lunar Rover For Carrying People And Cargo On The Moon
Today, aerospace startup Venturi Astrolab revealed its new interplanetary rover designed to transport cargo and people across the surface of the Moon — and eventually Mars. The company says it plans to build a fleet of these rovers over the coming decade to help NASA and commercial companies establish a long-term presence on the Moon.
Called FLEX, for Flexible Logistics and Exploration, the rover can crouch down and lift payloads up from the surface of the Moon, carrying them under its belly before depositing them at their intended location.
Read more at: Verge
Can SpaceX Save NASA's International Space Station?
The recent invasion of Ukraine by Russia has strained relations between the Russian Federation and the rest of the world. That tension has spilled over into the realm of space cooperation.
According to Ars Technica, NASA expects that the Russian participation in the International Space Station (ISS) will continue. The theory is that the ISS is slated for another eight years of operational life. The Ukraine War will likely be resolved much sooner than that. Russian President Vladimir Putin, the source of so much tension on the world scene, may no longer be in power long before the ISS is slated to end.
Read more at: Hill
SPACE POLICY
Lawmakers Worry About Cyber Risks In Space
Lawmakers are raising concerns about the vulnerability U.S. satellites may have to electronic and cyberattacks from foreign actors as geopolitical tensions increase.
During a March 8 Senate Armed Services hearing Sen. Jacky Rosen (D-Nev.) questioned whether "increasing threats of cyberattack from Russia could jeopardize our U.S. space operations" as Russia prosecutes its invasion of Ukraine. 
Read more at: FCW
Bahrain Joins US-Led Artemis Accords On Responsible Space Exploration
Bahrain has become the second Arab country to sign the US-led Artemis Accords, an international treaty that outlines peaceful and responsible space exploration. The Accords set international standards of how the Moon should be explored and lists guidelines on activities such as mining on the Moon, releasing scientific data publicly, transparency with the public on policies and providing emergency assistance.
Read more at: National news
Watery Graves: Should We Be Ditching Big Spacecraft Over Earth's Oceans?
With increasing regularity, Earth's oceans are the drop zones for incoming leftovers from space. 
For decades, Russian Progress resupply spacecraft loaded with tons of waste from the International Space Station (ISS) have been intentionally steered to reentries over the Pacific Ocean's "spacecraft cemetery." Similarly, Northop Grumman's Cygnus cargo vehicles are filled with rubbish from the space station crew and ultimately ditched over the South Pacific.
Read more at: Space.com
Chinese Official Calls For Protection Of Space Assets, International Coordination Mechanisms
China needs to accelerate the development of space asset protection policies and related international coordination mechanisms, according to a space industry official.
"We should proactively promote the formulation of space asset protection policies, so that space asset protection activities can be based on the law, and at the same time declare the importance that China attaches to space asset protection," Yang Mengfei, an academician at the China Academy of Space Technology (CAST), told China National Radio.
Yang also called for establishing a coordination mechanism between China's space agencies and other national level agencies, to communicate the orbits and deployment plans of megaconstellations and collision warning information.
Read more at: Spacenews
SPACE DEFENSE
France Puts Space At Top Of National — And European — Security Priorities
Read more at: Defensenews
Dod Estimates $2.5 Billion Price Tag For Global Constellation To Track Hypersonic Missiles
A $550 million increase to the Pentagon's 2022 budget was directed by Congress to procure sensor satellites and launch them to low Earth orbit to detect and track Russian and Chinese hypersonic missiles. 
These funds are only a down payment to kickstart the deployment of the Tracking Layer Tranche 1, a constellation of 28 infrared sensor satellites that would cost about $2.5 billion to procure and launch, a senior defense official told reporters March 15.
DoD's Space Development Agency (SDA) in 2020 bought the first eight satellites of the Tracking Layer — four from L3Harris and four from a SpaceX-Leidos team. Both have passed design reviews and are scheduled to launch in 2023. 
Read more at: Spacenews
New Missile Tracking Satellites Could Be in Orbit by 2025
The Defense Department could have higher-resolution, global missile warning and tracking in place as soon as 2025. 
Congress seeded "Tranche 1" of the Space Development Agency's Tracking Layer of its planned multi-use satellite constellation in the newly passed fiscal 2022 spending bill. The extra $550 million Congress gave SDA, above what the Pentagon asked for, in fiscal 2022 means the Tracking Layer could go live in early 2025 instead of in 2026. 
Read more at: Airforcemag
Six Space Technologies the USSF Needs in Order to Maintain the US Advantage
As challenges to the U.S. military's advantage in space continue to mount, the need to foster innovations and develop technologies to meet them rises accordingly.
A panel of experts addressed the technologies necessary to maintain superiority during a March 4 discussion at the AFA Warfare Symposium in Orlando, Fla.
Read more at: Airforcemag
Space Programs Moving Up On Dod's Budget Priority List
Pentagon funding for space programs will grow in the coming years as the U.S. military increasingly relies on satellites to conduct operations, the Defense Department's comptroller Mike McCord said March 9. 
"Space is probably emerging in our internal reviews as the most important foundational area for everything that we are doing and everything that we need to be doing," McCord said at the McAleese & Associates' annual defense programs conference. 
Read more at: Spacenews
VARIOUS
Time For NASA To Go All In On Commercial Space
Recent developments suggest that the business-as-usual approach to civil space policy has become increasingly untenable. At the same time, commercial partnerships continue to pay dividends, saving NASA money and expanding its reach and capabilities.
Russia's invasion of Ukraine has sparked a rift in the American-Russian space partnership that has endured for almost 30 years.
Read more at: Hill
Will The Billionaire Space Race Lead To Technologies That Help Humanity, Or Be Its Detriment?
Beloved children's author and illustrator Michael Foreman penned his classic picture book Dinosaurs and All That Rubbish in 1972. The book opens with the image of a man in a bowler hat and seersucker suit entranced by the beauty of a far-flung star twinkling in the night sky. "I have money," he muses, eyeing the heavens. "I have many men working for me." And so, summoning all his will and resources, he sets about attaining his goal. "Build me a rocket!" he demands. "Cut down the trees, dig out the coal. Burn whatever will burn, and build me a rocket to reach the stars!"
Read more at: ceomagazine
How Elon Musk's Satellite Internet Is Coming To Ukraine's Defense
In a move as rogue-ishly provocative as his moonshot, Elon Musk is inserting himself into the drama of international conflict by bolstering Ukraine's internet connection to the outside world.
On Wednesday, his trucks delivered a second shipment of satellite-based Starlink internet terminals to a battered Ukraine, responding to a plea from the nation's vice prime minister. His initial shipment arrived on Feb. 28, only four days after Russian forces launched an assault on the nation.
His system beams data from space – and so, unlike land-based networks, it is less vulnerable to attack or authoritarian control. Those aspects seem to be angering Russian officials.
Read more at: Mercurynews
Aerospace Companies Urge Colorado Senators To Fight To Keep Space Command
Read more at: gazette
A Course for the Commercial Space Age
AS PRIVATE SPACE exploration companies like SpaceX, Blue Origin, and Virgin Galactic make giant leaps for mankind, Harvard Business School is making a leap of its own. Last week, the school launched its first course devoted to outer space, "Space: Public and Commercial Economics," led by Elbling professor of business administration Matthew C. Weinzierl. To his knowledge, it is the first course on the economics of the space sector to be taught at an elite educational institution. He hopes the 14-session course will "inspire other places to have their own offerings on space and make this something that is talked about at business schools more broadly."
Read more at: harvard magazine
How Much Training Do You Need To Visit Space? Private Astronaut Training Facility May Come To Brevard
For half a century there was only one way to fly to space: Be one of the few lucky individuals chosen by national space programs like NASA or Russia's Roscosmos.
Being chosen to be an astronaut or cosmonaut meant facing years of training before even being considered for a flight on a space shuttle or Soyuz rocket.
But with space tourism becoming a reality, hundreds, if not thousands, of would-be "astronauts" will need to be trained for spaceflight over the next few years.
Read more at: Florida today
How To Save The International Space Station And Prevent The Dreaded "Gap"
In the 10 days since Russia invaded Ukraine, relations between the first nation to reach space and the Western world have been stripped to the bone.
To wit: Europe's space agency has canceled several launches on Russian rockets, a contract between privately held OneWeb and Roscosmos for six Soyuz launches has been nullified, Europe suspended work on its ExoMars exploration mission that was set to use a Russian rocket and lander, and Russia has vowed to stop selling rocket engines to US launch companies.
Read more at: Arstechnica
NASA Astronaut Breaks American Space Record
In this image from August 2021, NASA astronaut Mark Vande Hei sits and reads while aboard the International Space Station. 
Vande Hei made it into record books on Tuesday, March 15, 2022: He broke the record for the most consecutive days in space by an American explorer.
Vande Hei arrived at the space station on April 9, 2021, and is expected to return home March 30, 2022, after spending 355 days in low-Earth orbit. This duration breaks the previous record, held by NASA astronaut Scott Kelly, by 15 days.
Read more at: NASA