Astronauts To Live And Work On The Moon By 2030, Nasa Official Says
Astronauts are on course to be living and working on the moon before the end of the decade, according to a Nasa official.
Howard Hu, the head of the US agency's Orion lunar spacecraft programme, said humans could be active on the moon for "durations" before 2030, with habitats to live in and rovers to support their work.
"Certainly, in this decade, we are going to have people living for durations, depending on how long we will be on the surface. They will have habitats, they will have rovers on the ground," he told the BBC's Sunday with Laura Kuenssberg programme. "We are going to be sending people down to the surface, and they are going to be living on that surface and doing science," he added.
Read more at: Guardian
European Space Sector Commits: Earth Is Ours, We Must Cherish It
ESA and 22 other European space actors have come together to sign a "Statement for a Responsible Space Sector". Space exploration has allowed us to look back on our planet in a way that no human could imagine before, revealing a fragile world with limited resources. As today's statement explains, the responsibility to take care of our planet extends to and depends on, our actions in space. 
ESA is honoured to collaborate with space stakeholders in the signature of this Statement for a Responsible Space Sector, which makes clear:
Read more at: ESA
British Paralympian Announced As World's First Disabled Astronaut
British Paralympic sprinter John McFall is chosen as the first disabled astronaut by the European Space Agency. McFall will join the space training corp to work with designers and engineers to see if he can be the first disabled person to go into space. He says hopes to inspire others and show that "science is for everyone… and potentially space is for everyone".
Read more at: BBC
NASA: Artemis Rocket's 'Eye-Watering' Power Damaged Mobile Launcher At KSC
A massive mobile tower used for NASA's Artemis mission to the moon sustained noteworthy damage – blown-off elevator doors, charred grass, and more – during the program's first launch last week as it bore the brunt of millions of pounds of liftoff thrust.
The Space Launch System rocket, sporting four space shuttle-era main engines and two side-mounted solid rocket boosters, finally blasted off from Kennedy Space Center early Nov. 16 after several delays and scrubs. But once it did fly with Artemis I, the 322-foot rocket made its mark – literally.
Read more at: florida today
SPACE HAZARDS & STM
Scientists Are Looking Into This Last-Minute Strategy To Save The Planet From Asteroid Disaster
On September 26, 2022, NASA's Double-Asteroid Redirect Test (DART) made history when it rendezvoused with the asteroid Didymos and impacted with its moonlet, Dimorphous. The purpose was to test the "Kinetic Impact" method, a means of defense against potentially hazardous asteroids (PHAs) where a spacecraft collides with them to alter their trajectory. Based on follow-up observations, the test succeeded since DART managed to shorten Dimorphos' orbit by 22 minutes. The impact also caused the moonlet to grow a visible tail!
Read more at: Inverse
NASA Loses Contact With Artemis 1's Orion Spacecraft For 47 Minutes
NASA unexpectedly lost contact with its moonbound Orion capsule early Wednesday morning (Nov. 23), for reasons that remain unclear. The uncrewed Orion has been performing well since launching toward the moon last Wednesday (Nov. 16) on NASA's Artemis 1 mission. But this Wednesday (Nov. 23) brought a blip: Mission controllers lost communication with Orion at 1:09 a.m. EST (0609 GMT) while reconfiguring a link between the capsule and the Deep Space Network, the set of radio dishes that NASA uses to talk to its farflung spacecraft.
Read more at: space.com
Meteorite That Landed In English Village Last Year Is Most Pristine Ever Seen
A meteorite that lit up the sky above an English village last year is almost as pristine as samples collected by space probes and contains the "right" kind of hydrogen to explain water on Earth, scientists say. A huge furor erupted when a fireball rattled through the evening sky above southwestern England on Feb. 28, 2021. Dozens of meteor cameras and doorbell webcams caught a glimpse of the bright streak, and a 1-pound (0.5 kilograms) fragment of the space rock was promptly found in the driveway of a home in the village of Winchcombe, after which the meteorite was later named.
Read more at: space.com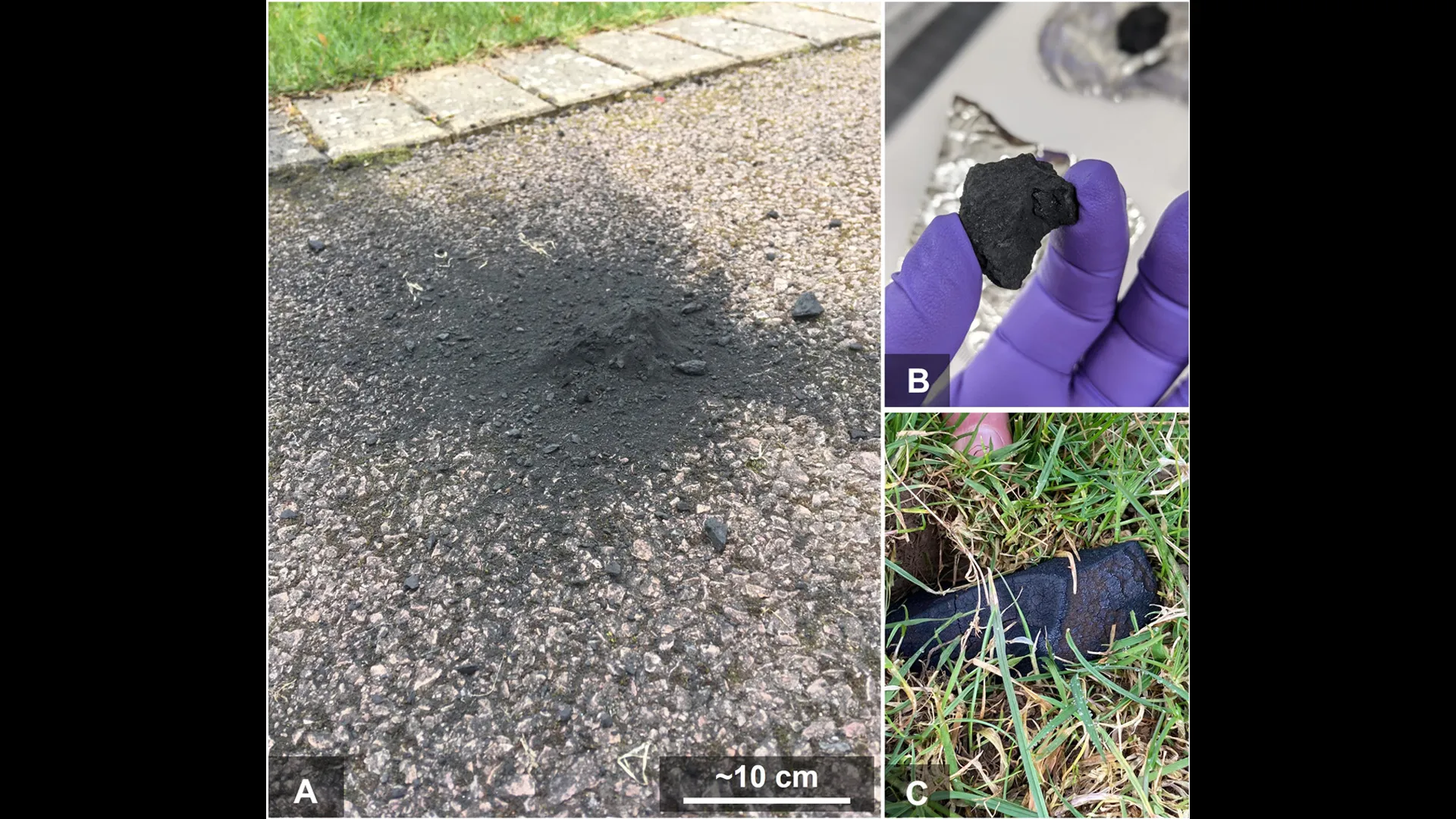 NASA Calls Test Of Inflatable Heat Shield A Success
A NASA demonstration of an inflatable heat shield showed the technology worked and can be scaled up for missions on Earth and Mars, project leaders said Nov. 17.
NASA flew the Low-Earth Orbit Flight Test of an Inflatable Decelerator (LOFTID) as a secondary payload on the Atlas 5 launch of a weather satellite Nov. 10. The payload inflated a heat shield six meters in diameter that separated from the rocket's Centaur upper stage and reentered over the Pacific, splashing down east of Hawaii.
Read more at: spacenews
Asteroid Hit Canada, May Have Dropped Meteorites
Astronomers spotted an asteroid just hours before it struck Earth Saturday morning (November 19, 2022), near Lake Erie in Canada. This is not the first time this year astronomers have discovered a rock from space just hours before it hit Earth. But this time, it entered Earth's atmosphere over a populated area, crossing the skies of Toronto, Canada. So we have video and witnesses who saw, heard and felt the impact. And astronomers said locals may be able to find meteorites from the impact.
Read more at: earthsky

COMMERCIAL SPACE
SpaceX To Launch Last New Cargo Dragon Spacecraft
A SpaceX Dragon launching soon to the International Space Station is the last cargo version of the spacecraft the company expects to build, with one more crewed spacecraft under construction.
At an Nov. 18 briefing about the upcoming SpaceX CRS-26 cargo mission to the station, NASA and SpaceX announced the launch, previously scheduled for Nov. 21 from the Kennedy Space Center, had slipped a day to Nov. 22 at 3:54 p.m. Eastern. A launch that day would allow the Dragon to dock with the station Nov. 23 at 5:57 a.m. Eastern.
Read more at: spacenews
Polaris Dawn Crew Prepares For World's 1st Private Spacewalk With SpaceX
The crewmembers of the Polaris Dawn mission are busily training for their orbital flight early next year, one that will see the first commercial spacewalk as well as carry out studies on the long-term implications of microgravity and radiation on human health.
Polaris Dawn's four-person team visited the University of Colorado, Boulder on Nov. 14, detailing their flight with aerospace professors and students. The university's BioServe Space Technologies center is orchestrating a set of investigations to perform on Polaris Dawn.
Read more at: space.com
Europe Looks To Commercialize Lunar Exploration Efforts
The European Space Agency is looking to create a more sustainable path for space, starting with growing commercial partnerships in lunar exploration.
A panel discussion titled "Understanding the Evolution towards Commercial Partnerships in the Development of Europe's Lunar Economy," at the Space Tech Expo in Bremen, Germany, Nov. 16 got underway just as the recently-launched Artemis 1 mission started its trans-lunar injection burn. 
Read more at: spacenews
France, Germany And Italy Sign Agreement On Launch Vehicle Development
An agreement among three European countries could help secure near-term funding for launch vehicle development but have a bigger effect in the long term on how future projects are financed.
The governments of France, Germany and Italy announced Nov. 22 they signed an agreement on "the future of launcher exploitation in Europe" intended, they said, to enhance competitiveness of European vehicles while also ensuring independent European access to space.
Read more at: spacenews
Equipment Defect Delays First Commercial Vega C Flight
Arianespace said Nov. 25 it is delaying the first commercial flight for Europe's upgraded Vega C rocket by nearly a month to replace defective equipment.
The company discovered the defect on the medium-lift rocket as it was being armed in Kourou, French Guiana, to launch the final two satellites for Airbus' Pléiades Neo Earth-imaging constellation Nov. 24.
Vega C and the high-resolution Pléiades Neo 5 and 6 satellites are in a safe condition, Arianespace said in a short statement.
Read more at: spacenews
SCIENCE AND TECHNOLOGY
NASA's Artemis Program: Everything You Need to Know
NASA's Artemis program is an effort to place astronauts on the lunar surface and develop an ongoing presence there. NASA successfully launched Artemis 1 at 01:47 a.m. EST (0647 GMT) on November 16, from Launch Complex 39B at NASA's Kennedy Space Center in Florida. To stay up to date with the mission check out our Artemis 1 moon mission live updates page.
Read more at: space.com
Australia's First Rocket Is Set To Launch Into Space In April 2023
Australian company Gilmour Space has nearly finished building a rocket that it will attempt to launch into space in April 2023. If successful, it will be Australia's first homegrown orbital spacecraft.
"Space [technology] is one of the key enablers of society – it's good for a nation to have access to space capability if it can," says Adam Gilmour, a long-time space enthusiast who co-founded the company after working in banking for 20 years.
The rocket, called Eris, will stand 23 metres tall and weigh over 30 tonnes. It will be powered by five hybrid engines that contain a solid fuel and a liquid oxidiser.
Read more at: newscientist
Crew Preparing for Spacewalks as Cargo Dragon Launch Nears
The Expedition 68 crew continues gearing up for more spacewalks at the International Space Station before the end of the year. Meanwhile, a U.S. cargo craft is counting down to its launch this week to resupply the seven-member crew living aboard the orbiting lab. Two astronauts and two cosmonauts are preparing for five spacewalks to be conducted outside the space station in less than two months. One set of spacewalks is augmenting the station's power generation system. The other set of spacewalks is deploying a radiator and installing an airlock on the Nauka multipurpose laboratory module.
Read more at: NASA
The Next And Most Profound Industrial Revolution In Human History Is Underway In Low Earth Orbit
Riding on the shoulders of the Apollo generation, the Artemis missions will pave the way for humans to return to the moon, begin human exploration of Mars, and someday for humanity to reach the edges of our solar system and beyond.
While the exploration of deep space is critical to advancing our understanding of so many unanswered questions about the universe and our place in it, it is equally as critical that the United States government and private industry work together to lead the commercialization of Low Earth Orbit (LEO), and capture the resulting massive new space economy.
Read more at: spacenews
NASA's New Rocket Blows The Doors Off Its Mobile Launch Tower
So far, NASA's ambitious Artemis I mission seems to be going swimmingly. The Orion spacecraft has performed a number of propulsive burns, flying smoothly past the Moon, and will now test out its capabilities in deep space.
On Monday evening, after flying around the Moon, the spacecraft returned images of the flyby back to Earth via the Deep Space Network. While no humans are on board Orion during this test flight, they will be during its next mission. The views of the Moon from human spacecraft—the first in more than half a century—were brilliant.
Read more at: arstechnica
China To Use Space Station To Test Space-Based Solar Power
China intends to use its newly-completed Tiangong space station to test key technologies required for space-based polar power, according to a senior space official.
Robotic arms already operating on the outside of Tiangong will be used to test on-orbit assembly of modules for a space-based solar power test system, Yang Hong, chief designer of the Tiangong space station said in a presentation at the ongoing China Space Conference.
Read more at: spacenews
Spacesuit Malfunction Forces Cancelation of ISS Spacewalk
Roscosmos cosmonauts Sergey Prokopyev and Dmitri Petelin were unable to perform a scheduled maintenance task outside the ISS today due to a malfunctioning coolant system on a Russian-built Orlan spacesuit.
Prokopyev's spacesuit was the troublemaker, exhibiting faulty pumps connected to its cooling system, according to Russian state-run TASS news agency. The canceled spacewalk was supposed to happen at 6:20 a.m. ET this morning. No date has been set for the re-attempt.
Read more at: gizmodo
NASA's Ingenuity Mars Helicopter Completes First Flight With New Navigation Software
Compared to some of the other flights this past year, Ingenuity Mars Helicopter's Flight 34 might not stand out. Wednesday's successful 18-second flight was even shorter than Ingenuity's first flight; the Mars helicopter simply popped up to a little over 16 feet (5 meters), hovered, then landed. Despite the flight's simple nature, the team is very excited because of what it means for the future of Ingenuity.
Over the past few weeks, the operations team has been at work installing a major software update aboard the helicopter. This update provides Ingenuity with two major new capabilities: hazard avoidance when landing and the use of digital elevation maps to help navigate.
Read more at: scitech daily
NASA's SLS Launch Was a Roaring Success—Except for Its Secondary Payloads
Japan's tiny lunar lander never got to touch down on the Moon, as it failed to communicate with ground controllers shortly after launching aboard NASA's Space Launch System (SLS) rocket. The spacecraft was one of 10 cubesats that participated in the Artemis 1 launch, which endured several delays that may have affected the cubesats' performance in space.
On Monday, the Japanese space agency JAXA announced that it was unable to receive radio signals from its OMOTENASHI cubesat, officially declaring a mission failure. "We will investigate the cause of this incident and proceed with the future operation plan while consulting with the relevant parties," the OMOTENASHI team wrote on twitter.
Read more at: gizmodo
SPACE POLICY
Europe's First Mars Rover Mission Saved By Major Investment
Europe's Rosalind Franklin Mars rover, part of the beleaguered €1.3-billion (US$1.35-billion) ExoMars programme, is now set to launch in 2028, after securing a reported €360-million investment from European countries.
The money will allow the European Space Agency (ESA) to start designing a new landing platform to lower its first Martian rover onto the planet's surface.
Read more at: nature
The White House's Plan To Colonize The Moon, Briefly Explained
The first mission in NASA's Artemis program finally took the Orion spacecraft on a trip around the moon, a huge step forward for the ambitious plan to bring humans to the lunar surface as soon as 2025. It's also the beginning of the White House's far-reaching ambitions for a permanent outpost on the moon.
The White House's national science and technology council last week released its new "National Cislunar Science and Technology Strategy," a wide-ranging document that explains the Biden administration's objectives for cislunar space, which is the area under the gravitational influence of the Earth and the moon.
Read more at: Vox
ESA Gets Big Increase, Commits to ISS Through 2030 and ExoMars Rover in 2028
Today's a big day for the European Space Agency. Its governing Ministerial Council approved a 17 percent increase in funding, committed to support the International Space Station through 2030, and vowed to ensure that the Rosalind Franklin rover makes it to Mars after the European-Russian ExoMars project was derailed by Russia's invasion of Ukraine. On top of all that, ESA announced a new class of astronauts.
Read more at: spacepolicy online
Hungary To Spend $100 Million On Private Astronaut Mission To ISS
The Hungarian government plans to spend $100 million to send an astronaut to the International Space Station in two years through a deal with Axiom Space.
In a presentation at the European Space Agency's ministerial council meeting Nov. 22, Péter Szijjártó, Hungarian foreign minister, said the country was in the middle of a process to select an astronaut to fly on a month-long mission to the ISS in late 2024 or early 2025.
Read more at: spacenews
Satellite Constellations Could Harm the Environment, New Watchdog Report Says
Do people have a right to an unobstructed view of the heavens? For most of human history, such a question would have been considered nonsensical—but with the recent rise of satellite mega constellations, it's now being asked again and again. Mega constellations are vast groups of spacecraft, numbering in the thousands, that could spark a multitrillion-dollar orbital industry and transform global connectivity and commerce. But the rise of mega constellations also threatens to clutter the night sky, disrupt the work of some astronomers and create space debris that harms people on Earth and in space alike.
Read more at: scientific american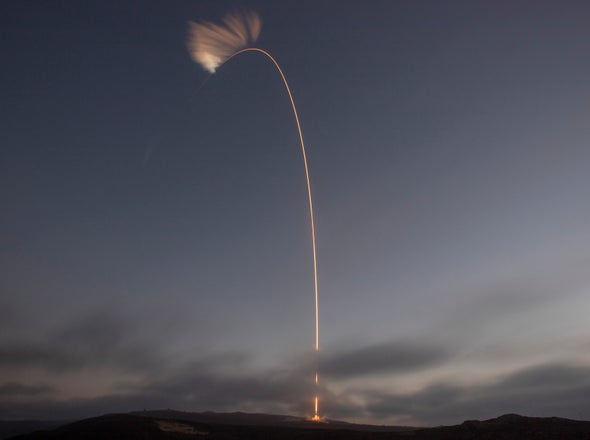 SPACE DEFENCE
Space Force Opens Door To Blue Origin With New Cooperative Agreement
The U.S. Space Systems Command announced Nov. 18 it signed an agreement with Blue Origin that "paves the way" for the company's New Glenn rocket to compete for national security launch contracts once it completes the required flight certification. 
The cooperative research and development (CRADA) agreement does not include any government funding and is largely symbolic, as New Glenn is still in development and Blue Origin has no target date for the first launch. 
Read more at: spacenews
Philippine Navy Says China Forcibly Seized Suspected Rocket Debris
According to Philippines military officials, China's coast guard forcibly blocked a Philippine naval boat on Sunday as it was towing suspected rocket debris from the South China Sea to the Philippine-occupied Thitu island, the Associated Press reported.
Philippine sailors had spotted the debris and sailed off on a boat to retrieve it. As they were towing it back to the island, a Chinese coast guard vessel allegedly blocked their way twice before deploying an inflatable boat with two people on board.
Read more at: gizmodo
Space Force To Recompete Contract For Integration Of Rideshare Payloads
The U.S. Space Systems Command has started market research for its next procurement of payload integration services, according to a request for information published Nov. 18.
The Space Force is trying to identify industry interest in competing for a multi-year contract to integrate and operate rideshare payloads in national security and other U.S. government missions. 
Read more at: spacenews
Viasat Wins $325 million U.S. Special Operations Command Contract
The U.S. Special Operations Command awarded Viasat a $325 million contract to provide communications equipment and networking services over the next five years, the Pentagon announced Nov. 22. 
Viasat, a satellite operator and global communications services provider based in Carlsbad, California, will support USSOCOM's program executive office for tactical communications systems,
USSOCOM, based in Tampa, Florida, is a unified military command with components from the Army, Marine Corps, Navy and Air Force. 
Read more at: spacenews
Space Force Establishes Permanent Presence In Indo-Pacific Region
The Space Force on Nov. 22 formally established a unit within U.S. Indo-Pacific Command, the Defense Department's largest combatant command. Based in Hawaii, U.S. Indo-Pacom is responsible for operations in the Asia-Pacific region. 
U.S. Space Forces Indo-Pacific initially will be staffed by 21 service members led by Brig. Gen. Anthony Mastalir, a former commander of the space launch wing at Vandenberg Space Force Base, California. 
Read more at: spacenews
Op-Ed | Remarkable Pivot Happening In The National Security Space Business
Over the last year, policymakers in Washington have awakened from a deep slumber. The abrupt ending of the Cold War in the 1980's and the subsequent misguided industry consolidation in the 90's lulled the nation into believing that the status quo was all we could really hope for. Very little innovation or improvements were envisioned or deemed necessary. Parts obsolescence was seen as the most existential threat. 
Read more at: spacenews
VARIOUS
NASA, SpaceX Target New Launch Date for Next Commercial Cargo Mission
NASA and SpaceX are targeting no earlier than 3:54 p.m. EST Tuesday, Nov. 22, for the launch of the agency's CRS-26 mission to the International Space Station with a backup opportunity on Saturday, Nov. 26 at 2:20 p.m. EST. The cargo ship will automatically dock to the forward port on the station's Harmony module at 5:57 a.m. on Wednesday. Dragon is delivering new space agriculture and biotechnology studies, as well as the next pair of rollout solar arrays to augment the station's power generation system. NASA TV, on the agency's app and website, begins its launch coverage at 3:30 p.m. on Tuesday and docking coverage at 4:30 a.m. on Wednesday.
Read more at: NASA
See an Exclusive Clip From Good Night Oppy, a New Doc About the Mars Rover That Defied the Odds
Often, the public only turns its gaze to space missions during the spectacular moments: launches and landings, mostly. But Mars rovers maintain a special place in our hearts, as they toil millions of miles from home, sending us updates and images over the course of years. We get used to receiving these alien postcards—until one day, a mission goes silent, and we have to say goodbye to the robot we grew to love.
Read more at: Gizmodo
Orion Soars Around The Moon With A Lonely Earth In The Distance
NASA's Orion spacecraft flew to within 130 km of the Moon's surface on Monday morning after executing one of the most demanding maneuvers of its 25-day mission.
Since launching on top of the Space Launch System rocket last Wednesday, Orion's European Service Module had conducted four "trajectory correction burns" on the way to the Moon. These were brief firings of the service module's main engine, an Aerojet-built AJ10 engine. However, the propulsion system faced a stiffer test on Monday as part of a maneuver to enter orbit around the Moon. It passed with flying colors.
Read more at: arstechnica

China Rolls Out Rocket To Launch New Crew To Newly-Completed Space Station
China is gearing up to send a new crew up to the newly-completed space station. 
A Long March 2F rocket tipped with the Shenzhou 15 crew spacecraft was rolled out to the pad at Jiuquan Satellite Launch Center in the Gobi Desert on Monday (Nov. 21), China's human spaceflight agency, CMSA, announced (opens in new tab).
The rocket was transferred vertically around 0.9 miles (1.5 kilometers) from the assembly building to the launch pad.
Read more at: space.com
NASA Invites Public Comment on Plans for Mars Sample Return Campaign
NASA is seeking public comments on a draft environmental impact statement for the agency's Mars Sample Return (MSR) campaign. Comments are due by Monday, Dec. 19.
Comments can be submitted online, through the mail, or through participation in a series of virtual and in-person meetings. Advanced registration for meeting options, including in-person meetings in Utah, is not required.
Read more at: NASA
As Never Seen Before: NASA's Webb Reveals an Exoplanet Unlike Any in Our Solar System
WASP-39 b is a planet unlike any in our solar system – a Saturn-sized behemoth that orbits its star closer than Mercury is to our Sun. When NASA's James Webb Space Telescope initially began regular science operations, this exoplanet was one of the first to be examined. The exoplanet science community is buzzing with excitement over the results. Webb's incredibly sensitive instruments have provided a profile of WASP-39 b's atmospheric constituents and identified a plethora of contents, including water, sulfur dioxide, carbon monoxide, sodium, and potassium. The findings bode well for the capability of Webb's instruments to conduct a broad range of investigations of all types of exoplanets, including small, rocky worlds like those in the TRAPPIST-1 system.
Read more at: scitechdaily
NASA's Drifting Climate Satellites Could Find New Life As Wildfire And Storm Watchers
Since NASA's Terra satellite launched in 1999, it has seen a world utterly transformed. Surface temperatures have risen half a degree. Sea levels have climbed 80 millimeters higher. Plants have expanded across an area as big as the Amazon rainforest. Through it all, Terra and two other satellites—Aqua, launched in 2002, and Aura, in 2004—served as the foremost sentinels of a changing planet, running far past their expected 6-year missions.
Read more at: science
Photos And Videos Show Why Only 360 People Have Become NASA Astronauts
Many children grow up gazing up at the night sky, dreaming of becoming astronauts who boldly go to the moon — and beyond. But in order to get that elusive job, would-be astronauts must make it through a competitive selection process. For NASA's 2021 class of astronauts, the space agency said it chose just 10 candidates from more than 12,000 applicants. Basic requirements, according to NASA, include US citizenship and a master's degree in a STEM field, like engineering, biological science, or computer science. Astronauts must be in good shape and able to pass NASA's demanding physical exams.
Read more at: business insider
Japanese Cubesat Sends Home Pics From The Far Side Of The Moon
Japan's Equilibrium Lunar-Earth point 6U Spacecraft (EQUULEUS), one of 10 cubesat payloads aboard NASA's Orion spacecraft, has successfully sent back to Earth photos of the far side of the Moon.
According to the mission, the image was taken during a radio wave operation test on November 22 during a lunar flyby from about 3,448 miles (5,550km).
Read more at: register
Norway Announces Plan to Launch Maritime Surveillance Constellation
Norway has announced plans to launch a satellite constellation in collaboration with the European Space Agency (ESA) to provide continuous real-time maritime surveillance. The announcement came during the ESA Ministerial Council in Paris, France. Ms. Anne Marit Bjørnflaten, State Secretary of the Norwegian Ministry of Trade, Industry, and Fisheries, who made the disclosure, revealed that Space Norway would launch two communications satellites to provide broadband in the arctic region in the meantime.
Read more at: spacewatch
The Vastness Of The Universe Showcased In New Stunning Map
Astronomers at Johns Hopkins University have produced a new map of the universe that spans the entire known cosmos with unprecedented accuracy. To create the map, which depicts the position and real colours of 200 000 galaxies, the researchers mined some two decades worth of data from the Sloan Digital Sky Survey located in New Mexico, US.
Each dot on the map is a galaxy, which contains billions of stars and planets, with the Milky Way being one of these dots at the bottom of the map.
Read more at: physics world