TOP NEWS
Roscosmos Head Revises Comments About Quitting ISS After 2024
The new head of Russia's space agency backed away from comments suggesting Russia would withdraw from the International Space Station as soon as 2024 but expressed doubts Russia would be involved through 2030.
Yuri Borisov raised alarms among the other ISS partners July 26 when he told Russian president Vladimir Putin that Russia would end its participation on the station after 2024. The comments came as NASA and other partners continued plans to extend ISS operations to 2030.
Read more at: Spacenews
Hackers Hacked Into Europe's Largest Missile Manufacturer MBDA – 60 GB Of Data On Sams, Missile Systems And Contracts Stolen
Adrastea hackers hacked into the database of Europe's largest missile manufacturer. The company in question is MBDA.
Hackers claim to have stolen 60 GB of data. They gained access to confidential information on MBDA employees who were involved in sensitive military projects and in projects for the European Union's Defense Ministry.
The hackers have in their hands drawings, photo and video materials, presentations, contractual agreements, design documentation on missile systems, surface-to-air missile systems and coast guard systems. Adrastea also gained access to MBDA correspondence with other companies, including Netcomgroup, Rafael, Thales and Rampini Carlo.
Read more at: gagadget
NASA And Roscosmos Officials Restate Intent To Operate ISS After 2024
NASA and Roscosmos reiterated that they expect to continue operations of the International Space Station after 2024 as NASA continues to push for an extension to 2030. At an Aug. 4 briefing about the upcoming SpaceX Crew-5 mission to the ISS, officials with the two agencies played down comments July 26 by Yuri Borisov, new head of Roscosmos, initially interpreted to mean that Russia would withdraw from the partnership as soon as 2024. NASA officials said at the time they had received no notification of any planned withdrawal, and Borisov later said Russia would withdraw only at some unspecified time after 2024.
Read more at: Spacenews
China Launches DF-17 Hypersonic Missile Off Taiwan Strait
China's People's Liberation Army (PLA) conducted a live-fire exercise near Pingtan Island, around 120 kilometers from the Taiwanese coast.
The exercise included the launch of a DF-17 hypersonic system from a land-based platform, as seen in a promotional video released ahead of the 95th anniversary of the founding of the PLA, on August 1, 2022.
Read more at: Aerotime
SPACE HAZARDS & STM
Solar Storm From Hole In The Sun Will Hit Earth On Wednesday (Aug. 3)
High-speed solar winds from a "hole" in the sun's atmosphere are set to hit Earth's magnetic field on Wednesday (Aug 3.), triggering a minor G-1 geomagnetic storm.
Forecasters at the National Oceanic and Atmospheric Administration's Space Weather Prediction Center (SWPC) made the prediction after observing that "gaseous material is flowing from a southern hole in the sun's atmosphere," according to spaceweather.com. 
Read more at: Livescience
Enormous Asteroid Traveling at 72,000 mph Only Just Spotted Nearing Earth
An asteroid that could measure more than 1,200 feet across—as tall as the Empire State Building—is set to fly safely past Earth later this week after being discovered just a few days ago.
The space rock, dubbed 2022 OE2, will make a close approach to our planet on Wednesday, figures from NASA's Center for Near Earth Object Studies (CNEOS) database show.
At 8:23 p.m. ET on that day, the asteroid is predicted to come within around 3.2 million miles of Earth in its own orbit around the sun.
Read more at: Newsweek
More Snowy Mountains Space Junk Found Amid Visit From Australian Space Agency
A third piece of space junk has been found in the NSW Snowy Mountains, believed to be linked to a SpaceX craft.
Two other pieces of debris were recently found by farmers at neighbouring properties in Numbla Vale, after a loud bang was heard in the region on July 9. The sonic boom was believed to be caused by the SpaceX Dragon spacecraft, which was launched in November 2020, re-entering Earth's atmosphere. One piece of the junk was embedded deep in the ground and was estimated to be about three metres long.
Read more at: ABC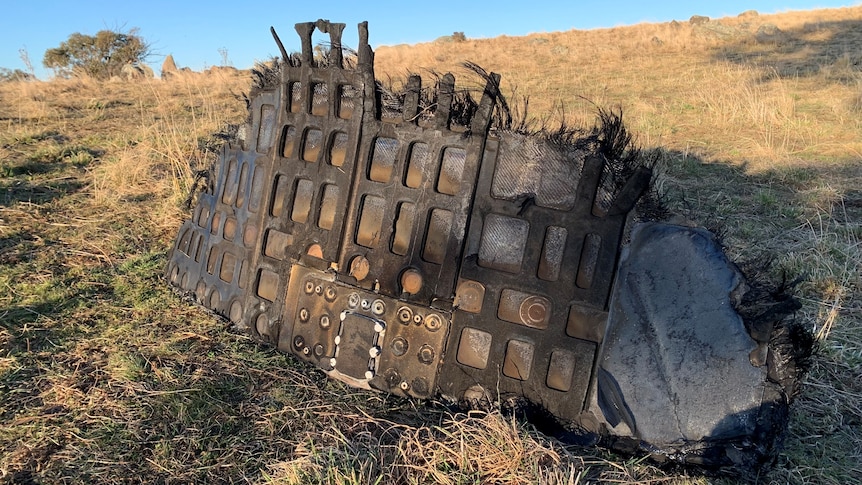 Massive 1200-Feet Wide Asteroid Is Coming For The Earth, Warns NASA
A recently discovered massive 1,200-foot-wide asteroid is approaching Earth at a very high speed, according to NASA. The asteroid is expected to make its closest approach tomorrow. Know the danger.
Last week, the Earth twice collided with large asteroids. The first asteroid was 400 feet wide and the second was 600 feet wide. However, now an asteroid is approaching our planet, which makes them look like tiny pebbles. This asteroid approaching tomorrow, August 3rd, is a giant 1,200 foot wide space rock that is moving towards Earth at an extremely high speed. For reference: the width of this asteroid is equal to three Statues of Liberty combined.
Read more at: Hindustan times
Debris From A SpaceX Capsule Found In Australia
Chunks of space debris were reportedly found on farmland in the Australia mountains, and this week NASA and Australian authorities confirmed that the objects are "likely" a scrap of hardware from a SpaceX Dragon capsule that was intentionally jettisoned as the spacecraft reentered the Earth's atmosphere last May.
SpaceX did not return a request for comment, and typically does not interact with news media.
Read more at: CNN
NASA Records Huge Flare From New, Active Region Emerging on Sun's Surface
NASA has spotted a bright solar flare erupting from the side of the sun, suggesting a particularly active solar region could be rotating this way.
The flare can be seen in the video above that was captured by NASA's Solar Dynamics Observatory on Sunday. In it, a contorted plasma structure can be seen moving on the left-hand side of the sun shortly before it erupts into space.
Read more at: Newsweek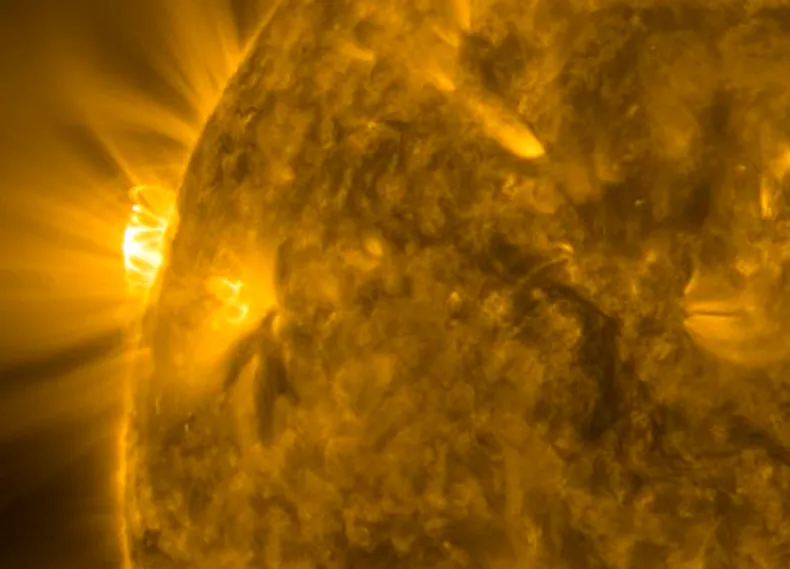 COMMERCIAL SPACE
Awaiting Static Fire As Spacex Sets Up Starship's Test Campaign
It was December 29 of last year when Ship 20 performed its fourth and final static fire test. That was the last time any Starship vehicle had performed a static fire test. However, Ship 24 is now being readied to undergo a similar test campaign in preparation for the launch of Starship's first orbital test flight.
Meanwhile, SpaceX crews continue repairing Booster 7 and readying the next set of Starship vehicles poised to fly an orbital flight. Outside of Starbase, Raptor 2 testing has ramped up at McGregor, and SpaceX's Florida Starship operations are making progress with facility construction. 
Read more at: NASAspaceflight
SpaceX Super Heavy Tank Prototype Survives Crush Testing
A tank prototype similar to SpaceX's next-generation Super Heavy rocket booster has survived a series of tests that repeatedly attempted to destroy it.
Known as Booster 7.1 or B7.1, the tank is the latest in a long line of 'test tanks' designed to verify the performance of Starship and Super Heavy and qualify new designs and manufacturing techniques without risking an entire upper stage or booster. In general, that means that test tanks are as minimal as possible and much shorter than either Starship stage, but they're also assembled out of nine-meter-wide (30 ft) steel barrels and domes almost identical to the sections that make up Starship and Super Heavy.
Read more at: Teslarati
SpaceX Will Use Starlink To Communicate With Starship When It Crosses Through Earth's Rough Atmosphere During Upcoming Flight Test
SpaceX's first-ever Starship launch to space could happen in just a few weeks. The long-awaited orbital flight test will originate from the Starbase launch site at Boca Chica Beach, Texas, and end with an ocean landing along the coast of Kauai, Hawaii. Starship could reach a maximum altitude of 250 kilometers (km). For perspective, the International Space Station orbits at an approximate altitude of 400 km. It will be the first time SpaceX launches the Super Heavy rocket powered by 33 Raptor V2 engines. Soon after the rocket propels Starship to orbit, it will perform a landing either in the Gulf of Mexico or return to the launch pad to be 'caught' by the launch tower's robotic arms.
Read more at: tesmanian
Virgin Galactic Plans New Astronaut Training Facility Near Spaceport America
Virgin Galactic has acquired land for a new state-of-the-art astronaut campus and training facility. The aerospace and space tourism company purchased a site for the campus in Sierra County, New Mexico, close to its primary launch site, Spaceport America. The future facility will help prepare commercial space tourists for flights aboard Virgin Galactic's air-launched SpaceShipTwo suborbital space plane, as well as accommodate up to three guests per passenger.
Read more at: Space.com
Lockheed Invests In Xona's GPS-Alternative Constellation
Startup Xona Space Systems has raised around $15 million for its proposed navigation constellation, including funds from GPS satellite maker Lockheed Martin's venture capital arm.
Lockheed Martin Ventures was among new investors that joined a funding round Xona announced Aug. 3, which early-stage investor First Spark Ventures led. 
Xona CEO Brian Manning declined to disclose the amount of funds secured in the round, but said the startup has raised more than $25 million in total to date. In June, Xona put its total raise at $10 million. 
Read more at: Spacenews
Axiom Space Deal Will Put New Zealand Research On The International Space Station
New Zealand has a research ticket to work on the International Space Station. The country partnered with commercial research company Axiom Space on July 28 to fly experiments on future missions with the Houston-based company. "We at Axiom Space are pleased to partner with Aotearoa [the original Maori name for New Zealand] to offer new access to space and create opportunities for companies, scientists and researchers," Michael Suffredini, Axiom's president and CEO, said in a July 28 statement (opens in new tab).
Read more at: Space.com
Insurance Claim For Failed Measat-3 Satellite In Dispute
An insurance claim for a Malaysian satellite that ran out of fuel prematurely remains unsettled more than a year after the incident.
Some underwriters are disputing Malaysian satellite operator Measat's $45 million claim to recover losses from Measat-3, an insurance source said, while others have agreed to pay out.
Although many space insurance claims are settled within months — after a straightforward rocket explosion, for instance — it can take years following an incident in orbit when the cause of failure is initially unclear.
Read more at: Spacenews
Virgin Galactic Again Delays Space Tourism Flights, To Second Quarter 2023
Space tourism company Virgin Galactic on Thursday postponed the beginning of its commercial flights by another three months, citing delays in work refurbishing its carrier aircraft.
Virgin Galactic announced that commercial service is being pushed back to the second quarter of 2023, the latest setback for the debut of its space tourism business. The company had previously pushed back the date from the fourth quarter of this year to the first quarter of next year.
Read more at: CNBC
SCIENCE AND TECHNOLOGY
In A First, Scientists Want To Turn Martian Soil And Air Into Iron
In alien world exploration news, researchers have developed a potential strategy for exploiting metals on other worlds, like Mars. If ever realized, such a process would prove incredibly important for any future human colonizing missions to such planets.
The first thorough investigation of its kind, the study investigated metal synthesis on extraterrestrial planets. This study has been released by a research team under the direction of Swinburne's Professor Akbar Rhamdhani.
The study in question concentrated on mining metals on Mars, but could be applied to planets with similar conditions.
Read more at: Interesting engineering
South Korean Spacecraft Fueled For Ride From Cape Canaveral To The Moon
A South Korean spacecraft set for launch to the moon next week from Cape Canaveral has been loaded with the fuel it needs to maneuver into a low-altitude lunar orbit for image-taking and scientific observations.
The Korea Pathfinder Lunar Orbiter, or KPLO, spacecraft is set for launch at 7:08 p.m. EDT (2308 GMT) next Thursday, Aug. 4, aboard a SpaceX Falcon 9 rocket from Cape Canaveral Space Force Station. Mission managers said earlier this week the launch was delayed two days to allow time for SpaceX to complete additional work on the Falcon 9 rocket.
Read more at: Spaceflight Now
The Earth Is Spinning Faster And Some Say It Could Have Catastrophic Effects
We just experienced Earth's shortest day since the 1960s. June 29, 2022 came to an end 1.59 milliseconds sooner than expected. At first glance, such a small amount of time difference might not seem like a big deal. However, some warn that it could have catastrophic effects if we keep introducing leap seconds to account for the changes in the Earth's rotational speed.
Read more at: BGR
China Space Station: Innovations In Long March-5B Rocket Engine Reveal China's Space Capability
The powerful Long March-5B carrier rocket is essential for the China Space Station assembly efforts as its missions are to carry massive spacecraft to the orbit. The engine that powers the rocket shows the innovation in China's space program.
Building the rocket engine is one of the most challenging tasks in space programs because it requires many cutting-edge technologies. The Long March-5B's engine uses liquid hydrogen, liquid oxygen and kerosene as its fuels, a new combination of chemicals that needs years of research and testing.
Read more at: CGTN
Remote Surgery Robot To Be Tested Aboard International Space Station
A miniature robot designed to help conduct remote surgeries could be tested on board the International Space Station before the end of 2024.
Eventually, the surgical robot could be used to repair "an astronaut's ruptured appendix on a mission to Mars", say the researchers behind it. NASA has awarded the University of Nebraska-Lincoln $100,000 to prepare the robot for its test mission – however, the plan for its first trip into space does not involve operating on human flesh.
Read more at: Sky news
Europe's Troubled Mars Rover Still Vital In The Search For Life On The Red Planet
The stars have not been aligned for Europe's first Martian rover ExoMars, but scientists still think the aging vehicle can play a big role in answering one of the biggest questions in Mars exploration: has there ever been life on the Red Planet?
The European Space Agency's (ESA) ExoMars Rosalind Franklin Rover is probably the most high-profile space industry casualty of Russia's war in Ukraine.
Read more at: Space.com
China Launches Mysterious Reusable 'Test Spacecraft' To Earth Orbit
For the second time in two years, China has launched a classified reusable vehicle on a mystery mission to Earth orbit.
A Long March 2F rocket carrying a "test spacecraft" lifted off from Jiuquan Satellite Launch Center in the Gobi Desert on Thursday (Aug. 4; Aug. 5 Beijing time), China's state-run Xinhua news agency reported.
"The test spacecraft will be in orbit for a period of time before returning to the scheduled landing site in China, during which reusable and in-orbit service technology verification will be carried out as planned to provide technical support for the peaceful use of space," Xinhua wrote (
Read more at: Space.com
South Korea's Moonshot Will Explore Lunar Magnetic Mysteries And More
South Korea's first mission to the moon, the Korea Pathfinder Lunar Orbiter (KPLO), is set to blast off Thursday on a mission to explore magnetic anomalies, search for future landing sites and sniff out rare elements on the moon. The spacecraft, which is also known as 'Danuri' — a portmanteau of Korean words meaning 'moon' and 'enjoy' — is currently scheduled to launch on Aug. 4 at 7:08 p.m. EDT (2308 GMT) atop a SpaceX Falcon 9 rocket. Upon arrival at the moon, Danuri will enter lunar polar orbit and cruise above the surface at an altitude of 60 miles (100 kilometers).
Read more at: Space.com
SPACE POLICY
NASA Revises Requirements For ISS Private Astronaut Missions
NASA is changing rules for future private astronaut missions to the International Space Station, including requiring such missions to be led by a former NASA astronaut.
In an Aug. 1 procurement notice, NASA announced changes in requirements for future solicitations for private astronaut missions, or PAMs, to the station. The changes, the agency said, came from the experience from the first such mission, Axiom Space's Ax-1 flight in April, "and other recent civilian-crew spaceflight."
Read more at: Spacenews
Report: U.S. Should Push For Global Rules On Space Traffic Management
Commercial and government activities in outer space are increasingly endangered by rapidly growing congestion in the space environment. And it's unclear how much longer industries and governments can continue to operate safely in space without globally coordinated space traffic management, says a new report from the Atlantic Council.
The report by the Atlantic Council's Scowcroft Center for Strategy and Security urges the U.S. government and allies to push for an international framework for space traffic management. Maxar Technologies provided funding for the report. 
Read more at: Spacenews
Former Astronauts Must Chaperone Private Missions To The International Space Station, NASA Says
NASA will require that all private astronaut missions to the International Space Station (ISS) have an experienced former agency astronaut at the helm.
A new solicitation notice (opens in new tab) released by the agency requires that privately run crewed missions to the orbiting lab be led by a retired NASA astronaut. The new rule builds off the experience of Axiom Space's first mission to the ISS this past April, which the agency referred to as a "recent civilian-crew spaceflight." (The solicitation was first noticed by SpaceNews (opens in new tab).)
Read more at: Space.com
SpaceX's Activities Near A Texas Beach Spark Appeal After Court Dismisses Lawsuit
A dispute concerning SpaceX facilities and access to a nearby Texas beach is once again before the courts.
The Sierra Club and the Carrizo/Comecrudo Tribe of South Texas jointly appealed the 445th District Court's decision July 7 to dismiss a lawsuit concerning SpaceX testing of its next-generation Starship vehicle closing nearby Boca Chica Beach, the coalition said July 28.
Read more at: SPace.com
FCC Considers Opening Up More Ku-Band To Non-GEO Satellite Operators
The Federal Communications Commission is considering opening up more Ku-band spectrum to Starlink and other non-geostationary satellite (NGSO) operators to improve broadband speeds. 
The U.S. regulator said Aug. 3 it will invite comments on a proposal to free up 17 GHz frequencies as it approved a similar move for satellites in higher geostationary orbits (GEO).
The FCC's Notice of Proposed Rule Making will seek comments under a 90-day comment period that starts from when it is published in the Federal Register.
Read more at: Spacenews
SPACE DEFENCE
U.S. Army Tests Stratospheric Drone, It Flew Over The Earth For 36 Days
The U.S. Armed Forces are testing a new unusual drone.
It is a stratospheric reconnaissance UAV Zephyr, which is produced by Airbus. It weighs about 75 kg and has a wingspan of 25 m. The drone runs on solar panels. Its testing started on June 15. It managed to stay above the Earth for 36 days. Now the UAV continues to fly over a test site in Yuma, Arizona. 
Read more at: gagadget
Space Development Agency To Take Another Stab At Space-To-Aircraft Laser Communications
As it prepares to start deploying a mesh network in low Earth orbit, the Space Development Agency is seeking proposals for a demonstration of laser communications between orbiting satellites and aircraft in flight.
The agency on Aug. 4 issued a "special notice" asking vendors to submit by Sept. 2 proposals on how they would conduct a live demonstration of laser crosslinks between SDA's Transport Layer satellites and a moving aircraft.
Read more at: Spacenews
ULA Launches The Last SBIRS U.S. Space Force Missile Warning Satellite
A United Launch Alliance Atlas 5 rocket carrying a U.S. Space Force missile-warning satellite lifted off Aug. 4 at 6:29 a.m. Eastern from Space Launch Complex-41 at Cape Canaveral Space Force Station, Florida.
The SBIRS GEO-6 mission was the sixth and last of the Space Based Infrared System constellation of geosynchronous satellites equipped with scanning and staring infrared sensors to detect ballistic missile launches anywhere on the globe.
Read more at: Spacenews
VARIOUS
The Moon Archive Meant To Preserve Life On Earth
No one wants to think about an "after Earth" scenario, but the truth is that some high-up people in government and science actually are – and if the situation arises, anyone who is left will certainly thank them for it.
Creating a seed vault on the moon would be considerably more challenging and complex than the one that was built and housed in Svalbard, but that's just what University of Arizona scientist Jekan Thanga is proposing.
Read more at: Twistedsifter
NASA Video Reveals Complexity Of Lunar Gateway Plan
The Lunar Gateway will be a space station in a lunar orbit primarily for getting astronauts and cargo to the surface of the moon as part of NASA's Artemis program.
The space agency is using various private firms to develop various Gateway modules, the first of which will be should be deployed in the mid-2020s.
Read more at: Digitaltrends
ESA Names First 'Astronaut' To Fly On The Artemis I Lunar Mission
The specially trained woolly astronaut, Shaun the Sheep, has been assigned a seat on the Artemis I mission to the Moon. Shaun's assignment was announced by ESA's Director for Human and Robotic Exploration Dr David Parker.
David Parker said, "Shaun's mission assignment rounds off the first phase for the latest members of our astronaut corps, with Italian ESA astronaut Samantha Cristoforetti currently on the International Space Station on her second spaceflight, Danish ESA astronaut Andreas Mogensen named for his second flight and before we introduce our new astronauts from the 2021 call for selection later this year."
Read more at: ESA
Space Philosopher Frank White On 'The Overview Effect' And Humanity's Connection With Earth
Since Frank White's seminal book on "the overview effect" found its way into the hands, minds, and consciousness of readers in 1987, that term has increasingly become iconic for explaining a very human condition attached to the space travel experience.
Following the publishing of that influential work — "The Overview Effect: Space Exploration and Human Evolution" — White has added to his collection of space traveler accounts, work that shoulder's his original perception of an individual's inner cognitive shift in awareness that can radiate by seeing the Earth from outer space.
Read more at: SPace.com
Mission Ends For Copernicus Sentinel-1B Satellite
On 23 December 2021, Copernicus Sentinel-1B experienced an anomaly related to the instrument electronics power supply provided by the satellite platform, leaving it unable to deliver radar data. Since then spacecraft operators and engineers have been working tirelessly to rectify the issue. Unfortunately, despite all concerted efforts, ESA and the European Commission announce that it is the end of the mission for Sentinel-1B. Copernicus Sentinel-1A remains fully operational and plans are in force to launch Sentinel-1C as soon as possible.
Read more at: ESA
A month on 'Mars': Preparing to visit the Red Planet … on Earth
On Monday (Aug. 1), a group of eight researchers and their associates headed north to the high Arctic to spend a month at the Haughton-Mars Project (HMP) base on Devon Island, about 15 degrees south of the North Pole. The group includes the founder of the base and expedition leader, Dr. Pascal Lee, a group of researchers from MIT's Haystack Observatory, other researchers and support staff, and me, the sole media representative.
Read more at: Space.com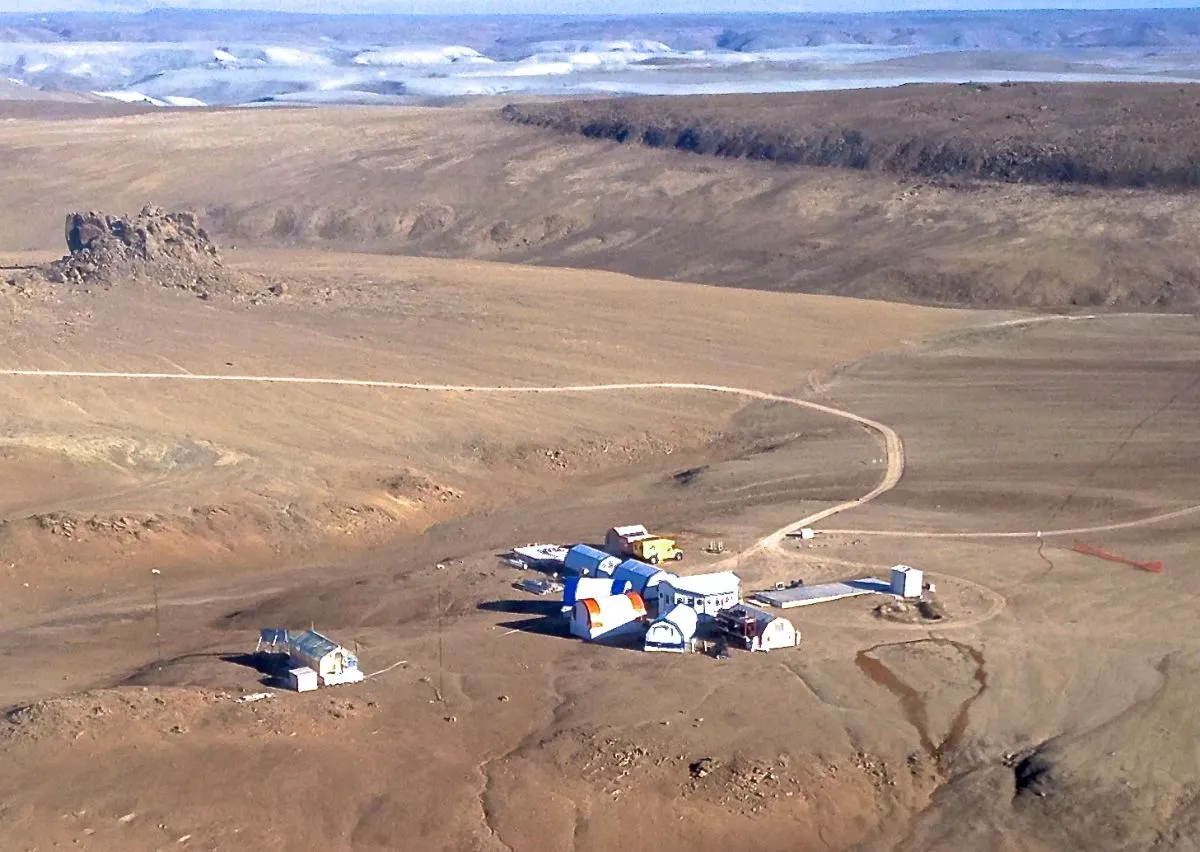 Russian Space Official Predicts 'Avalanche' Of Technical Failures On The International Space Station After 2024
The director of Russia's space program has warned that chaos in the cosmos awaits when Russia leaves the International Space Station after 2024.
That's when Roscosmos director Yuri Borisov expects an "avalanche" of technical failures aboard the ISS due to its aging hardware, according to a statement published on the website of Russia's space agency, Roscosmos, on Friday.
Read more at: Business insider

Sunspot on Far Side Is So Huge It's Changing How the Sun Vibrates
A sunspot on the far side of the sun is so large that it's changing the way sound moves through our star—and it could be revealed to us in days.
Sunspots are regions of the sun's atmosphere associated with intense magnetic fields that are so strong, they prevent some heat from the sun's interior from reaching the surface. This makes sunspots relatively cool, making them look like dark patches.
Read more at: Newsweek
NASA Review Underway After Water Leaks Into Astronaut's Helmet
NASA is halting all spacewalks at the International Space Station over concerns about the safety of decades-old spacesuits after water leaked into one astronaut's helmet while working outside the station. CNN's Kristin Fisher reports.
Read more at: CNN