TOP NEWS
Worried About Space Junk And Space Tourism: New Study Shows 97% Of People See Space As A Threat
What's the first thing that comes to mind when you think about space?
If a new landmark report from British satellite company Inmarsat is to be believed, it's likely to be something along the lines of aliens, Star Wars, or billionaires like Jeff Bezos and Richard Branson jetting into the cosmos as space tourists.
The study, which Inmarsat is describing as a 'wake-up call' for the industry, surveyed 20,000 people across 11 different countries with results showing 97 per centof people actually see space as a threat.
Chief among these concerns are apprehension over the impact of space activity on our climate and fear of space debris and collisions in orbit.
Read more at: Euronews
Blasting Satellites, Crippling Attacks — Russia's Invasion Of Ukraine Has Given A Clear Glimpse Of Future Wars – Top French Officer
The move confirmed fears long harbored by European military leaders about how future conflicts with Russia could unfold.
"What Ukraine has shown us well is that things will begin in [the] cyber and space domain before beginning on the ground," said Major General Michel Friedling, head of France's Space Command, on June 15, during this year's edition of Europe's largest Defense Trade Show, 'Eurosatory 2020'.
The cyberattack against Viasat was done the day before the beginning of the ground invasions. It is very significant; it is exciting, and it is a big lesson. I would say it's something we were thinking, but now it's real," Friedling added.
Read more at: Eurasian times
'We Must Be Very Concerned About China Landing on the Moon', Warns NASA Administrator
China might be contemplating a "takeover" of the Moon as part of its military space program, NASA's administrator Bill Nelson has told the newspaper Bild.
In an interview, Nelson claimed that the United States is now involved in a new race to space, with China this time. He emphasized that in 2035, Beijing might finish the construction of its own Moon station and start experiments a year later.
Nelson claimed that we must be very concerned about China landing on the Moon and saying that it now belongs to the Peoples' Republic and everyone else should stay out, RT reported.
Read more at: Weather.com
SPACE HAZARDS AND STM
A Monster Sunspot Just Doubled In Size — And It's Pointing Right At Earth
Sunspots are typically no real reason to worry, even if they double in size overnight and grow to twice the size of the Earth itself.
That's just what happened with Active Region 3038 (AR3038), a sunspot that happens to be facing Earth and could produce some minor solar flares. While there's no cause for concern, that does mean a potentially exciting event could happen — spectacular auroras.
Read more at: Inverse
Don't Delay Getting Serious About Cislunar Security
Recently, analysts predicted that a rocket stage from a Chinese space mission would crash into the moon. The impact was predicted to happen in March 2022. Did it? The world didn't know until late June — almost four months later.
More and more space activities are being planned for the moon and the space near it, commonly known as cislunar space. This expansion is being driven by several factors, including the miniaturization of computing technology, decreasing costs of launch and manufacturing, growing maturity of the commercial sector, and renewed geopolitical rivalries motivating the exploitation of space for strategic purposes.
Read more at: warontherocks
NASA Mission Spots Chinese Rocket Impact Craters On The Moon
On March 4, 2022, an upper-stage rocket booster slammed into the Moon. 
We know this much for sure. But as soon as you dig into this story, it gets weird. 
The central figure in this saga is Bill Gray, a software designer who wrote Guide, a sophisticated piece of programming used by professional and amateur astronomers to calculate the orbits and positions of asteroids in the sky. He wrote about this as the events happened.
Read more at: Syfy
Starlink Satellites Still Dodging Orbital Debris From Russian Missile Test
The cloud of debris from Russia's anti-satellite missile test last year continues to pose an orbital hazard to SpaceX's Starlink system. 
"SpaceX is now maneuvering more for Cosmos 1408 debris than for any other objects in space," the company told the FCC last week. 
Cosmos 1408(Opens in a new window) refers to the satellite the Russian military decided to destroy in a controversial missile test last November. The resulting impact semt thousands of debris pieces spilling out across Earth's orbit at speeds capable of destroying other satellites in orbit. 
Read more at: PCmag
China's New Radio Telescope Will Have Dangerous Solar Eruptions In Its Gaze
Construction of the world's largest circular radio telescope array aimed at the sun – located in southwest China – is expected to be finished by the end of the year, according to the project's supervisor.
The Daocheng Solar Radio Telescope (DSRT) is being built at a site high up on the Tibetan Plateau and will have 313 dishes, each of them 6 metres (19.7 feet) across.
Read more at: Yahoo news
Scientists Believe They Can Predict The Sun's Solar Storms To Protect Satellites, Power Grids And The Internet
Scientists have developed a new way to predict the strength of solar cycles – the time at which the Sun's power increases and decreases over a decade.
The powerful flares from the Sun come from sunspots, which appear and disappear approximately every 11 years. These are hubs of magnetic forces that have risen from the solar interior, usually coming in pairs like a magnet; one is positive, and the other is negative.
These eruptions are capable of releasing 100,000 times more energy than all the power plants on Earth generate throughout a year and have often been the cause of trouble for satellite launches.
Read more at: Yahoo news
Satellites are Falling, Crashing Faster Than Before Thanks to Extreme Solar Activities
It is usual for satellites that orbit the Earth to eventually fall back to the planet, burning up in the atmosphere in the process. 
However, there has been an unusual activity in space as over the last few years, satellites fall out of their orbits at an increasingly alarming rates, according to Interesting Engineering.
This is a strange phenomenon that can be attributed to the sun's activity.
Read more at: itechpost
COMMERCIAL SPACE
Fleet Space on the Way to Create Fully 3D Printed Satellites
It's been a busy month on a few different fronts for Fleet Space, the Australian space startup that launched the country's first four commercial nanosatellites in November 2018. To keep up with the growing demand for its 3D printed satellites, the company partnered with Konica Minolta to implement 3D Systems printers to support its in-house satellite production capabilities. The trio will collaborate to go straight into volume manufacturing of satellites and has, in fact, already received the first metal AM platform at its Western Australia headquarters in Beverley, a 3D Systems DMP Flex 350.
Read more at: 3dprint
Kleos Secures $10 Million To Grow Satellite Constellation
Kleos Space S.A has secured a four-year secured A$10 million debt facility with PURE Asset Management to fund operations and satellite constellation growth.
Commenting on the debt facility, Kleos CEO Andy Bowyer said, "Kleos is in a period of rapid growth, responding to market needs for greater situational awareness. This debt facility provides us with capital to expand beyond our 12-satellite constellation already in orbit as well as the four satellites due to launch in 2H 2022.
Read more at: Australian defence
How Space Tourism By Private Players Affects The Earth's Environment
A new study has found that rocket launches into space by commercial companies like Space X, Virgin Galactic, and Blue Origin can negatively impact the climate and ozone layer. It also pointed out that routine launches "may undermine progress made by the Montreal Protocol in reversing ozone depletion."
The study was published by researchers from University College London (UCL), the University of Cambridge and Massachusetts Institute of Technology (MIT), in the journal 'Earth's Future' on June 9, 2022.
Read more at: Financial express
FCC Authorizes Starlink To Provide Internet On Boats, Planes And Trucks
The Federal Communications Commission (FCC) gave authorization to SpaceX to provide Starlink satellite internet services to vehicles in motion including boats, planes and trucks.
Starlink's low-Earth-orbit satellite constellation provides high-speed internet globally. The approximately 2,700 satellites are utilized by over 400,000 subscribers already.
Read more at: Spacewatch global
Dish Says SpaceX's Starlink 5G Interference Study Is Flawed
Dish Network and others pushing for permission to use 12 GHz spectrum for 5G said July 7 that SpaceX's study on how it would severely disrupt its broadband customers is "scientifically and logically flawed."
The 5G for 12 GHz Coalition, which includes the satellite TV broadcaster and a mix of telcos, public interest groups and trade associations, said the study draws nationwide conclusions from a "single cherry-picked" area that is "among the most unfavorable geographies to analyze" interference.
Read more at: Spacenews
SCIENCE AND TECHNOLOGY
Microwave-Size Spacecraft Launches To Test New Orbit Between Earth And The Moon
A tiny spacecraft with big implications for lunar exploration has launched.
The miniscule satellite, called a CubeSat, is about the size of a microwave oven and weighs just 55 pounds (25 kilograms), but it will be the first to test out a unique, elliptical lunar orbit. The CubeSat will act as a pathfinder for Gateway, an orbiting lunar outpost that will serve as a way station between Earth and the moon for astronauts.
Read more at: kesq
Contact Restored With NASA Spacecraft Headed to Lunar Orbit
NASA said Wednesday that contact has been restored with its $32.7 million spacecraft headed to the moon to test out a lopsided lunar orbit.
Contact was lost after one successful communication and a second partial one on Monday, after the spacecraft left Earth's orbit on its way to the moon, the space agency said.
Read more at: USnews
Mars Exploration Using Sailplanes
We present the preliminary design of sailplanes, used for Mars exploration. The sailplanes mitigate the weight and energy storage limitations traditionally associated with powered flight by instead exploiting atmospheric wind gradients for dynamic soaring, and slope/thermal updrafts for static soaring. Equations of motion for the sailplanes were combined with wind profiles from the Mars Regional Atmospheric Modeling System (MRAMS) for two representative sites: Jezero crater, Perseverance's landing site, and over a section of the Valles Marineris canyon. Optimal flight trajectories were obtained from the constrained optimization problem, using the lift coefficient and the roll angle as control parameters.
Read more at: MDPI
ESA Studies Options For Vega C Upper Stage Engine Ahead Of First Launch
The European Space Agency is continuing to study options to ensure a continued supply of upper stage engines for the Vega C rocket as that vehicle gears up for its inaugural launch.
The first flight of the Vega C, an upgraded version of the Vega small launch vehicle, is scheduled for 7:13 a.m. Eastern on July 13 from Kourou, French Guiana. The four-stage rocket's primary payload is an Italian physics satellite, Laser Relativity Satellite-2 or LARES-2, a 295-kilogram spacecraft whose orbit will be closely tracked to test general relativity. The rocket is also carrying six cubesat secondary payloads.
Read more at: Spacenews
China Unfolds Deorbiting Sail For In-Orbit Spacecraft
China has made new strides forward in managing space junk, as it has successfully unfolded a 25-square-meter deorbiting sail in-orbit for the payload capsule of a recently launched rocket. This marked the first time in the world a deorbiting sail system has been deployed in such a way, the Global Times learned from the system developers on Tuesday.
The deorbiting sail device, developed by Institute 805 of the Shanghai Academy of Spacecraft Technology (SAST) is designed to enable dysfunctional spacecraft to leave orbit sooner in order to help control the spread of space debris and junk.
Read more at: Globaltimes
SPACE POLICY
Easa Publishes World's First Rules For Operation Of Air Taxis In Cities
The European Union Aviation Safety Agency (EASA) published rules for the operation of air taxis in cities, the first comprehensive proposal for such regulations to be issued world-wide. 
The proposed new regulatory framework is open to public consultation until September 30, 2022, and cover the technical domains of airworthiness, air operations, flight crew licensing and rules of the air.
They complement existing EU regulatory material for operations of Unmanned Aircraft Systems (UAS), the unmanned traffic management system known in Europe as U-space and the certification of aircraft capable of Vertical Take-Off and Landing (VTOL), as well as EASA guidance on the design of vertiports. 
Read more at: uasweekly
Inmarsat Report Calls For Enhanced Debris Mitigation And Stronger Regulations In Space
Inmarsat, the world leader in global, mobile satellite communications, has issued a far-reaching report on sustainability in space calling on industry operators, national governments and regulators to take coordinated action to reduce space debris, enhance safety and better manage the expansion of mega constellations in Low Earth Orbit (LEO).
The report, produced in partnership with research firm AstroAnalytica, makes detailed recommendations on proposed standards to improve operations in space.
Read more at: Spacedaily
ITU Board Rejects Liechtenstein Deadline-Waiver Request For 2 LEO Constellations, Putting Operator Rivada In A Bind
International regulators have rejected a request by the government of Liechtenstein and its new industrial partner, U.S.-based Rivada Space Networks, for a one-year extension of the deadline to begin fielding two constellations of broadband satellites in low Earth orbit.
Read more at: Spaceintelreport
New Zealand Joins ASAT Testing Ban
The government of New Zealand has formally joined a U.S.-led ban on testing of destructive direct-ascent antisatellite (ASAT) weapons in an effort to build momentum for a global prohibition on such tests.
In a July 1 speech at the University of Otago, New Zealand Foreign Minister Nanaia Mahuta announced that the government would join the declaration by the United States in April that it would not conduct such "irresponsible" ASAT tests because of the debris they produce, increasing the risk of collisions with satellites.
Read more at: Spacenews
NASA Criticizes Russia For Using Space Station To Promote Invasion Of Ukraine
NASA strongly criticized Russia for using the International Space Station to promote its invasion of Ukraine, a break from the agency's approach of emphasizing ongoing cooperation despite the war.
In a statement late July 7, NASA said it "strongly rebukes" Russia for political activity on the station related to Russia's ongoing invasion of Ukraine. The brief statement did not specify what incident prompted the statement.
Read more at: Spacenews
SPACE DEFENCE
Germany Unveils Plan To Tackle Cyberattacks On Satellites
The German Federal Office for Information Security (BSI) has put out an IT baseline protection profile for space infrastructure amid concerns that attackers could turn their gaze skywards.
The document, published last week, is the result of a year of work by Airbus Defence and Space, the German Space Agency at the German Aerospace Center (DLR), and BSI, among others. It is focused on defining minimum requirements for cyber security for satellites and, a cynic might say, is a little late to the party considering how rapidly companies such as SpaceX are slinging spacecraft into orbit.
Read more at: Register
Northrop Grumman Selects Airbus To Supply Satellite Buses For U.S. Military Constellation
Northrop Grumman announced July 5 it selected Airbus as its satellite bus supplier for the U.S. Space Development Agency's low Earth orbit constellation. 
Northrop Grumman in February won a $692 million contract from SDA,  one of three companies selected by the Pentagon's space agency to each produce 42 satellites projected to launch in 2024.
Airbus U.S. Space and Defense, headquartered in Arlington, Virginia, will produce satellite buses for the Transport Layer Tranche 1, a mesh network of small satellites to support military communications, surveillance and tracking of enemy targets. SDA plans to launch Tranche 1 satellites in late 2024.
Read more at: Spacenews
Congress Must Support A Diversified, Multi-Layered Approach To Space Missile Warning
In a recent speech, Secretary of the Air Force Frank Kendall highlighted missile warning and tracking as "a no-fail space mission." He is exactly right.
For decades, adversary nations have observed US military advantages, specifically the unique ability to execute robust long-range strikes. These operations hold key targets at risk — command centers, production facilities, logistics lines, supply depots and more. Destroy the right combination of these and an opposing military force will have a hard time staying in the fight.
Read more at: Breakingdefense
Space Force Coming To Grips With Cybersecurity Threats
Satellite operators are dealing with the reality that the ground systems and network equipment used to operate space systems provide many entry points for cyber attackers.  Cyber and malware attacks can be pulled off at a relatively low cost, making these types of weapons far more accessible than missiles or lasers. 
This is an issue of growing concern for the U.S. Space Force, said Lt. Gen. Stephen Whiting, commander of Space Operations Command.
Read more at: Spacenews
Kalina: A Russian Ground-Based Laser To Dazzle Imaging Satellites
There is strong evidence that a space surveillance complex in Russia's northern Caucasus is being outfitted with a new laser system called Kalina that will target optical systems of foreign imaging satellites flying over Russian territory. Initiated in 2011, the project has suffered numerous delays, but recent Google Earth imagery shows that construction is now well underway. Kalina will complement a mobile laser dazzler known as Peresvet that has been operational since late 2019.
Read more at: Spacereview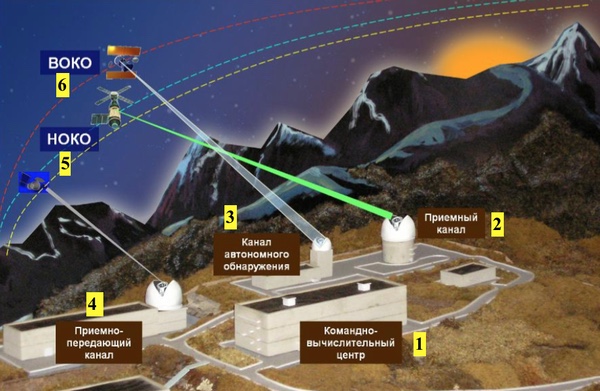 VARIOUS
UK Satellite Launch: 'Everything Now Is About Getting To Cornwall'
All eyes are now on Newquay in Cornwall for the first ever satellite launch from UK soil.
Sir Richard Branson's US company Virgin Orbit successfully placed another seven spacecraft in orbit from California at the weekend and is now focused on moving operations to England.
"Everything now is about getting to Cornwall," said Flt Lt Matthew "Stanny" Stannard, who piloted the latest mission and will be at the controls again when that first British launch occurs, probably in September.
Read more at: BBC
World's Rockets On Pace For Record Year Of Launch Activity
If it feels like there are more rockets launching into orbit than ever before, it's not just you. The world's launch operators, led by SpaceX and China's state-run enterprises, launched 72 missions into orbit in the first half of 2022, on pace to break last year's record of 135 orbital deliveries.
There were 15 launches to add spacecraft to SpaceX's Starlink internet network, three crew missions to the International Space Station and an astronaut launch to China's space station, and missions to deploy satellites for the U.S., Chinese, and Russian military.
Read more at: Spaceflight Now
The New Age Of Space Exploration Could Damage The Ozone Layer
With the increasing number of rocket launches, concern is growing for the amount of black carbon being spread into the upper atmosphere. As a result, there are now calls for new regulations to reduce the environmental impacts from space flights.
Black carbon, also known as soot, is produced by the incomplete burning of fossil fuels. It became a major problem in the late 19th century, at the start of the Industrial Revolution, due to its impacts on human health. As a result, in the decades since, measures were taken to reduce the amount of black carbon that gets emitted into the air.
Read more at: Weather network
BeiDou: China's GPS Challenger Takes Its Place On World Stage – Analysis
Global navigation satellite systems (GNSS) provide a service many people take for granted. The GNSS applications people use fall into five major categories: location (determining a position), navigation (getting from one location to another), tracking (monitoring movement of people or objects), mapping (creating maps of the world), and timing (calculating time). Generally, a GNSS has a constellation of at least 24 satellites in medium-Earth orbit (about 12,550 miles high) spread out around the world to deliver global service.
Read more at: Eurasia review
Arianegroup Selected To Boost Development Of Europe's Reusable Launchers
ArianeGroup will be leading the SALTO and ENLIGHTEN projects entrusted by the European Commission to speed up the development of reusable, eco-friendly European launchers. Both projects are part of the Horizon Europe program.
The two-year reuSable strAtegic space Launcher Technologies & Operations (SALTO) project aims to test a reusable launcher's vertical landing.
Read more at: Spacewatch global
A USB Standard For Satellites? Slingshot 1 Takes To Orbit To Test One
Read more at: Techcrunch