TOP NEWS 
Axiom-1 Crew Back Home, Days Late But Safe And Sound
The first U.S.-sponsored private astronaut mission to the International Space Station is back on Earth today a week late because of weather delays. The four-man Axiom-1 crew was supposed to spend 10 days in space, eight of them on the ISS, but high winds around Florida gave them bonus days, almost doubling their space station visit.
Axiom Space arranged the trip for three wealthy men from the United States, Canada and Israel — Larry Connor, Mark Pathy, and Eytan Stibbe — to fly to the ISS on a SpaceX Crew Dragon. The price reportedly was $55 million each. The mission commander was former NASA astronaut and current Axiom employee Michael López-Alegria, a veteran of four spaceflights.
          Read more at: Spacepolicyonline
NASA To Roll Back SLS For Repairs
WASHINGTON — NASA announced late April 16 it will roll back the Space Launch System from the launch pad for various repairs, further delaying the rocket's long-anticipated first launch.
In a statement late April 16, NASA announced it planned to roll back the SLS to the Vehicle Assembly Building (VAB) "due to upgrades required at an off-site supplier of gaseous nitrogen used for the test," the agency said. Problems with the supply of gaseous nitrogen, used to support activities at the pad, had delayed two previous countdown rehearsals.
NASA did not state when the vehicle would go back from Launch Complex 39B, where it rolled out March 17, to the VAB. The agency said it will hold a briefing April 18 about its plans. The agency added it would use the time in the VAB to repair a faulty helium check valve in the SLS's upper stage and a hydrogen leak detected shortly after starting to load liquid hydrogen into the rocket's core stage during the April 14 attempt. It was the first time that controllers had reached that stage of the countdown after technical problems halted two previous attempts before liquid hydrogen could start loading.       
          Read more at: SpaceNews
China Starts Engineering Development Of Lunar Exploration Program's Fourth Phase
China will start engineering development of the fourth phase of its lunar exploration program this year, according to a senior official of the China National Space Administration on Sunday.
The Chang'e 6, Chang'e 7 and Chang'e-8 lunar probes will be launched successively, and the country will endeavor to make breakthroughs in key technologies and build an international lunar research station, Wu Yanhua, CNSA's deputy director, told an online launch ceremony for the 2022 Space Day of China on Sunday.
          Read more at: Moon Daily
Tianzhou-3 Docks With Tianhe's Front Docking Port
China's cargo spacecraft Tianzhou-3 separated from the country's space station core module Tianhe and redocked with the module on Wednesday.
Tianzhou-3 detached from the rear docking port of Tianhe at 5:02 a.m. (Beijing Time), moved to the module's front port and completed a computer-orchestrated rendezvous and docking at 9:06 a.m., according to the China Manned Space Agency.
          Read more at: Space Daily
Space Hazards and STM
U.S. ASAT Ban Meant To Support U.N. Discussions On Space Threats
WASHINGTON — A State Department official said the Biden administration's announcement of a ban of one kind of antisatellite (ASAT) weapon tests was timed to support discussions at an upcoming United Nations forum on norms of behavior in space.
Vice President Kamala Harris announced April 18 that the United States would ban tests of destructive direct-ascent ASATs because of the large amounts of debris they create. "These tests are dangerous and we will not conduct them," she said in a speech at Vandenberg Space Force Base in California.
          Read more at: SpaceNews
Experts Issue Call To Regulate Space Debris As Levels Of Junk Mount
Proliferating levels of debris are posing a threat to the space environment and should be regulated as more satellites are being launched into space, researchers say.
Edinburgh University researchers said in a study published Friday in the journal Nature Astronomy the debris is troublesome, potentially affecting "professional astronomy, public stargazing and the cultural importance of the sky" to indigenous populations.
          Read more at: Space Daily
Mind That Satellite! The Mission To Clean Up Dangerous Space Junk
As soon as we left the planet, we began leaving rubbish in orbit. Now it is putting space stations and astronauts at risk. What can be done about the millions of pieces of debris?
In November last year, the five astronauts and two cosmonauts on the International Space Station (ISS) were ordered to suit up and take refuge in their capsules for fear their spaceship might be struck by flying debris. Russia had deliberately destroyed one of its own satellites with a missile, producing a cloud of wreckage that threatened the orbiting outpost. "It's a crazy way to start a mission," Nasa told its sheltering crew, who had arrived only days beforehand.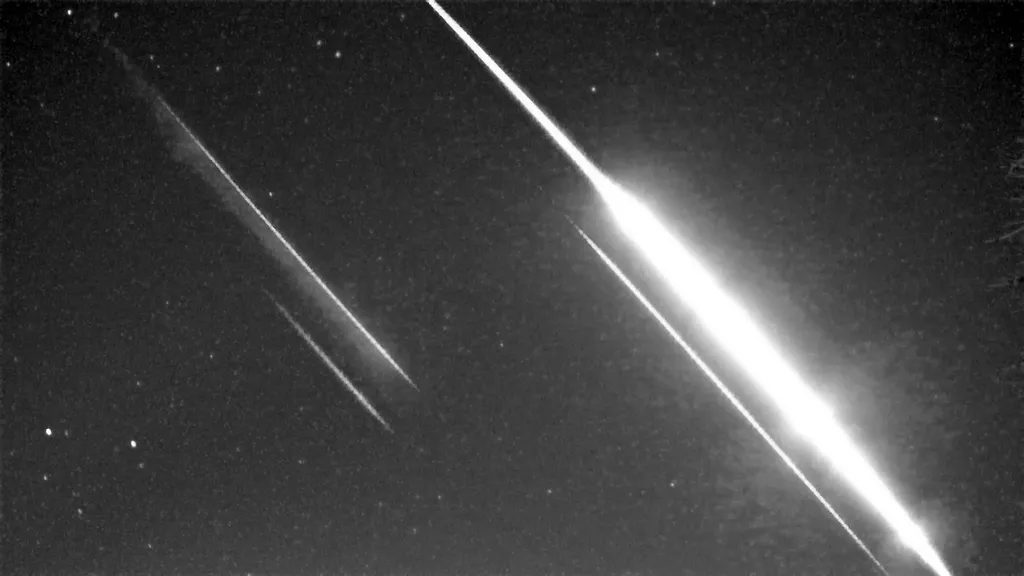 New Space/Commercial
Aphelion Aerospace Completes Rocket Engine Development Test and Continues with Launch Vehicle Design for Suborbital Launch Demonstration
LAKEWOOOD, Colo., April 22, 2022 (Aphelion Aerospace PR) — Aphelion Aerospace is proud to announce reaching a major milestone in developing the company's commercial launch services with the completion of critical propulsion system testing. The team recently spent two weeks at the company's test facility in Wyoming integrating a rocket engine and support systems on a ground test stand and conducting a series of hot fire tests. The test activity was conducted with support from Aphelion Aerospace's propulsion R&D partner, Frontier Astronautics, at their facility near Chugwater, WY.
          Read more at: Parabolic Arc
Starlink Secures First Major Airline Wi-Fi Deal With Hawaiian Airlines
TAMPA, Fla. — Hawaiian Airlines said April 25 it plans to offer free Starlink services on transpacific flights to and from Hawaii next year, becoming the first major airline to announce a deal with SpaceX's high-speed broadband network.
"When we launch with Starlink we will have the best connectivity experience available in the air," Hawaiian Airlines CEO Peter Ingram said in a statement.
The companies did not disclose broadband speeds for the proposed service, although SpaceX has said its rapidly expanding low Earth orbit network can provide inflight Wi-Fi that is indistinguishable from conventional internet access.
          Read more at: SpaceNews
Chinese Reusable Rocket Startup Secures New Funding Round
HELSINKI — Chinese launch firm Deep Blue Aerospace announced A+ round financing April 19, with funding in the Chinese commercial sector apparently on the rise.
The new round was led by CMBC Int'l Holdings, three months after Deep Blue Aerospace raised $31.5 million in A round funding.
The undisclosed funds will go towards the development of the reusable Nebula-1 kerosene-liquid oxygen rocket, the development of the "Thunder" engine series and additive manufacturing processes, the company stated in a press release.
          Read more at: SpaceNews
PredaSAR Nears First Launch Of Its Radar Imaging Constellation
DENVER – Radar imaging startup PredaSAR is preparing to deploy its first satellite on the SpaceX Transporter 6 rideshare, projected to launch in October.
The company is planning a constellation of 96 radar satellites "to be fully deployed by the end of 2026," Michael Moran, senior vice president of defense and intelligence systems at Terran Orbital Corp., told SpaceNews.
"It's a substantial increase in capability" from the company's previous goal of just 48 satellites, he said. Satellite manufacturer Terran Orbital is PredaSAR's parent company. 
          Read more at: SpaceNews
Science and Technology
India Continuing Work On Moon Landing And Crewed Spaceflight Plans Despite Delays
India's second attempt at landing a spacecraft on the moon will likely be pushed to 2023, according to the head of the country's space agency.
S. Somanath, chairman of the Indian Space Research Organisation (ISRO), told Indian news channel NewsX that the Chandrayaan 3 lunar lander is in the assembly phase but teams are still testing vital systems, meaning the launch, previously slated for August, could be delayed until next year.
"Currently, we are testing the propulsion system because, you know, the last time [we] had a problem with that," Somnath said.
          Read more at: Space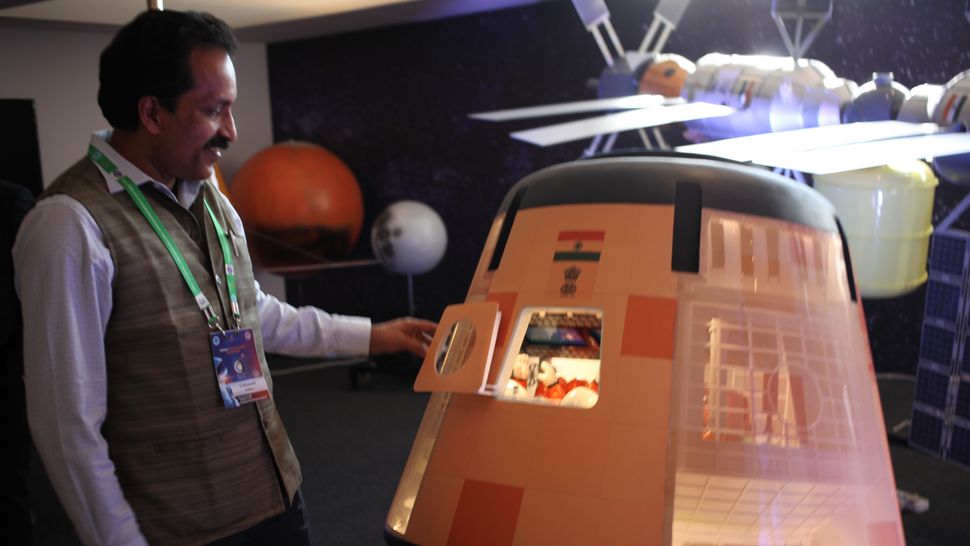 DARPA Seeks Ionospheric Insights To Improve Communication Across Domains
Warfighters depend on high-frequency (HF) radio transmissions to operate military systems across the space, air, ground, and maritime domains. Current understanding of how HF waves propagate through the electromagnetically noisy ionosphere typically depends on ground-based methods. To more accurately understand HF propagation in space requires scientific measurements taken from within the ionosphere itself.
DARPA's new Ouija program aims to use sensors on low-orbiting satellites to provide new insights into HF radio wave propagation in the ionosphere, which spans the upper edges of the Earth's atmosphere to the lower regions of space. The program seeks to quantify the space HF noise environment and improve characterization of the ionosphere to support warfighter capabilities.
          Read more at: Space War
Can a Retired Rocket Engine Take Us to Mars?
The heart of NASA's Space Launch System arrived at Kennedy Space Center last April as the agency's first human-rated deep space rocket in 50 years.
The 212-foot core stage rocket, along with a pair of solid rocket boosters, and the Orion crew module largely make up the Space Launch System (SLS), which NASA is counting on for its Artemis program's 2026 return to the moon—a feat the agency last accomplished with Apollo 17 in 1972.
          Read more at: Popular Mechanics
Staying Safe In Space: UW Researchers Work To Protect Astronauts From Cosmic Radiation
MADISON, Wis. — From Mars missions to moon colonies, the human species has some ambitious travel plans in the works — ones that stretch way beyond our planet.
"Space exploration is the big challenge of this century," said Elena D'Onghia, an associate professor of astronomy at the University of Wisconsin-Madison. 
But space is full of dangers for human travelers. And one big concern for longer missions is the issue of cosmic radiation — energetic particles that float around in space and can cause damage to the human body.
          Read more at: Spectrum News1
Small Spacecraft Electric Propulsion Opens New Deep Space Opportunities
The path to the Moon, Mars, and beyond will require a fleet of spacecraft in many different shapes and sizes, including everything from massive rockets that produce millions of pounds of thrust to pioneering small electric propulsion thrusters that fit in the palm of your hand.
For decades, innovators at NASA's Glenn Research Center have been developing large, high-power electric propulsion (EP) systems that harness the power of the Sun to energize inert gases and turn them into extremely efficient thrust. Higher fuel efficiency means less propellant is needed, lowering launch costs while allowing spacecraft designers to reduce overall spacecraft weight to carry more payload mass, like technology demonstrations or more powerful scientific instruments.
          Read more at: NASA
Astrobotic Unveils Peregrine Lunar Lander That Will Fly To The Moon This Year (Photos)
Astrobotic just unveiled the flight model of its robotic Peregrine lunar lander, which is slated to launch to the moon late this year. 
Peregrine is designed to deliver payloads to the surface of the moon. Its first mission is scheduled for the fourth quarter of this year, which would make it the first American spacecraft to land on the moon since the Apollo program, according to an emailed statement from Pittsburgh-based Astrobotic. 
Read more at: Space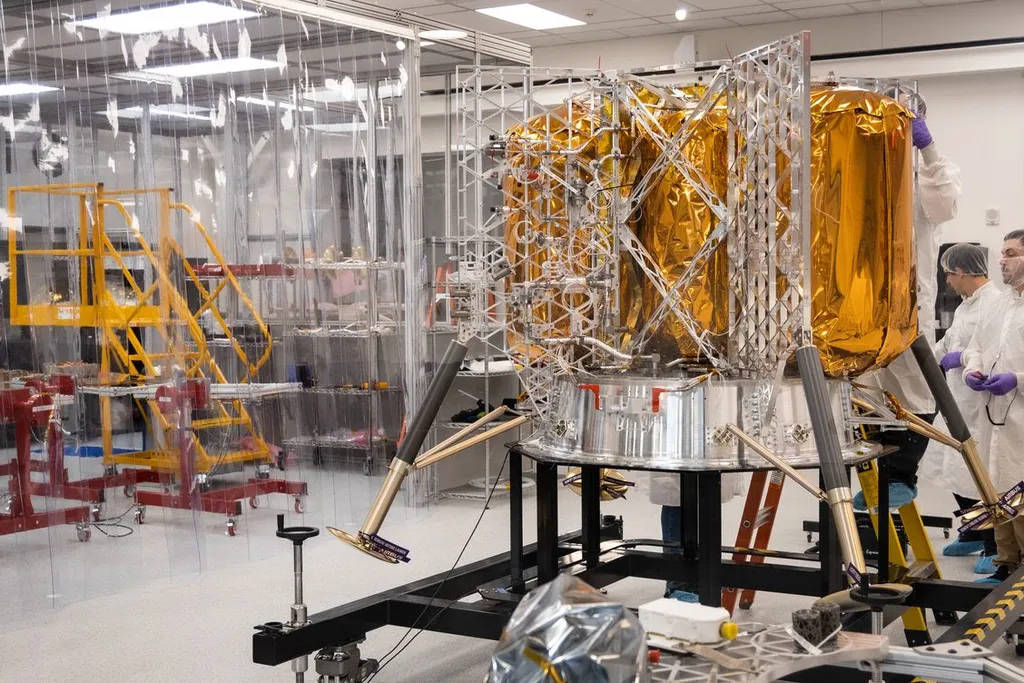 Isro To Launch UK's Onewebb Broadband Satellite Constellation In 2022 to Protect Astronauts From Cosmic Radiation
Nearly a month after it was snubbed by Russia from launching its broadband satellite connection, the UK's OneWebb entered into an agreement with the commercial arm of Indian Space & Research Organisation (Isro), New Space India Limited. Under the agreement, Isro will launch OneWeb satellites from the Satish Dhawan Space Centre, Sriharikota into Low Earth Orbit.
The first launch of the satellite constellation from India is targetted for later this year, adding to its in-orbit constellation of 428 satellites. The company said that it will launch 66 per cent of the planned total fleet, to build a global network that will deliver high-speed, low-latency connectivity.
          Read more at: India Today
Space Policy
Europe Cancels Joint Moon Missions with Russia
Russia's moon cooperation plans are yet another space causality of the country's ongoing attack against Ukraine.
In an April 13 statement, the European Space Agency (ESA) announced it was severing cooperative activities with Russia on the upcoming Luna-25, 26 and 27 missions. The agency wrote that "the Russian aggression against Ukraine and the resulting sanctions put in place represent a fundamental change of circumstances and make it impossible for ESA to implement the planned lunar cooperation."
          Read more at: Scientific American
NASA, Industry to Collaborate on Space Communications by 2025
NASA selected six American satellite communications (SATCOM) providers on April 20 to begin developing and demonstrating near-Earth space communication services that may support future agency missions.
For more than a year, the agency has been evaluating the feasibility of employing commercial SATCOM networks for near-Earth operations as it works to decommission its near-Earth satellite fleet. This approach would allow NASA to focus more time and resources on its deep space exploration and science missions.
Read more at: NASA
Japan's ispace Negotiating First Commercial Moon Landing Insurance
TAMPA, Fla. — Japanese lunar lander developer ispace said April 21 it is negotiating the world's first insurance coverage for a commercial mission to the moon's surface.
The startup has signed a Memorandum of Understanding with Mitsui Sumitomo Insurance (MSI), a Tokyo-based firm that started working with ispace in 2019, to insure its first attempt to send a lander to the moon later this year.
The agreement outlines intentions to finalize terms for the insurance in the months leading up to ispace's Mission 1 (M1), which is currently slated to fly on a Falcon 9 rocket no earlier than the fourth quarter of 2022.
Read more at: SpaceNews
NASA Deciding Whether Russian Cosmonaut Is Allowed on SpaceX Launch
NASA is still deciding on whether to take a Russian cosmonaut along for the ride on a SpaceX Crew Dragon mission to the International Space Station later this year.
During a press conference about Crew-4, this week's mission to the space station, SpaceNews editor Jeff Foust inquired if a decision had been made on whether a cosmonaut would round out the crew of five astronauts, given the tense geopolitical standoff between Russia and much of the rest of the world.
Read more on: Futurism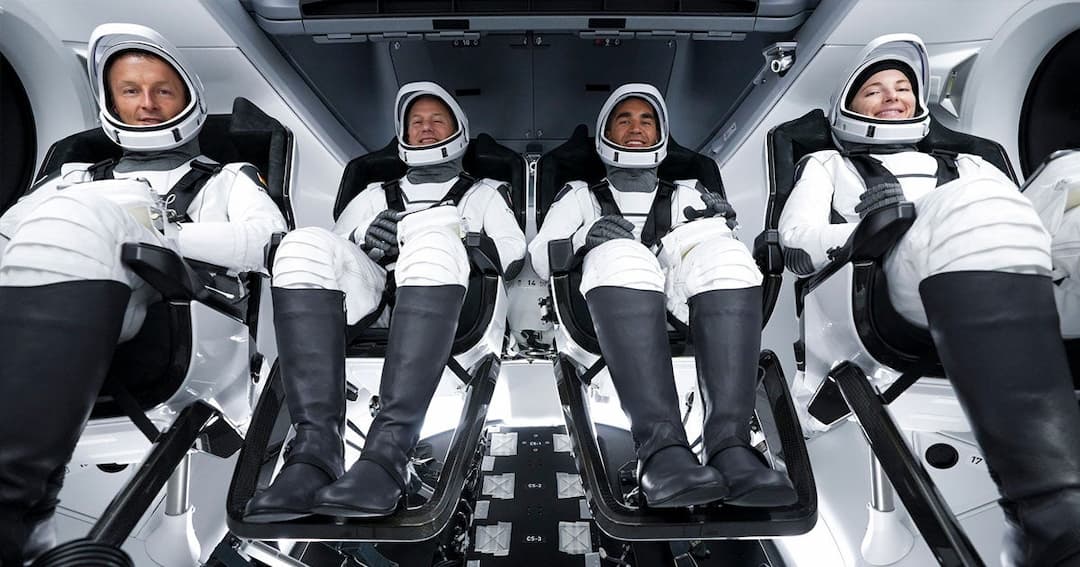 The Coming Anarchy in Outer Space
TO ELON Musk—the founder of the extremely successful space launch vehicle and communication satellite company, SpaceX—colonizing the Moon and Mars, becoming a "multi-planet species," is both profitable and vital to the future of humanity. NASA has endorsed this expansive vision of the next generation of human space flight in the form of a close collaboration between the Artemis lunar exploration program and SpaceX to employ a lunar lander derived from the very high-performance Starship design by the end of this decade.
Read more on: National Interest
Space Defense
Iridium And General Dynamics Submit Joint Bid For Space Development Agency Contract
WASHINGTON – Communications satellite operator Iridum and General Dynamics Mission Systems submitted a joint bid to operate and manage the Space Development Agency's low Earth orbit constellation. 
A spokesman for Iridium confirmed the two companies teamed up on a proposal in response to an SDA request earlier this year. The agency in January issued a request for proposals for the "ground operations and integration segment" of a $1.8 billion constellation known as Transport Layer Tranche 1.
Iridium's CEO Matt Desch during an earnings call April 19 told analysts that the company was pursuing the SDA contract but did not discuss the teaming arrangement.
          Read more at: SpaceNews
Intelligence Community is Rapidly Delivering Commercial Satellite Imagery to Ukraine, NGA Official Says
AURORA, Colo.—Advances in commercial satellite imagery collection and dissemination have enabled the U.S. intelligence community to provide commercial satellite imagery to Ukraine in its war against Russian invaders in just "minutes," an official with the National Geospatial Intelligence Agency (NGA) said on Sunday.
"As far as I know, we've been able to provide commercial imagery for the Ukrainians use within minutes of collection," Sandra Auchter, director of NGA Denver, said at the annual GEOINT Symposium in Aurora, Colorado, near Denver. "And for someone who has been in the business for as long as I've been in and seeing that evolution of how we can collect this imagery and how we're able to use it, for us to be able to provide that to a foreign partner in such a short period of time is incredible."
          Read more at: Satellite Today
Various
Virgin Orbit Announces Renaming of Its National Security Arm and Introduction of New Board Members
LONG BEACH, Calif. (Virgin Orbit PR) — Virgin Orbit (Nasdaq: VORB), a leading satellite launch provider, announced today the renaming of its national security arm. Formerly "VOX Space," Virgin Orbit's U.S.-based, wholly owned subsidiary engaged with national security organizations in the U.S. and its allies will now do so under the name "Virgin Orbit National Systems."
Since its founding in 2017, the Virgin Orbit National Systems team has developed and provided services to the national security and intelligence communities, focused on defense and the protection of the United States and its allies through Virgin Orbit's responsive space capabilities. To date, Virgin Orbit has launched ten national security payloads across its three successful flights. Each of those launches have been contracted through its Virgin Orbit National Systems subsidiary.
          Read more at: Parabolic Arc
NASA Motion Base Shuttle Simulator Lands At Museum For Display
April 12, 2022 – A retired NASA space shuttle simulator that was used to prepare astronauts for the motion of the vehicle in flight has moved again, this time to enter its new museum home.

The Shuttle Mission Simulator-Motion Base (SMS-MB), which was "flown" by every crew as part of their training at NASA's Johnson Space Center in Houston, arrived on Tuesday (April 12) at the Lone Star Flight Museum at Ellington Airport to go on static display. Towed to the facility on wheels, the roll-in coincided with the 41st anniversary of STS-1, the first space shuttle mission, which launched in 1981.
          Read more at: Collect SPACE
China Mulls Mission On Far Side Of Moon
Chinese scientists and engineers are considering sending a robotic probe to collect dust and rocks from the far side of the moon, an ambitious endeavor that would likely be a world first, according to a senior space agency official.
Wu Yanhua, deputy director of the China National Space Administration, said the United States, Russia and China have brought lunar substances back to Earth, but none of them has ever obtained samples from the moon's far side, which never faces Earth.
          Read more on: Moon Daily
The Real Reason NASA Has Its Own Railroad
When you think of the National Aeronautics and Space Administration (NASA), you probably imagine spaceships, moon missions, and robots on Mars. What you probably don't think about are good old-fashioned trains, but trains have always been a vital component to the success of NASA's space missions. Why? How else do you think they move around all those incredibly large and heavy booster rockets?
A 38-mile industrial line dubbed "The NASA Railroad" crisscrosses the expansive Kennedy Space Center at in Florida, as well as connecting to tracks at Cape Canaveral. In 1963, the Florida East Coast Railway built a 7.5-mile connection to the Kennedy Space Center that joined the 28 miles of NASA-constructed track at Wilson's Corners junction.
          Read more at: Slashgear
Stunning Pink Moon Sets Behind Artemis 1 Just Before It Rolls Off The Pad
A powerful new photo shows NASA's Artemis 1 rocket on the launch pad at the Kennedy Space Center in Florida, backdropped by its destination: the moon, shining in pink.
Photographer Michael Seeley captured the image of NASA's Space Launch System (SLS) rocket (with the Orion spacecraft on top) on Saturday (April 16) from a boat off the coast of Florida in the Atlantic Ocean, several miles offshore from the launch pad, he told Space.com in an email. Seeley was lucky to see the rocket on the pad, as it is about to be rolled back to a processing facility due to a series of technical glitches during testing.
          Read more at: Space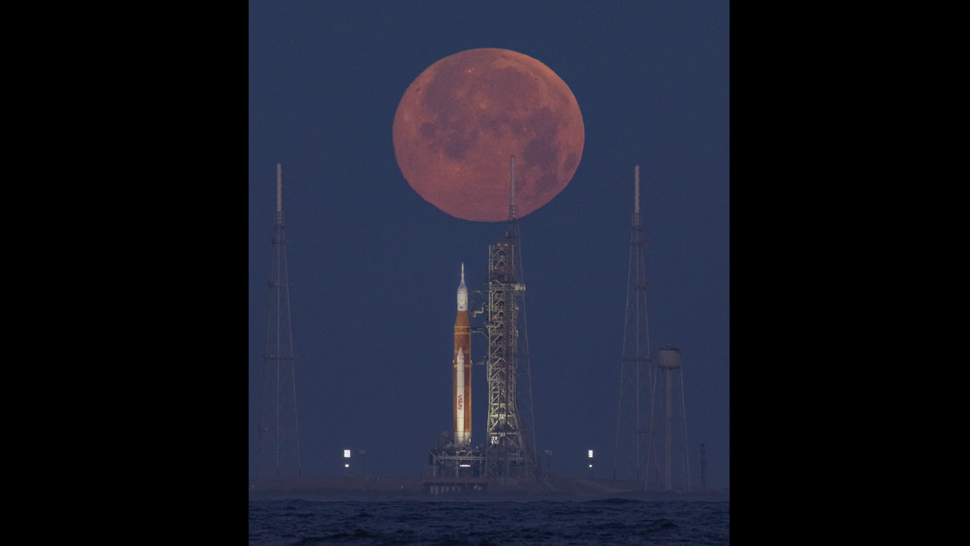 Bjarni Tryggvason, One Of Canada's Original Astronauts, Dies At 76
April 6, 2022 — Bjarni Tryggvason, one of Canada's original six astronauts who flew on board NASA's space shuttle, has died at the age of 76.

The news of Tryggvason's death on Monday (April 5) was first shared online by former NASA astronaut Leland Melvin, who trained with Tryggvason as a member of the U.S. space agency's 1998 group of international astronaut candidates.

"Rest In Peace Penguin classmate. It was an honor to train and work with you," Melvin wrote on Instagram on Wednesday (April 6). "Condolences to the family. Much love."
          Read more on: Collect SPACE