TOP NEWS
Chinese Kuaizhou-1A Rocket Launch Fails
A Kuaizhou-1A solid rocket failed after liftoff late Tuesday with the loss of a pair of commercial satellites to test navigation enhancement for autonomous driving.
The Kuaizhou-1A light-lift solid rocket lifted off from the Jiuquan Satellite Launch Center in the Gobi Desert at 9 p.m. Eastern Dec. 14, as indicated by airspace closure notices.
Chinese state media confirmed the launch failure hours later, tersely stating that the launch had failed and the specific reasons are being further analyzed and investigated.
Read more at: Spacenews
NASA Says Glitch on Boeing Rocket Delays Launch Again
NASA plans to replace an engine controller aboard its massive SLS rocket after finding a communications glitch with the system's avionics during pre-flight testing, the latest setback in a program for which Boeing Co. is the main contractor and that has been plagued by years of delays and billions of dollars in costs beyond its initial budget. The National Aeronautics and Space Administration also said Friday it will explore launch dates for a test flight in March and April.
Read more at: Bloomberg
Boeing Plans To Launch Its Starliner Spacecraft To The International Space Station In May 2022
The next launch of Boeing's Starliner spacecraft is slated for May 2022, company officials announced on Monday (Dec. 13). That is if everything goes as planned.
Teams from both Boeing and NASA have spent the last four months combing over data and inspecting valves on the Starliner spacecraft in an effort to figure out what caused several valves in its propulsion system to stick shut.
Read more at: Space.com
China Launches New Tianlian Relay Satellite
China sent a new data relay satellite into orbit from the Xichang Satellite Launch Center in southwest China's Sichuan Province early Tuesday morning. The Tianlian II-02 satellite was launched at 0:09 a.m. Beijing Time by a Long March-3B carrier rocket. It was the 401st flight mission of the Long March carrier rocket series. Developed by China Aerospace Science and Technology Corporation, Tianlian II-02 is the country's second-generation data relay satellite, which will be tasked with relaying data for spaceships, space labs, and its future space station.
Read more at: CN news
China Road Maps Humans-on-the-Moon Effort
A senior official at the China Manned Space Agency reports that the country is making preparations for a human Moon landing.
According to China Daily, Dong Nengli, head of the agency's technology bureau, made the claim at a news conference at the Publicity Department of the CPC Central Committee in Beijing last Friday.
Dong said that space program planners and engineers are researching the road map and technologies for a crewed Moon landing.
Read more at: Leonard david
Faulty Cable Responsible For Latest James Webb Space Telescope Launch Delay
A faulty data cable between the James Webb Space Telescope and launch pad equipment at Europe's Spaceport in Kourou, French Guiana, caused the big observatory's latest launch delay, European Space Agency (ESA) and NASA representatives said in a briefing on Thursday (Dec. 16).
ESA, which has about a 10% stake in the James Webb Space Telescope mission, is providing the rocket that will send the 6.5-metric-tonne telescope into space. The Ariane 5 rocket, operated by European company Arianespace since the mid-1990s, is one of the most reliable launchers available.
Read more at: Space.com
NASA confirms next Friday for Webb Space Telescope launch
NASA is shooting for next Friday — Christmas Eve — to launch its newest space telescope.
NASA Administrator Bill Nelson confirmed Friday that the James Webb Space Telescope will attempt to blast off on Dec. 24. A European Ariane rocket will provide the lift from South America's French Guiana.
The $10 billion Webb — considered the successor to the Hubble Space Telescope — was supposed to soar Saturday, but was jolted by a clamp during launch preparations, resulting in a four-day delay. Then a bad communication link on the rocket had to be fixed, postponing the launch another two days.
Read more at: ABCnews
SPACE HAZARDS AND STM
Op-Ed | Don't Wait For A Disaster: Industry-Led Space Traffic Management
​In 1956, a mid-air collision between two commercial planes above the Grand Canyon killed all 128 passengers. The rapid growth of commercial air traffic combined with a lag in air traffic control (ATC) improvements made such a disaster inevitable. Federal budget cuts prevented the government-operated ATC framework from establishing the necessary radar systems to improve air traffic safety. Unfortunately, it took the 1956 mid-air collision to trigger the funding and reforms needed to improve air safety.
Read more at: Spacenews
Space Traffic Analytics Startup Kayhan Space Raises $3.7 Million In Seed Funding
Kayhan Space, a startup based in Boulder, Colorado, announced Dec. 14 it has closed a $3.75 million seed funding round. The company developed a cloud-based collision-avoidance software service for low Earth orbit satellite operators.
The funding round was co-led by Initialized Capital and Root Ventures, with participation from Overline venture capital and Jacob Helberg, a senior adviser at the Stanford University Center on Geopolitics and Technology.
The company's space situational awareness and collision avoidance system, called Kayhan Pathfinder, is offered as a subscription-based software as a service.
Read more at: Spacenews
NEW SPACE/COMMERCIAL
The Race for the Next-Gen Space Station
Since November 2000, there have always have been a select few people living apart from the rest of us—the astronauts and cosmonauts on the International Space Station. On any list of humanity's greatest engineering achievements, the ISS almost always ranks near the top. It is as long as a football field, as spacious as a jumbo jet. It has made more than 123,000 orbits in 21 years.
The station is slowly leaking air, presumably from stress cracks in its hull that crew members have struggled to locate, and it's getting increasingly expensive to maintain as parts wear out.
Read more at: IEEE Spectrum
NASA Greenlights Axiom Space's 2nd Private Mission To International Space Station
NASA has given the go-ahead to another private crewed mission to the International Space Station (ISS).
The agency will work with Axiom Space to find a window for the Houston-based company's second ISS mission, NASA officials said in an update Monday (Dec. 13). That flight, known as Ax-2, is currently scheduled to launch from NASA's Kennedy Space Center in Florida between fall 2022 and spring 2023.
Read more at: Space.com
Class Action Lawsuit Filed Against Virgin Galactic Alleging Securities Fraud
A class action lawsuit was filed in New York on Dec. 7 alleging securities fraud by Virgin Galactic, which went public on the New York Stock Exchange (NYSE) in October 2019 after merging with Chamath Palihapitiya's Social Capital Hedosophia (SCH).
Named in the lawsuit are Virgin Galactic Holdings, CEO Michael Colglazier, former CEO George Whitesides, former current chief financial officer Doug Ahrens, and former chief financial officer Jon Compagna.
Read more at: Parabolic arc
SpaceX vs. the World
Perhaps Elon Musk decided his appearance before the National Academies needed an X factor. When it was time for the SpaceX founder and chief executive to speak at a virtual meeting of the Space Studies Board and Board on Physics and Astronomy on Nov. 17, he appeared on the screen with his youngest son, X (short for X AE A-XII), sitting on his lap. Musk said nothing about why his son was with him, immediately launching a video about SpaceX's Starship.
X's appearance was brief — the toddler was whisked away a few minutes later — but he charmed the thousands of people who tuned in to watch. ("Car! Car?" he said when a picture of a Starship vehicle rolling out to the pad appeared.
Read more at: Spacenews
NASA Selects Second Private Astronaut Mission to Space Station
NASA has selected Axiom Space for the second private astronaut mission to the International Space Station. NASA will negotiate with Axiom on a mission order agreement for the Axiom Mission 2 (Ax-2) targeted to launch between fall 2022 and late spring 2023.
Ax-2 will launch from NASA's Kennedy Space Center in Florida for a mission of no more than 14 days docked to the space station. NASA and Axiom will negotiate in-orbit activities for the private astronauts to conduct in coordination with space station crew members and flight controllers on the ground. The Ax-2 mission concept includes scientific research and outreach activities.
Read more at: NASA
India's Space Revolution
On the 11th of October, 2021, Prime Minister Shri Narendra Modi launched the Indian Space Association (ISpA) in New Delhi, which will be aimed towards bringing in critical technology and investment into the country alongside formulation of policy framework that will fulfil Mr. Modi's vision of making India a global leader in the space arena. During the event the Hon'ble Prime Minister stated that "For 75 years since independence, Indian space has been dominated by a single umbrella of [the] Indian government and government institutions. Scientists of India have made huge achievements in these decades, but the need of the hour is that there should be no restrictions on Indian talent, whether it is in the public sector or in the private sector."
Read more at: orfonline
Russia Ready To 'Fight' For Space Tourism Supremacy
After a decade-long hiatus, Russia is relaunching an ambitious bid for dominion over the world's budding space tourism industry, jostling with zealous billionaires, the United States, and rising China.
Russia flaunted its comeback this month dispatching two cosmic adventurers — Japanese billionaire Yusaku Maezawa and his assistant — to the International Space Station (ISS) in its first launch of tourists in 12 years.
Buoyed by the success, firebrand space chief Dmitry Rogozin talked up Russia's next steps to supremacy: a special module at the ISS for Russia's visitors, spacewalks outside the station, and — down the line — trips around the moon.
Read more at: Digital journal
NASA Promotes East Coast Starship Option At LC-49 Following Spacex Interest
The prospect of Starship making its mark on the Space Coast entered another level this week when NASA revealed it would conduct environmental assessments on LC-49 to support Starship launch and landing operations.
With SpaceX already confirming they will restart work on a Starship pad inside 39A, the potential of a second site at LC-49 could provide a considerable increase in Starship launch cadence from the Kennedy Space Center (KSC).
Read more at: NASA spaceflight
Huayi-1 Suborbital Rocket Makes Debut Flight
The debut flight of Huayi-1 suborbital rocket took place on Friday afternoon at a testing field in northwestern China, carrying an experimental satellite to an altitude of 250 kilometers, according to a joint statement from the rocket and satellite makers.
The Huayi-1 rocket blasted off at 2:30 pm, transporting the Agile Testbed experimental satellite and a biological experimental payload named Sparkle-1 to the space, said the rocket's builder Huayi Spacetime and the satellite's developer Cosats.
Huayi Spacetime is a startup in Shaanxi province that develops both suborbital and orbital rockets. In its suborbital flights, the company said it can recover clients' payloads via the rocket's upper stage.
Read more at: China daily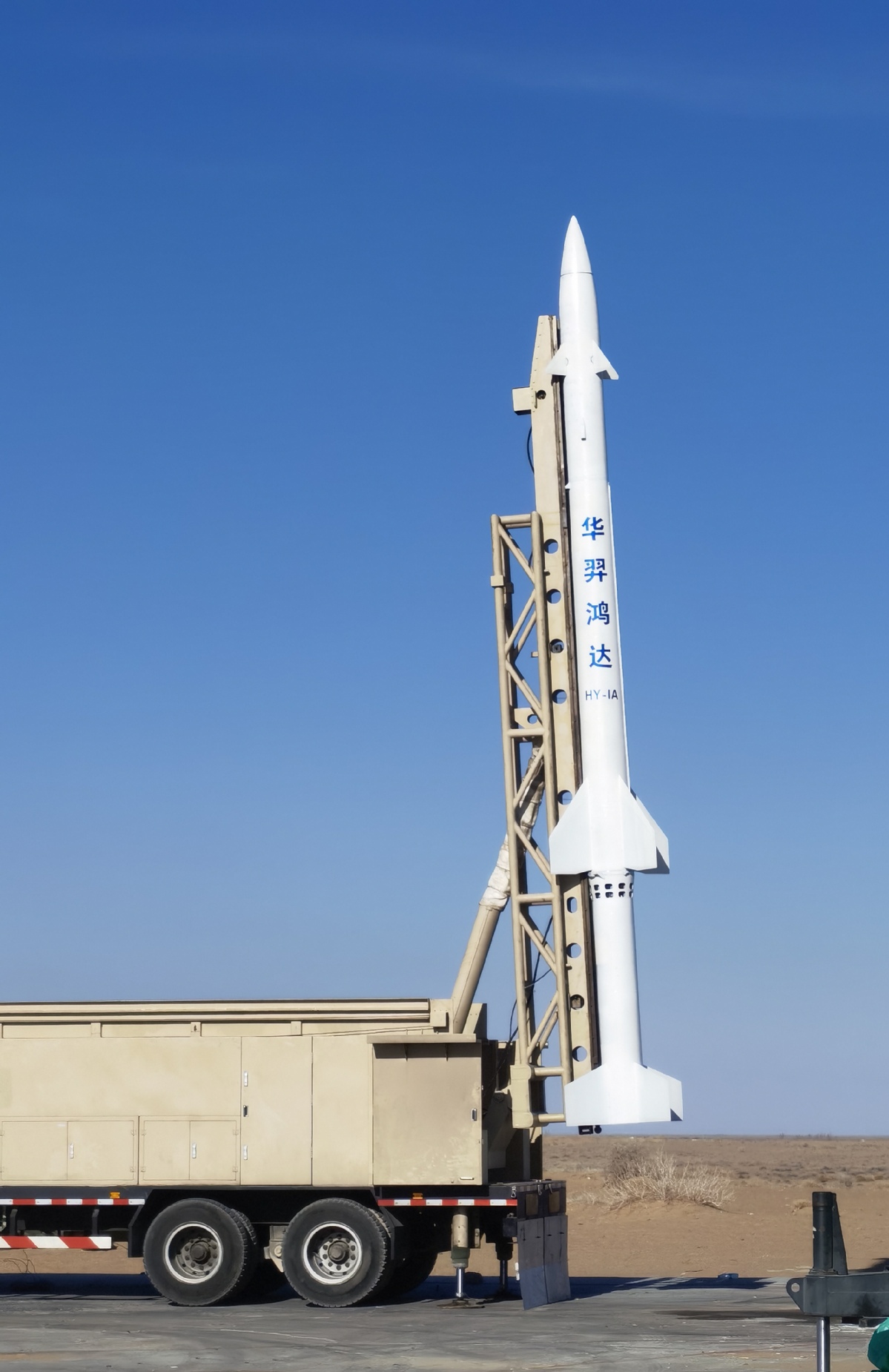 SCIENCE AND TECHNOLOGY
NASA Enters the Solar Atmosphere for the First Time, Bringing New Discoveries
For the first time in history, a spacecraft has touched the Sun. NASA's Parker Solar Probe has now flown through the Sun's upper atmosphere – the corona – and sampled particles and magnetic fields there.
The new milestone marks one major step for Parker Solar Probe and one giant leap for solar science. Just as landing on the Moon allowed scientists to understand how it was formed, touching the very stuff the Sun is made of will help scientists uncover critical information about our closest star and its influence on the solar system.
Read more at: NASA
New Launch Vehicles Face Schedule Pressure
Executives of two launch companies insisted their vehicles will be ready for their inaugural flights in 2022 while a third acknowledged their new vehicle's first flight will likely slip beyond the end of next year.
During a panel discussion at Euroconsult's World Satellite Business Week here Dec. 13, Jarrett Jones, senior vice president for the New Glenn launch vehicle program at Blue Origin, backed away from an earlier schedule that called for that launch in the fourth quarter of 2022.
Read more at: Spacenews
Starliner Service Module for Orbital Flight Test-2 being Replaced
Boeing has decided to replace the troubled service module meant to be used for the second uncrewed test flight of the company's CST-100 Starliner spacecraft.
In a Dec. 13, 2021, update, Boeing said it will be using the service module originally designated for use in the Starliner's Crew Flight Test, CFT, for the second uncrewed Orbital Flight Test, OFT-2. The service module planned for the operational Starliner-1 flight will now be flown in service of CFT.
Starliner is the second spacecraft being developed to fly astronauts to the International Space Station under NASA's Commercial Crew Program. OFT-2 was initially planned to fly to the ISS in early August 2021. However, on the day of launch, it was discovered that valves on the service module would not open.
Read more at: Spaceflight insider
Large Deposits Of Water Found On Mars Below The Surface At The Equator
A region of the Valles Marineris canyon system on Mars, one of the biggest in the solar system, appears to contain large amounts of water locked just beneath the surface, making it potentially useful for future astronauts. This is far from the first time researchers have seen water on Mars, but previous discoveries have been concentrated at the poles or deep underground, rather than relatively accessible at the equator. Igor Mitrofanov at the Russian Space Research Institute in Moscow and his colleagues used data from the European Space Agency's Trace Gas Orbiter (TGO) probe, which arrived at Mars in 2016, to spot an unusually high amount of hydrogen in the upper metre of the Martian surface.
Read more at: New scientist
Florida DOT Launches Construction Of New NASA Causeway Bridge
The Florida Department of Transportation (FDOT) this week hosted a groundbreaking ceremony for the new NASA Causeway Bridge, a $126 million project to build two high-level fixed bridges over the Indian River.
The new bridge will provide a new gateway to Kennedy Space Center and Cape Canaveral Space Force Station.
The existing NASA Causeway has twin 2,993-foot-long bascule bridges, originally built in 1964 by the U.S. Army Corps of Engineers. During the Apollo and space shuttle programs, the bridges were vital for transportation of space-bound payloads to the launch facilities
Read more at: roadbridges
First Live Class Held From China's Space Station
The first live class from China's space station was held on Thursday afternoon, given by Shenzhou-13 crew members Zhai Zhigang, Wang Yaping and Ye Guangfu to students on Earth.
The class began at 3:40 p.m. (Beijing Time), with a total of 1,420 students attending the lecture from five classrooms across China. The primary classroom is located in the China Science and Technology Museum. Classrooms have also been set up in Nanning in south China's Guangxi Zhuang Autonomous Region, Wenchuan County in Sichuan Province, Hong Kong and Macao.
Read more at: CN news
SpaceX To Replicate Starbase, Build Multiple Starship Launch Pads In Florida
Less than two weeks after CEO Elon Musk revealed that SpaceX has restarted construction of a Starship launch site at Kennedy Space Center's existing LC-39A pad, NASA has revealed the company's plans for an entirely different Starship launch site just a few miles to the north.
Known as Launch Complex 49 (LC-49) and located where NASA once considered building LC-39C, a third Saturn-class pad to match 39A and 39B, NASA now says that SpaceX aims to develop the site into a dedicated Starship launch pad.
Read more at: Teslarati
SA Company Has Built A Thruster System That Could Revolutionise The Way Satellites Move In Space
Technology is being developed in the Western Cape that could change space travel as we know it. South African company Hypernova Space Technologies is on the verge of launching an innovative satellite thruster system that could revolutionise the way we move satellites in space. The humble company has been quietly operating in the town of Somerset West building the world's only commercial electric propulsion system designed for satellites.
The aptly nicknamed 'sparkplugs in space' look like large Lego blocks. They where designed by Hypernova founder Jonathan Lun that was looking for alternative rocket fuel solutions almost a decade ago when studying at the University of Witwatersrand.
Read more at: Business insider

SPACE POLICY
Can Private Industry Get NASA To The Moon?
The next American to set foot on the Moon will travel in a NASA spacecraft, launched from Earth atop a NASA rocket. But the space agency will buy practically everything else for the mission from commercial suppliers. NASA is in the midst of a great experiment: Can commercial partnerships—like the ones that now provide cargo and astronauts to the International Space Station—deliver the same cost savings in deep space?
Read more at: QZ
Mexico Joins Artemis Accords
The government of Mexico announced Dec. 9 that it is signing the U.S.-led Artemis Accords outlining best practices for space exploration.
Marcelo Ebrard Casaubon, Mexico's secretary of foreign relations, announced that Mexico would become the fourteenth country to sign the Artemis Accords, a document addressing various issues regarding safe and sustainable space exploration, many of which are directly tied to the Outer Space Treaty and other international accords.
Read more at: Spacenews
Malaysia Has No Intention Of Signing NASA-Led Artemis Accords Yet, Says Deputy Science Minister
Malaysia does not intend to sign the NASA-led Artemis Accords yet, says Deputy Science, Technology and Innovation Minister Datuk Ahmad Amzad Mohamed @ Hashim (pic).
The Artemis Accords is an international agreement that establishes how countries can cooperate to peacefully and responsibly conduct exploration of the moon, Parliament heard.
Ahmad Amzad said the government was of the view that Malaysia was still not prepared to participate in the initiative.
Read more at: Star
South Korea, Australia Sign MOU on Space Cooperation
South Korea and Australia signed a memorandum of understanding (MOU) to cooperate on space exploration, launch services and satellite navigation. The two countries also agreed to improve their capacities in space situational awareness, Earth observation, space traffic and debris management.
The MOU was signed during a Dec. 10 video call between South Korea's science and ICT minister Lim Hye-sook and Australia's science and technology minister Melissa Price. The two nations announced this Dec. 13 during a summit between President Moon Jae-in of South Korea and his Australian counterpart, Prime Minister Scott Morrison, in Canberra.
Read more at: Spacenews
Space Outlaws
Back in October, the Australian Space Agency (ASA) announced plans to build a rover which will search for and collect samples of water and regolith for NASA – it should be on the lunar surface in 2026. A separate commercial project involving Australian businesses and universities hopes to start searching for water there in mid-2024. These projects barely raise a blip in the scramble to return to the Moon's surface. But they will fly straight into a potential diplomatic storm. Where will they land? Where will they go? What happens if someone else is already there?
Read more at: Cosmos magazine

SPACE DEFENSE
Congress Passes the 2022 National Defense Authorization Act
The Senate on Dec. 15 passed the National Defense Authorization Act for Fiscal Year 2022 with broad bipartisan support in a 89-10 vote. The House passed the bill Dec. 7 by a margin of 363 to 70. The NDAA is now headed to President Biden's desk to be signed into law.
The NDAA authorizes $740 billion for the Defense Department in fiscal year 2022, about $25 billion more than what the Biden administration requested.
Read more at: Spacenews
Defense Policy Bill Gives A Budget Boost To Space Programs
The 2022 National Defense Authorization Act — which Congress just passed and now awaits the president's signature — adds more than $645 million to Defense Department space programs above the Biden administration's request, analysts estimated.
"Space industry leaders on the whole should be pleased with the NDAA," said a Dec. 16 report by the consulting firm Avascent.
The president's budget request for fiscal year 2022 includes $15.3 billion for procurement, research and development of space systems and technologies, an increase of 13.8% above what Congress appropriated in 2021.
Read more at: Spacenews
U.S. Military Looking To Build Lasting Relationships With Commercial Space Industry
The U.S. military wants to buy more products and services from commercial space companies. This is easier said than done, however, as the Pentagon is still trying to figure out how to work with the new space sector and attract suppliers that have not traditionally pursued government contracts, officials said Dec. 14 at TechCrunch Sessions: Space 2021.
"The pace of innovation on the commercial and industry side is such that in order to be good stewards of the taxpayer dollars, we need to find better ways to leverage commercial innovation," said Lt. Col. Tim Trimailo of the U.S. Space Force Space Systems Command.
Read more at: Spacenews
Long-Range Discrimination Radar Reshapes Adversaries' Calculus for Attacks Against US Homeland
The Missile Defense Agency, U.S. Northern Command and the Space Force marked the completion of construction on the long-range discrimination radar site at Clear Space Force Station, Alaska, during a ceremony on Monday.
The multi-mission LRDR is designed, for now, to better track incoming ballistic missiles. It combines the capabilities of lower frequency radars – which can track multiple objects in space at long range, but are not able to help warfighters determine which objects are a threat – with the capabilities of higher-frequency radars, which have a more limited field of view but are better able to "discriminate" among multiple objects and figure out what of those is dangerous.
Read more at: Space daily
VARIOUS
Astronaut Cristoforetti: Key Task Of ISS Commander Is To Look Out For Crew Safety
The ISS crew commander must be ready for any challenges and bear the responsibility for the safety of the crew in an emergency, Samantha Cristoforetti, a European Space Agency astronaut that will lead a mission to the space outpost, said in an interview with TASS on Tuesday.
"Compared to the previous flight, when I did not have the responsibilities of a commander, this time I need to have a broader view of the situation," she said.
Read more at: TASS
Biden Nominates Frank Calvelli to Serve as USAF Assistant Secretary for Space Acquisition
Today, President Joe Biden announced his intent to nominate the following individual to serve in a key role: Frank Calvelli, Nominee for Assistant Secretary of the Air Force for Space Acquisition, Department of Defense.
Frank Calvelli is a senior leader in Booz Allen Hamilton's national security program, working on space and intelligence initiatives. Prior to joining Booz Allen Hamilton in 2021, he had a 34-year career with the Central Intelligence Agency, having spent over 30 years assigned to the National Reconnaissance Office (NRO) – a joint Intelligence Community/Department of Defense organization responsible for designing, building, launching, and maintaining America's intelligence satellites.
Read more at: Parabolic arc
Charles Bolden To Be Awarded Wright Brothers Memorial Trophy
The National Aeronautic Association (NAA) has announced that Major General Charles Bolden, USMC (Ret.), has been selected to receive the 2020 Wright Brothers Memorial Trophy. Chosen for "his impassioned commitment to public service in aviation and aerospace as an aviator, astronaut, and leader and his dedication to excellence for the advancement of all humanity," he joins prior recipients such as Charles Lindbergh, Jimmy Doolittle, Neil Armstrong and Bob Hoover. The trophy will be awarded at the 73rd Annual Wright Memorial Dinner on Dec. 17, 2021, in Washington, D.C.
Read more at: avweb
A Domestic Newspaper Warns Of The Russian Space Program's "Rapid Collapse"
A long and strikingly critical article that reviews the state of the Russian space program was published in the state-aligned newspaper MK this week.
None of the findings in the 2,800-word article were particularly surprising. Western observers who track the Russian space industry realize the program is deeply troubled, and to a great extent running on the fumes of its past and very real glory. What is notable, however, is that a major Russian media outlet has published such a revelatory article for a domestic audience.
Read more at: Arstechnica

SpaceX Whistleblowers Allege Widespread Sexual Harassment
On the heels of a similar report on Blue Origin, five whistleblowers in two different exposes from Lioness and The Verge allege that SpaceX effectively fosters a work environment that is extremely hostile and unresponsive to women.
Above all else, all five former employees describe experiencing sexual harassment, inept responses from human resources (HR), and varying degrees of retaliation after attempting to pursue a fair corporate response. Ashley Kosack, a Rochester Institute of Technology Dean's List graduate of mechanical engineering and a former SpaceX mission integration engineer and intern with almost four years of experience at the company between January 2017 and November 2021, is at the center of both reports.
Read more at: Teslarati