TOP NEWS
NASA Mega Moon Rocket Passes Key Test, Readies For Launch
The largest rocket element NASA has ever built, the core stage of NASA's Space Launch System (SLS) rocket, fired its four RS-25 engines for 8 minutes and 19 seconds Thursday at NASA's Stennis Space Center near Bay St. Louis, Mississippi.
The successful test, known as a hot fire, is a critical milestone ahead of the agency's Artemis I mission, which will send an uncrewed Orion spacecraft on a test flight around the Moon and back to Earth, paving the way for future Artemis missions with astronauts.
Read more at: Spacedaily
FAA Streamlined Launch And Reentry Rule Takes Effect
The United States is leading the way to a new era of commercial space transportation with a final rule that streamlines the licensing process for private sector launch and reentry operations.
"Innovation in commercial space transportation is increasing dramatically, and policy needs to keep up. This rule will help us to prepare for future U.S. leadership in commercial space transportation by facilitating the continued economic growth and innovation of the American aerospace industry and ensuring the highest level of public safety," said U.S. Transportation Secretary Pete Buttigieg.
Read more at: Spacedaily
Space Debris Removal Demonstration Launches
Among the payloads was a 500kg Earth imager developed by the South Korean space agency; and a pair of spacecraft from the Tokyo-headquartered Astroscale company which will give a demonstration of how to clean up orbital debris.
Astroscale's showcase will be run from an operations centre in the UK. The Soyuz flight lasted nearly five hours following a 06:07 GMT lift-off.
The long duration was a consequence of having to put so many different satellites in three different orbits roughly 500km to 550km above the Earth.
Read more at: BBC
Static Test Of SSLV's First Stage Solid Motor Unsuccessful: ISRO
The static test of first stage solid motor (SS1) of ISRO's Small Satellite Launch Vehicle (SSLV) — a new-generation compact rocket — was not successful, according to sources in ISRO. "Oscillation was noticed after 60 seconds into the test and nozzle was blown out near the bucket flange where it's attached with the motor at around 95 seconds", sources in the Bengaluru-headquartered space agency said. It was supposed to be tested for a total duration of about 110 seconds, officials said.
Read more at: HansIndia
NASA Analysis: Earth Is Safe From Asteroid Apophis for 100-Plus Years
After its discovery in 2004, asteroid 99942 Apophis had been identified as one of the most hazardous asteroids that could impact Earth. But that impact assessment changed as astronomers tracked Apophis and its orbit became better determined.
Now, the results from a new radar observation campaign combined with precise orbit analysis have helped astronomers conclude that there is no risk of Apophis impacting our planet for at least a century.
Read more at: JPL
SPACE HAZARDS AND STM
Decommissioned NOAA Weather Satellite Breaks Up
A polar-orbiting weather satellite decommissioned nearly eight years ago has broken up, adding to the growing debris population in a key orbit.
The Space Force's 18th Space Control Squadron said March 18 it hard confirmed the NOAA-17 satellite broke up March 10. The squadron said it was tracking 16 pieces of debris associated with the satellite, and that there was no evidence the breakup was caused by a collision.
Read more at: Spacenews
Suspected Space Junk From Satellite Launch Puts On Light Show Over Southern B.C.
A cluster of bright, falling lights lit up the skies over B.C.'s South Coast and much of the U.S. Pacific Northwest on Thursday night, the suspected result of rocket debris burning up as it re-entered the atmosphere.
Videos of the phenomenon were posted on social media by residents of the Seattle area, Oregon and B.C.
On Vancouver Island, the Saanich Fire Department tweeted that it had "received reports of flames in the sky" from multiple callers.
Read more at: CBC
Algorithms Inspired By Social Networks Reveal Lifecycle Of Substorms, A Key Element Of Space Weather
Space weather often manifests as substorms, where a beautiful auroral display such as the Northern Lights is accompanied by an electrical current in space which has effects at earth that can interfere with and damage power distribution and electrical systems. Now, the lifecycle of these auroral substorms has been revealed using social media-inspired mathematical tools to analyse space weather observations across the Earth's surface.
Analysis by researchers led by the University of Warwick has revealed that these substorms manifest as global-scale electrical current systems associated with the spectacular aurora, reaching across over a third of the globe at high latitudes.
Read more at: Eurekalert
New Imaging Algorithm Can Spot Fast-Moving And Rotating Space Junk
A new imaging algorithm devised by researchers in the US could improve our ability to track space junk orbiting the Earth. Through simulated tests, the team has showed how a cross-correlation of the signals reflected by a piece of debris could be used to extract high-resolution, undistorted images of how an object spins as it travels through space – allowing it to be tracked more accurately. Their algorithm could soon prove invaluable in protecting satellite systems from colliding with space junk.
Read more at: Physics world
Water Mission Takes On Space Weather
For well over a decade, ESA's SMOS satellite has been delivering a wealth of data to map moisture in soil and salt in the surface waters of the oceans for a better understanding of the processes driving the water cycle. While addressing key scientific questions, this exceptional Earth Explorer has repeatedly surpassed expectations by returning a wide range of unexpected results, often leading to practical applications that improve everyday life. Adding to SMOS' list of talents, new findings show that what was considered noise in the mission's data can actually be used to monitor solar activity and space weather, which can damage communication and navigation systems.
Read more at: ESA
Spaceblower: A Rocket To Combat Space Debris
SpaceBlower is a light suborbital rocket designed to eject a cloud of particles into the path of large non-manoeuvrable space debris. Its goal is to avoid collisions likely to generate thousands more debris fragments and thus to keep satellites and their orbits safe. Space Blower is a preliminary project initiated and funded by CNES and its partner Bertin Technologies (now CT France). Christophe Bonnal, senior expert at CNES's Launch Vehicles Directorate, outlines what this project is aiming to accomplish.
Read more at: sciences-techniques
NEW SPACE/COMMERCIAL
Exclusive: First Wuhan-Manufactured Commercial Rocket Ready For Launch Post Pandemic
The first locally manufactured commercial launch vehicle in Wuhan, capital of Central China's Hubei Province and the region hardest hit by the COVID-19 epidemic at the beginning of 2020, is now undergoing final-stage testing and is ready for launch anytime, according to developers on Sunday.
Preparations have been completed on four new rockets which are awaiting orders for launch. The first of the Wuhan-manufactured launch vehicles will be codenamed Xinzhou after its birthplace in Wuhan's Xinzhou district, sources with the Kuaizhou Rocket Complex at the Wuhan National Aerospace Industrial Base told the Global Times in an exclusive interview on Sunday.
Read more at: Globatimes
Rocket Lab Launches Smallsat Rideshare Mission
Rocket Lab launched six smallsats for a variety of commercial and government customers March 22 on a mission also intended to demonstrate the performance of its own smallsat bus.
The company's Electron rocket lifted off from Launch Complex 1 at Mahia Peninsula, New Zealand, at 6:30 p.m. Eastern. The rocket deployed its kick stage eight and a half minutes after liftoff and, after a 40-minute coast, fired its Curie engine for nearly two minutes. Four minutes later, it deployed five payloads into a 550-kilometer circular orbit inclined at 45 degrees.
Read more at: Spacenews
NASA To Offer Funding For Initial Studies Of Commercial Space Stations
NASA is shifting direction in its effort to support development of commercial space stations in low Earth orbit, with plans to issue a series of awards for initial studies before later purchasing services.
At a March 23 industry briefing, agency officials outlined what it calls the Commercial LEO Development (CLD) program, which will start with a set of two to four funded Space Act Agreements with companies to help with the initial design of their proposed orbital facilities. A draft announcement of proposals is scheduled for release in April followed by the final version in May.
Read more at: Spacenews
With CAS500, South Korea Launches Journey Toward Private-Led Satellite Development
The March 22 launch of South Korea's CAS500-1 remote sensing satellite has marked the beginning of the country's journey toward the domestic satellite industry being driven by the private sector.
To that end, the state-funded Korea Aerospace Research Institute (KARI) jointly developed the 500-kilogram satellite with a group of selected industry partners from 2015, sharing its core technologies and information with the latter from the get-go, the first case of this kind, according to a KARI document.
Read more at: Spacenews
Southern Launch Gets First Aussie Launch Licence
The first Australian launch facility licence has been granted to Southern Launch, allowing the Adelaide based space tech to launch suborbital satellites from its Koonibba Test Range in regional South Australia.
Industry Minister Karen Andrews announced the licence on Thursday, saying it marked a major milestone for the Australian space sector.
"It will contribute to fuelling national capability as the civil space sector rapidly grows and transforms and becomes an even more important economic contributor," Mrs Andrews said.
Read more at: innovationaus
Chinese Private Firm To Build Space Lab By 2025
As China has scheduled 11 launch missions in the next two years for the building of its first space station, a private space technology start-up based in Huzhou, East China's Zhejiang Province has been keeping its pace close to the national program, with an ambitious goal of initiating an orbital space biology lab around 2025, firm founder Cheng Wei told the Global Times on Sunday.
Read more at: Globaltimes
SCIENCE AND TECHNOLOGY
Astronauts Need Tough Workouts To Keep Heart Healthy On Trip To Mars
As NASA astronauts set their sights on reaching Mars and building an outpost on the moon, they are likely to need regular, rigorous exercise to keep their hearts in shape, a new study suggests.
Researchers analyzed data gathered from U.S. astronaut Scott Kelly during his year in space from 2015 to 2016 and from Benoît Lecomte's attempt to swim across the Pacific Ocean in 2018. Investigators said swimming simulates weightlessness.
Read more at: UPI
Decades Of Radiation-Based Scientific Theory Challenged
Surprisingly, exposure to a high background radiation might actually lead to clear beneficial health effects in humans, according to Ben-Gurion University of the Negev and Nuclear Research Center Negev (NRCN) scientists. This is the first large-scale study which examines the two major sources of background radiation (terrestrial radiation and cosmic radiation), covering the entire U.S. population.
Read more at: Spacedaily
Russia Has Begun Spaceplane Project, Says Soviet Shuttle Designer
Russia is developing a reusable spaceplane, a subsidiary of the Kalashnikov conglomerate said on Wednesday, in Russia's first such project since the late Soviet Union's ill-fated Buran space shuttle.
A full-size model of the plane was presented at a closed pavilion during a Russian military forum last year and the project is now under development, said the general director of the Molniya research-to-production facility.
Read more at: Reuters
Relativity Space Printed Its Terran 1 Rocket's Second Stage In A Few Weeks
When Relativity Space was founded with the audacious idea of using 3D printing to manufacture pretty much the entirety of a small rocket, the premise sounded revolutionary. But if the company could pull it off, Relativity would have the potential to upend traditional rocket manufacturing, which in many respects remains a hands-on job.
There remain very real questions about whether or not this approach is ultimately feasible. The acid test will come when Relativity attempts to reach orbit. Nevertheless, the company's 3D printing technology does seem to be working. Two recent milestones in the development of the company's Terran 1 rocket, in fact, suggest the tech is working really well.
Read more at: Arstechnica
Engine of Atlantis
The second European Service Module that will power the Orion spacecraft on a crewed flyby of the Moon is fitted with a special engine at Airbus facilities in Germany.
This engine belonged to Space Shuttle Atlantis, and is one of five refurbished engines to be paired with the first five European Service Modules. Technicians carefully install the engine in Airbus' cleanroom.
Read more at: ESA
Inmarsat Gets Funding To Develop Satellite-Based Telemetry Relay Network For Rocket Launches
The UK Space Agency will partly fund the development of an in-orbit telemetry relay system called InRange, which will use British satellite operator Inmarsat's L-band constellation to guide rocket launches.
Inmarsat says that InRange will reduce launch providers' dependence on ground-based systems for tracking rockets in flight, potentially saving them money on ground stations and other terrestrial infrastructure.
The UK Space Agency awarded Inmarsat a £258,000 ($357,960) National Space Innovation Programme (NSIP) contract to develop the network.
Readm more at: Spacenews
Three Entirely New Lifeforms Discovered On Space Station
American and Indian scientists have examined four bacterial strains from the station and found that the three belonged to a species previously unknown to science.
The rod-shaped bacteria were found roughly five years ago in different locations on the station: one on the surface of a dining table, one on an overhead panel at a research station, and another in the Cupola observatory dome.
As the bacteria are proven to be able to survive the conditions of the ISS, they could contribute to humans growing food in space, according to the researchers.
Read more at: Sky news
Psychosocial Aspects of a Flight to Mars
The first experiments modeling peoples' behavior during a long-term cosmic flight revealed the need for a more systematic monitoring of the development of the crew's mutual relationships, particularly in terms of collaboration and work-related communication. For this reason, in order to examine team dynamics, the sociomapping method was developed, which was first used in the HUBES 94 and ECOPSY 95 experiments. This method allows for an analysis and visualization of the continuous changes in communication and collaboration, including decreases in their quality and quantity.
Read more at: intechopen
Russian Researchers Reveal Most Common Causes Of Death Among Cosmonauts
Humanity will mark the 60th anniversary of its first foray into space next month, with over 560 people from 41 countries reaching low Earth orbit, travelling beyond low Earth orbit, or even going to the Moon since cosmonaut Yuri Gagarin's historic 12 April, 1961 flight.
Cardiovascular disease was is the single most common cause of death among Soviet and Russian cosmonauts, a comprehensive analysis by a group of Russian medical institutions has determined.
Read more at: Spacedaily
NASA Engineers Analyze Navigation Needs of Artemis Moon Missions
Space communications and navigation engineers at NASA are evaluating the navigation needs for the Artemis program, including identifying the precision navigation capabilities needed to establish the first sustained presence on the lunar surface.
"Artemis engages us to apply creative navigation solutions, choosing the right combination of capabilities for each mission," said Cheryl Gramling, associate chief for technology in the Mission Engineering and Systems Analysis Division at Goddard Space Flight Center in Greenbelt, Maryland.
Read more at: Spacedaily
SPACE POLICY
The Space Rush: New US Strategy Must Bring Order, Regulation
The twenty-first century is witnessing an epic rush to outer space. Just as the discovery of gold in California created mass migration to the American West in 1848, the potential for generating wealth in space is propelling US allies, adversaries, and industry alike to launch into orbit.
To manage this, the new US administration must develop a 30-year strategy to secure space and promote full-bodied governance for the astounding commercial expansion currently underway.
Read more at: Breakingdefense
The Strategic Implications of the China-Russia Lunar Base Cooperation Agreement
On March 9, 2021, the China National Space Administration (CNSA) and Russian Space Agency (ROSCOSMOS) signed a Memorandum of Understanding (MoU) for the joint construction of an autonomous lunar permanent research base. Employing the language of the Outer Space Treaty of 1967, China and Russia emphasized that the MoU is about scientific discovery as well as the use of lunar terrain. The agreement describes the planned International Lunar Research Station (ILRS) as "a comprehensive scientific experiment base with the capability of long-term autonomous operations, built on the lunar surface and/or on the lunar orbit that will carry out multi-disciplinary and multi-objective scientific research activities such as the lunar exploration and utilization, lunar-based observation, basic scientific experiment, and technical verification."
Read more at: Diplomat
Russia, US Hold Online Consultation On Space Security
Russian-US consultations on space security were held on Tuesday in a videoconference format, the Russian foreign ministry said.
"The sides exchanged views on a wide spectrum of problems of security of space activities and expressed their interest in continuing dialogue on these problems," it said. Russian president's press secretary Dmitry Peskov said earlier that Russia valued cooperation with the United States in outer space and hoped for its continuation.
Read more at: TASS
Quad Push: ISRO Taking Space Ties With US, Japan & Australia To A higher orbit
As Quad takes a leap forward, India is deepening space ties with the US, Japan and Australia — the other three member nations of the group.
Known as the "Quadrilateral Security Dialogue", the Quad grouping held its first virtual summit last week.
The four countries plan to establish a series of working groups that will focus on climate change; critical and emerging technologies, including working to set technology standards and norms and jointly developing some of the critical technologies of the future, officials said.
Read more at: satnews
Cosmos Briefing: Building Australia's Space Industry
Australia's Space Agency is young, but that doesn't mean we should be underestimated in space: that's the message from yesterday's Cosmos Briefing.
Aude Vignelles, Chief Technology Officer at Australian Space Agency; Adam Gilmour, CEO of Queensland-based Gilmour Space Technologies; and Cassandra Steer, a lecturer and researcher in space law at the Australian National University, discussed the evolving industry.
The session was hosted by the Royal Institution of Australia's lead scientist, Alan Duffy.
Read more at: Cosmos magazine
SPACE DEFENSE
N. Korea Launch Was New 'Tactical Guided Projectile': Pyongyang
North Korea has tested a new "tactical guided projectile" with a solid-fuel engine, state media said Friday after the nuclear-armed country carried out its first substantive provocation since US President Joe Biden's inauguration.
Pyongyang has a long history of using weapons tests to ramp up tensions, in a carefully calibrated process to try to forward its objectives.
On Thursday it launched two weapons from its east coast, with Japanese Prime Minister Yoshihide Suga calling them ballistic missiles.
Read more at: Spacewar
Pentagon Wants New Command And Control System To Counter Hypersonic Threats
In 2017, Russia became the first country in the world to deploy nuclear-capable hypersonic missiles, with their development begun after the US withdrew from the Anti-Ballistic Missile Treaty and started building a missile shield. Moscow sees the weapons as a guarantee against decapitation strikes. China also has a successful hypersonics programme.
The US Missile Defence Agency (MDA), the arm of the Pentagon responsible for creating a layered defensive shield against ballistic missile attack, has issued formal a request for information (RFI) to weapons makers for the creation of a new Command and Control, Battle Management, and Communication (C2BMC) system.
Read more at: Spacewar
See The Space Force's 1st Small Rocket Launch Of 2021 In These Photos
The U.S. Space Force launched its first small rocket flight of 2021 this month in a science experiment that dumped a bit of water vapor into the Earth's upper atmosphere.
A three-stage Terrier-Terrier-Oriole suborbital rocket launched from NASA's Wallops Flight Facility on Wallops Island, Virginia on the afternoon of March 3. No exact time was provided in press materials from NASA or the Space Force.
Read more at: Space.com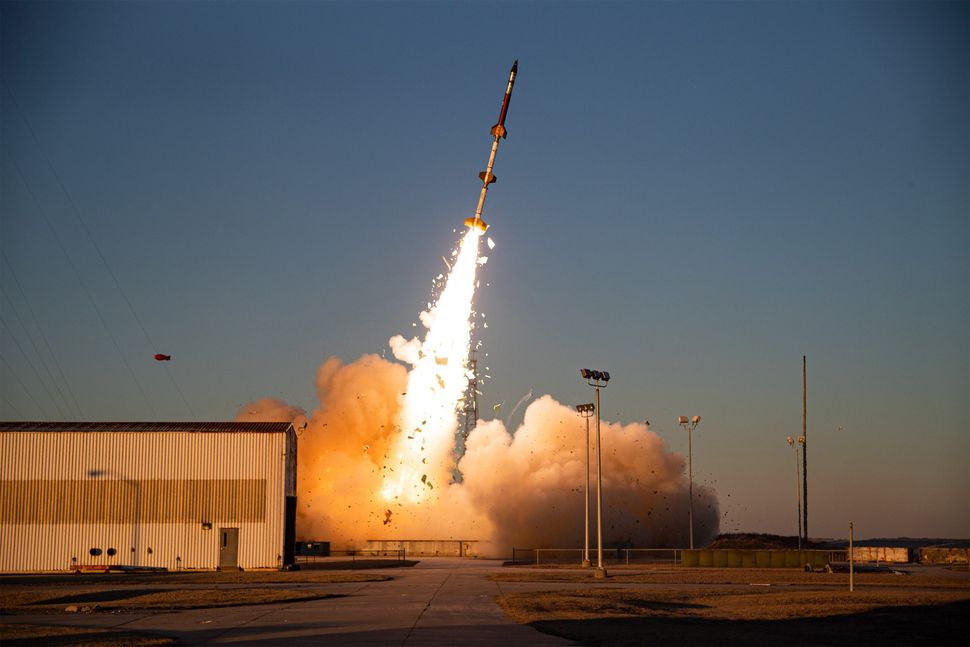 VARIOUS
How A Political Boss Could Help NASA
Having a politician in the top spot at NASA signals the agency will be a priority for the Biden administration, some space industry experts tell Axios.
Why it matters: Bill Nelson, a former senator with President Biden's ear, is the administration's nominee to lead the space agency and could help make NASA a priority for the president if he's confirmed.
NASA is often seen as an agency that cuts across partisan lines, inspiring children and helping everyone look to the future, but it's also a political tool with major geopolitical weight.
The agency doles out billions in industry contracts and employs about 17,000 people across the country.
Read more at: Axios
Op-ed | The Next Space Race
On April 2, 1958, President Dwight D. Eisenhower called on Congress to form the National Aeronautics and Space Administration (NASA). The Soviet Union was succeeding in the space domain, and President Eisenhower knew it was imperative the United States win the space race or face severe national security consequences. Congress met that call 12 days later when both the Senate and House of Representatives introduced legislation that would create today's NASA. Almost a decade after President Eisenhower made that initial call to action, Neil Armstrong was taking his giant leap for all mankind.
Read more at: Spacenews
Wright Brothers' Wing Fragment To Take Flight Again On Mars
A piece of cloth from the Wright brothers' first flight in 1903 is set to become part of aviation history again – this time on Mars.
Carillon Historical Park, the Ohio home of the Wright Brio home of the Wright Brothers National Museum, said NASA officials got in contact in 2019 about finding a way to connect Wilbur and Orville Wright's first successful flight in Kitty Hawk, N.C., with the first heavier-than-air flight on Mars.
Read more at: Marsdaily
Shooting at the Moon: The Pioneering Rocketry of Robert Goddard
Shooting a rocket from the earth to the moon is no longer merely a fantasy of the mind. In fact, the first shot has been fired in what promises to be the most spectacular "battle of the century"-man's struggle to conquer interplanetary space.
And as a result of the success of the experiment, Prof. Robert H. Goddard, of Clark University, claims that he has now solved all the major problems of accomplishing such an amazing feat.
Read more at: Popular mechanics
Scientists Are Planning to Build Noah's Ark on the Moon
In 2013, a cataclysmic meteor the size of a six-story building broke apart above Chelyabinsk, Russia, and the resulting blast was stronger than a nuclear explosion. In 2068, astronomers believe a potentially hazardous "God of Chaos" asteroid could slam into Earth. Both events suggest humans—and every other animal and plant on Earth—are much more susceptible to total annihilation than we think. That's why scientists at the University of Arizona are proposing a far-out concept that just might save us all: a 21st-century version of Noah's Ark … on the moon.
Read more at: Popular mechanics