TOP NEWS
Chinese Rocket Booster Appears To Crash Near School During Gaofen 11 Satellite Launch
A Chinese Long March 4B rocket successfully launched a new Earth-watching satellite Monday (Sep. 7) but the booster's spent first stage narrowly missed a school when it fell back to Earth, witness videos show.
The Long March 4B rocket lifted off from the Taiyuan Satellite Launch Center in north China, at 1:57 p.m. local time (1:57 a.m. EDT, 0557 GMT). It carried the powerful Gaofen 11 (02) Earth observation satellite, an optical observation satellite capable of returning high resolution images, showing features as smaller than 3 feet (1 meter) across.
Read more at: Space.com

NEW SPACE/COMMERCIAL
Virgin Galactic Plans Next Test Spaceflight For Oct. 22 As It Nears Flying Founder Richard Branson
Virgin Galactic plans to conducts its next crewed spaceflight test on Oct. 22, according to documents the company filed with the Federal Communications Commission on Tuesday.
The flight will be the first of two that the space tourism company has planned to complete testing of its SpaceShipTwo spacecraft system and should have just two test pilots on board. Virgin Galactic said last month that the second test spaceflight will then have four "mission specialists" inside the cabin.
Read more at: CNBC

NASA Issues New Call For Lunar Payload Deliveries From Its Commercial Moon Lander Partners
NASA wants its private commercial space company partners to make more moon deliveries on its behalf: The agency just issued another request for scientific and experimental payloads that need lunar delivery sometime in 2022, in part to help pave the way for NASA's Artemis human lunar landing mission planned for 2024.
NASA previously established its Commercial Lunar Payload Services (CLPS) program in order to build a stable of approved vendors for a special special type of service, namely providing lunar landers that would be able to handle last-mile delivery of special payloads to the moon.
Read more at: Techcrunch

SPACE HAZARDS & STM
Russian Scientists Create Model To Forecast Space Debris' Orbits For 100 Years Ahead
Physicists at the Tomsk State University have created a mathematical model for computing the trajectories of space debris, such as defunct space satellites and fragments of spacecraft, for 100 years ahead and more. The Russian Foundation for Basic Research has established a special grant for determining the trajectories of such objects in near-Earth space, the university's press-service has said.
Read more at: TASS

LAUNCHES
With DUST-2 Launch, NASA's Sounding Rocket Program is Back on the Range
NASA is preparing for the first launch of a sounding rocket since the coronavirus pandemic began in the United States. The DUST-2 mission, which is short for the Determining Unknown yet Significant Traits-2, will carry a miniature laboratory into space, simulating how tiny grains of space dust – the raw materials of stars, planets and solar systems – form and grow. The launch window opens at the White Sands Missile Range in New Mexico on September 8, 2020.
DUST-2, a collaboration between NASA and the Japan Aerospace Exploration Agency, follows up on the DUST mission launched in October 2019.
Read more at: NASA

ULA Finds Cause Of Dramatic Delta IV Heavy Launch Scrub; Targeting New Date
United Launch Alliance teams have determined the cause behind a Delta IV Heavy rocket's dramatic, last-second abort late last month, setting the stage for another attempt no earlier than next week.
A torn diaphragm in one of three pressure regulators at Cape Canaveral Air Force Station's Launch Complex 37 caused the computer-controlled scrub just three seconds before liftoff on Aug. 29, ULA CEO Tory Bruno said via Twitter on Wednesday. The engines briefly lit on fire, but the rocket remained firmly on the pad.
Read more at: Florida today

SpaceX Posts Uncut Falcon 9 Launch And Landing Footage And Audio
SpaceX has released uncut footage of one of its most recent Falcon 9 launches and landings, including unprecedented onboard audio from the rocket through all phases of flight.
The rocket in question, Falcon 9 booster B1059, ended months of delays when it lifted off at long last on August 30th, sending a new upper stage, payload fairing, and an Argentinian Earth observation satellite on their way to orbit.
Read more at: Teslarati

First H3 Launch Slips To 2021
The Japanese space agency JAXA announced Sept. 11 that the first launch of the country's new H3 rocket will be delayed to no earlier than the spring of 2021 because of problems with the rocket's main engine.
JAXA said that the first flight of the rocket is now scheduled for some time in Japanese fiscal year 2021, which begins April 1 of 2021. The second launch of the rocket has also slipped, to Japanese fiscal year 2022.
Read more at: Spacenews

Astra's 1st Orbital Test Launch Fails During First-Stage Engine Burn
Astra's first orbital mission got off the ground, but it soon came back down again.
The California-based spaceflight startup launched its first orbital test flight tonight (Sept. 11), sending its two-stage Rocket 3.1 skyward from the Pacific Spaceport Complex in Alaska at 11:19 p.m. EDT (7:19 p.m. local Alaska time and 0319 GMT on Sept. 12).
The 38-foot-tall (12 meters) booster, which was carrying no payloads, didn't make it all the way to the final frontier.
Read more at: Space.com

Chinese Kuaizhou-1A Rocket Launch Ends In Failure
Launch of a Kuaizhou-1A satellite carrying a remote sensing satellite ended in failure following liftoff from Jiuquan Saturday.
The Kuaizhou-1A solid rocket lifted off from a transporter erector launcher at Jiuquan in the Gobi Desert at 01:02 a.m. Eastern Saturday. Amateur footage of the apparent launch appeared on Chinese social media shortly after.
Read more at: Spacenews

SCIENCE & TECHNOLOGY
Buff Space Mice Could Stop Astronauts From Losing Bone And Muscle Mass
Super-muscular mice may now reveal a way to keep astronauts from losing muscle and bone in the microgravity of space, a new study finds.
A major challenge astronauts face during prolonged space missions is the simultaneous loss of bone and muscle, which weaken and atrophy due to disuse outside the constant pull of Earth's gravity. Previous research found that in microgravity, astronauts can lose up to 20% of their muscle mass in less than two weeks.
Read more at: Space.com

Northrop Grumman To Terminate Omega Rocket Program
Northrop Grumman announced it will not move forward with the development of the OmegA rocket. The vehicle was designed for the sole purpose of competing for a National Security Space Launch contract award but didn't make the cut.
"We have chosen not to continue development of the OmegA launch system at this time," Northrop Grumman spokeswoman Jennifer Bowman said in a statement. "We look forward to continuing to play a key role in National Security Space Launch missions and leveraging our OmegA investments in other activities across our business."
Read more at: Spacenews

Space Tug To Test Out Robotic Arm On 2022 Demonstration Mission
Two space companies are teaming up on a planned 2022 mission that could help open up the off-Earth economy.
California-based Momentus and Made In Space Europe (MIS EU) have finalized a memorandum of understanding to develop the flight to Earth orbit, the companies announced last week.
Read more at: Space.com

Charlie Bolden Says The Quiet Part Out Loud: SLS Rocket Will Go Away
Charlie Bolden, a four-time astronaut, served as NASA administrator from mid-2009 through early 2017. During that time, he oversaw the creation and initial development of the agency's large Space Launch System rocket.
Although some NASA officials such as then-Deputy Director Lori Garver were wary of the rocket's costs—about $20 billion has now been poured into development of a launch vehicle based on existing technology—Bolden remained a defender of the large rocket, calling it a lynchpin of the agency's plans to send humans beyond low-Earth orbit, perhaps to the Moon or Mars.
Read more at: Arstechnica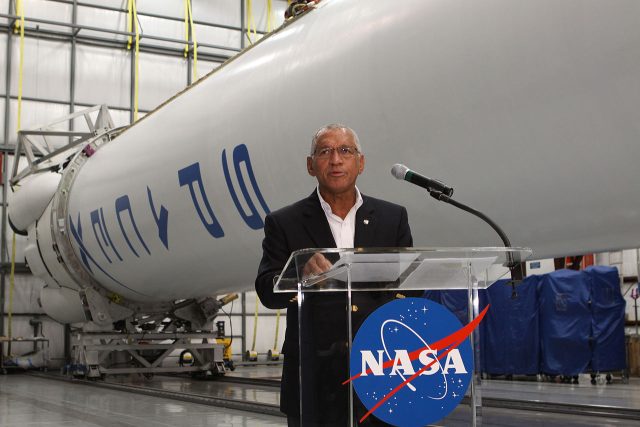 SPACE POLICY
Gerstenmaier Warns Against Ending Space Station Program Prematurely
The former head of NASA's human spaceflight program, now working as a consultant to SpaceX, said he welcomes greater commercial activity in low Earth orbit but cautioned against ending the International Space Station prematurely.
Bill Gerstenmaier discussed the importance of the ISS, from a technical and policy standpoint, during a virtual town hall meeting Sept. 5 by the Los Angeles-Las Vegas Section of the American Institute of Aeronautics and Astronautics (AIAA).
Read more at: Spacenews

New Space Policy is a Momentous Step in India's Space Odyssey, Says Vivek Kimbahune, Executive VP, Saankhya Labs
Space being a capital-intensive, low volume, high-value business, the Indian ecosystem had inadequate access to capital, largely due to limited domestic market opportunities and long gestation cycles. "With the opening up of the Space sector for private participation, the Indian ecosystem can now leverage on Indian Space Research Organisation's (ISRO) infrastructure and know-how to build globally competitive solutions with lesser investments," says Vivek Kimbahune, Executive VP – Sales and Business Development, Saankhya Labs. In his interaction with Huma Siddiqui, he talks about the benefits to private companies, and how it can catapult India as one of the leading space economies in the world.
Read more at: Financial express

After Successful 'Kounotori' Missions, Japan Sets Sights on First Manned Lunar Exploration
The cargo transporter Kounotori safely completed its final mission to the International Space Station (ISS) on August 20.
The nine successful Kounotori missions so far have each supported ISS activities, thereby raising Japan's international profile, and making a strong contribution to manned space technology.
Building on this success, Japan is now looking toward its first manned lunar exploration.
Read more at: japan-forward

SPACE DEFENSE
US Space Force Developing A Strategy To Improve Satellite Communications
As the U.S. Space Force builds out its fiscal 2022 budget, the nascent service is developing a new strategy to govern how it builds and leases satellite communications and services, Lt. Gen. Bill Liquori explained during the Defense News Conference Sept. 9.
The strategy follows the Enterprise SATCOM Vision the Space Force released in February. That document formally laid out the military's desire to have a single satellite communication architecture capable of keeping war fighters connected even in contested, degraded and operationally-limited environments.
Read more at: c4isrnet
Everyone Wants A Space Force — But Why?
As perceived security threats mount in Earth's orbit, countries around the world are following the example of the United States and creating their own "space forces." 
Nine months ago, in December 2019, the U.S. Space Force was born. The new military branch was created with a focus to protect the nation's satellites and other space assets, which are vital to everything from national security to day-to-day communications.
Read more at: Space.com
US, Allies Agree On Threats In Space But Struggle With Messaging
Over the past few years, US and allied militaries have converged as never before around fears of growing Russian and Chinese threats to space, DoD and outside experts say. But fundamental disagreements about how best to respond to the threats remain, with US allies facing much stronger domestic political resistance to the idea of space war.
This is creating a bit of schizophrenia in public messaging by Pentagon space leaders.
Read more at: breaking defense
PEOPLE
Major General Charles Bolden Honored with2020 Wright Brothers Memorial Trophy
The National Aeronautic Association (NAA) is pleased to announce that Major General Charles Bolden USMC (Ret.) has been selected as the recipient of the 2020 Wright Brothers Memorial Trophy for … "his impassioned commitment to public service in aviation and aerospace as an aviator, astronaut, and leader and his dedication to excellence for the advancement of all humanity."
Read more at: NAA

Koerner New Head of Orion Program for NASA
NASA announced today that Catherine Koerner is the new head of the Orion program at Johnson Space Center in Houston, TX. A former flight director, Koerner has 30 years experience in the human spaceflight program and joins other women being assigned to top jobs managed by the Human Exploration and Operations Mission Directorate (HEOMD).
Koerner has been the Director of the Human Health and Performance Directorate (HHPD) at JSC since 2016 and was deputy director before that. She has a B.S. and M.S. in Aeronautical and Astronautical Engineering from the University of Illinois at Urbana-Champaign.
Read more at: Spacepolicy online

Amazon Hires First Head Of Space Policy, A Former White House Space National Security Official
Amazon has hired former White House official Peter Marquez to be its first-ever head of space policy at Amazon Web Services as the tech giant expands its presenc in the space industry.
"There are many exciting things happening in the space community and this is going to be awesome," Marquez wrote in a post on LinkedIn on Wednesday.
Amazon did not respond to CNBC requests for comment on Marquez's hiring.
Read more at: CNBC

VARIOUS
Russia Will Start Making New Soyuz-5 Rocket Next Year, Progress Space Centre's Director Says
Developers will start making the Soyuz-5 rocket (Irtysh) that Russia is planning in order to replace Ukraine's Zenit launch vehicles in mid-2021, General Director of Russian Space Rocket Centre Progress Dmitry Baranov said.
In 2016, Russia started working on the new Soyuz-5 (Irtysh) rocket to replace the Zenit launch vehicles produced in Ukraine.
Read more at: Sputnik news

Germany Eyes Space Satellite Launchpad In North Sea
Under the plan, small satellites weighing up to one tonne would be launched with German-built rockets.
No site has been chosen yet, but it would be in Germany's economic zone. The Federation of German Industries (BDI) is lobbying for the project, German media report. It would be a public-private partnership.German media quote the BDI proposal as saying "a German launchpad is technically feasible and makes strategic and economic sense".
Read more at: BBC

Shuttle-Used Rockets Roll Into California To Stand Up Endeavour Exhibit
Two rocket boosters made from parts that launched on more than 80 space shuttle missions are now parked outside of Los Angeles, having moved a step closer to standing up the display of a retired NASA orbiter.
The twin solid rocket motors, which Northrop Grumman pledged to donate for the California Science Center's exhibit of the space shuttle Endeavour in 2017, were delivered over the past couple of weeks to the Mojave Air and Space Port, where they are being temporarily held in outdoor storage. The inert motor cases, which Northrop Grumman described as being "structurally representative" of the solid rocket boosters used during NASA's space shuttle program, were trucked in from the company's Promontory, Utah test facility after being prepared for their exhibit.
Read more at: Collectspace

NASA Certifies Orion for Flight to the Moon on Artemis-1 Next Year
NASA's deep-space Orion Crew Capsule cleared a key milestone and rigorous review this week at Kennedy Space Center, giving it the GO for flight to the moon next year, kicking off the agency's Artemis missions and humanity's first return back since Apollo 17 in 1972.
Program managers conducted both a System Acceptance Review and Design Certification Review, analyzed every spacecraft system, all test data, inspection reports, and analyses that support verification, to ensure every aspect of Orion has the right technical maturity to proceed towards Artemis-1.
Read more at: Americaspace