TOP NEWS
Virgin Orbit Traces Cause Of LauncherOne Engine Failure To Propellant Line
An engine failure that cut short the first test flight of Virgin Orbit's air-dropped LauncherOne rocket in May was caused by a faulty propellant feed line, the company's CEO said this week.
Virgin Orbit's first orbital launch attempt May 25 ended seconds after the rocket's release from a Boeing 747 carrier jet over the Pacific Ocean. Dan Hart, Virgin Orbit's CEO, said Wednesday that engineers traced the cause of the premature shutdown of the first stage's engine to a break in a propellant feed line.
The 70-foot-long (21-meter) LauncherOne rocket is designed to place small satellites into orbit. The first test flight of the air-launched rocket in May was the culmination of years of development, including numerous engine tests and test flights of the modified Boeing 747 carrier aircraft.
Read more at: Spaceflight Now

NASA Safety Panel Has Lingering Doubts About Boeing Starliner Quality Control
Members of a NASA safety panel expressed continued concern about quality issues with Boeing's commercial crew spacecraft while cautiously supporting SpaceX's plans to fly reused spacecraft on future crewed missions.
During a July 23 teleconference by the Aerospace Safety Advisory Panel, members discussed several reviews of issues with the uncrewed flight of Boeing's CST-100 Starliner spacecraft last December. NASA announced July 7 it had completed its reviews of that Orbital Flight Test (OFT) mission, which resulted in 80 recommendations specific to the flight and several more from a separate "high-visibility close call" review carried out earlier this year by NASA.
Read more at: Spacenews

NASA's Mars Rover Loaded Up With Nuclear Power Ahead Of Next Week's Launch
NASA's Perseverance rover destined for Mars next week has completed another step in preparation for launch – installation, and activation of its nuclear power source.
"The #MarsPerseverance MMRTG [multi-mission radioisotope thermoelectric generator] is installed and doing well. This Red Planet dune buggy is fueled and ready to go!" wrote Tory Bruno, CEO of launch provider ULA, via Twitter on Wednesday. He further clarified what this process means in response to a question about the power source. "RTGs [radioisotope thermoelectric generators] are 'activated' at the moment of assembly because the radio source continuously generates heat which solid state thermoelectric devices turn into voltage."
Read more at: Teslarati

Plutonium Power Source Installed On NASA's Next Mars Rover
The nuclear power generator for NASA's Perseverance rover has been installed on the spacecraft atop an Atlas 5 rocket at Cape Canaveral, and mission managers gave a green light Wednesday to continue preparations for the rover's July 30 launch toward Mars.
The rover's Multi-Mission Radioisotope Thermoelectric Generator, or MMRTG, was transferred from a preparation building to the Atlas 5 rocket's Vertical Integration Facility, and was hoisted by crane onto a work platform near the top of the 197-foot-tall (60-meter) launcher.
Read more at: Spaceflight Now

British Government Finalizing Launch Regulations
The British government expects to soon release a comprehensive set of regulations that will enable companies to perform commercial launches from spaceports in the country.
During a July 22 webinar by the U.K. Space Agency, part of series of virtual events held in place of the Farnborough International Airshow, government officials said they were finalizing an estimated 900 pages of regulations that will cover licensing and oversight of launch vehicles and launch sites.
Read more at: Spacenews

Before 2 Astronauts Can Fly Home To Earth On Spacex's Crew Dragon Capsule, NASA Says They'll Need To Scan The Ship's Plasma-Blocking Belly For Damage
After living and working in space for more than two months, the NASA astronauts Doug Hurley and Bob Behnken are due back to planet Earth on August 2.But before the astronauts can return, their Crew Dragon spaceship — designed, built, and launched by SpaceX with most of the $3.14 billion NASA awarded to SpaceX through the agency's Commercial Crew Program — must pass a crucial inspection.
Read more at: Business Insider

Progress Supply Ship Docks With Space Station After Last-Minute Misalignment
Completing a fast-track, three-hour pursuit of the International Space Station, a Russian Progress supply ship overcame a last-minute misalignment and autonomously linked up with with orbiting research complex Thursday with nearly three tons of fuel, food and supplies.
The Soyuz-2.1a rocket took off from pad 31 at the Baikonur Cosmodrome at 10:26:21 a.m. EDT (1426:21 GMT; 7:26 p.m. Baikonur time) with the Progress MS-15 cargo ship.
Read more at: Spaceflight Now

Progress MS-15 Cargo Ship Takes 'Express Lane' To ISS
The Russian Progress MS-15 cargo ship arrived at the International Space Station in a reported record time to deliver supplies and experiments to the Expedition 63 crew, despite a last-second misalignment.
Launching atop a Soyuz 2.1a rocket from Baikonur Cosmodrome in Kazakhstan at 14:26 UTC July 23, 2020, the Progress MS-15 spacecraft rendezvoused with the orbiting outpost and docked with the Pirs module just 3 hours, 18 minutes and 31 seconds later at 17:45 UTC.
Read more at: Spaceflight Insider

SPACE HAZARDS & STM
SpaceX To Revive Polar Launch Trajectory From Florida, A First In 60 Years
SpaceX is set to make history by returning southern trajectory polar corridor launches to Florida's Space Coast with the launch of the Argentine SAOCOM-1B radar observation satellite later this month. Tentatively set to get off the ground no earlier than Saturday, July 25 the SAOCOM-1B mission has suffered delays ranging from hardware processing and integration to international launch team travel restrictions as a result of the global coronavirus pandemic.
Read more at: Teslarati

Terminating Space Debris: Spaceflight, Inc. Chooses Tethers Unlimited, Inc.'s Terminator Tape™ for Deorbit of Orbit Transfer Vehicle
Tethers Unlimited, Inc. (TUI) is pleased to announce that
Spaceflight Inc. has selected TUI's NanoSat Terminator Tape Deorbit System for end-of life disposal of its new Sherpa-FX orbit transfer vehicle. As part of an upcoming mission, Spaceflight will test the deorbit process with the Terminator Tape. When the orbit transfer vehicle's mission is completed, a timer release system will deploy the Terminator Tape to rapidly deorbit the Sherpa-FX vehicle so that it does not contribute to the growth of the space debris problem.
"When Tethers was founded in 1994, its main focus was to solve the problem of space debris so that NASA, the DoD and commercial space enterprises could continue to safely operate in Earth orbit, "says Dr. Rob Hoyt, TUI's President.
Read more at: Tethers

Mission Extension Vehicles Validate New Satellite Lifeline in Orbit
Until February 2020, when a satellite on orbit ran out of propellant, that was the end of its life. Most major communications and military satellites are designed with prolonged lifetimes and carry enough fuel for a 15 year mission.
But the struggle for some satellite operators has been that at the end of that 15 year period, satellites running out of fuel are still working perfectly well in every other regard. Therefore, perfectly good satellites have to be decommissioned. But not anymore.
Read more at: NASA spaceflight

Safety Panel Laments Lack of Congressional Action on Space Traffic Management
NASA's Aerospace Safety Advisory Panel (ASAP) expressed dismay at the delay in congressional action on designating an agency to take responsibility for civil space traffic management (STM). Citing the growing dangers from space debris to the International Space Station and other NASA activities, the panel warned "the nation cannot wait any longer."
Unlike many advisory committees, ASAP reports to Congress as well as NASA. It was created by Congress following the fatal Apollo 1 fire that killed Gus Grissom, Ed White and Roger Chaffee.
Read more at: Spacepolicy online

NEW SPACE
Help Japanese Space Industry Grow By Promoting Private Development
The age of space development has shifted from a state-led era to one in which private companies play a leading role. It is important for Japan to utilize the private sector to keep pace with global trends.
The government has compiled the Basic Plan for Space Policy as a guideline for future space policy. Currently, the Japanese space industry is an about ¥1 trillion market, but the government plans to double that figure by the early 2030s.
Read more at: Japan-news

Astra Aiming For 1st Orbital Launch In Early August
The spaceflight startup Astra plans to reach orbit for the first time in early August.
On Monday (July 20), the California-based company announced that its 38-foot-tall (11.6 meters) Rocket 3.1 is scheduled to launch from the Pacific Spaceport Complex on Alaska's Kodiak Island during a six-day window that opens Aug. 2.
The rocket journeyed to Kodiak last week after performing two static-fire tests at Astra's California facilities, company representatives said on Twitter. (Static fires test a rocket's engines while the vehicle is tethered to the ground.)
Read more at: Space.com

SCIENCE & TECHNOLOGY
Russian Cosmonauts Could Be Going to the Moon Without a Super-Heavy Launch Vehicle
Korolev Rocket & Space Corporation Energia has created and patented a means to fly cosmonauts to the Moon and back without an expensive new heavy-launch rocket.
"The technical result [of the method] is the possibility of transporting crew between a near-Earth orbital station and a base station [on the surface of the Moon] using a reusable manned spacecraft without the use of super-heavy launch vehicles and aerodynamic breaking," the description of the patent published by the Russian Federal Service for Intellectual Property reads.
To land cosmonauts on the Moon and bring them back home, the patented system requires one Soyuz-2.1a rocket and three upgraded Angara A5V rockets, and works as follows:
Read more at: Sputnik news

NASA Mars Rover: Meteorite To Head Home To Red Planet
Nasa's Perseverance robot will carry with it a meteorite that originated on the Red Planet and which, until now, has been lodged in the collection of London's Natural History Museum (NHM).
The rock's known properties will act as a calibration target to benchmark the workings of a rover instrument.
It will give added confidence to any discoveries the robot might make.
This will be particularly important if Perseverance stumbles across something that hints at the presence of past life on the planet – one of the mission's great quests.
Read more at: https://www.bbc.com/news/science-environment-53491555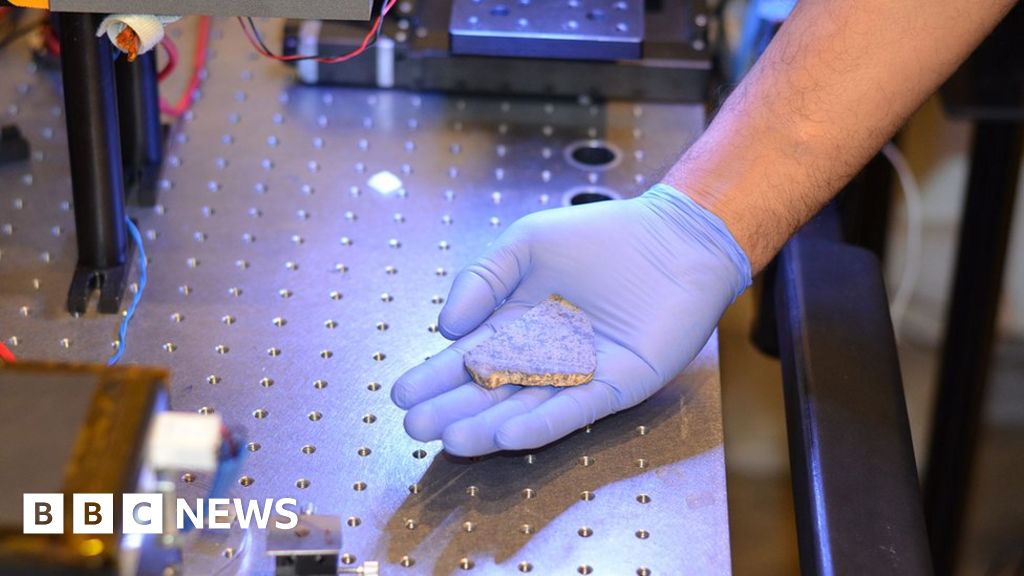 The Doctor From Nazi Germany and the Search for Life on Mars
When Penelope Boston was a student at the University of Colorado in the 1980s, she wanted to create a miniature Mars and see how some living things fared on it.
Fundless, she amassed parts from labs around campus and bootstrapped a basic version of what scientists sometimes call a Mars Jar: a sealed container whose insides resemble the red planet, used to test the survival of biological beings. Dr. Boston had read about Carl Sagan's use of Mars Jars and had assumed, as many did, that he'd invented them.
Read more at: Nytimes
Mould From Chernobyl Nuclear Reactor Tested As Radiation Shield On ISS
A radiation-absorbing fungus found at the destroyed Chernobyl nuclear reactor has been shown to absorb harmful cosmic rays on the International Space Station, and could potentially be used to protect future Mars colonies.
Exposure to cosmic rays poses a major health risk to astronauts leaving Earth's protective atmosphere. Shields can be made out of stainless steel and other materials, but they must be shipped from Earth, which is difficult and costly.
Read more at: Newscientist
As If Space Wasn't Dangerous Enough, Bacteria Become More Deadly In Microgravity
China has launched its Tianwen-1 mission to Mars. A rocket holding an orbiter, lander and rover took flight from the country's Hainan province yesterday, with hopes to deploy the rover on Mars's surface by early next year.Similarly, the launch of the Emirates Mars Mission on Sunday marked the Arab world's foray into interplanetary space travel. And on July 30, we expect to see NASA's Mars Perseverance rover finally take off from Florida.
Read more at: Conversation

Study Reveals Composition of "Gel-like" Substance Discovered by Chang'e-4 Rover on Moon's Far Side
The unusual dark greenish and glistening "gel-like" substance in a crater on the far side of the moon has attracted widespread interest following its discovery by the Chang'e-4 rover in July 2019.A research team led by Prof. DI Kaichang from the Aerospace Information Research Institute (AIR) of the Chinese Academy of Sciences and their collaborators analyzed the substance in detail by using multiple datasets from the rover's panoramic camera (Pancam), hazard avoidance camera (Hazcam), and the visible and near-infrared spectrometer (VNIS).
Read more at: CAS

SPACE POLICY
European Commission Agrees To Reduced Space Budget
The European Commission slashed its space budget for the next seven years, agreeing to a maximum of 13.2 billion ($15.2 billion) focused mainly on continuing the Galileo and Copernicus satellite programs. 
The budget cut for space came as part of extensive four-day negotiations in Brussels over a 1.8-trillion-euro budget for the entire European Union designed in large part to offset the economic impacts of the coronavirus pandemic. 
Read more at: Spacenews

Democratic Platform Calls For Continuity In NASA Programs
A draft of the Democratic Party's 2020 platform suggests that an administration led by Joe Biden would make few major changes in NASA programs but does not explicitly endorse a 2024 human return to the moon.
An 80-page draft of the party's 2020 platform, distributed to party officials this week for review, includes one paragraph about space policy, located at the end of a section on "Investing in the Engines of Job Creation" that discusses infrastructure improvements, support for small businesses and agriculture, and investing in scientific research.
Read more at: Spacenews

House, Senate Approve Defense Authorization Bills
House and Senate lawmakers are headed into conference for the fiscal 2021 defense policy bill after both chambers passed their respective legislation this week.
Senators voted 86-14 to approve their version of the National Defense Authorization Act on July 23. The House voted 295-125 to green-light its own bill July 21. Each package allows $740.5 billion in defense spending.
Their deliberations were complicated by the coronavirus pandemic, which continues to spread around the country as lawmakers met remotely and in Washington to discuss the text.
Read more at: Airforcemag

NASA Rover Launch Gets Additional Safety Precautions
NASA is taking additional safety measures for the launch of its Mars Perseverance rover next week from Cape Canaveral. That's because it's packed with radioactive material.
The NASA rover relies on marshmallow-sized chunks of plutonium for power. As the material decays it gives off heat which the rover can turn into electrical power.
NASA conducted an extensive safety assessment before launch, consulting federal, state and local authorities about the risks and safety measures needed to protect area residents.
Read more at: wmfe

Unfavourable Laws, Policies Hinder Private Participation In India's Space Journey
While the Indian government is working towards allowing end-to-end private participation in the country's space sector, experts point out that India's legal and policy hurdles pose a serious hindrance.
Highlighting one such policy, an expert noted how an Indian satellite-maker has to pay 18% GST for launch while foreign makers are exempt from such taxes.
"An Indian satellite-maker must pay 18% GST to launch satellites on ISRO's rockets, whereas a foreign customer can do the same without paying any GST, as the launch services provided to them (foreign firms) qualify as "export of service" which are exempt from the levy of GST.
Read more at: DNA India

Why Japan Is Emerging As NASA's Most Important Space Partner
The first time the US went to the moon, it put down an estimated $283 billion to do it alone. That's not the case with Artemis, the new NASA program to send humans back. Although it's a US-led initiative, Artemis is meant to be a much more collaborative effort than Apollo. Japan is quickly emerging as one of the most important partners for this program—perhaps the most important.
Although NASA has teased for quite some time the idea of a pretty ambitious role for Japan in Artemis, that talk finally became real on July 9, when the two countries signed a formal agreement regarding further collaboration in human exploration. It gives NASA a much-needed partner for Artemis—without which the agency would find it much more difficult to meet the long-term goals of establishing a sustainable permanent presence on the moon.
Read more at: Technology Review

SPACE DEFENCE
The US Needs To Take Action To Deter Near-Peer Rivals In Space
Earlier this June, the Department of Defense released the unclassified summary of its 2020 Defense Space Strategy, which openly designates space as a "distinct warfighting domain," a distinction that only recently gained national policy acceptance. With this document, the DoD now has the authorization to begin preparing to deter potential space adversaries, and should deterrence fail, to win a conflict that extends into space.
This important update to the near-decade-old National Security Space Strategy follows an April announcement by U.S. Space Command that Russia conducted a direct-ascent anti-satellite (DA-ASAT) missile test that is purportedly capable of destroying low-Earth orbit satellites. This test stands in stark contrast to Russia's frequent claims that it has tried to prevent an arms race and avoided introducing weapons into space.
Read more at: c4isrnet

Space War: US To Meet With Russia; Rolls Out Warfighting Doctrine
A US delegation, including DoD officials, on July 27 in Vienna, Austria will hold a first Space Security Exchange (SSE) with Russia. It's the first formal bilateral meeting on space security since 2013, says Chris Ford, assistant secretary of State for International Security and Non-Proliferation.
The purpose is to "help advance the cause of setting responsible norms of behavior in that vital domain," Ford told reporters in a phone briefing today. In addition, he said, the US hopes to open a regular bilateral communications channel in order to avoid misperceptions and miscalculations about on-orbit activities.
Read more at: Breakingdefense

Russia Conducts Space-Based Anti-Satellite Weapons Test
U.S. Space Command has evidence that Russia conducted a non-destructive test of a space-based anti-satellite weapon. On July 15, Russia injected a new object into orbit from Cosmos 2543, currently Satellite Catalog Number 45915 in Space-Track.org. 
Russia released this object in proximity to another Russian satellite, which is similar to on-orbit activity conducted by Russia in 2017, and inconsistent with the system's stated mission as an inspector satellite. Tracking information can be found on Space-Track.org.
Read more at: Spacecom

Britain Will Respond To Space Threat From Russia And China – Minister
Britain will boost its ability to handle threats posed by Russia and China in space as part of a foreign, security and defence policy review, the defence secretary, Ben Wallace, has said.
"This week we have been reminded of the threat Russia poses to our national security with the provocative test of a weapon-like projectile from a satellite threatening the peaceful use of space," Wallace wrote in the Sunday Telegraph, adding that China also posed a threat.
"China, too, is developing offensive space weapons and both nations are upgrading their capabilities. Such behaviour only underlines the importance of the review the [UK] government is currently conducting."
Read more at: Guardian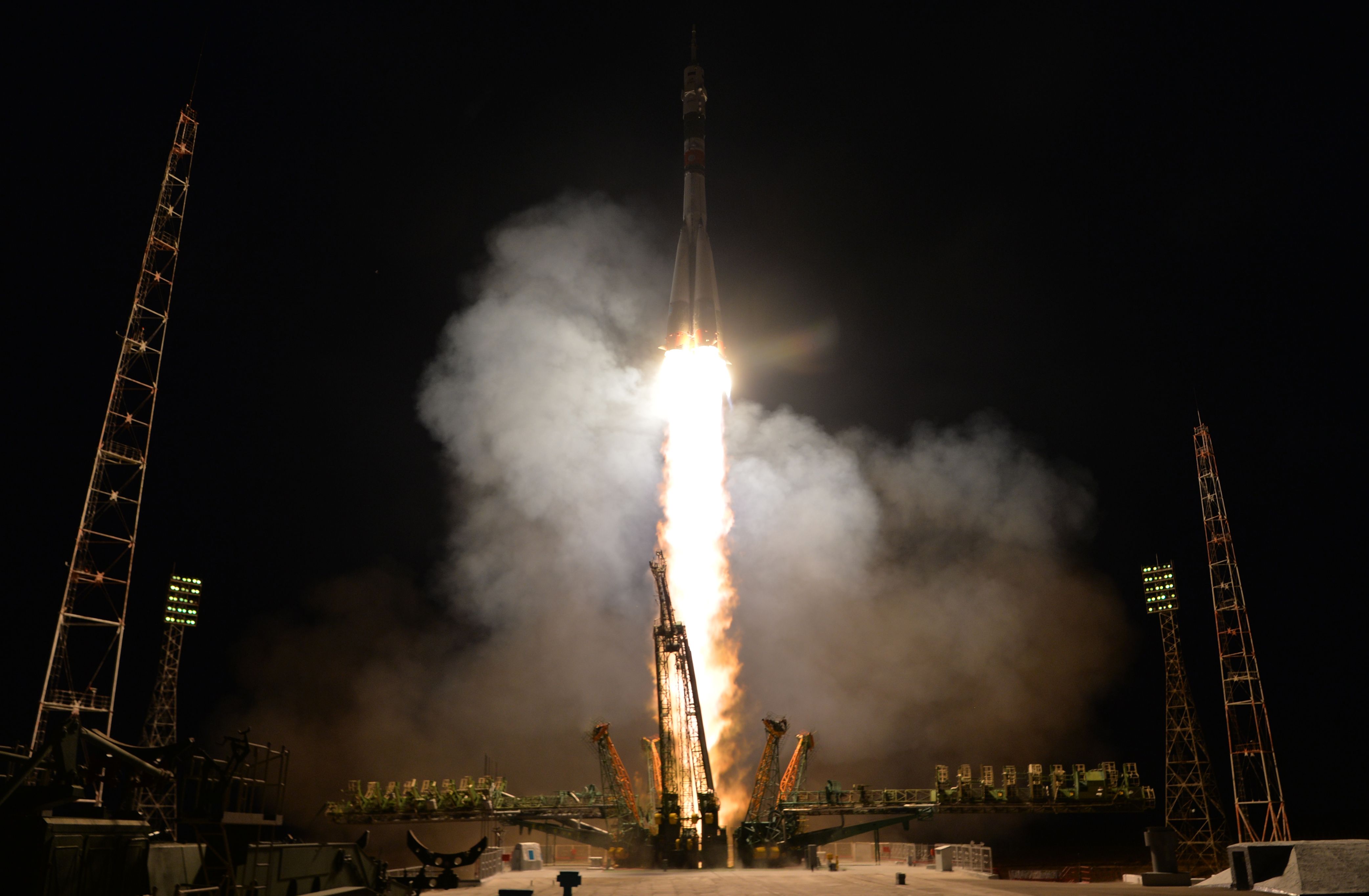 US Space Force stands up STAR Delta Provisional
The U.S. Space Force stood up a provisional Space Training and Readiness command at Peterson Air Force Base during a pre-recorded virtual ceremony today.The stand-up of STAR Delta Provisional is a critical step to building a lean, agile and future-focused Space Force.The Delta will be led by Col. Pete Flores and will serve as the parent organization for a number of education, training, test and evaluation units for the Space Force."Today we take action, an important and significant step, towards the development of a 21st century service purpose-built to achieve speed, agility and unity of effort," said Chief of Space Operations Gen. John "Jay" Raymond in the video. "This ceremony highlights the most significant restructure of space units since the establishment of the Air Force Space Command in 1982."
Read more at: Spaceforce

Space Force Reorganizes Former Air Force Space Wings Into "Deltas" And "Garrisons"
The U.S. Space Force announced on July 24 that three former U.S. Air Force space wings have been deactivated and replaced with "Space Deltas" and "Garrison" commands.
This latest realignment follows the June 30 rollout of a plan to organize the Space Force field units into three major commands. Under each command will be deltas and garrisons, with squadrons under them. Compared to Air Force organizations, the Space Force structure is flatter, eliminating one general officer echelon and one colonel-level echelon of command.
Read more at: Spacenews

Russia Says Satellite Tests Created No Threats In Outer Space
The tests of a satellite held by Russia's Defense Ministry in mid-July created no threats for other space vehicles and violated no principles of international law, the Russian Foreign Ministry said in a commentary on Friday.
Russia's Foreign Ministry thus commented on statements by US and UK officials over the Russian satellite's tests.
Read more at: TASS
Department of the Air Force introduces Arctic Strategy
Secretary of the Air Force Barbara Barrett unveiled the new, comprehensive Department of the Air Force Arctic Strategy, July 21.The strategy outlines the Department's unique regional role and efforts to optimize Air and Space Force capabilities throughout the region in support of the National Defense Strategy."The Arctic is among the most strategically significant regions of the world today – the keystone from which the U.S. Air and Space Forces exercise vigilance," Barrett said. "This Arctic Strategy recognizes the immense geostrategic consequence of the region and its critical role for protecting the homeland and projecting global power."
Read more at: af.mil
VARIOUS
$100 Million Research Center To Be Built At Colorado Springs Airport
California-based defense and security research nonprofit Aerospace Corp. will announce plans Wednesday for a $100 million research and development facility at the Colorado Springs Airport that will employ 200 people.
Aerospace employs 240 engineers, scientists, analysts and cybersecurity specialists in a 78,000-square-foot building opened in 2007 in the airport's Peak Innovation Park that has "surpassed capacity," according to documents filed with the city of Colorado Springs in February by Stantec Architecture for the company.
Read more at: Gazette

GMV Leads Development of ESA's COVID-19 Space Hunting Platform
The European Space Agency (ESA) has recently launched an internal initiative to cull ideas for supporting its member states in the study and analysis of the COVID-19 pandemic. Under this initiative ESAC's Galileo Navigation Science Office has managed to get one of its ideas taken up under the name of the "COVID-19 Space Hunting Platform".
The platform's remit is to facilitate access to and processing of some of the existing COVID-19 databases for epidemiological studies, topping them up with data from ESA's earth observation satellites. The aim is then to tap into artificial intelligence procedures to look for any correlations between COVID-19 spread and environmental parameters, such as humidity, temperature, etc.
Read more at: GMV

Rene Carpenter, Astronaut's Wife Who Broke NASA Mold, Dies at 92
Rene Carpenter, the last surviving member of the much-glorified cohort of Mercury 7 astronauts and their wives, whom Tom Wolfe immortalized in his best-selling 1979 book "The Right Stuff," died on Friday in Denver. She was 92.
Her daughter Kris Stoever said the cause was congestive heart failure.
Read more at: Nytimes

'How To Die In Space' Explores The Dangers Of Astrophysics
Life on Earth can seem pretty hazardous, but if you ask astrophysicist Paul Sutter, it's still safer than anywhere else in the universe.Sutter, a frequent Space.com contributor, explores all the dangers the universe has on offer in his new book, "How to Die in Space: A Journey Through Dangerous Astrophysical Phenomena" (Pegasus Books, 2020).
Read more at: Space.com

Adler Planetarium Zooniverse Announces NASA Partnership Leveraging World Leading Scientific Expertise
Chicago's Adler Planetarium, along with its Zooniverse team andthe team from the University of Minnesota, and NASA are pleased to announce anew partnership leveraging world-leading expertise across organizations toadvance citizen science capabilities and achievements.Zooniverse is the largest platform for people-powered research in the world. Todate, more than two million Zooniverse volunteers have come together to assistprofessional researchers in over 240 projects, enabling research that would not bepossible, or practical, otherwise. Volunteers don't need any specializedbackground, training, or expertise to participate in any Zooniverse projects, andcan contribute to real academic research, on their own computers, at their ownconvenience.
Read more at: Adler planetarium

Roar of the Bumper: Remembering the Cape's First Launch, 70 Years On
For decades, we have grown used to watching launches from Cape Canaveral. But until the arrival of the rockets and the rocketeers, the Cape was a sleepy place, characterized by dense thickets of cane vegetation and home to scattered farming and fishing communities, as well as alligators, racoons, scorpions and ubiquitous mosquitoes. When the first military personnel arrived here to set up the Army's Long Range Proving Ground in early 1950, a joke soon made the rounds that the security detail would bed down in their tents each night, only to awaken the next morning to the most unwelcome of bedfellows: a bunch of fearsome rattlesnakes. It is hard to imagine, seeing what we see today, what a different world this place once was. And on 24 July 1950—70 years ago today—the Cape observed its very first rocket launch with the flight of Bumper 8.
Read more at: Americaspace