TOP NEWS
China To Send 3 Male Astronauts To Its Space Station In June
A three-man crew of astronauts will blast off in June for a three-month mission on China's new space station, according to a space official who was the country's first astronaut in orbit.
The plans for the station's first crew were confirmed to state television by Yang Liwei, the manned space program's deputy chief designer, as an automated spacecraft was launched with fuel and supplies for the Tianhe station.
The Tianhe, or Heavenly Harmony, is the third and largest space station launched by China's increasingly ambitious space program. Its core module was launched into orbit April 29.
Read more at: ABCnews
Virgin Galactic Successfully Makes First Human Spaceflight From New Mexico
Virgin Galactic has successfully performed the first human spaceflight from Spaceport America, just south of Truth or Consequences, New Mexico, today, using the VSS Unity SpaceShipTwo spacecraft. The WhiteKnightTwo carrier aircraft VMS Eve climbed to an altitude of 44,000 feet before releasing VSS Unity for a rocket-powered flight to space.
Flight restrictions in the airspace above Spaceport America indicated a launch window that opened at 8:00 AM MDT (14:00 UTC) on Saturday May 22, continuing until 4:00 PM MDT (22:00 UTC) on Sunday May 23. VMS Eve and VSS unity took off at 8:34 AM MDT (14:34 UTC), and release occurred at 9:26 AM MDT (15:26 UTC). The flight achieved an apogee of 89.2 kilometers.
Read more at: NASAspaceflight
Chinese Cargo Spacecraft Docks With Orbital Station
An automated spacecraft docked with China's new space station Sunday carrying fuel and supplies for its future crew, the Chinese space agency announced.
Tianzhou-2 spacecraft reached the Tianhe station eight hours after blasting off from Hainan, an island in the South China Sea, China Manned Space said. It carried space suits, living supplies and equipment and fuel for the station.
Tianhe, or Heavenly Harmony, is third and largest orbital station launched by China's increasingly ambition space program.
Read more at: ABCnews
Chinese Rover Drives Onto Surface Of Mars
The Chinese solar-powered Zhurong rover has driven onto the surface of Mars, making China the second nation to operate a mobile robot on another planet.
The China National Space Administration said the Zhurong rover's wheels reached the surface of Mars at 10:40 p.m. EDT Friday, May 21 (0240 GMT on May 22). The six-wheel rover rode to the Red Planet on a landing platform that successfully landed May 14, a few hours after detachment from China's Tianwen 1 spacecraft in orbit around Mars.
Designed for a mission lasting at least three months, the Zhurong rover carries several scientific instruments to explore the mission's landing site at Utopia Planitia, a broad plain in the northern hemisphere of Mars.
Read more at: SpaceflightNow
SPACE HAZARDS AND STM
Will Space be the Next Waste Dump?
After land and oceans, will space become the new waste dump? The issue is not a new one, as it has been the focus of discussion for years, and has been regarded by the United Nations Environment Programme (UNEP) for two decades as a crucial emerging challenge facing humanity. However, the panic that struck the world because of the unguided returning Chinese rocket, wandering uncontrolled in space before falling into the Indian Ocean, has renewed interest in space debris as a current problem, not limited to the future or science fiction.
Of course, we cannot compare the volume of current space waste to the solid waste produced around the world on a daily basis, which exceeds two billion tons annually according to World Bank estimates.
Read more at: aawsat
Mega-Satellite Constellations Could Lead To Chain-Reaction Spacecraft Pile-Ups In Orbit
A new report by two Canadian researchers is highlighting the growing hazard of space debris. It warns that the new mega-constellations of tens of thousands of communication satellites could pose a new kind of danger that could ultimately threaten other satellites, astronauts, our ability to use space and could even have an impact on the climate.
Recently, the uncontrolled fall from space of a large Chinese rocket booster gained worldwide attention as no one could predict where it would come crashing to Earth. Fortunately, it came down in the Indian Ocean and no one was injured. That was just one booster.
Read more at: CBC
Space Debris Endangers GPS
GNSS satellites, especially GPS satellites, are critical to the well-being and smooth functioning of economies and national security. This is especially true in Europe and the United States, which do not have complementary terrestrial systems able to provide vital positioning, navigation and timing (PNT) services when signals from space are not available.
While the probability of debris damage to GNSS in medium Earth orbit (MEO) is much less than for satellites in low Earth orbit (LEO), the consequences of such an event would be much, much higher. The loss of one satellite would be a concern; that of multiple satellites, a major problem.
Read more at: GPSworld
Commercial Space Clean-Up Service Could Be Ready In 2024
Japan-headquartered space services company Astroscale, which recently launched its ELSA-d space debris removal demonstrator, might be ready to start cleaning up the mess in Earth's orbit by 2024.
The company, which has offices in the U.K., U.S., Israel and Singapore, has signed a $3.5 million deal with would-be megaconstellation operator OneWeb to work together on advancing debris-removal technology. OneWeb currently operates over 180 satellites in a constellation meant to reach about 650 satellites, but has asked the U.S. Federal Communications Commission (FCC) to approve over 6,300 satellites in its "Phase Two" strategy. OneWeb is partially owned by the British government.
Read more at: Space.com
As Space Junk Multiplies, Pentagon Is Stuck Tracking It for Civilians
It's been nearly three years since the U.S. Commerce Department was ordered to start keeping tabs on satellites and orbital debris — and to relieve the Pentagon of its duty to warn the world's space operators of impending collisions. But the effort has stalled, even as orbits fill up and the danger grows.
Then-President Trump's 2018 directive was meant to allow the Defense Department's orbital trackers to go back to their original mission: using their sensors to protect national security assets in space. Commerce was supposed to build a more comprehensive tracking system that combined the U.S. military data with information from commercial tracking services and other governments.
Read more at: Defenseone
Reliable Space Weather Forecasting
The auroras are beautiful manifestations of the stream of charged particles emitted by the Sun. But the Sun's plasma eruptions are more than a natural spectacle in the polar regions; they can also interfere with satellites. In extreme cases, space weather may even affect infrastructure on Earth.
The Institute for Solar-Terrestrial Physics at the German Aerospace Center (Deutsches Zentrum fur Luft- und Raumfahrt; DLR) studies space weather and conducts research to enable scientists to better understand and predict its effects. The DLR institute, which is located in Neustrelitz, Mecklenburg-Western Pomerania, was inaugurated on 26 May 2021.
Read more at: Spacedaily
NEW SPACE/COMMERCIAL
British Spaceflight To Become Reality As Government Provides Launchpad For Spaceports
Another barrier to space exploration from UK soil is lifted today (24 May 2021), with spaceports expected to be in operation from next summer.
Developed with the UK Space Agency and the Civil Aviation Authority, new regulations being laid in Parliament today will mean satellites and rockets can launch from UK soil for the first time – with spaceports planned for Cornwall, Wales and Scotland.
Future satellite launches will improve our access to data and communications, and revolutionise services such as satellite navigation and earth observation – enhancing the way we live, work, travel and interact with our planet.
Read more at: Gov.uk
Ride Along With Virgin Galactic's 1st Launch From Spaceport America In This Awesome Video
A dramatic video lets us all fly along on Virgin Galactic's latest spaceflight, which occurred over the weekend.
The VSS Unity SpaceShipTwo suborbital vehicle aced its third flight to the final frontier on Saturday morning (May 22), a test mission that was the first to lift off from Virgin Galactic's commercial hub, Spaceport America in New Mexico.
Later that day, the company released a video featuring highlights of the flight captured by cameras on Unity, on its carrier aircraft VMS Eve, and on the ground. For example, there's up-close footage of Unity separating from Eve and firing up its onboard rocket motor, which powers the winged vehicle to suborbital space.
Read more at: Space.com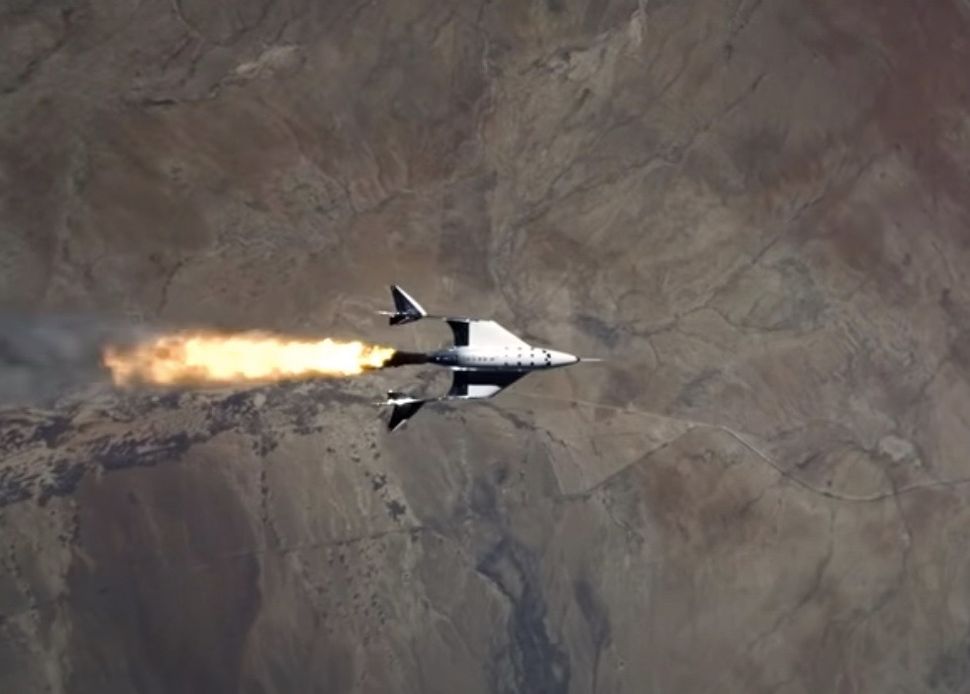 Nova Scotia Companies Chosen To Help Build Canada's First Commercial Spaceport
The Nova Scotia company planning to build Canada's first commercial spaceport announced on Wednesday some of the firms it has chosen to design and construct its proposed launch pad.
Maritime Launch Services says it picked Strum Consulting, Stantec, Nova Construction and St. Francis Xavier University, among other organizations, to help it launch satellites into orbit.
"We want to get to the ground breaking and the jobs associated with that as early as we can, this year if at all possible," Stephen Matier, president and CEO of Maritime Launch Services, said in an interview Wednesday.
Read more at: peterborough examiner
In Sweden's Far North, a Space Complex Takes Shape
The reindeer shepherd's spring home route took him across four frozen lakes and countless snowy hills. Due to the light snow dust, the shepherd, Aslak Allas, stopped his snowmobile, and settled the heavy silence of the Arctic of Sweden.
His reindeer, thousands of them, were nowhere to be seen. "They are very afraid of noise," Mr. Allas explained, pointing to his vehicle.
Then he proceeded to the distant hills laden with birch trees, his buds swollen with the hot spring sun. "Now, the noise coming from there will be something else," Mr. Allas sighs.
Read more at: NY times
SCIENCE AND TECHNOLOGY
ISS Nauka Module Passes Trials, Permission For Launch Granted — Roscosmos
The Nauka multifunctional space module successfully passed complex factory trials, Roscosmos announced Tuesday.
On Tuesday, the Energia rocket and space corporation held a Council of Chief Designers.
"Wrapping up the meeting, the Council of Chief Designers announced the successful completion of complex factory trials for the Nauka module, and issued a positive decision for normal preparation of the product for launch," Roscosmos said.
Read more at: TASS
Surviving an In-Flight Anomaly: What Happened on Ingenuity's Sixth Flight
On the 91st Martian day, or sol, of NASA's Mars 2020 Perseverance rover mission, the Ingenuity Mars Helicopter performed its sixth flight. The flight was designed to expand the flight envelope and demonstrate aerial-imaging capabilities by taking stereo images of a region of interest to the west. Ingenuity was commanded to climb to an altitude of 33 feet (10 meters) before translating 492 feet (150 meters) to the southwest at a ground speed of 9 mph (4 meters per second). At that point, it was to translate 49 feet (15 meters) to the south while taking images toward the west, then fly another 164 feet (50 meters) northeast and land.
Read more at: NASA
PLD Space Receives ESA Contract To Study Reusing MIURA 5 Boosters
The new project by PLD Space and the European Space Agency (ESA), known as Liquid Propulsion Stage Recovery 2 (LPSR 2), is a continuation of the previous contract awarded by ESA to PLD Space in 2017. This contract is part of ESA's Future Launchers Programme and focuses on the study of re-entry trajectories and configurations for the safe descent of stage one of MIURA 5, which will be launched from Europe's Spaceport in French Guiana.
The euro 1M in financial support from ESA will enable PLD to study a series of optimised trajectories, in terms of viability and of safety for recovery of an initial liquid propulsion stage, of MIURA 5 after its launch from Europe's Spaceport, in an attempt to reduce the current distance covered by this stage from around 700 km to less than half, or even returning the booster to the launch pad.
Read more at: Spacedaily
Ultrasonic Welding Makes Parts For NASA Missions, Commercial Industry
A manufacturing innovation that has applications for NASA spacecraft is being transferred to the private sector to support a variety of industries here on Earth.
A burst water main is always expensive and messy, but a pipe that fails in space can be mission-ending. That's why NASA technologists work hard to make hardware as reliable as possible. Sometimes that means scrapping the old way of doing things and experimenting with a brand-new material – or fabrication process.
Read more at: Spacedaily
Lockheed Martin, GM Team Up To Build New Astronaut Moon Buggy
Two titans of industry are teaming up to build an astronaut car for the moon.
Lockheed Martin and GM announced today (May 26) that they're developing a crewed lunar rover for potential use by NASA's Artemis program, which aims to establish a sustainable human presence on and around the moon by the end of the decade.
"These next-generation rover concepts will dramatically extend the exploration range of astronauts as they perform high-priority science investigation on the moon that will ultimately impact humanity's understanding of our place in the solar system," Rick Ambrose, executive vice president of Lockheed Martin Space, said in a statement. 
Read more at: Space.com
SPACE POLICY
FAA Milestone: 400 Licensed Commercial Space Launches and Counting
Today's Virgin Galactic SpaceShipTwo flight from Spaceport America in New Mexico marks the 400th launch that the Federal Aviation Administration (FAA) has licensed. This achievement is made possible by the U.S. commercial space industry's ingenuity and the FAA's commitment to public safety.
FAA licensing is a critical step in protecting public safety during commercial spaceoperations. An FAA license is required to conduct any commercial space launch or reentry, the operation of any launch or reentry site by U.S. citizens anywhere in the world, or by any individual or entity within the United States.
Read more at: FAA
With Artemis Accords On The Table, South Korea, U.S. To Widen Cooperation In Space Exploration, Security 
President Moon Jae-in of South Korea and his U.S. counterpart Joe Biden have promised to cooperate toward South Korea signing the Artemis Accords, a set of principles governing norms of behavior for those who want to participate in the NASA-led Artemis lunar exploration program.
Nine nations, including the United States, have signed the Artemis Accords since the pact's unveiling last year. 
The commitment to work toward South Korea becoming a formal signatory of the Artemis Accords was part of a broader agreement reached between the two leaders in the field of space during their May 21 summit at the White House, under which the two nations will strengthen their partnership in civil space exploration, science, aeronautics research and cooperate for effective joint response against security threats in space.
Read more at: Spacenews
Biden's 2022 NASA Budget Proposal Gives Science And Commercial Space A Boost
President Joe Biden's federal budget proposal for 2022 gives NASA more science funding than ever before while continuing to pave the way for the next human moon landing in 2024. 
The White House's $6 trillion federal spending bill, released Friday (May 28), gives NASA a total of $24.8 billion, including "the largest budget request for NASA science, ever," NASA Administrator Bill Nelson said Friday in a news conference. "The Biden administration is proving that science is back," he added. Of the agency's total proposed budget, about $7.9 billion will go to the agency's science division, a 9% increase from 2021.
Read more at: Space.com
Biden Budget Retains Goal of Putting Astronauts Back on Moon by 2024
President Biden's $24.8 billion FY2022 budget request for NASA retains the goal set by President Trump to put astronauts back on the Moon by 2024. Today, NASA Administrator Bill Nelson acknowledged the challenges in meeting such an ambitious schedule for the Artemis program, but insisted that remains the goal. Nelson also revealed plans to participate, albeit virtually, in an international conference in Russia next month to discuss continued U.S.-Russian space cooperation in the International Space Station (ISS).
Speaking to reporters, Nelson called the President's request "a very aggressive, forward-leaning budget" that reflects how investing in NASA is an investment in the country's future.
Read more at: Spacepolicy online
GAO Report Identifies Technical And Management Risks With Artemis
A Government Accountability Office report warns that NASA's Artemis program faces technical risks as well as management issues that raise doubts about achieving the goal of returning humans to the moon by 2024.
The May 26 report by the GAO, requested by Congress in a 2018 appropriations bill, concluded that NASA's approach to managing the various projects involved with the overall Artemis effort increased the odds of cost increases and schedule slips.
Read more at: Spacenews
Russia, China Hope To Secure Partners For Moon Base Project
Russia and China are looking to announce new partnerships for a joint initiative to construct a robotic moon base ahead of potential crewed lunar missions.
The first responses to invitations to join the International Lunar Research Station project (ILRS) are expected during bilateral meetings during the Global Space Exploration Conference 2021 (GLEX 2021) in St. Petersburg, Russia, running from June 14-18.
"We have sent out invitations for cooperation in the international scientific lunar station to a number of our respected partners, including the European Space Agency, for example," Roscosmos Deputy Head for International Cooperation Sergei told TASS last week.
Read more at: Spacenews
SPACE DEFENSE
Space Force Looking To Build New Radar Sites To Track Objects In High Orbits
The U.S. Space Force next month will solicit industry bids for deep-space radar sensors that can track active satellites and debris in high orbits above 22,000 miles.
One or more contractors will be selected to develop prototype concepts for the Deep Space Advanced Radar Concept (DARC), a project started by the U.S. Air Force in 2017. Up to three radar sites could be built in the coming years.
The Space and Missile Systems Center's Space Enterprise Consortium plans to issue a request for prototype proposals by June 30, SMC said in a statement.
Read more at: Spacenews
A Race Against Time To Replace Aging Military Weather Satellites
The U.S. Defense Department may finally be on track to replace its aging polar-orbiting weather satellites more than a decade after pulling the plug on an ill-fated effort to cram civil and military requirements into a single system.
Work is underway on two new military satellite systems designed to replace the most critical capabilities of the venerable Defense Meteorological Satellite Program (DMSP). But the new satellites aren't slated to begin operations until 2024 and 2026, a timeline just barely in sync with how much longer the U.S. Space Force thinks it can keep DMSP going.
Read more at: Spacenews
Space Force: Only 6 More Launches With Russian Rocket Engines
The U.S. Space Force is ahead of schedule in phasing out a controversial Russian-manufactured rocket engine for approved launches, the service's second in command said on Wednesday. 
Lt. Gen. David Thompson, vice chief of space operations, told the Senate Armed Services Subcommittee on Strategic Forces that while the U.S. military has congressional authorization to use the Russian-manufactured RD-180 rocket engine for up to 18 more launches, current plans are to use them only for six more launches. 
Read more at: Defenseone
Space Force's 2022 Budget Adds Satellites, Warfighting Center, More Guardians
The Space Force is asking for $17.4 billion in its 2022 budget request—more than 10 percent of the Department of the Air Force's $173.7 billion "blue" budget and a $2 billion increase from 2021. It would grow the service to 8,400 Guardians, pay to transfer satellites from the Army and Navy to the new service, and fund more than $800 million in new classified programs.
That's less than half of the $39 billion in "non-blue" funding that passes through the Department of the Air Force's budget but is not controlled by the department.
Read more at: Airforcemag
VARIOUS
Buran Shuttle Graffiti Highlights Concern For Space History, Need For Museum Ownership & Care
After the latest incident at Baikonur where a group of street artists painted graffiti on the Buran 1.02 space shuttle, named Burya, Roscosmos expressed its concern about the fate of the unique remnants of the Energia-Buran program stored at the spaceport and has expressed a desire to discuss this issue at the next meeting of the Intergovernmental Kazakh-Russian Commission on Baikonur. 
Roscosmos has also once again expressed a belief that the remaining Buran hardware at Baikonur, owned by a private company, should be transferred to a space museum for proper care, security, and display.  However, since those initial proclamations Wednesday, it has come to light that Roscosmos may have known of the graffiti incident back in April but decided to say nothing and simply paint over it.
Read more at: NASAspaceflight
Op-ed | Honor Our Fallen Space Pioneers This Memorial Day
This Memorial Day, as we remember American servicemen and women who gave their lives for their country, we should also recognize another group of patriots who also paid the ultimate price in service to the nation — our fallen astronauts. America's astronaut corps — that elite community of brave space pioneers — represent the very best that our country has to offer. Unfortunately, twenty-two of these great Americans perished while serving in our nation's space program.
From its earliest inception in the late 1940s, and under the direction of NASA starting in 1958 until now, America's space program has been both challenging and ambitious, and continuously marked with significant uncertainty and monumental risk.
Read more at: Spacenews