TOP NEWS
Space Station Crew Spend Extra Night In Russian Segment As Air Leak Investigation Continues
Read more at: Space.com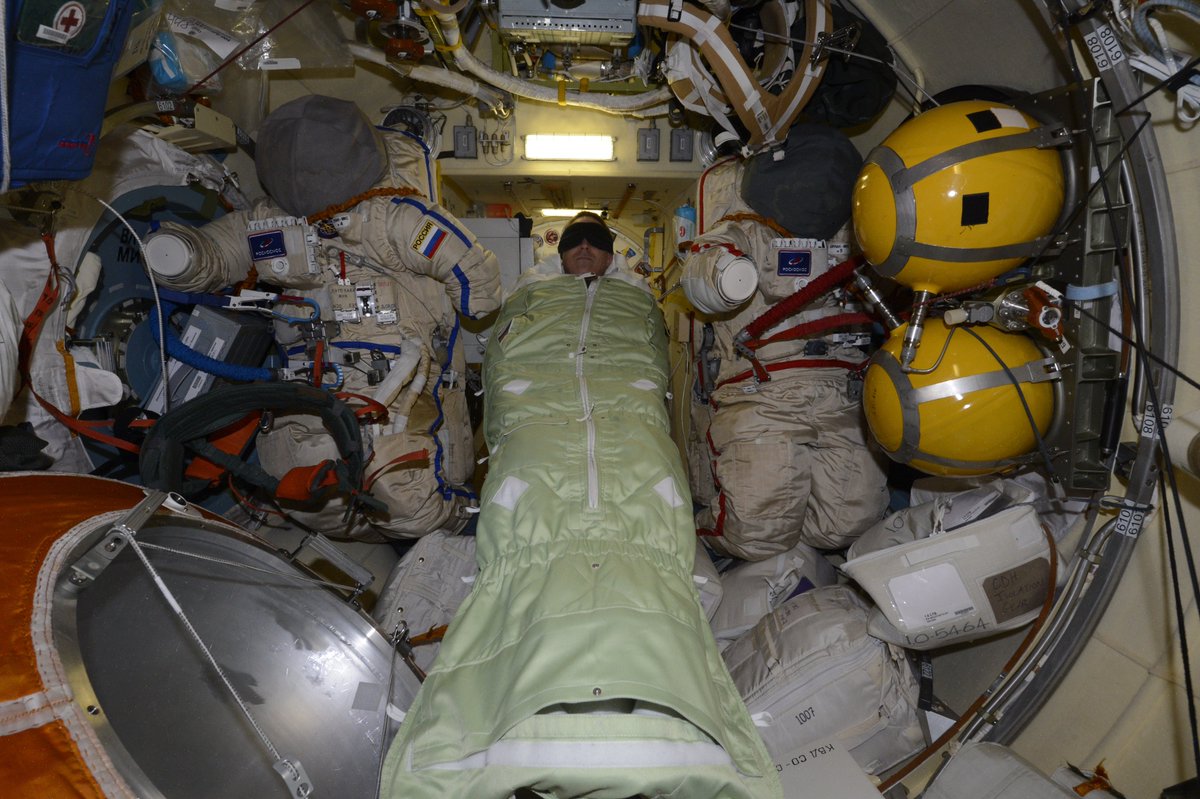 Trump Promises Manned Moon Base, Mission to Mars During Second Term
Following a rather mixed record on terrestrial policy accomplishments during his first term, President Donald Trump is making his off-planet plans a part of his reelection pitch.
On Sunday, the Trump campaign released a 49-point "Fighting for You!" second-term agenda. Under the document's Innovating for the Future section, Trump is promising to "Launch Space Force, Establish Permanent Manned Presence on The Moon and Send the First Manned Mission to Mars."
Read more at: reason.com
Gerald Carr, Record-Setting Skylab Commander, Dies Aged 88
The United States has lost a pioneer of its early human space program with Wednesday's passing of Skylab astronaut Jerry Carr, at the age of 88. The retired Marine Corps colonel served for more than a decade in NASA's astronaut corps and commanded the final manned voyage to the Skylab space station, which established a new world endurance record of 84 days off the planet between 16 November 1973 and 8 February 1974. Not for almost four years after the return to Earth of Carr and his Skylab 4 crewmates Ed Gibson and Bill Pogue was their record finally eclipsed by the Soviet Union. "NASA and the nation have lost a pioneer of long-duration spaceflight," said NASA Administrator Jim Bridenstine. "We send our condolences to the family and loved ones of astronaut Gerald "Jerry" Carr, whose work provided a deeper understanding of life on Earth and in space."
Read more at: Americaspace
NEW SPACE
Rocket Companies Eye 2022 Launch Date From British Launch Sites
Almost 50 years after the UK developed a space launch capability and then abandoned it, a new era of UK space launch is beckoning. Private companies, domestic and international, are pressing ahead…
Read more at: Aviation week
SpaceX Aiming For First Polar Launch From Florida In 60 Years
On August 30, SpaceX is planning to make another entry in the modern-day history books, flying a launch trajectory not seen from Florida's Space Coast in over 60 years. The mission to launch the SAOCOM-1B payload into a sun-synchronous polar orbit is also part of a rare, two-launch day on the Eastern Range.
Set to fly atop a SpaceX Falcon 9 rocket, the SAOCOM 1B satellite is the second of its type for CONAE, Argentina's space agency, SAOCOM 1 earth observation satellite system. The system is primarily tasked to aid in disaster management, such as volcanic eruptions and earthquakes, and will also help to monitor farmlands for agricultural and planning services. In addition to the SACOM 1B satellite, the rocket will also be lofting the GNOMES-1 small-sat, which aims to help provide radio data for weather forecasting and climate observation.
Read more at: Spaceflight Insider
SPACE HAZARDS & STM
Sorry To Inform You An Asteroid Will Not Be Taking Out Earth Right Before Election Day
Headlines abound this week about an asteroid heading toward Earth at perhaps the most opportune time during a terrible year: November 2nd, the day before the presidential election. It sounds too good to be true — an asteroid to wipe us all out before what will surely be a very contentious election process — and that's because it is. This so-called "dangerous" asteroid, dubbed 2018VP1, has a 0.41 percent chance of crossing paths with Earth on November 2nd and entering our atmosphere — incredibly low odds.
Read more at: Verge
Global Magnetic Field Of The Solar Corona Measured For The First Time
An international team led by Professor Tian Hui from Peking University has recently measured the global magnetic field of the solar corona for the first time. The team used observations from the Coronal Multi-channel Polarimeter, an instrument designed by Dr. Steve Tomczyk at the National Center for Atmospheric Research, USA. Their results have been recently published in the magazines of Science and Science China Technological Sciences. Yang Zihao, a first-year graduate student at Peking University, is the first author of both papers.
Read more at: newsen
Satellite Megaconstellations Could Have 'Extreme' Impact On Astronomy, Report Finds
Huge constellations of internet satellites could fundamentally change how astronomers study the night sky and how the rest of us experience it, a new report finds. The potential impacts of megaconstellations in low Earth orbit (LEO), such as SpaceX's Starlink network, "are estimated to range from negligible to extreme," according to a report from the Satellite Constellations 1 (SATCON1) workshop, which was released Tuesday (Aug. 25).
Read more at: Space.com
Three Big Threats To Satellites — And What To Do About Them (Op-Ed)
Since the dawn of the space age in 1957, 80 countries and intergovernmental organizations have launched more than 9,000 objects into space — with nearly 800 in just the past year. While the benefits of this explosive rise in space-based ventures are many (better communications, scientific advancements and stronger national security, to name a few), there are drawbacks as well. The more congested space is, the more contested it becomes, creating challenges for both national and global security.
Read more at: Space.com
Bankrupt Oneweb Gets FCC Approval For Another 1,280 Broadband Satellites
Amid a bankruptcy and a pending sale, OneWeb has secured US approval to offer broadband service from 2,000 satellites.
OneWeb already had Federal Communications Commission approval for a 720-satellite constellation that was green-lit in June 2017. In an order released yesterday, the FCC gave OneWeb approval for another 1,280 satellites.
Read more at: Arstechnica
SCIENCE & TECHNOLOGY
Russia's ISS Nauka Module Arrives At Baikonur Spaceport
Russia is preparing to expand its segment of the International Space Station (ISS) with the arrival of the 20-ton Nauka Multipurpose Laboratory Module (MLM) at the Baikonur spaceport in Kazakhstan.
Read more at: Aviation week
NASA Seeks Input On Artemis Science Goals
NASA is seeking ideas from scientists on the research astronauts could carry out on the first Artemis lunar landing mission in 2024.
NASA announced Aug. 21 it seeking brief white papers on the science the astronauts on the Artemis 3 mission can carry out. The papers, no more than two pages long, are due to the agency by Sept. 8.
The papers will support work by a science definition team in NASA's Science Mission Directorate to develop science objectives for the Artemis 3 mission. That team will also use a number of other resources, ranging from the planetary science decadal survey to a "roadmap" for lunar science created by an advisory group, the Lunar Exploration Analysis Group.
Read more at: Spacenews
NASA Assessing Nuclear Electric Mars Option
As NASA addresses the hurdles of accelerating a return of humans to the Moon's surface in 2024 and establishing a sustained presence in this decade, it also is studying how to move on to Mars
Read more at: Aviation week
SLS Development Cost Tops $9 Billion
Getting NASA's Space Launch System rocket to the launchpad for a November 2021 debut flight will cost taxpayers $9.1 billion, breaching a 30% budget overrun.
Read more at: Aviation week
International Space Station At 20: Commercialization Increases As End Of Life Looms
The International Space Station (ISS) hits 20 years of continuous human habitation this fall, and NASA aims to make the most of the years the orbiting lab has left.
The astronaut complex is in great shape, agency officials have stressed, and it just received a set of battery upgrades to keep going for a while. Within months, operational commercial crews will expand the station's capacity for research as more astronauts per spacecraft pour into the facility. The Trump administration and NASA are also ramping up efforts to fly private astronauts and add private modules to the ISS.
Read more at: Space.com
How NASA Tech Helped Make Cars What They Are Today
Ever wondered what it was like to operate a space ship?
You might already know, according to NASA. These automotive inventions were made for space exploration but found practical uses here in Earth.
The world's most ignored dashboard indicator was created for the space shuttle.
When you get a flat in your car, it's a scary and annoying situation. But knowing that your tire is low can be attributed to research done on the space shuttle, which created a tire pressure gauge for astronauts aboard the shuttle to monitor the landing gear.
Read more at: Chron
JAXA and Toyota Announce "LUNAR CRUISER" As Nickname for Manned Pressurized Rover
The Japan Aerospace Exploration Agency (JAXA) and Toyota Motor Corporation (Toyota) announced today that they have named the manned pressurized rover which is currently under joint research by JAXA and Toyota the "LUNAR CRUISER" as "nickname". JAXA and Toyota previously announced and have been conducting joint research on a manned, pressurized lunar rover that uses fuel cell electric vehicle (FCEV) technologies.
The nickname LUNAR CRUISER was chosen because of the familiar feeling it offers the people involved in the development and manufacture of the vehicle prototype as part of the joint research project as well as the familiarity it will provide the general public.
Read more at: JAXA
SPACE POLICY
Boeing's First Starliner Crewed Mission Tentatively Slated For 2021
Boeing Co said on Tuesday it aims to redo its unmanned Starliner crew capsule flight test to the International Space Station (ISS) in December or January, depending on when it completes software and test hardware production development.
If the test mission is successful, Boeing and NASA will fly Starliner's first crewed mission in summer 2021, with a post-certification mission roughly scheduled for the following winter, the company added.
Read more at: Reuters
UK Push For Landmark UN Resolution To Agree Responsible Behaviour In Space
The UK's proposed UN resolution aims to broker an international consensus on responsible behaviour in space – agreed by countries around the world at the UN – and is the only initiative of its kind in the world.
The global economy and systems that we use every day – including mobile phones, online banking and GPS – depend on safe and secure space systems. However, as space becomes increasingly congested and competed over, the risk of accidents, misunderstandings and miscalculations between nations is escalating.
Read more at: UK gov
NASA Names Robyn Gatens Acting Director for International Space Station
Kathy Lueders, NASA's associate administrator for Human Exploration and Operations, has named Robyn Gatens as acting director of the International Space Station at NASA Headquarters. The appointment was effective Aug. 25. Sam Scimemi, the former director, has assumed new responsibilities as a special assistant for the agency's Human Exploration and Operations Mission Directorate.
"Robyn has demonstrated her leadership and strategic vision for the International Space Station and our efforts to enable a robust low-Earth orbit economy, and I am confident she will continue to do so as acting director," said Lueders.
Read more at: NASA
SPACE DEFENCE
Japan, U.S. Vow To Work Closely On Lunar Exploration Project
Japan and the United States on Wednesday pledged to work closely on a lunar exploration project led by the U.S. National Aeronautics and Space Administration after Tokyo joined it last month.
In a joint statement issued after a meeting in Tokyo, the two governments said they "reaffirmed their commitment to Artemis," the multilateral project intended to return humans to the Moon by 2024 and establish sustainable lunar surface exploration with NASA's commercial and international partners by 2028.
Read more at: kyodonews
VARIOUS
Russia's Long-Delayed Space Station Research Module Arrives At Launch Base
A long-delayed Russian science module was transported by train from Moscow to the Baikonur Cosmodrome in Kazakhstan earlier this month for a final series of electrical tests and outfitting before launch to the International Space Station next year.
The bus-sized Nauka research module — also known as the Multipurpose Laboratory Module, or MLM — has been in development for more than 20 years, originally as a backup for Russia's Zarya module, the first element of the space station to launch in 1998. Russia said in 2004 that the backup to Zarya would be converted into a lab module for launch in 2007.
Read more at: Spaceflight Now
Doorway to Space
Read more at: ESA
William Shatner wants to know: What the heck is wrong with you, Space Force?
To the very esteemed members of Space Force and other grand poohbahs of the United States government agencies who may have a say in this, I have one question for you:
What the heck is wrong with you?
I'm talking about the ranks of the Space Force!
Read more at: Militarytimes
NASA And Boeing Outline Schedule Of Starliner Test Flights
NASA and Boeing announced an updated schedule of test flights of the company's CST-100 Starliner commercial crew vehicle that would allow it to begin operational missions to the International Space Station at the end of 2021.
In an Aug. 28 statement, NASA said it had scheduled a second uncrewed test flight, known as Orbital Flight Test (OFT) 2, for no earlier than December. That mission will be a repeat of the original OFT mission flown last December, which was cut short by technical problems that prevented the spacecraft from approaching and docking with the ISS.
Read more at: Spacenews