TOP NEWS
G7 Nations Commit To The Safe And Sustainable Use Of Space
Today at the G7 Leaders' Summit in Carbis Bay, Cornwall, delegates from Canada, France, Germany, Italy, Japan, the USA, the UK and the EU pledged to take action to tackle the growing hazard of space debris as our planet's orbit becomes increasingly crowded.
One of the biggest global challenges facing the space sector is orbital congestion and space debris. There are currently an estimated 900,000 pieces of space debris including old satellites, spent rocket bodies and even tools dropped by astronauts orbiting Earth. Space debris could stay in orbit for hundreds of years and present a real danger to the rapidly increasing number of new satellites being launched each year.
Read more at: UK gov
The World Needs Space Junk Standards, G7 Nations Agree
Leading industrial nations have agreed to make the space junk problem a priority in order to ensure future sustainable use of space. The announcement, made at the G-7 Leaders' Summit in Cornwall, U.K., on Sunday (June 13), has been hailed by representatives of the commercial space industry and experts alike as a major milestone.
Delegates from Canada, France, Germany, Italy, Japan, the U.S., the U.K. and the EU, have agreed to focus on the development of common standards of sustainable operations as well as space traffic management and coordination.
Read more at: Space.com
SpaceX Ignored Last-Minute Warnings From The FAA Before December Starship Launch
MinutesMinutes before liftoff, Elon Musk's SpaceX ignored at least two warnings from the Federal Aviation Administration that launching its first high-altitude Starship prototype last December would violate the company's launch license, confidential documents and letters obtained by The Verge show. And while SpaceX was under investigation, it told the FAA that the agency's software was a "source of frustration" that has been "shown to be inaccurate at times or overly conservative," according to the documents.
Read more at: Verge
Chinese Crew Enters New Space Station On 3-Month Mission
Three Chinese astronauts arrived Thursday at China's new space station at the start of a three-month mission, marking another milestone in the country's ambitious space program.
Their Shenzhou-12 craft connected with the space station module about six hours after taking off from the Jiuquan launch center on the edge of the Gobi Desert.
Read more at: ABCnews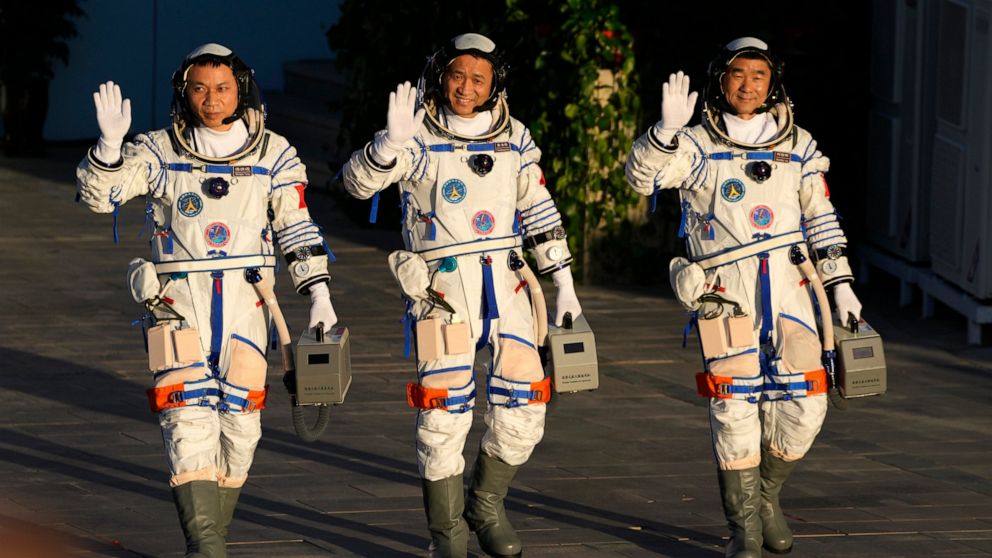 Spacesuit Problems Prevent Astronauts From Completing Job
Spacesuit problems prevented astronauts from completing the installation Wednesday of powerful, new solar panels outside the International Space Station.
NASA astronaut Shane Kimbrough encountered a pair of spacesuit issues midway through the seven-hour spacewalk, forcing him to temporarily retreat back into the airlock to reset his equipment. The interruption put Kimbrough and French astronaut Thomas Pesquet an hour behind, then they had trouble trying to unfold the solar panel's booms before time finally ran out.
Read more at: ABCnews
Computer Trouble Hits Hubble Space Telescope, Science Halted
The Hubble Space Telescope has been hit with computer trouble, with all astronomical viewing halted, NASA said Wednesday.
The orbiting observatory has been idle since Sunday when a 1980s-era computer that controls the science instruments shut down, possibly because of a bad memory board.
Read more at: ABCnews
NASA and Boeing Progress Toward July Launch of Second Starliner Flight Test
NASA and Boeing are continuing preparations ahead of Starliner's second uncrewed flight to prove the system can safely carry astronauts to and from the International Space Station.
Teams inside the Starliner production factory at NASA's Kennedy Space Center in Florida recently began fueling the Starliner crew module and service module in preparation for launch of Orbital Flight Test-2 (OFT-2) at 2:53 p.m. EDT on Friday, July 30. The fueling operations are expected to complete this week as teams load propellant inside the facility's Hazardous Processing Area and perform final spacecraft checks.
Read more at: NASA
SPACE HAZARDS AND STM
Planetary Protection Policy: For Sustainable Space Exploration And To Safeguard Our Biosphere
The search for the origin of life amongst the planetary bodies in our solar system is a driving factor in space research. However, the simple act of sending a spacecraft to explore in situ solar system objects can potentially compromise their environments and cause harmful contamination when returning to Earth. Avoiding such biological contamination of planetary bodies (forward contamination) is essential in the scientific exploration of our solar system, as is protecting Earth's environment from the introduction of extraterrestrial matter (backward contamination) from planetary missions. COSPAR, the Committee on Space Research, through an international panel of scientists regularly reviews the latest scientific research to provide guidelines and categorisation of space missions so as not to jeopardise future research and scientific investigation of celestial bodies.
Read more at: researchoutreach
When it Comes To The Urgent Issue Of Space Congestion, U.S. Space Command Is Little More Than A Weather Forecaster
Space congestion and space junk are becoming a serious global problem and a potential flashpoint for international conflict. But publicly at least, America's defense establishment in general and U.S. Space Command in particular can do little about it. Like NOAA's National Hurricane Center, SPACECOM can't prevent a storm — they can just tell us when its coming.
A recent Scientific American magazine feature detailing the unabated proliferation of space junk and low-Earth orbit (LEO) satellites called the problem "a Space Age tragedy of the commons."
Read more at: Forbes
Space Sector Prepares for Sustainability Summit
An initial period of outreach led to an influx of written submissions that were reviewed by an independent judging panel. Challenges were then set for space industry representatives to address during online workshops running throughout May. Three broad themes were identified, with one calling for a holistic, internationally adoptable approach to measuring the true impact of the space sector on the environment. The second called for an exploration into developing an open library of space data to connect citizen science initiatives with environmental data. Finally, the sector was asked to identify ways to quantify, classify and assess the growing problem of low-orbiting space debris, to help protect the near-Earth space ecosystem.
Read more at: heraldscotland
Space Sustainability Rating To Shine Light On Debris Problem
There's a problem brewing overhead. Invisible to the naked eye and relatively unheard of, it threatens our future in space – space debris.
A new 'Space Sustainability Rating' is currently in development that will shed light on the problem, scoring space operators on the sustainability of their missions, increasing the transparency of their contributions to protecting the space environment and encouraging and recognising responsible behaviour.
Read more at: ESA
Leolabs To Expand Radar Network To Europe
LeoLabs plans to expand its global network of space-tracking radars to the Azores archipelago, an autonomous region about 1,500 kilometers off Portugal's Atlantic coast.
The new S-band phased-array radar, which is scheduled to come online in early 2022, will improve the "timeliness and accuracy" of LeoLabs' global coverage because the company does not operate radars at similar longitudes, Dan Ceperley, LeoLabs CEO and co-founder, told SpaceNews.
"The Azores, specifically, is very critical because it offers coverage of the North Atlantic and Europe, giving us the ability to track all the debris and the satellites in that region," Ceperley said.
Read more at: Spacenews
NEW SPACE/COMMERCIAL
Orbex Is Creeping Towards Orbit From A UK Launchpad, But First There Are Courts, Birds, And Billionaires To Overcome
British rocketeeer Orbex has spent the best part of the last half decade or so moving towards the goal of a first commercial orbital launch from home soil. While others have shown off engine firings and sub-orbital lobs, Orbex is aiming for orbit with its Prime rocket.
In an industry where dates tend to be forever moving deeper into the future, Chris Larmour, CEO at Forres-based Orbex is refreshingly blunt and suggests rolling a dice for picking that first launch date.
Read more at: Register
NASA, SpaceX Update Crew Launch and Return Dates
NASA and SpaceX have adjusted target launch and return dates for upcoming crew missions to and from the International Space Station based on visiting vehicle traffic. NASA's SpaceX Crew-3 mission now is targeting launch no earlier than Sunday, Oct. 31, with NASA astronauts Raja Chari, Tom Marshburn and Kayla Barron and ESA (European Space Agency) astronaut Matthias Maurer. Crew-3 will launch on a new Crew Dragon spacecraft from Launch Complex 39A at NASA's Kennedy Space Center in Florida to begin a six-month science mission at the space station.
Read more at: NASA
Launcher To Develop Orbital Transfer Vehicle
Small launch vehicle company Launcher announced June 15 that it is also working on an orbital transfer vehicle for small satellites that it plans to use on both its own rocket as well as SpaceX's Falcon 9.
Launcher, which announced a $11.7 million funding round June 2, said its Orbiter tug will be able to carry up to 150 kilograms of payload, either in the form of 90 units worth of cubesat deployers or larger satellites using standard smallsat separation systems. Orbiter can also accommodate hosted payloads with power, communications, and other capabilities.
Read more at: Spacenews
House Hearing Rehashes Longstanding Commercial Space Transportation Issues
A House aviation subcommittee hearing on commercial space transportation June 16 plowed familiar ground, revisiting a wide range of issues that have yet to be resolved.
One of the few new topics addressed at the hearing by the House Transportation Committee's aviation subcommittee dealt with the Federal Aviation Administration's response to SpaceX's violation of its launch license during the December launch of its Starship SN8 prototype. SpaceX conducted that suborbital flight despite weather conditions that violated the "far field blast overpressure" limits of its license to protect the uninvolved public.
Read more at: Spacenews
Blue Origin Auctions New Shepard Seat for $28 million
A seat on the first crewed flight of Blue Origin's New Shepard suborbital vehicle sold for $28 million at an auction June 12.
The live auction wrapped up a bidding process that the company announced May 5 to sell the seat on the flight, scheduled for July 20 from the company's West Texas test site. The process started with sealed bids, followed by an online bidding process that closed June 10. Qualified bidders then participated in the final live auction, where the high bid reached $28 million in about 10 minutes. The proceeds go to Club for the Future, an educational nonprofit organization affiliated with Blue Origin.
Read more at: Spacenews
SCIENCE AND TECHNOLOGY
NASA Pursues Greener, More Efficient Spacecraft Propulsion
NASA and the space industry will conduct several missions over the next year to test more efficient, environmentally friendly spacecraft, including a non-toxic propellant and solar power.
The rapid expansion of private spaceflight, along with planned missions to the moon and Mars, has prompted a need for easier handling of spacecraft and their fuel, Jeff Sheehy, NASA's chief engineer for space technology, said in an interview.
Read more at: UPI
NATO Nations Ready To Jointly Respond To Attacks In Space
NATO leaders on Monday expanded the use of their all for one, one for all, mutual defense clause to include a collective response to attacks in space.
Article 5 of NATO's founding treaty states that an attack on any one of the 30 allies will be considered an attack on them all. Until now, it's only applied to more traditional military attacks on land, sea, or in the air, and more recently in cyberspace.
Read more at: ABCnews
Honda, JAXA Plan Renewable Energy System For Space
Japanese automaker Honda and the Japan Aerospace Exploration Agency, or JAXA, are set to begin a study on a system to generate oxygen, energy and water in space. The idea is to create an environment where people can live and work for extended periods.
Honda and JAXA say in a statement the system would create items essential for humans and roving vehicles without resupply from Earth.
Read more at: NHK
Space Nuclear Power Is Nearing Critical Mass As The Final Frontier's Next Frontier
The idea of putting nukes in space may sound like a national security nightmare, but the right kind of nukes are likely to be a must-have for long-term space exploration. At least that's the way a panel of experts at the intersection of the space industry and the nuclear industry described the state of things this week during the American Nuclear Society's virtual annual meeting. "In order to do significant activity in space, you need power. And in order to get that power … it's complicated," said Paolo Venneri, CEO of a Seattle-based nuclear power venture called USNC-Tech.
Read more at: Geekwire
India's Human Spaceflight Plans Coming Together Despite Delays
So far, sending humans into space has been limited to the space programs of only three countries: the U.S., Russia (inheriting that of the former Soviet Union), and, joining them in the 21st century, China. But a fourth is poised to follow: the Indian Space Research Organization (ISRO), India's space exploration agency.
ISRO isn't afraid to dream big. The agency's head, K. Sivan, has talked about space stations and moonwalks. ISRO hopes that the long arc toward those goals can begin with its first program of crewed missions, Gaganyaan (derived from Sanskrit, meaning "sky-vehicle"). But Gaganyaan's timetable remains murky — largely thanks to the COVID-19 pandemic.
Read more at: Space.com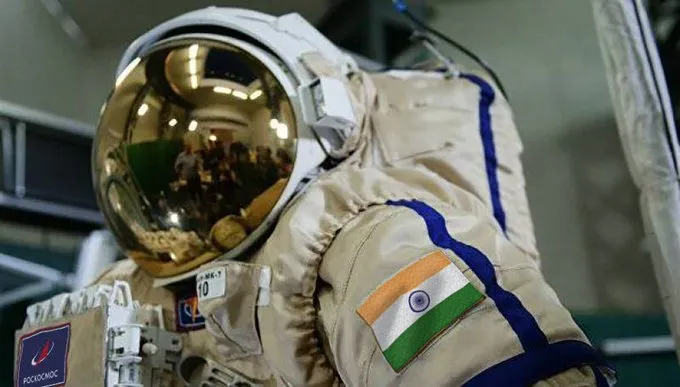 SPACE POLICY
Putin Wants Continued Space Cooperation With U.S.
Two days before his summit with President Joe Biden, Russian President Vladimir Putin told NBC news that he wants continued space cooperation with the United States. Some Russian officials have been suggesting Russia will pull out of the International Space Station (ISS) in 2025, but Putin said that is a misunderstanding. His comments also come one day before the heads of NASA and Russia's space agency speak at an international conference in Russia.
Read more at: Spacepolicyonline
Brazil Makes History In Signing The Artemis Accords For Moon Exploration
Brazil has signed on to the NASA-led Artemis Accords initiative to explore the moon responsibly. 
The country became the first South American nation to sign the Artemis Accords, a guideline for the responsible exploration of the moon, NASA Administrator Bill Nelson announced Tuesday (June 15). The nations on board with these exploration principles include the U.S., Australia, Canada, Japan, Luxembourg, Italy, the United Kingdom, the United Arab Emirates and now, Brazil. 
Read more at: Space.com
ESA And EU To Sign Partnership Agreement
The European Space Agency and the European Union will sign an agreement next week governing their work on joint projects, one that the agency says will allow ESA members who are not part of the EU to participate on those projects.
At a June 16 press conference, Anna Rathsman, chair of the ESA Council, said that, during the council's two-day meeting that had just concluded, members unanimously approved a Financial Framework Partnership Agreement (FFPA) that the agency had been in lengthy negotiations with the European Commission about.
Read more at: Spacenews
Japan Passes Space Resources Law
Japan's parliament approved legislation that allows companies to extract and utilize space resources as the head of Russia's space agency criticized similar national laws on the subject.
The House of Councilors, the upper house of the National Diet of Japan, passed the bill June 15. The lower house, the House of Representatives, approved the bill June 10. The bill has support from the two largest political parties, the ruling Liberal Democratic Party and the Constitutional Democratic Party.
Read more at: Spacenews
Philippines, Japan Sign Space Cooperation Agreement
The Philippines and Japan has signed an agreement to promote space cooperation between the two countries. Japan is the first foreign space agency to sign a memorandum of cooperation with the Philippine Space Agency (PhilSA).
Joel Joseph Marciano, the director-general of PhilSA, has signed the memorandum of cooperation (MOC) together with Japan Aerospace Exploration Agency (JAXA) President Yamakawa Hiroshi in a virtual ceremony on Friday, June 11.
Read more at: rappler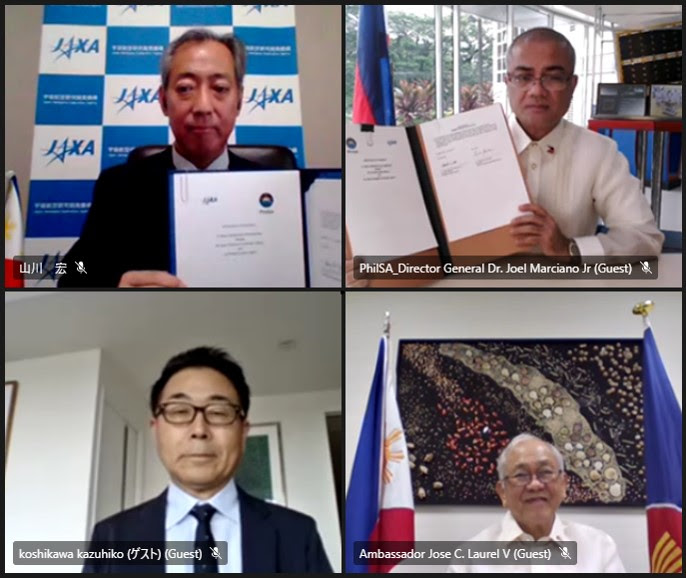 SPACE DEFENSE
NATO Nations Ready To Jointly Respond To Attacks In Space
NATO leaders on Monday expanded the use of their all for one, one for all, mutual defense clause to include a collective response to attacks in space.
Article 5 of NATO's founding treaty states that an attack on any one of the 30 allies will be considered an attack on them all. Until now, it's only applied to more traditional military attacks on land, sea, or in the air, and more recently in cyberspace.
Read more at: ABCnews
Space Force Clears SpaceX To Launch Reused Rockets For Military Missions
The next SpaceX launch will feature a milestone, as the Pentagon is allowing Elon Musk's company to send a national security satellite to orbit with a reused rocket for the first time.
SpaceX is set to launch the GPS III SV05 satellite for the Space Force on Thursday from Florida, using the Falcon 9 rocket booster that launched the GPS III SV04 satellite last November. The company's Falcon 9 rockets are partially reusable, as SpaceX regularly lands the boosters – the largest and most expensive part of the rocket – and then launches again.
Read more at: CNBC
Pentagon: Diversify Your Orbital Regimes
As Congress considers the Pentagon's $1.2 billion request for military space systems in Low Earth Orbit (LEO) and its other broader space portfolio, it would do well to consider the key factor of resilience at each decision point.
Building resilience into new defense space systems will remain challenging especially in a budget-constrained environment. It will require tough choices not just programmatically, but architecturally. The Defense Department would do well to justify their investment as not only for one orbital regime, but for the broader context of mission assurance.
Read more at: Breaking defense
Pegasus Rocket Successful In Responsive Launch Demonstration
A Northrop Grumman Pegasus rocket dropped from the belly of a carrier jet over the Pacific Ocean early Sunday and streaked into orbit with a small U.S. military space surveillance satellite named Odyssey, completing a successful rapid launch exercise in partnership with a secretive new Space Force special projects unit.
The mission's goal was to demonstrate how the military can develop and launch satellites on faster timescales. The small spacecraft, which a Space Force spokesperson said is named Odyssey, was buttoned up inside the nose cone of a Pegasus XL rocket.
Read more at: Spaceflight Now
VARIOUS
Former Astronaut Pam Melroy Confirmed As NASA Deputy Administrator
NASA's top two jobs are now officially filled. The U.S. Senate confirmed former astronaut Pam Melroy as NASA deputy administrator on Thursday (June 17), about six weeks after doing the same for space agency chief Bill Nelson. "It's an honor to be confirmed by the Senate to serve as NASA deputy administrator, and I am humbled by President Biden and Vice President Harris' confidence in me," Melroy said in a statement.
Read more at: Space.com
ESA's Digital Celebration Of Space Safety And Asteroid Day
Join ESA live on 28 June to discover the ingenious and important ways in which the European Space Agency is keeping us safe, protecting modernity and making space sustainable for future generations.
The Space Safety Digital Festival, in celebration of Asteroid Day, will take place from 18:00 – 20:00 CEST and will be your chance to meet, mingle with and quiz experts on the risk from asteroids, the Sun, space debris, the cyber threat to space and much more.
Read more at: ESA