TOP NEWS
Ariane 5 Rocket Launches Robotic Space Tug Into Orbit Alongside 2 Communications Satellites
A new space tug, only the second-ever to extend the life of older satellites, launched into orbit Saturday on a European rocket after weeks of delays due to weather and rocket checks.
An Arianespace Ariane 5 rocket hefted the Mission Extension Vehicle-2 (MEV-2) into space Sunday (July 31), putting the vehicle en route to an Intelsat satellite waiting for a boost into a higher orbit. Riding along on the rocket were two satellites for broadband communications.
Read more at: Space.com

Four Down, Four to Go: Artemis I Rocket Moves Closer to Hot Fire Test
The Space Launch System (SLS) rocket core stage for the Artemis I lunar mission has successfully completed its first four Green Run tests and is building on those tests for the next phase of checkout as engineers require more capability of the hardware before hot-firing the stage and its four powerful engines.Green Run is a demanding series of eight tests and nearly 30 firsts: first loading of the propellant tanks, first flow through the propellant feed systems, first firing of all four engines, and first exposure of the stage to the vibrations and temperatures of launch.
Read more at: NASA

Simulations Show Lunar Lander Exhaust Could Contaminate Scientifically Vital Moon Ice
A new study led by scientists at the Johns Hopkins Applied Physics Laboratory (APL) in Laurel, Maryland, shows that exhaust from a mid-sized lunar lander can quickly spread around the Moon and potentially contaminate scientifically vital ices at the lunar poles.
Computer simulations of water vapor emitted by a 2,650-pound (1,200-kilogram) lander — about a quarter of the dry mass of the Apollo Lunar Module — touching down near the Moon's south pole showed exhaust takes only a few hours to disperse around the entire Moon. From 30% to 40% of the vapor persisted in the lunar atmosphere and surface two months later, and roughly 20% would ultimately freeze out near the poles a few months after that.
Read more at: scitechdaily

NASA Sets Late October Launch Date For First Operational Crew Dragon Mission
NASA announced Aug. 14 that the first operational SpaceX commercial crew mission to the International Space Station will launch in late October, a delay to accommodate other spacecraft flying to the station.
The agency said it has set a date of no earlier than Oct. 23 for the Crew-1 launch, which will send three NASA astronauts and one astronaut from the Japanese space agency JAXA on a Crew Dragon spacecraft to the ISS for a six-month mission.
Read more at: Spacenews

SpaceX Launches 58 Starlink Satellites And 3 Skysats, Sticks Rocket Landing
SpaceX successfully launched a new Starlink rideshare mission into orbit today (Aug. 18), lofting a bevy of Starlink internet satellites along with three small Earth-observation satellites before sticking a rocket landing at sea.
The two-stage Falcon 9 rocket carrying 58 SpaceX Starlink satellites, and a trio of small SkySat satellites for the California-based imaging company, Planet, lifted off at 10:31 a.m. EDT (1431 GMT) from Space Launch Complex 40 here at Cape Canaveral Air Force Station.
Read more at: Space.com

ISS Crew Looks For Source Of Small Cabin Air Leak: NASA
Three crew members on board the International Space Station will spend the weekend in the vessel's Russian segment while they search for the source of a cabin air leak, NASA and Russian space agency Roscosmos said on Thursday.
"In September 2019, NASA and its international partners first saw indications of a slight increase above the standard cabin air leak rate," NASA said in a statement.
It said the crew, composed of NASA's Chris Cassidy and Russia's Ivan Vagner and Anatoly Ivanishin, would close the station's hatches this weekend to monitor air pressure and find the source of the leak.
Read more at: Reuters

NEW SPACE
Rocket Lab Aims To Recover Electron Booster On Upcoming Flight
Rocket Lab is gearing up to take a big step toward rocket reusability.
The California-based company plans to recover and inspect the first stage of its two-stage Electron booster during a mission later this year, Rocket Lab founder and CEO Peter Beck said earlier this month.
Rocket Lab has earmarked Electron's 17th launch for this milestone, which isn't too far off. The most recent Electron launch, dubbed "Pics Or It Didn't Happen," was the booster's 13th mission.
Read more at: Space.com

First Rocket Launch in Iceland in Fifty Years
Iceland had its first rocket launch in fifty years this weekend, RÚV reports. Space Iceland, an organization that seeks to "foster the creation of a National Space Plan" successfully fired off a rocket from Langanes peninsula in Northeast Iceland on Saturday.
The rocket was launched in two parts, or stages, in front of a crowd of onlookers. The first stage launch reached a height of six kilometres, the second, a height of 30 kilometres. Both parts landed in the sea, not far from shore, and were easily retrieved by Search and Rescue volunteers, thanks to GPS equipment inside each piece.
Read more at: Iceland review

DLR Spinoff Hyimpulse Plans Small Launcher Debut In 2022
A startup formed by rocket engineers from the German space agency DLR is targeting late 2022 for the first flight of a small launch vehicle designed around hybrid engines.
HyImpulse is developing a three-stage rocket capable of sending 500 kilograms to a 400-kilometer low Earth orbit. The 40-person company is bankrolled by Rudolf Schwarz, chairman of German technology company IABG, and has a 2.5 million-euro ($3 million) grant from the European Commission to advance its launcher technology, Christian Schmierer HyImpulse co-CEO, said in an interview.
Read more at: Spacenews

Sierra Nevada Makes Progress on LIFE Inflatable Habitat for Lunar, Mars Missions
Sierra Nevada Corp. continues to press ahead with its Large Inflatable Fabric Environment (LIFE) Habitat for potential use on the lunar surface—including as part of the recent Human Landing System (HLS) crew cabin contract awards—and as an integral element of a future Mars transportation vehicle, which may be tested later this decade at the Lunar Gateway.
Under the language of Phase 3 of NASA's Next Space Technologies for Exploration Partnerships (NextSTEP-2) Appendix A, SNC will continue to work through the remainder of 2020 on reducing risks and enhancing the technical maturity of its habitat concept to reach System Definition Review (SDR) level.
Read more at: Americaspace

Firefly Aims To Debut Its Alpha Rocket For Small Satellites This Fall
Firefly Aerospace's advanced rocket for small satellites should be ready to launch for the first time this fall, company representatives said.
The two-stage rocket, known as Alpha, was originally scheduled to debut in early 2020. But the coronavirus pandemic intervened and delayed things at Firefly, as well as at other space companies around the world. Some suppliers had to delay shipments, and work slowed due to necessary physical distancing measures.
Read more at: Space.com

Not Everyone Is Thrilled About Proposed Rocket Launch Site In Michigan's Upper Peninsula
Mary Little had just finished making a batch of thimbleberry jam, and she had a few things to say about a proposed vertical rocket launch site in the wilds of the Upper Peninsula.
"Anything that close to Lake Superior is concerning. It should be concerning to everybody, and fuels and heat and water usage … anybody who cares about this lake should be concerned about this," said Little, 69, who moved to the area from downstate in 1976.
Read more at: freep

Altius Space Machines To Support On-Orbit Servicing For The Dynetics Human Landing System
Voyager Space Holdings, Inc. (Voyager), a global leader in integrated space services, has announced that its subsidiary, Altius Space Machines, Inc. (Altius), was selected as a subcontractor to Dynetics, a wholly owned subsidiary of Leidos, to support the development of a human landing system for NASA's Artemis program. With Altius support, Dynetics aims to enable the Artemis program that will land the first woman and next man on the Moon by 2024.
Leveraging its deep expertise in space robotics, Altius develops on-orbit servicing technology, specializing in on-orbit assembly and manufacturing, orbital rendezvous and capture robotics, as well as in-space refueling.
Read more at: Spacedaily

Skyroot Aerospace First Private Company To Test Upper Stage Rocket Engine
Spacetech startup Skyroot Aerospace has successfully test fired an upper stage rocket engine, becoming the first Indian private company to demonstrate the capability to build a homegrown rocket engine.
Meanwhile, the company is planning to raise around Rs 90 crore.
Founded by Pawan Kumar Chandana and Naga Bharath Daka, both former scientists at the Indian Space Research Organisation (Isro), Skyroot plans to build a family of rockets.
Read more at: Business standard

Private Space Industrialization is Here
The universal glee that surrounded the launch of the crewed Dragon spacecraft made it easy to overlook that the Falcon rocket's red glare marked the advent of a new era — that of private space industrialization. For the first time in human history, we are not merely exploring a new landmass. We, as a biological species, are advancing to a new element — the cosmos.
The whole history of humanity is the story of our struggle with space and time. Mastering new horizons, moving ever farther; driven by the desire for a better life or for profit, out of fear or out of sheer curiosity, people found ever faster, easier, cheaper and safer ways to conquer the space between here and there.
Read more at: Techcrunch

Trump Administration Urges More Commercial Activities In Space
The Trump administration has taken another small step towards its larger leap to commercialize space laboratory activities, even as NASA struggles to put current commercialization plans into place.A new White House memo released Friday (Aug. 14) said that low Earth orbit research "on new platforms" — commercial facilities that could succeed the International Space Station — should be a priority. It was published as part of the yearly joint initiative to figure out budget priorities in research and development, between the White House Office of Management and Budget and the Office of Science and Technology Policy.
Read more at: Space.com

Full Approval Granted For Spaceport In The Scottish Highlands
The £17.3 million plan to launch satellites from the A' Mhòine peninsula in Sutherland "represents a significant step forward," according to Innovation Minister Ivan McKee.
Highlands and Islands Enterprise (HIE) has approved the budget to develop Space Hub Sutherland, which includes funding from the Nuclear Decommissioning Authority and the UK Space Agency.
Final approval was granted by the Highlands Council today after the Scottish Government said the proposals do not require a decision at a national level on August 3.
Read more at: National

SPACE HAZARDS & STM
NASA Watches As Weird 'Dent' In Earth's Magnetic Field Splits In Two
There's something very strange happening high above South America and the nearby Atlantic Ocean, and NASA is on the case.
Meet the South Atlantic Anomaly, a strange dent in Earth's magnetic field that is growing and splitting. It's been there for decades, but over time the anomaly has slowly changed. Although you'd never notice anything was wrong from the ground, for satellites, changes to the magnetic field that envelopes Earth can be a big deal — hence NASA's interest in the anomaly and its activities.
Read more at: Space.com

A Car-Sized Asteroid Made The Closest Earth Flyby A Space Rock Has Ever Survived
A newly discovered car-sized asteroid just made the closest-known flyby to Earth without hitting our planet.
On Sunday (Aug. 16), the asteroid, initially labeled ZTF0DxQ and now formally known to astronomers as 2020 QG, swooped by Earth at a mere 1,830 miles (2,950 kilometers) away. That gives 2020 QG the title of closest asteroid flyby ever recorded that didn't end with the space rock's demise. It's the closest known, non-impacting asteroid, NASA officials told Space.com
Read more at: Space.com

Moving Forward With Satellite Servicing Standards
Satellite servicing is going from the realm of, I wish we could do this, to becoming a reality. That reality includes creating satellite servicing standards.
Today on the SpaceQ podcast we're starting our annual Summer Series with a podcast on satellite servicing standards.
Tomorrow will see the first launch of a communication satellite with a satellite Mission Extension Vehicle attached to it. The customer is Intelsat and the Mission Extension Vehicle, known as MEV, is built by Northrop Grumman. An MEV has previously flown as a separate demonstration mission.
Read more at: SpaceQ

A Method Has Been Developed To Study Extreme Space Weather Events
Scientists at Skolkovo Institute of Science and Technology (Skoltech), together with colleagues from the Karl-Franzens University of Graz & the Kanzelhöhe Observatory (Austria), Jet Propulsion Laboratory of California Institute of Technology (USA), Helioresearch (USA) and Space Research Institute of the Russian Academy of Sciences (Russia) developed a method to study fast Coronal Mass Ejections, powerful ejections of magnetized matter from the outer atmosphere of the Sun. The results can help to better understand and predict the most extreme space weather events and their potential to cause strong geomagnetic storms that directly affect the operation of engineering systems in space and on Earth.
Read more at: Skoltech

An Unusual Meteorite, More Valuable Than Gold, May Hold The Building Blocks Of Life
As the fiery emissary streaked across the skies of Costa Rica, an unearthly mix of orange and green, Marcia Campos Muñoz was in her pajamas, watching TV on the couch. It was 23 April 2019, a bit past 9 p.m., when she heard a foreboding rumble. Heart racing, she tiptoed outside to calm her barking dog, Perry, and to check on the cow pastures ringing her small house in Aguas Zarcas, a village carved out of Costa Rica's tropical rainforest. Nothing. She ducked back inside, just before a blast on the back terrace rattled the house to its bones.
Read more at: Sciencemag

Amazon's Project Kuiper is More Than the Company's Response to SpaceX
Amazon cleared an important hurdle when the U.S. Federal Communications Commission (FCC) announced on 30 July that the company was authorized to deploy and operate its Kuiper satellite constellation. The authorization came with the caveat that Amazon would still have to demonstrate that Kuiper would not interfere with previously authorized satellite projects, such as SpaceX's Starlink.
Read more at: IEEE Spectrum

Northrop Grumman Just Launched Its Second Satellite Rescue Mission
On Saturday, a Northrop Grumman spacecraft, designed to give a dying satellite a new lease on life, launched into space. Its objective is to latch onto an aging satellite that's been in space for 16 years and prolong the old robot's life in orbit by giving it a new set of engines and fuel.
The spacecraft is named MEV-2, for Mission Extension Vehicle 2. MEV-2's predecessor was the groundbreaking MEV-1 satellite, which launched in October 2019. MEV-1 made history in February when it successfully grabbed hold of another satellite already in orbit, marking the first time that two commercial satellites had docked in space.
Read more at: Verge

Companies Are Flying Old Satellites Longer, Study Finds
Nearly a third of commercial geostationary communications satellites in orbit are operating beyond their design lives, a far higher figure than in previous years, according to a study.
Research firm TelAstra of Los Angeles found that in 2020, some 31% of commercial geostationary comsats remained in service past their expected retirement, more than double the number of satellites putting in extra time in 2009.
Read more at: Spacenews

Report Endorses Giving Commerce Department Responsibility For Space Traffic Management
A report commissioned by Congress agreed with the administration that the Commerce Department is the best agency to handle civil space traffic management (STM) responsibilities.
The report by the National Academy of Public Administration (NAPA), published Aug. 20, was requested by Congress in fiscal year 2020 appropriations legislation. Some members were skeptical that the department, specifically its Office of Space Commerce (OSC), was the right agency to handle space traffic management, as directed by the White House in Space Policy Directive (SPD) 3 in 2018.
Read more at: Spacenews
Managing Space Traffic in an Increasingly Congested Orbit
The nation recently watched an historic event when SpaceX, a private "New Space" commercial company in the business of launching and managing assets in orbit, successfully returned astronauts to Earth. The mission launch, however, had not gone as smoothly, as overcast weather forced SpaceX to reschedule, but not just to the next clear day.
Instead, the next available date was determined by two key factors: the physics of efficiently reaching the International Space Station from Cape Canaveral and, importantly, conducting a preflight analysis to ensure there were no conjunctions–a close approach of two or more space objects that might result in a collision­–for the Crew Dragon on its ascent to dock with the space station.
Read more at: govexec

Research Team Develops The First Physics-Based Method For Predicting Large Solar Flares
Solar flares emit sudden, strong bursts of electromagnetic radiation from the Sun's surface and its atmosphere, and eject plasma and energetic particles into inter-planetary space. Since large solar flares can cause severe space weather disturbances affecting Earth, to mitigate their impact their occurrence needs to be predicted. However, as the onset mechanism of solar flares is unclear, most flare prediction methods so far have relied on empirical methods.
Read more at: Nagoya university
SCIENCE & TECHNOLOGY
New Solar Cells For Space
Almost all satellites are powered by solar cells – but solar cells are heavy. While conventional high-performance cells reach up to three watts of electricity per gram, perovskite and organic hybrid cells could provide up to ten times that amount. A research team from the Technical University of Munich (TUM) and the German Aerospace Center (DLR) has now tested this type of cell in space for the first time.
Perovskite and organic solar cells are promising options for future generations of solar cells. Over recent years, their efficiency has rapidly caught up with that of conventional silicon-based cells.
Read more at: TUM

SpaceX Crushes Rocket Engine World Record During Raptor Test
CEO Elon Musk has revealed that SpaceX crushed a global rocketry record during a recent Raptor engine test, pushing the crucial Starship component past years-old performance targets.
On August 17th, the SpaceX CEO unexpectedly released a photo of a Raptor test and a corresponding graph showing the engine's chamber pressure, confirming that the company had successfully pushed the engine to record-breaking levels. Musk says that an unspecified Raptor – possibly serial number 39 (SN39) – briefly reached a main combustion chamber pressure of 330 bar (~4800 psi) during a controlled burn – and remained intact after shutdown.
Read more at: teslarati

IISC, ISRO Develops Sustainable Process For Making Brick-Like Structures On Moon
A team of researchers from the Indian Institute of Science (IISc) and the Indian Space Research Organisation (ISRO) has developed a sustainable process for making brick-like structures on the moon, according to IISc.
It exploits lunar soil, and uses bacteria and guar beans to consolidate the soil into possible load-bearing structures, Bengaluru-based IISc said in a statement.
"These space bricks could eventually be used to assemble structures for habitation on the moons surface, the researchers suggest," it said.
Read more at: Print

SpaceX Installs Orbital Starship Heat Shield Prototype With Robots
SpaceX has begun large-scale Starship heat shield installation tests with the help of robots delivered last month in a sign that the company has already begun preparing for the rocket's first orbital flight test campaign.
Designed to eventually replace SpaceX's workhorse Falcon 9 and Falcon Heavy launch vehicles, Starship is a fully-reusable two-stage rocket powered by methane and oxygen-fueled Raptor engines. Just like Falcon 9, Starship's first stage (known as Super Heavy) will launch the combined spacecraft and upper stage to an altitude of 70 to 100 km (40-65 mi) and velocity of ~2.5 to 3 kilometers per second (1.5-1.9 mi/s). Super Heavy will separate, boost back towards land, and either land back at the launch pad or on a floating platform.
Read more at: Teslarati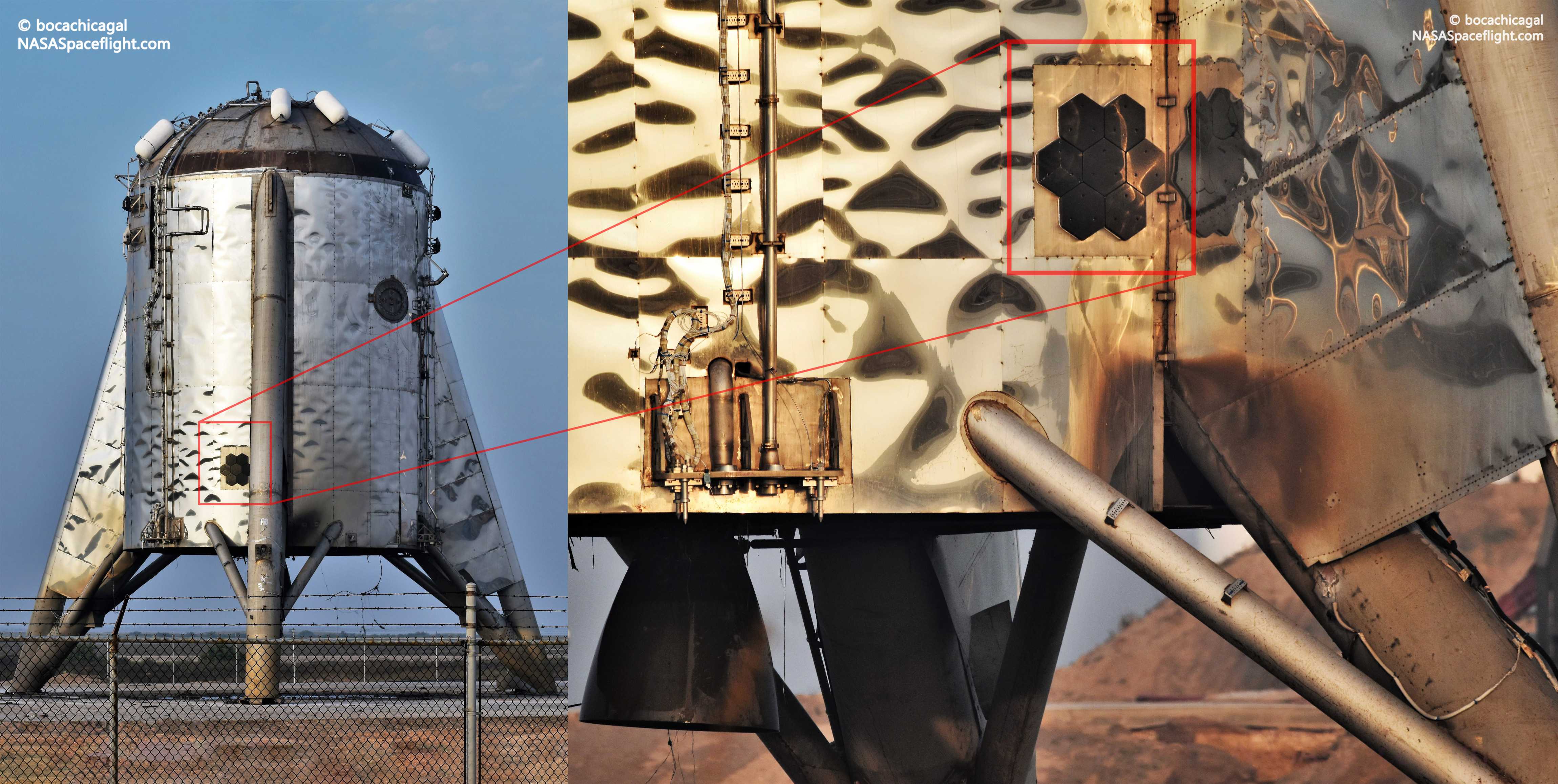 This Is The Way The Universe Ends: Not With A Whimper, But A Bang
In the unimaginably far future, cold stellar remnants known as black dwarfs will begin to explode in a spectacular series of supernovae, providing the final fireworks of all time. That's the conclusion of a new study, which posits that the universe will experience one last hurrah before everything goes dark forever.
Astronomers have long contemplated the ultimate end of the cosmos. The known laws of physics suggest that by about 10100 (the No. 1 followed by 100 zeros) years from now, star birth will cease, galaxies will go dark, and even black holes will evaporate through a process known as Hawking radiation, leaving little more than simple subatomic particles and energy.
Read more at: Sciencemag

Vega Launch Now Set For 1 September
Due to the persistence of exceptionally unfavourable winds at altitude over Europe's Spaceport, Vega flight VV16, originally scheduled for 18 June 2020, was postponed, despite full availability of the launcher and the 53 satellites on this Small Spacecraft Mission Service (SSMS) mission.
In the interim period, the batteries of the Vega launch vehicle and the satellites have been recharged, under all the required safety conditions.
On 1 September, Vega will lift off from Europe's Spaceport in French Guiana carrying 53 satellites on its new dispenser called the Small Spacecraft Mission Service, or SSMS.
Read more at: ESA

Compatibility Issues Further Complicate Decision on Europa Clipper Launch Vehicle
NASA is growing increasingly concerned about making a final decision on what launch vehicle will be used to send Europa Clipper to Jupiter's moon in 2025. Congress insists NASA's Space Launch System (SLS) be used, but it is substantially more expensive than a commercial rocket and now compatibility issues are arising.
Lori Glaze, Director of NASA's Planetary Science Division, revealed the compatibility concern at a meeting of the Planetary Science Advisory Committee (PAC) yesterday.
Read more at: Spacepolicy online

NASA Creates Mars Sample-Return Independent Review Board
With the NASA Perseverance rover on its way to the Red Planet, NASA is getting ready for the next major step in Mars exploration — a sample return mission.
NASA recently established a Mars Sample Return Program Independent Review Board to evaluate how to safely bring Martian rocks and materials back to Earth, the agency said in a statement Friday (Aug. 14). 
The statement comes in the wake of the Perseverance rover launch to Mars last month to pick up and cache rock samples that could show signs of past Martian life. The nuclear-powered rover will land on Feb. 18, 2021.
Read more at: Space.com

Explosive Nuclear Astrophysics
Analysis of meteorite content has been crucial in advancing our knowledge of the origin and evolution of our solar system. Some meteorites also contain grains of stardust. These grains predate the formation of our solar system and are now providing important insights into how the elements in the universe formed.
Working in collaboration with an international team, nuclear physicists at the U.S. Department of Energy's (DOE's) Argonne National Laboratory have made a key discovery related to the analysis of ​"presolar grains" found in some meteorites. This discovery has shed light on the nature of stellar explosions and the origin of chemical elements. It has also provided a new method for astronomical research.
Read more at: Technology

SPACE POLICY
White House Memo Adds Low Earth Orbit Research As R&D Priority
White House document has included low Earth orbit research "on new platforms" as a research and development priority for the administration as NASA struggles to win congressional support for its LEO commercialization initiative.
The White House Office of Management and Budget and the Office of Science and Technology Policy jointly released Aug. 14 a memo outlining research and development budget priorities. The memo, released annually, is intended to emphasize programs the administration sees as priorities as agencies develop their fiscal year 2022 budget proposals.
Read more at: Spacenews

India-Nigeria Sign MoU On Space Cooperation: MoS MEA
India and Nigeria signed an agreement on space cooperation on Thursday, Minister of State for External Affairs V Muraleedharan said. Calling Nigeria India's close friend and the largest trading partner in Africa, Muraleedharan said the MoU is another milestone in the relations of the two countries.
"Glad to join minister @Dr_OgbonnayaOnu in the signing ceremony of India-Nigeria MoU on space cooperation. Nigeria is our close friend and largest trading partner in Africa. This MoU is another milestone in India-Nigeria relations," he said in a tweet.
Read more at: CNBCTV18

The Coalition For Deep Space Exploration Announces Leadership Transition
The Coalition for Deep Space Exploration (Coalition) announced today that Dr. Mary Lynne Dittmar will be stepping down as president and chief executive officer by the end of the year. The Coalition's board has begun an extensive search for candidates within the aerospace industry. Dr. Dittmar will continue to serve as president and CEO of the Coalition until new leadership is appointed.
Read more at: Exploredeepspace

Russia To Continue Bilateral Dialogue With US On All Space Issues — Diplomat
Russia is ready to continue to discuss the space issue with the US within the framework of a bilateral expert group, Spokeswoman for Russia's Ministry of Foreign Affairs Maria Zakharova said at a briefing on Thursday commenting on the publication of the US Space Force doctrine by the Pentagon.
"The document confirms the aggressive direction of Washington in the sphere of space, the determination to achieve military superiority up to the total dominance in space. The outer space is considered by the American side exclusively as the arena to conduct warfare," she said.
Read more at: TASS

This Is How Govt Plans To Bring Together ISRO, Private Players To Boost India's Space Sector
Under the Modi government's vision of increased public-private partnership, private companies are expected to contribute to building launch vehicles and providing launch services, building satellites and providing satellite services, and providing "space-based services", said India's premier space agency Thursday.
At a webinar titled 'Unlocking India's Potential in Space Sector', scientific secretary of Indian Space Research Organisation (ISRO), R. Umamaheswaran outlined the new proposed structure of this partnership, explaining the roles of different agencies and organisations involved, as well as policy updates required.
Read more at: Print

SPACE DEFENCE
U.S. Space Force's First Space Doctrine Signals Expansive Plans
The U.S. Space Force released its first space doctrine today, the foundation upon which future doctrine will evolve and "serves as a key guidepost for the ethos and values of the nation's newest armed service."  The "capstone" doctrine, Spacepower, envisions an expansive role for Space Force far beyond Earth orbit.
Since the beginning of the Trump Administration, U.S. military leaders have been driving home their message that space no longer is a benign environment, but a warfighting domain just like air, land, sea and cyber. The reestablishment of U.S. Space Command and the creation of U.S. Space Force as a sixth military service emerged from that paradigm.  Space Force describes its central role as defending the space domain.
Read more at: Spacepolicy online

DoD Technology Buyers Defend Need For Secrecy In Space Programs
The head of a U.S. Space Force office that develops sensitive technologies said declassifying space programs would make it easier for adversaries to get a leg up on the United States.
"What we do is classified for a reason, it's because we're trying to get out in front of the threat," Michael Roberts, director and program executive officer of the Space Rapid Capabilities Office, said Aug. 13 on a virtual forum hosted by the Mitchell Institute.
Read more at: Spacenews

First Female General Officer Promotes, Transfers To Space Force
In a significant milestone for the nation's newest armed service, Lt. Gen. Nina Armagno became the first female officer to promote to three-star general and transfer into the U.S. Space Force during a ceremony at the Pentagon, Aug. 17.

Armagno will serve as the director of staff for Headquarters U.S. Space Force, where she will oversee day to day staff operations to include establishment activities for the new service.

"We're starting fresh. We're starting a clean sheet," Armagno said. "We're going to be agile, we're going to be nimble, and we're going to bring the best of everything into the space force."
Read more at: Spaceforce

U.S. Air Force Academy To Expand Space Education Curriculum
Cadets in the U.S. Air Force Academy's space program learn how to build and operate satellites. Starting this year they will also take courses in space law, strategy and operations.
The Colorado Springs-based academy is beefing up the content of its space program to support the needs of the U.S. Space Force.
"We now have responsibility to two services," the academy's superintendent Lt. Gen. Jay Silveria said Aug. 17 in a webcast hosted by the Mitchell Institute.
Read more at: Spacenews

Space Force Doctrine Raises Questions About Nuclear Missiles
If a nuclear missile passes through space on its way to hit the Earth, should the Space Force own it?
That idea puzzled some policy watchers who read a section on orbital flight in the Space Force's first Space Capstone Doctrine paper, published Aug. 10. To them, it suggests that the Air Force's intercontinental ballistic missiles, which are fired from underground silos and arc above the atmosphere before plummeting to a target, would fall under the space jurisdiction instead.
Read more at: Airforcemag

Stargazer Flight Raises Questions
Whenever I'm over at the Mojave Air and Space Port, I've always felt a little sad when I catch a glimpse of Northrop Grumman's Stargazer aircraft.
The last Lockheed L-1011 Tristar still flying today, the modified passenger aircraft's main task is to air launch satellites aboard the Pegasus XL rocket carried under its fuselage. Since the rocket isn't much in demand, the gap between launches can last for years.
So, the vintage 1980's Air Canada jetliner just sits there beside the control tower for months at a time, doing nothing and going nowhere, with its windows and engines all buttoned up to protect them against Mojave's damaging winds and sand.
Read more at: Parabolic arc

Coalition Partners, U.S. And U.K., Agree To Share Technical Foundation For Space Operations
The U.S. Space Force reached an important milestone by recently signing an agreement to allow sharing of the Standardized Astrodynamics Algorithm Library with the Ministry of Defence of the United Kingdom of Great Britain and Northern Ireland.

The U.K. was the first international partner to join U.S. Space Command's Operation OLYMPIC DEFENDER and is the first to receive access to the SAAL, though USSF is currently working with other partner nations to expand that list.

Operation OLYMPIC DEFENDER is a key multinational effort intended to optimize space operations, improve mission assurance, enhance resilience, and synchronize U.S. efforts with its allies. The synchronization and sharing of capabilities under OOD enhances allied space-faring nations' ability to see the space environment with clarity, navigate with accuracy, and streamline multinational operations across the globe.
Read more at: Spaceforce

As He Welcomes New Space Commander, Esper Warns Of Threats To U.S. Satellites
Defense Secretary Mark Esper on Aug. 20 presided over a ceremony at Peterson Air Force Base, Colorado, where Space Force Gen. John "Jay" Raymond relinquished command of U.S. Space Command and handed it over to Army Gen. James Dickinson.
In remarks at the ceremony, Esper said U.S. Space Command — a military combatant command established a year ago after being deactivated for 17 years — will play a central role in national security defending U.S. satellites from foreign threats.
The United States is the dominant space power, said Esper, "and the gains we possess are being threatened."
Read more at: Spacenews

VARIOUS
Rise In COVID-19 Cases Leads To Suspension Of All Regular Activities At ISRO's Sriharikota Rocket Centre
New working modalities have been issued for ISRO's Satish Dhawan Space Centre (SDSC-Shar) in Sriharikota, according to which all regular activities are temporarily suspended as the coronavirus pandemic continues to cause panic.
"In view of the considerable number of Covid-19 positive cases in Shar and Sullurpeta housing colonies, it is essential to trace the primary contacts, test and isolate them to avoid further spread.
Read more at: New Indian Express

The National Space Society Mourns the Passing of Bernard Kutter
Bernard Kutter, the Manager of Advanced Programs at United Launch Alliance, passed away unexpectedly on August 12 from a reported heart attack. Kutter was Manager of Advanced Programs for United Launch Alliance and a major force in NewSpace.
Kutter was considered a brilliant engineer and was pivotal in the design and oversight of ULA's new Vulcan rocket, the successor to the venerable Atlas V and Delta Heavy IV rockets and ULA's first ground-up rocket design. Kutter was also an architect of ULA's "Cislunar 1000" plan, which aims to put 1000 people into space by 2045. He additionally hosted the popular cislunar workshops sponsored by ULA for members of the space community.
Read more at: NSS

Watch SpaceX Ship GO Ms Tree Catch a Falcon 9 Fairing
SpaceX is getting better at saving money by attempting to catch the fairings from its Falcon 9 rocket launches on ships out at sea.
The ship GO Ms Tree nailed a catch of one of the two fairing halves from the Starlink mission launch from Cape Canaveral Air Force Station on Aug. 18, 2020. Both fairing halves had already been refurbished from a previous launch.
Company founder Elon Musk posted video of the catch to his Twitter account Tuesday after the successful launch of 58 more of the SpaceX satellites as well as three ridealong Earth-observation satellites for the company Planet.
"Aloha, welcome back from space,"
Read more at: Orlando Sentinel