TOP NEWS
Apparent SpaceX Rocket Debris Found on Oregon Coast
Lincoln County Sheriffs reported Friday they found what appears to be charred debris from the Falcon X rocket that created such a startling show in the skies over the west coast in late March. This comes after another piece was found in eastern Washington last week.
The chunk of fuel container-like debris was found in Waldport after washing up in the Alsea Bay, according to the sheriff's office.
"The debris was removed from the Alsea Bay by a fisherman and was briefly stored near a local business," the office said.
Read more at: beachconnection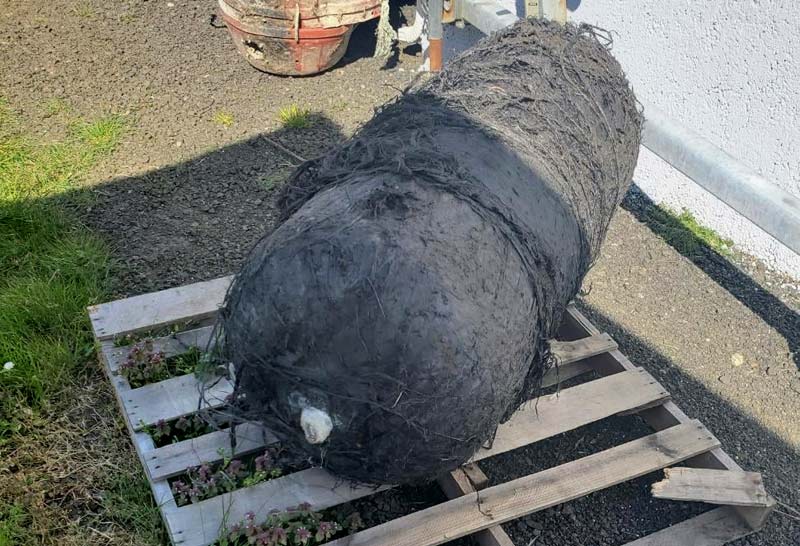 Three-Man Crew Docks At ISS After Flight Honouring Gagarin
A three-man crew docked at the international Space Station Friday after a flight honouring the 60th anniversary of Soviet cosmonaut Yuri Gagarin becoming the first person in space.
A Soyuz capsule carrying Roscosmos cosmonauts Oleg Novitsky and Pyotr Dubrov and NASA astronaut Mark Vande Hei docked at 1105 GMT, footage broadcasted by NASA TV showed.
"There is contact!" Russia's space agency Roscosmos wrote on Twitter.
Read more at: Spacedaily
More Potential Air Leak Locations Found at International Space Station, Source Says
Russian cosmonauts on board the International Space Station (ISS) have identified another three possible air leak locations in the Russian Zvezda module, a space industry source told Sputnik.
"This week, the cosmonauts found another three possible air leak locations in the intermediate chamber of the Zvezda module," the source said, adding that on Friday and Saturday, the Russian crew patched up the spots with several layers of sealant.
The source told Sputnik that the intermediate chamber was going to be checked for airtightness later on, in order to see whether the sealing of the potential air leak locations helped.
Read more at: Sputniknews
Oneweb, SpaceX Satellites Dodged A Potential Collision In Orbit
Two satellites from the fast-growing constellations of OneWeb and SpaceX's Starlink dodged a dangerously close approach with one another in orbit last weekend, representatives from the US Space Force and OneWeb said. It's the first known collision avoidance event for the two rival companies as they race to expand their new broadband-beaming networks in space.
On March 30th, five days after OneWeb launched its latest batch of 36 satellites from Russia, the company received several "red alerts" from the US Space Force's 18th Space Control Squadron warning of a possible collision with a Starlink satellite.
Read more at: Verge
SpaceX Identifies Cause Of Starship SN11 Prototype's Crash
We now know why SpaceX's latest Starship prototype went up in flames last week.
The stainless-steel vehicle, known as SN11 ("Serial No. 11"), launched on a test flight last Tuesday (March 30) from SpaceX's South Texas facilities, near the Gulf Coast village of Boca Chica.
SN11 soared to a maximum altitude of 6.2 miles (10 kilometers) as planned, and the 165-foot-tall (50 meters) craft checked a number of boxes on the way down as well. But SN11 didn't stick its landing, instead exploding in a massive fireball — because of a plumbing problem, SpaceX founder and CEO Elon Musk announced today (April 5).
Read more at: Space.com
Progress MS-16 Docking In February Failed Due To Nose Cone Issues
A malfunction in the nose cone of the Soyuz launch vehicle led to an incident during the docking of Russia's Progress MS-16 cargo spacecraft to the International Space Station (ISS) in February, the general director of the Progress space rocket centre, Dmitry Baranov, said on Saturday.
"The commission will work until 30 April. The problem is in the nose cone", Baranov told reporters.
Progress MS-16 was supposed to dock at Russia's Pirs compartment in an automatic mode on 17 February.
Read more at: Spacedaily
NASA Certifies New Launch Control System For Artemis I
When NASA's Space Launch System (SLS) rocket and Orion spacecraft lift off from the agency's Kennedy Space Center in Florida on the Artemis I mission, the amount of data generated by the rocket, spacecraft, and ground support equipment will be about 100 megabytes per second. The volume and speed of this information demands an equally complex and robust computer system to process and deliver that data to the launch team and corresponding mission systems in real time.
That computer software and hardware – called the spacecraft command and control system (SCCS) – is now certified for use on Artemis I. Shawn Quinn, director of NASA Engineering at Kennedy, and the KSC Engineering Design Certification Review Board signed off on the system at the conclusion of a recent design certification review for SCCS.
Read more at: Spacedaily
Mars Rover Deploys Ingenuity Helicopter For Historic Flight
NASA's Perseverance rover released the Ingenuity helicopter onto the surface of Mars Saturday, leaving behind the experimental flying drone to survive on its own power until attempting a historic hop in the Red Planet's thin carbon dioxide atmosphere.
The milestone kicks off a week of checkouts and testing before NASA commits to the $80 million Ingenuity helicopter's first test flight, currently targeted for April 11.
NASA officials confirmed rover deposited the 4-pound (1.8-kilogram) helicopter on the ground Saturday. Imagery from one of the Perseverance rover's hazar cameras showed Ingenuity standing upright on the planet's surface.
Read more at: Spaceflight Now
SPACE HAZARDS & STM
Rocket Lab To Recover Electron Booster On Next Mission
Rocket Lab reports that on its next mission the company will attempt to bring a rocket back from space, slowing the Electron launch vehicle down from speeds of >Mach 8 as it re-enter's Earth's atmosphere before splashing the rocket down in the ocean.
The complex mission is the next major step toward making Electron the first orbital-class reusable small launch vehicle, enabling rapid-turnaround launches for small satellites.
Read more at: Spacedaily
Germany's Space Agency Selects Lockheed Martin's Traffic Management Software
Lockheed Martin's space traffic management software will be used by Germany's space agency, the company announced April 6.
The German Space Agency at DLR — which operates the German space situational awareness center along with the German Air Force — selected Lockheed Martin's iSpace, a system that is used by the U.S. military, U.S. intelligence agencies and the government of Australia.
The iSpace system, which Lockheed Martin introduced in 2017, collects data from hundreds of optical, radar, infrared and radio sensors operated by governments, commercial companies and academia to provide space situational awareness.
Read more at: Spacenews
With Air Force Funding, Numerica Deploys Telescopes To Monitor Space In Broad Daylight
Numerica, a company that operates a network of ground-based telescopes to track objects in deep space, is deploying new sensors that can observe orbiting satellites in broad daylight.
The telescopes were funded with $3 million the company won in 2019 at a pitch day event hosted by the U.S. Air Force to attract space industry firms to the military market.
A total of six daytime telescopes that can monitor satellites at altitudes of more than 22,000 miles are being installed in Colorado and outside the United States in Australia and Spain, Todd Brost, director of special projects at Numerica, told SpaceNews.
Read more at: Spacenews
Tiny Astroscale Satellite Will Test Space Junk Cleanup Tech With Magnets
Astroscale just launched the first commercial space junk cleanup mission designed to locate and retrieve used satellites and other debris orbiting Earth. The Japan-based company's End-of-Life Services by Astroscale-demonstration (ELSA-d) mission lifted off from Russia's Baikonur Cosmodrome in Kazakhstan on March 22.
It was among the 38 payloads that were carried into space by a Soyuz rocket as part of the first all-commercial rideshare mission for Russian company GK Launch Services.
Read more at: Space.com
More Than 5,000 Tons Of Extraterrestrial Dust Fall To Earth Each Year
Every year, our planet encounters dust from comets1 and asteroid2. These interplanetary dust particles pass through our atmosphere and give rise to shooting stars. Some of them reach the ground in the form of micrometeorites. An international program3 conducted for nearly 20 years by scientists from the CNRS, the Université Paris-Saclay and the National museum of natural history4 with the support of the French polar institute, has determined that 5,200 tons per year of these micrometeorites reach the ground. The study will be available in the journal Earth & Planetary Science Letters from April 15.
Read more at: CNRS
NEW SPACE/COMMERCIAL
ABL Space Has Never Launched A Rocket, But It Just Landed A Huge Contract
A California company that has yet to even attempt a rocket launch has nonetheless inked a major deal with Lockheed Martin for dozens of missions over the next decade.
Under terms of the block-buy agreement between ABL Space Systems and Lockheed, the aerospace giant will purchase "up to" 26 launches through 2026 and as many as 32 additional launches through 2029. If the terms are fulfilled, this would come to 58 launches over the next eight years for ABL Space. In an industry where even a single launch contract often produces a news release, a contract for five dozen launches is unprecedented for a private company.
Read more at: Arstechnica
SpaceX Launches 60 Starlink Communications Satellites
SpaceX launched 60 more of the company's Starlink Internet communications satellites into orbit from Florida on Wednesday.
A Falcon 9 rocket carrying the spacecraft lifted off as planned at 12:34 p.m. EDT into a blue April sky with few clouds.
"Falcon 9 has successfully lifted off from Cape Canaveral Space Force Station carrying our stack of Starling satellites to orbit," SpaceX lead manufacturing engineer Jessie Anderson said during a live broadcast.
Read more at: Spacedaily
Ningbo, Wenchang to Construct Chinese Commercial Spaceports
The coastal cities of Ningbo and Wenchang are planning construction of new commercial spaceports to meet growing demand for launch in China.
The eastern port city of Ningbo in eastern Zhejiang province has committed a total investment of 20 billion yuan ($3 billion) to establish a spaceport at Xiangshan, according to reports Wednesday. It is to be capable of launching up to 100 missions per year.
Read more at: Spacenews
SCIENCE AND TECHNOLOGY
5 Things To Know About NASA's Tiny Helicopter
NASA's Ingenuity helicopter is preparing to take its first flight on the surface of Mars.
The 4-pound helicopter, delivered to Mars by the Perseverance rover, could fly on Wednesday (the flight was previously scheduled for Sunday, but NASA pushed back the test). Ingenuity is expected to climb 10 feet above the Martian surface, hover there for up to 30 seconds and then land. Here's five things you need to know about this flight:
Read more at: Houston chronicle
Bruno: The Next Big Thing For ULA Is A Long-Endurance Upper Stage
When United Launch Alliance started to develop its new Vulcan rocket, it envisioned using a new upper stage called ACES, short for advanced cryogenic evolved stage. ULA's president and CEO Tory Bruno described it in 2018 as a transportation system that would operate in space for weeks or months performing missions in different orbits.
ULA later changed course and decided that its Vulcan Centaur would use the Centaur 5, a larger and more powerful version of the Atlas 5 upper stage.
Read more at: Spacenews
General Atomics Wins DARPA Contract To Develop Nuclear Reactor To Power Missions To The Moon
The Defense Advanced Research Projects Agency awarded a $22 million contract to General Atomics to design a small nuclear reactor for space propulsion, the agency announced April 9.
General Atomics, based in San Diego, California, was selected for the first phase of a program known as a DRACO, short for demonstration rocket for agile cislunar operations. The project is to demonstrate nuclear thermal propulsion — or the use of a nuclear reactor to heat up rocket fuel to generate thrust.
DARPA's Tactical Technology Office in May 2020 solicited proposals in a "broad agency announcement." The goal is to test a nuclear thermal propulsion system in orbit by 2025.
Read more at: Spacenews
Hawkeye 360 Announces Commissioning Of Second Satellite Cluster
HawkEye 360 Inc., the first commercial company to use formation-flying satellites to create a new class of radio frequency (RF) data and data analytics, today announced that its recently-launched "Cluster 2" satellites have achieved initial operating capability.
The trio of satellites, which entered orbit aboard a SpaceX Falcon 9 rocket in January, have completed functional testing, moved into proper formation, and begun to geolocate RF signals. They are currently supplying RF data to customers and will soon ramp up output to reach full operating capability.
Read more at: Spacedaily
United Engine Tests 'Spaceplane' Pulse-Detonation Demonstrator
Russian powerplant specialist United Engine has carried out initial testing of a pulse-detonation rocket motor which has potential application to orbital spaceplanes or hypersonic aircraft.
Pulse-detonation propulsion combusts fuel and oxidizer using detonation waves, with relatively few mechanical moving parts, offering a more efficient thermodynamic cycle than conventional gas turbines.
United Engine's Lyulka design bureau – part of its Ufa-based UMPO division – has established a specific development project for such powerplants.
Read more at: Flightglobal
Orion Spacecraft to Test New Entry Technique on Artemis I Mission
When NASA's Orion spacecraft is nearing its return to Earth after its Artemis I mission to the Moon, it will attempt the first skip entry for a human spacecraft – a maneuver designed to pinpoint its landing spot in the Pacific Ocean.
During this skip entry, Orion will dip into the upper part of Earth's atmosphere and use that atmosphere, along with the lift of the capsule, to skip back out of the atmosphere, then reenter for final descent under parachutes and splashdown. It's a little like skipping a rock across the water in a river or lake.
Read more at: NASA
SPACE POLICY
ESA, CNSA Heads Discuss Future Space Plans
The heads of the European Space Agency and China National Space Administration held a video call April 1 to outline respective plans for the coming years.
Zhang Kejian, administrator of the CNSA, and new ESA Director General Josef Aschbacher, who entered the post March 1, discussed a range of topics according to a short CNSA press release.
The parties outlined upcoming activities, with China recently approving a 14th Five-year plan for 2021-2025, and discussed lunar and deep space exploration, Earth observation, and cooperation in ground station.
Read more at: Spacenews
New ESA Director General Outlines Priorities
The new head of the European Space Agency has outlined his priorities for the next several years, ranging from improving relations with the European Union to increasing commercialization activities.
The ESA Agenda 2025 document, released by the agency April 7, is an expression of how its new director general, Josef Aschbacher, wants to use the agency to ensure Europe retains a role as a global leader in space.
Read more at: Spacenews
USSF's Space Systems Command To Stand Up This Summer
Gen. Jay Raymond, Chief of Space Operations and head of the U.S. Space Force, announced today that the second Space Force field command, Space Systems Command, will stand up this summer. It is essentially a rebranding of the former Air Force Space and Missile Systems Center. No specific date was set for its establishment. That will wait until a commander is nominated by the President and confirmed by the Senate.
Established as the sixth military service on December 20, 2019, the Space Force is still in its formative stage.  It is part of the Department of the Air Force, just as the Marine Corps is part of the Department of the Navy.
Read more at: Spacepolicy online
Biden Proposes $24.7 Billion NASA Budget In 2022 To Support Moon Exploration And More
More than two months after taking office, President Joe Biden has offered a first look at his budget priorities, and the signs for NASA are generally promising.
The administration today (April 9) unveiled a so-called "skinny budget" for fiscal year 2022, which begins on Oct. 1. Biden's proposed budget requests $24.7 billion for NASA, a $1.5 billion increase from 2021. The skinny budget represents only top-line budget items, a traditional practice for the first year of a new presidential administration because of how the inauguration and Congress' budgetary calendar align.
Read more at: Space.com
Bill Nelson's NASA Nomination Is Good For Florida
It is refreshingly good news, both for Florida and for the future of American spaceflight, that President Joe Biden has nominated former Florida Democratic Sen. Bill Nelson to lead NASA.  
Perhaps the most unique candidate in the agency's history, Nelson has the distinction of being an experienced, well-liked former senator while also having been to space himself, having participated in the space shuttle Columbia's mission in 1986.  
Read more at: Gainesville
SPACE DEFENSE
U.S. Intelligence Report Predicts Heightened Space Competition Between U.S. And China
The Office of the Director of National Intelligence in a new report released April 8 projects that by 2040 China will be the most significant rival to the United States in space, competing on commercial, civil and military fronts.
The report projects widespread access to space technologies by many nations and increasing use of on-orbit manufacturing and logistics services.
Read more at: Spacenews
ASTERX 2021: French Space Forces Reach For Higher 'Orbit'
France led its first multinational military space exercise last month, with Germany, Italy and the US, marking the country's effort to re-vamp its forces and operations to meet 21st century threats.
The exercise signals the French government's intent to reach for a higher 'orbit' as a sovereign nation in order to be able to face any future space conflict. Up until now, Paris was a participant in US-led space wargames.
Read more at: Breakingdefense
Space Systems Command Geared To Deliver Swift, Responsive Space Capabilities
The Space Force released the organizational structure for its new Space Systems Command April 8. The Command is set to officially stand up in summer 2021 once all required conditions are met to re-designate the Space and Missile Systems Center at Los Angeles Air Force Base, California, as SSC headquarters.
SSC will rapidly identify, prototype, and field innovative, space-based solutions to deliver swift and responsive space capabilities to meet the demands of the National Defense Strategy.
Read more at: Spacewar
Air Force's Hypersonic Missile Booster Fails To Launch From B-52 In First Test
The Air Force's first booster vehicle in a hypersonic weapons test this week failed to launch, the service said on Tuesday.
A U.S. Air Force B-52H Stratofortress took off over the Point Mugu Sea Range in California on Monday with the intention of firing the first booster test vehicle for the AGM-183A Air-launched Rapid Response Weapon program.
But the booster was not able to complete its launch sequence, Air Force officials said, and the test missile was retained on the aircraft and brought back to California's Edwards Air Force Base.
Read more at: Spacewar
Space Force To Create 'One-Stop Shop' For Launch Procurement And Operations
The U.S. Space Force is consolidating oversight of space launch activities under a two-star general who will have broad responsibilities for the procurement of launch services and for the operations of the military's launch ranges.
The Space Force plans to establish a Space Systems Command this summer in Los Angeles that will absorb the responsibilities of the Space and Missile Systems Center. The command will be led by a three-star general and a two-star deputy commander who will be in charge of launch activities.
The office of the deputy commander "becomes a one-stop shop for launch," Lt. Gen. John Thompson, head of the Space and Missile Systems Center, told SpaceNews.
Read more at: Spacenews
VARIOUS
Yuri Gagarin's Troubled Re-entry into Earth
It has been 60 years since a man first left the Earth to travel in space. That man was Yuri Aleksevevich Gagarin, a name inscribed forever in the annals of human discovery. Gagarin was the perfect candidate, the prototype of the Soviet "new man" in the context of Cold War tension between the world's two superpowers. A new book by Stephen Walker, Beyond, considers Gagarin's legacy and that of the NASA astronauts who would become known as the Mercury Seven. It is a work whose master stroke, according to a Times review, is to bring together in one book the two stories of the Soviet and US space programs.
Read more at: El Pais

Sperms in Space and the Lust for Power Grips Voyagers in Theaters April 9th
Every space event always seems to have a chuckle about sex in space. But the no jargon crowd at NASA somehow magnified the power of sex by denying it to the Voyagers crew. The opening scene with our little swimmers marching to pierce the goal only belies the race to save man.
One dad for all kids being grown to launch with the premise that if they don't see the outside of the box they won't miss anything.
Read more at: Spacedaily
NASA Mourns the Passing of Astronaut Philip K. Chapman
NASA is saddened by the death of Apollo-era astronaut Philip K. Chapman. He was selected in August 1967 to be a member of Astronaut Group 6, who were primarily scientists rather than pilots. Chapman was the first Australian-born American astronaut. During the International Geophysical Year in 1958, he was an auroral/radio physicist at Mawson Station, Antarctica, as a member of the Australian National Antarctic Research Expeditions. Later, he was awarded a Doctor of Science in Aeronautics and Astronautics by the Massachusetts Institute of Technology.
Read more at: Spaceref
Race to the Moon: A Look at the Space Race a Decade Before Apollo 11
In the August 1959 issue, Popular Mechanics reported on a growing trend of exploration that would go on to define the 1960s—the Space Race. Only two years removed from the Soviet Union's surprise launch of Sputnik, the United States—and the recently renamed NASA—were struggling to keep pace with the cosmonauts. A decade before man would finally land on the moon, the Space Race looked a lot different than what would eventually play out in the years to come.
Read more at: Popular mechanics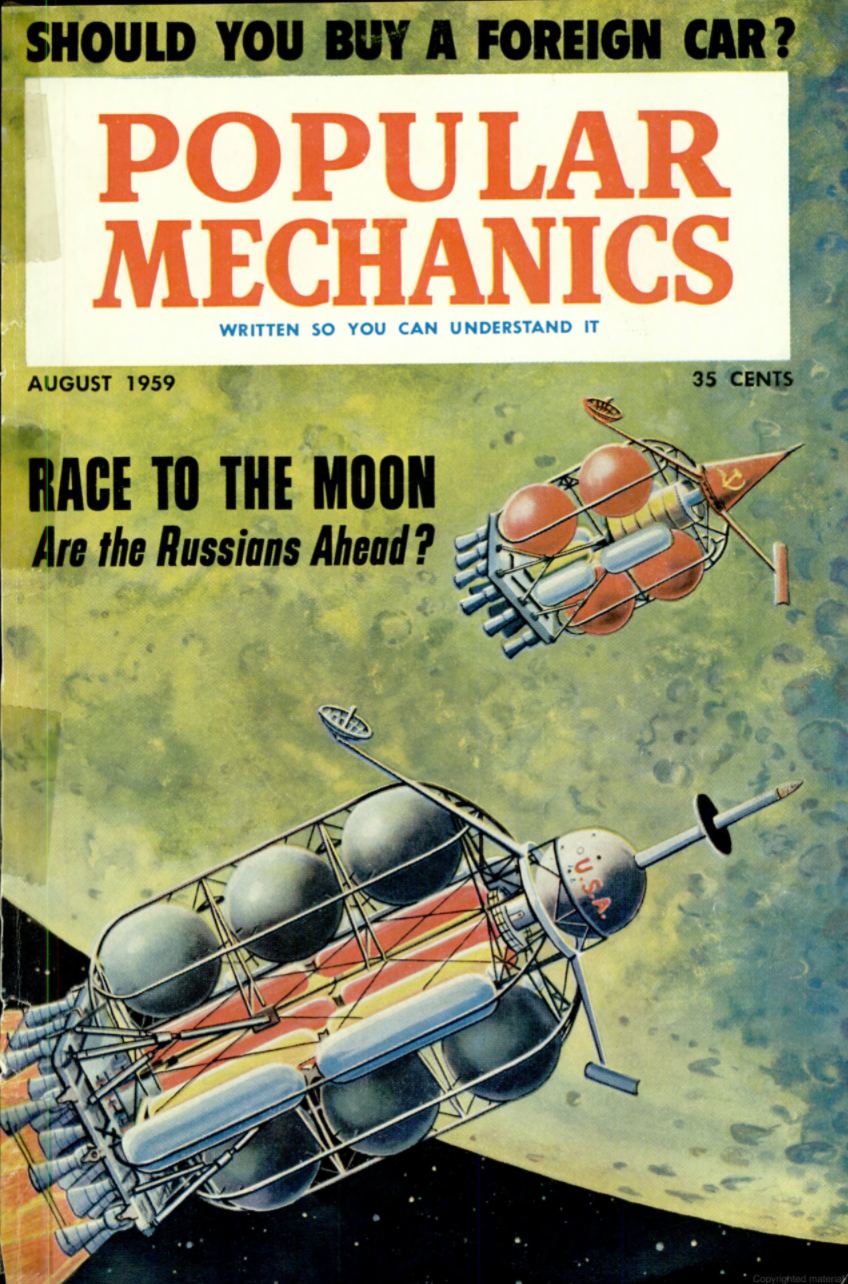 Safety and Security Applications
ARTES 'Space Systems for Safety and Security (4S)' supports four distinct user domains: safety of transport such as air traffic, rail and road; protection of critical infrastructures such as telecommunication networks controlling energy and water supply; provision of secure communications for space missions, such as Copernicus; secure governmental satcom services such as civil protection and border control. 4S mid-term key targets (2020-25) include the deployment of a European satcom component as an integral operational part of the Single European Sky air traffic management solution (Iris project); the critical design of the Quantum Key Distribution (QKD) space component as a precursor mission to the European Quantum Communications Infrastructure (SAGA Project)..
Read more at: ESA
The Fiery Chief Of Russia's Troubled Space Programme
Dmitry Rogozin, the head of Russia's troubled space agency Roscosmos, is hardly your typical bureaucrat. Brash and brazen, the former diplomat has made his name with provocative tweets and boisterous claims.
But he is equally well-known for leading the once-prized Soviet space programme during years of corruption scandals and technological stagnation.
In 2014, Rogozin, then a deputy prime minister in charge of space, responded to Western sanctions on Russia with a tweet suggesting the United States could send its astronauts to space "using a trampoline".
Read more at: Spacedaily
Podcast #10: The Space Silk Road and China's Space Program
In this new podcast from the Belt and Road Institute in Sweden (BRIX), we explore the Space Silk Road with space exploration historian Brian Harvey, author of 14 books on the genesis and evolution of the space programs of many leading nations. The latest of his books is titled "China in Space: The Great Leap Forward".
Read more at: brixsweden