TOP NEWS
Crew Smells Smoke And Burning In Russian Part Of International Space Station
A smoke alarm sounded Thursday in Russia's segment of the International Space Station (ISS) and astronauts smelled "burning" on board, Russia's space agency and NASA said.
The incident, which the Russian space agency Roscosmos said happened at 1:55 a.m. GMT (9:55 p.m. EDT Wednesday) ahead of a scheduled spacewalk, is the latest in a string of problems to spur safety concerns over conditions on the Russian segment.
"A smoke detector was triggered in the Zvezda service module of the Russian segment of the International Space Station during automatic battery charging, and an alarm went off," Roscosmos said in a statement.
Read more at: CBSnews
Firefly Says Early Engine Shutdown Led To Launch Failure
Firefly Aerospace says the premature shutdown of one of its Alpha rocket's four main engines, apparently triggered by an electrical issue, caused the launcher to lose control as it reached supersonic speed during a test flight over California last week.
In a statement Sept. 5, the company released preliminary information from the investigation into the launch accident, and emphasized lessons learned from the mission will boost chances the next test flight will reach orbit.
The first test flight of Firefly's Alpha launcher Sept. 2 ended in a dramatic orange fireball high above Vandenberg Space Force Base, a military facility on California's Central Coast between Los Angeles and San Francisco.
Read more at: Spaceflight Now
Russian Cosmonauts Conduct Spacewalk Despite Smoke, Alarm On Space Station
Russian cosmonauts Oleg Novitskiy and Pyotr Dubrov conducted their second spacewalk in less than a week as they continue configurations for the new Nauka module for operations on the International Space Station. The spacewalk began Thursday at 10:51 a.m. and ended at 6:16 p.m. ET, lasting for seven hours and 25 minutes. The spacewalk continued as scheduled despite the fact that the space station crew was awakened by a fire alarm around 10 p.m. ET Wednesday night. The alarm sounded for a minute after sensors detected smoke in the Russian Zvezda module. The smoke and burning plastic smell was also present in the US parts of the space station.
Read more at: CNN
Russian Cosmonauts Find New Cracks In ISS Module
Russian cosmonauts have discovered new cracks in a segment of the International Space Station that could widen, a senior space official said on Monday, the latest in a series of setbacks.
"Superficial fissures have been found in some places on the Zarya module," Vladimir Solovyov, chief engineer of rocket and space corporation Energia, told RIA news agency. "This is bad and suggests that the fissures will begin to spread over time."
He did not say if the cracks had caused any air to leak.
Read more at: Reuters
No Damage On Progress MS-17 Spacecraft Antennas Found During Spacewalk
Cosmonaut Pyotr Dubrov found no damage on the Kurs docking navigation system antennas on the Progress MS-17 spacecraft during his spacewalk.
"I see no heavy damage to the reflectors and the antenna," Dubrov reported.
Pyotr Dubrov and Oleg Novitsky commenced their spacewalk operation at 17:55 Moscow time in order to integrate the Nauka science module to the ISS. The main operation is planned to take 6 hours and 26 minutes. Should the operation proceed ahead of schedule, three more groups of operations were planned that may last about three hours.
Read more at: TASS
NASA's Hopes Waning For SLS Test Flight This Year
The earliest NASA's first Space Launch System moon rocket could roll out from the Vehicle Assembly Building to its seaside launch complex in Florida is in late November, officials told Spaceflight Now, leaving little time to conduct a critical fueling test, roll the rocket back into the VAB for final closeouts, then return to the pad for liftoff before the end of the year.
Stacking and testing of the SLS heavy-lift rocket has taken longer than NASA's best-case projections earlier this year. But that's not unexpected for the first time teams have assembled the powerful new launch vehicle inside the VAB at NASA's Kennedy Space Center.
Read more at: Spaceflight Now
FAA Grounds SpaceShipTwo After Problem On July Flight
The Federal Aviation Administration will not allow Virgin Galactic to resume flights of its SpaceShipTwo suborbital spaceplane until it completes an investigation into a problem on the vehicle's previous flight in July.
In a Sept. 2 statement, the FAA said it is overseeing a Virgin Galactic mishap investigation into the July 11 flight of SpaceShipTwo, called "Unity 22" by the company, which appeared to go as planned but in fact suffered a problem that caused it to stray from its restricted airspace.
"Virgin Galactic may not return the SpaceShipTwo vehicle to flight until the FAA approves the final mishap investigation report or determines the issues related to the mishap do not affect public safety," the agency stated.
Read more at: Spacenews
SPACE HAZARDS AND STM
An 'Internet Apocalypse' Could Ride To Earth With The Next Solar Storm, New Research Warns
The sun is always showering Earth with a mist of magnetized particles known as solar wind. For the most part, our planet's magnetic shield blocks this electric wind from doing any real damage to Earth or its inhabitants, instead sending those particles skittering toward the poles and leaving behind a pleasant aurora in their wake. But sometimes, every century or so, that wind escalates into a full-blown solar storm — and, as new research presented at the SIGCOMM 2021 data communication conference warns, the results of such extreme space weather could be catastrophic to our modern way of life.
Read more at: Space.com
Amazon, Fighting SpaceX's Starlink Plans, Says Elon Musk's Companies Don't Care About Rules
Amazon slammed Elon Musk's SpaceX as a serial rule-breaker on Wednesday amid an enduring fight over the two companies' plans to build rivaling satellite networks. The conflict, waged within lengthy filings to the Federal Communications Commission, is nothing new. But this time, Amazon sent FCC officials a laundry list of Musk's past troubles with other regulators, mounting its most aggressive attempt yet to push back on SpaceX's speedy timeline for deploying its broadband satellites.
"Try to hold a Musk-led company to flight rules? You're 'fundamentally broken,'" Amazon wrote in its filing, referring to the time Musk complained that the Federal Aviation Administration's regulatory structure slowed down SpaceX's operations. "Try to hold a Musk-led company to health and safety rules? You're 'unelected & ignorant,'" it added, referring to Musk's beef with officials who sought to keep factories closed to curb the spread of the coronavirus.
Read more at: Verge
Man-Made 'Space Junk' Is Already Making It More Difficult To Explore The Final Frontier
WHEN AMATEUR IRISH astronomer John Flannery first took an interest in the hobby as a child, space was a much cleaner place than it is in 2021.
Thanks to human activity, there are now hundreds of thousands of man-made objects ranging from satellites — some 'live' and some 'dead' — to tiny fragments of obsolete equipment floating around in low Earth orbit at last count.
It means that the incidence of defunct 'space junk' has increased at least seven-fold since the late 1970s and early 1980s.
Read more at: Journal
Space Agencies Support Space Traffic Management But Differ On How It Should Be Developed
Leaders of national space agencies agree that space traffic management (STM) should be a priority but have differing views on who should be responsible for it.
During a panel discussion at the 36th Space Symposium Aug. 25, the heads of space agencies in Europe and North America emphasized the importance of space traffic management given the growing amount of space objects in orbit and the threat they pose to space activities.
"Space traffic management is, from our point of view, a very important topic," said Walther Pelzer, head of the German space agency DLR.
Read more at: Spacenews
Spacecraft Deorbiting Device Developed At Purdue Ready For Upcoming Test Launch
A drag sail that a team at Purdue University developed to pull launch vehicles in space back to Earth is scheduled to undergo a test launch on Thursday (Sept. 2). The mission, set to take off from Vandenberg Space Force Base in California, will evaluate how well the prototype helps its vehicle deorbit from space after mission completion. A livestream of the launch will be available through Everyday Astronaut.
Faster deorbiting times may prevent spacecraft and launch vehicles from turning into hazardous space debris as they wait to deorbit naturally, a process that could take days, months or years without assistance. Abandoned, lost or post-mission space vehicles are part of the more than nine thousand tons of space debris currently traveling through Earth's lower orbit at dangerous speeds.
Read more at: Purdue
NEW SPACE/COMMERCIAL
Small Launch Vehicles Grow Up
For years after Boeing and Lockheed Martin combined their launch vehicle businesses into a joint venture, United Launch Alliance had a lock on the medium- to heavy-lift launch market in the United States. SpaceX would eventually challenge that, but it would take years of effort, including a lawsuit, for that company to win national security launch business. That created a SpaceX/ULA duopoly that survived competition from Blue Origin and Northrop Grumman to win National Security Space Launch Phase 2 contracts last year.
The next time around, SpaceX and ULA may face even more competition. Besides the prospect of Blue Origin and perhaps Northrop Grumman bidding on future contracts, startups that originally focused on small launch vehicles are looking to move into larger markets.
Read more at: Spacenews
German Startup Rocket Factory Augsburg Successfully Performs Critical Tests Ahead Of 2022 Debut
The German startup Rocket Factory Augsburg, or RFA, has concluded another test of their RFA One rocket. In the test, the company performed a destructive cryogenic pressure test of their first stage prototype. The company has shown a video in which the prototype stage broke apart after it was fueled with cryogenic nitrogen to test the quality of the welds and determine the pressure at which the structure fails.
The milestone is the latest for the company which is aiming to develop a reusable launch vehicle for small payloads. The first flight of RFA One is currently slated for late 2022, following more testing and development.
Read more at: NASA Spaceflight
Report: Branson's Flight into Space Experienced Serious Anomaly; Company Fired Flight Test Director
By all appearances, Richard Branson's 17-years-in-the-making flight to the edge of space went exactly as planned on July 11. Or at least that was the impression left by Virgin Galactic's webcast of SpaceShipTwo VSS Unity's flight test from Spaceport America in New Mexico.
But, for the second time in four suborbital flights, VSS Unity experienced a serious anomaly. The ship with its hybrid engine firing wasn't rising steeply enough as it soared toward space, Nicholas Schmidle reports in The New Yorker.
Read more at: Parabolic arc
Firefly Alpha Explodes During First Launch
Firefly Aerospace's first launch of its Alpha rocket ended in failure when the rocket exploded two and a half minutes after liftoff Sept. 2
The Alpha rocket lifted off from Space Launch Complex 2 here at 9:59 p.m. Eastern. A first launch attempt at 9 p.m. Eastern was aborted in the final seconds of the countdown for unspecified technical reasons, but launch controllers reset the countdown for a second launch attempt.
About two and a half minutes after liftoff, the rocket appeared to tumble and then explode. "Alpha experienced an anomaly during first stage ascent that resulted in the loss of the vehicle," Firefly tweeted.
Read more at: Spacenews
SpaceX Lifts Giant Super Heavy Rocket Onto Launch Stand Again (Photos)
SpaceX's first true Super Heavy rocket is back on the launch stand.
Technicians lifted the 29-engine Super Heavy vehicle known as Booster 4 onto the orbital launch mount at SpaceX's Starbase site in South Texas on Wednesday (Sept. 8), photos by observers in the area show.
The move came just over a month after the 230-foot-tall (70 meters) Booster 4 was first hoisted onto the pad, then topped with a prototype spacecraft called SN20 (short for "Serial No. 20") in the first-ever stacking of a full-size Starship vehicle. The duo was quickly de-stacked, however, so that further work could be performed on both elements.
Read more at: Space.com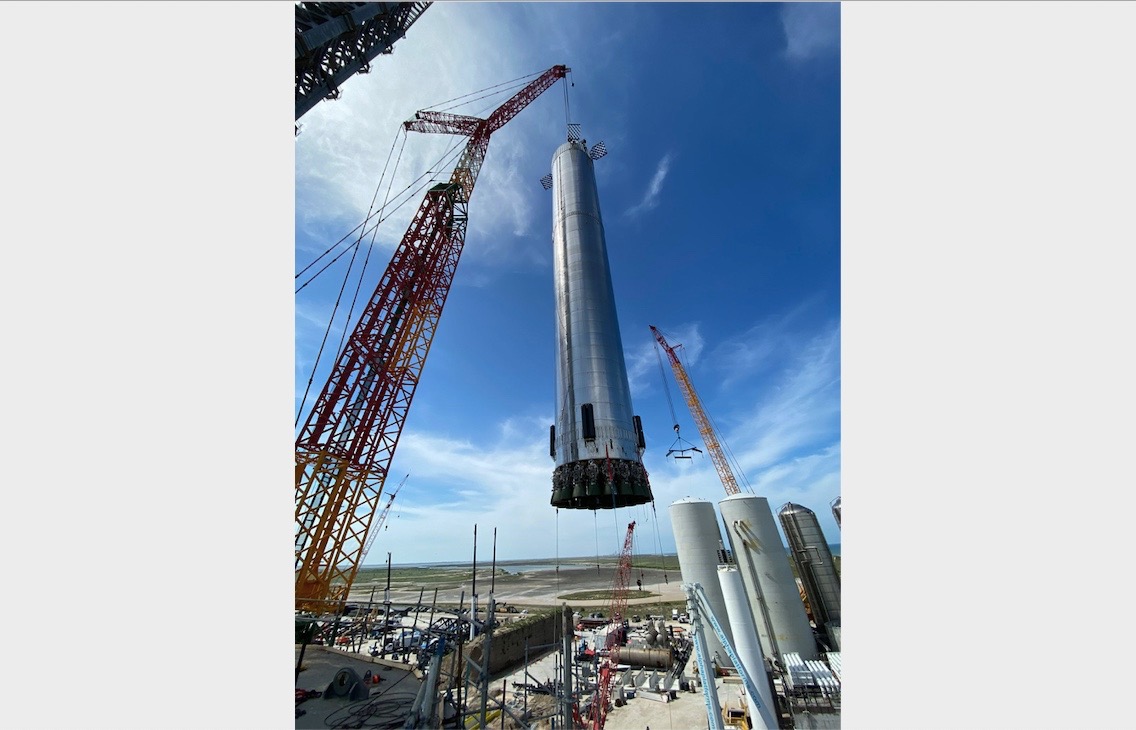 SCIENCE AND TECHNOLOGY
Successful Hot Test of Gaganyaan Service Module Propulsion System – System Demonstration Model (SDM)
On August 28, 2021, ISRO successfully conducted the first hot test of the System Demonstration Model (SDM) of the Gaganyaan Service Module Propulsion System for a duration of 450 s at the test facility of ISRO Propulsion Complex (IPRC), Mahendragiri, Tamil Nadu. The system performance met the test objectives and there was a close match with the pre-test predictions. Further, a series of hot tests are planned to simulate various mission conditions as well as off-nominal conditions.
The Service Module is part of the Gaganyaan Orbital module and is located below the crew module and remains connected to it until re-entry. The Service Module (SM) Propulsion System consists of a unified bipropellant system consisting of 5 nos. of 440 N thrust engines and 16 nos. of 100 N Reaction Control system (RCS) thrusters with MON-3 and MMH as Oxidizer and Fuel respectively. The System Demonstration Model (SDM), consisting of 5 nos. of 440 N engines and 8 nos. of 100 N thrusters, was realized to qualify the propulsion system performance in ground. A new test facility is established at IPRC, Mahendragiri for testing the SDM.
Read more at: Times of India

Unveiling Vehicles And Technologies For Future Space Transportation
ESA safeguards Europe's guaranteed access to space through its Future Launchers Preparatory Programme, FLPP.
FLPP oversees system studies and research activities to foster new and disruptive technologies which have the potential to reduce cost, improve performance, improve reliability, or on their ability to fulfill the specific needs of an identified service, system, demonstrator or mission.
Within FLPP, demonstrators and studies hone emerging technologies to give Europe's space transportation a valuable head-start as they begin the demanding work of turning the chosen design into reality.
Read more at: Phys.org
Liquid Nitrogen Shortage Delays Landsat 9 Launch
A one-week delay in the launch of the next Landsat satellite on an Atlas 5 is the result of a ripple effect in the supply chain caused by increased demand for liquid oxygen to treat COVID-19 patients.
NASA announced Aug. 27 that the launch of Landsat 9 on an Atlas 5 from Vandenberg Space Force Base in California had slipped a week, from Sept. 16 to no earlier than Sept. 23, because "pandemic demands for medical liquid oxygen have impacted the delivery of the needed liquid nitrogen supply." Liquid nitrogen, or LN2, is used to create gaseous nitrogen needed to support launch site activities.
Read more at: Spacenews

Powering Sustainability: Satellite Propulsion Underpins Orbital Stewardship
Small satellite propulsion has a critical role to play in keeping space sustainable.
While in-orbit debris cleaners and other emerging capabilities capture imaginations, thrusters underpin a healthy operating environment in space.
Onboard thrusters can help ensure a satellite safely reaches its assigned orbit, moves out of harm's way, relocates as market and mission requirements warrant, and dispose of itself when the time comes.
It is partly why the rise of smallsat constellations has spawned dozens of propulsion startups promising more efficient thruster as concerns over congested orbits grow.
Read more at: Spacenews

SpaceX Shows Off Its Huge Dome Window On Dragon For Private Inspiration4 Spaceflight
The four astronauts poised to launch on first-ever all-civilian SpaceX mission this month will have one heck of a view once they reach orbit. When the crew of Inspiration4 (as the mission is called) launches on a SpaceX Crew Dragon spacecraft on Sept. 15, their capsule will carry a huge glass dome in place of a docking port to offer the ultimate window on the world. Now, we have a clear idea of what that view may be like. "A look at Dragon's Cupola, which will provide our Inspiration4 astronauts with incredible views of Earth from orbit!" the Inspiration4 team wrote on Twitter Tuesday (Sept. 1) while sharing images of crewmembers trying out the dome window.
Read more at: Space.com

SPACE POLICY
Harris, We Have A Problem
Among Vice President KAMALA HARRIS' high-profile portfolios, one that's received virtually no attention is her role in steering the accelerating space race.
Eight months into the administration, and more than four months after the White House announced she would chair the National Space Council, Harris has been silent on her plans for the cabinet-level body. The council hasn't even held its first public meeting.
Members of Congress and officials at NASA, the Commerce Department, the Pentagon and executives in the space industry are increasingly wondering why she's taking so long to lay out the administration's galactic goals.
Read more at: Politico
National Space Council Priorities Begin to Emerge
The space community is eagerly waiting to see what Vice President Kamala Harris's priorities are for the White House National Space Council, which she chairs. The Council's Executive Secretary, Chirag Parikh, told a satellite conference today that continuity, international cooperation, Space Traffic Management, and STEM education are at the top of the list. He also announced that nominations for the Users' Advisory Group will open next week.
Parikh is a seasoned member of the space policy community and a White House veteran having served as the space policy director at the National Security Council during most of the Obama Administration. He left government in early 2020, but returned last month when appointed to his current position.
Read more at: Spacepolicy online
Air Force Chief, U.S. Space Commander Agree To Form Consultative Body On Space Policy
Air Force Chief of Staff Gen. Park In-ho has signed a deal with the chief of the U.S. space operations and agreed to form a joint consultative body on space policy to strengthen cooperation, his office said Sunday.
During his visit to the Air Force Space Command in Colorado, Park signed a memorandum of understanding with Gen. John Raymond on the formation of a joint space policy consultative body on Friday (U.S. time), becoming official partners in space security cooperation.
The Air Force plans to further boost cooperation with the U.S. space force, including exchanging information, through the consultative body.
Read more at: yna
Draft House FY2022 NDAA Calls for International Norms of Behavior in Space
The House Armed Services Committee will mark up its version of the FY2022 National Defense Authorization Act tomorrow in what is expected to be a marathon session that may extend beyond midnight. Among the bill's provisions is direction to the National Space Council to coordinate U.S. government efforts to prioritize objectives for developing norms of behavior for space and to the Secretary of State to use them in international negotiations.
HASC Chairman Rep. Adam Smith (D-WA) released his draft version of the bill — the chairman's mark — yesterday. The 507-page bill authorizes $744 billion for national defense, of which $716 billion is for DOD.
Read more at: Spacepolicy online
ESA Council Agrees Resolution On Ariane 6 And Vega-C Exploitation And Future Space Transportation
ESA Member States have agreed upon the boundary conditions for Europe's upcoming exploitation of Ariane 6 and Vega-C and request ESA to propose a roadmap for new and innovative space transportation solutions for the next decade and a framework for associated short cycle demonstrations.
The Resolution agreed upon by ESA Member States mid-August sets the conditions for the first three years of stabilised exploitation of Europe's new launch vehicles, Ariane 6 and Vega-C at Europe's Spaceport in French Guiana. Driven by the launch needs of European institutions and taking stock of the volatile context of the worldwide launch services market, Member States have converged on a stable and secure basis for the exploitation of these new launch vehicles to provide guaranteed access to space for Europe in the coming years.
Read more at: ESA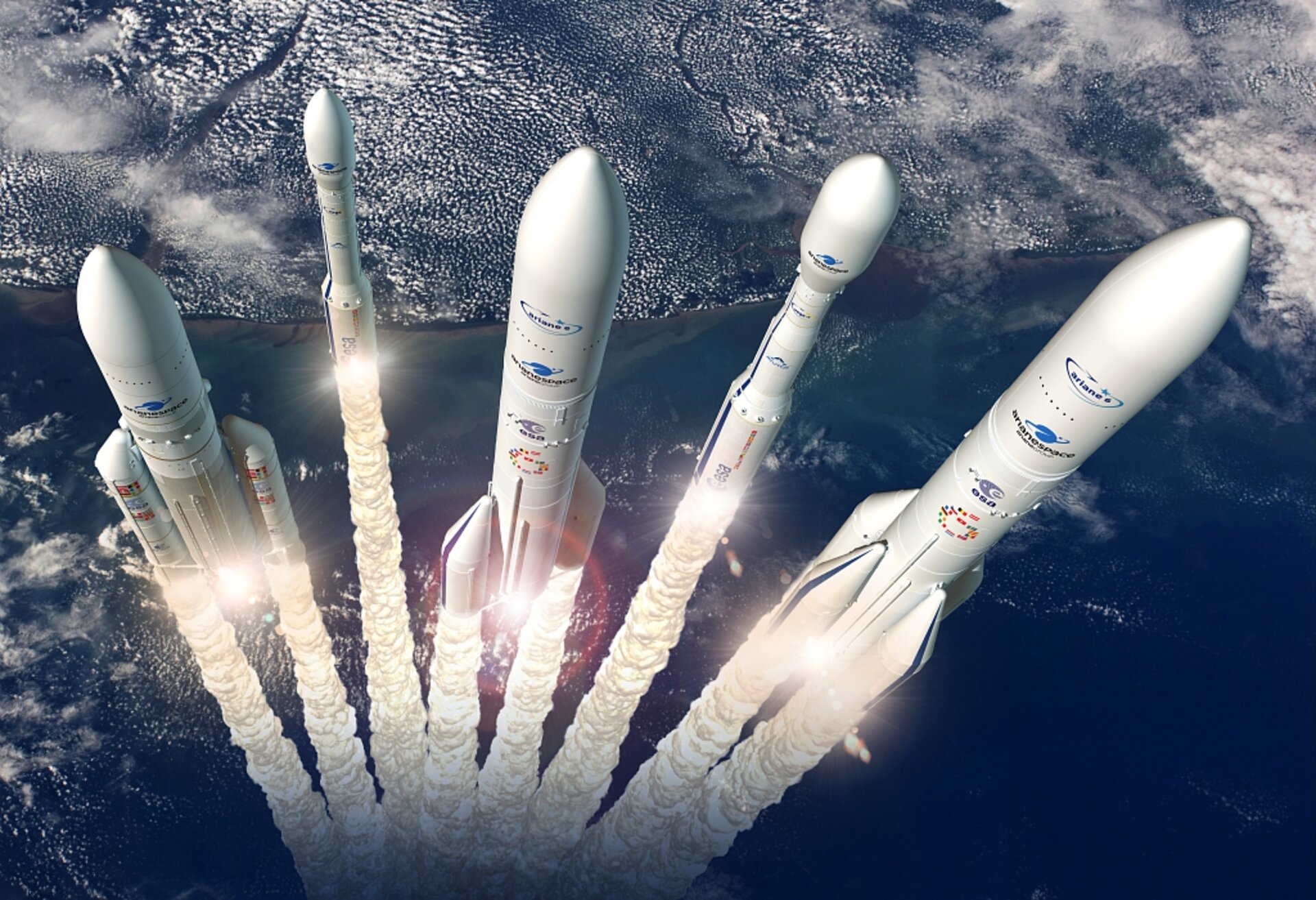 SPACE DEFENSE
US Space Force Chief Convinced China Would Use Satellite Killers
Gen. John Raymond, the chief of the U.S. Space Force, says that the security of the final frontier faces a "full spectrum of threats" from China that needs to be countered by allied cooperation.
The Chinese have built and are building "everything from reversible jammers of our GPS system — which provides navigation and timing with precision –, to jamming of communications satellites," Raymond told Nikkei in a recent telephone interview. "They've got missiles they can launch from the ground and destroy satellites."
"I'm convinced that these capabilities that they're developing would be utilized by them in their efforts in any potential conflict," Raymond added.
Read more at: Nikkei Asia
BRICS Countries Reaffirm Commitment To Preventing Arms Race In Space
BRICS countries (Brazil, Russia, India, China, South Africa) reaffirmed commitment to preventing an arms race in space in the New Delhi Declaration adopted at the 13th BRICS summit on Thursday.
"We confirm the commitment to ensure prevention of an arms race in outer space and its weaponization, and the long-term sustainability of outer space activities, including through the adoption of a relevant multilateral legally binding instrument. In this regard, we note the draft Treaty on the Prevention of the Placement of Weapons in Outer Space, the Threat or Use of Force against Outer Space Objects," the document reads.
Read more at: TASS
US Will Bear Consequences If Becomes First To Deploy Weapons To Space — Russian Diplomat
If the United States becomes the first nation to deploy weapons to space, it will have to bear the consequences, Russian Deputy Foreign Minister Sergey Ryabkov said in an interview with Kommersant on Thursday.
"If the United States becomes the first country to do it, Washington will have to bear the serious consequences that it will have for international security and strategic stability. There are no weapons in space at present. We pledged that we would not be the first to deploy weapons to space and have reiterated the commitment officially 30 times now," he pointed out.
Read more at: TASS
Spire Pivots Weather CubeSats To SIGINT Missions
Nanosatellite startup Spire Global didn't set out to become a provider of signals intelligence (SIGINT). But with the accidental discovery that its antennas for weather forecasting were also picking up signals being used to jam the Global Positioning System, the pivot just made sense, according to Spire's new-ish head of US government sales, Conor Brown.
"We actually first, sort of, serendipitously discovered this capability when we were calibrating our first reflectometry satellites," he told Breaking Defense in advance of last week's annual Space Symposium in Colorado Springs.
Read more at: Breaking defense
Over-Classification in Space Programs Presents Too Great a Risk
Over-classification of US space systems and capabilities is undermining the ability of the Department of Defense to articulate what it will take to deter hostile action, and if necessary, exercise warfighting options in space. If you cannot explain the tools you need to get the job done, chances are you will not get them. That risks mission failure when a crisis occurs.
It's time for the Biden administration and Congress to institute results-oriented reforms, including a thorough review of all existing space systems to decide what to keep hidden and what to bring in from the shadows.
Read more at: Breaking defense
VARIOUS
Profiles of Inspiration4: Jared Isaacman and A Trip To Space
SpaceX is less than a week away from making history by launching the Inspiration4 mission, the first all-private citizen flight into Earth orbit. The Inspiration4 mission consists of four non-professional astronauts — Jared Isaacman, a self-starter who dreamed of flying and going to space his entire life; Hayley Arceneaux, a childhood cancer survivor and now a St. Jude physician assistant; Sian Proctor, a geoscientist, explorer and science communication specialist; and Chris Sembroski, an Iraq war veteran and current Lockheed Martin engineer. The historic Inspiration4 mission is the brainchild of Isaacman, who is 38 years old. The mission came together in a matter of weeks at the end of 2020 and early 2021 and is being used to raise $200 million dollars for St. Jude Children's Research Hospital.
Read more at: Spaceflight Insider
After Visiting SpaceX, 'Built On Shoulders Of Giants, Like Korolev,' Sergey Korolev's Grandson Praises 'Genius Manager' Elon Musk
Space entrepreneur Elon Musk had a chance to pay tribute to one of his heroes, Sergey Korolev, as he hosted Andrey Korolev, the grandson of the legendary rocket engineer and father of the Soviet space program, in California.
Musk is an outspoken fan of the Soviet school of space engineering and repeatedly expressed his admiration with the 'chief designer', as Korolev was referred to in Soviet press until his identity was declassified after his death in 1966.
Read more at: RT
Thousands Of Kilometres From Anywhere Lies Point Nemo, A Watery Grave Where Space Stations Go To Die
At the furthest point from any landmass on earth, and 4km under the sea, lies the space cemetery.
When their outer space journeys come to an end, old satellites, rocket parts and space stations are sent to this desolate spot in the Pacific Ocean to rest on the dark seabed forever.
The technical name for this stretch of water is the "ocean point of inaccessibility" because it lies about 2,700km from any land. But it is more commonly known as the space cemetery, or Point Nemo – named for the fictional submarine captain in Jules Verne's 20,000 Leagues Under the Sea.
Read more at: Guardian
Space Pens, Pencils, and Debunking Myths: How NASA Takes Notes in Space
The Space Pen has captured the American imagination in more ways than one. It's appeared repeatedly in pop culture and even worked as a plot device in a "Seinfeld" episode titled "The Pen," and in 2021 was inducted into the Space Technology Hall of Fame. It's also the subject of a myth that the space agency spent millions to invent a pen that can write in zero gravity, while cosmonauts simply used a pencil.
Let's get to the facts about the Space Pen, pencils in space, and how NASA astronauts write aboard the space station.
Read more at: Scitech daily